We just love a good entree salad and this one is about as good as they come.

The combination of crunchy vegetables, almonds, and wontons works perfectly with the creamy peanut dressing and slightly sweet mandarin oranges. The chicken can be warm or chilled. And, everything can be prepared in advance, and then assembled just before serving.


NOTE: If you liked the video, please subscribe to our YouTube channel. Remember to click the 'bell' icon so you won't ever miss a new video. Thank you so much!
How To Make Chinese Chicken Salad
Versions of this salad can be found in many popular restaurant chains across the United States.
Will you find this salad in China? No.
But it definitely does have an Asian flair to it. And that works for us!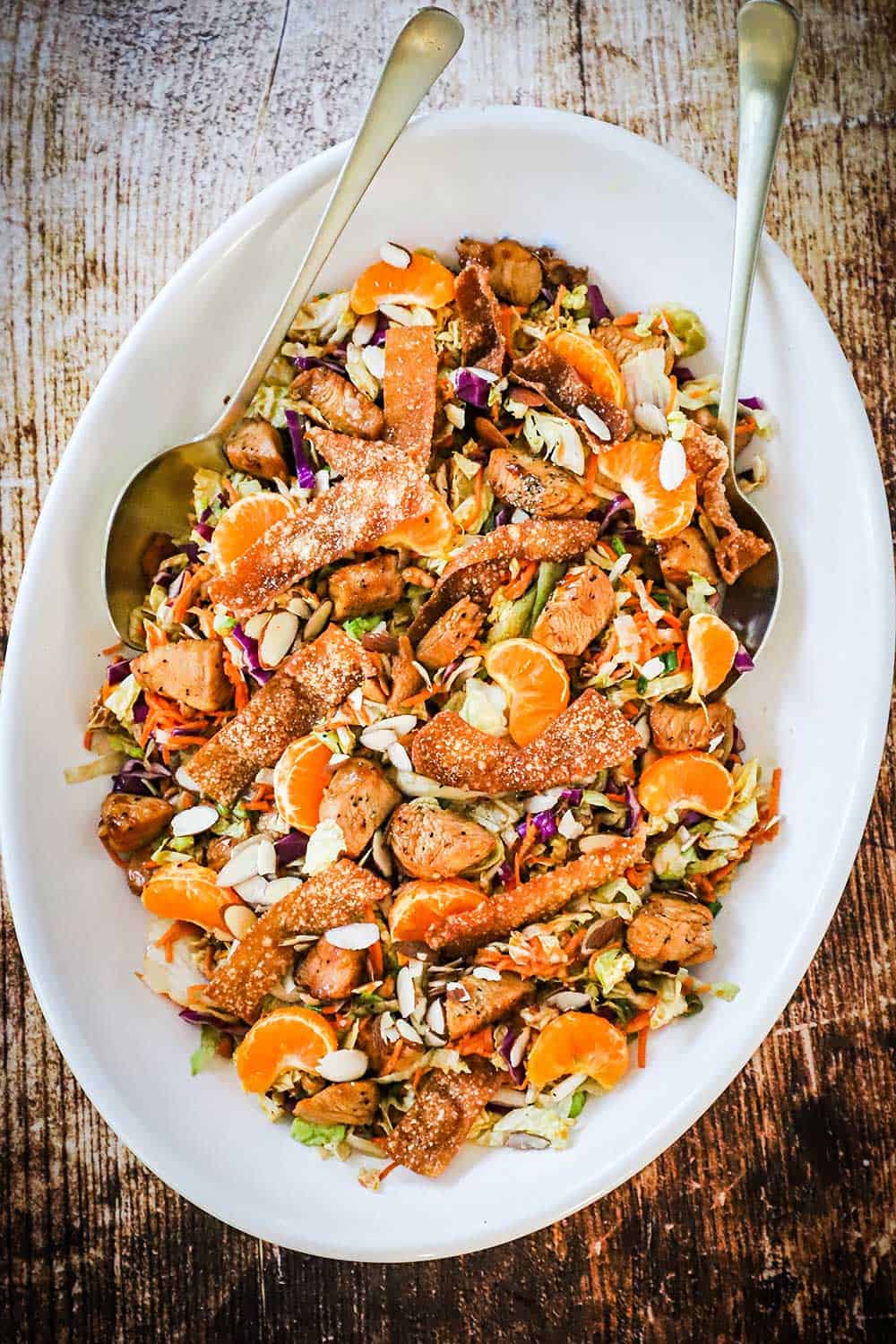 How to Prepare the Chicken
Deepening the flavor of the chicken can be done easily with a simple marinade. All you'll need are the following basic ingredients:
Soy sauce
Orange juice
Sesame oil
Black pepper
Sriracha sauce (optional)
Fresh ginger, grated
Honey
Simply mix together the marinade ingredients and then pour over the cut-up chicken in a large freezer baggie. Place in the fridge for 30 minutes or overnight. Toss the baggie around every now and then.
Drain the marinade from the chicken and then cook in a large skillet until cooked through and slightly caramelized.
We add another dash of sriracha and honey as the chicken cooks. This helps to form a wonderful glaze around the chicken pieces.
EXPERT TIP: If you prefer, rather than cooking the chicken in a skillet, you could poach the boneless chicken breasts in simmering water until cooked through, about 15 to 20 minutes. A rotisserie chicken is a great option, too.
Choosing the Best Veggies
For the salad component, we recommend going with a combination of iceberg lettuce, red cabbage, and Napa cabbage.
You can go with chopped green cabbage, but you might consider sprinkling salt over it while sitting in a colander in the sink for about 20 minutes. This will soften it. Napa cabbage has a softer texture the green cabbage.
EXPERT TIP: For the carrots, we use the shredding attachment on our food processor. Two large carrots will give you plenty. A box grater works just fine, too. Or, purchase pre-shredded carrots from the market.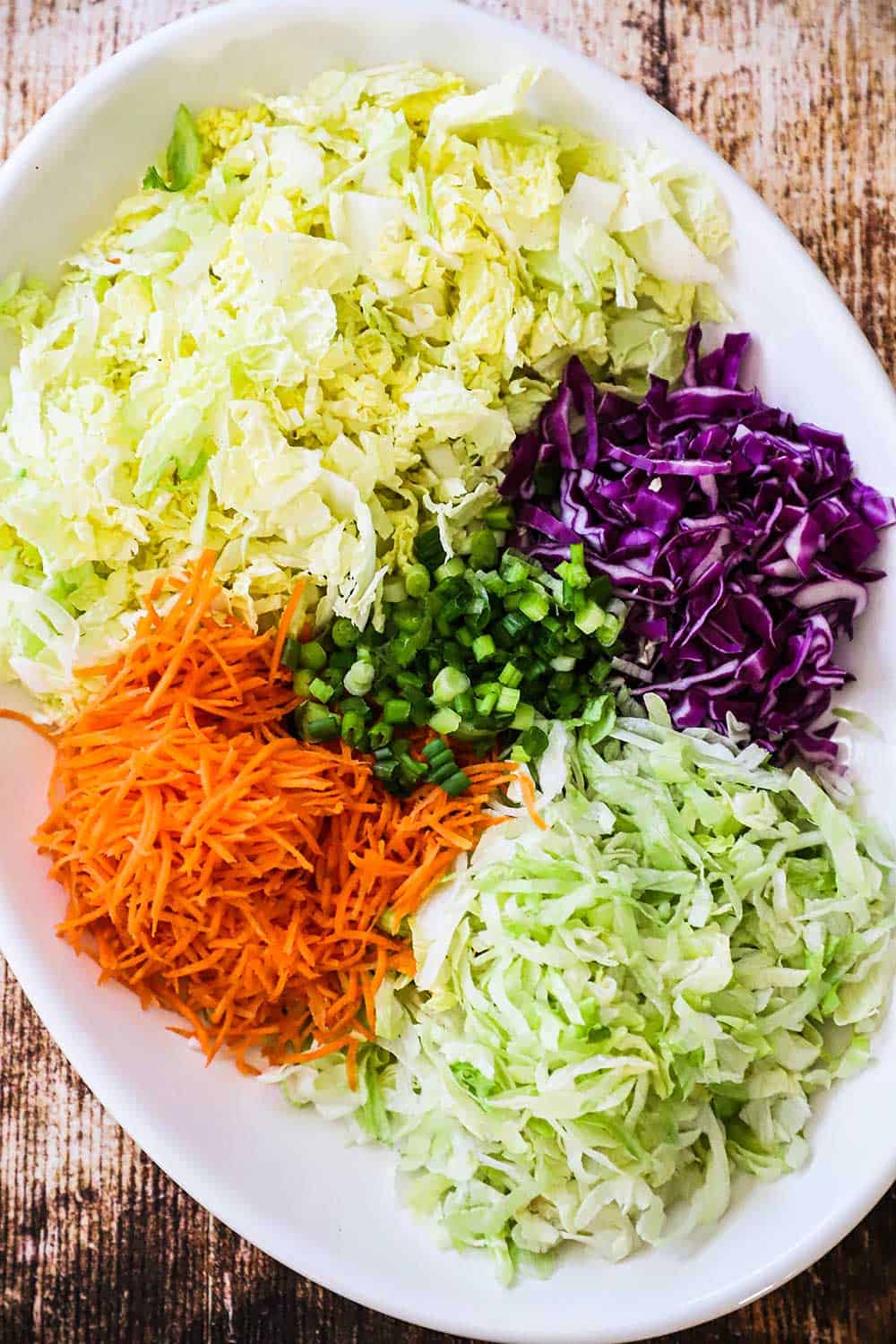 How To Make Fried Wonton Strips
Fried wonton strips add that classic crunch that we all love so much with this salad.
Wonton wrappers can be found in the produce section of most well-stocked supermarkets. Egg roll wrappers can be substituted, too.
Simply cut a small stack of wrappers into 3 strips (per wrapper) and then quickly fry in a skillet filled with hot vegetable oil.
Of course, you can skip this step and find wonton strips in the Asian section of your local supermarket.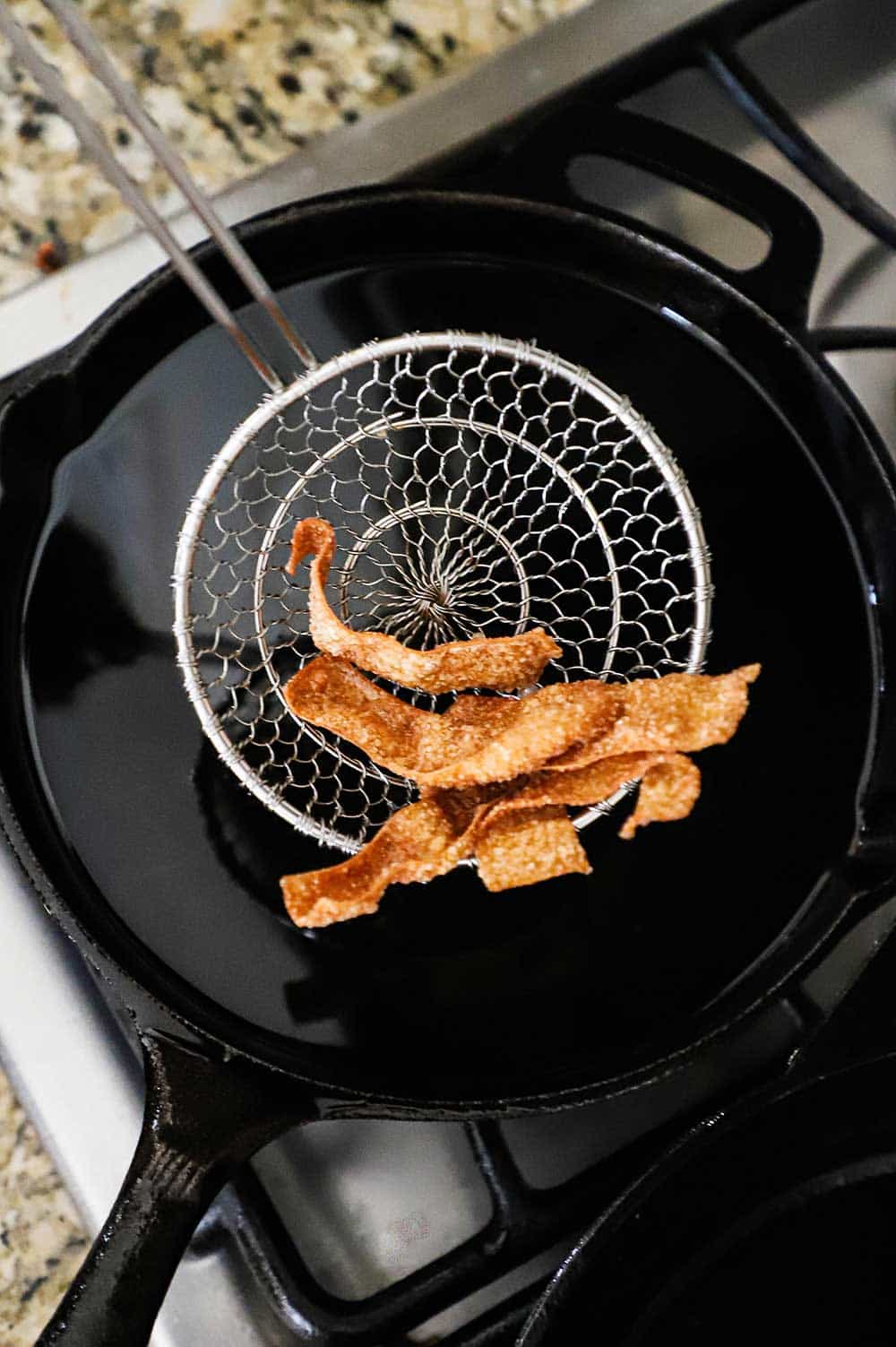 When to Serve Chinese Chicken Salad<h/h3>
This salad is an easy and wonderful meal to serve the family for a busy weeknight.
But, because all of the elements can be prepped in advance, and then simply assembled just before serving, it is perfect for potluck dinner, baby/wedding showers, and more.
The dressing is truly an explosion of flavor and brings all the components together. Other awesome salads include:
Shrimp and Avocado Salad
Roasted Beet and Burrata Salad
Warm Bacon and Spinach Salad
Zesty Corn and Black Bean Salad
Cucumber Tomato Salad
In the meantime, you really need to try this incredible Chinese Chicken Salad. The dressing puts it over the top.
This has become of our most favorite salads to prepare.
It is truly a meal all in and of itself and is always a hit when we serve it to guests.
Once assembled, it will stay perfect for serving for a couple of hours. So good!
Ready to make one of the best salads in the world? Go for it!
And when you do, be sure to take a photo of it, post it on Instagram, and tag @HowToFeedaLoon and hashtag #HowToFeedaLoon!
Chinese Chicken Salad
Chinese Chicken Salad is perfect for a family meal any time of the week. But, it's also great for serving to guests, or bringing to a potluck dinner, baby/wedding shower, or any event. Simply prep everything ahead of time, and then assemble just before serving. Add the almonds, mandarins, and wonton strips on top at the last moment.
Print
Pin
Rate
Servings: 4
Calories: 457kcal
Ingredients
For the Chicken
2 chicken breasts boneless, skinless, cut into bite-sized pieces
1 tbsp ginger fresh, minced
1 tbsp soy sauce
1 tbsp orange juice
1 tsp sesame oil
½ tsp black pepper
1 tsp Sriracha sauce optional
¼ cup honey
½ Kosher salt
For the Salad
3 cups Napa cabbage chopped
1½ cup red cabbage chopped
3 cups iceberg lettuce chopped
2 large carrots shredded, about 1½ cups
½ cup scallions chopped
2 mandarin oranges peeled and slices pulled apart
⅓ cup almonds sliced
1 cup fried wontons see NOTES
For the Peanut Dressing
4 cloves garlic minced
¼ cup soy sauce
¼ cup brown sugar
½ cup peanut butter creamy
5 tbsp olive oil
Instructions
Mix the marinade ingredients (except the salt) together in a jar. Place the chicken pieces in a freezer baggie (or bowl) and place in the refrigerator for 30 minutes or up to overnight. Move the chicken around in the baggie (or bowl) occasionally.

Heat a large skillet, preferably cast-iron, over high heat. Drain the marinade from the chicken and add the chicken to the skillet. Add 1/2 tsp of salt and stir until cooked through and dark in color. Add a squirt or two more of the sriracha during the cooking process to add a little more coating to the chicken. Once cooked, removed from skillet and set aside.

Place all of the salad vegetables in a large bowl. Leave the almonds, mandarins, and wontons for topping the salad.

Mix together the peanut dressing ingredients in a jar. Stir, or shake, until fully mixed. You may need a spoon to help mix it all together.

Pour the dressing over the vegetables and then use two large wooden spoons (or your hands) to mix it all together, completely coating the salad with the dressing. Transfer to a platter, or individual serving plates, and top with almonds, mandarins, and wonton strips.
Notes
See our video near the top of the blog post for a visual (and fun) guide. If you liked the video, please subscribe to our YouTube channel.
To make the fried wonton strips, purchase wonton wrappers and cut them into strips (usually 3 strips per wrapper). Heat vegetable oil in a sturdy skillet. Fry until golden, only a couple of minutes. Drain on paper towels.
If you are in a pinch for time, you can skip marinating the chicken and poach the breasts in simmering water for 15 to 20 minutes, or until cooked through. Don't chop until after the chicken is cooked. A rotisserie chicken from the supermarket will work, too.
All of the components of the salad can be made up to 24 hours in advance. Assemble the salad just before serving, remember to top the salad with the almonds, mandarins, and wonton strips.
Nutrition
Calories: 457kcal | Carbohydrates: 59g | Protein: 40g | Fat: 31g | Saturated Fat: 3g | Polyunsaturated Fat: 9g | Monounsaturated Fat: 26g | Trans Fat: 1g | Cholesterol: 72mg | Sodium: 978mg | Potassium: 1322mg | Fiber: 8g | Sugar: 45g | Vitamin A: 7309IU | Vitamin C: 57mg | Calcium: 181mg | Iron: 3mg