This salad is quintessential summer goodness. Fresh and so delicious.
We love everything about summer. Especially eating outside. We love all kinds of summer side salads, especially ones with cucumbers. Our Cucumber and Dill Salad and Cucumber and Tomato Salad are two of our favorites. The addition of watermelon, basil, feta, pine nuts, and a bright vinaigrette make this salad our new all-time favorite.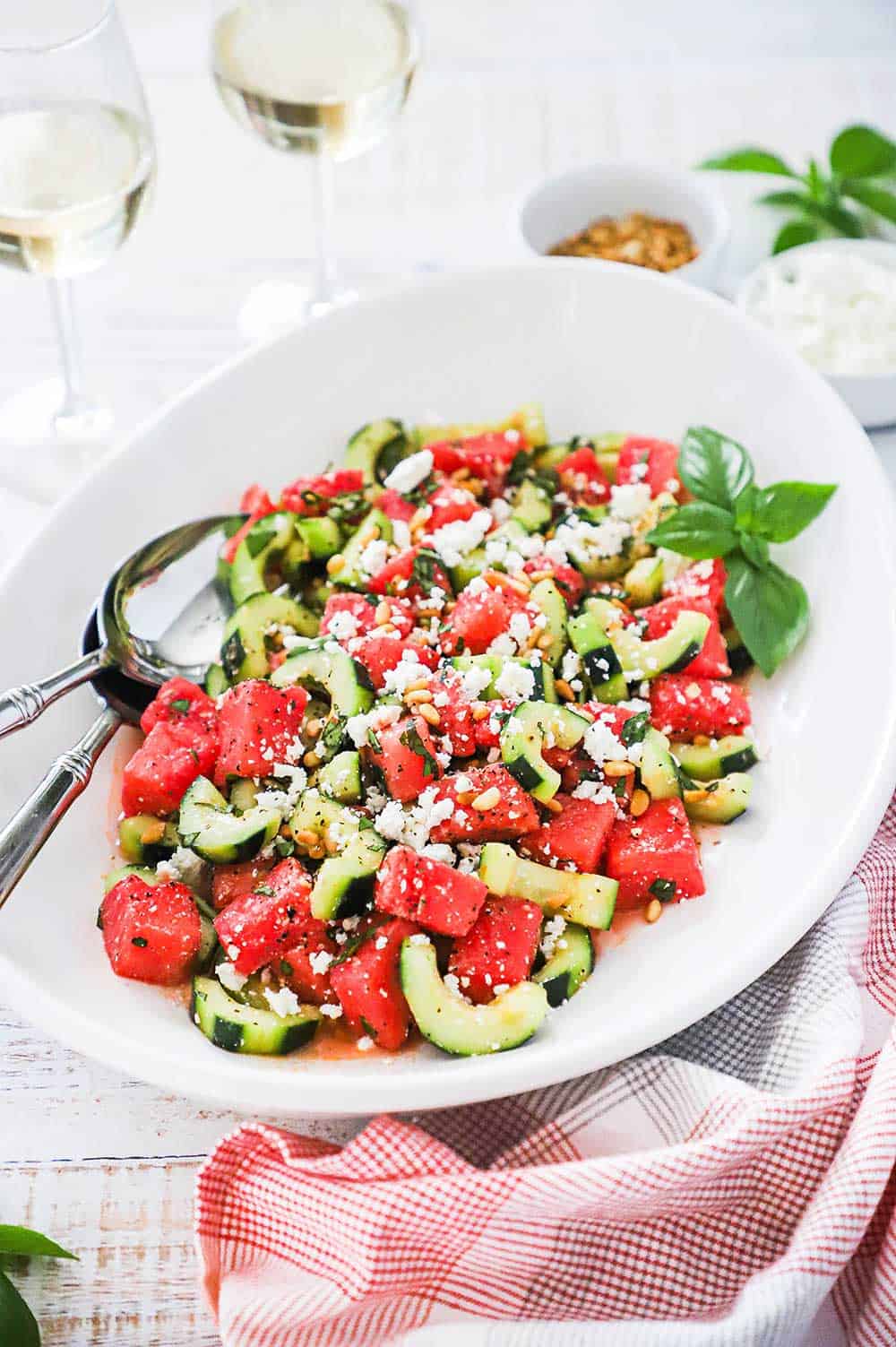 How To Make Watermelon Cucumber Salad with Feta and Basil
This salad relies on the freshness of the ingredients, which is why it is so amazing in the warm months when watermelon, cucumbers, and fresh basil are in peak season.
The simplicity of the salad makes it a snap to bring together.
NOTE: If you liked this video, please subscribe to our YouTube channel. Remember to click the little 'bell' icon so you'll never miss a new video!
How to Cut up a Cucumber
To make the salad even more beautiful, we love to give the cucumbers a special treatment.
Use your peeler to cut away strips of the skin.
EXPERT TIP: Slice the cucumber down the middle, lengthwise, and then use a spoon to scoop out the seeds in the center. Then, simply cut each half into 1/4-inch half-moon slices. If you do this in advance, toss the sliced cucumber with a little lemon juice to keep it fresh.
How To Cut up a Watermelon
Pick up a seedless watermelon from your favorite market.
Use a large knife to cut the ends off of the melon.
Slice the melon in half. Place one half on a cutting board, cut-side down.
Working a little at a time, cut away the rind and the white pith around the melon.
Cut the melon in the thirds, from top to bottom. Your knife slicing through the melon parallel to the cutting board.
Now, cut downward, all the way to the cutting board. Make about 4 to 5 cuts.
Turn the cutting board 90°, and cut downwards again, another 4 to 5 sices.
You now have a cubed watermelon!
The Ingredients You Will Need
The dressing for this salad is simple, which is perfect. You'll need
Fresh lemon juice
White wine vinegar
Extra-virgin olive oil
Kosher salt
For the salad, you'll need:
Watermelon
Cucumber
Fresh basil
Toasted pine nuts
Feta cheese
EXPERT TIP: Add the vinaigrette ingredients into a jar with a lid. Shake it vigorously until emulsified and well combined. Pour over the salad components.
FAQs for Watermelon Cucumber Salad
Can this salad be made ahead? Sort of. Prep all of the components to the salad up to 12 hours in advance. Keep separate, covered, and refrigerated. We don't recommend bringing it all together until just before serving. Purchasing pre-cut watermelon expedites preparation time significantly.
My seedless watermelon has some seeds, is this okay? This is completely normal. And don't worry, watermelon seeds are completely edible and 100% safe to eat. You may want to discard any that are in abundance, simply for overall appearance's sake.
What about dried basil? In a pinch, you could use dried basil, however, the great thing about this salad is its freshness of it. If you must use dried, then go with 1 tbsp. But, really try and go with fresh.
Can I use a different type of cheese? Absolutely! Other amazing options are goat cheese, mozzarella, fontina, cotija, blue, or gorgonzola. If you can, get a block of the cheese, and then crumble it with your hands. You'll get creamier results than from a pre-crumbled variety.
Other Summertime Salads
These salads will make your next BBQ or gathering of friends and family a HUGE success.
Fresh Strawberry Spinach Salad with Avocado
Zesty Corn and Black Bean Salad
Best-Ever Potato Salad
Classic Pasta Salad
Avocado-Lime Slaw
Cajun Pasta Salad
Folks, these are all amazing. And this Watermelon Cucumber Salad with Basil and Feta is truly spectacular.
This is one of those salads that is pure perfection when served along with your favorite BBQ fare.
Every bite is a celebration of everything we love about summer.
Bright, beautiful, and exploding with amazing flavor. Each ingredient compliments the other. Yum.
Ready to make the best side salad in town? Go for it!
And when you do, be sure to take a photo of it, post it on Instagram, and tag @HowToFeedaLoon and hashtag #HowToFeedaLoon!
Watermelon Cucumber Salad with Basil and Feta
This salad is the definition of summertime yummines. You can make it easier on yourself and purchase pre-cut watermelon from your favorite market. All the components can be prepped up to 12 hours in advance. Assemble just before serving for best results.
Print
Pin
Rate
Servings: 8
Calories: 189kcal
Ingredients
For the Vinaigrette
2 tbsp lemon juice from 1 lemon
1 tbsp white wine vinegar
1 tsp Kosher salt
2 tbsp extra-virgin olive oil
For the Salad
6 cups watermelon cubed
2 cucumbers halved and sliced into ¼-inch pieces
¼ cup basil fresh, roughly chopped
½ cup pine nuts toasted
6 oz feta cheese
coarse sea salt for finishing
Instructions
Make the Vinaigrette
Add all of the ingredients of the vinaigrette to a jar with a tight-fitting lid. Affix the lid and shake vigorously until fully combined, about 30 seconds to 1 minute. Set aside.
Assemble the Salad
In a large bowl, add the watermelon, cucumber, basil, pine nuts, and cheese. Leave some of the cheese and pines aside for topping the salad. Pour the vinaigrette over the top and then use two large wooden spoons to gently toss the salad until all components are coated.

Transfer to a serving platter or bowl and top with remaining cheese and pine nuts. Sprinkle on the coarse sea salt and serve at once.
Notes
See the video near the top of the blog post for visual guidance. If you liked the video, please subscribe to our YouTube channel. Thank you!
You can prep all the ingredients and make the vinaigrette up to 12 hours in advance and keep covered in the fridge. For best results, toss the salad with the dressing within 30 minutes of serving.
Substitutions: For the vinegar, you can easily go with red wine, apple cider, tarragon, or Champagne for wonderful results. For the cheese, you could use goat, blue, gorgonzola, fontina, or mozzarella.
Leftovers will keep in the fridge for a day or two, but this salad is definitely best when served fresh.
Nutrition
Calories: 189kcal | Carbohydrates: 12g | Protein: 5g | Fat: 9g | Saturated Fat: 5g | Polyunsaturated Fat: 1g | Monounsaturated Fat: 5g | Cholesterol: 19mg | Sodium: 536mg | Potassium: 300mg | Fiber: 1g | Sugar: 9g | Vitamin A: 835IU | Vitamin C: 13mg | Calcium: 127mg | Iron: 1mg