This Royal Crown Roast with Stuffing recipe is a stunning presentation and the taste is simply incredible.
When you are ready for an impressive headliner for you holiday feast, this recipe will do the trick!
Make things easy on yourself and order the roast from you butcher.
He/she will cut and tie it nicely for you so you don't have to worry at all about that.
This is a dish loved ones will remember for years to come.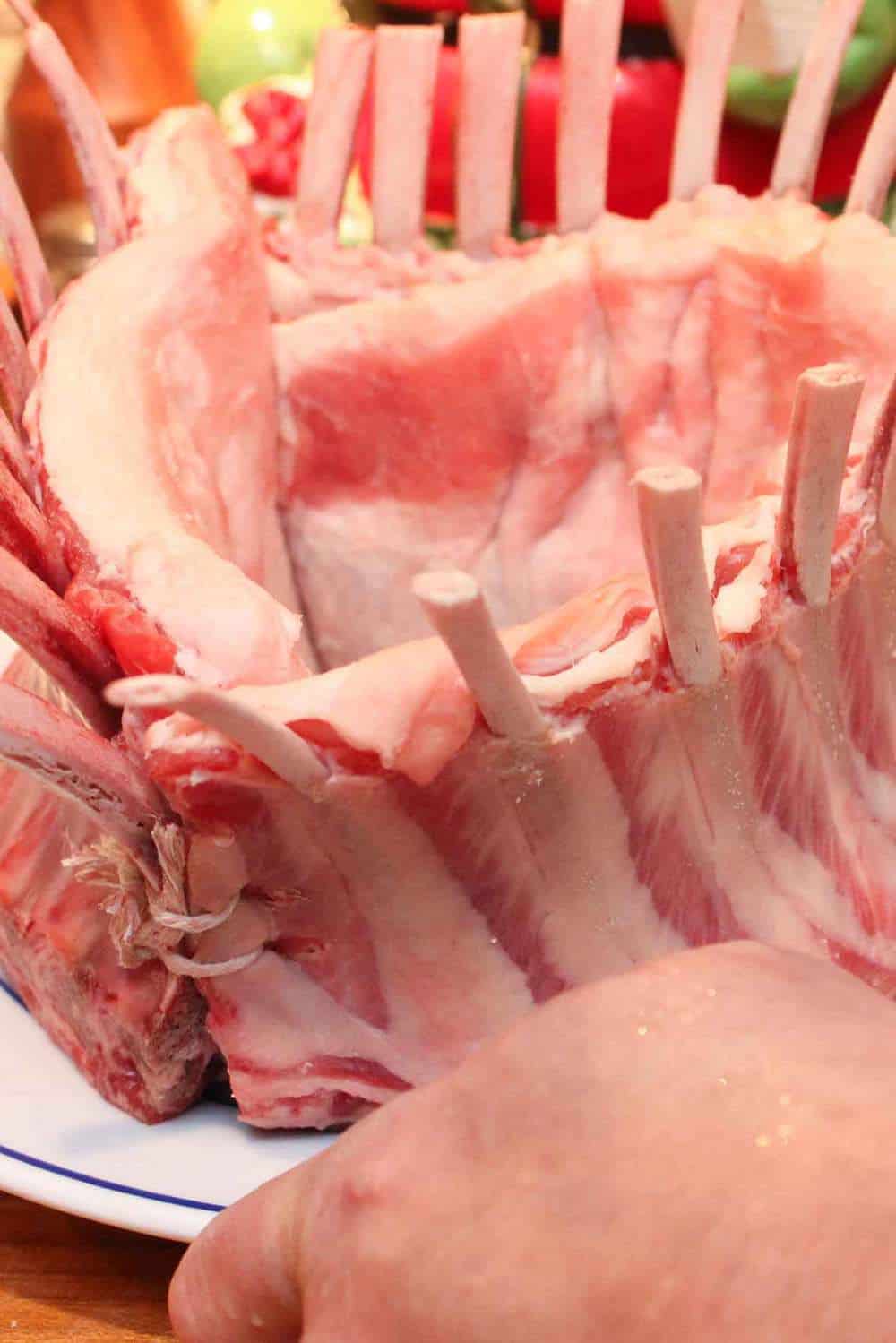 I did a slight variation on my Cornbread, Sausage and Cranberry Dressing recipe to suit this majestic cut of meat.
Best thing is (besides the taste), you can make the dressing a day ahead.
We love using slightly dried-out country white bread.
Oh, boy, is this stuff(ing) good.
It is the perfect compliment to the succulent pork.
Really incredible taste.
As the roast and the stuffing bake, they impart their wonderful flavors to each other.
This Royal Crown Roast with Stuffing is so impressive and brings about endless 'oohs' and 'ahhs' when served.
Incredible.
This is a keeper and one that you and your loved ones will be talking about all year!!
140% Loon Approved!
Now go and make this incredible Royal Crown Roast with Stuffing recipe!
Royal Crown Roast with Stuffing
This Royal Crown Roast with Stuffing is truly a majestic and impressive dish! And the taste is just amazing. Be sure to special-order the crown roast from your butcher in advance. Holiday magic on a platter. Amazing.
Print
Pin
Rate
Prep Time: 1 hour
Cook Time: 3 hours
Total Time: 4 hours
Servings: 12 people
Calories: 378kcal
Ingredients
FOR THE STUFFING
6 cups yellow onions chopped
3/4 cup unsalted butter 1 & 1/2 stick
2 tbsp fresh sage chopped
1 tbsp fresh rosemary chopped
1 tbsp fresh thyme chopped
1 1/2 tbsp cider vinegar
1/2 cup dry white wine
1 lb loaf of country white bread cut into 1-inch cubes, then roughly pulsed to coarse crumbs in a food processor
1 lb ground pork
1 cup celery chopped
1 cup dried cranberries
FOR THE ROAST
1 tsp fresh sage finely chopped
1 tsp fresh thyme finely chopped
1 9 to 10 lb crown roast of pork
Instructions
MAKE THE STUFFING
Cook onions with 1 1/2 teaspoons Kosher salt in 6 tablespoons butter in a large skillet, or Dutch oven over moderate heat, covered, stirring occasionally, until tender, about 10 minutes.

Continue to cook, uncovered, stirring often, until onions are just golden, about 10 minutes more.

Add sage, rosemary, thyme, 1 teaspoon black pepper and cook, stirring, for 5 minutes.

Add vinegar and wine and bring to a boil, stirring occasionally, until the liquid is evaporated, then remove from heat.

Meanwhile, cook breadcrumbs and 1 teaspoon salt in remaining 6 tablespoons butter in a large nonstick skillet over medium-low heat, stirring, until golden and crisp, about 15 to 20 minutes.

In a large bowl, add the onion mixture and stir in the ground pork (uncooked), celery, cranberries and toasted bread crumbs.
COOK THE ROAST AND STUFFING
Preheat to 350° F.

Stir together sage, thyme, 2 teaspoons salt, and 1/2 teaspoon pepper in a small bowl, then rub over outside and bottom of roast.

Put the roast in a roasting pan and mound about 2 cups stuffing loosely in center, then add 1 1/2 cups water to pan.

Transfer remaining stuffing to a buttered 2-quart baking dish and refrigerate until ready to bake.

Insert an instant-read thermometer 2 inches into the center of the meat (do not touch bones). Roast pork in lower third of oven, covering the stuffing and the tips of the ribs with a sheet of foil after about 30 minutes and adding more water if pan becomes dry. Roast until internal temperature reaches 155 F, about 2 1/4 to 2 3/4 hours total. Add more water if pan becomes dry and scorching.

Bake remaining stuffing (next to or under the roast, starting 30 minutes before roast is done), covered with foil, 30 minutes. Increase oven temperature to 425 F (after removing roast from oven) and continue to bake stuffing, uncovered, until top is crisp, 15 minutes more.

Transfer pork to a platter and let stand 30 minutes.

Carve pork and serve with stuffing.
Nutrition
Calories: 378kcal