These gems just might be the most delicious appetizer ever served at a fabulous party.
They are incredibly flavorful, easy to prepare, and they look wonderful when served. And who doesn't love a good lollipop? Perfect for the holidays or a fun dinner party.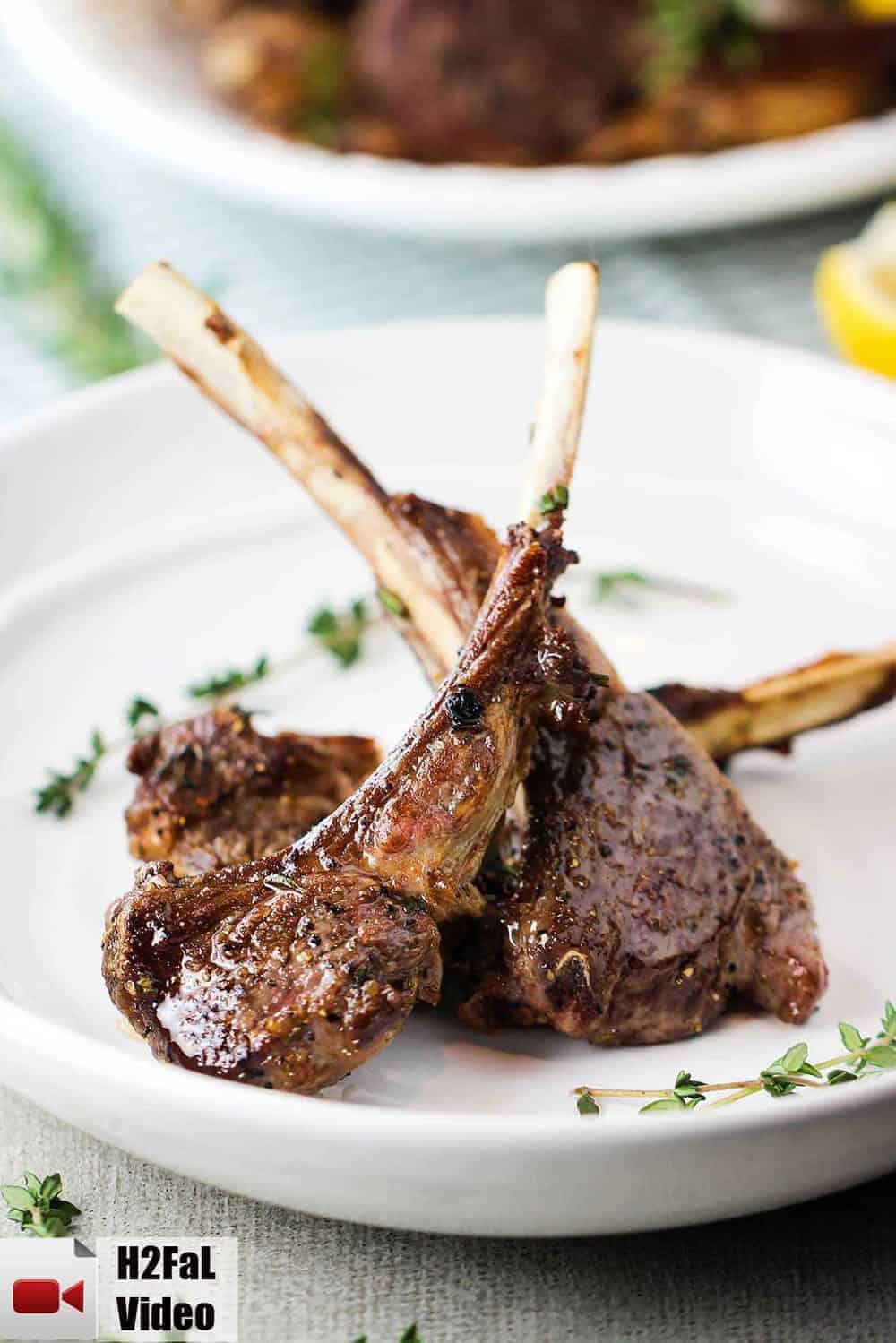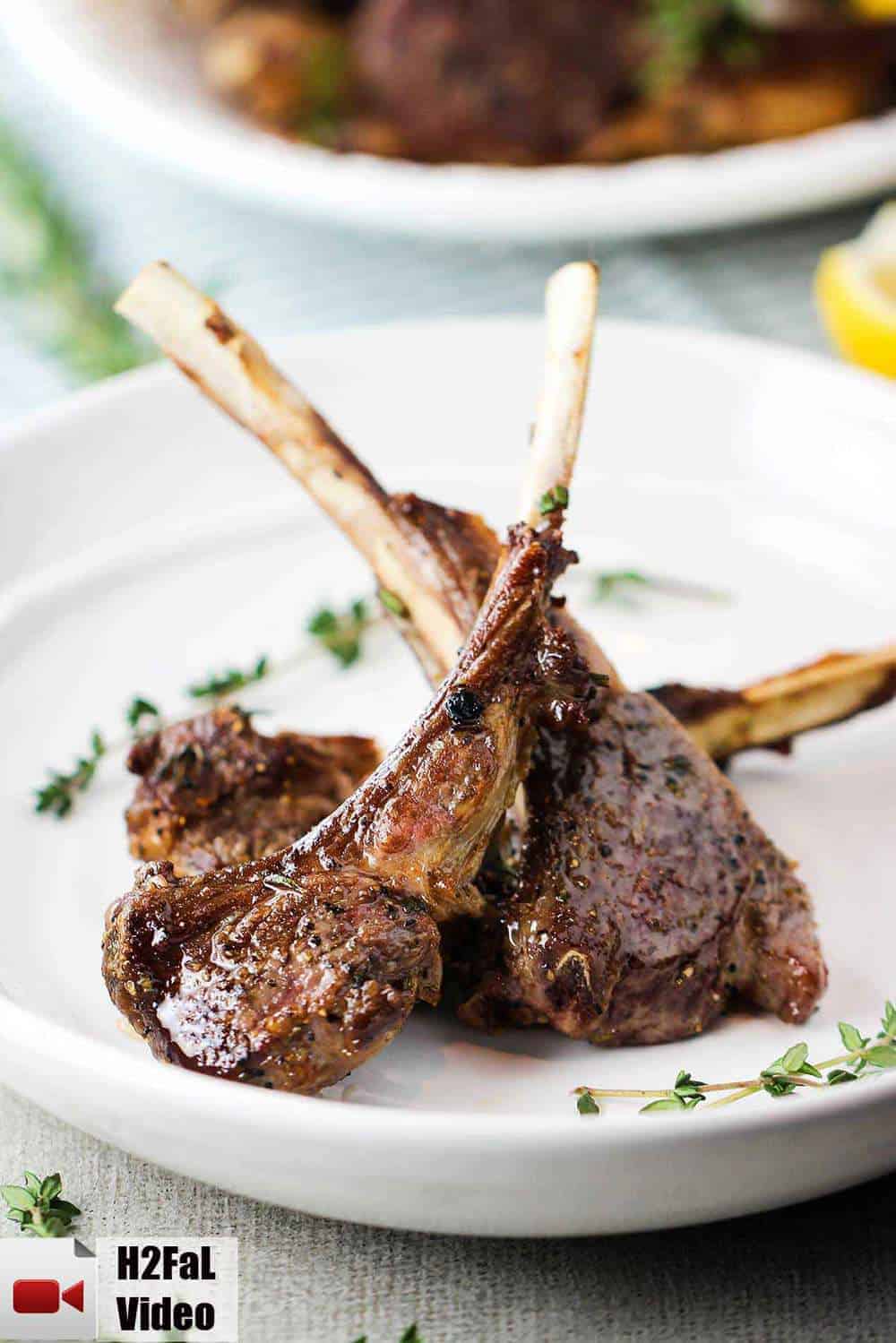 How to Make Lamb Lollipops
Lollipop lamb chops are so simple to prepare. They cook quickly either on a hot grill or a smoking hot skillet.
Just delicious.
Watch us show you how to make these finger-licking good chops.
Also Called Scottadito
The Italian name for these lamb chops is "scottadito" which means "scorches the finger." Quite literally, they are so tempting and so delicious that you can't wait to pick them up to eat them, even when they are piping hot!
Ask your butcher for 3 racks of lamb and have them frenched and cut into chops or lollipops. Learn more about the various cuts of lamb here.
Then be sure to trim all but a very thin layer of fat.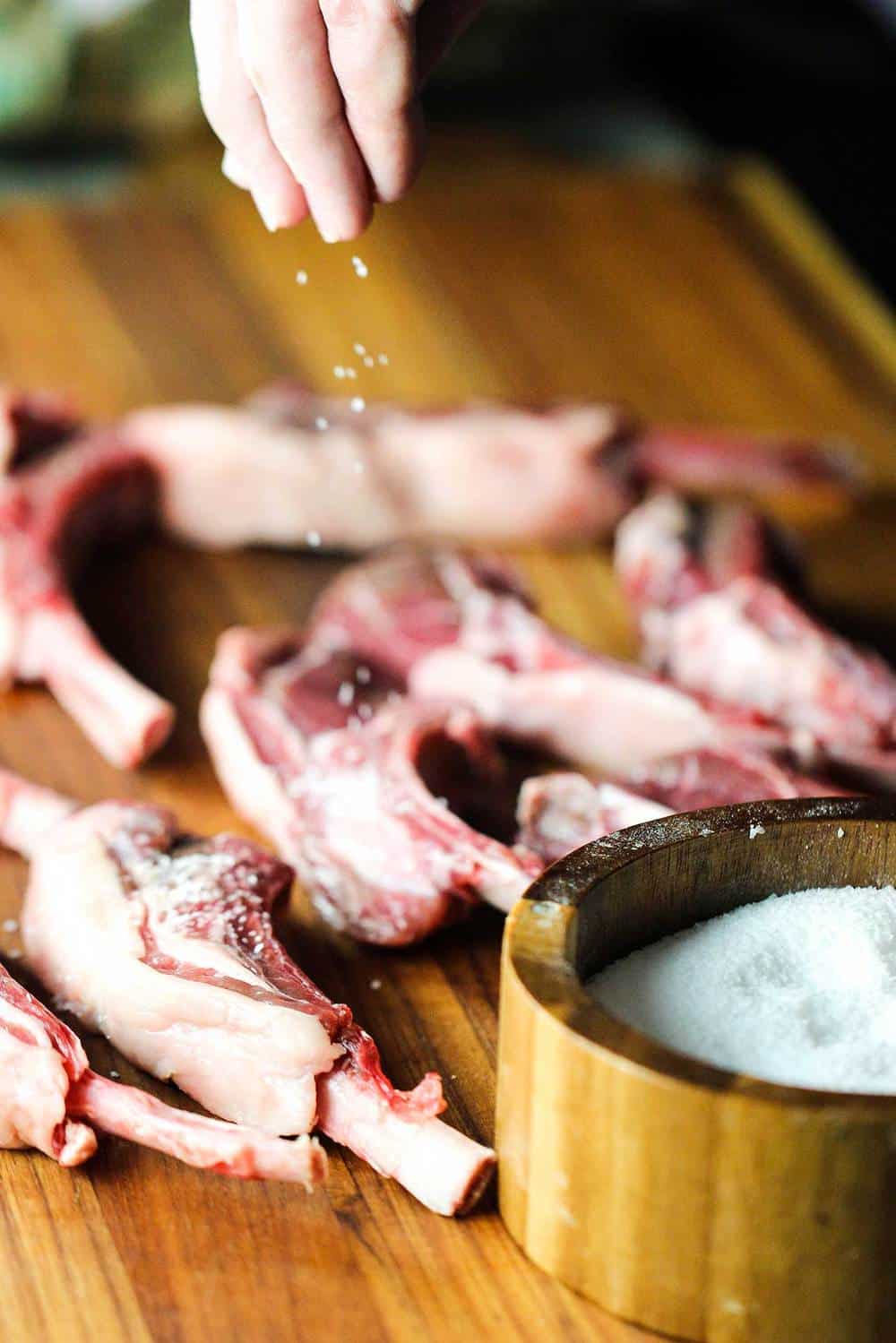 The Best Way to Cook Lamb
These chops are so delicious, you could just simply season them with salt and pepper, and they would be great.
But we love to up the flavor even more with garlic and fresh herbs.
Whatever you happen to have on hand will most likely be all you need.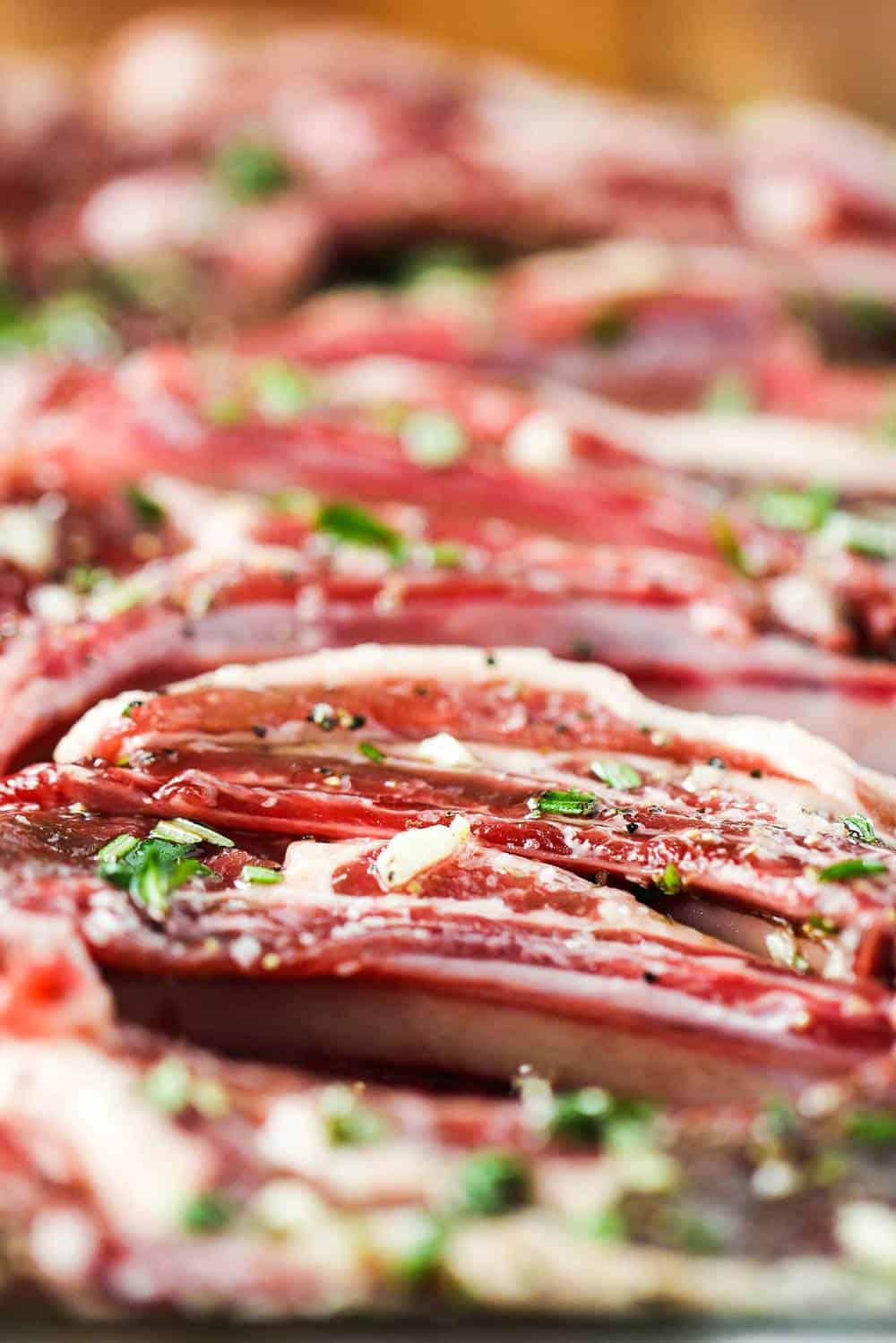 Lamb Pops are the Perfect Party Appetizer
We absolutely love grilled lamb lollipops, but a good hot cast-iron skillet works perfectly, too.
They only need a total of about 5 minutes on the heat to cook to a perfect medium temperature.
They are lovely when served by themselves with a wedge of lemon, but they also pair nicely with sauteed greens, such as kale or collard greens.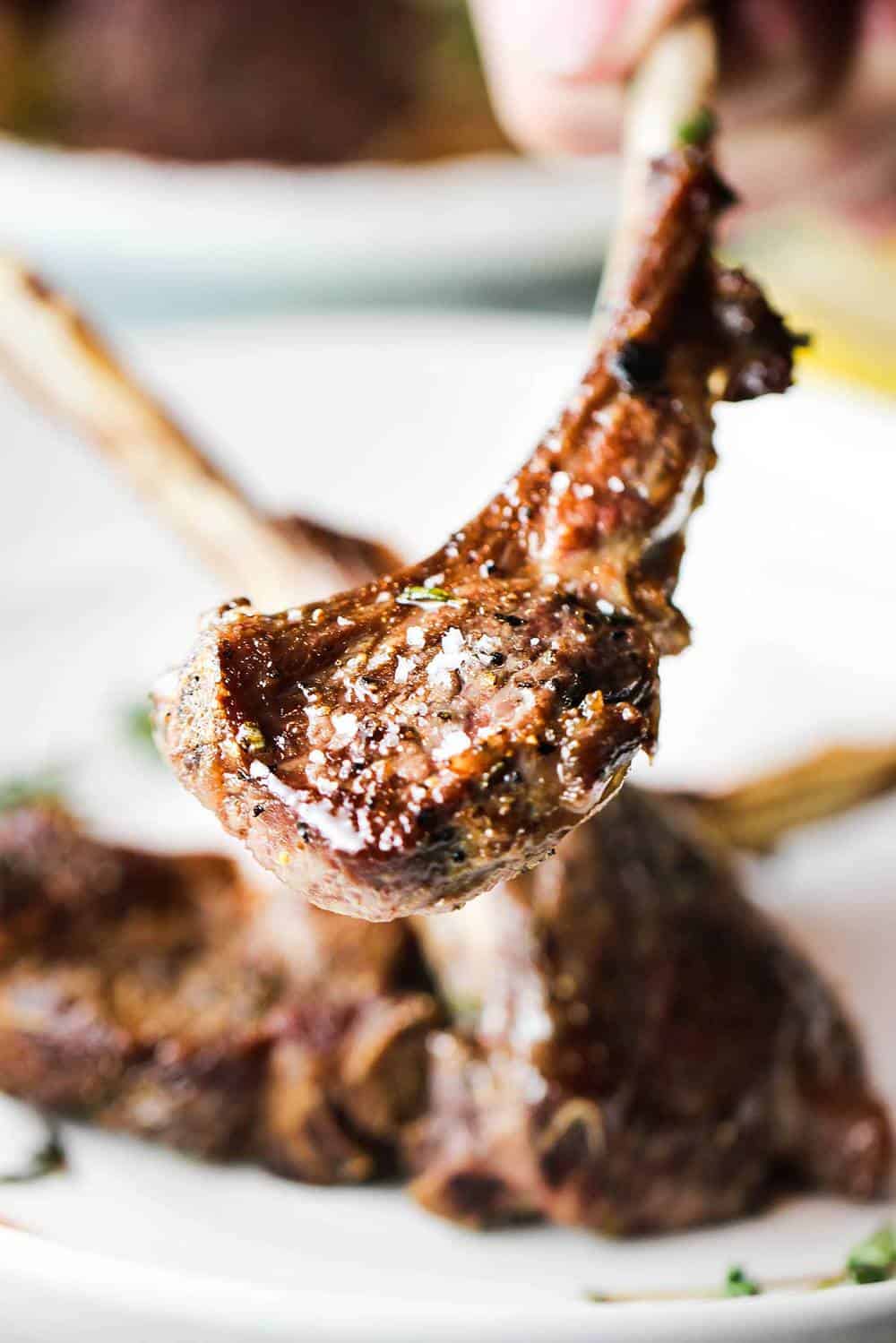 The Loon wasn't sure he would like these when I told him I was making these gems.
After one bite, that uncertainty faded into pure delight as he couldn't stop with just one, or two, or three chops.
Now, go ahead and make these awesome chops. Another great party appetizer is our Warm Spinach and Artichoke Dip.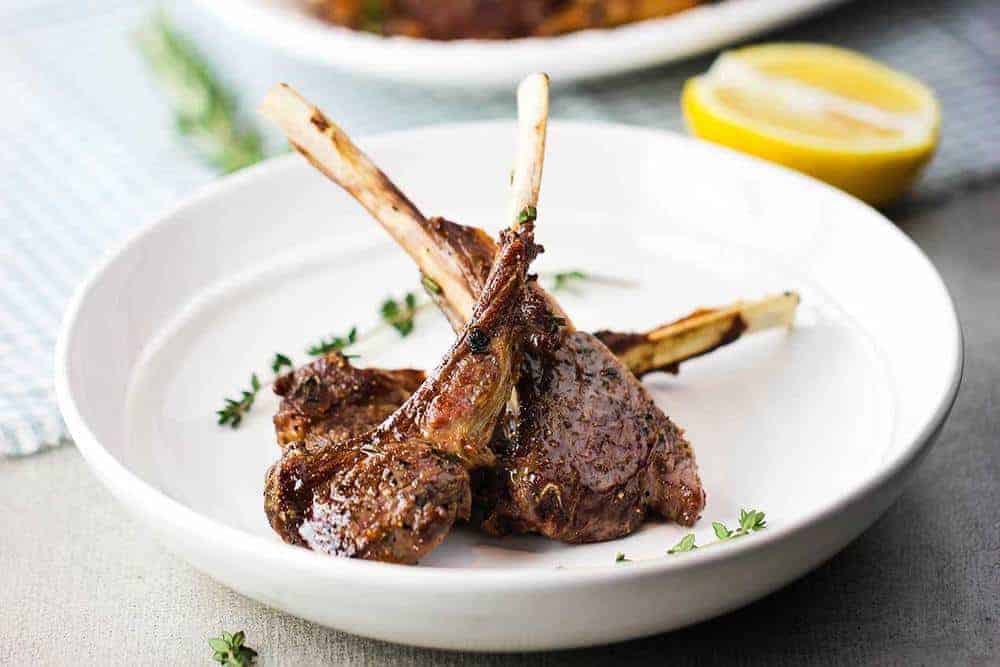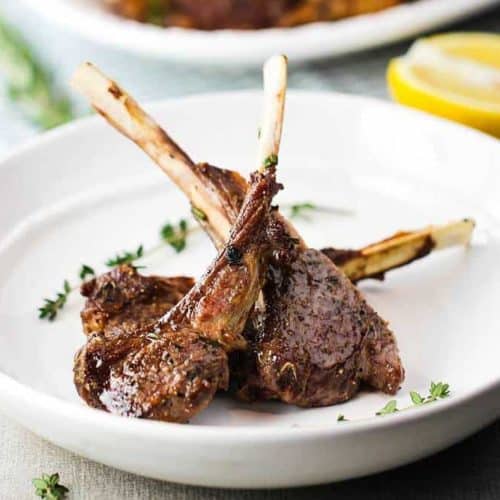 Lamb Lollipops
These Lamb Lollipops are the perfect appetizer for a party or gathering of friends and/or family. And they are so easy to prepare and they are just really so festive. Ask your butcher to french the racks of lamb and then cut them into chops.
Print
Pin
Rate
Servings: 8 people
Calories: 69kcal
Ingredients
3 racks lamb frenched and cut into chops and trimmed of all but thin layer of fat
Coarse sea salt and freshly ground pepper or Kosher salt
3 cloves garlic minced
1 tbsp rosemary fresh, chopped
1 tbsp thyme fresh, chopped
¼ cup olive oil
1 lemon cut into wedges
Instructions
Liberally sprinkle the chops with salt and pepper all over.

In a small bowl, combine the garlic, rosemary, thyme, and salt. Add the oil and whisk until combined.

Pour the marinade all over the chops and turn to coat. Cover with plastic wrap and place in the fridge for at least 2 hours, or overnight.

Heat a large heavy skillet over medium-high heat, or turn your grill on medium-high heat for direct heat grilling.

Sear the chops (in batches if using a hot skillet) until browned on both sides, about a total of 4 to 5 minutes for medium to medium-rare.

Transfer to a platter and squeeze a lemon wedge over the top. Sprinkle with a little more sea salt, if desired. Serve at once.
Nutrition
Calories: 69kcal | Carbohydrates: 2g | Protein: 1g | Fat: 7g | Saturated Fat: 1g | Cholesterol: 1mg | Sodium: 1mg | Potassium: 28mg | Fiber: 1g | Sugar: 1g | Vitamin A: 54IU | Vitamin C: 9mg | Calcium: 14mg | Iron: 1mg