Greek Salad with Grilled Steak is so satisfyingly delicious.
We just love a good Greek salad.  And we just love grilled skirt steak.  Put them together, and you've got a perfect culinary marriage! Serve with warm crusty garlic bread, and you've got an entree salad that will delight your guests, no doubt!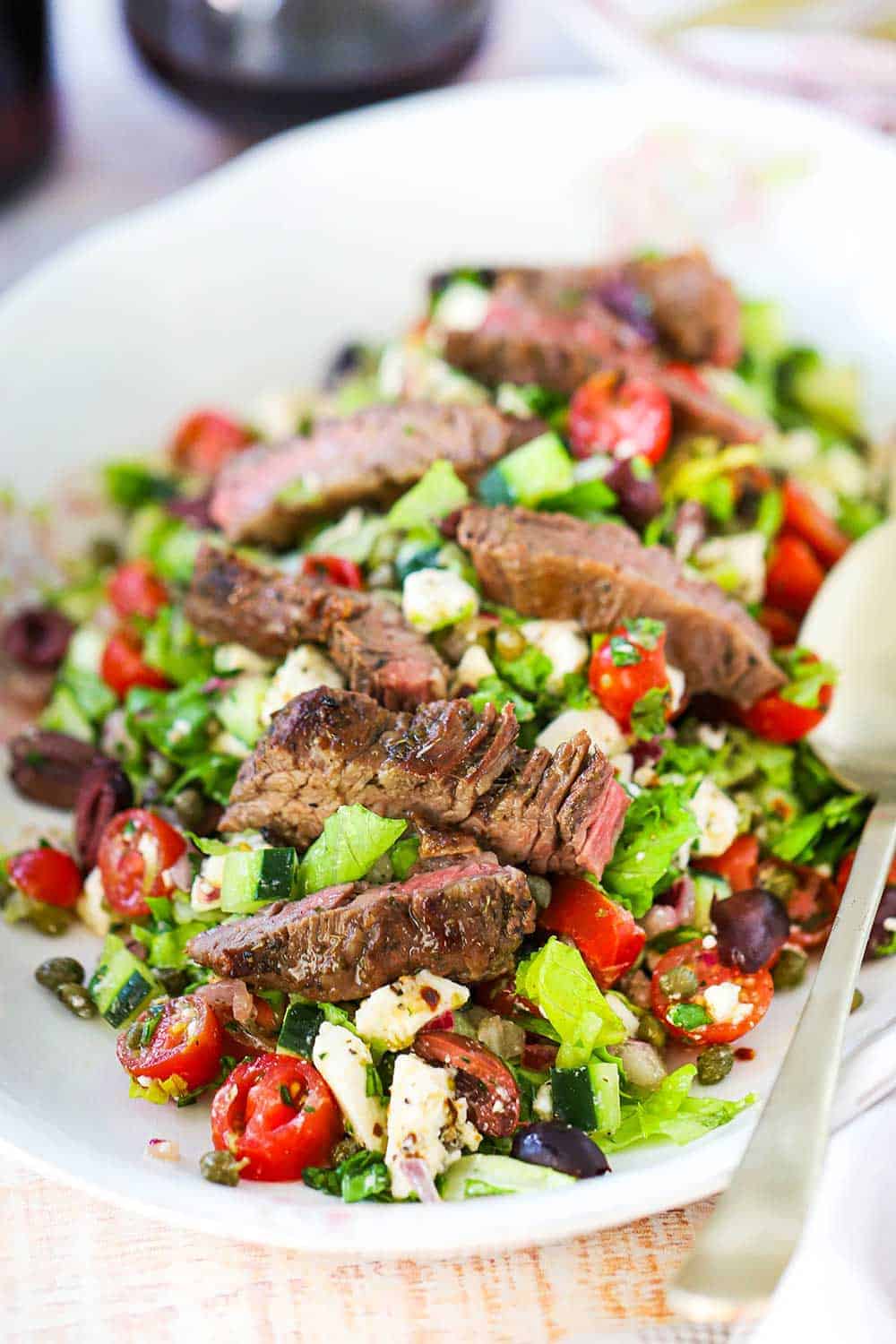 HOW TO MAKE GREEK SALAD WITH GRILLED STEAK
Putting together this classic salad is actually no difficult.
You'll first want to get your ingredients together.
In addition to the steak, we love baby spinach, feta cheese, capers, cucumbers, tomatoes, olives and fresh herbs. And a wonderful Greek vinaigrette.
CHOOSING THE RIGHT CUT OF MEAT
You really can't go wrong with choosing a good steak for this Greek Salad with Grilled Steak.
Our cut of choice is skirt steak because it is highly marbled. The only thing you'll need to marinade the steak for at least 4 hours so the marbling will soften and because extremely tender and melt-in-your mouth once grilled.
Another cut of steak that is great is a ribeye or strip steak.
HOW TO GRILL THE STEAK
After the skirt steak has been marinated for several hours, or even better, overnight, it's time to fire up the grill.
Place the steak on direct heat over medium-high heat.
Cook to your liking, but we like our steak to be nicely charred on the outside and slightly pink on the inside. About 5 to 7 minutes per side.
Feta cheese is classically Greek and is the perfect choice for this salad.
We like to buy it in blocks and the cube it with a sharp knife. Tossing the cheese in the marinade puts it over the top in pure deliciousness!
THE PERFECT ENTREE SALAD
This salad is so flavorful and really is the perfect entree salad.
We love making this year round, but especially enjoy it in the summer when produce is at its peak.
So extremely satisfying and delicious!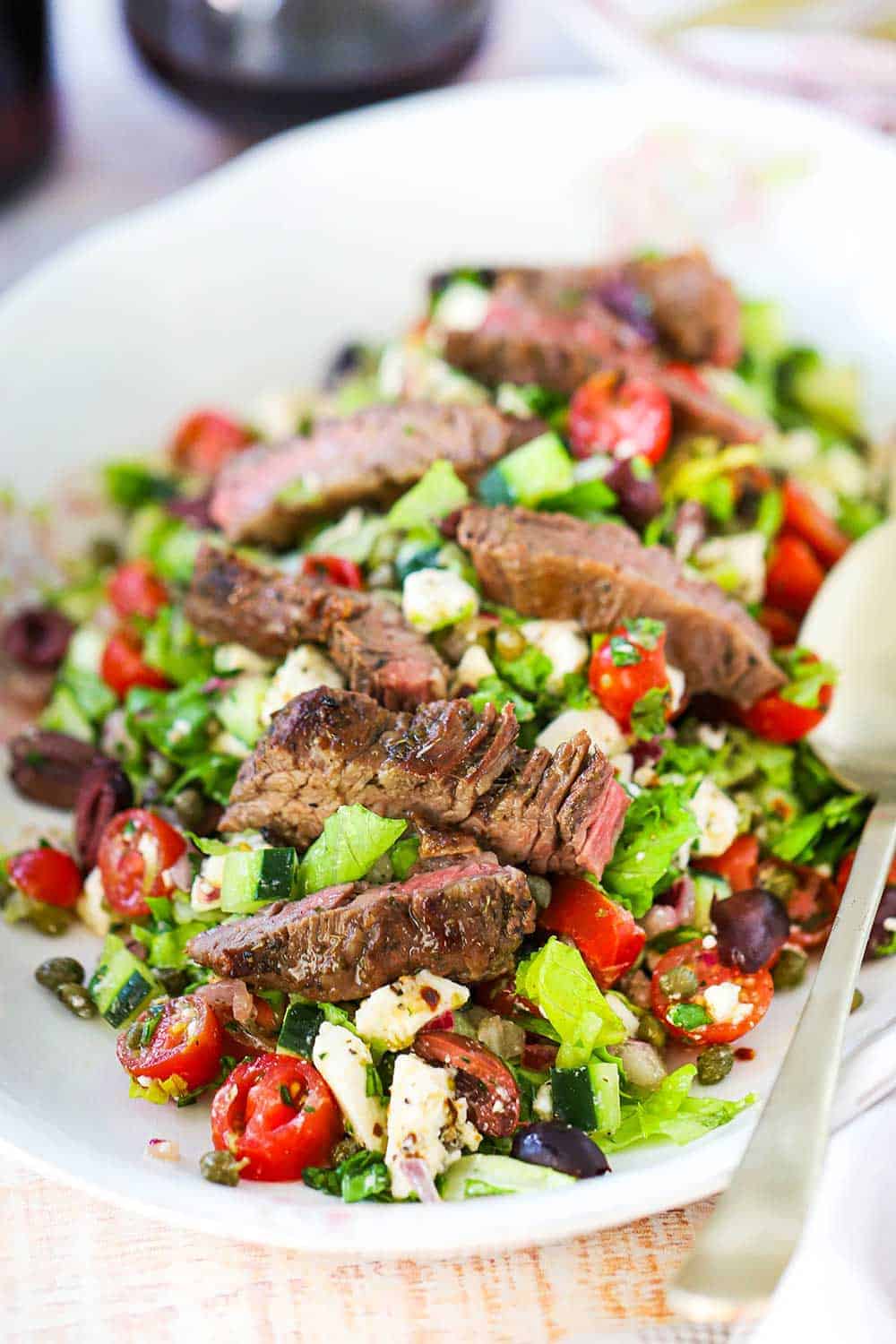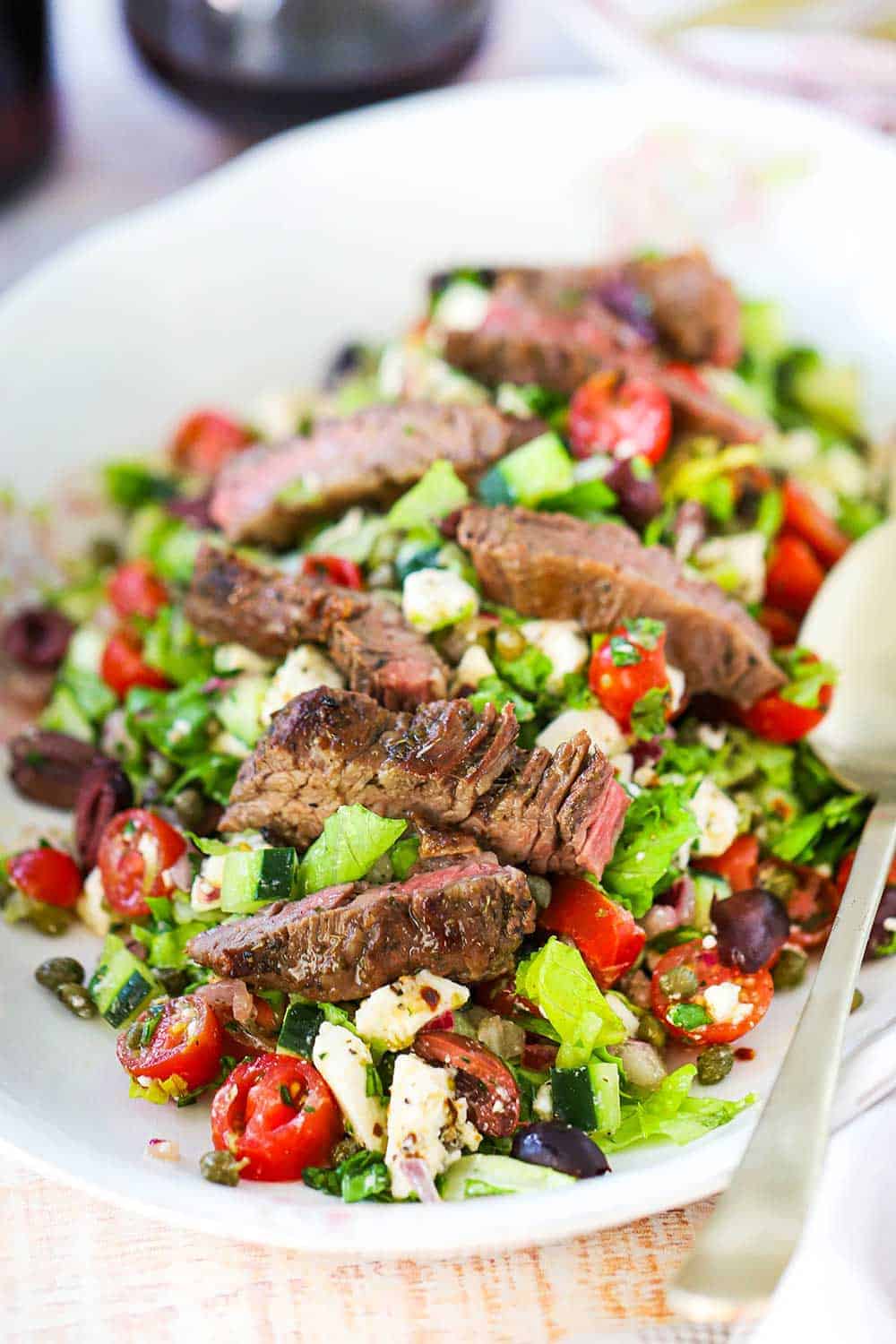 Greek Salad with Grilled Steak
This Greek Salad with Grilled Steak brings together two of our favorites things in the world...a Greek salad and beautifully grilled skirt steak. Marinate the steak first for about 6 hours (or overnight), then marinate the feta cheese, then assemble this amazing entree salad. Incredible!
Print
Pin
Rate
Servings: 4 people
Calories: 396kcal
Ingredients
6 1/2 tbsp extra-virgin olive oil
3 garlic cloves minced
1 tbsp dried oregano
2 tsp red wine vinegar
1 tsp Worcestershire sauce
Kosher salt and freshly ground black pepper
1 lb skirt steak
2 tbsp fresh flat-leaf parsley chopped
2 tbsp capers rinsed
2 tbsp fresh lemon juice
1 tsp fresh thyme chopped
1/4 tsp crushed red pepper flakes
7 oz Greek feta cut into small cubes (about 1 1/2 cups)
5 oz baby spinach
2 small cucumbers halved, and thinly sliced
1 1/2 cups cherry tomatoes halved
3/4 cup pitted Kalamata olives
Instructions
In a medium bowl, whisk together 3 tablespoons of the oil with the garlic, oregano, vinegar, Worcestershire sauce, 1/4 teaspoon salt and pepper.

In a large dish, place the steak and pour the marinade over the meat, turning to coat.

Cover and place in the fridge for 4 to 6 hours, or overnight.

Meanwhile, in a medium bowl, whisk the remaining 3 1/2 tablespoons oil, parsley, capers, lemon juice, thyme, and chile flakes. Add the feta and stir gently to coat.

Marinate the cheese at room temperature for an hour, or in the fridge for up to 6 hours.

Prepare a medium-high hot grill.

Remove the steaks from the marinade and grill until cooked to your liking, turning occasionally.

Transfer to a cutting board, cover loosely with foil, and let rest 5 to 10 minutes.

Thinly slice the steak against the grain, then season with a little more salt. Set aside.

Place the spinach, cucumbers, tomatoes, and olives in a large bowl.

Drizzle all of the marinade from the feta over the salad, using a spoon to hold back the feta (no problem, if a little cheese falls in).

Season with salt and pepper, and toss to coat.

Arrange on a serving platter, or divide among four dinner plates.

Scatter the steak and feta over the salad, and serve.
Nutrition
Calories: 396kcal