This is Mexican grilled meat at its very best. Truly, the best.
There is no doubt about it, we are crazy for steak fajitas. We just love all the fixings that go with it. But there is also something equally as satisfying about this cut of meat that is marinated for hours and then grilled perfectly. Truly spectacular.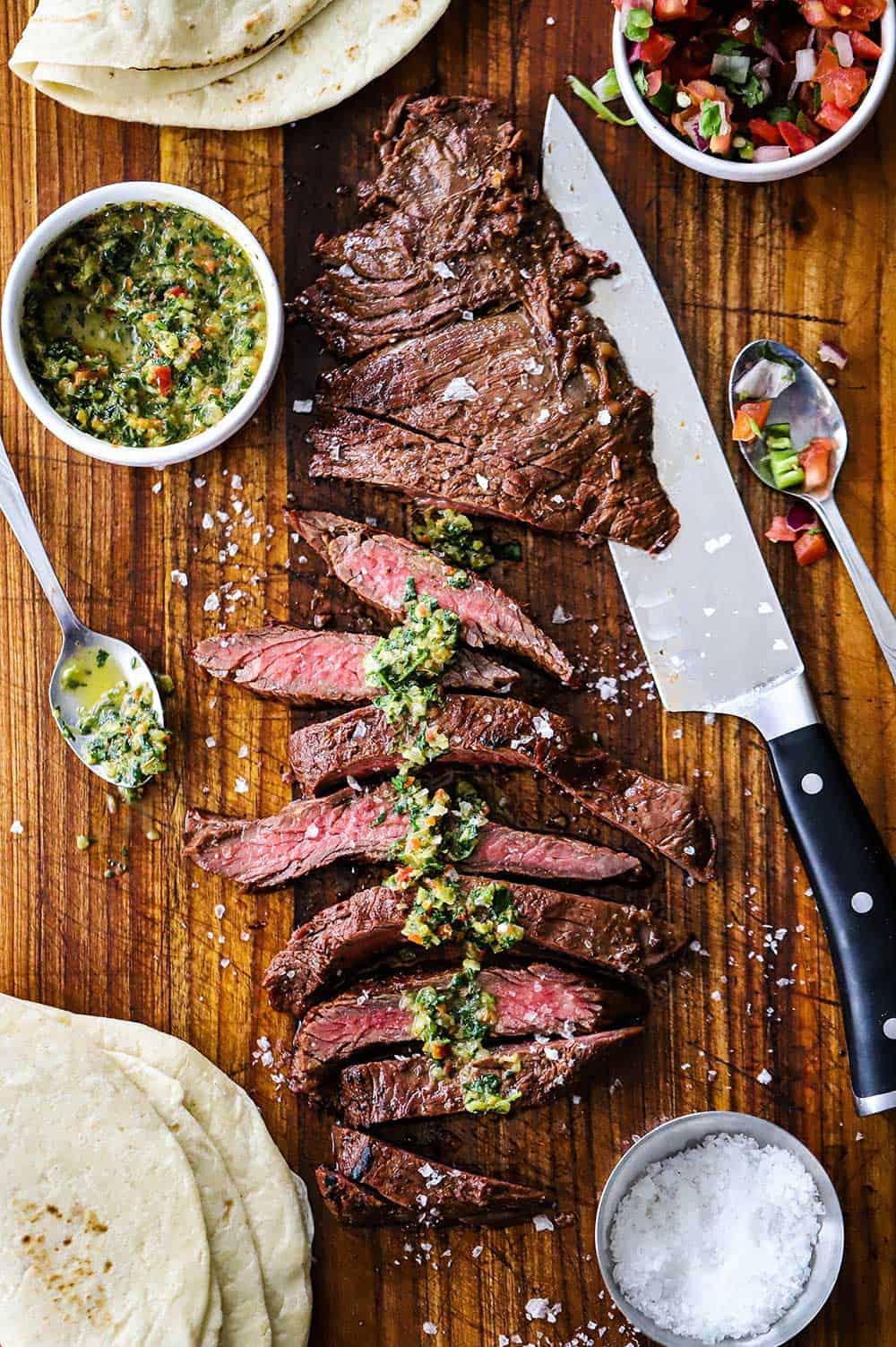 How To Make Carne Asada
Translated, carne asada literally means "grilled meat." But trust us, it is so much more than that!
We highly recommend letting the meat rest in the marinade for at least 8 hours, preferably overnight.
This is the perfect weekend culinary creation. You'll be thrilled with the results!
NOTE: If you liked this video, please subscribe to our YouTube channel. Remember to click the little 'bell' icon so you'll never miss a new video!
The Best Cut of Beef for Carne Asada
We love using a nice cut of flap steak for our carne asada. This is the tip of the sirloin.
It's deeply flavorful and not expensive, either.
EXPERT TIP: Other excellent choices for the beef are skirt, ribeye, or cap of ribeye. Use a large freezer baggie to place the meat and marinade in. Give it a good rubbing in the fridge every few hours, just to help infuse the flavor and help with ensuring extremely tender meat.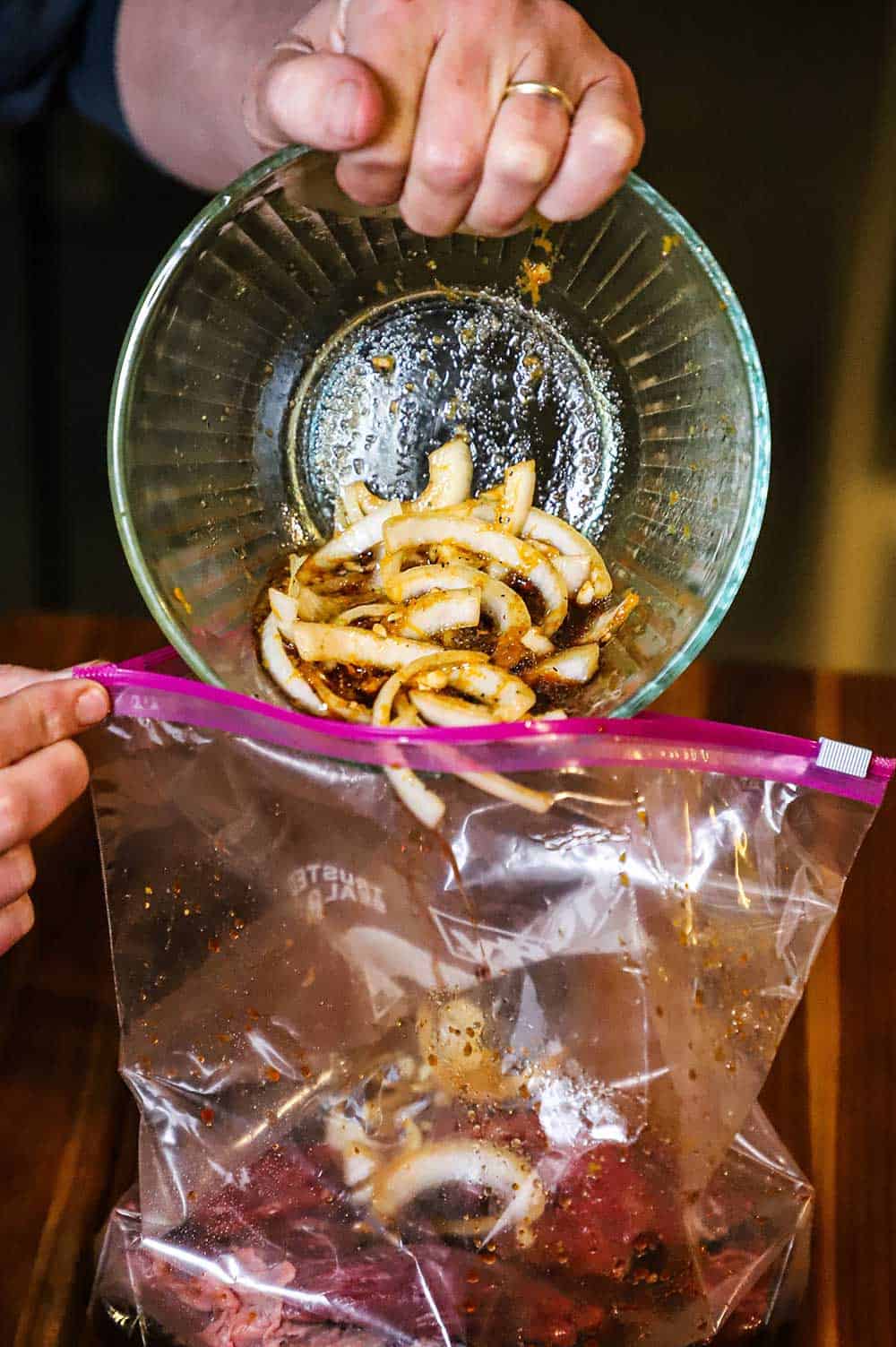 How To Cook
We find the best way to cook the beef is over a screeching hot grill.
In fact, we love to pull out our trusty kettle grill and pile the charcoal nice and high. Light the charcoal and then wait until they are very ashy and very hot.
EXPERT TIP: If you don't have a kettle grill, no worries. Crank your gas grill as high as it will go for similar results. You can also sear the meat in a super hot skillet.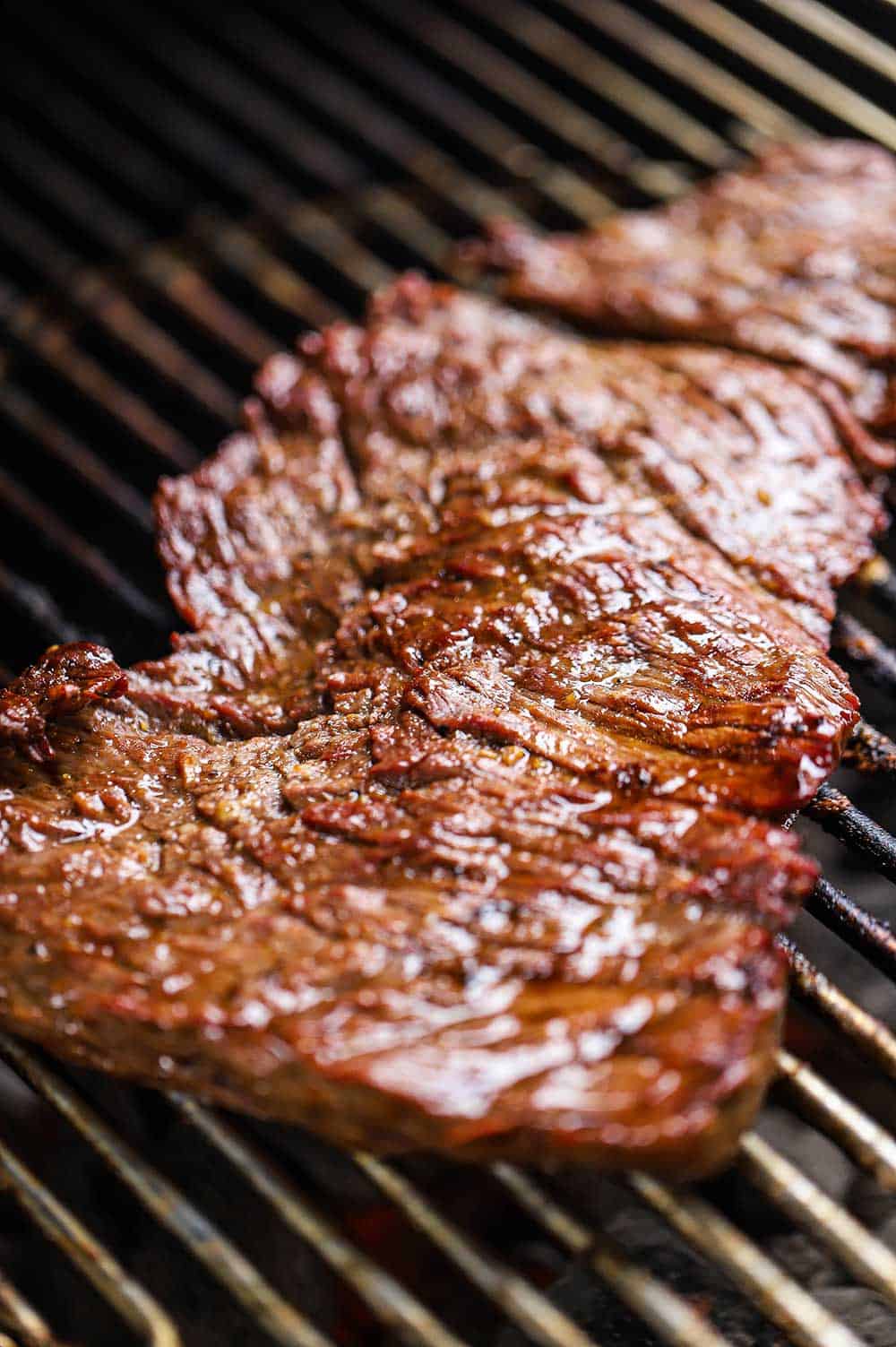 After you remove the steak from the grill, you'll want it to rest for 10 minutes.
This will allow the juices to settle back into the steak.
EXPERT TIP: We recommend using an instant-read thermometer to ensure the meat has reached the correct temperature. We find the medium-rare to medium is perfect. Once you've reached 130°F on the grill, take the meat off. It will continue to cook off the heat to 135°F.
How To Serve Carne Asada
This meat is so amazing, it doesn't need a lot of accouterments.
Just warm flour tortillas and a fresh batch of homemade chimichurri are all you need. Pico de gallo is always a nice addition, too.
Serve this with a nice batch of Borracho Beans or Mexican Black Beans and Mexican Rice for the perfect meal.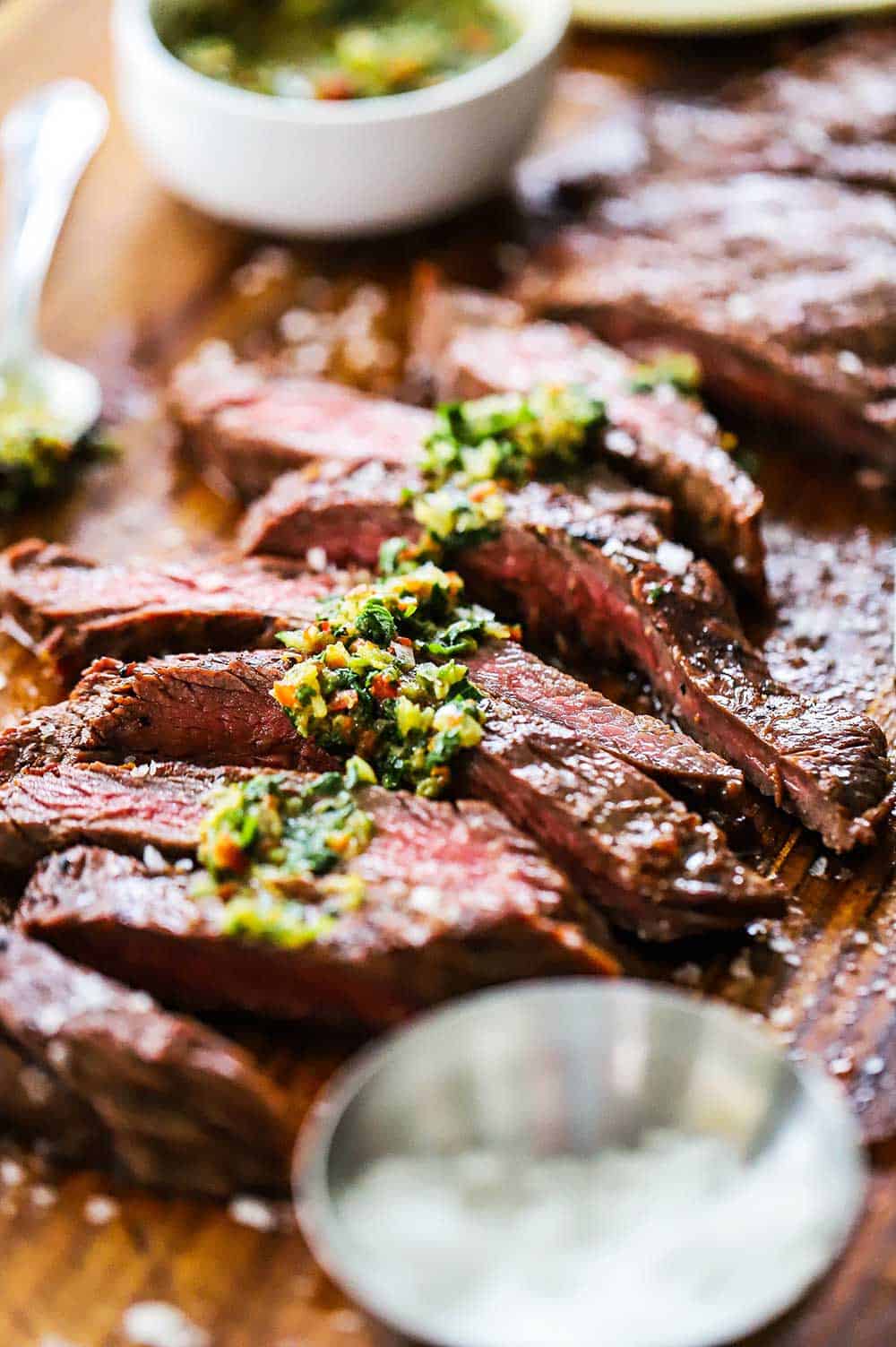 This is honestly one of the most delicious grilled meats we have ever prepared.
You just need to give yourself a little time to allow the steak to soak up all that delicious marinade.
We double the recipe and serve to recipe always to rave reviews. You will be a rockstar when you do the same.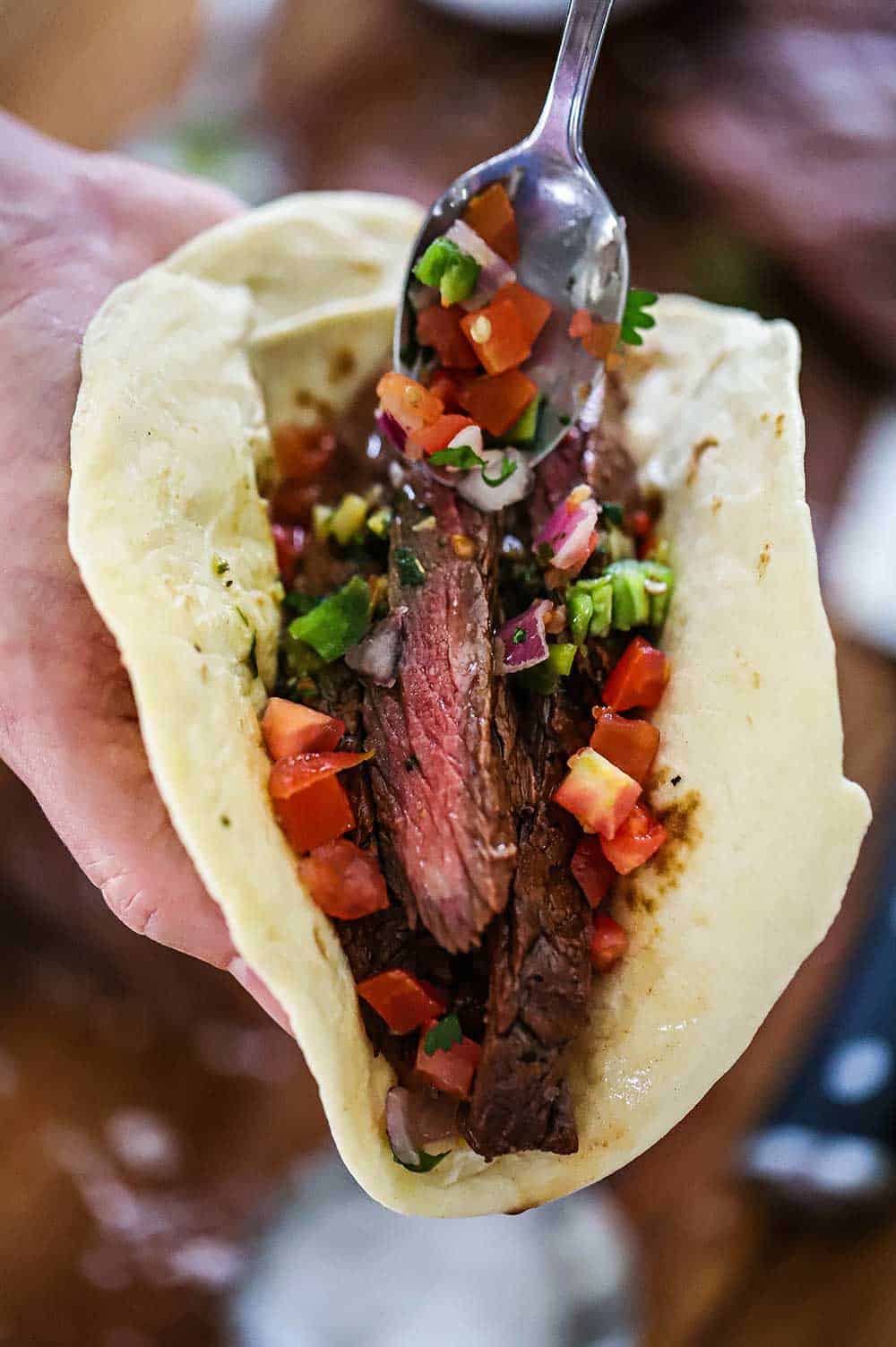 Ready to make the best grilled meat this side of Mexico? Go for it!
And when you do, be sure to take a photo of it and post it on Instagram and tag @HowToFeedaLoon and hashtag #HowToFeedaLoon!
Carne Asada
Carne Asada is an incredibly flavorful and juicy cut of beef grilled to perfection. Similar to steak fajitas but without all the fixings. We go with flap steak which can be found in the meat department of many well-stocked supermarkets or at your local meat market.
Print
Pin
Rate
Servings: 2
Calories: 546kcal
Equipment
Grill, charcoal, gas, or electric
Ingredients
For the Chili Sauce
16 guajillo chiles Stemmed and seeds removed (as many as possible)
16 arbol chilis Stemmed and seeds removed (as many as possible)
4 cloves garlic roughly chopped
2 tsp Kosher salt
1 cube chicken bouillon
water for boiling
For the Carne Asada
1 lb flap steak or skirt or ribeye (sliced thinly)
½ cup soy sauce
2 tbsp vegetable oil
2 tbsp chili sauce
½ onion cut into slices
1 clove garlic minced
¼ cup pineapple juice
1 tsp Kosher salt
½ tsp black pepper
8 flour tortillas warmed
chimichurri sauce optional
pico de gallo optional
finishing salt such as Maldon's, for finishing
Instructions
Make the Chili Sauce
Bring a medium pot filled with water to a boil. Carefully add the seeded peppers and cook for 15 minutes.

Use a slotted spoon to transfer the softened peppers and a cup of the chili broth to a blender. To the blender, add the garlic, salt, and bouillon cube. Puré until smooth. Transfer to a jar with a tight-fitting lid and set aside.
Make the Carne Asada
In a medium-sized bowl, add the soy sauce, vegetable oil, chili sauce, onion, garlic, pineapple juice, and salt. Mix to combine.

Place the meat in a large plastic baggie. Pour the marinade mixture over the meat. Use your fingers to carefully remove the air out of the baggie and then seal. Place in the refrigerator for at least 4 hours, or even better, up to 24 hours. If you can, massage the baggie every few hours.

Heat your charcoal, gas, or electric grill to high.

Remove the meat from the marinade. Discard the marinade.

Place the meat on the grill over direct heat. Sprinkle the meat with a little more salt. After 4 to 5 minutes, use a pair of tongs to flip the meat over. Hit it with a little more salt. Cook for another 4 to 5 minutes, or until an internal temperature of 125° to 130°F is reached. Remove from the grill and let rest for about 5 minutes. Slice against the grain and serve at once with tortillas, chimichurri, and pico de gallo. We like to sprinkle finishing salt (such as Maldon's) over the meat after slicing.
Notes
See the video near the top of the blog post for visual guidance. If you liked the video, please subscribe to our YouTube channel.
Flap steak is also called sirloin tip and sometimes a bavette tip. If you can't find flap, go with skirt or ribeye.
The chimichurri sauce can be made up to 2 days in advance.
The longer the meat sits (up to 24 hours) the better.
Leftovers will keep in the fridge for up to 5 days. Reheat on the stove over medium heat or in the microwave for 30-second intervals until heated through.
Nutrition
Calories: 546kcal | Carbohydrates: 94g | Protein: 20g | Fat: 11g | Saturated Fat: 4g | Polyunsaturated Fat: 4g | Monounsaturated Fat: 2g | Sodium: 7843mg | Potassium: 968mg | Fiber: 14g | Sugar: 23g | Vitamin A: 7524IU | Vitamin C: 19mg | Calcium: 231mg | Iron: 8mg