If you like grilled chicken, you are going to fall in love with this recipe.
It's simple and straightforward, but the smokiness from the grill, the crispy skin, and then the rich, tangy Alabama White Sauce put it over the top. This is one of those grilled dishes that your guests will truly rave about. It's deeply flavorful and easy to prepare.
How to Make Grilled Chicken Skewers with White Alabama Sauce
The Alabama White Sauce can be made up to several days in advance.
The chicken can be prepped 24 hours in advance. This means all you have to do is grill them up and serve with extra sauce on the side!
NOTE: If you liked this video, please subscribe to our YouTube channel. Remember to click the little 'bell' icon so you'll never miss a new video. Thank you!
The Ingredients You Will Need
Some butchers can provide you with boneless chicken thighs that still have the skin on. But, for most of us, that's hard to come by. See below for the best results:
Here's What You'll Need to Have on Hand
Chicken Thighs – Simply pick up bone-in, skin-on chicken thighs and use a sharp knife to cut strips off of the bone. You could also use chicken breasts, but we find you get more flavor with the dark meat. The skin adds amazing flavor.
Oil – Olive oil or vegetable oil both work just fine.
Seasonings – All you need is salt and pepper
Alabama white sauce – Make the sauce 1 hour in advance, or up to 3 days. Homemade is easy and critical for making these skewers incredibly delicious.
EXPERT TIP: The addition of dark corn syrup to the sauce adds a bit of sweetness to the sauce that matches wonderfully with the tangy horseradish sauce and apple cider vinegar.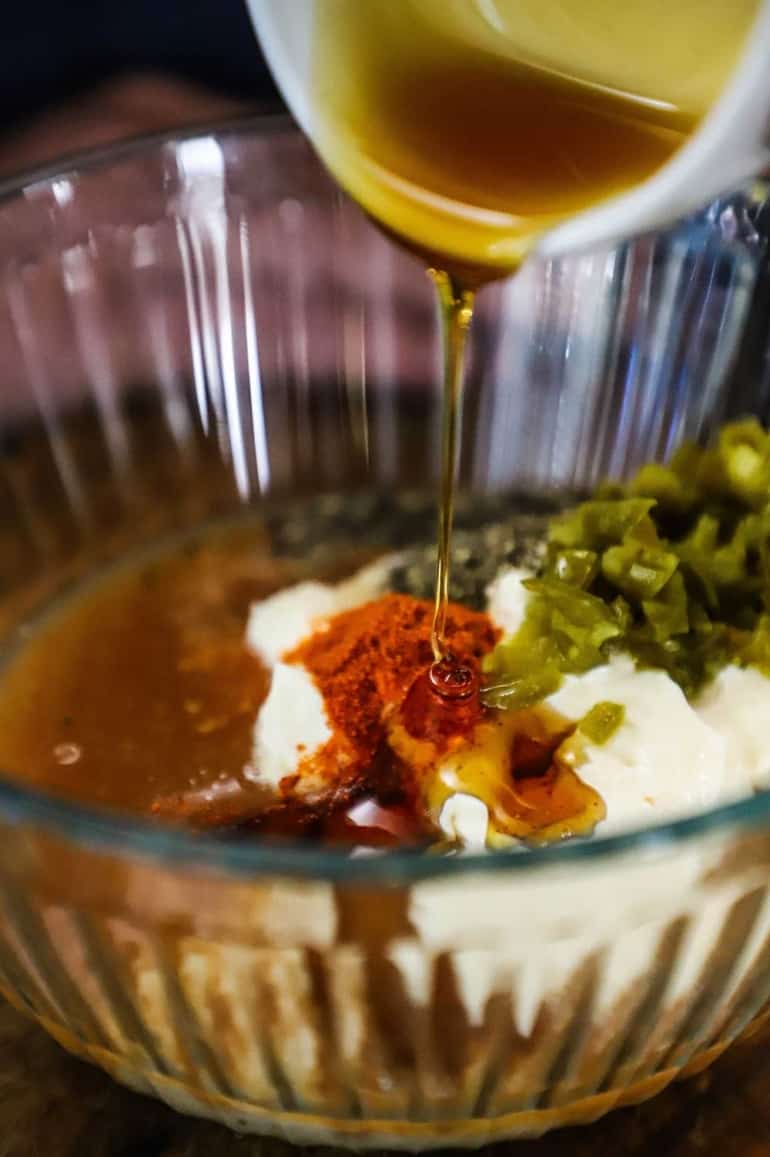 Tips for Perfect Grilled Chicken Skewers
Skin On! – We can't stress this enough. When grilled over direct heat, the skin gets crispy and the coating of the sauce makes it irresistible. It takes a little effort to get the pieces on the skewers, but it can be done in advance.
Sauce from Scratch – The sauce is a unique blend of tangy with a touch of sweetness. Homemade is simple to make and truly puts them in a league of their own.
Direct Heat – These only take about 15 to 18 minutes to cook. Get your grill good and hot, and then place the skewers directly over the heat source. No need to close the grill lid. They will char a bit and the skin will get perfectly crisp.
EXPERT TIP: Use the sharpest knife that you have to carefully slice strips of chicken around the bone. If you have long strips of loose skin, cut it away. The skin will stay with the meat once you thread it onto the skewer. Remember, if using wooden skewers, soak them in water for about 20 minutes before adding the chicken and then grilling.
How To Serve
We typically serve these stacked on a platter with lots of white sauce on the side. A nice sprinkle of finely snipped chives and some red pepper flakes make for tasty and beautiful garnishes.
You can also remove the chicken from the skewers and serve the grilled chicken family style.
A word of warning, these are usually the first to go when we serve these at a BBQ or any kind of gathering. We often double or triple the recipe. They are wonderful when served alongside other grilled proteins and/or vegetables.
EXPERT TIP: In the last 5 minutes of cooking, you'll want to slather on plenty of the white sauce onto the chicken. Carefully flip each skewer, and liberally add more of the sauce. Have a separate small bowl of the sauce to do this. Leave the rest for guests to add even more to the cooked chicken.
Other Grilling Recipes to Try
If you're like us, you're always looking for something new to grill at your next outdoor gathering. Burger and hot dogs are wonderful, of course, but these grilled delights are always a hit and are sure to please.
Marinated Grilled Chicken Kabobs
Best Grilled Chicken
Grilled Beer Can Chicken
Amazing Grilled Buffalo Chicken Wings
Grilled BBQ Pulled Pork Pizza
Delmonico Pork Steaks with Homemade Steak Sauce
Grilled Tri-Tip with Santa Maria Salsa
Best-Ever BBQ Shrimp
Grilled Portobello Mushroom BLT "Pizzas"
If you love grilling as much as we do, then you will love all of the dishes linked above. But, for the moment, aren't these babies calling your name?
There truly is something magical about this grilled chicken.
It's approachable and yet has an elevated flavor profile.
Add this with the crispy skin, and you will be amazed at the reaction you'll get when you set these out at your next BBQ or gathering. They are one of the best grilled dishes we have ever served. Honestly.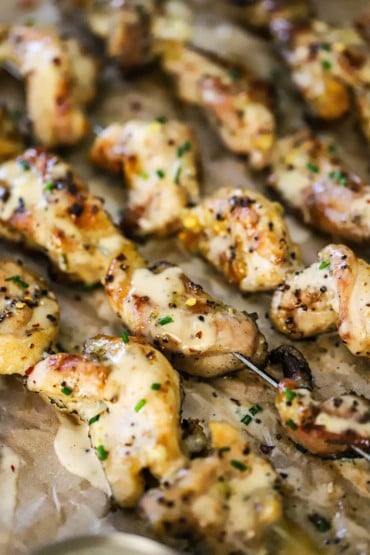 Ready to take grilled chicken to the next level? Go for it!
And when you do, be sure to take a photo of it, post it on Instagram, and tag @HowToFeedaLoon and hashtag #HowToFeedaLoon!
Grilled Chicken Skewers with Alabama White Sauce
Grilled Chicken Skewers with Alabama White Sauce is absolutely a true crowd-pleaser. Leave the skin on for crispy delicious perfection. And the tangy white BBQ sauce is the perfect complement to the grilled meat. Always a huge hit!
Print
Pin
Rate
Servings: 8 people
Calories: 139kcal
Equipment
5 skewers If wooden, soak in water for 20 minutes before using

Gas, charcoal, or electric grill
Ingredients
2 cups Alabama white sauce
4 chicken thighs skin-on
1 tbsp olive oil
2 tsp Kosher salt and black pepper
2 tbsp chives snipped, for garnish (optional)
1 tbsp red pepper flakes for garnish (optional)
Instructions
Do Ahead
Prepare the white sauce and let chill for 1 hour or up to 3 days.
Prepare the Grilled Chicken
Cut the chicken into strips, around the bone.

Weave the strips onto the skewers.

Brush the chicken with the oil, and season with salt and pepper.

Heat your grill to medium-high heat.

When the grill is hot, place the skewers on the grill, over direct heat.

Grill until the skin is nice and crispy, about 12 -15 minutes, carefully flipping occasionally.

Brush some of the white sauce all over the chicken and cook for another minute. Flip, and brush more sauce. Cook for another minute and then remove from the grill.

Garnish with snipped chives and red pepper flakes, if desired. Serve at once with the remaining white sauce on the side.
Notes
See the video near the top of the blog post for visual guidance. If you liked the video, please subscribe to our YouTube channel.
You can substitute chicken breast for this recipe, but, the crispy skin is really what makes the grilled chicken so deeply flavorful. That and the homemade white sauce.
The Alabama white sauce can be made up to 3 days in advance and will keep in the fridge for up to a week.
The chicken can be skewered and seasoned up to 6 hours in advance. Cover with plastic wrap and keep in the fridge until ready to grill.
Nutrition
Serving: 340g | Calories: 139kcal | Carbohydrates: 0.1g | Protein: 9g | Fat: 18g | Saturated Fat: 3g | Polyunsaturated Fat: 2g | Monounsaturated Fat: 5g | Trans Fat: 0.05g | Cholesterol: 55mg | Sodium: 44mg | Potassium: 116mg | Vitamin A: 44IU | Calcium: 5mg | Iron: 0.4mg
POST UPDATE: This recipe was originally published in July 2016, but was updated with improved tweaks to the recipe with new tips and photography and a fabulous new video in September 2023!