Summertime is a joyous time of the year for so many reasons. In our books, grilling outdoors is one of the top reasons!
These kabobs are a spectacular way to serve chicken at your next cookout. The vegetables are beautiful, flavorful, and healthy, too. The simple marinade is deeply flavorful and brings everything together. And then to serve them with our Alabama White Sauce, you won't believe the raves you will get. And, you can get everything ready the night before you're serving. Or, you can throw them together all in about 30 minutes! Win either way!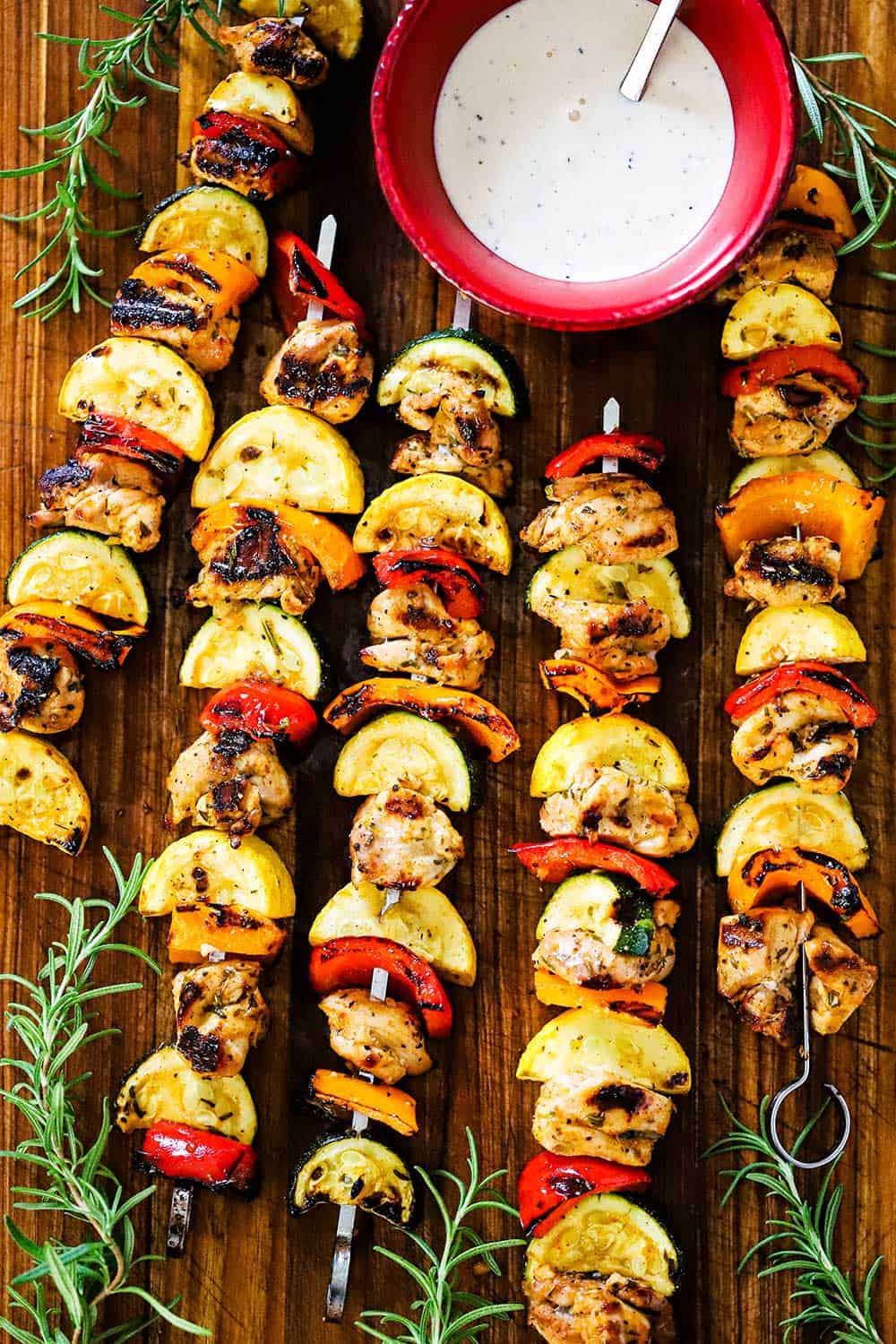 How To Make Chicken Kabobs
This is one of our favorite dishes to prepare when guests or coming over, or, for just the two of us.
Preparation could not be easier and the payoff is so fantastic.
If you enjoyed this video for Easy Chicken Kabobs, please subscribe to our YouTube Channel for other fun-filled recipes! Remember to click the BELL icon so you'll know as soon as a video is published! We THANK YOU so much for your support!
The Ingredients You Will Need
For the chicken, we love going with boneless, skinless chicken thighs. We think the dark meat has a wonderful flavor, but boneless, skinless chicken breasts are great as well.
Go with your favorite veggies. We love summer squash, zucchini, and colorful bell peppers.
Here's what you'll need for a flavorful marinade:
Lemon juice
Olive oil
Red wine vinegar
Rosemary (fresh or dried)
Oregano (fresh or dried)
Garlic
Smoked paprika
Salt and pepper
Add all of the ingredients to a large bowl. Shake the marinade ingredients in a jar with a lid. And mix it all together!
How To Skewer Kabobs
If you are using wooden skewers, then we highly recommend soaking them in water for at least 30 minutes. This will keep them from catching on fire during the grilling process.
We love our metal skewers and use them repeatedly. By the way, ever wondered about where the term "shish kabob" comes from? It's pretty interesting…read all about it here.
EXPERT TIP: When threading the vegetables and chicken pieces onto the skewers, be sure to keep the palm of your hand away from where the tip of the skewer will pierce the meat or veggie. Use your fingers to gently push the skewar through the meat or veggie. This is one activity that isn't advisable for children.
How Long To Marinade Chicken Kabobs
This marinade is so flavorful, you could literally toss the ingredients in the marinade, skewer the chicken and veggies, and then grill immediately.
For Maximum Flavor – Place the chicken and the veggies, along with almost all of the marinade in a large plastic bag and refrigerate for 1 hour, or even better, overnight. The longer the meat and veggies sit in the marinade, the deeper the flavor will be. Be sure to discard the marinade from the chicken, but use the reserved for brushing on the kabobs while grilling.
For Fast Turn-Around – If you are in a crunch for time, you will still get amazing flavor without letting the chicken and veggies sit in the marinade for an extended time. Even 15 minutes is great! Be sure to save some of the marinade for brushing on the kabobs while grilling.
EXPERT TIP: After you have placed the chicken and veggies on the skewers, place them in a large baking dish (9×13-inch works great) and place it in the fridge until ready to use. If preparing the kabobs ahead of time, simply cover them with plastic wrap or foil until ready to use!
Methods for Cooking the Kabobs
Grilling – Our favorite method, without a doubt. Whether you've got a gas grill, electric grill, or kettle grill, you'll want to cook the kabobs over direct heat for about 7 to 8 minutes per side. (15 minutes total). Brush some of the reserved marinade over the kabobs as they are cooking.
Roasting in the Oven – You'll need to preheat your oven nice and hot to 450°F. Place on a baking sheet and roast, uncovered, for about 30 minutes, turning the kabobs over halfway through. Basting with a little of the reserved marinade is a nice touch!
Grill Pan on the Stove – Crank the heat up to medium-high heat and spray the pan with cooking spray. Place the kabobs on the pan, and turn frequently every few minutes. Cook for about 10 to 12 minutes, or until the chicken is cooked through.
EXPERT TIP: Use an instant-read thermometer to ensure you reach an internal temperature of no lower than 160°F. After removing from the heat, the temperature of the chicken will raise another 5°F. Try not to overcook the chicken, too. Anything over 170°F may result in dry, tough meat.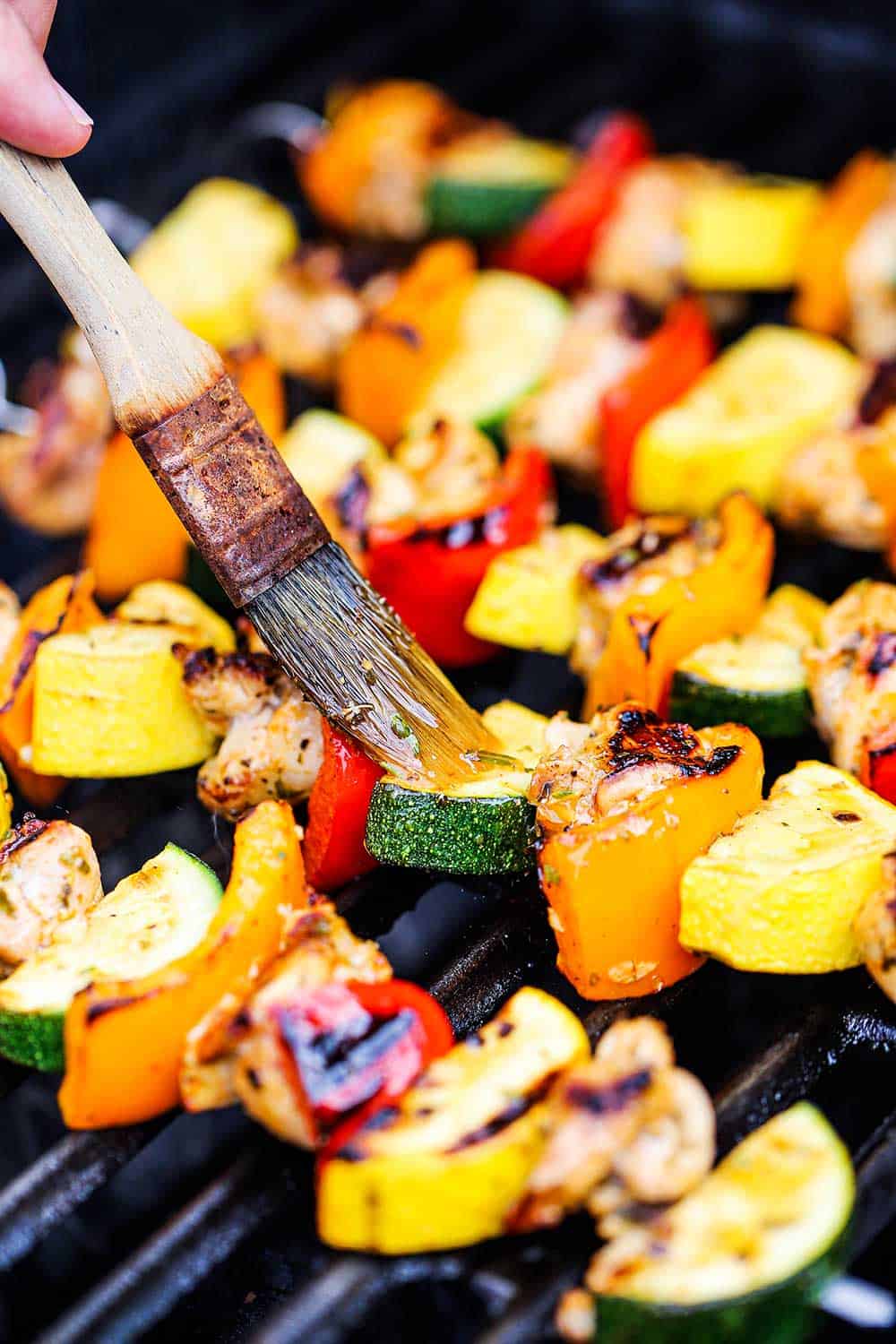 Tips for Perfect Chicken Kabobs with Veggies
Prep Your Skewers – Remember, if using wooden skewers, you'll need to soak them in water for 30 minutes before grilling. Fill your sink with water and then place the wooden skewers at the bottom of the sink. Place a plate on top of the skewers and then add a heavy pot or dish to hold the skewers in place.
Ensure the Chicken Is Perfectly Cooked – Be sure to use an instant-read thermometer to make sure the chicken is cooked between 160°F to 170°F. If you squeeze the veggies and chicken too tightly on the skewer, it could cause uneven cooking, and therefore causing some of the chicken to overcook and other parts to not cook enough.
Don't Forget the Sauce – These kabobs are perfect when served with some sort of dipping sauce. We think the White BBQ Sauce, or Alabama White Sauce, is ideal. The sauce can be made up to 2 to 3 days in advance. In a pinch, bottle BBQ sauce will work just fine.
When and How To Serve
As you can guess, these are perfect for an outdoor BBQ. Folks always gobble these up very quickly when we make them. Consider doubling the recipe if you're feeding a crowd.
The preparation is so simple, it also makes an easy, but delicious weeknight meal.
Wonderful sides include:
Perfectly Steamed Rice
Slow-Cooker Corn on the Cob
Roasted Brocolli with a Kick!
Best-Ever Potato Salad
No matter how you serve them, you will get rave reviews!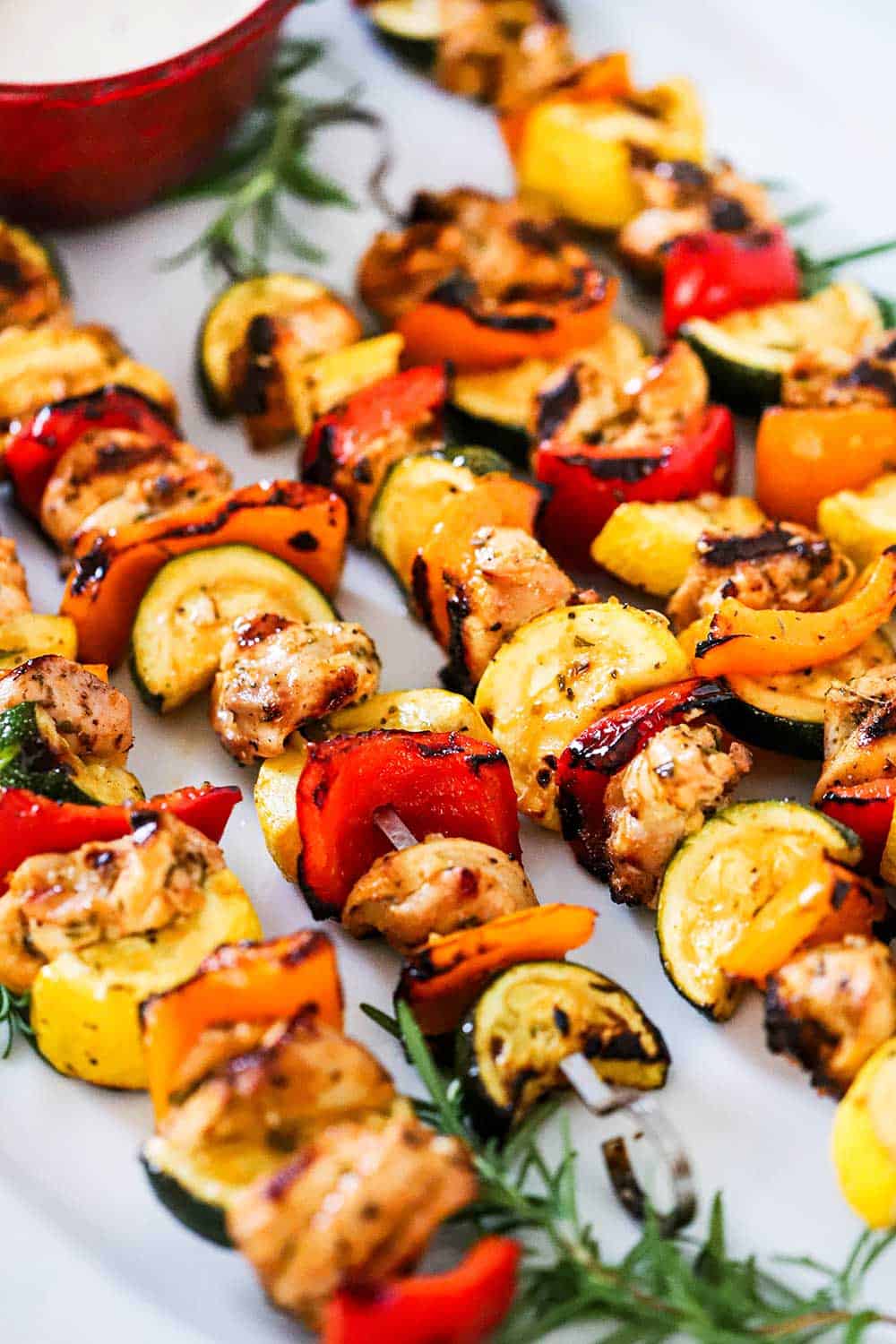 Folks, this is one of those recipes that is so great to have handy.
If you don't have (or desire) chicken thighs, then go with chicken breasts!
Marinate overnight, or toss to coat and grill immediately.
It's so versatile, so festive, and so delicious! And most importantly…don't forget the sauce!
Ready to take your BBQ options to the next level, with complete ease? Go for it!
And when you do, be sure to take a photo, post it on Instagram, and tag @HowToFeedaLoon and hashtag #HowToFeedaLoon!
Easy Chicken and Vegetable Kabobs
These kabobs are loaded with amazing flavor and are beautiful when served. Perfect for a busy weeknight dinner as well as an outdoor BBQ. Prepare them and then grill right away, or cover and refrigerate, and then grill whenever you're ready!
Print
Pin
Rate
Servings: 5
Calories: 428kcal
Equipment
Charcoal, gas, or electric grill. (See Blog Post for other methods of cooking).

Skewers, metal or wood. If wood, be sure to soak in water for 30 minutes.
Ingredients
For the Marinade
¼ cup olive oil
3 tbsp red wine vinegar
2 cloves garlic minced
1 tsp oregano dried
1 tbsp rosemary fresh
1 tsp smoked paprika
lemon zest from one whole lemon
1 tbsp lemon juice usually from half of a large lemon
1 tsp Kosher salt
½ tsp black pepper freshly ground
For The Kabobs
1½ lbs chicken thighs boneless, skinless, cut into 1-inch pieces
1 red bell pepper cored and seeded, cut into 1-inch pieces
1 yellow bell pepper cored and seeded, cut into 1-inch pieces
1 medium yellow squash sliced and then slices cut in half
1 medium zucchini sliced and then slices cut in half
salt and pepper to taste
1 cup White BBQ Sauce
Instructions
Make the marinade by combining all ingredients in a medium-sized bowl. Whisk until fully combined. Pour a little of the marinade in a small bowl and reserve for brushing on the kabobs when they are grilling.

Add the cut vegetables and chicken into a large bowl. Pour the marinade (except for the reserved) all over the top. Use two large spoons to stir to fully coat the chicken and veggies. Cover with plastic wrap and place in the fridge for 15 minutes or for up to 12 hours.

Place the chicken and vegetables on 5 large skewers, alternating the pieces as you build the kabobs. Sprinkle a little more salt and pepper all over the kabobs. Discard any remaining marinade in the bowl.

Heat your grill to medium-high heat.

Place the kabobs on the grill over direct heat. Brush some of the reserved marinade over the tops of the kabobs. Grill for about 7 to 8 minutes, covered (if you have a lid, if not, increase the cooking time to 9 to 10 minutes).

Use a pair of tongs, or a spatula, to carefully flip the kabobs over. Brush more of the reserved marinade over the tops, cover the grill, and cook for another 7 to 8 minutes, or until the chicken reaches a minimum of 160°F.

Remove the kabobs from the grill and let rest for about 5 minutes. Serve with BBQ White Sauce on the side.
Notes
Be sure to check out our video at the top of the blog post for a visual tutorial (and a lot of fun!). If using wooden skewers, you'll need to soak them in water for 15 to 30 minutes before using them. Boneless, skinless chicken breasts can be substituted for chicken thighs. Other wonderful veggies to try: red onion, broccoli, cauliflower, cherry tomatoes, pineapple. Be careful not to squish the vegetables and chicken on the skewers too tightly. Otherwise, the chicken may not cook evenly, and not cook all the way through in certain spots. Use an instant-read thermometer to ensure the chicken has reached at least 160°F. The temperature of the meat will rise another 5° as it cools slightly. We like to let the chicken and veggies sit in the marinade for at least 15 minutes before skewering. However, you can also let them sit in the marinade for hours, and then skewer. The uncooked kabobs can stay covered in the fridge for up to 12 hours.
Nutrition
Calories: 428kcal | Carbohydrates: 7g | Protein: 24g | Fat: 34g | Saturated Fat: 8g | Polyunsaturated Fat: 6g | Monounsaturated Fat: 17g | Trans Fat: 1g | Cholesterol: 133mg | Sodium: 577mg | Potassium: 617mg | Fiber: 2g | Sugar: 3g | Vitamin A: 1273IU | Vitamin C: 90mg | Calcium: 44mg | Iron: 2mg