Best-Ever BBQ Shrimp is one of our most popular dishes on the blog. And once you try this amazing shrimp, you'll understand why.
Grilled shrimp is, of course, fabulous. But we have to say, our Homemade BBQ Sauce is what puts these incredible crustaceans on the culinary map!
So delicious!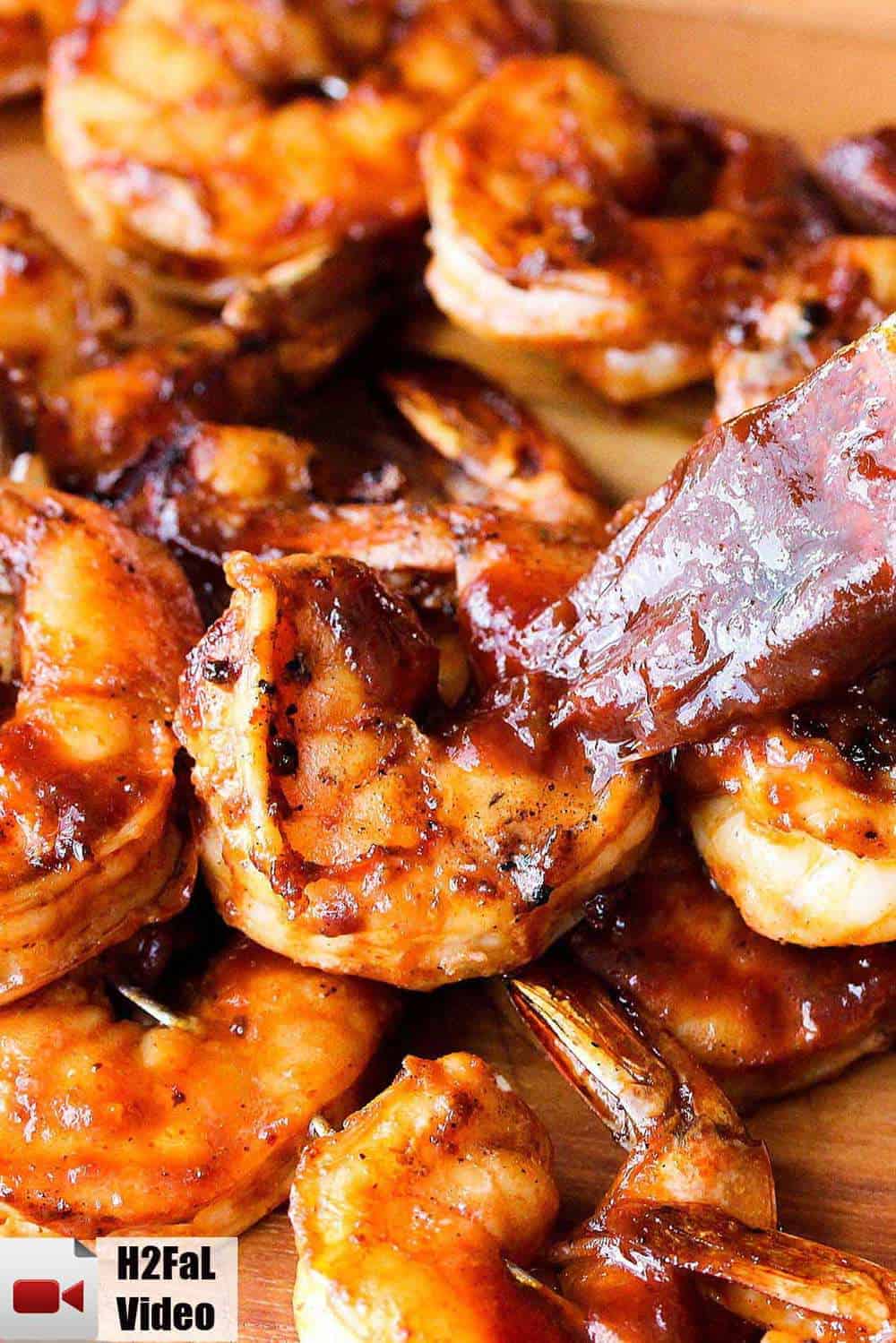 HOW TO MAKE THE BEST-EVER BBQ SHRIMP
The great thing about this dish is that you can make the BBQ sauce ahead of time, and then grill the shrimp in a matter of minutes once you're ready to eat.
Watch us show you how easy it is to make this best-ever BBQ shrimp!
We love grilling all kinds of proteins and veggies on the grill.
But as you saw in the video, we love grilling indoors, too.
Just skewer up the shrimp and smear on that BBQ sauce. In no time at all, you will truly have the best-ever BBQ shrimp ready to be devoured!
HOMEMADE BBQ SAUCE IS PERFECT
We know it's a little boastful to say our Homemade BBQ Sauce is the best in the world…but once you make it for yourself, you let us know what you think. We have a hunch you're going to agree with our not-so-modest claim.
Sometimes, I pour some of the sauce over the shrimp and let is soak up the flavor before grilling. But this isn't completely necessary…you'll still get tons of flavor just by slathering it on at the grill.
And while we're at it, we might as well let you know that this Homemade BBQ Sauce is absolutely amazing on our Incredible Slow-Cooker Ribs.
Oh, this is the real deal.. How about BBQ ribs AND BBQ shrimp? Now we're really talking! And, if you think this looks good, you'll probably like our Grilled Buffalo Shrimp!
Barbecue is loved by Americans and folks all over the globe. There is something about that smoky, delicious ritual that makes so many people so happy. Learn about the Origins of Barbecue from The Smithsonian Magazine. It's pretty amazing.
Okay, folks. Enough talk. It's time to go and make The Best-Ever BBQ Shrimp.
BBQ. Eat. Be Happy.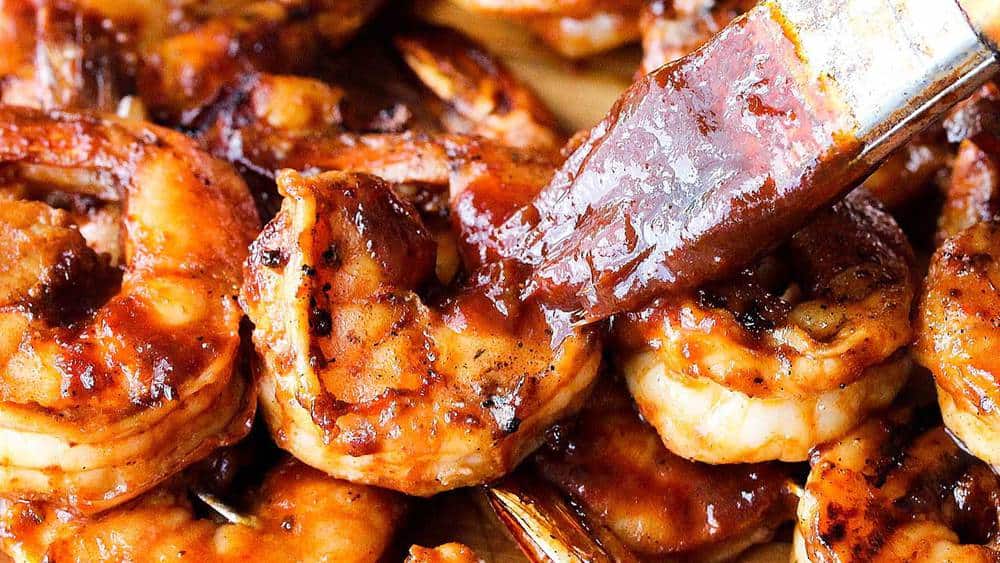 Best-Ever BBQ Shrimp
This truly is the Best-Ever BBQ Shrimp. It's so easy and so incredibly delicious. The homemade BBQ sauce is the secret to putting these over the top. We love grilling these outdoors, but they are really delicious using an indoor grill, too, or even quickly baking them under a broiler in a hot oven. So good!!
Print
Pin
Rate
Servings: 4 people
Calories: 280kcal
Ingredients
What You Need
6 wooden or metal skewers
1 lb extra large shrimp, shells removed and cleaned (leave the tails on, if desired)
Kosher salt and freshly ground black pepper
2 cups BBQ Sauce (You'll need about a cup for basting, and another cup for serving)
Instructions
Prepare your grill for indirect heat, medium-hot heat.

If using wooden skewers, soak them in water for 20 minutes.

Skewer 8 to 10 shrimp on each skewer.

Lightly salt and pepper the shrimp all over.

Carefully place the shrimp on the grill and baste with BBQ sauce. Cook on each side for 6 to 8 minutes, per side, continuously basting as they cook. The shrimp is ready when bright pink and slightly charred.

Serve with reserved BBQ sauce on the side.
Nutrition
Calories: 280kcal