If you love shrimp and if you love BBQ, you are going to absolutely flip for this recipe.
Grilled shrimp is, of course, fabulous. But we have to say, our Homemade BBQ Sauce is what puts these incredible crustaceans on the culinary map! Perfect for entertaining or an easy weeknight dinner! Serve with Southern Baked Beans and Slow-Cooker Corn on the Cob!
How To Make the Best-Ever BBQ Shrimp
The great thing about this dish is that you can make the BBQ sauce ahead of time, and then grill the shrimp in a matter of minutes once you're ready to eat.
The Cajun seasoning adds a nice bump of flavor and then the smoky flavor from the grill is the perfect combination.
NOTE: If you liked this video, please subscribe to our YouTube channel. Remember to click the little 'bell' icon so you'll never miss a new video. Thank you!
The Ingredients You Will Need
As you will see, once you get the BBQ sauce made, there aren't a lot of ingredients required to make the best grilled shrimp in town.
Here's What You'll Need to Have on Hand
Shrimp – Raw, cleaned, and extra-large. Gulf shrimp is our favorite.
Olive oil – Or extra-olive oil, or even vegetable oil
Cajun seasoning – If you can't find it, see our recipe for it in the Expert Tip below
BBQ Sauce – Homemade is definitely best, but in a pinch, use your favorite store-bought
EXPERT TIP: If you can't find cajun seasoning, just get a large bowl, use this recipe to make your own. Keep extra in a jar with a tight-fitting lid.
Mix together 1 tbsp of the following:
Garlic powder
Italian seasoning
Paprika
Kosher salt
And then 1 tsp of the following:
Black pepper
Cayenne pepper
Ground thyme
Onion powder
Tips for Perfect BBQ Shrimp
Use Fresh, Large Shrimp – Fresh, large shrimp are ideal for grilling as they hold up well and have a sweet and succulent flavor. Be sure to clean and devein the shrimp before grilling.
Make Homemade BBQ Sauce – This is super important. Homemade BBQ Sauce is easy to make and tastes much better than store-bought versions. It can be made
Don't Overcook the Shrimp – Overcooked shrimp will become tough and rubbery, so be sure to grill the shrimp until they are just cooked through, which should take only a few minutes per side. Grill over direct heat on your grill. Use heat-proof gloves to flip the shrimp, if possible.
EXPERT TIP: When you prepare the BBQ sauce, you can leave the sauteéd onions in the sauce for a more chunky sauce, or you can press the sauce through a sieve for a smooth, silky sauce. We prefer the smooth version, but that's up to you.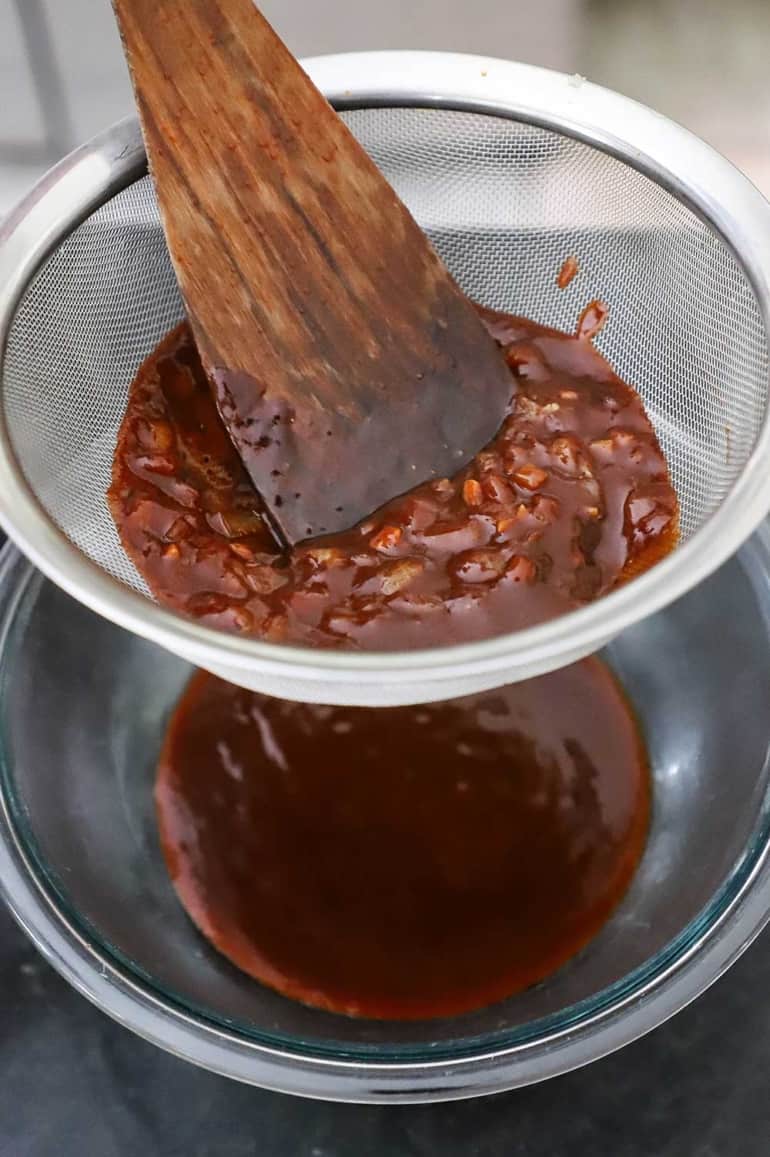 How to Serve
Grilled BBQ Shrimp is messy. That's part of the charm of it.
Be sure to have plenty of napkins on hand. A big roll of paper towels is perfect.
We love to pile the grilled shrimp on large cutting board or on a platter with a pair of tongs. For a special touch, provide small bowls (plastic works great) for folks to have their own individual BBQ dipping sauce. No risk of double dipping!
EXPERT TIP: Apply the shrimp liberally with the BBQ sauce as it is grilling. The heat will cause the sugar in the sauce to caramelize and make an amazing crispness to the shrimp. It's okay if the tails char a bit, it adds flavor and looks impressive.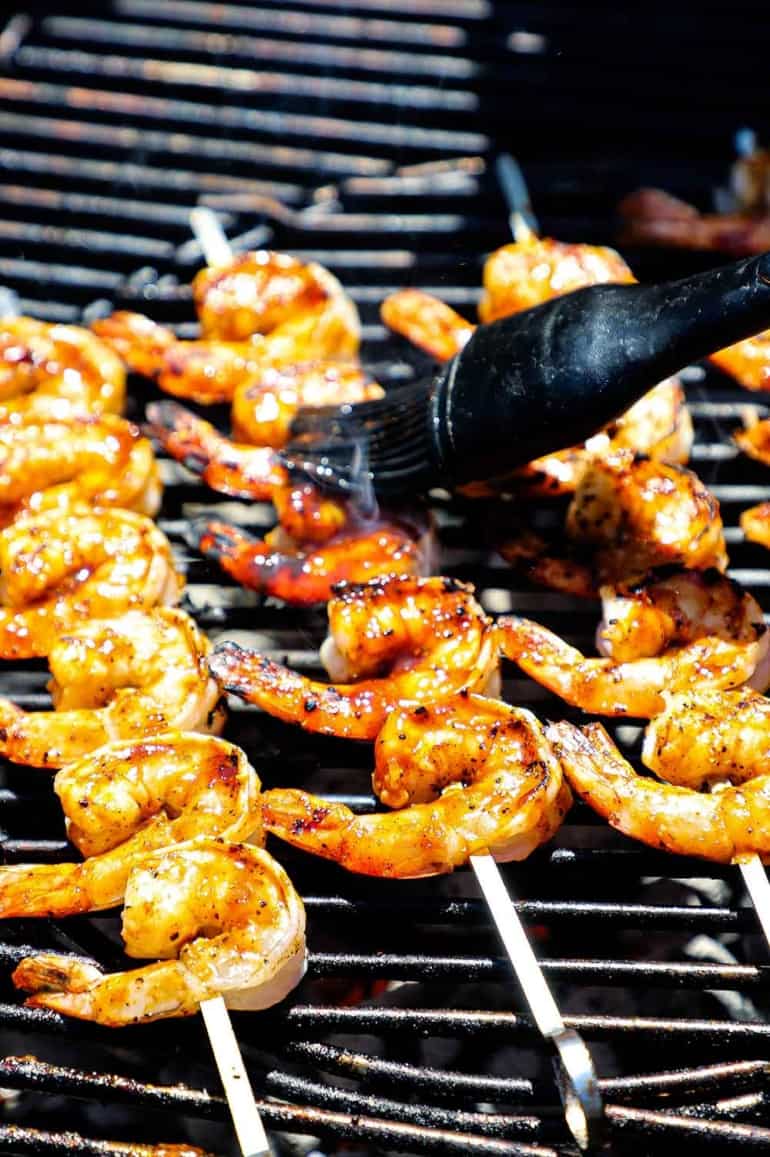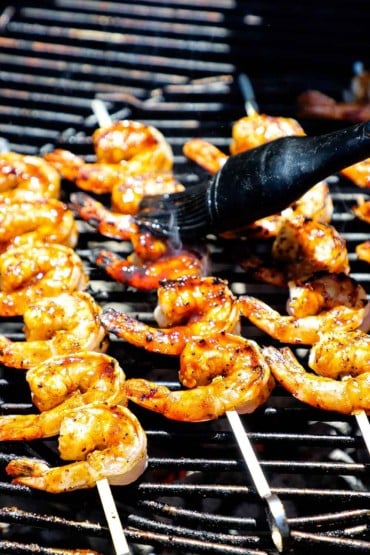 Other Amazing Grilled Recipes To Try
We love firing up the grill and here are some of our all-time favorite grilling recipes that we're pretty certain you'll love, too!
Grilled BBQ Pulled Pork Pizza
BBQ Beer Can Chicken
Best Grilled Chicken
Easy Grilled Chicken Wings with Homemade Blue Cheese Dressing
Best-Ever Gourmet Beef Sliders
Grilled Tri-Tip with Santa Maria Salsa
Amazing Lamb Chops
Grilled Oysters with Roasted Tomato Butter
Perfect Salmon Burger
These are incredible in their own right, but isn't this shrimp catching your eye right about now?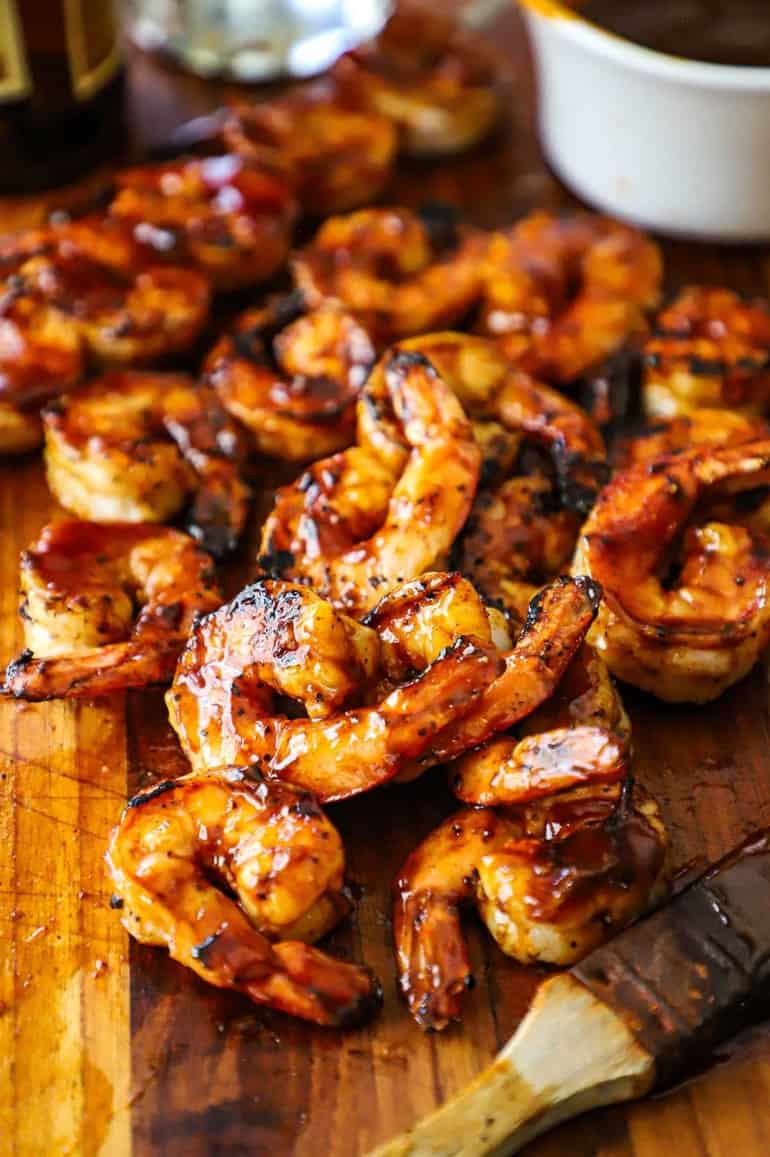 Barbecue is loved by Americans and folks all over the globe. There is something about that smoky, delicious ritual that makes so many people so happy. Learn about the Origins of Barbecue from The Smithsonian Magazine. It's pretty amazing.
This shrimp is so deeply flavorful, that we have friends and family who aren't even big fans of shrimp say they can't get enough of this BBQ shrimp.
It's perfect for serving to guests for an outdoor BBQ. Make enough of the sauce so you'll have extra on hand and can make this dish any time of the week! It's great baked, too!
And remember, it's a little messy, but that adds to the fun! Have plenty of napkins! Wet-naps are even better!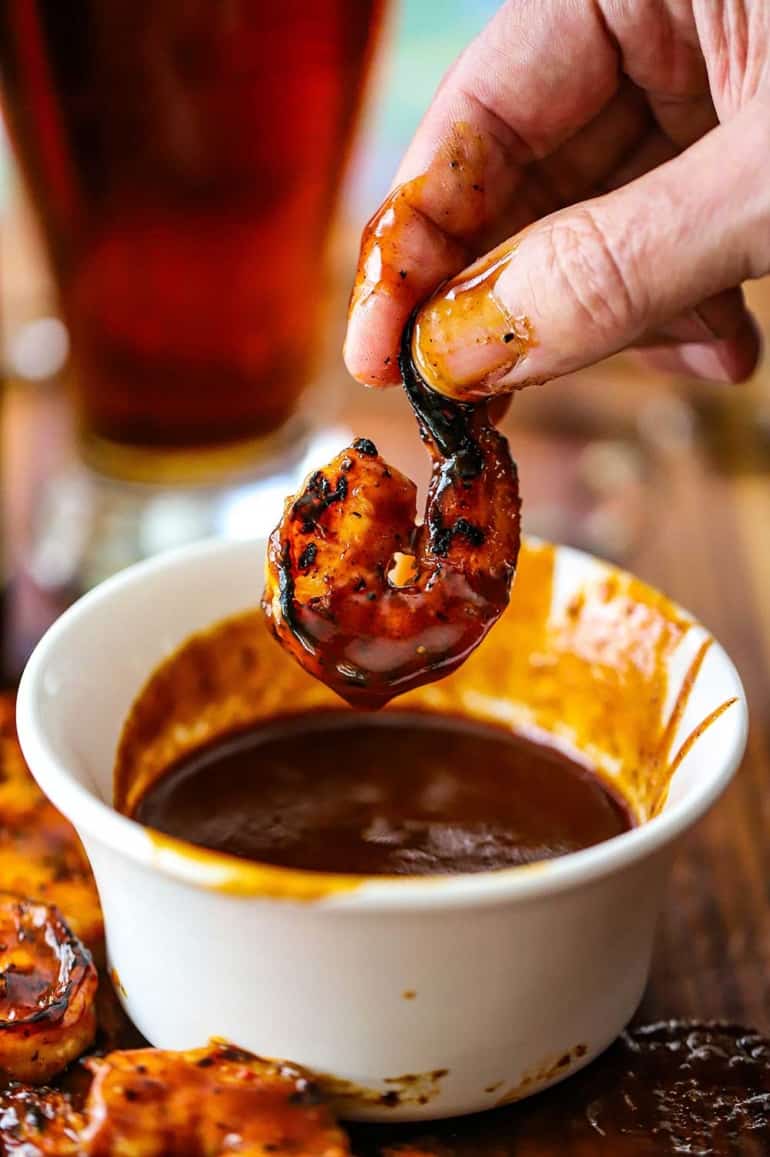 Ready to make the best shrimp on the "barbie" this side of New Orleans? Go for it!
And when you do, be sure to take a photo of it, post it on Instagram, and tag @HowToFeedaLoon and hashtag #HowToFeedaLoon!
Best-Ever BBQ Shrimp
This truly is the Best-Ever BBQ Shrimp. It's so easy and so incredibly delicious. The homemade BBQ sauce is the secret to putting these over the top. The sauce can be made up to 5 days in advance.
Print
Pin
Rate
Servings: 4 people
Calories: 516kcal
Equipment
1 Gas, charcoal, or electric grill

4 skewers if wooden, soak them in water for 30 minutes
Ingredients
1 lb extra large shrimp shells removed and deveined (leave the tails on, if desired)
2 tbsp olive oil
1 tbsp Cajun seasoning
3 cups BBQ Sauce (You'll need about 2 cups for basting, and another cup for serving)
Instructions
Prepare and Grill the Shrimp
Place the cleaned shrimp in a large bowl. Add the olive oil and Creole (or Cajun) seasoning. Stir to fully coat. Place in the refrigerator for 1 hour.

Fire up your grill.

Add 5 to 6 shrimp on each skewer.

Baste the shrimp on both sides. Carefully place the shrimp over direct heat on your grill. Grill for about 3 minutes per side, basting each side liberally with more BBQ sauce. The shrimp is done when it is pink and lightly charred.

Serve at once with reserved BBQ sauce on the side.
Notes
See the video near the top of the blog post for visual guidance. If you liked the video, please subscribe to our YouTube channel.
The BBQ sauce can be made up to 5 days in advance. This recipe uses about half of the BBQ sauce recipe. The extra can be frozen for up to 2 months.
The blog post for a Creole seasoning recipe, if you can't find any. Most Creole (or Cajun) seasonings have plenty of salt in them, so no need to add more salt, unless making your own. If you are making your own, add about 1 tsp of salt to the shrimp when coating with the oil.
If baking, place in a heat-proof pan (or cast-iron skillet) and place in the middle of the oven with the broiler on HIGH for several minutes. Keep an eye on them, as broilers vary. Don't let them burn! The will be ready when pink, curled, and lightly charred.
Nutrition
Calories: 516kcal | Carbohydrates: 89g | Protein: 17g | Fat: 10g | Saturated Fat: 1g | Polyunsaturated Fat: 1g | Monounsaturated Fat: 5g | Trans Fat: 0.01g | Cholesterol: 143mg | Sodium: 2853mg | Potassium: 666mg | Fiber: 3g | Sugar: 71g | Vitamin A: 1547IU | Vitamin C: 1mg | Calcium: 136mg | Iron: 2mg
POST UPDATE: This recipe was originally published in July 2016, but was updated with improved tweaks to the recipe with new tips and photography and a fabulous new video in July 2023!