Every now and then you just have to do it. You have to turn breakfast into a meal fit for a king or a queen.
You know you've seen something like this on almost every decent breakfast/brunch menu out there. But, if you're like us, you probably think the steak will be a disappointment and you'll end up wishing you had ordered something else. With this recipe, we can 100% guarantee you will not be disappointed, but rather thrilled with the results!

HOW TO MAKE STEAK AND EGGS WITH BLISTERED TOMATOES
This show-stopper of a meal isn't difficult to prepare, but we do recommend getting all of the components of the dish in place before you start cooking.
Don't forget to get started early with salting the steaks (more on that in a moment).
CHOOSING THE RIGHT STEAK
You've heard us say this before, but it couldn't be more true for this dish: "Most meals are only as good as the quality of the ingredients you choose."
If you're going to make steak and eggs, then you need top-notch steaks. That's why we turn to D&D Beef time and time again. Their commitment to quality is unmatched and we love knowing exactly where the beef came from. We HIGHLY recommend this amazing family-run ranch from the heartland of the United States, Nebraska!
For this dish, we're going with D&D Beef's New York Strip Steaks!
EXPERT TIP: To ensure super juicy steaks, we like to brine the meat at least one hour before searing and butter-braising them in our cast-iron skillet. The salt brings out moisture from the steaks which will lead to a juicier steak. Simply rinse the salt off the steak, pat the meat completely dry with paper towels, and then lightly season with salt and pepper.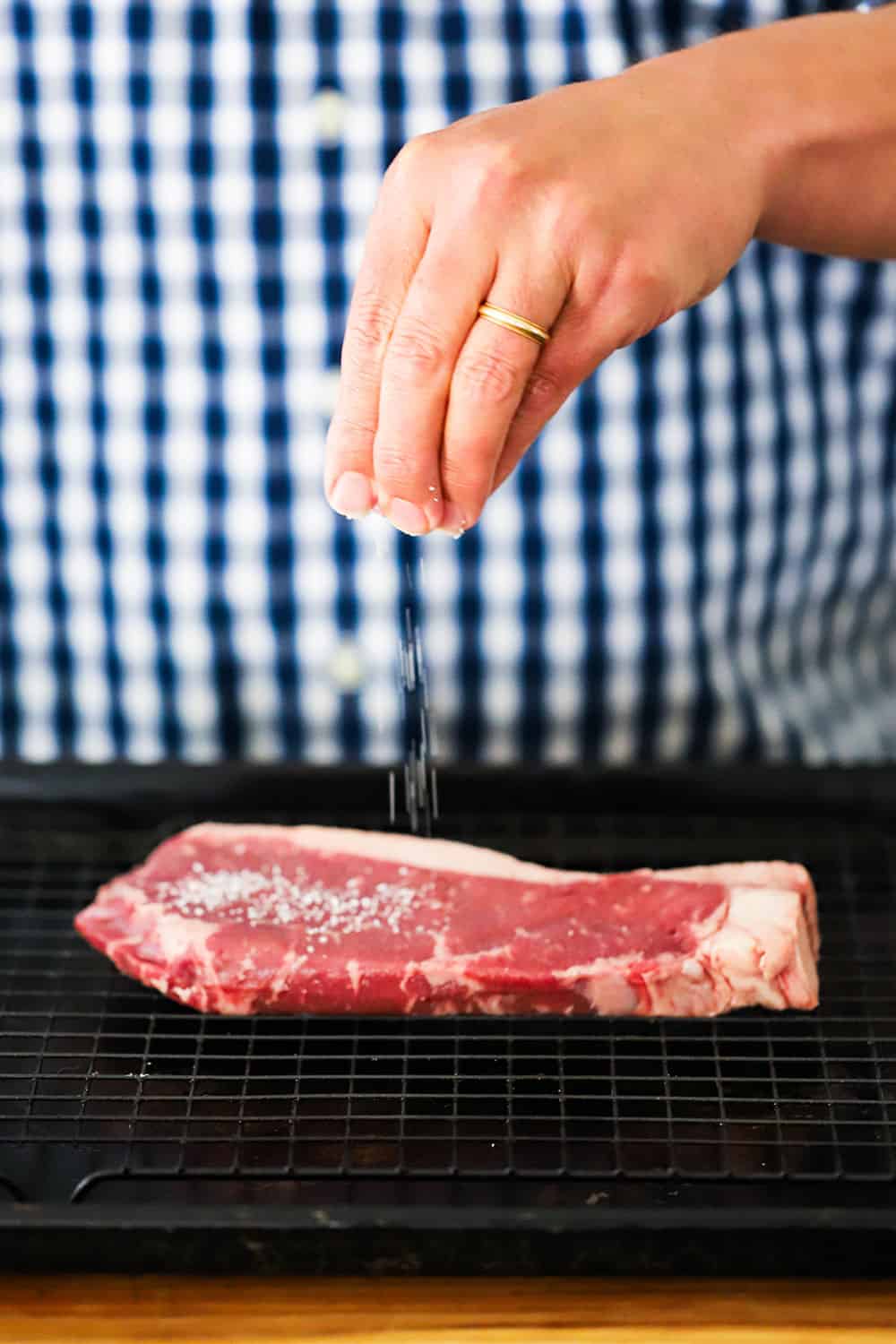 HOW TO BLISTER TOMATOES
Blistering tomatoes simply means you are roasting them until they are soft and slightly charred.
We love to go with grape tomatoes and slice into smaller pieces.
Simply toss them with extra-virgin olive oil, and fresh herbs, such as rosemary and chives, season with salt and pepper, and then place on a foil-lined baking sheet and roast under the broiler on HIGH for just a few minutes. Keep an eye on them…don't let them burn!
HOW TO BUTTER-BRAISE STEAKS
Now, it's time to cook the steaks perfectly. Here's what you'll need to butter-braise the steaks, one a time.
2 steaks (1 inch to 1 1/2 inches in thickness)
Cast iron skillet (preferably 12-inch)
1/4 cup canola (or vegetable) oil (per steak)
Aromatics, such as fresh rosemary, or thyme, and a couple of cloves of garlic
3 tbsp of unsalted butter (per steak)
A metal spatula and tongs
Oven mitts
A large spoon
An instant-read thermometer
Start by bringing the oil to nearly smoking in a large cast-iron skillet over medium-high heat. Add the steak and sear on both sides, turning frequently with your spatula and tongs, for about 3 total minutes for a 1-inch thick steak, and 4 minutes for 1 1/2 thick.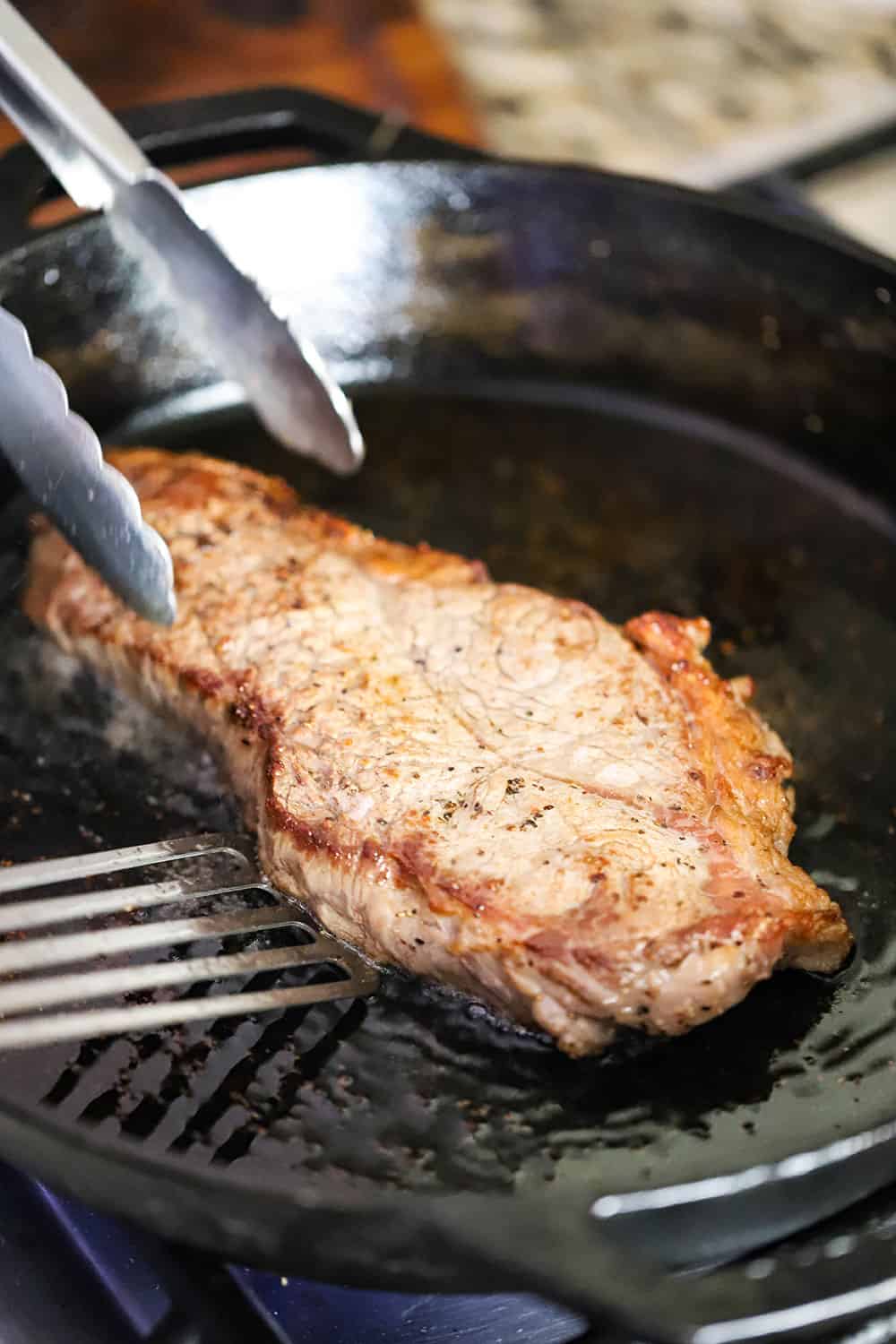 Now, the fun part starts.
Toss in the aromatics and butter. Now, with an oven mitt on, tilt the skillet and constantly spoon the hot butter and oil over the steak, flipping ever 20 to 30 seconds.
Cook until your instant-read thermometer reaches 125°F for medium-rare, or 135°F for medium.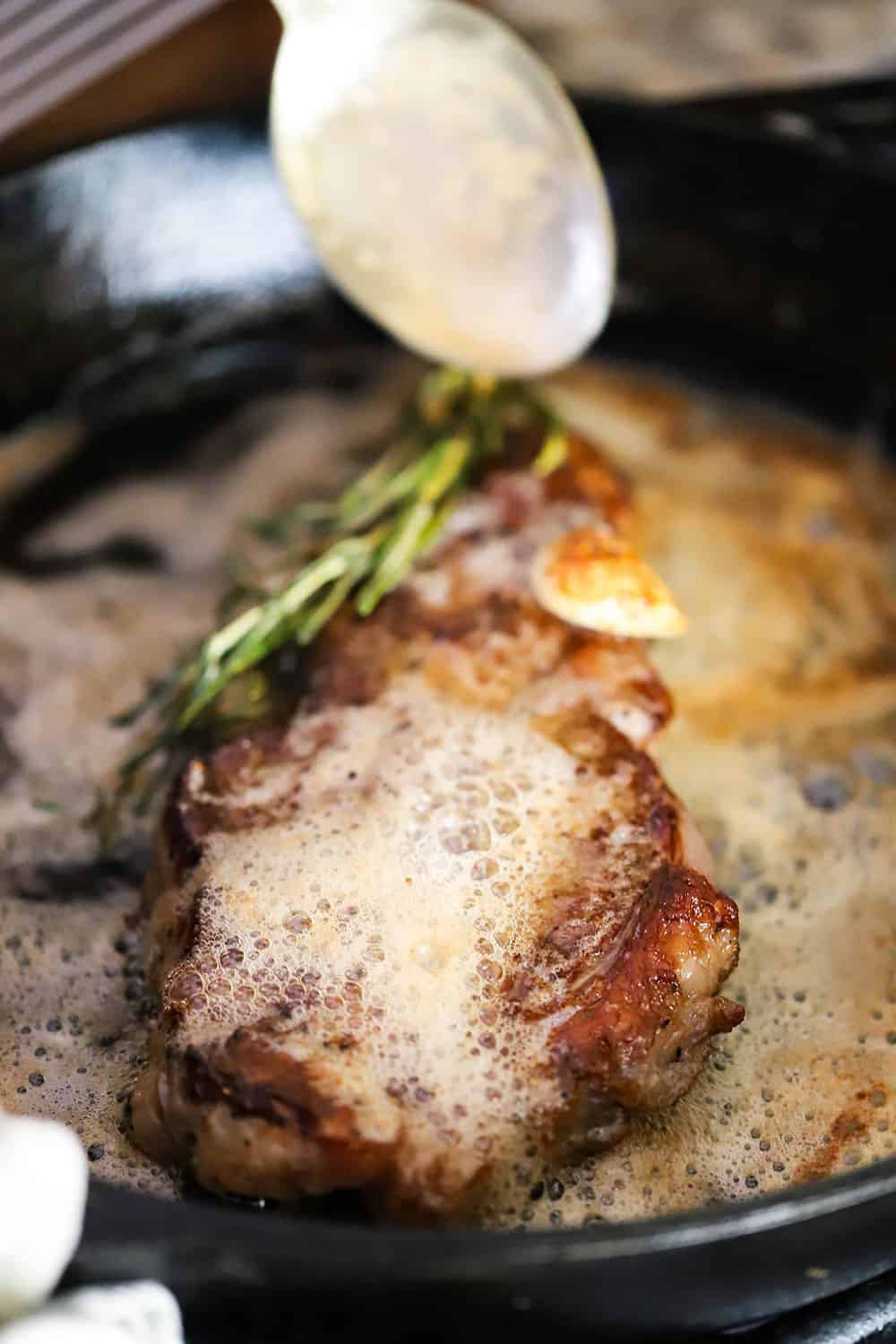 HOW TO SERVE STEAK AND EGGS WITH BLISTERED TOMATOES
Once the tomatoes have roasted, you can keep them warm in a low-temp oven covered with foil. The same is true for the steaks, especially if you are serving more than 2 people.
Once the steaks have cooked, it's time to quickly fry up your eggs. We love serving them sunny-side up, but however you like to prepare your eggs will work perfectly. Our favorite non-stick skillet comes from Sardel. Their products are hand-crafted in Italy and are nothing short of amazing.
This dish is off-the-charts good by itself, but you can round it out even further by preparing our delicious Restaurant-Quality Hash Browns!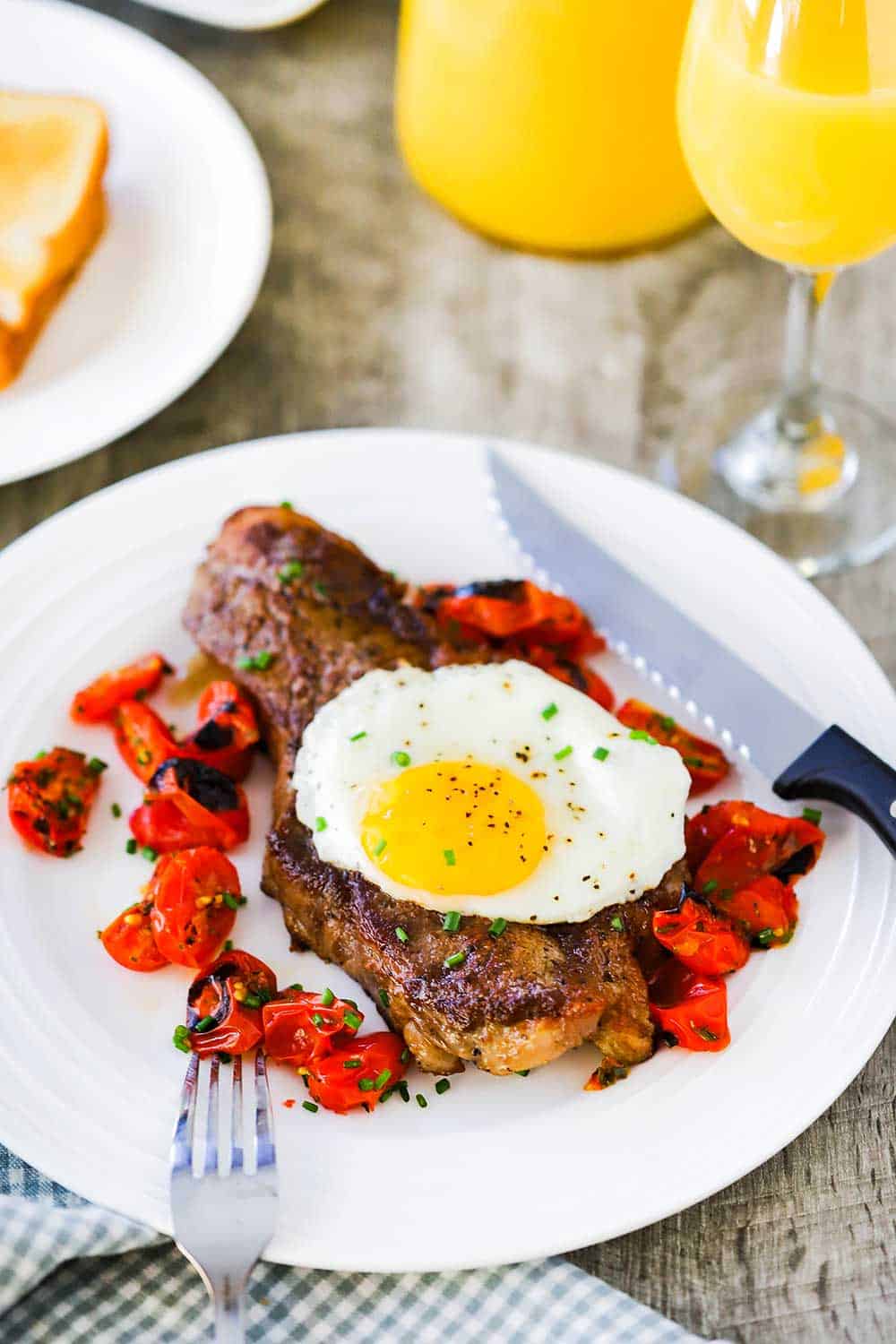 This will come as no surprise to hear that this Steak and Eggs with Blistered Tomatoes is The Loon's all-time favorite breakfast dish.
It's actually so incredible and satisfying, we often serve it for an amazing dinner.
Aren't you craving this right about now?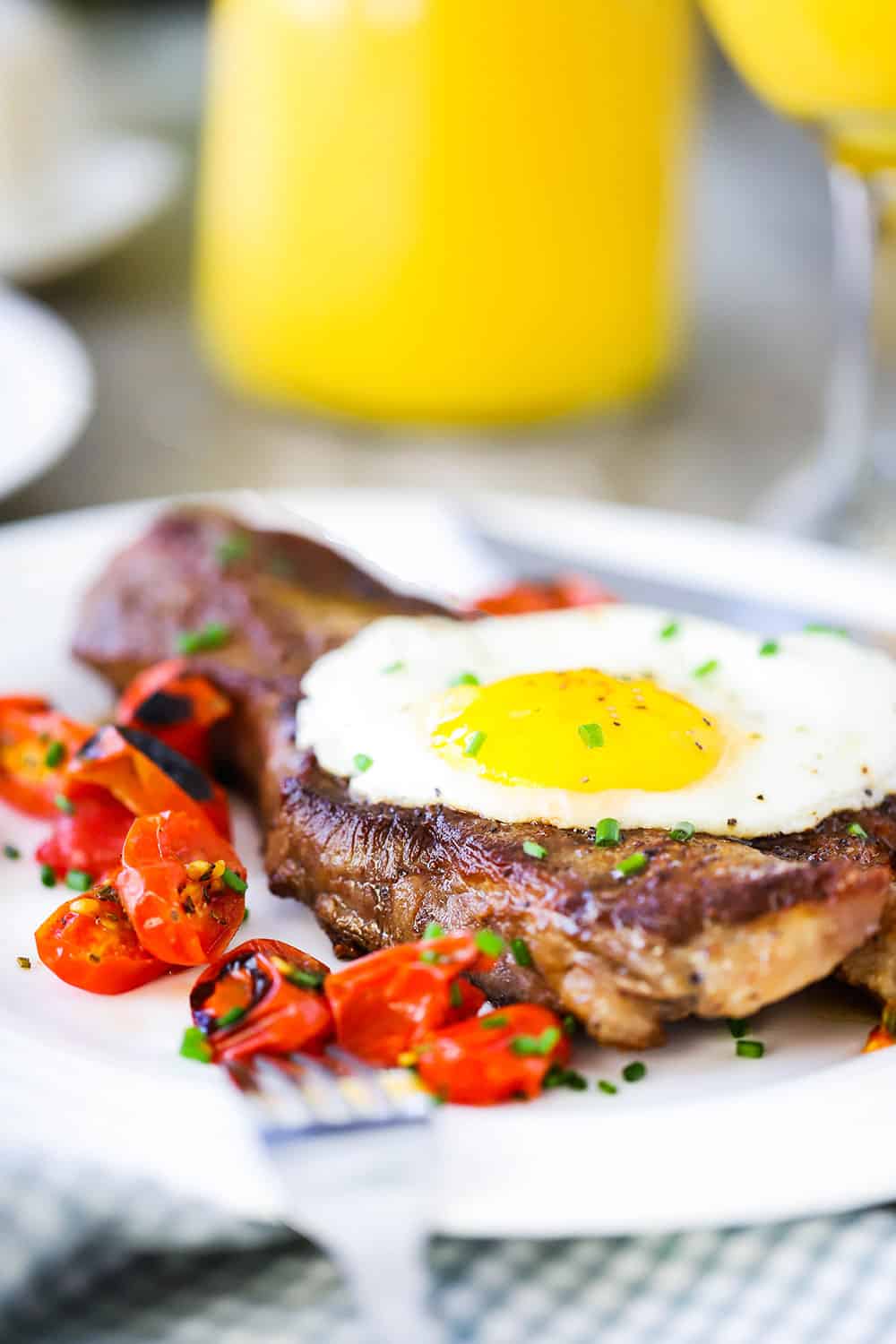 A SHOW-STOPPER BREAKFAST
The tomatoes can be made in advance, simply re-heat in the oven before serving. They can even be served room temperature!
Butter-braising the steak is not only fun to prepare, but the end results are heavenly.
Folks, this is a breakfast you and your loved ones will be raving about for months to come.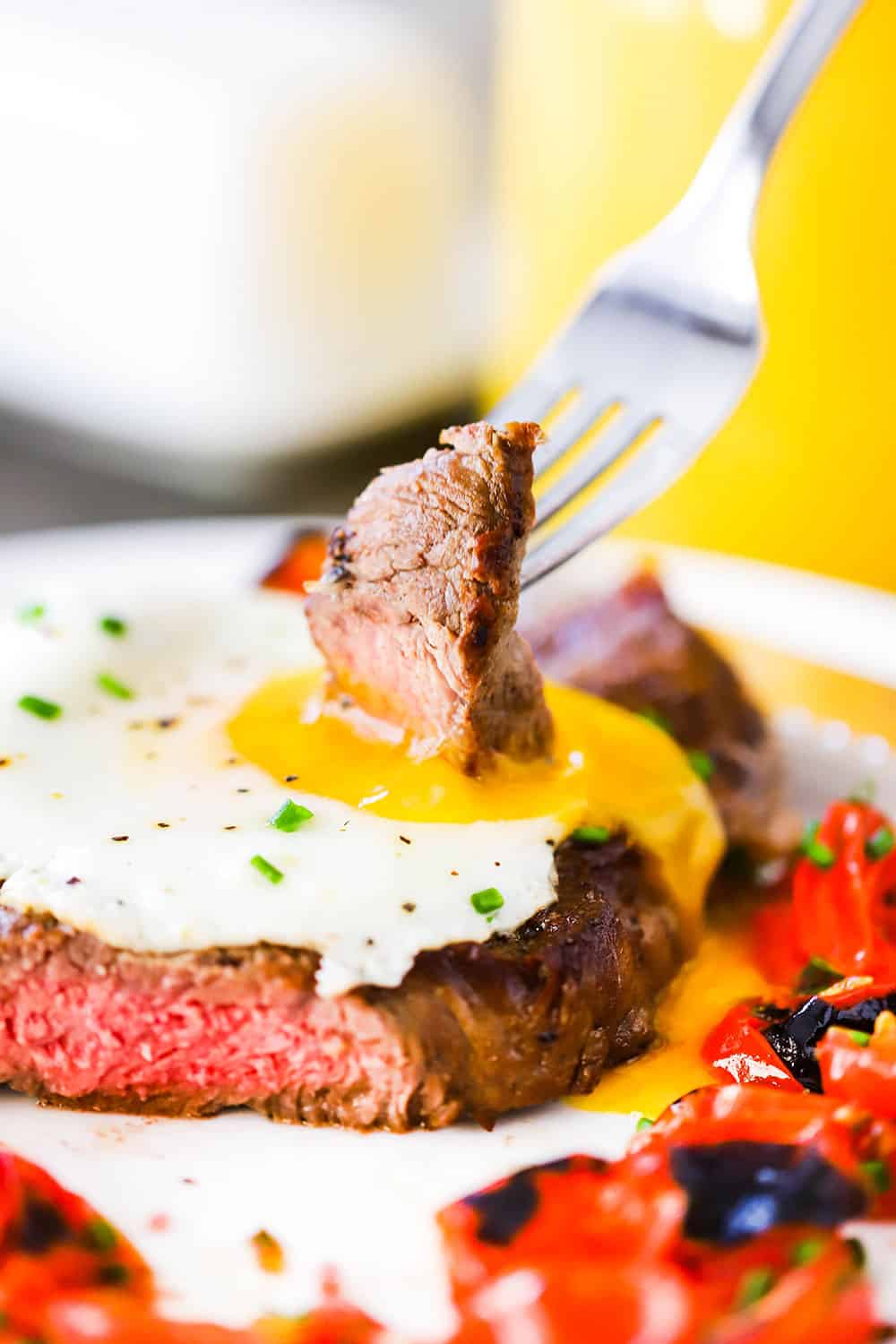 Ready to make the best breakfast in town? Go for it!
And when you do, be sure to take a photo, post it on Instagram, and tag @howtofeedaloon and hashtag #howtofeedaloon!
Steak and Eggs with Blistered Cherry Tomatoes
This Steak and Eggs with Blistered Cherry Tomatoes is the perfect 'special occasion' breakfast. This is, without doubt, the Loon's favorite morning dish. Butter-basting the steaks is off-the-charts good. Thick strip or ribeye steaks are ideal.
Print
Pin
Rate
Servings: 2 people
Calories: 528kcal
Equipment
Cast-iron skillet, preferably 12-inch

Instant-read thermometer, spatula, tongs, and a large spoon.
Ingredients
2 steaks 1 to 1½-inches thick
Black pepper freshly ground
Kosher salt for brining and then seasoning
1 cup grape tomatoes or cherry, roughly chopped
1 tbsp extra-virgin olive oil
1 tbsp rosemary fresh, chopped + 4 sprigs
1 tsp chives fresh, chopped, plus extra for garnish
canola oil or vegetable, ¼ cup for each braising
4 cloves garlic
7 tbsp unsalted butter divided
2 large eggs
Instructions
Pat the steaks dry with paper towels and then liberally sprinkle salt all over them. Place on a baking sheet and let rest for 1 hour, or overnight in the refrigerator on a plate loosely covered with a paper towel.

Gently rinse the steaks with running water, helping to remove all the salt. Use paper towels to completely dry off the steaks. Season the steaks with a couple of pinches of salt and pepper. Set aside.

Turn your broiler on HIGH.

Toss the roughly chopped tomatoes with the extra-virgin olive oil, rosemary, chives, ½ tsp salt, and ¼ tsp black pepper. Place on a baking sheet lined with foil and place 6 inches under the broiler. Roast for 1 to 2 minutes, and then stir the tomatoes around with a wooden spoon. Roast for another couple minutes, until soft and starting to char. Remove and loosely tent with a piece of foil. Keep your eyes on them in the oven, don't let them completely burn!

Heat ¼ cup of the canola oil in a large cast-iron skillet over medium-high heat until shimmering and just starting to smoke.

Add one steak, and sear, turning frequently with a spatula and tongs, until browned and crust has started to form on the outside of the steak, about 3 to 4 minutes Add the rosemary sprigs and garlic cloves, and butter.

With oven mitt on, carefully tilt the skillet to one side and use a large spoon to spoon the butter/oil all over the steak, flipping and continuing to spoon. Repeat this until the internal temperature is 125°F for medium-rare and 135°½F for medium. Set aside, tent with foil. Discard the oil/butter and herbs, and repeat this process with the 2nd steak.

In a separate, non-stick skillet, melt 1 tbsp of butter and add the eggs. Cook for 1 to 2 minutes for sunny-side-up. Season with a pinch of salt and pepper.

Place the cooked steaks on plates, and top with roasted tomatoes and eggs. Serve immediately.
Notes
Thick steaks work best for butter-braising. We love going with New York strip steaks or ribeye. 1-inch to 1½-inches in thickness is ideal. The cooked steaks and roasted tomatoes can be kept warm in a 250 F oven. The tomatoes can be made up to several hours in advance and he-heated in the oven or served room temperature. They are delicious even when they're not warm! Cook the steaks to your preferred doneness. 125°F for medium-rare (our favorite), or 135°F for medium.
Nutrition
Calories: 528kcal | Carbohydrates: 6g | Protein: 53g | Fat: 14g | Saturated Fat: 8g | Cholesterol: 431mg | Sodium: 199mg | Potassium: 875mg | Fiber: 1g | Sugar: 2g | Vitamin A: 2198IU | Vitamin C: 13mg | Calcium: 87mg | Iron: 5mg
POST UPDATE: This recipe was originally published in July 2015, but was updated with improved tweaks to the recipe, new tips, photography, and a fabulous new video in May 2020!