Steak and Eggs with Roasted Cherry Tomatoes is a spectacular dish to serve anytime of the day, but a true show-stopper at breakfast
As you can imagine, this is one of the Loon's all-time favorite breakfast dishes.
Talk about a "Wow!" factor
Ribeye is our favorite steak of all time.
The distinct marbling ensures extra flavor and incredible melt-in-your mouth taste.
Lets make Steak and Eggs with Roasted Cherry Tomatoes!
Cook the eggs however you prefer them prepared.
But, we just love fried eggs, sunny side up.
The yolk and the steak are a match made in Heaven!
Herbs de Provence, which is dried rosemary, thyme, savory, marjoram and oregano, is the perfect seasoning for not only the steak and eggs, but also the cherry tomatoes that literarily burst with flavor.
Roasted cherry tomatoes are so flavorful and we think the perfect addition to steak and eggs.
Mmmm…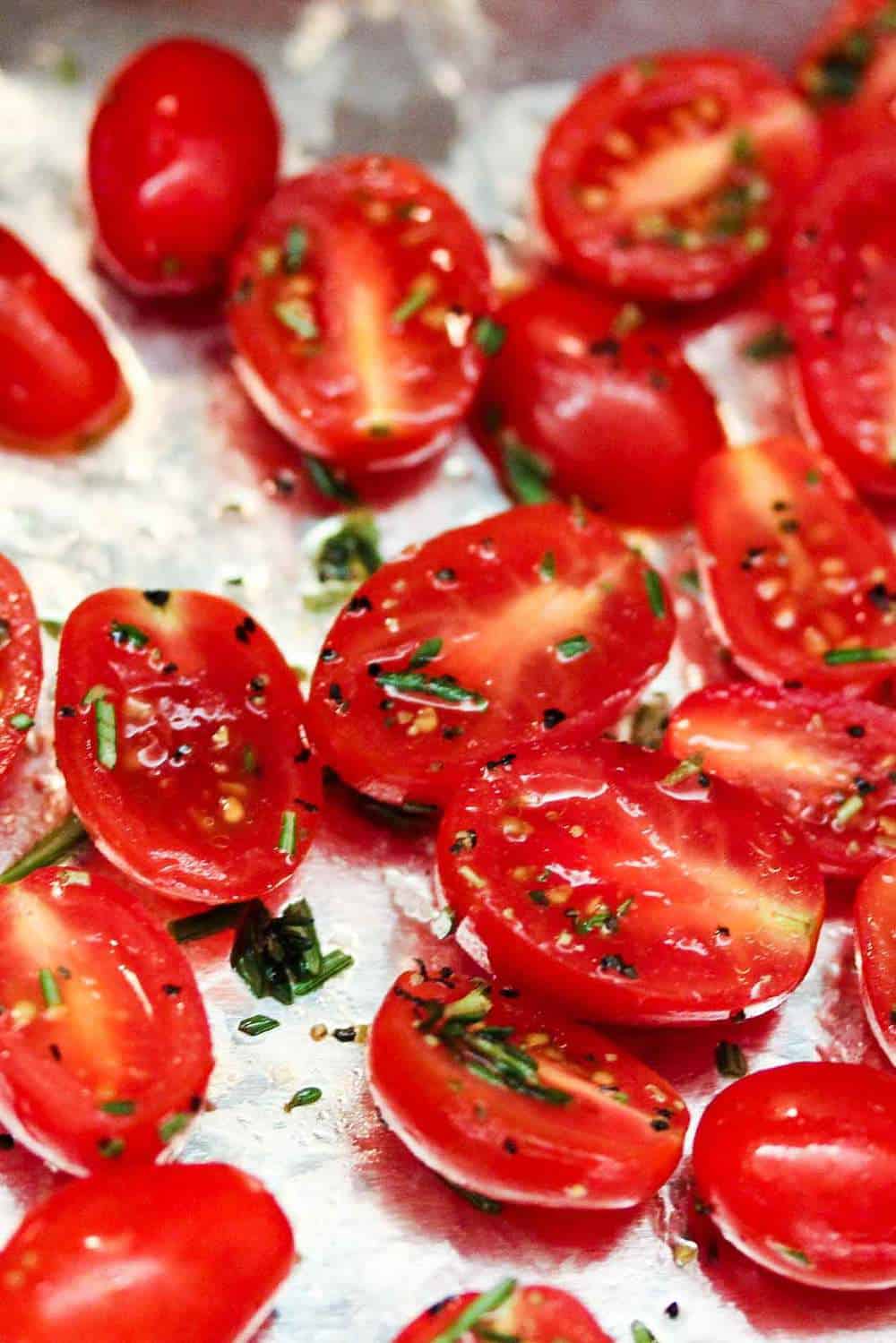 What more is there to say about this incredible Steak and Eggs with Roasted Cherry Tomatoes?
Does this dish taste as amazing at it looks?
What do you think?
Eggs with seared rib-eyes, served with lightly roasted cherry tomatoes and herbs.
Wow.  When you want to have that special breakfast or brunch, this is the way to go.
Really delicious. 140% Loon Approved!
Steak and Eggs with Roasted Cherry Tomatoes
This Steak and Eggs with Roasted Cherry Tomatoes is the perfect 'special occasion' breakfast. This is, without doubt, the Loon's favorite morning dish. Of course, the main ingredient is steak...but it is crazy good. The Herbs de Provence gives a wonderful depth of flavor to the seared steaks. Enjoy!
Print
Pin
Rate
Prep Time: 15 minutes
Cook Time: 10 minutes
Total Time: 25 minutes
Servings: 4 people
Calories: 415kcal
Ingredients
3 tbsp olive oil
4 small rib-eye steaks about 1/2-inch thick, each
2 tbsp Herbs de Province
Kosher salt and freshly ground black pepper
2 cups cherry or grape tomatoes halved
1 tbsp fresh rosemary chopped
1 tsp fresh chives chopped
2 tbsp unsalted butter
4 large eggs
Instructions
Turn broiler on high.

Season the steaks with Herbs de Province, salt and pepper.

Toss tomatoes with 1 tablespoon of olive, rosemary, chives, 1/4 teaspoon salt, and 1/4 teaspoon of pepper

Heat a large skillet, preferably cast iron, over medium-high heat.

Add 1 tablespoon of oil to the skillet and heat until shimmering.

Add 2 steaks, and cook until undersides are browned, about 3 minutes. Turn, and cook for about another 3 minutes, for medium-rare.

Remove steaks from skillet onto plates and tent with foil. Repeat with remaining 2 steaks.

Meanwhile, in a separate skillet, heat the butter over medium heat.

Add the eggs, 2 at a time, and cook, sunny side up (or to your liking) for about 2 minutes, until the whites have set. Season with salt and pepper. Repeat with remaining 2 eggs.

Also, meanwhile, place the tomatoes on a large baking sheet, and place under broiler for 2 minutes. Keep an eye on them! Let them char a bit, but not burn. (Times will vary depending on your broiler). Remove from oven.

Top each steak with a cooked egg and roasted tomatoes.
Nutrition
Calories: 415kcal