This Beef Chimichanga recipe has the Loon's name written all over it. This has been a favorite dish of Wesley's ever since he was a young child. I don't make them that often, but when I do, boy, oh boy, is he a happy Loon.
I must admit, they are pretty amazingly delicious.
I've been working on this recipe for many years, and the Loon says it is perfect, just the way it is. I concur.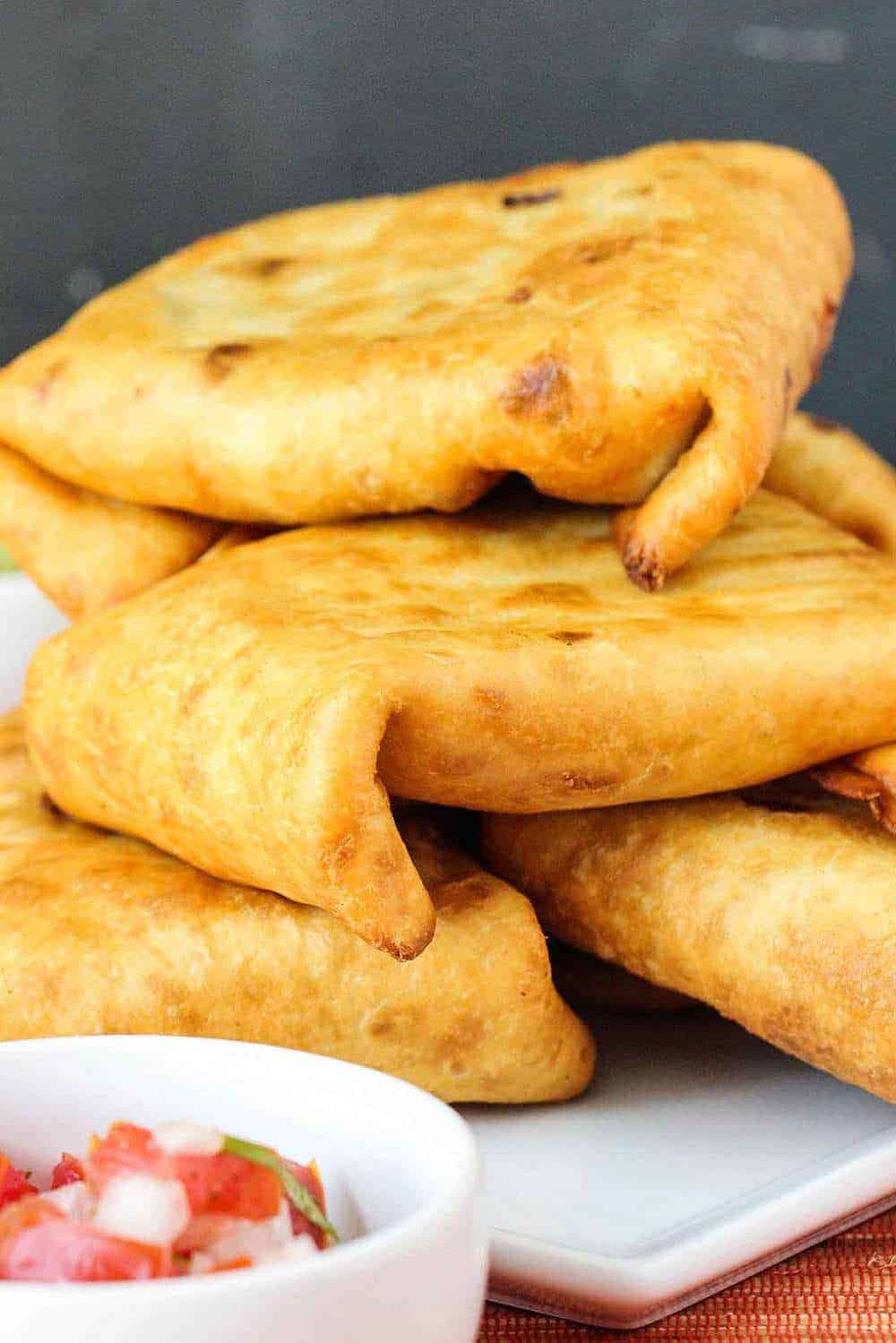 The ingredients are simple and classic Tex-Mex with this beef chimichanga.
Flour tortillas are the classic way to go and fry up beautifully.
Fold them enough so they'll stay in place as you carefully lower them into the hot oil
The homemade chili con carne sauce is easy to prepare but really makes these chimichangas come to life!
Add the lettuce, scallions, and cheese, and you've got something truly special on your hands.
Mmmm..chimi for me!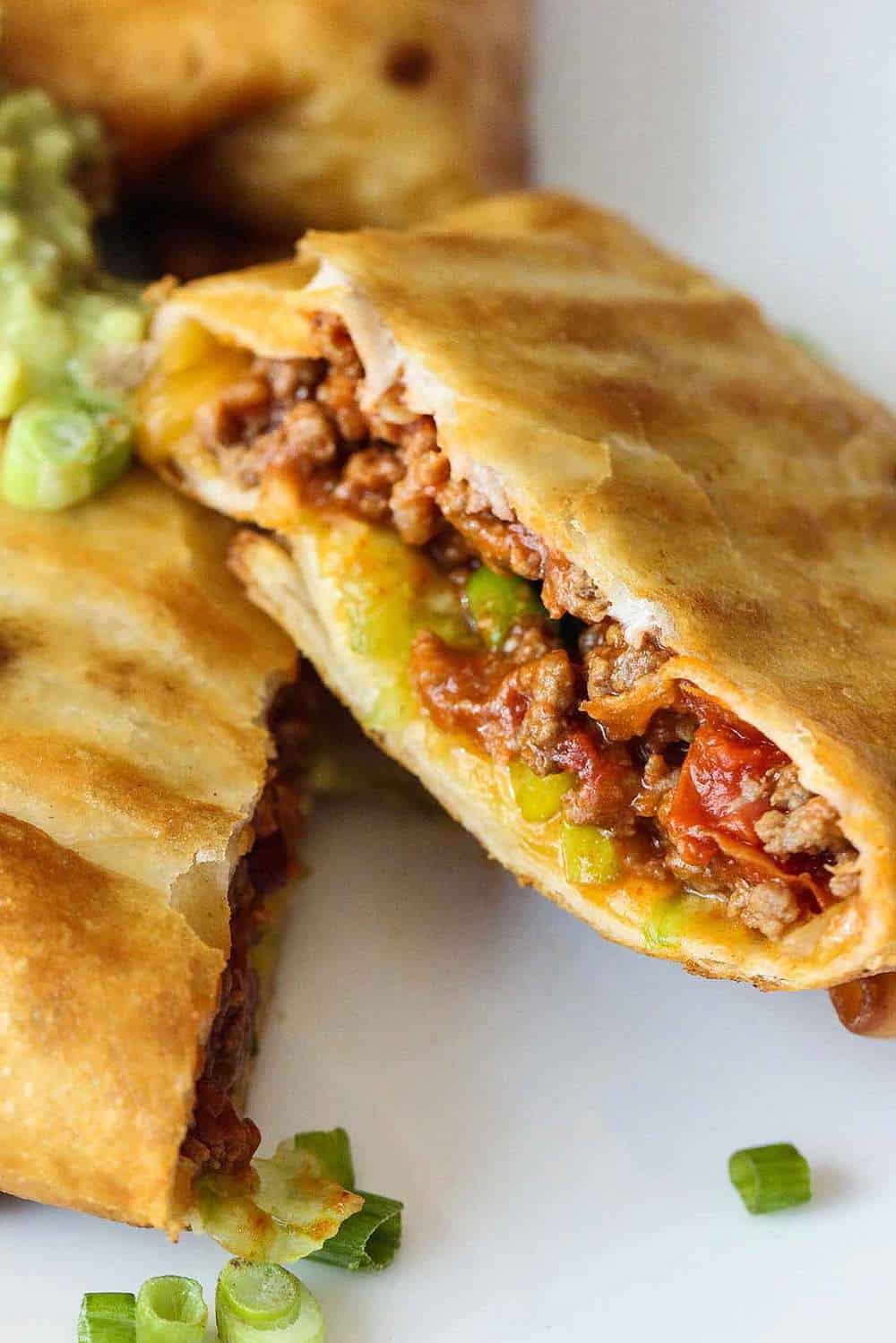 Top them with some homemade guacamole and salsa and you'll have a perfect Beef Chimichanga on your hands.
You and your guests will yell 'Ole!'
Every time I bite into one of these babies, I remember why The Loon loves them so much!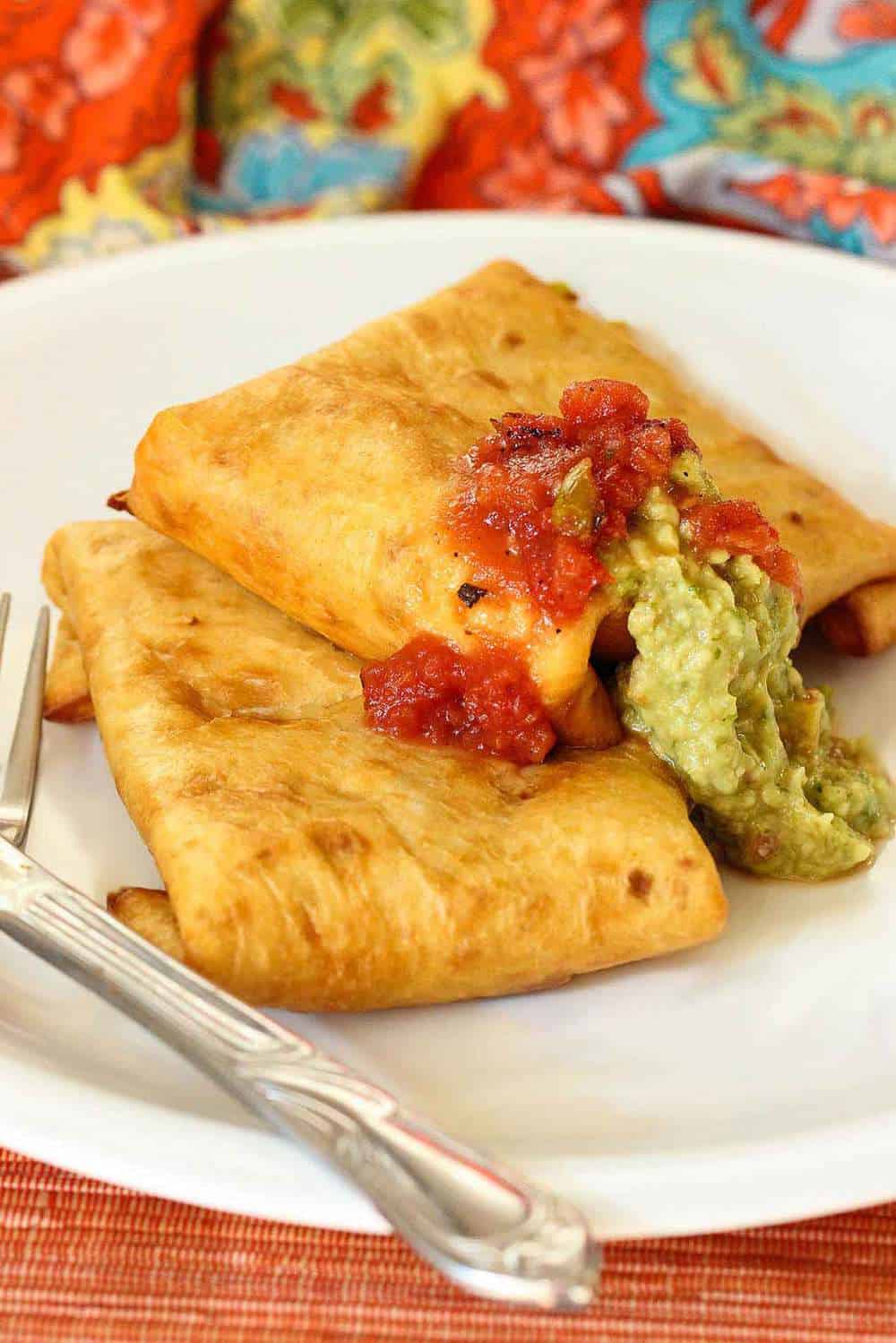 Now, let's make this amazing Beef Chimichanga recipe!
Beef Chimichanga
This Beef Chimichanga recipe is authentic and just exploding with flavor. You could opt for baking these, but I think giving a quick fry in hot oil gives the perfect crunch to this unforgettable dish. Truly one of the Loon's all-time favorites!
Print
Pin
Rate
Servings: 6 people
Calories: 525kcal
Ingredients
FOR THE CHILI CON CARNE
1 tbsp olive oil
1 lb ground beef
2 tsp ground cumin
2 tsp chili powder
1 tsp dried oregano
Kosher salt and freshly ground black pepper
1/2 tsp sugar
1/2 tsp garlic powder
2 tbsp all-purpose flour
1 15.5 oz. can diced tomatoes
1 14.5 oz. can red kidney beans drained
FOR THE CHIMICHANGAS
6 large flour tortillas
1 cup iceberg lettuce shredded
1 bunch scallions chopped
6 oz. cheddar shredded
Vegetable oil for frying
Guacamole for garnish
1/2 cup sour cream for garnish
1 tomatoes seeded and chopped, for garnish
Instructions
MAKE THE CHILI CON CARNE
Heat the oil over medium-high heat in a large pan and brown the meat, breaking it up as it cooks.

Drain the excess grease.

Sprinkle the cumin, chili powder, oregano, pinch of salt and pepper, sugar, garlic powder, and flour.

Cook, stirring frequently, for about 3 minutes.

Add the tomatoes and their liquid and simmer for 25 minutes.

Add the drained kidney beans and cook for another 5 minutes.
PREPARE THE CHIMICHANGAS
Heat the tortillas briefly in microwave or oven, until soft and pliable.

Place two heaping tablespoons of chili con carne in the center of each tortilla.

Top with lettuce, scallions, and cheese.

Fold in the sides to make a parcel, making sure all the filling is enclosed.

Heat about 1 inch of oil in a large frying pan and when hot, lower in the chimichangas, folded side down first.

Cook 2 to 4 at a time, depending on the size of the pan.

Cook for 3 minutes and carefully turn over and cook another 3 minutes.

Using a slotted spoon, remove to a paper-towel-lined plate to drain. Repeat with remaining chimichangas.

Spoon the guacamole over the top of each and drizzle over the sour cream

Sprinkle on the chopped tomato and serve at once.
Nutrition
Calories: 525kcal