This sauce is just…amazing. Smokey, with a bit of a kick, this ranchero sauce is the real deal.
And you will be amazed at how easy it is to make the super flavorful sauce! It is deep in flavor and comes together in a short amount of time. It is perfect for huevos rancheros, but it is amazing on so many savory dishes from eggs, baked potatoes, grilled steak, burgers, and much, much more!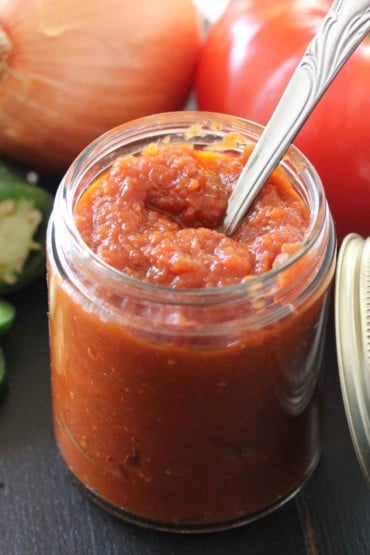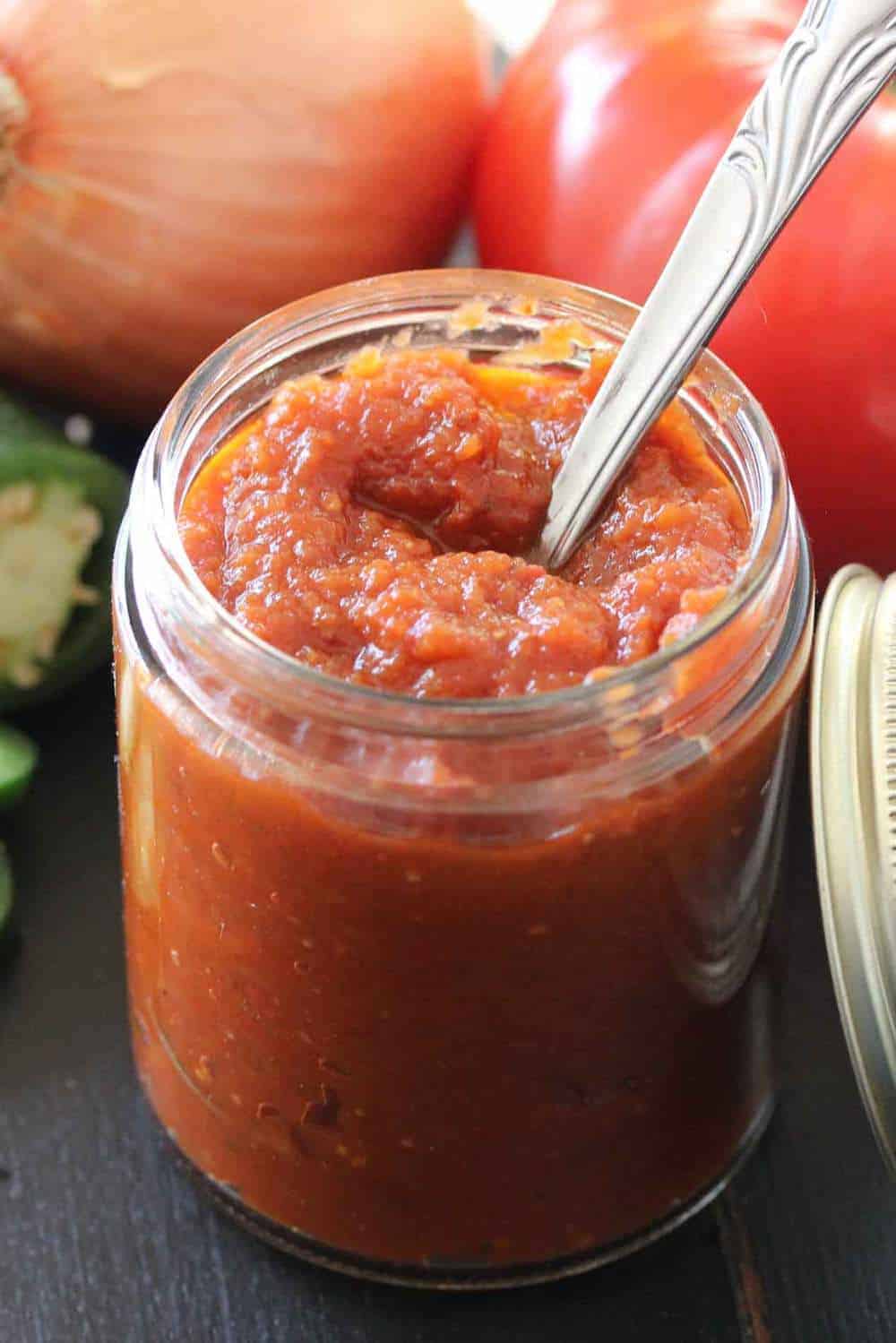 How to Make Homemade Ranchero Sauce
This incredible sauce has as much flavor as it does generations and generations of history!
You just can't believe that something so easy to bring together can be so deep in flavor.
NOTE: If you liked this video, please subscribe to our YouTube channel. Remember to click the little 'bell' icon so you'll never miss a new video! Thank you!
The Ingredients You Will Need
The ingredients in the sauce are not exotic at all. Chipotle peppers can be found in the Hispanic section of many well-stocked supermarkets or found online.
Here's What You'll Need:
Oil – Canola or vegetable are good options
Onion – Chopped
Jalapeño – Seeds removed and roughly chopped
Garlic – Minced
Diced tomatoes – Canned are great, just drain them
Tomato sauce – Grab the small 8 oz. can
Chili powder – Ancho is good, but any type will work
Chipotle – You'll need the pepper and some of the sauce (adobo)
Salt and pepper – Kosher and freshly ground
How to Serve
As mentioned, this sauce is a key ingredient in Huevos Rancheros, but we make a batch frequently and use it in burritos, over scrambled eggs, or any kind of protein.
Jar the sauce with a lid and it will keep in the fridge for up to 10 days. It freezes beautifully.
EXPERT TIP: After sautéing the onions, peppers, and garlic, you'll want to transfer them to a blender with the remaining ingredients to purée the sauce. This can also be done in your food processor.
Tips for Perfect Ranchero Sauce
Control the Heat – Chipotle peppers are deeply flavorful, but they carry a lot of heat (they are dried jalapeños in a smokey adobo sauce). To reduce the heat considerably, open up the pepper and remove all of the seeds. For minimal heat, just go with half of the chipotle pepper, or none at all (just use the sauce). Mild heat, and go with one pepper. For medium, two peppers, extra spicy, leave the seeds in.
Concentrate the Flavors – It's important to cook the sauce down before using or storing it. That's why transferring the puréed sauce back to the pan and cooking for another 15 minutes is vital. This will eliminate excess water and reduce the sauce.
Serve Warm or at Room Temperature – The sauce is great served warm or at room temperature. For hot dishes, such as huevos rancheros, we recommend warming the sauce. When used as a condiment over eggs or a burger, it's great at room temperature.
This sauce is classic Mexican and New Mexico cuisine at its best.
When you make huevos rancheros, you will not want to miss the sauce.
It's so good and is so versatile!
Now, go forth and make some Amazing Ranchero Sauce!
Amazing Ranchero Sauce
This amazing ranchero sauce is perfect for huevos rancheros, or migas, or anything that needs a killer good sauce. This is smokey with a bit of a kick...incredibly good!
Print
Pin
Rate
Servings: 8
Calories: 30kcal
Equipment
1 Blender or food processor

1 Large skillet/saucepan
Ingredients
1 tbsp canola oil
1 medium onion chopped
1 jalapeño seeded and minced
2 cloves garlic minced
1 14.5 oz can diced tomatoes undrained
½ cup tomato sauce canned
1 tsp chili powder
1 chipotle pepper canned in adobo sauce, diced, seeded
1 tsp chipotle adobo sauce
½ tsp Kosher salt
¼ tsp black pepper
Instructions
In a medium saucepan, heat the oil over medium heat.

Once hot, add the onion, jalapeno, and garlic, and cook, stirring occasionally, until softened, about 5 minutes.

Transfer the mixture to a blender.

Add the tomatoes and their juice, the tomato sauce, chili powder, and chipotle pepper and sauce, and puree.

Return to the saucepan, and bring to a boil over high heat.

Reduce the heat to medium-low, and cook, stirring frequently, until reduced to about 2 cups, about 15 minutes.

Season with salt and pepper.

Let cool, then store in airtight container, until ready to use.
Notes
See the video near the top of the blog post for visual guidance, if you liked the video, please subscribe to our YouTube channel.
The sauce can be kept covered in the fridge for up to 10 days and can be frozen for up to 2 months.
Nutrition
Calories: 30kcal | Carbohydrates: 3g | Protein: 1g | Fat: 2g | Saturated Fat: 0.2g | Polyunsaturated Fat: 1g | Monounsaturated Fat: 1g | Trans Fat: 0.01g | Sodium: 224mg | Potassium: 79mg | Fiber: 1g | Sugar: 2g | Vitamin A: 160IU | Vitamin C: 4mg | Calcium: 8mg | Iron: 0.2mg
POST UPDATE: This recipe was originally published in anuary 2015, but was updated with improved tweaks to the recipe with new tips and photography and a new video in January 2023!