This dish is an instant family favorite and all of the components can be made well in advance.
Talk about the perfect TexMex (or CalMex) dinner. Whip up a batch of homemade refried beans for the most authentic burrito of all time. Turn it into a fun weekend food project and make the flour tortillas from scratch.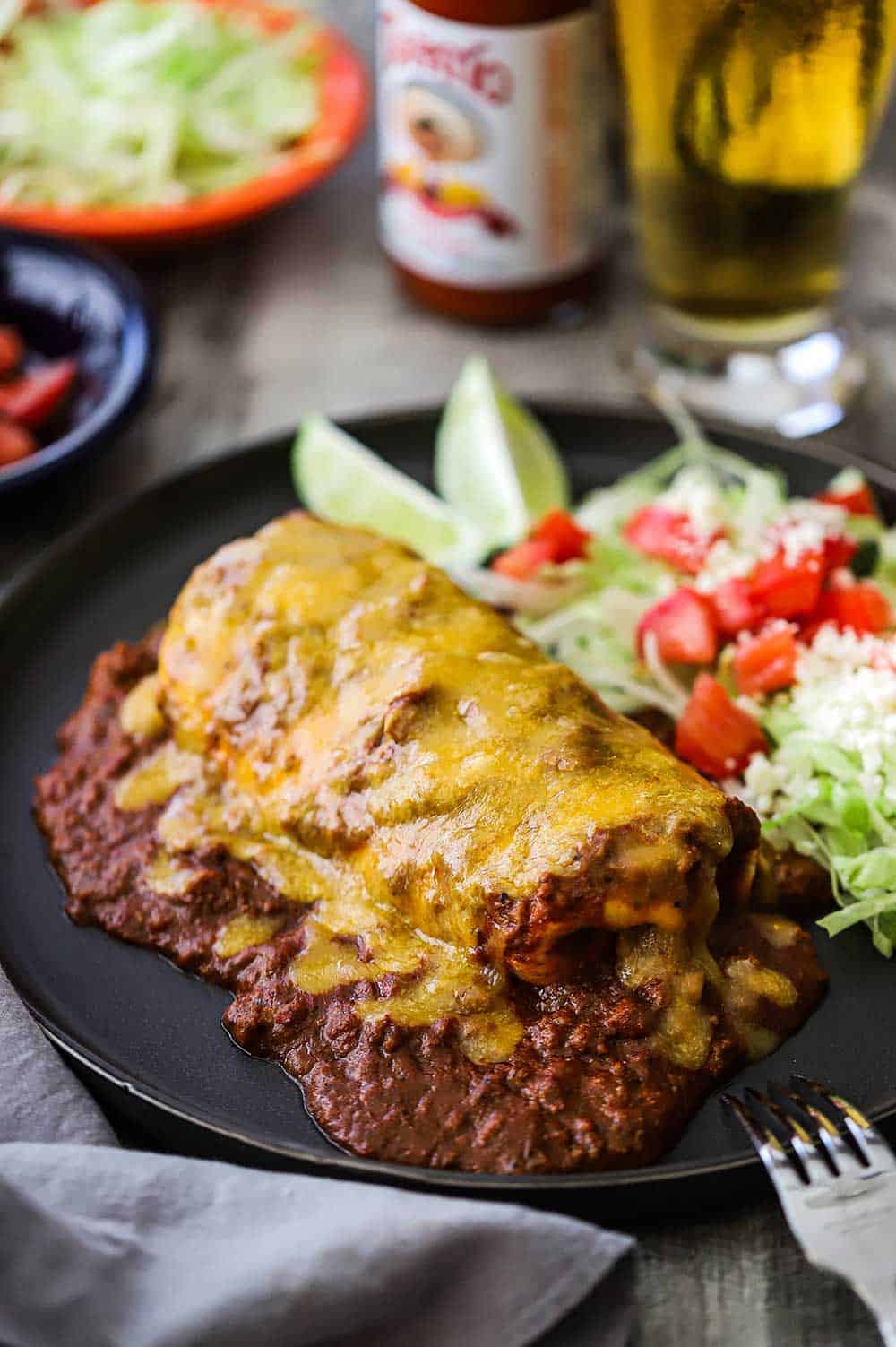 How To Make Smothered Beef Burritos
We're going to show you how to make the main components of this dish from scratch, but, we won't tell anyone if you cheat and use a taco seasoning packet, or purchase your refried beans from your favorite Mexican joint.
But, it's so much fun to make as much from scratch as possible! Get the kids involved!
NOTE: If you liked this video, please subscribe to our YouTube channel. Remember to click the little 'bell' icon so you'll never miss a new video. Thank you so much!
Tips For Making Restaurant-Quality Taco Meat
If you want your seasoned ground beef mixture to be similar to what you get at top-notch TexMex or Mexican, you don't want it to dry out. You may see this meat mixture referred to as beef picadillo.
The addition of chopped fresh tomatoes and beer will keep the meat super moist. The tomatoes will cook down and not be chunky at all. However, if you are one of those people who hate any kind of tomato chunks in their dish, then you can omit them completely, or add 1/2 cup of tomato sauce.
EXPERT TIP: Keep an eye on the meat mixture as it simmers. Keep an extra bottle of beer handy and add more to the mixture in order to keep it nice and moist. Beef broth can be substituted for beer if you don't want to cook with any type of alcohol.
How To Make Chili Con Carne Sauce
We love to smother our burritos in homemade chili con carne sauce, but another delicious topping is our TexMex queso. If using queso, no need to add shredded cheddar on top.
Simmering ground beef in water that has been puréed with onion and garlic will produce a velvet-like meat texture. Be sure to simmer until almost all of the water.
To achieve that classic chili con carne taste, you'll want to make an easy chili sauce. Pick up a bag of dried guajillo peppers and dried chile de arbol peppers from your well-stocked supermarket, Hispanic market, or order them online. Remove the seeds (as much as you can) and then place them in boiling water. Purée in a blender with garlic, salt, chicken bouillon, and reserved pepper broth. That's all there is to it!
The chili sauce will keep in a jar in the fridge for up to 2 weeks. We use it all the time, over scrambled eggs, on baked potatoes, or stirred into anything Mexican!
The Ingredients You Will Need for Chili Con Carne Sauce
Prepared ground beef (using the onion/garlic water technique)
Blonde roux (made with vegetable oil and all-purpose flour)
Chili sauce (homemade is easy and so good)
Beef bouillon (2 cubes)
Chili powder (go with quality!)
Ground cumin
Dried oregano (preferably Mexican)
Salt and pepper
This can be made up to 3 days in advance and stored covered in the fridge and also freezes beautifully for up to 2 months.
How To Roll a Burrito
Rolling up your stuffed burrito is a snap. Here's how you do it:
Warm large flour tortillas in the microwave wrapped in paper towels sprinkled with a little tap water.
Place a warmed tortilla on a cutting board and spread about 1/4 cup of refried beans on one half of the tortilla, leaving about 1/2 to an inch of untouched tortilla at each end.
Add a handful of shredded cheddar over the beans.
Spoon a 1/2 cup of the meat mixture of the beans.
Fold in the edges of the tortillas and start to carefully roll the tortilla over the fillings.
Continue rolling, using your fingers to tuck in the sides as you roll.
Place the rolled burrito on the plate, seam side down.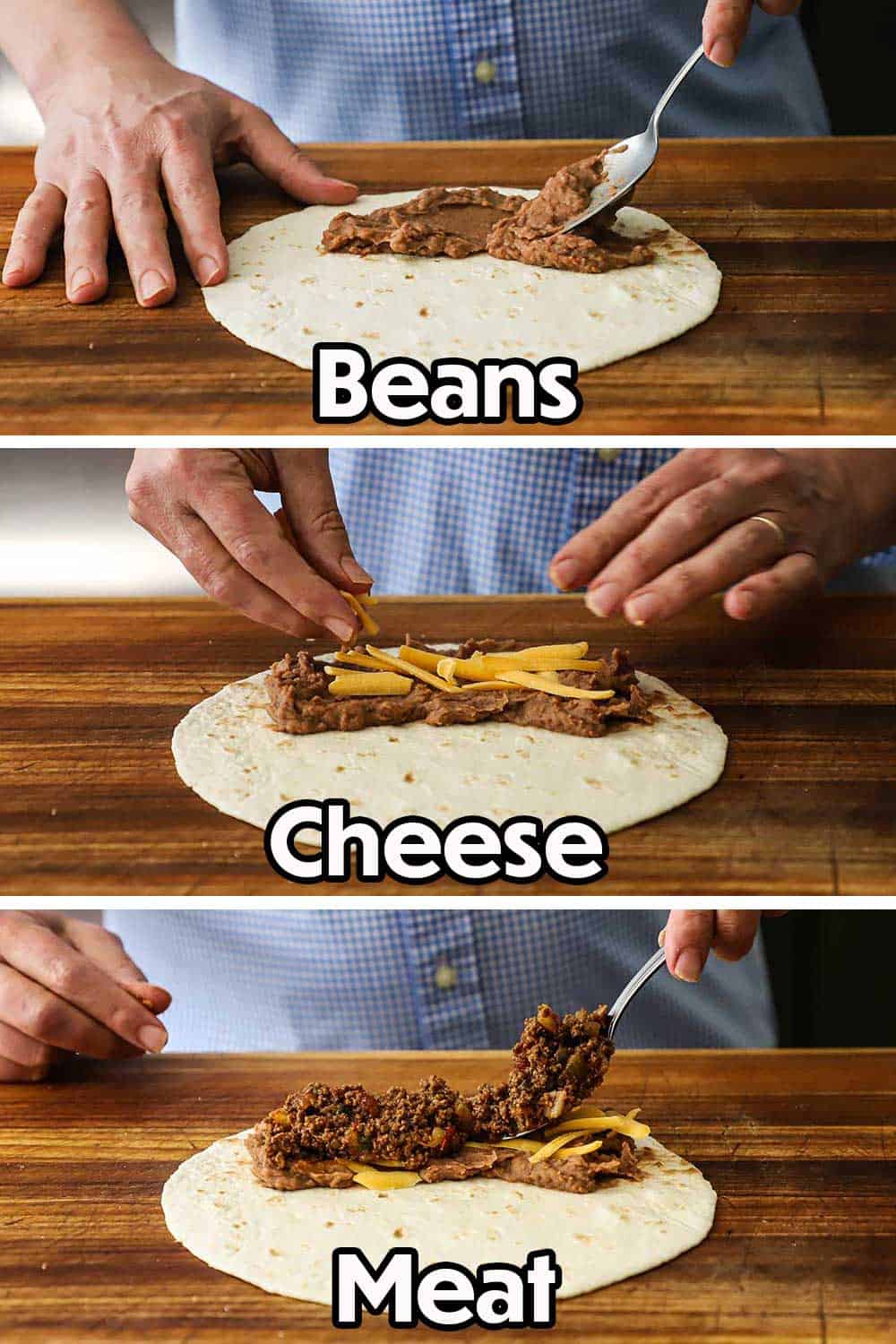 Tips for Making Smothered Beef Burritos
Do ahead – This dish is truly at its best when everything is made from scratch. Do yourself a favor and start days in advance. We make the refried beans one day, then chili con carne the next day, and then the taco meat either the next day or the day of serving.
Shortcuts – You will still have delicious burritos if you use your favorite taco seasoning packet with cooked ground beef. For the beans, we love to order a pint from our local Mexican or TexMex restaurant (this is so much better canned).
Other fillings or toppings: In addition to beef, we love making this with chicken tinga. For a Cal-Mex version, include Mexican rice along with guacamole. As mentioned, instead of chili con carne, homemade queso is also wonderful for smothering the burritos.
IMPORTANT: Don't skimp when smothering the burritos! Make sure to cover the entire burrito. We use a ladle to help us do this important step.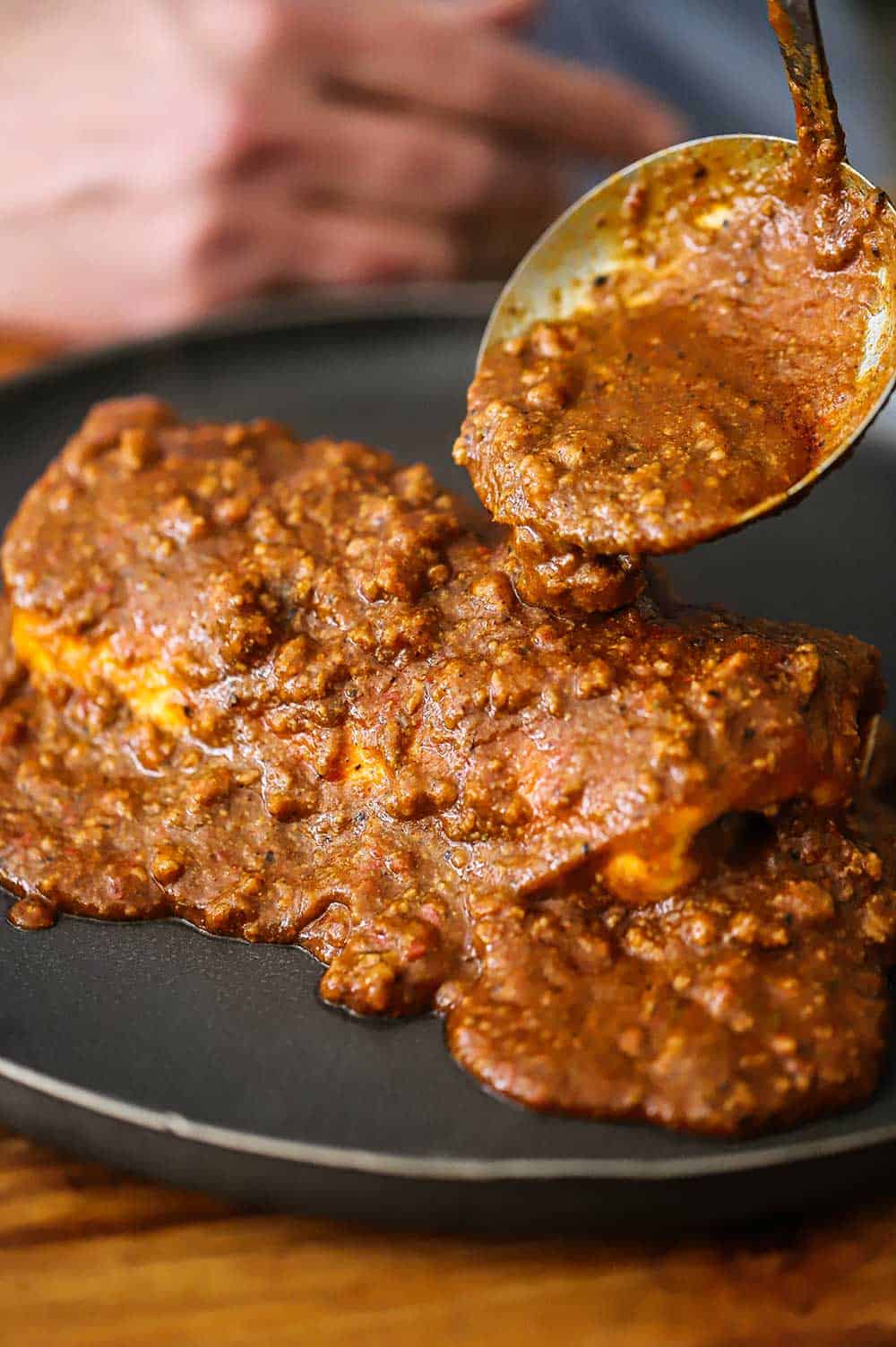 How To Serve Smothered Beef Burritos
These burritos are practically a meal all by themselves. After you've smothered each burrito with the chili con carne sauce, top with a generous handful of shredded cheddar cheese. Modern dinnerware can handle brief heat from the oven without any breakage. Place each plate on the middle rack and turn your broiler on HIGH. It will only take a matter of seconds (probably about 15 to 20) before the cheese is nice and melty.
However, they are wonderful with a side of Mexican rice, or cilantro lime rice, and garnished with fresh pico de gallo, salsa, and homemade guacamole.
And of course, making a batch of our Mama's Margarita's round out the perfect meal.
FUN TIP: One of the most enjoyable dinner parties we ever had was when we had a smothered burritos party. Have all of the components (including beef and chicken) and chili con carne and queso in warmed pans or in small chaffing dishes, and have all the fixings placed out so guests can make their own burrito. So much fun!
Other Classic Mexican Dishes
Easy Chicken Tinga Tacos
Chicken Flautas
Carnitas Tacos
Mahi Mahi Tacos
Baja Tacos
Beef Tostadas
Classic Cheese Enchiladas with Ancho Sauce
Chicken Enchiladas with Verde Sauce
But in the meantime, just look at this gem! You and your family will flip for this amazing smothered beef burritos recipe!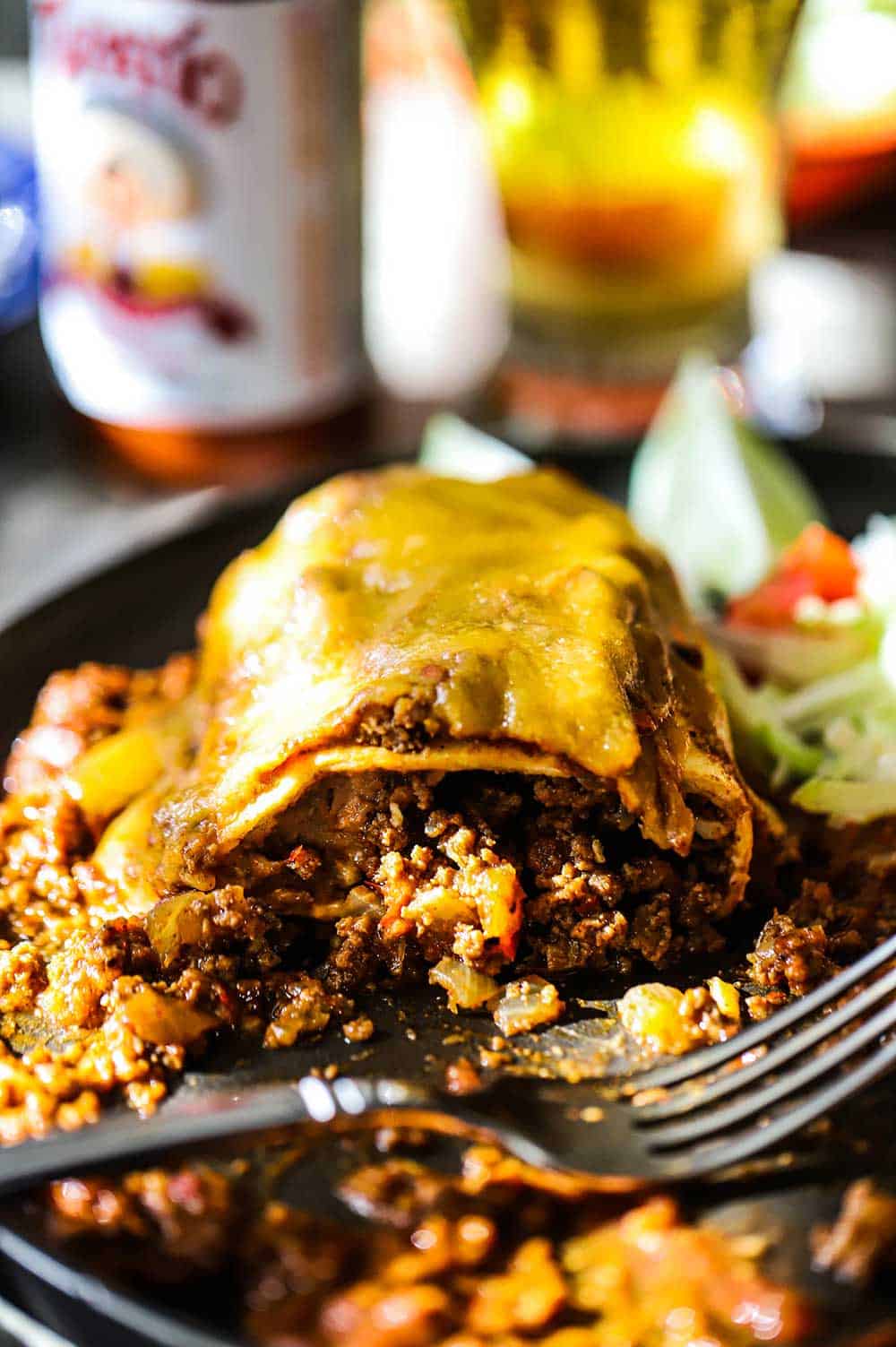 Ready to make the best burrito this side of the Alamo? Go for it!
And when you do, be sure to take a photo of it, post it on Instagram, and tag @HowToFeedaLoon and hashtag #HowToFeedaLoon!
Smothered Beef Burritos with Chili Con Carne
Smothered Beef Burritos with Chili Con Carne is better than anything you will ever order in a restaurant. If you can make it all from scratch, it's just so good. You can do it all in one day, no problem, just carve out a few hours to do it. Or, do like we do and make the various components in advance and then quickly reheat before serving. A burrito party is about as fun of a dinner party as you'll ever have!
Print
Pin
Rate
Servings: 4
Calories: 875kcal
Equipment
1 12-inch skillet

1 Blender
Ingredients
For the Chili Sauce (Do Ahead)
16 guajillo peppers dried, stemmed, and most of the seeds removed
16 arbol peppers dried, try and remove as many seeds as you can
Water for boiling
4 cloves garlic
1 chicken bouillon about 1 tsp
2 tsp Kosher salt
For the Meat Filling
2 tbsp olive oil
1 cup onion chopped
1 jalapeno seeded and finely chopped
2 cloves garlic minced
1 lb ground beef
2 Roma tomatoes chopped
1 tbsp chili powder
1 tbsp ground cumin
1 tsp Kosher salt
½ tsp black pepper
1 cup beer dark or amber
For the Chili con Carne Sauce
1 cup onion chopped
10 cloves garlic
1 lb ground beef
4 tbsp vegetable oil
4 tbsp all-purpose flour
½ cup chili sauce previously prepared
2 beef bouillon cubes roughly crumbled
5 tbsp chili powder
1 tbsp ground cumin
1 tsp oregano dried, preferably Mexican
1½ tbsp Kosher salt
1 tbsp black pepper
For the Burritos
4 large flour tortillas burrito size
2 cups refried beans
2½ cups cheddar cheese shredded
Instructions
Make the Chili Sauce (Do Ahead)
Bring a medium-sized pot of water to a boil. Add the prepared chiles and let boil for 15 minutes.

Use a slotted spoon to transfer the softened chiles to a blender along with the garlic, chicken bouillon, salt, and 1 cup of the chile broth. Purée until smooth. Let cool somewhat and then transfer to a jar with a tight-fitting lid. Use at once, or store in the refrigerator for up to 2 weeks.
Make the Meat Filling
Heat the olive oil in a large skillet over medium-high heat. Add the onions and peppers and cook until soft, about 4 to 5 minutes. Add the garlic and cook for another 30 seconds, stirring often.

Add the beef and use a wooden spoon to break up the meat. Cook, stirring often, until the beef is no longer pink. If desired, tilt the skillet and use a large spoon to remove most of the grease that has been rendered while cooking. Discard safely.

Add the tomatoes, chili powder, cumin, salt, and pepper, and stir until tomatoes are softened and beginning to break down, about 5 minutes. Add the beer and let simmer for about 20 minutes. Add more beer if getting dry (the meat should be very moist). Set aside and keep warm.
Make the Chili Con Carne
Place the roughly chopped onion, garlic cloves, and 3 cups of water into a blender. Purée for about 1 minute, until smooth.

Add the ground beef to a 12-inch skillet and break up with a large wooden spoon. Pour the onion-water purée and cook over medium-high heat. Bring to a simmer and continue cooking, stirring occasionally, until all of the water is gone, about 40 to 50 minutes.

Meanwhile, in a small sauté pan, turn the heat to medium-high and add the vegetable oil. Whisk in the flour and continue whisking until fully combined. Stir with a wooden spoon for about 5 minutes. This color will darken slightly to an amber hue. Turn off the heat and set it aside.

Add the roux, chili sauce, bouillon, chili powder, cumin, oregano, salt, and pepper to the meat and stir to combine. Stir in 3 cups of water and bring to a low simmer. Cook for about 8 minutes.
Assemble and Finish Off the Burritos
Place the tortillas in between paper towels and sprinkle tap water on them with your fingers. The towels should be damp, but not drenched. Place in the microwave on HIGH for about 30 seconds, or until they are warm and pliable.

To build each burrito, place a warm tortilla on a cutting board. Spoon about ⅓ cup of warm refried beans on one half of the tortilla (the half closest to you). Top with a generous handful of shredded cheddar. Spoon a generous ½ cup (more or less, depending on the size of your tortilla) of the meat mixture over the cheese. Gently grab the edges of the tortilla closest to you, and press the inwards slightly. Begin to tightly roll the burrito over the filling, using your fingers to tuck in the sides as you go. Once the burrito is completely rolled and the sides are tucked in, place it on a plate or platter, seam-side down.

Use a ladle or large spoon to pour chili carne sauce all over the top and sides of the burrito. Top with a handful of cheese.

Turn your broiler on HIGH and place the plates on the middle rack for about 20 seconds, or until the cheese has melted and is a little bubbly. Use oven mitts to remove the plates and serve immediately.
Notes
See the video near the top of the blog post for visual guidance. If you liked the video, please subscribe to our YouTube channel. The chili sauce can be made up to 2 weeks in advance. The meat filling, chili con carne, and refried beans can all be made several days in advance. Keep in the fridge and reheat on the stove before assembling the burritos. Most modern dinner plates or platters can handle heat in the oven for a short amount of time. Don't place vintage dinnerware in the oven. Be sure to let your guests know that the plates are hot! You can freeze the assembled burritos for up to 2 months. Let thaw and then heat in the oven for 30 minutes at 350°F.
Nutrition
Calories: 875kcal | Carbohydrates: 77g | Protein: 71g | Fat: 32g | Saturated Fat: 12g | Polyunsaturated Fat: 4g | Monounsaturated Fat: 14g | Trans Fat: 3g | Cholesterol: 232mg | Sodium: 1489mg | Potassium: 1727mg | Fiber: 19g | Sugar: 12g | Vitamin A: 9190IU | Vitamin C: 29mg | Calcium: 772mg | Iron: 13mg