This is, without a doubt, one of those "special occasion" kinds of dishes. Epic hardly begins to describe it.
This dish hails from the glorious Tuscan city of Florence, Italy. It's huge, which makes it perfect for serving two or three people. We give it a bit of Texas twist and smoke it first and then finish it off with a reverse sear. We love to serve them with our Balsamic Roasted Potatoes with Herbs.
How To Make Bistecca alla Fiorentina
You may need to make a quick trip to your local butcher to have him/her cut you a nice thick porterhouse steak.
And there are several methods for cooking the steak. The reverse sear ensures a crisp, charred outside and a juicy, tender inside.
NOTE: If you liked this video, please subscribe to our YouTube channel. Remember to click the little 'bell' icon so you'll never miss a new video. Thank you!
The Ingredients and Tools You Will Need
There are not a ton of ingredients for the Italian-style porterhouse, obviously, it's all about the meat. However, you do have options on what tools to use for cooking the steak.
Here's What You'll Need to Have on Hand
Porterhouse steak – This cut has a "T" shaped bone in the middle with a filet on one side and a strip on the other. You'll want the steak to about 1½-inches thick and weigh between 1½ to 2 lbs.
Seasonings – All you need is salt and pepper, and then coarse finishing salt for garnish
Olive Oil – For searing at the end, and then more for sautéeing the herbs and garlic for garnish
Herbs – Fresh basil and parsley are ideal
Garlic – Minced
Following are the different methods for cooking the steak (before the final "reverse" sear):
Electric smoker – This is how we're preparing the steak. We smoke the seasoned steak with 2 oz. of hickory wood chips for about 1 hour and 15 minutes (for medium-rare).
Pellet smoker – Set your smoker to 225 and cook the steak until you reach an internal temperature of 125°F (for medium-rare). The temperature will rise about 10 more degrees in the final sear.
Electric or gas grill – Set your grill for a 2-zone heat (one side with direct heat and the other side with no heat).
Sous Vide – This is an amazing way to cook the steak. Follow manufacturer instructions to reach desired doneness.
Conventional oven – This is our least favorite way to cook the steak (you run the risk of drying it out), but you can cook it on a rack at 350°F until internal temperature reaches 125°F, usually about 30 to 40 minutes (ovens vary).
EXPERT TIP: If using a smoker, be sure not to overdo it with the wood chips. The beef will absorb quite a bit of smoke. We find that 2 ounces (a small handful) is just the right amount. A pan of water under the rack with the steak creates steam and helps to keep the meat extra tender.
Tips for Perfect Bistecca alla Fiorentina
Sure, here are four tips for making perfect Bistecca alla Fiorentina:
Choose the right cut of meat: You need to choose a porterhouse steak that is at least 1-1/2 inches thick and weighs around 2-3 pounds. It's important to choose a steak that is well-marbled and has a good amount of fat content to ensure that it stays juicy and tender when cooked. A t-bone steak is a perfectly fine substitution.
Bring the steak to room temperature: Before cooking the steak, it's important to let it sit at room temperature for at least an hour. This will allow the steak to cook more evenly and prevent it from becoming tough or overcooked.
Season generously: This Tuscan steak is traditionally seasoned with just salt and pepper, but it's important to season the steak generously on both sides. Use coarse sea salt and freshly ground black pepper to enhance the natural flavor of the meat.
EXPERT TIP: The authentic preparation of this steak is typically grilled for a few minutes per side over a very hot coal fire and served quite rare. We've modified this somewhat to allow the steak to be cooked first to nearly reach the desired temperature and then sear it off a the end. This is why it's called "reverse" sear, since the searing doesn't happen at the start.
How To Serve
This dish is so impressive and always garners lots of "ooh's" and "ah's" when it's brought to the table.
We love to serve it with our roasted balsamic potatoes with herbs. To make it a feast like none other, you could also serve it with grilled Italian sausage and sautéed red peppers and onions.
You can serve it family-style on a huge platter or cutting board and let folks serve themselves.
For a dramatic touch, don't drizzle on the sautéed herbs with garlic until after you've brought the dish to the table, and then sprinkle with the finishing sauce. Your guests will be salivating!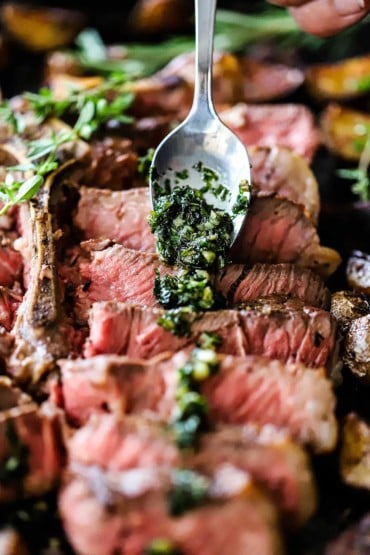 Other Amazing Steak and Beef Recipes to Try
If you like steak and beef as much as we do, then you will love each and every one of these recipes:
Sous vide Skirt Steak with Chimichurri Sauce
Italian Pot Roast
Grilled Ribeye with Chimichurri Sauce
Ribeye with Gorgonzola and Caramelized Onion Sauce
Seared Ribeye with Blistered Tomatoes and Bordelaise Sauce
Beef Tenderloin with Red Wine Sauce
Steak au Poivre
Carne Asada
Steak Pizzaiola
Grilled Tri-Tip with Santa Maria Salsa
These are all show-stopper beef dishes. But, folks, you want to talk about the ultimate show-stopper? You need to make this:
This dish is a true celebration for anyone who loves a good steak.
Think about it, you're getting a tender beef filet (filet mignon) AND a tender, juicy strip steak (aka: New York Strip) in one dish!
And in the unlikely event that you have any of the steak leftovers, you won't believe how incredible it makes a sandwich: Toasted bun, a little mayo, and melted provolone over the heated steak. Incredible.
Ready to make the best steak dinner this side of Florence, Italy? Go for it!
And when you do, be sure to take a photo of it, post it on Instagram, and tag @HowToFeedaLoon and hashtag #HowToFeedaLoon!
Bistecca alla Fiorentina (Italian-Style Porterhouse)
This epic Italian beef dish is truly one that is made to impress. We smoke our version in our electric smoker, but see the NOTES on other methods for cooking the steak. This easily serves two people. Grill up some Italian sausages for a feast to feed a small gathering.
Print
Pin
Rate
Servings: 2
Calories: 568kcal
Equipment
Smoker Electric or pellet, see NOTES for other options
Ingredients
1 2 lb porterhouse steak about 1½" thick
Salt and pepper
¼ cup olive oil plus 2 tbsp for searing
3 tbsp basil fresh, chopped
3 tbsp parsley flat-leaf, fresh, chopped
4 cloves garlic minced
coarse finishing salt
Instructions
Set your porterhouse out for about 30 minutes to lose some of its chill.

1 2 lb porterhouse steak

Liberally season the steak on both sides with salt and pepper.

Salt and pepper

Add 2 ounces of hickory wood chips to your smoker box and place it in the smoker. Place the steak on one of the smoker grates, close the door, and turn the heat to 225°F. Smoke until you reach an internal temperature of 120 to 125°F for medium rare, usually about 1 hour and 15 minutes. Remove the steak from the smoker.

Heat 2 tbsp of olive oil in a large skillet (preferably cast iron) over medium-high heat. Once the oil is very hot and shimmering, place the steak into the skillet and let the underside brown for about 1 to 2 minutes. Carefully flip the steak and brown the other side for another minute or two. Use a large spatula to place the steak on a cutting board and let rest for 10 minutes while you make the sautéed herbs and garlic sauce.

¼ cup olive oil

In a small skillet (or use the same one that you seared the meat in), heat ¼ cup of olive oil over medium heat. Add the garlic, basil, and parsley, and sauté, stirring often, for about 60 seconds. Transfer to a bowl. Set aside.

3 tbsp basil, 3 tbsp parsley, 4 cloves garlic

If desired, use a sharp paring knife to cut the filet and the strip away from the bone. Slice the steaks into ½-inch to 1-inch thick slices. Arrange the sliced meat back into place around the T-bone.

Use a spoon to add a strip of the sautéed herbs and garlic down the center of each steak. Sprinkle with coarse sea salt and serve at once.

coarse finishing salt
Notes
See the video near the top of the blog post for visual guidance. If you liked the video, please subscribe to our YouTube channel.
Alternate methods for cooking the steak:
On your gas, charcoal, or electric grill. Set up a 2-zone heat source (direct heat on one side of the grill and no heat on the other side). Cook the steak on the no-heat side until the inside reaches 120 to 125°F for medium rare. If desired, you can then do the final sear on the direct heat side of the grill.
Sous Vide: Follow the manufacturer's instructions for cooking the porterhouse with your sous vide machine. You'll need a vessel and baggie large enough to hold the large steak. Do the final sear as is in the recipe.
Oven (not recommended): Preheat oven to 350°F. Place steak on a baking sheet and bake until internal temp reaches 125°F, usually about 30 to 40 minutes. Sear as directed in the recipe.
If you can't get a porterhouse, a regular T-bone will work just fine.
For medium, take the steak out when the internal temperature reaches 135°F. For medium-well, remove the steak when it reaches 145°F.
Leftovers will keep in the fridge for up to 5 days (they make amazing sandwiches!).
Nutrition
Calories: 568kcal | Carbohydrates: 29g | Fat: 12g | Saturated Fat: 4g | Polyunsaturated Fat: 2g | Monounsaturated Fat: 1g | Cholesterol: 0.3mg | Sodium: 660mg | Potassium: 68mg | Fiber: 0.4g | Sugar: 0.1g | Vitamin A: 664IU | Vitamin C: 10mg | Calcium: 25mg | Iron: 1mg