I only have one word for Chilaquiles: Fried Egg, Salsa Verde, Tortillas and Queso:  Bueno.  Actually two words:  Muy bueno.   This is Southwestern Brunch at it's very BEST.   Don't skimp, quickly fry up your yellow corn tortillas, get some good goat cheese, creme fraiche, queso blanco (or Monterrey Jack will do) and of course, whip up the amazing tomatillo salsa..and be prepared to impress.  Top it off with a perfectly cooked sunny-side up egg, and you'll flip. The Loon always does!   Yum-o!!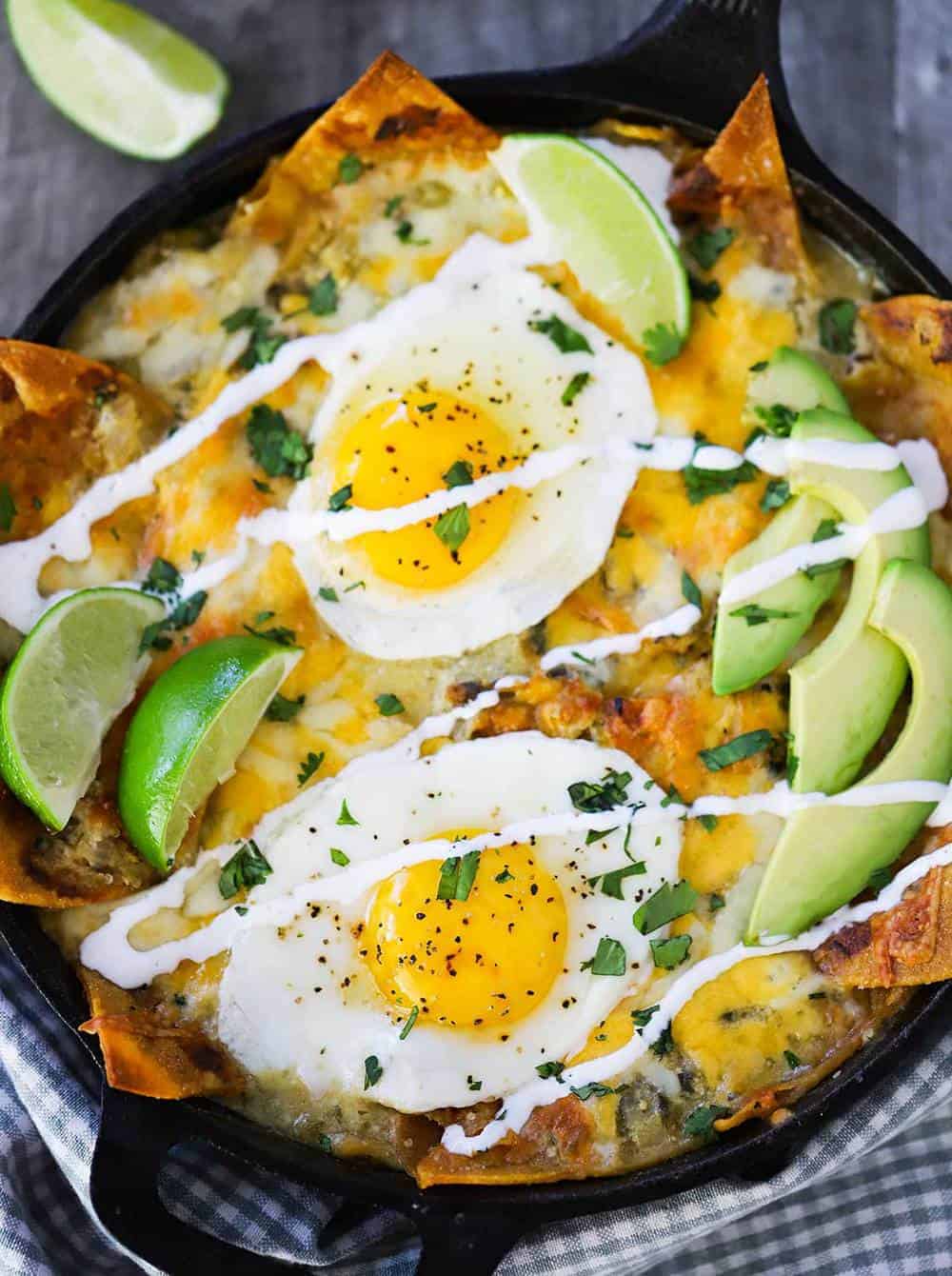 Chilaquiles: Fried Egg, Salsa Verde, Tortillas and Queso
Chilaquiles: Fried egg, salsa verde, tortillas and qeuso is Southwestern brunch at it's best! Incredible flavors! East...and as good as you're favorite brunch place. So good.
Print
Pin
Rate
Prep Time: 20 minutes
Cook Time: 10 minutes
Total Time: 30 minutes
Servings: 6 people
Calories: 319kcal
Ingredients
FOR THE TOMATILLO SALSA
4 cups tomatillos husks peeled off, cored and roughly chopped
4 garlic cloves peeled
1/2 medium onion roughly chopped
3 serrano chiles
1 cup water
1 tsp Kosher salt
2 tbsp vegetable oil
FOR THE CHILAQUILES
3/4 cup vegetable oil
12 corn tortillas each cut into 6 wedges
1/2 cup grated Monterrey Jack cheese
1/2 cup goat cheese crumbled
2 tbsp unsalted butter
6 large eggs farm-fresh are nice
Salt and pepper to taste
GARNISHES
8 tbsp goat cheese crumbled
12 small sprigs fresh cilantro
12 tbsp creme fraiche
6 slices ripe avacado
6 lime wedges
Instructions
In a blender, puree the tomatillos, garlic, onion, chiles, water and salt until smooth.

Heat the oil in a large skillet over medium heat for about 2 minutes.

Add the puree, but be careful, it will splatter a bit.

Cook until nicely heated through, about 5 minutes. Keep warm until needed.

Meanwhile, heat the oil in a large sturdy skillet (or your deep fryer).

When the oil is starting to smoke a bit, add the tortillas, breaking them apart, cooking until nice and crispy.

Drain on paper towels and salt liberally

Add the crispy tortillas to a larger bowl, and add the tomatillo salsa over them, mix well.

Add the Monterrey Jack and 1/2 cup of the goat cheese, and mix lightly.

Heat a large skillet over medium heat and melt the butter.

Gently break the eggs onto the skillet, trying to keep them separate from each other.

Cook them sunny side up, and season with salt and pepper.

Just before the eggs finish cooking, stir the tortilla/tomatillo mixture and place a portion of the mixture each into the center of 6 warm plates.

Top with a fried egg.

Sprinkle with 1 to 2 tablespoons of goat cheese and add a couple sprigs of cilantro.

Drizzle 2 tablespoons of creme fraiche over all, and top with a slice of avacado.

Garnish with a lime wedge, if desired.
Nutrition
Calories: 319kcal