Want a REAL breakfast sandwich?  How about Homemade Egg, Cheese and Maple Sausage Sandwiches!! These blow the fast food variety out of the water (and we like those, too!).  But use homemade Maple-Sage Sausage Patties, with cheddar cheese, a layer of eggs, and even homemade English muffins…Lordy, breakfast never tasted so good!!   This is an all-time favorite with the Loon.   Try it, and you'll see why!   100% Loon Approved!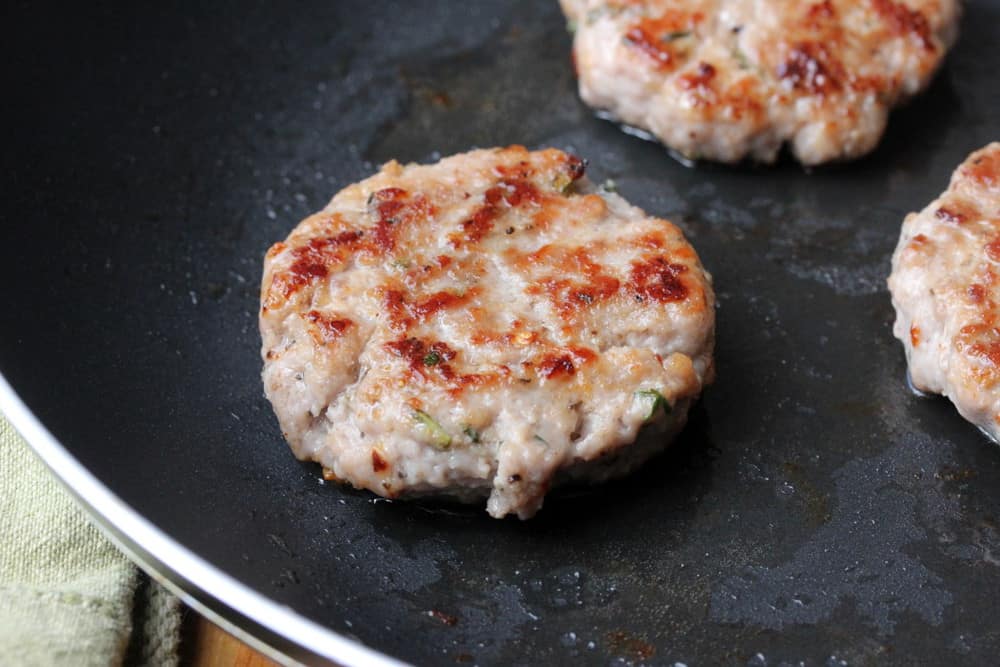 Egg, Cheese and Maple Sausage Sandwich
Try these Egg, Cheese and Maple Sausage Sandwiches, and breakfast will never be the same. Over-the-top yummy!
Author: Kris Longwell
Recipe type: Breakfast
Cuisine: Breakfast
Serves: 6
Ingredients
6 slices sharp Cheddar cheese
6 English muffins, homemade or purchased, split an half, crosswise
6 large eggs
Kosher salt and freshly ground pepper
¼ teaspoon of garlic powder
2 tablespoons unsalted butter
Instructions
Prepare and shape the sausages as directed and cook in a large skillet (non-stick works well) over medium heat.
Cook until undersides are browned, about 5 minutes.
Flip the patties and cook for about another 5 minutes.
Place a slice of cheese on each patty, cover the pan, and cook until the cheese melts, about 1 minute longer.
Remove the patties from the pan and set aside until ready to use.
Discard the fat from the pan.
Toast the muffins either under a broiler until lightly crisped (about 3 minutes...but watch closely...times vary), or toast in your toaster. Remove and set aside.
In a bowl, whisk together the eggs, ¼ teaspoon salt, pinch of black pepper and the garlic powder, just until blended. (Don't over beat them).
Heat the butter in the skillet over medium heat.
Tilt the pan to distribute the butter, and then add the egg mixture.
Don't stir the eggs, let them cook for about 30 seconds, until they have just begun to set around the edges.
Using a spatula, lift the cooked edges and gently push them toward the center; tilting the pan to allow the liquid on top to flow underneath, then cook for another 30 seconds.
Repeat this process and then cover the eggs and let cook for another 30 seconds until the eggs have completely set into a thin omelet.
Remove from the skillet, and using your spatula (or a knife), divide the omelet into 6 wedges.
Top 6 of the muffin halves with the sausage patties, then a wedge of the eggs, folded to fit.
Cover with the remaining muffin halves.
Serve at once and enjoy!