Want a REAL breakfast sandwich? These blow the fast-food variety out of the water (and we like those, too!).
Go with Homemade Southern Biscuits, Maple-Sage Sausage Patties, with cheddar cheese, a layer of eggs, and…Lordy, breakfast never tasted so good! And most of the components of this sandwich can be made in advance, making morning assembly a snap!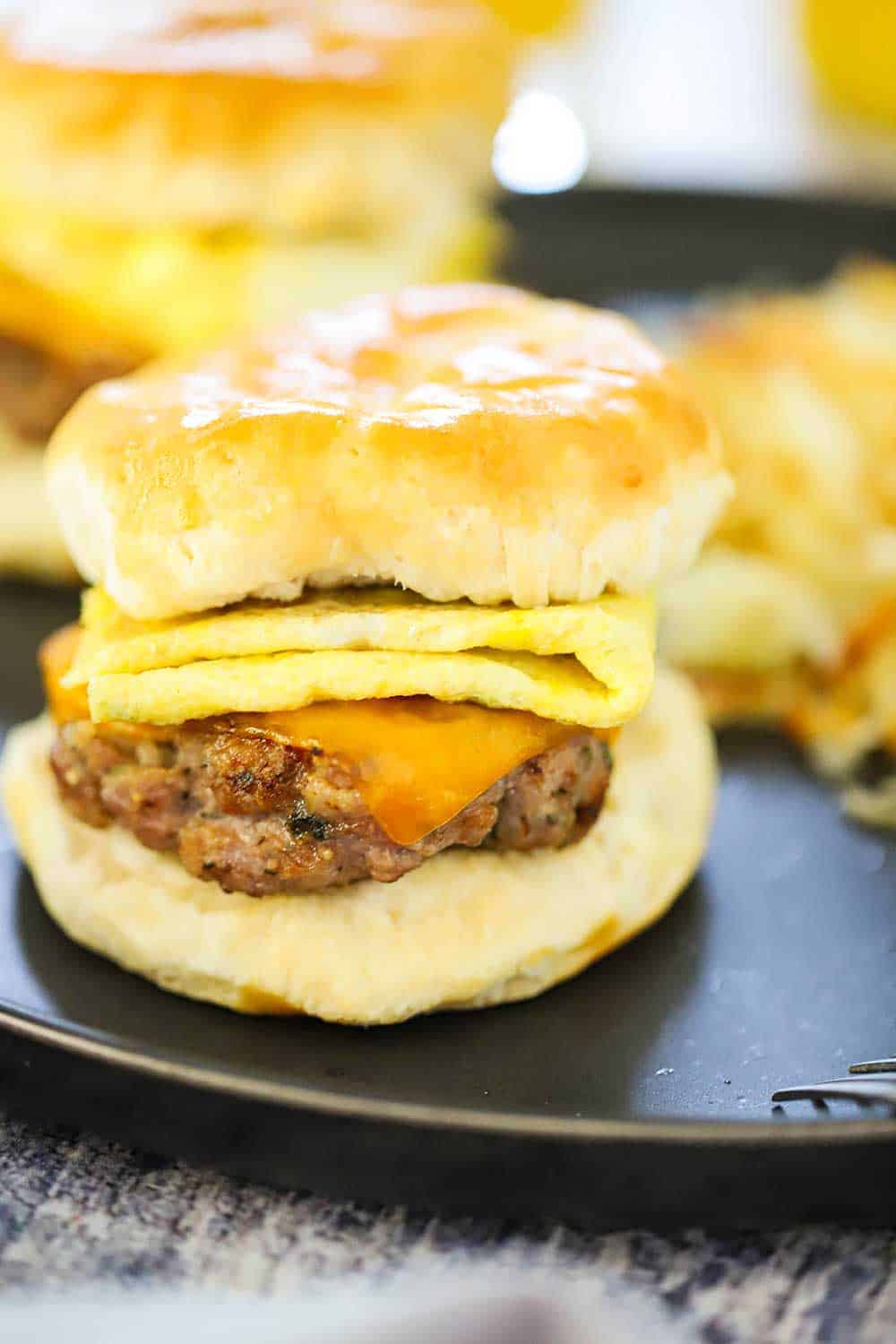 How to Make the Best Breakfast Sandwich
It may seem crazy to make each of the various components for this incredible egg biscuit sandwich, but it's actually easier than you might think!
Much of this can be prepared in advance, and then easily reheated in the morning and then assembled just before serving.
The Ingredients You Will Need
Well, the name of this breakfast sausage tells you pretty much everything you'll need to make a classic egg biscuit sandwich.
There are two components of this breakfast masterpiece that folks always seem to remember most: the biscuits and the maple-sage sausage.
EXPERT TIP: Our Homemade Southern Biscuits are pretty much fool-proof and can be made up to 1 or 2 days in advance. However, you can also purchase great homemade biscuits from your local diner, favorite breakfast joint, country-style restaurant. You can go with canned biscuits in a pinch, and honestly, still have an amazing breakfast sandwich. Another wonderful option is lightly toasted English muffins.
Just look at these homemade biscuits!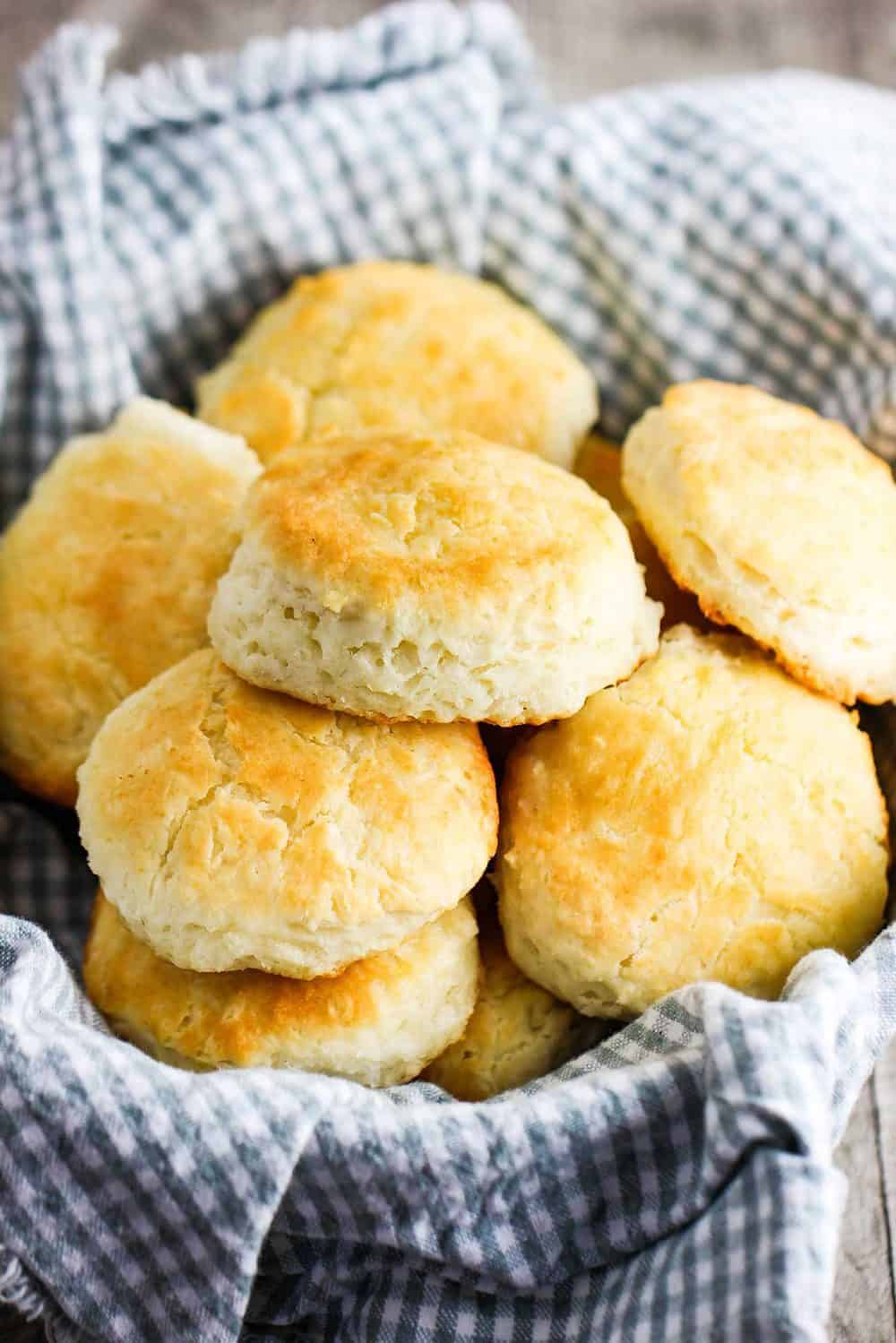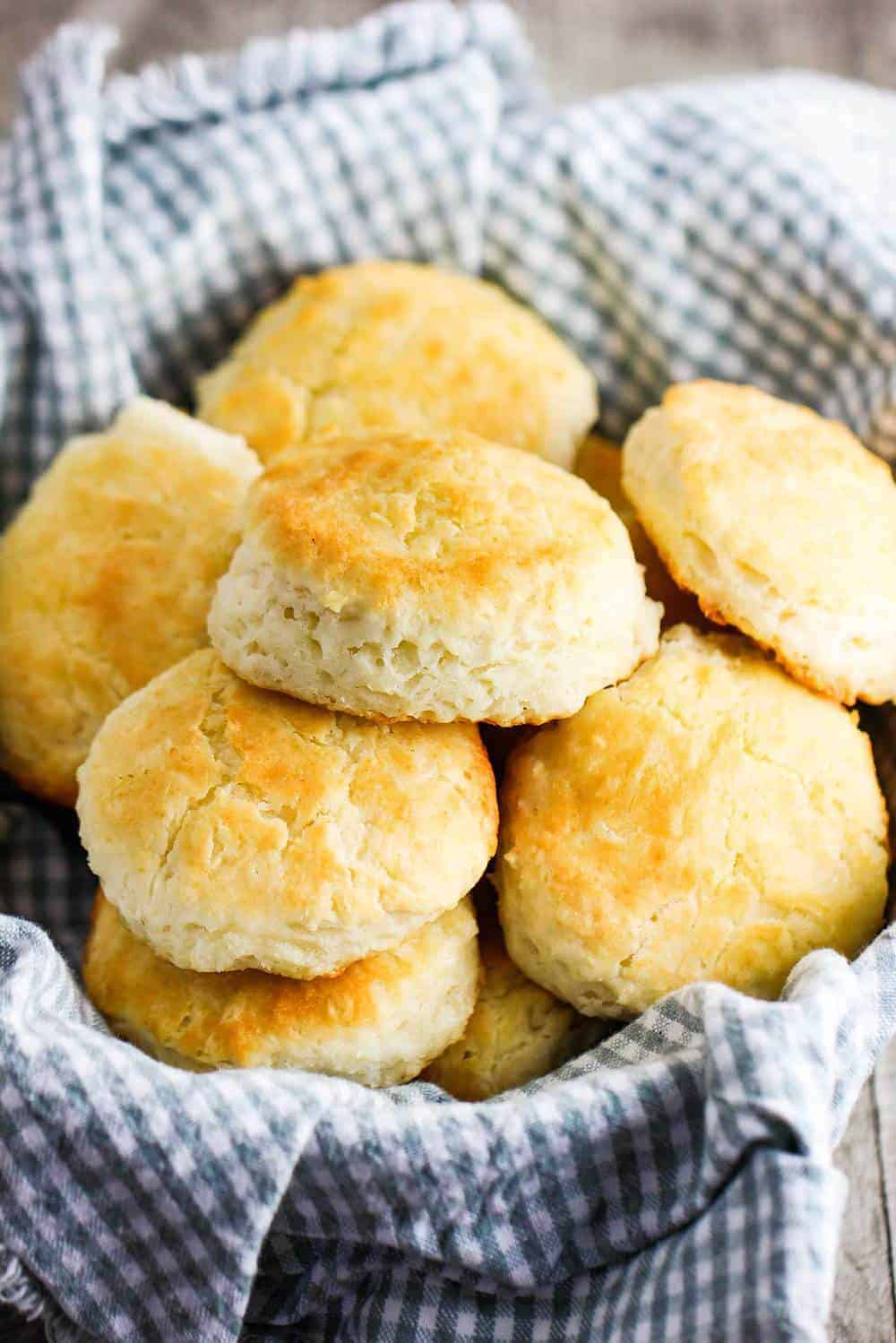 What would a sausage breakfast sandwich without an amazing meat pattie? Not much!
We love the combination of a touch of sweet and savory with these maple-sage sausage patties. Cook them up in a skillet and then keep them warm until ready to use.
EXPERT TIP: Don't form the patties too thick. We find the ½-inch thickness allows the patties to cook perfectly and are the perfect ratio of meat to egg, cheese, and a biscuit! The patties can be made up to a week in advance. Simply reheat in a warm oven or in a hot skillet.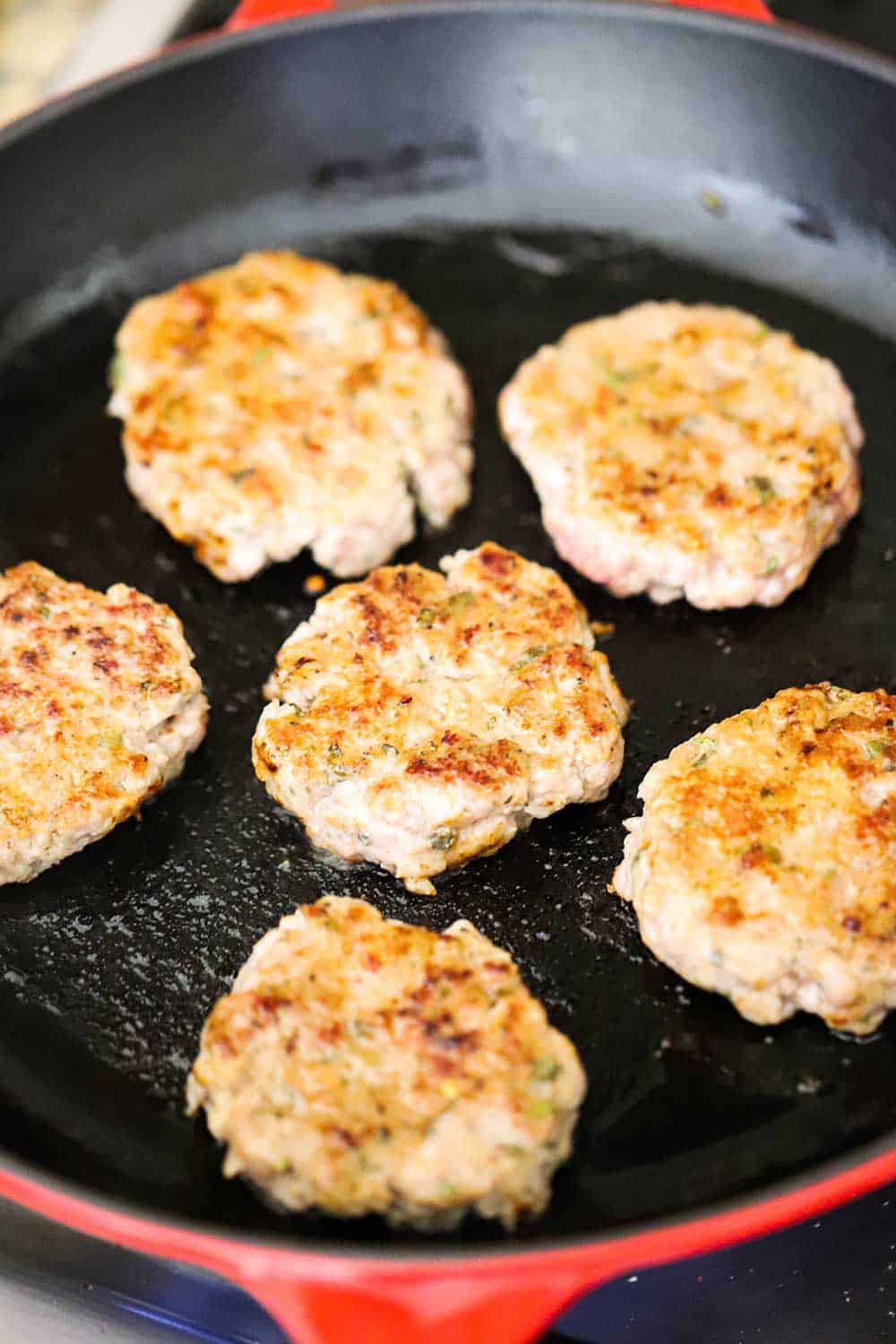 How to Make Eggs for Breakfast Sandwich
Forming a nice egg layer for the sandwich is so easy.
Simply beat an egg in a small bowl. Heat ½ tbsp of butter in a medium-sized skillet and then add the egg.
The eggs will immediately start to 'set' like an omelet. Use a spatula to lift the sides and tilt the skillet to distribute the egg around the skillet. Season with a little salt, pepper, and snipped chives (if desired).
Once cooked, use a pair of tongs to fold the cooked egg over, forming a semi-circle. Use the tongs to gently fold it over one more time, to quarter the omelet.
Ideal for Breakfast On-the-Go
This breakfast sandwich recipe is amazing when served with a side of Homemade Hash Browns, a cup of coffee, and a big glass of orange juice.
However, these sandwiches can also be wrapped in aluminum foil and packed for breakfast on the go!
If you love this breakfast sandwich, you'll also love our Egg McMuffin (Copycat) recipe!
EXPERT TIP: If making ahead, you can completely assemble the sandwiches and then keep them in an air-tight container in the refrigerator. Simply reheat them in the microwave until warmed through, and then immediately wrap in foil. They will stay warm for close to an hour. They are delicious even at room temperature!
If you want to make a breakfast sensation that your loved ones will be requesting time and time again.
Now is the time.
Don't you want a bite of this deliciousness?
Ready to make the best-ever morning sandwich? Go for it! And it's great any time of the day or evening, for that matter!
And when you make it, be sure to take a picture, post it on Instagram, and tag @HowToFeedaLoon and #HowToFeedaLoon!
Sausage, Egg, and Cheese Breakfast Sandwich
This breakfast sandwich is the sandwich to end all breakfast sandwiches! The maple-sage sausage patties and the homemade biscuits put them over the top and can even be made in advance!
Print
Pin
Rate
Servings: 8 people
Calories: 267kcal
Ingredients
8 biscuits homemade or purchased, split in half, crosswise
8 slices Cheddar cheese sliced
6 tbsp unsalted butter divided, 2 tbsp melted for finishing the sandwiches
8 large eggs
Kosher salt and freshly ground pepper
½ cup chives finely snipped (optional)
Instructions
Prepare and shape the sausages as directed and cook in a large skillet (non-stick works well) over medium heat.

Cook until undersides are browned, about 5 minutes. Flip the patties and cook for about another 5 minutes. Place a slice of cheese on each patty, cover the pan, and cook until the cheese melts, about 1 minute longer. Remove the patties from the pan and set aside until ready to use.

Discard any rendered grease from the pan and wipe clean with a paper towel.

In a small bowl, gently beat one egg. Heat ½ tbsp butter in the skillet over medium heat. Add the egg and slightly swirl the pan to distribute the egg all over. The egg will start to set. Sprinkle with salt, pepper, and chives (if using). Use a spatula or fork to push some of the edges of the eggs inwards as it cooks, and tilt the pan to let the uncooked egg on top to fill the edges. Cook until eggs are fully cooked and no longer 'wet.' Remove from heat and carefully use a spatula to fold the omelet in half, and then fold again to quarter. Set aside and repeat this process with remaining eggs. Tent cooked eggs with foil to keep warm.

Meanwhile, briefly warm the biscuits in the microwave.

Top 8 of the muffin bottoms with the sausage patties, then egg, and then top with a muffin top. Brush a little melted butter over the sandwiches, if desired. Serve at once!
Notes
We highly recommend making the biscuits from scratch, but you can purchase biscuits from your favorite breakfast, or country-style, restaurant, you will still have amazing results. Canned biscuits are okay, too. The biscuits and sausage patties can be prepared up to 1 or 2 days in advance. Reheat the patties in a skillet until heated through. We love snipped chives in the eggs because they add another depth of flavor. However, they can be omitted, and still be delicious. The sandwiches can be assembled up to 12 hours in advance and kept in an air-tight container in the fridge. Nuke them in the microwave until warmed through. Wrap in aluminum foil if taking them on the run.
Nutrition
Calories: 267kcal | Carbohydrates: 7g | Protein: 11g | Fat: 18g | Saturated Fat: 9g | Cholesterol: 229mg | Sodium: 230mg | Potassium: 103mg | Fiber: 1g | Sugar: 2g | Vitamin A: 824IU | Vitamin C: 1mg | Calcium: 159mg | Iron: 1mg
POST UPDATE: This recipe was originally published in April 2015, but updated with improved tweaks to the recipe with new tips and photography, and a fabulous new video in September 2020!