This is a French dish that is just sublime in its simplicity and elegance.
Perfect for a special Sunday dinner, or one of those special occasion dinner gatherings. The lemon, garlic, and white wine deliver a truly delectable sauce, and the slow cooking delivers the juiciest bird you can possibly imagine. But, it's so easy to prepare, it makes a spectacular weeknight meal. You just need to allow time for the roasting.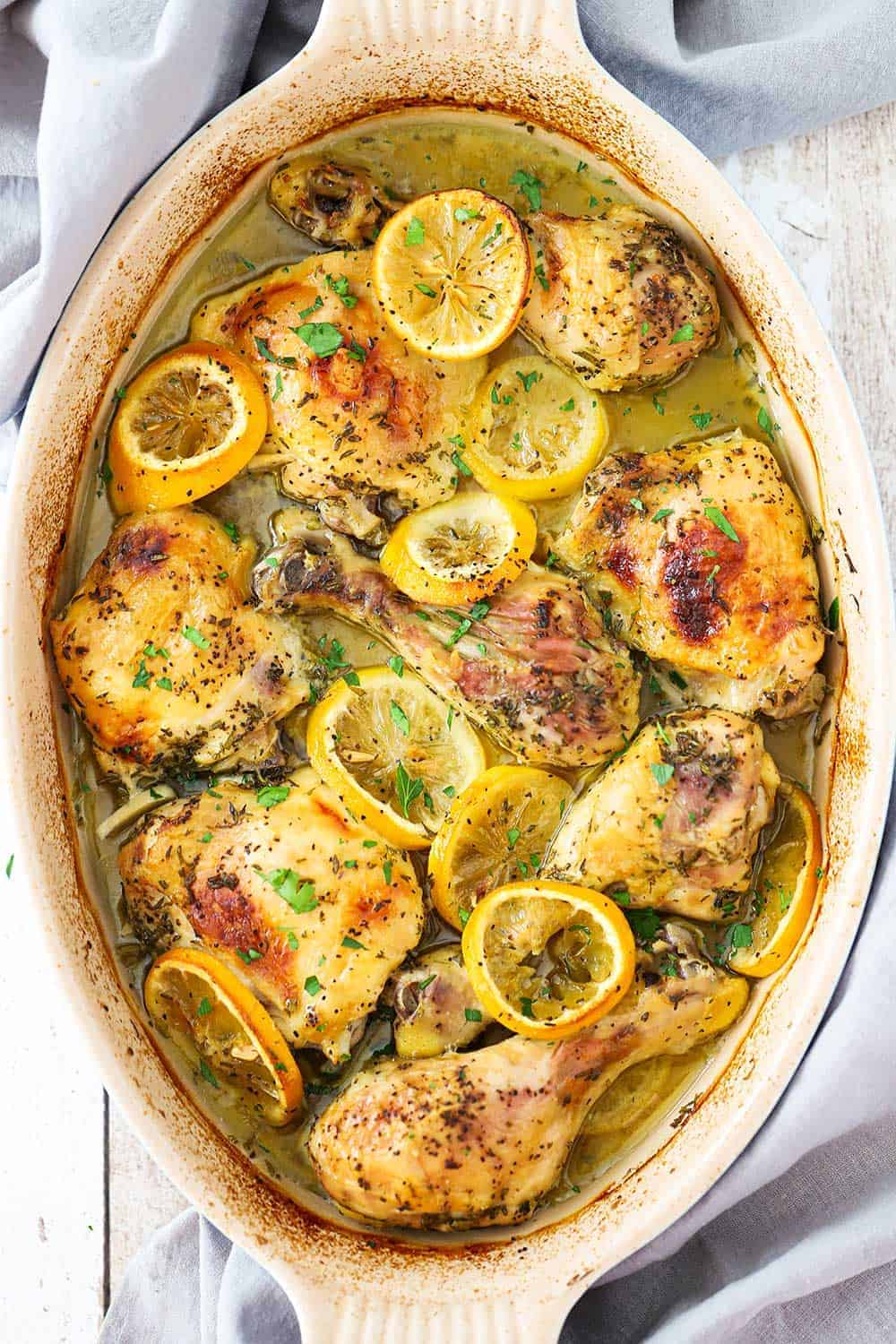 How To Make Lemon Roast Chicken
We cannot stress enough that the preparation of this amazing dish is not complicated at all.
If you're comfortable with your knife skills, then cut up a whole chicken, but if you're not…no worries! Simply ask your butcher to do it for you. Or, simply go with whatever chicken pieces you happen to have on hand, or what is available at the supermarket.
We love going with chicken legs and chicken thighs. We do recommend selecting skin-on, bone-in for the best flavor.
This oven-roasted chicken can be prepped hours in advance of serving.
For the white wine, we recommend going with a nice dry white wine that you would serve as well for the big feast. A French Sauvignon Blanc or Chardonnay works well.
Simply toss all the ingredients together and then you're ready for roasting in an oven preheated to 350°F.
How Long to Roast a Chicken
After giving all the ingredients a quick mix in your large bowl, simply transfer it all to a large baking dish or roasting pan.
You'll need to cover the dish/pan with aluminum foil to maximize the braising process.
EXPERT TIP: Roasting the chicken low and slow will produce extremely tender and juicy chicken. 2 hours at 310 F, covered, is exactly what you want. Remember, covering the dish with a tight-fitting lid or aluminum foil is a must!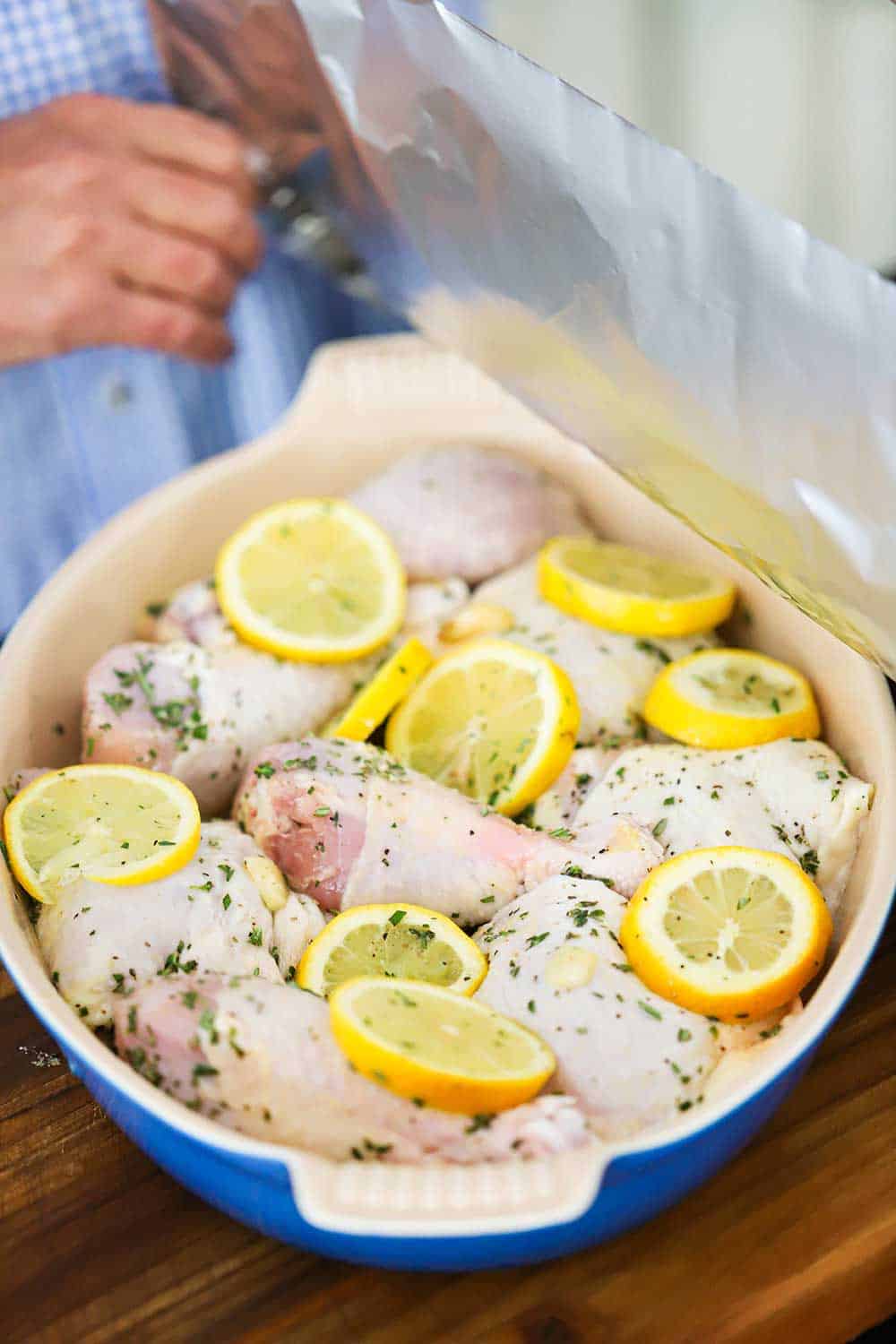 Roasting allows the steam underneath the foil to gently cook the roasted chicken to create deeply flavorful and tender meat.
After the chicken has roasted for 2 hours, it's time to remove the foil and increase the heat.
Carefully remove the foil and stand back from the escaping steam.
You're almost ready to serve the most amazing baked chicken with white wine sauce in the world!
But, now, we need to get the skin nice and crispy.
You won't believe the amazing aroma your kitchen will be filled with during this process!
What to Serve With the Chicken
We absolutely love to serve this incredible dish with a side of Whipped Yukon Golds with White Cheddar and Chives.
A nice leafy green salad is a lovely addition, as well, but you could also go with our Beet Salad with Dill.
Of course, as we mentioned before, a nice dry white wine is the perfect pairing for the glorious meal. Doesn't this all just love so incredibly delicious and appealing?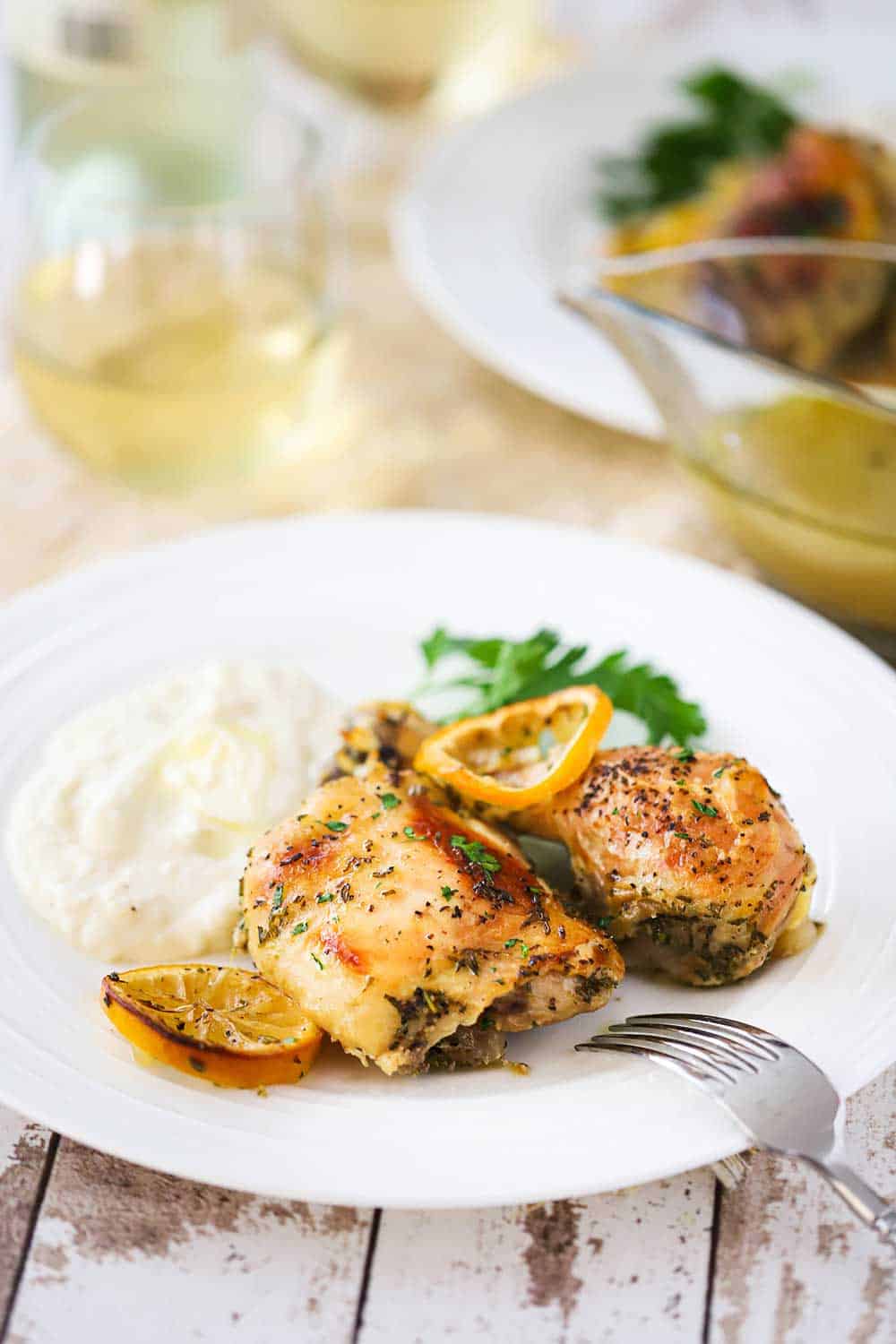 The gravy, or sauce, that this oven-roasted chicken recipe produces is just divine.
After you have removed the chicken pieces from the dish, you'll want to strain the leftover sauce.
EXPERT TIP: As the chicken cooks, the skin will render some fat. Once you have strained the sauce, you can pour the liquid into a fat separator and then pour into a gravy boat. Or simply use a spoon to skim the fat from the surface of the sauce. The sauce is ready to go once you've removed the excess fat!
Are you ready to make one of the simplest, yet most impressive French meals this side of Paris? Go for it!
And when you make it, be sure to take a photo, post it on Instagram, and tag @HowToFeedaLoon and hashtag #HowTofeedaloon!
Lemon Roast Chicken
This Lemon Roast Chicken is heavenly. Slow-cooked, covered, for 2 hours, and then uncovered at 400 F for 30 minutes. So amazing! Serve with creamy mashed potatoes and a crusty loaf of bread. French cooking made easy in your very own kitchen!
Print
Pin
Rate
Servings: 4 people
Calories: 541kcal
Equipment
Roasting pan or large roasting dish (3 QT)
Ingredients
1 whole chicken cut into pieces (or use a combo of bone-in breasts, thighs & legs)
6 cloves garlic peeled and roughly sliced
2 large lemons sliced
1 tbsp thyme fresh, chopped
1 tbsp rosemary fresh, chopped
3 tbsp olive oil
¼ cup dry white wine
1 tsp Kosher salt
½ tsp fresh ground black pepper to taste
2 tbsp parsley fresh, chopped, for garnish (optional)
Instructions
Preheat oven to 315°F.

Place the chicken pieces in a large bowl, and all other ingredients, except the parsley. Mix with two large spoons until the chicken is well coated.

Transfer to a large roasting pan or baking dish. Sprinkle salt and pepper over the tops of the chicken pieces. Cover tightly with a lid, or aluminum foil, and place in the oven for 2 hours.

Remove from the oven, take off the foil, and raise the oven temp to 400°F.

Place chicken back in the oven and bake for another 30 minutes, or until nicely browned.

Remove from oven, and place baked chicken and lemon slices onto serving dish. Transfer the chicken pieces to a platter and then strain the sauce, discarding any solids. Pour into a fat separator, or use a spoon to skim off any fat that is on the surface. Pour sauce over chicken and pass the remaining at the table. Garnish with chopped parsley. Serve at once!
Notes
We love going with eight pieces from a whole cut-up chicken. But, we also often use whatever we have on hand. We like using a combination of chicken legs and thighs, but breasts are great, too. If purchasing a split chicken breast, we recommend cutting it into two pieces to allow for more even cooking across all chicken pieces. Go with a good dry white wine. We use a nice Chardonnay or Sauvignon Blanc and love the taste it delivers. You can mix the chicken with the marinade ingredients up to 8 hours in advance. Simply cover the bowl that you mixed everything together in with plastic wrap and then place it in the refrigerator. This will actually make the chicken taste even better. But, marinating in the fridge is definitely not required. You can mix everything together, transfer immediately to your roasting pan, and cook the chicken, and the results will be amazing. The cooked chicken will keep in the fridge for 4 to 5 days and can be frozen for up to 2 months.
Nutrition
Calories: 541kcal | Carbohydrates: 8g | Protein: 36g | Fat: 32g | Saturated Fat: 8g | Cholesterol: 143mg | Sodium: 427mg | Potassium: 474mg | Fiber: 2g | Sugar: 2g | Vitamin A: 376IU | Vitamin C: 36mg | Calcium: 61mg | Iron: 3mg
POST UPDATE: This recipe was originally published in April 2014, but was updated with improved tweaks to the recipe with new tips and photography, and a fabulous new video in September 2020!