This is a French dish that is just sublime in its simplicity and elegance.
Perfect for a special Sunday dinner, or one of those special occasion dinner gatherings. The lemon, garlic, and white wine deliver a truly delectable sauce, and the slow cooking delivers the juiciest bird you can possibly imagine. And it's truly not difficult to prepare!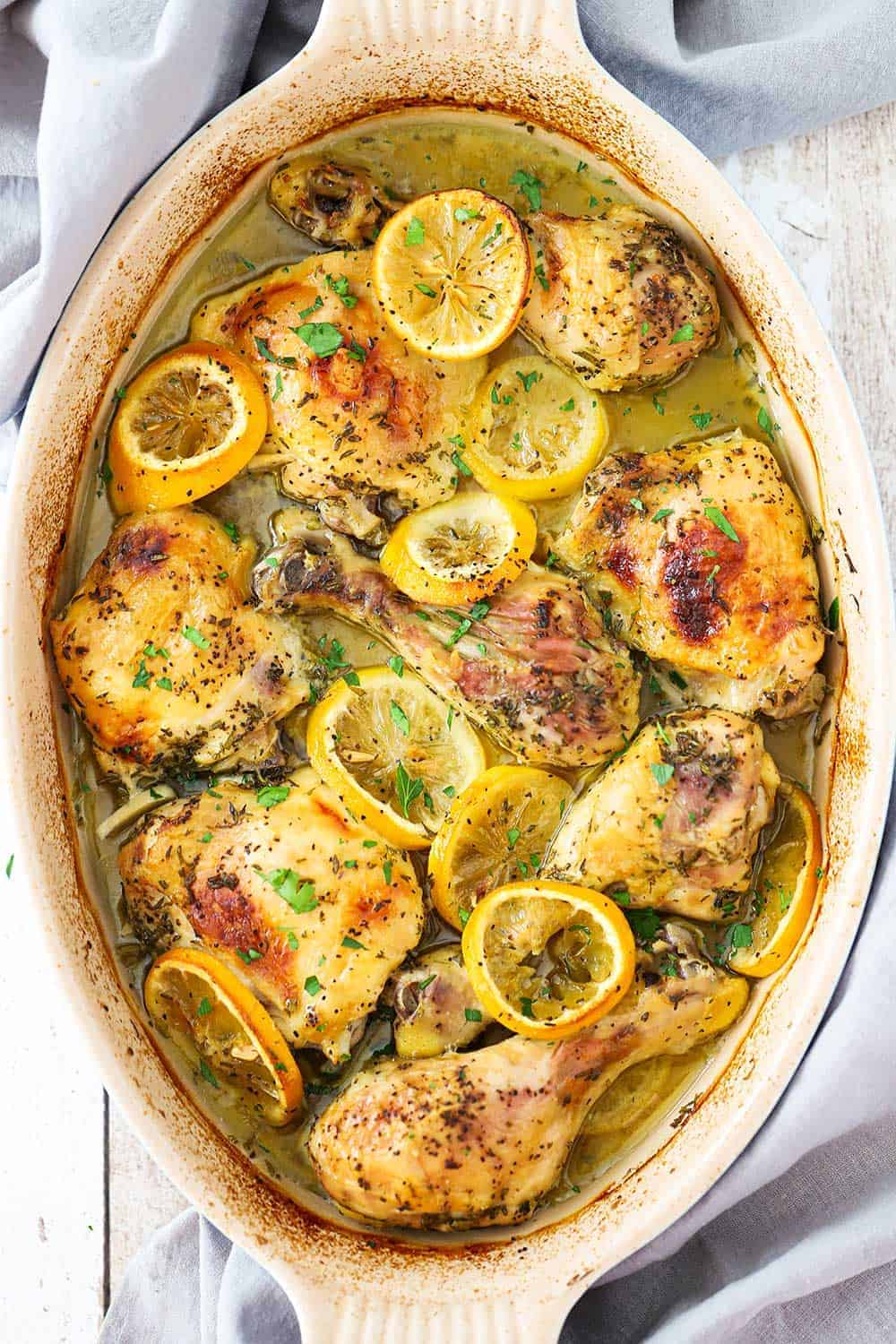 HOW TO MAKE ROASTED CHICKEN WITH LEMON AND WHITE WINE
We cannot stress enough that the preparation of this amazing dish is not complicated at all.
If you're comfortable with your knife skills, then cut up the whole chicken, but if you're not…no worries! Simply ask your butcher to do it for you.
For the white wine, we recommend going with a nice dry white wine that you would serve as well for the big feast. A French Sauvignon Blanc or Chardonnay works well.
Simply toss all the ingredients together and then you're ready for roasting in an oven set to 350°F.
SLOW ROASTING MAKES THE MEAT EXTREMELY JUICY
Once you have placed the marinated chicken with all the lemon slices and garlic on a baking sheet, it's time to cover it all in foil.
Roasting allows the steam underneath the foil to gently cook the roasted chicken to create deeply flavorful and tender meat.
After the chicken has roasted for 2 hours, it's time to remove the foil, increase the heat, and get the skin nice and crispy. You won't believe the amazing aroma your kitchen will be filled with during this process, but don't worry, it's almost time to eat!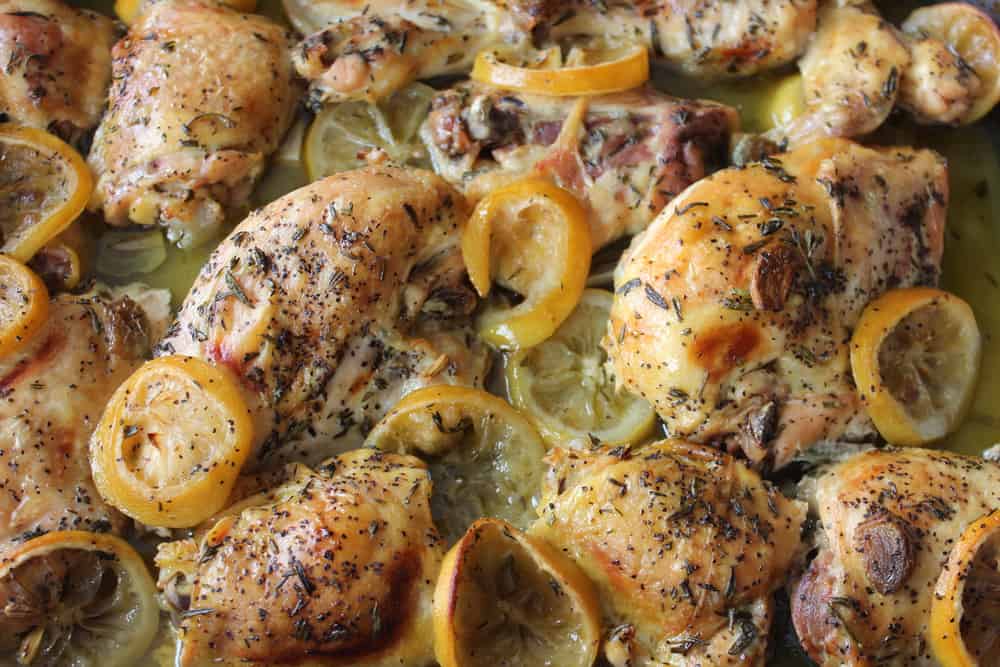 WHAT TO SERVE WITH ROASTED CHICKEN WITH LEMON AND WHITE WINE
We absolutely love to serve this incredible dish with a side of Whipped Yukon Golds with White Cheddar and Chives.
A nice leafy green salad is a lovely addition, as well, but you could also go with our Beet Salad with Dill.
Of course, as we mentioned before, a lovely dry white wine is the perfect pairing for the glorious meal. Doesn't this all just love so incredibly delicious and appealing?
Are you ready to make one of the simplest, yet most impressive French meals this side of Paris? Go for it!
And when you make it, be sure to tag @howtofeedaloon and hashtag #howtofeedaloon!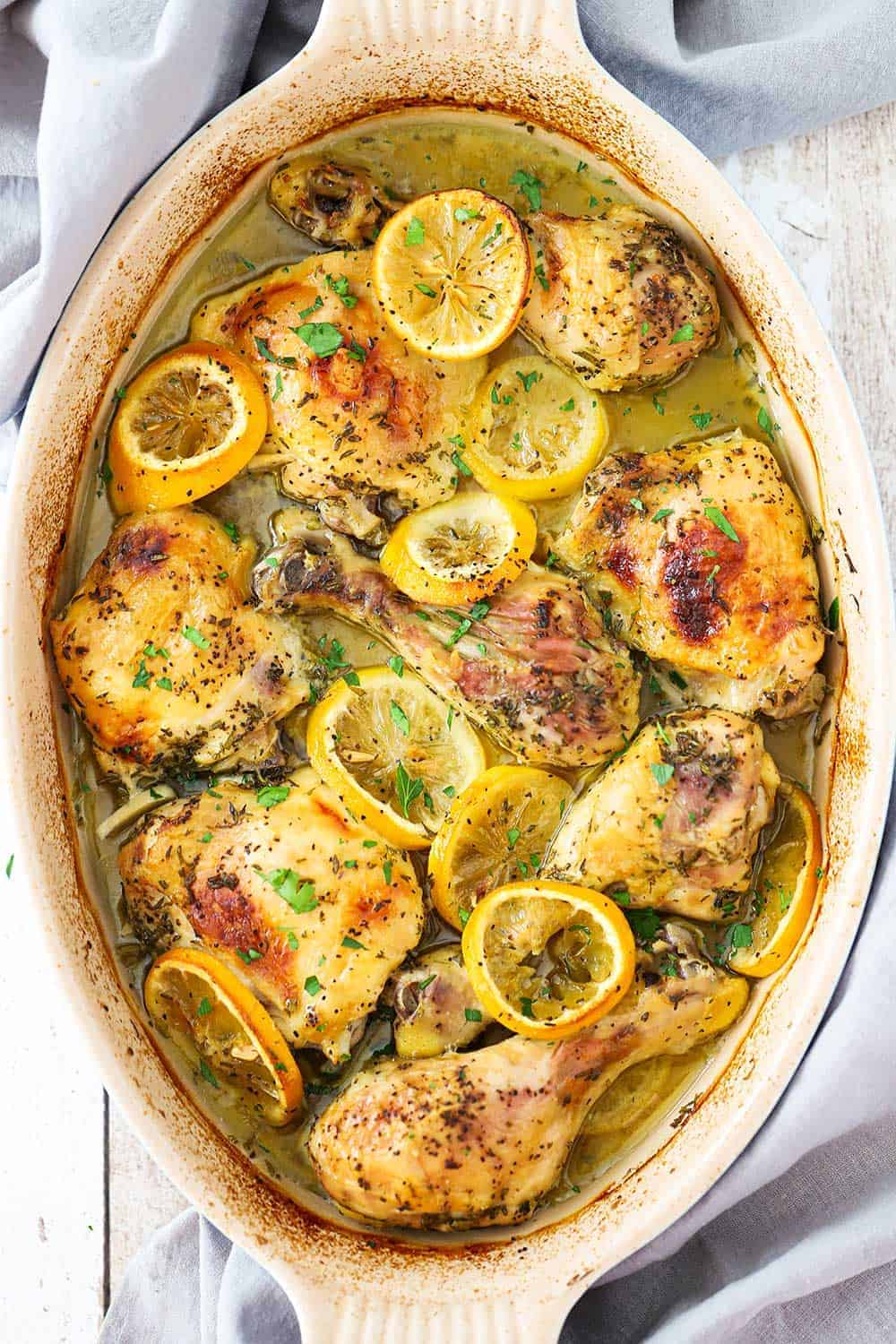 Roasted Chicken With Lemon and White Wine
This Roasted Chicken with Lemon and White Wine is heavenly. Slow cook, covered, for about 2 hours, and the roast uncovered at 400 F for about 40 minutes. So amazing! Serve with Yukon Whipped Potatoes with Whited Cheddar and Chives!
Print
Pin
Rate
Servings: 8 people
Calories: 271kcal
Ingredients
1 whole chicken cut into pieces (or use a combo of bone-in breasts, thighs & legs)
6 cloves garlic peeled and roughly sliced
2 large lemons sliced
1 tbsp thyme fresh, chopped
1 tbsp rosemary fresh, chopped
3 tbsp olive oil
¼ cup dry white wine
½ tsp Kosher salt
fresh ground black pepper to taste
Instructions
Preheat oven to 315°F.

Put the chicken pieces into a roasting pan.

Add the garlic, lemons, herbs, oil, wine, salt, and pepper.

Toss until all well blended. Place on a large baking sheet.

Cover tightly with foil and cook for 2 hours.

Remove from the oven, take off the foil, and raise the oven temp to 400°F.

Place chicken back in the oven and bake for another 30 minutes, or until nicely browned.

Remove from oven, and place baked chicken onto serving dish. Drizzle pan sauce over the chicken.
Nutrition
Calories: 271kcal | Carbohydrates: 4g | Protein: 18g | Fat: 16g | Saturated Fat: -30g | Cholesterol: 71mg | Sodium: 214mg | Potassium: 237mg | Fiber: 1g | Sugar: 1g | Vitamin A: 188IU | Vitamin C: 18mg | Calcium: 30mg | Iron: 1mg