This may be the ultimate "winner winner chicken dinner."
Leave it to the French to develop a chicken stew recipe that is so deep in flavor, you will be amazed from the very first bite. We serve over mashed potatoes for comfort food heaven. And it's not hard to prepare at all!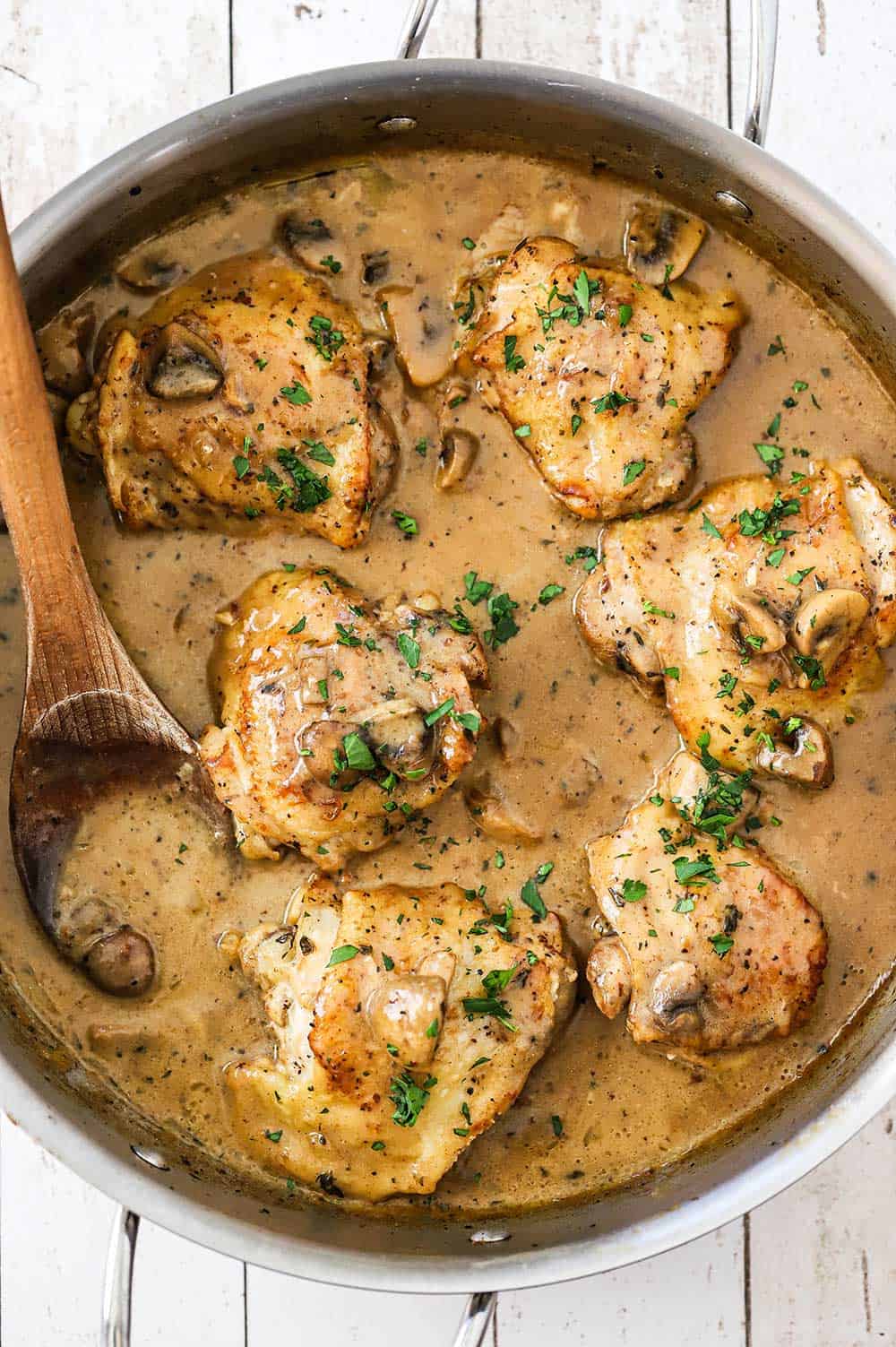 How To Prepare Chicken Fricassee
This dish comes together in less than an hour, so it's perfect for a busy weeknight meal, but spectacular enough to serve to guests at a dinner party.
You can use really any type of chicken piece, but we love going with skin-on, bone-in chicken thighs. More on that shortly.
The only tool you need is a nice large skillet with a lid.
NOTE: If you liked this video, please subscribe to our YouTube channel. Remember to click the little 'bell' icon so you'll never miss a new video. Thank you!
How To Crisp Chicken Thighs
As mentioned, we love going with skin-on, bone-in chicken thighs for a variety of reasons.
First, the dark meat is extra flavorful and is less likely to dry out.
EXPERT TIP: Crispy skin is also why we love this piece of chicken. Salt and pepper the chicken all over and then sear them, skin-side down until golden brown, about 5 minutes. As the chicken braises in the sauce, the skin will stay above the liquid and stay crispy. See NOTES for other options for chicken.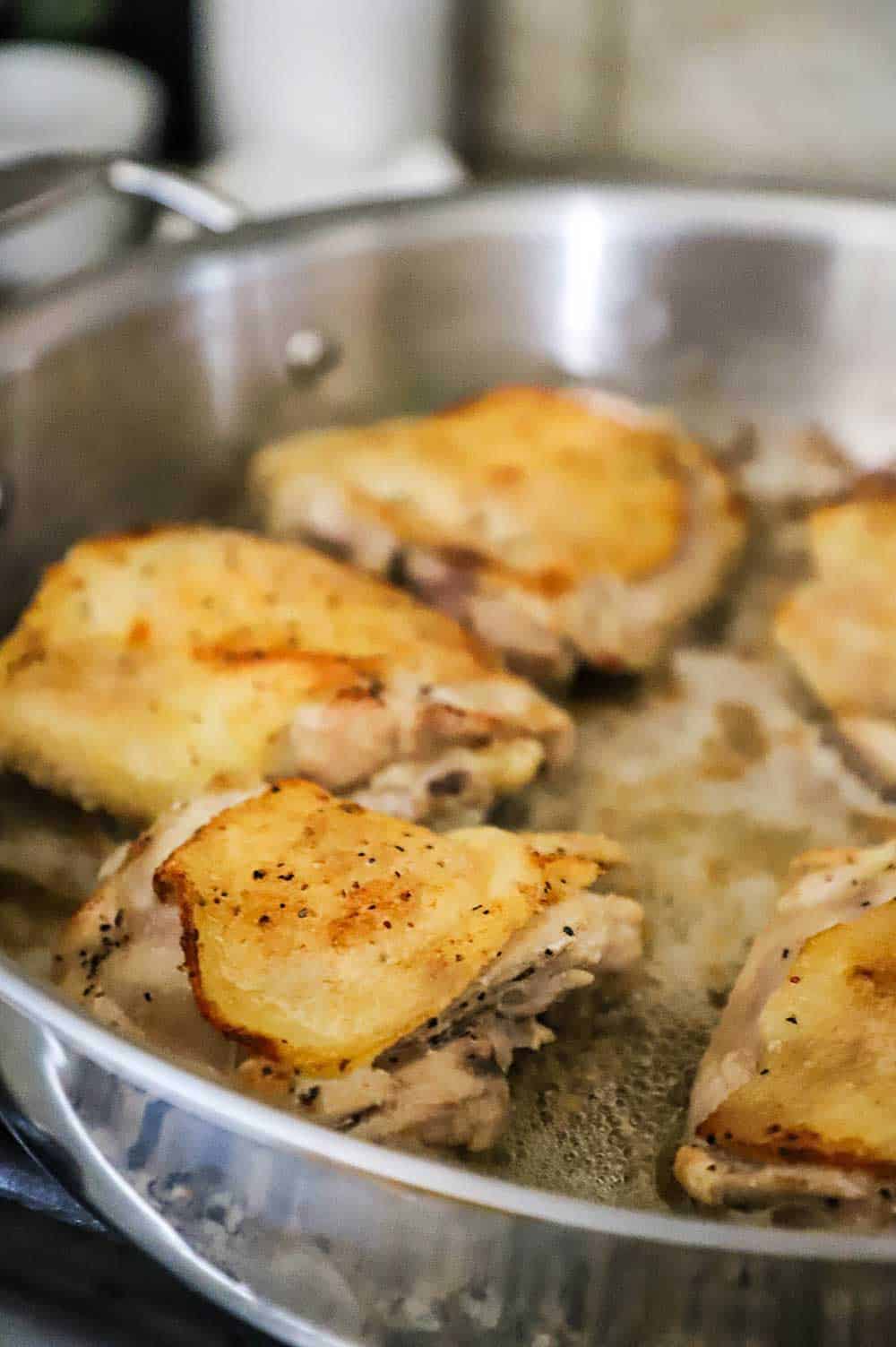 Chicken Fricassee is believed to be a compound of the two French techniques of "frire" (to fry) and "casser" (to break into pieces). The chicken is actually not fried but braised. Learn more here.
We love adding sautéed mushrooms to the dish. If you can, go with a nice variety of wild mushrooms. Shiitake, baby bella, oyster, cremini are all wonderful.
EXPERT TIP: After you've seared the chicken thighs, you'll want to remove most of the fat that has been rendered in the pan in order to sauté the mushrooms. If the mushrooms seem a little too dry, then add 1 or 2 tablespoons of butter or olive oil during the cooking process.
Adding Depth to the Sauce
Once the sauce has begun to thicken, it's time to add some cream.
We love the addition of crème fraîche which can often be found in the specialty cheese section of most well-stocked supermarkets.
EXPERT TIP: If you can't find crème fraîche, you can easily substitute heavy cream, or combination of heavy cream and milk, or half and half. They are all wonderful additions to the sauce.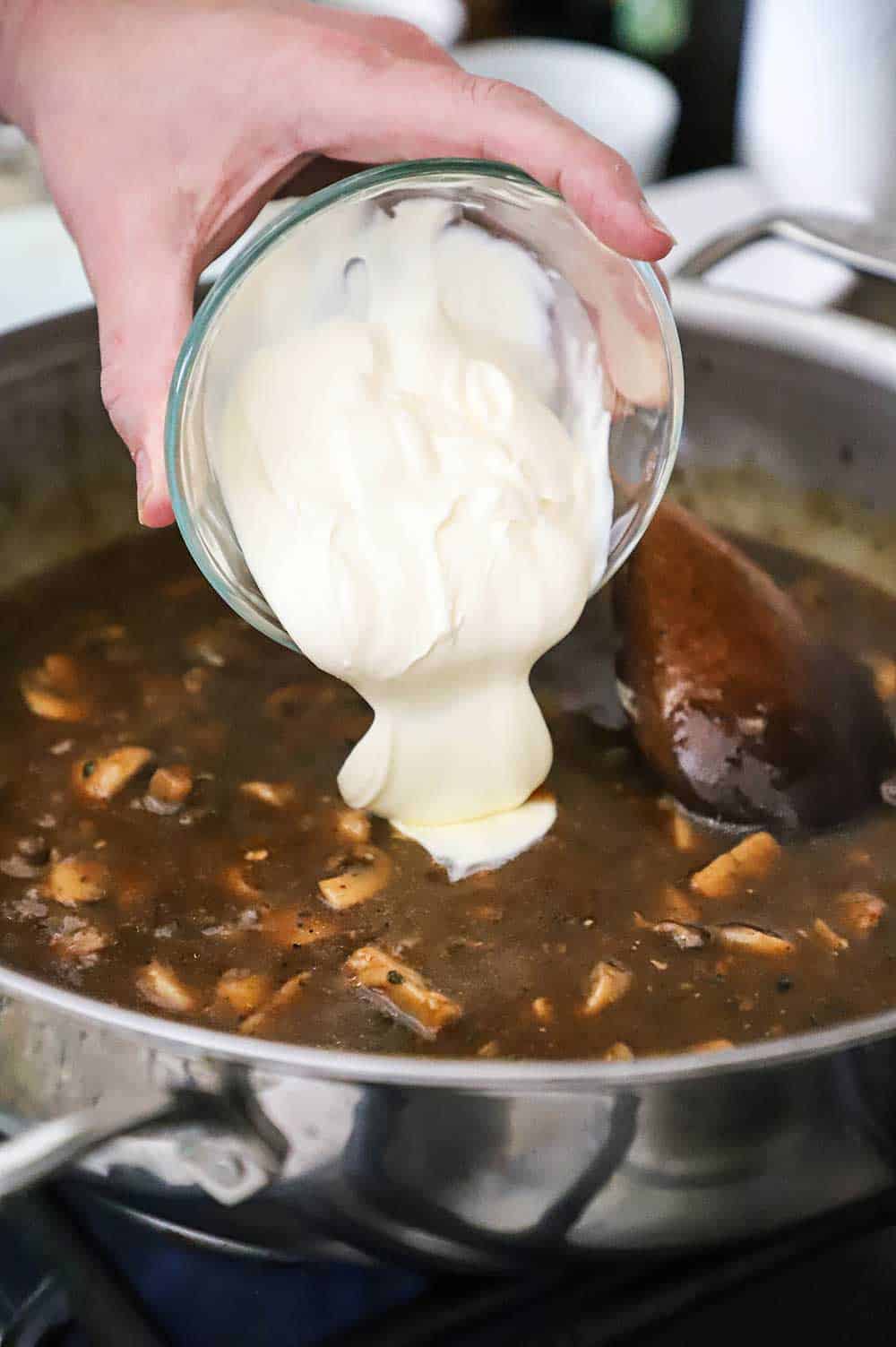 How To Serve Chicken Fricassee
As mentioned, this dish is excellent served over homemade mashed potatoes, but cooked pasta egg noodles are great, too.
Heat some green beans and a loaf of French country-style bread for the perfect meal.
EXPERT TIP: The sauce can be made up to 24 hours in advance. The chicken is best prepared just before it simmers in the sauce. Leftovers can be reheated in the sauce on the stove over medium heat.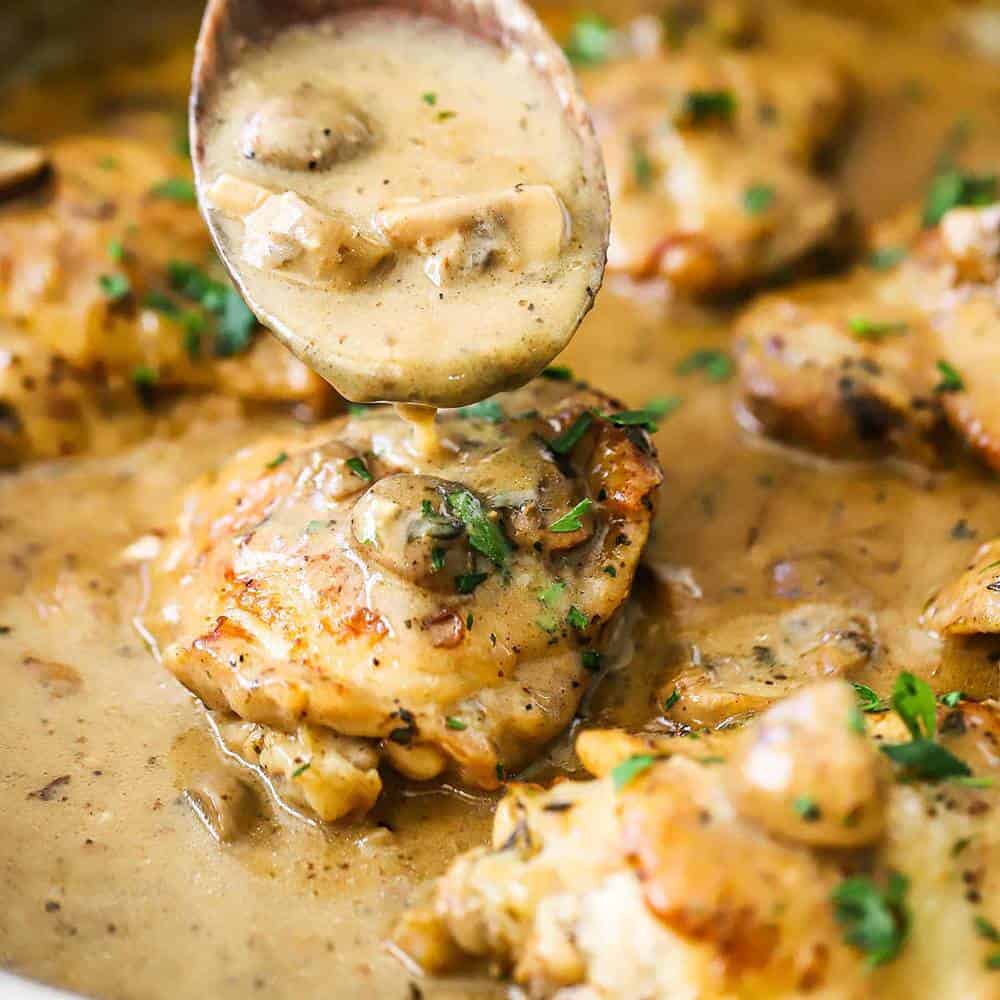 Other Classic French Dishes
Folks, if we had to rank our favorite chicken dish in the world, this would be right up near the top, if not the very top. But here are some other amazing French dishes to try:
But in the meantime, you've got to make a batch of this unforgettable chicken fricassee. You and your family will want to make this dish time and time again.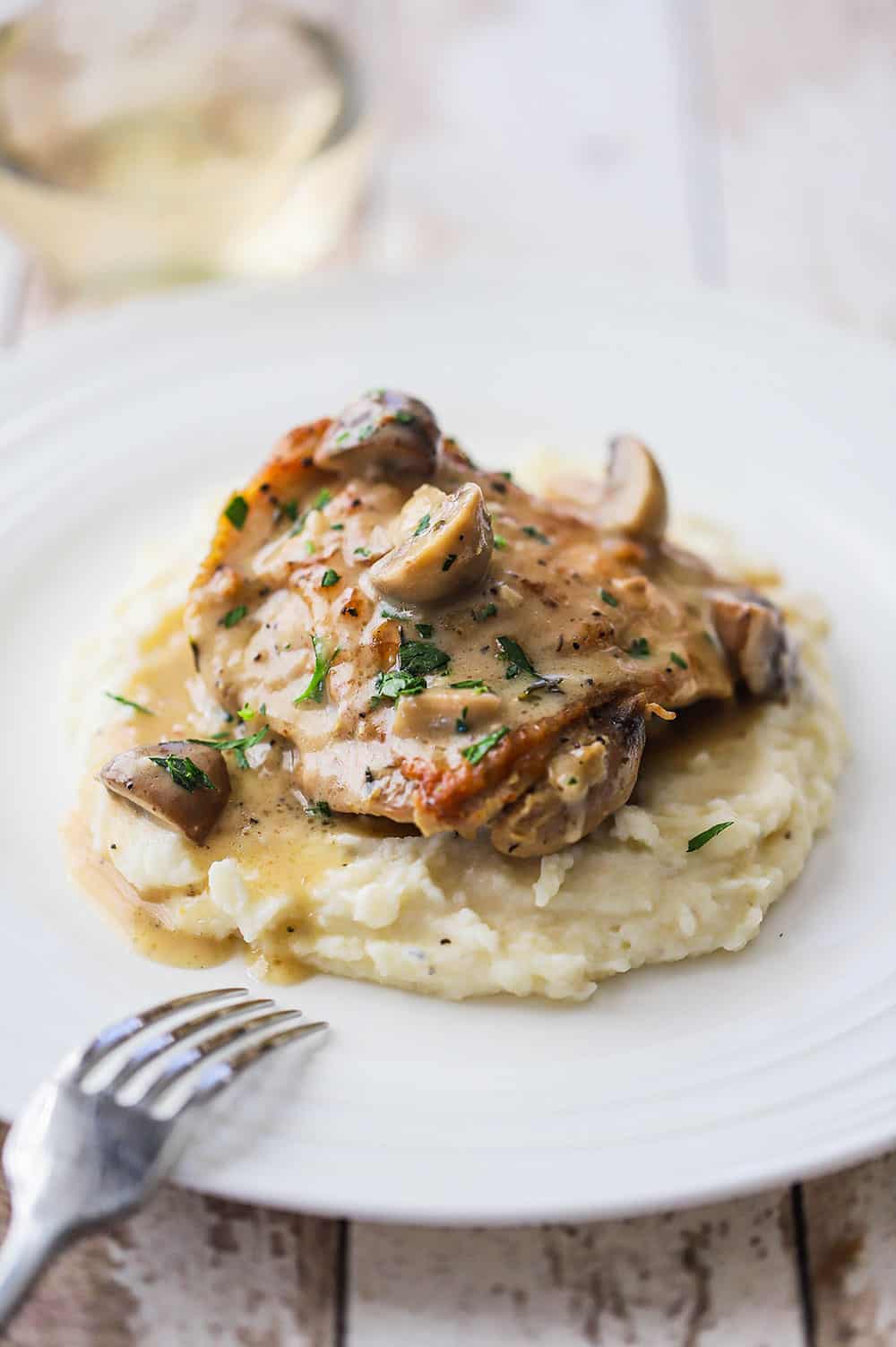 Ready to make the best chicken dish this side of Paris? Go for it!
And when you do, be sure to take a photo of it, post it on Instagram, and tag @HowToFeedaLoon and hashtag #HowToFeedaLoon!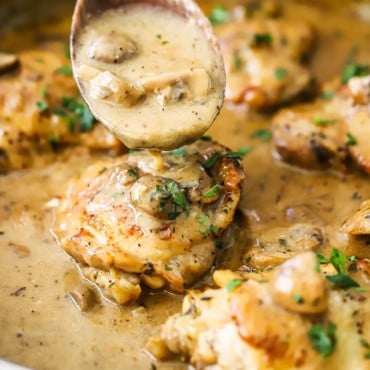 Chicken Fricassee
Chicken Fricassee is a French chicken stew that is layered with amazing taste and it comes together in less than 1 hour. Serve over mashed potatoes or cooked egg noodles and a warm loaf of bread.
Print
Pin
Rate
Servings: 4
Calories: 728kcal
Equipment
1 Large skillet/saucepan with lid
Ingredients
3 lb chicken thighs about 6, skin-on, bone-in
2 tbsp olive oil
Kosher salt and pepper
4 tbsp unsalted butter
1 shallot chopped
1 tbsp thyme chopped
3 cloves garlic minced
1 lb mushrooms i.e., button, shiitake, baby bella, cremini, oyster - quartered or halved
3 tbsp flour
½ cup white wine dry
2 cups chicken stock
8 oz crème fraîche
2 tbsp parsley fresh, chopped, for garnish
Instructions
Brush olive oil all over the chicken thighs. Liberally sprinkle with salt and pepper.

Melt butter in a large skillet over medium-high heat. Place the chicken thighs, skin-side down, in the butter. Sear until the skin is browned and crisp, about 5 minutes. Use a pair of tongs to flip the chicken thighs over and cook for another minute. Remove from the pan and place on a plate or platter. Set aside.

Remove most of the fat and butter that is in the skillet (leave about 2 tbsp).

Over medium heat, add the shallots and thyme and cook until softened, about 2 to 3 minutes. Add the garlic and cook, stirring often, for another 30 seconds.

Add the mushrooms and cook, stirring often, until they are softened and beginning to release some liquid, about 5 to 8 minutes (If the mushrooms are too dry during this step, add in another 1 to 2 tbsp of butter). Sprinkle with salt and pepper.

Add the flour to the mushrooms and stir to coat for about 1 minute.

Carefully whisk in the wine and bring to a boil. Lower the heat and whisk in the chicken stock, 1 tsp salt, and ½ tsp black pepper. Whisk and/or stir with a spoon to remove any clumps. Simmer for about 5 minutes until starting to thicken.

Nestle the chicken thighs in the sauce, skin-side up. Add in any collected juices, too. Turn the heat down a little (to medium-low). Cover the skillet and let simmer for 30 minutes.

Remove the chicken from the sauce and stir in the crème fraîche. Bring to a low simmer. Add the chicken back into the sauce. Serve at once with sauce spooned over the chicken either on a platter or on individual plates, passing additional sauce at the table.
Notes
See the video near the top of the blog post for visual guidance. If you liked the video, please subscribe to our YouTube channel.
For the chicken, you can also use skin-on, bone-in chicken breast and/or legs. The breasts will take closer to 40 minutes to reach 165°F. You can also go with skinless and boneless chicken thighs or breasts. You won't get the crispy skin, but they will still be delicious. They will only need to cook for about 15 to 20 minutes.
Crème fraîche can often be found in the specialty cheese section of many well-stocked supermarkets. You can substitute heavy cream (1 cup), or a combination of heavy cream and milk (1/2 cup each), or half and half.
Leftovers will keep in the fridge for up to 5 days. We don't recommend freezing the sauce (the cream will separate). Reheat leftovers in a skillet with the sauce over medium heat until heated through.
Nutrition
Calories: 728kcal | Carbohydrates: 16g | Protein: 63g | Fat: 34g | Saturated Fat: 8g | Polyunsaturated Fat: 3g | Monounsaturated Fat: 14g | Trans Fat: 1g | Cholesterol: 367mg | Sodium: 445mg | Potassium: 1266mg | Fiber: 2g | Sugar: 5g | Vitamin A: 871IU | Vitamin C: 9mg | Calcium: 57mg | Iron: 4mg