There are crab cakes, and then there are these Southern Style Crab Cakes.
Oh, yes indeed. These are truly a thing of beauty and utter deliciousness!
The ingredients in this recipe all come together to truly make something special.
Just a little 'zing' sets these crab cakes apart from your average crab cake.
This recipe is all about the crab, the crab, the crab. Get some good quality lump crab meat at your local fish market.
Intensify the flavor with some spices and peppers, a few 'binding' ingredients…but let the lump crab meat take the starring role.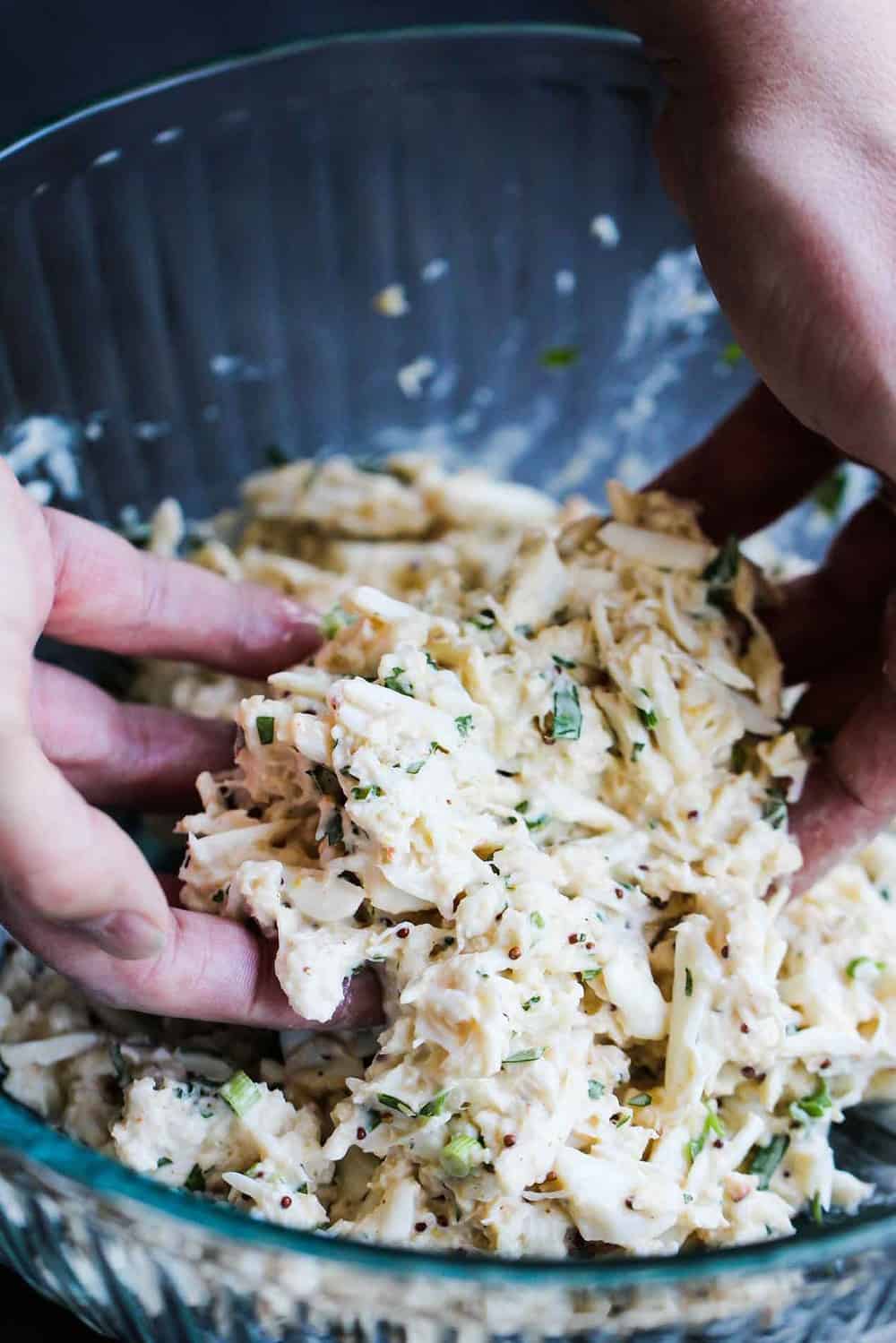 Do not overwork the crab mixture. You'll chill them, to help them hold together when you quickly skillet-fry them…but if they crumble apart a bit…that's okay.
Remember, it's all about the crab, the crab, the crab.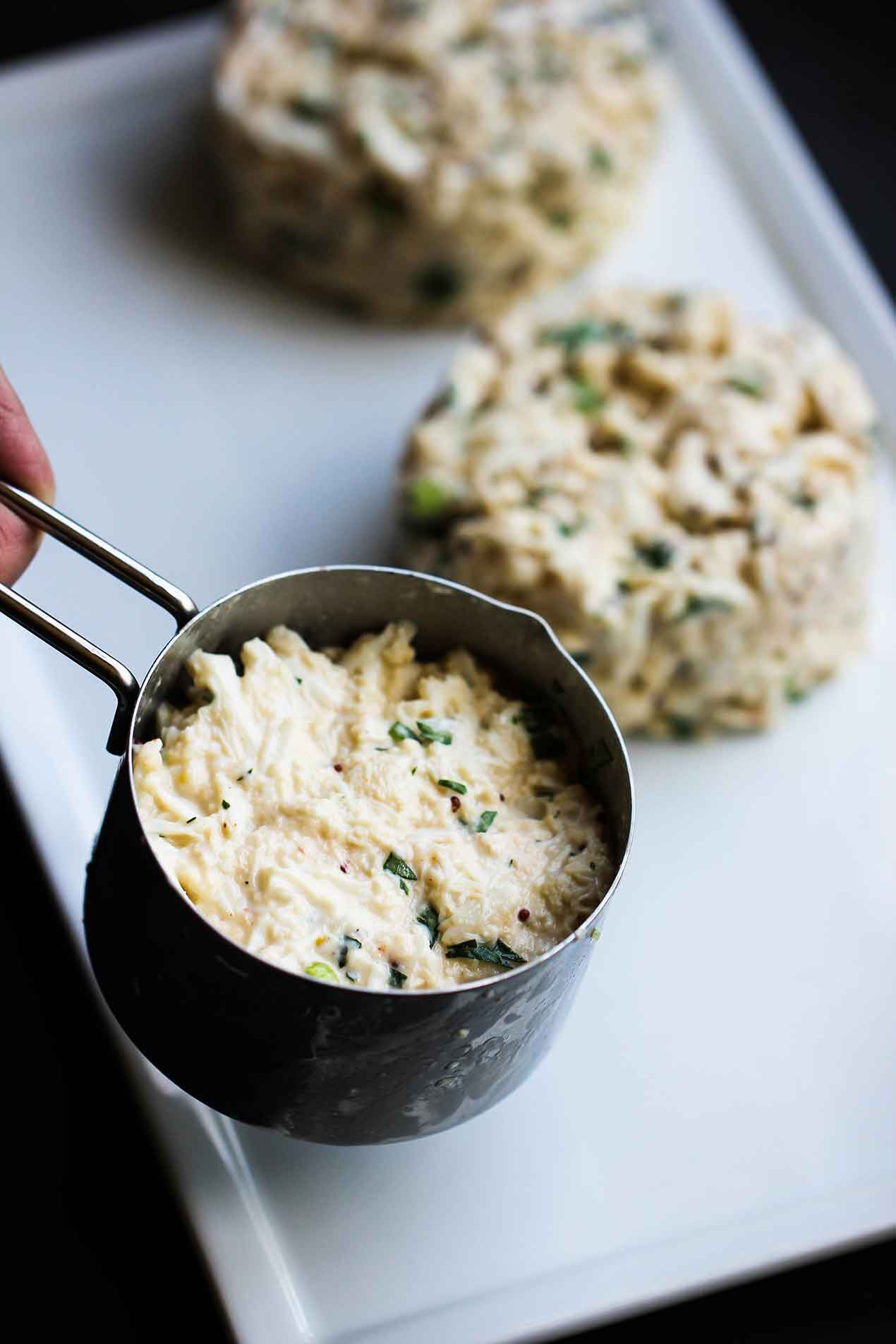 We just love a good hot sauce!
Louisiana Hot Sauce is so good!

Oh, how we love these incredible Southern Style Crab Cakes!
And I find using a comal (flat circular griddle) works best when cooking these crab cakes:

Did I mention how amazing this Southern Style Crab Cakes recipe is?
Well, just in case you need a little more reassurance, take a look at these babies!
Now, let's make this amazing Southern Style Crab Cakes recipe!
Southern Style Crab Cakes
These Southern Style Crab Cakes are simply the bomb. Serve with some Jalapeno Remoulade, and you will not believe how incredible these are. Truly something special.
Print
Pin
Rate
Servings: 4 people
Calories: 286kcal
Ingredients
1 lb top-quality lump crab meat
1 tbsp unsalted butter
1/2 medium yellow onion chopped
1/2 poblano chili stemmed, seeded and chopped
1 garlic clove minced
1 tsp salt
1/2 tso good chili powder New Mexico orAncho is good
1/4 tsp ground black pepper
1/4 tsp cayenne pepper
1 egg lightly beaten
1/4 cup mayonnaise
1 tsp whole-grain mustard
Several dashes of Louisiana hot sauce
1 scallion white and green parts, chopped
2 tbsp Italian parsley chopped
Juice of 1/2 lemon
3/4 cup fresh bread crumbs
2 tbsp vegetable oil plus more as needed
JALAPENO REMOULAD
1 small jalapeno pepper stemmed, seeded, and finely chopped
2 scallions white parts only, thinly sliced
1 cup mayonnaise
1/2 tsp salt
1/4 tsp ground black pepper
1/4 tsp crushed red pepper flakes
2 tsp red wine vinegar
Juice of 1 lime
Instructions
Place the crab meat in a large mixing bowl and carefully pick through for shells, then set aside.

Melt the butter in a medium skillet over medium-high heat.

Add the onion, poblano, garlic, salt, chili powder, black pepper, and cayenne and cook, stirring, until the veggies are soft, but not browned - about 4 minutes.

Transfer the veggie mixture to a mixing bowl and set aside to cool for about 15 minutes.

Add the crab, the egg, mayo, mustard, hot sauce, scallions, parsley, lemon juice, and 1/4 cup of the bread crumbs to the veggie mixutre.

Using your hands, gently combine the ingredients.

Using a 1-cup measuring cup, form the mixture into cakes, packing gently; they should resemble hockey pucks (in size) - about 2 inches thick.

Cover the cakes and chill for 20 to 30 minutes, or overnight.

When you are ready to cook the crab cakes, place the remaining 1/2 cup bread crumbs on a plate.

Dredge both sides of each cake in the crumbs, shaking off the excess.

Heat 2 tablespoons of vegetable oil in a large skillet over medium-high heat.

When the oil is hot, but not smoking, fry the crab cakes for 4 to 5 minutes on each side, until golden brown.

Don't overcrowd the pan - fry in batches if necessary, adding more oil if needed.

Serve immediately - with Jalapeno Remoulade!
JALEPENO REMOULAD
Whisk together all the ingredients in a mixing bowl.

Cover and place in the fridge until needed...or for at least 30 minutes.
Nutrition
Calories: 286kcal