If you love french fries, gravy, and cheese (and who doesn't), this dish is for you.
This dish is ubiquitous in Canada, especially in Quebec, and has been around, legend has it, since the 1950s. It has gained global popularity in recent years, and it's one of our favorite dishes to prepare! It's perfect for parties, game-day fare, or just a fun Sunday afternoon snack!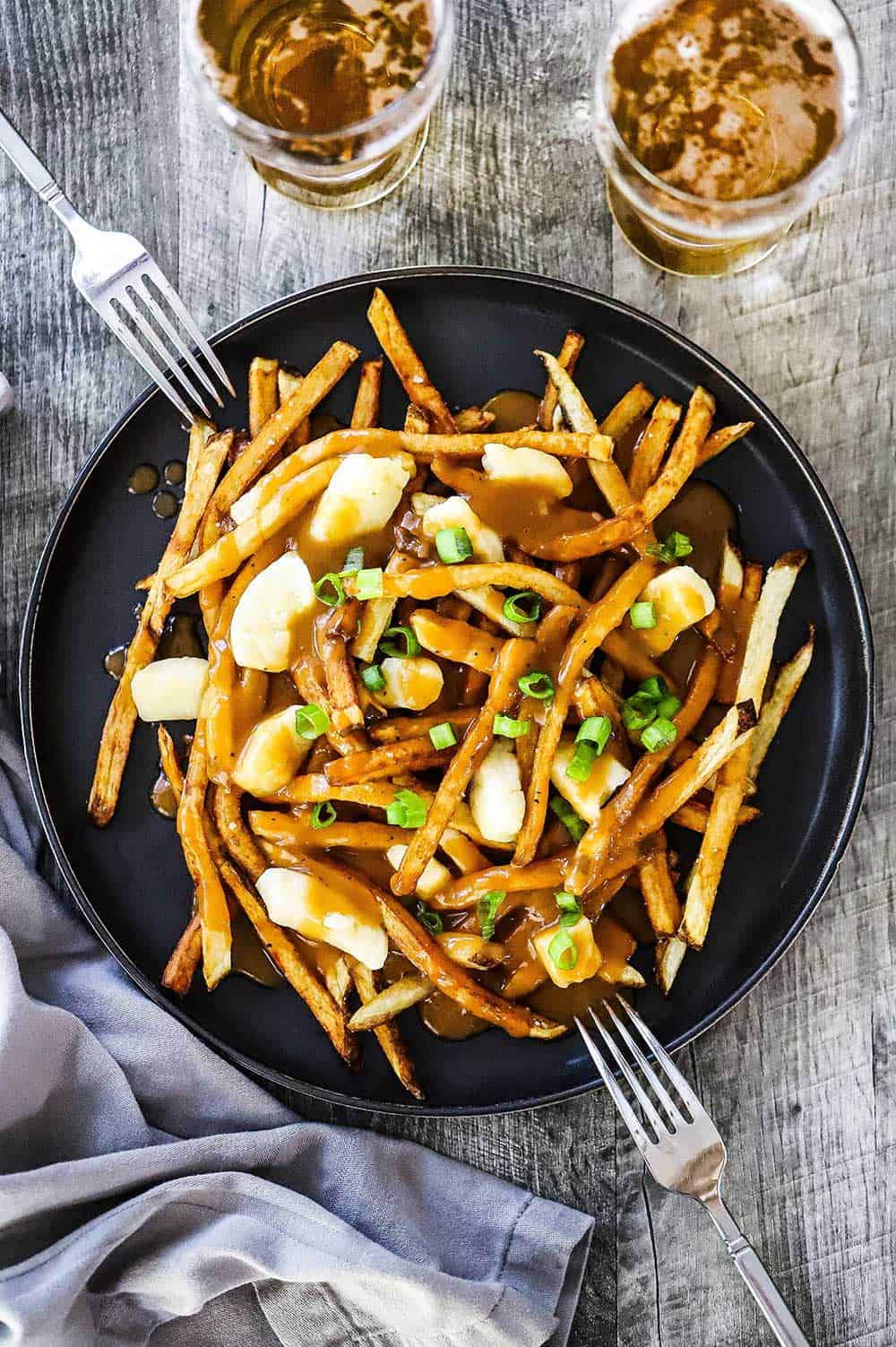 How To Make Poutine
Because this dish only has three main components, we think it's best to make sure they are all top-notch.
In other words, making the french fries and gravy from scratch is recommended, and not difficult.
And once it all comes together, it is truly a thrill to serve hungry guests.
NOTE: If you liked this video, please subscribe to our YouTube channel. Remember to click the little 'bell' icon so you'll never miss a new video. Thank you!
The Ingredients You Will Need
For the French Fries:
Russet potatoes – No need to peel them. If you have a mandolin, use the julienne setting and slice them into long strips. Otherwise, a sharp knife and a steady hand will work just fine!
Vegetable oil – You'll need enough to fill a sturdy pot (preferably a Dutch oven) to about two-thirds of the way up the side.
For the Gravy:
Butter – Unsalted
Flour – All-purpose
Shallot and garlic – Finely chopped or minced
Beef stock – Homemade is great, but you can find good quality at most well-stocked supermarkets
Ketchup and Worcestershire sauce – It adds a nice depth of flavor
Apple cider vinegar – This is optional. It gives the gravy a little zing. If you prefer very traditional brown gravy, then you may want to omit it.
Salt and pepper – We go with a teaspoon of each. Taste, and add more salt, if desired.
For finishing the dish:
Cheese curds – These are a challenge to make at home. If you live outside of Canada or the Wisconsin area, they can be difficult to find, although, they are becoming more and more available. Check the special cheese section, or order them online.
Scallions – thinly sliced. You could also use chives or fresh parsley. It gives nice flavor and makes for a nice presentation.
EXPERT TIP: For restaurant-quality french fries, then you'll want to do the 2-fry technique. For the first fry (working in batches), you'll fry the potato strips in 325°F oil until lightly browned and just starting to crisp. Be sure to crank the heat up when you put the potatoes in to get back up to 325°F. Next, fry again with the oil increased to 375°F until browned and crispy. Salt and drain on paper towels.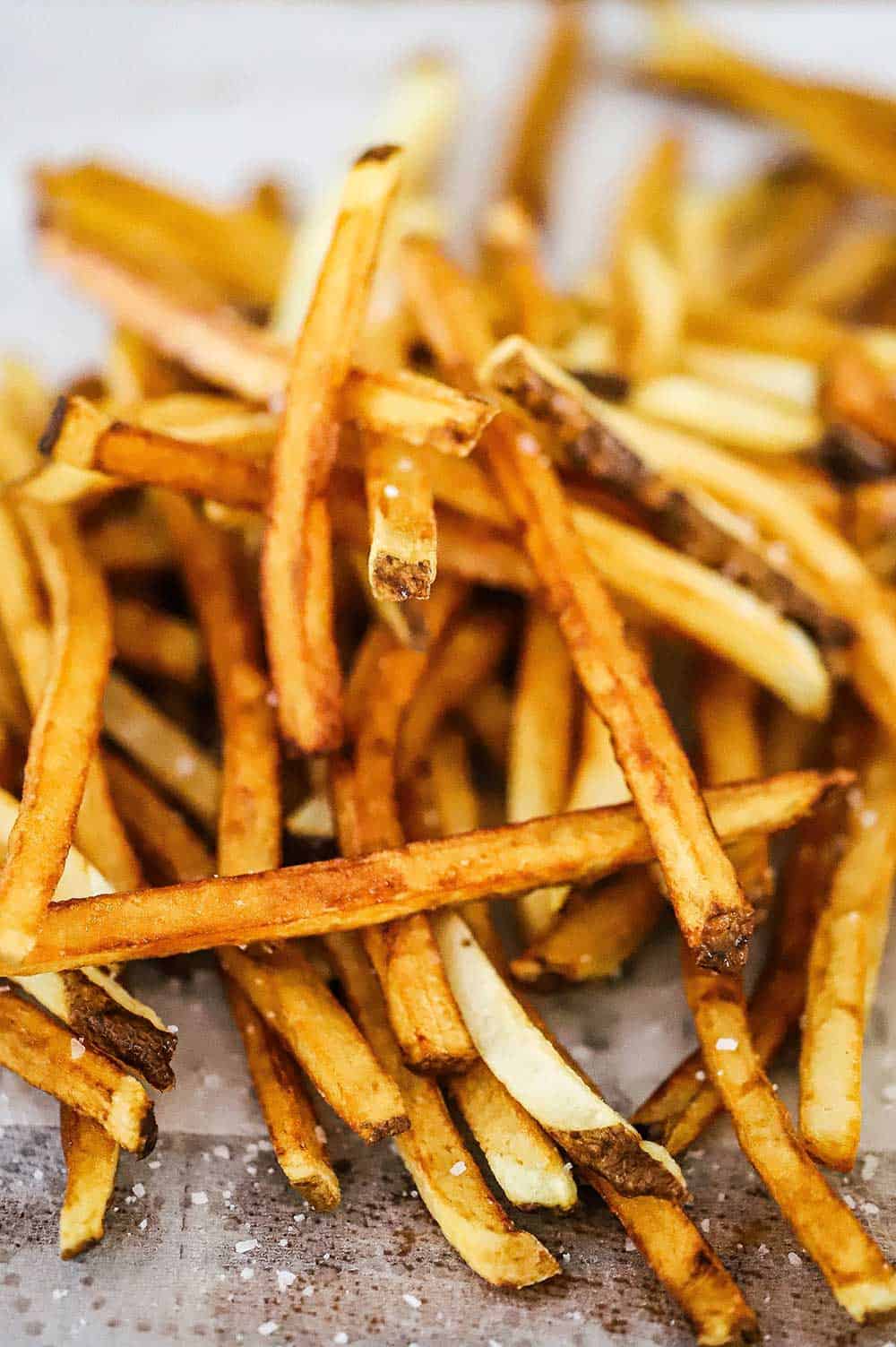 FAQs For Perfect Poutine
Can the gravy be made in advance? Absolutely! You can easily make the gravy up to a day in advance of serving. Simply reheat on the stove while you're preparing the fries.
How about frozen french fries? Well, sure. You could go that route. But, honestly, made-from-scratch is what makes this dish so amazing, and if you follow the steps, you'll get restaurant-quality fries.
What is a good substitute for cheese curds? You could substitute the curds with cheddar cheese curds or even small balls of mozzarella, but then it's not really poutine.
Isn't there something similar to this in the U.S.? Yes, they're called Disco Fries, and they are french fries smothered in gravy and topped with mozzarella that are placed under the broiler to melt the cheese. They originated in New Jersey.
EXPERT TIP: If your gravy doesn't thicken up enough, then create a slurry by combining 2 tbsp of cornstarch with a little tap water. Mix in the slurry to the gravy, stirring constantly.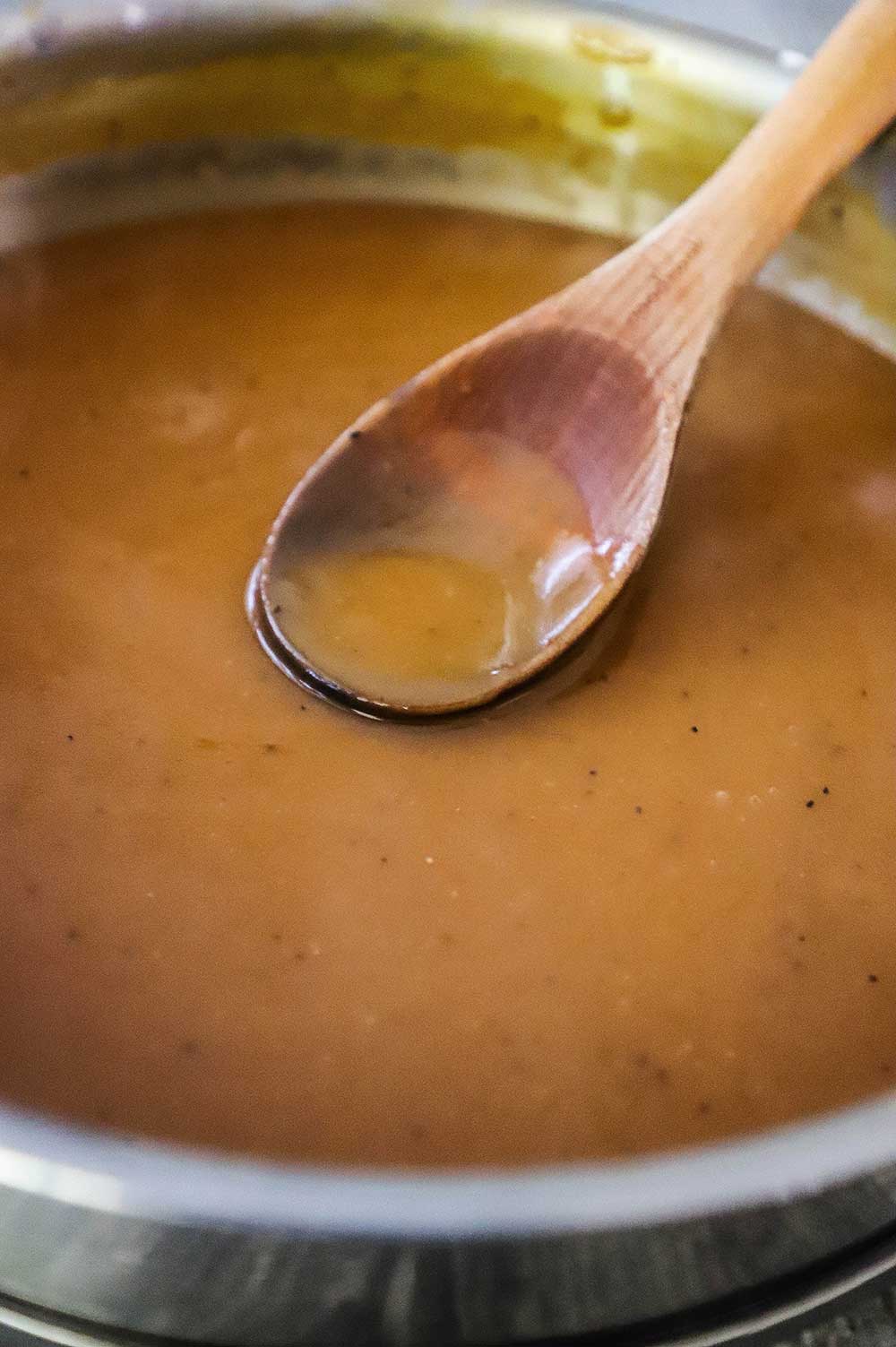 Other Amazing Appetizer Recipes
These are always crowd-pleasing when served. Here are some other favorite appetizers to try:
Loaded Potato Skins
Fried Pickles
Grilled Wings with Buffalo Sauce
Classic Nachos
Warm Spinach and Artichoke Dip
Fried Calamari with Marinara Sauce
But in the meantime, poutine with homemade french fries and gravy is a true show-stopper!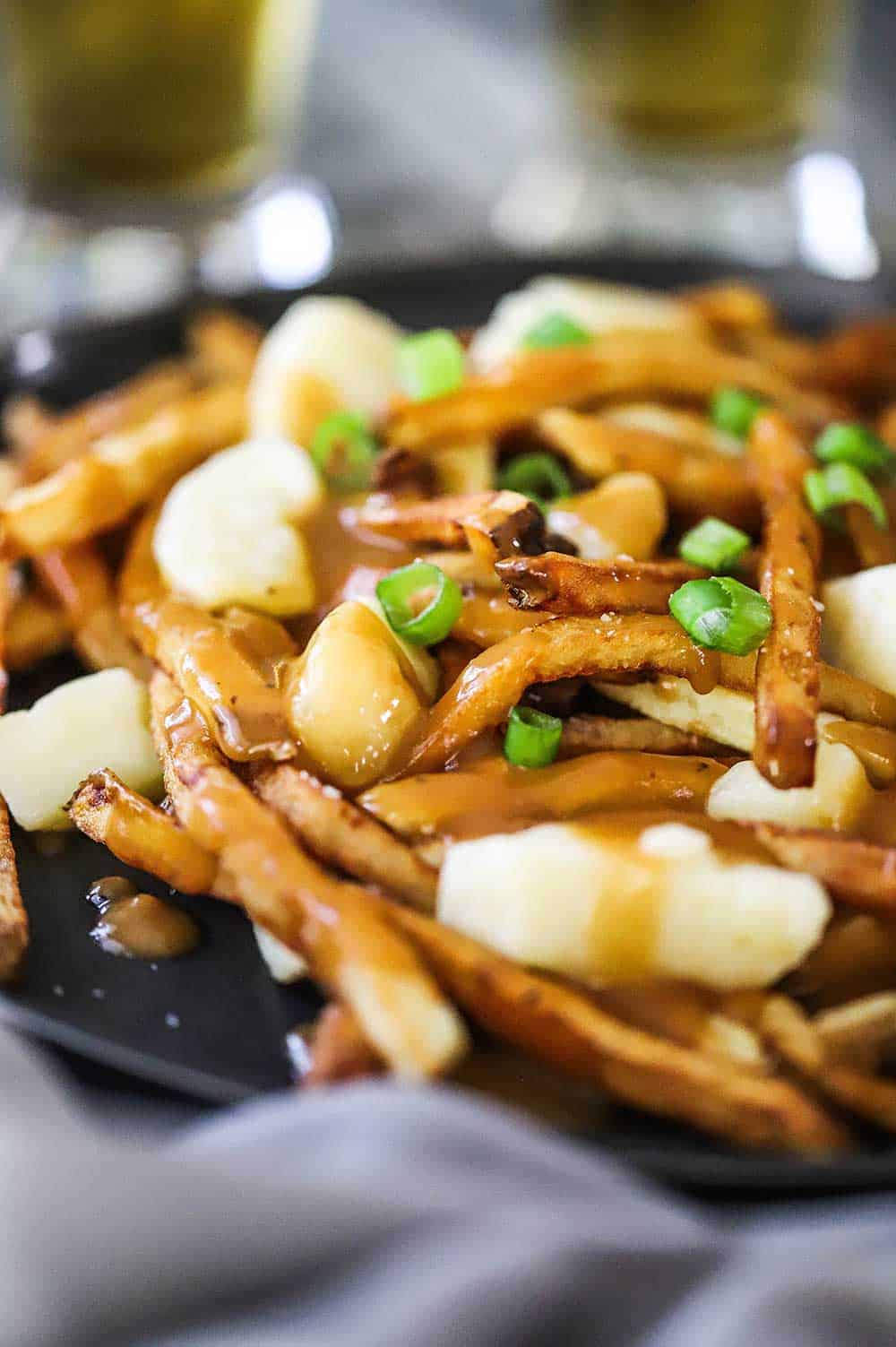 When you make this dish, you'll understand why it is such a culinary sensation in beautiful Canada and beyond.
The dish is definitely best served as soon as the fries are ready.
Every bite is truly the best comfort food you could possibly imagine.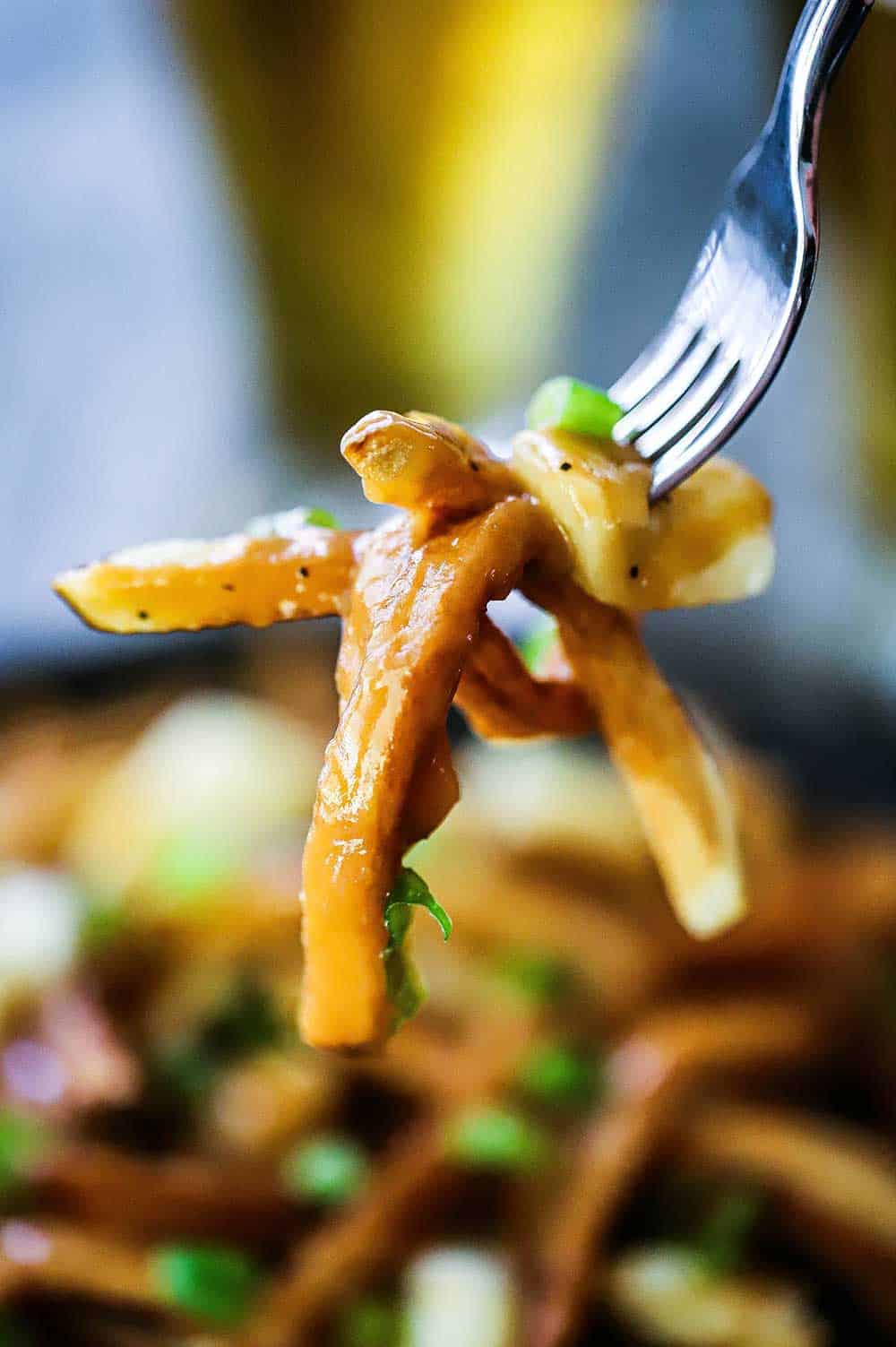 Ready to make the best appetizer this side of Quebec, Canada? Go for it!

And when you do, be sure to take a photo of it, post it on Instagram, and tag @HowToFeedaLoon and hashtag #HowToFeedaLoon!
Poutine with Homemade French Fries and Gravy
Poutine is comfort food at its very best. Be sure to use a candy thermometer to control the temperature of the oil when making the fries. The gravy can be made up to 1 day in advance. Reheat on the stove while making the fries.
Print
Pin
Rate
Servings: 4
Calories: 390kcal
Equipment
1 Candy thermometer or high-heat thermometer

Sturdy pot (for the oil), such as a Dutch oven or deep-fryer

mandolin for slicing the potatoes, or use a sharp knife and a steady hand
Ingredients
3 large russet potatoes no need to peel them
vegetable oil for frying
4 tbsp unsalted butter
1 medium shallot chopped
2 cloves garlic minced
¼ cup all-purpose flour
3 cup beef stock
2 tbsp ketchup
1 tsp apple cider vinegar optional, see NOTES
1 tbsp Worcestershire sauce
1 tsp Kosher salt
½ tsp black pepper or more, to taste
1 cup cheddar cheese curds
1 scallion green onion, sliced, white and green parts
Instructions
Slice potatoes into strips and place in a large bowl. Cover with water and place in the fridge for at least 2 hours, up to 12 hours.

Pour enough oil into a large sturdy pot to reach about two-thirds the way up the side. Heat the oil to 320°F.

Drain the potatoes and thoroughly dry with paper towels or a kitchen towel.

Working in batches, place a handful of the potatoes in the hot oil and cook, stirring frequently, until just starting to brown and beginning to get a little crisp, about 5 to 6 minutes. Remove with metal tongs or a spider and drain on paper towels. Repeat with remaining potatoes. Let the potatoes rest for about 20 minutes while you make the gravy.

Melt the butter over medium heat in a large skillet. Add the shallots and cook until tender, about 4 minutes. Add the garlic and sauté for another 30 seconds, stirring, frequently.

Stir in the flour and let cook for about 1 minute, stirring often.

Carefully whisk in the beef stock, ketchup, vinegar, Worcestershire sauce, salt, and pepper. Bring to a boil, and then reduce the heat. Continue stirring until thickened, about 3 to 5 minutes. Set aside, but keep warm.

Increase the heat on the oil until it reaches 375°F.

Working in batches, place the partially cooked fries in the hot oil. Fry until golden and crisp, about 2 to 3 minutes. Transfer to paper towels and sprinkle all over with salt.

Place all of the fries on a platter. Nestle about half of the curds throughout the fries. Ladle the hot gravy all over the fries and curds. Add the rest of the curds and top with more gravy and the sliced scallions. Serve immediately. (You may have some gravy leftover for another use).
Notes
See the video near the top of the blog post for visual guidance. If you liked the video, please subscribe to our YouTube channel.
The gravy can be made up to 1 day in advance.
The apple cider vinegar gives the gravy a light tang taste. If you prefer very traditional brown gravy, then leave the apple cider vinegar out.
This dish is definitely best served as soon the fries are ready.
Leftover gravy will keep in the fridge for up to 1 week and can be frozen for up to 2 months. The fries will lose their crispy texture after an hour or so and don't reheat very well.
Nutrition
Calories: 390kcal | Carbohydrates: 63g | Protein: 11g | Fat: 20g | Saturated Fat: 7g | Polyunsaturated Fat: 1g | Monounsaturated Fat: 3g | Trans Fat: 0.5g | Cholesterol: 30mg | Sodium: 1845mg | Potassium: 1593mg | Fiber: 4g | Sugar: 5g | Vitamin A: 426IU | Vitamin C: 18mg | Calcium: 69mg | Iron: 4mg