We love dining at a great steakhouse. Of course, a big juicy steak is glorious. But what about those classic sides? Amazing!
These oven-roasted potatoes are literally exploding with flavor. They are really the perfect side dish, but also wonderful served as an appetizer or as a half-time treat during the big game! And they are so easy to make!
The Best Potato for French Fries
As you know, there are numerous types of potatoes to choose from when browsing the produce section of your market. The most commonly found are russet, gold, red, and fingerling.
NOTE: Be sure to check out our 'How To Prepare' video in the recipe card. And if you like the video, subscribe to our YouTube Channel!
The best potatoes for fries are russet, without a doubt. Check out our recipe (with video) for Perfect French Fries.
EXPERT TIP: For our oven-roasted garlic parm steak fries, we leave the skins on. They are loaded with nutrients and add taste and texture. To cut the potatoes in wedges, simply cut the spud in half, lengthwise, and then turn each half over, cut-side down, and very carefully use your knife to cut away about ¼-inch wedges.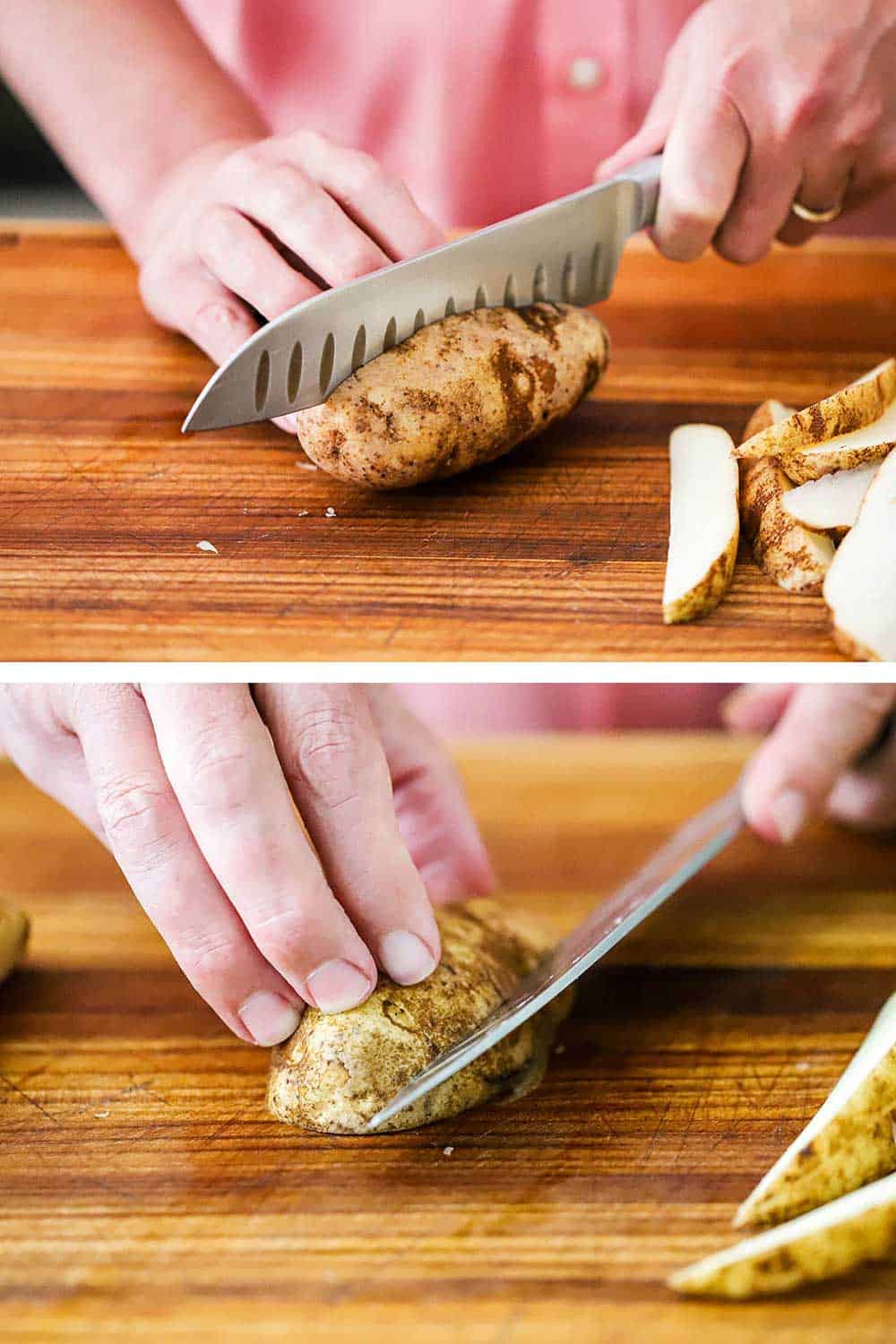 How To Make Garlic Parmesan Steak Fries
Once you've cut your potato wedges, you'll want to quickly coat them with the remaining ingredients.
If you don't plan to roast them immediately, place the wedges in water and then drain and pat dry once ready to continue with the recipe.
Place the potato wedges in a large bowl and add the oil, butter, herbs, salt, and pepper. Toss them together.
EXPERT TIP: It's really important to not add the fresh garlic at this point. You do not want the garlic to burn. If this happens, they will leave a very acrid taste with the fries. We're going to mix the fresh garlic into the baked fries in the final 8 to 10 minutes of cooking.
Spread the coated potato wedges on a baking sheet, doing your best to place them in one layer. The sides touching the pan will brown first. (We'll flip them after about 12 minutes of baking).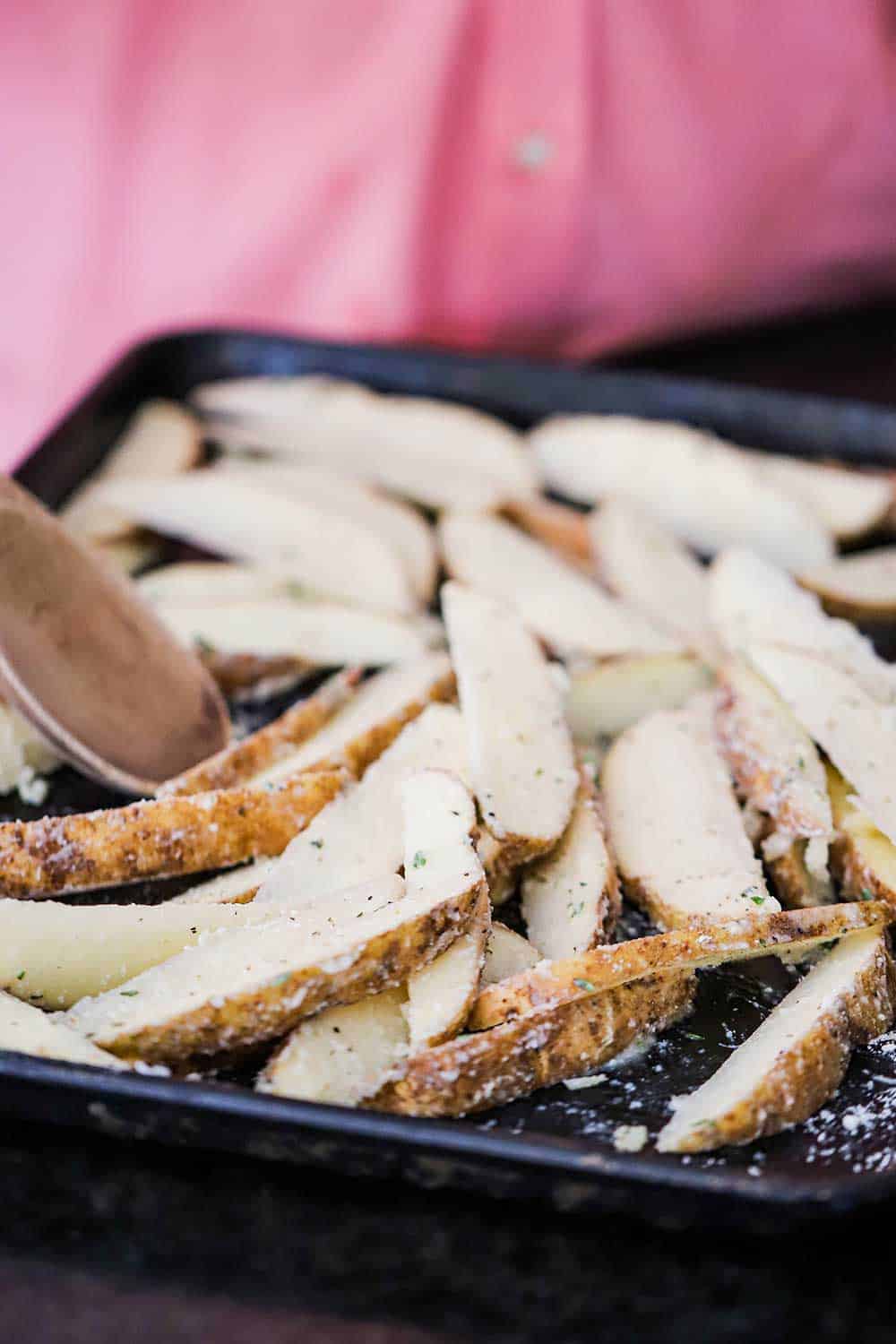 Tips For Perfect Oven-Roasted Steak Fries
Go with Fresh Potatoes – You want your spuds to be fresh for a number of reasons. If they are aged, they will be somewhat soft to the touch. They also won't crisp as well in the oven during the baking process.
Ensure Even Cooking – As mentioned, the fries will brown more quickly with the sides touching the pan. For this reason, to achieve equal browning all over, we remove the pan after about 12 minutes of baking at 375°F. Use a spatula to help you carefully flip all of the wedges over. Return to the oven, bake for another 12 minutes, and then flip again. This last time is when you'll mix in the fresh garlic. Just bake for another 8 minutes, until perfectly browned all over.
Serve Them Right Out Of The Oven – The steak fries are at their very best served straight from the oven. As they cool, they will lose their crispy exterior. They will still be yummy, but not near as delicious as they are fresh out of the oven.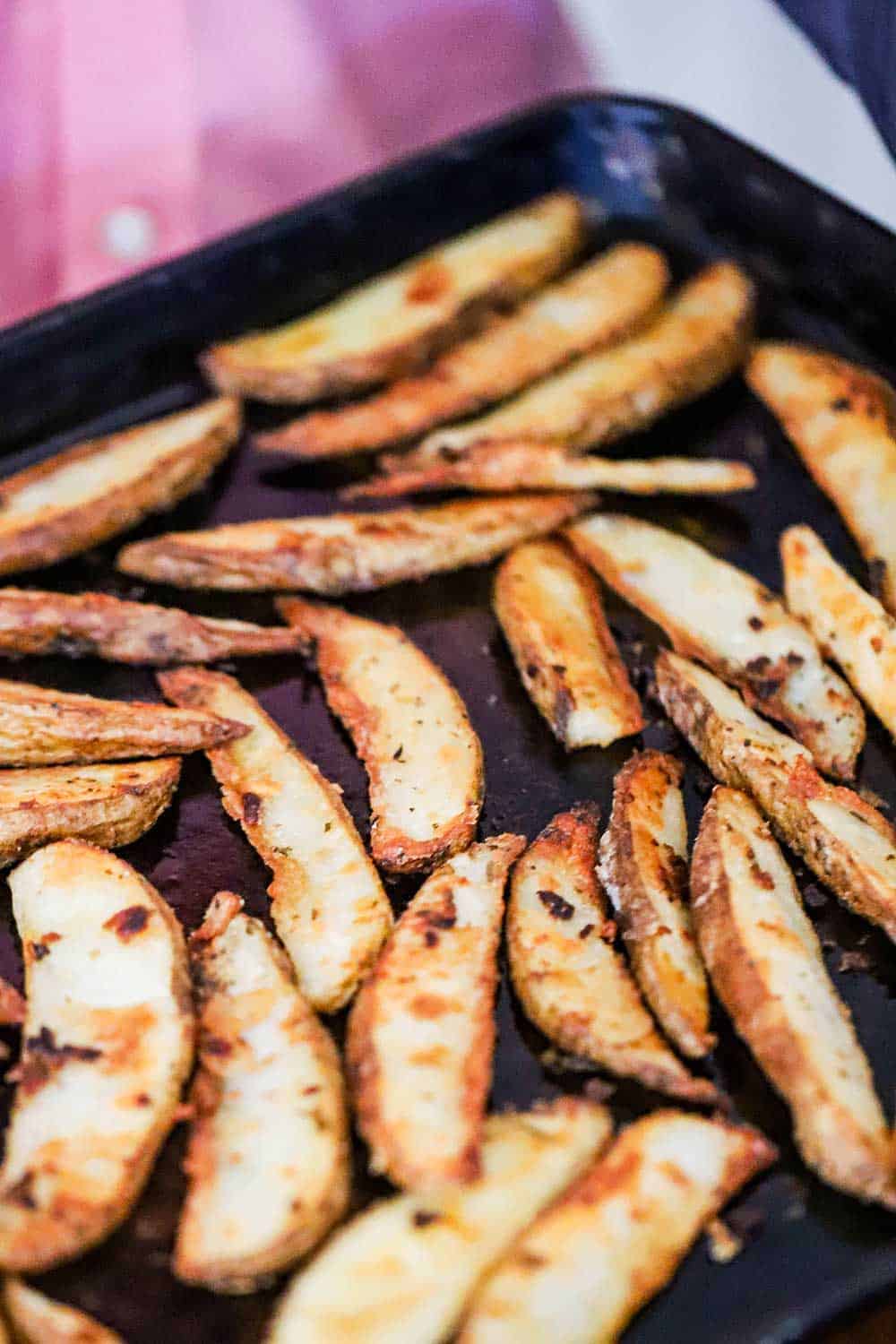 When and How To Serve
These steak fries are an absolutely amazing side dish to grilled steak or chicken. Also, we love to serve them at a gathering of friends as an impromptu appetizer.
Of course, everyone loves plunging these fries into a vessel of ketchup. But, also including an easy aioli dipping sauce is wonderful, too. Serve them both! See the aioli recipe in the Recipe Card Notes.
These fries are addictive, so you may want to consider making a double batch.
EXPERT TIP: Depending on the size of your potatoes, figure 1 potato for each person you are serving. So, if you're serving 4 people, go with 4 medium-sized russets.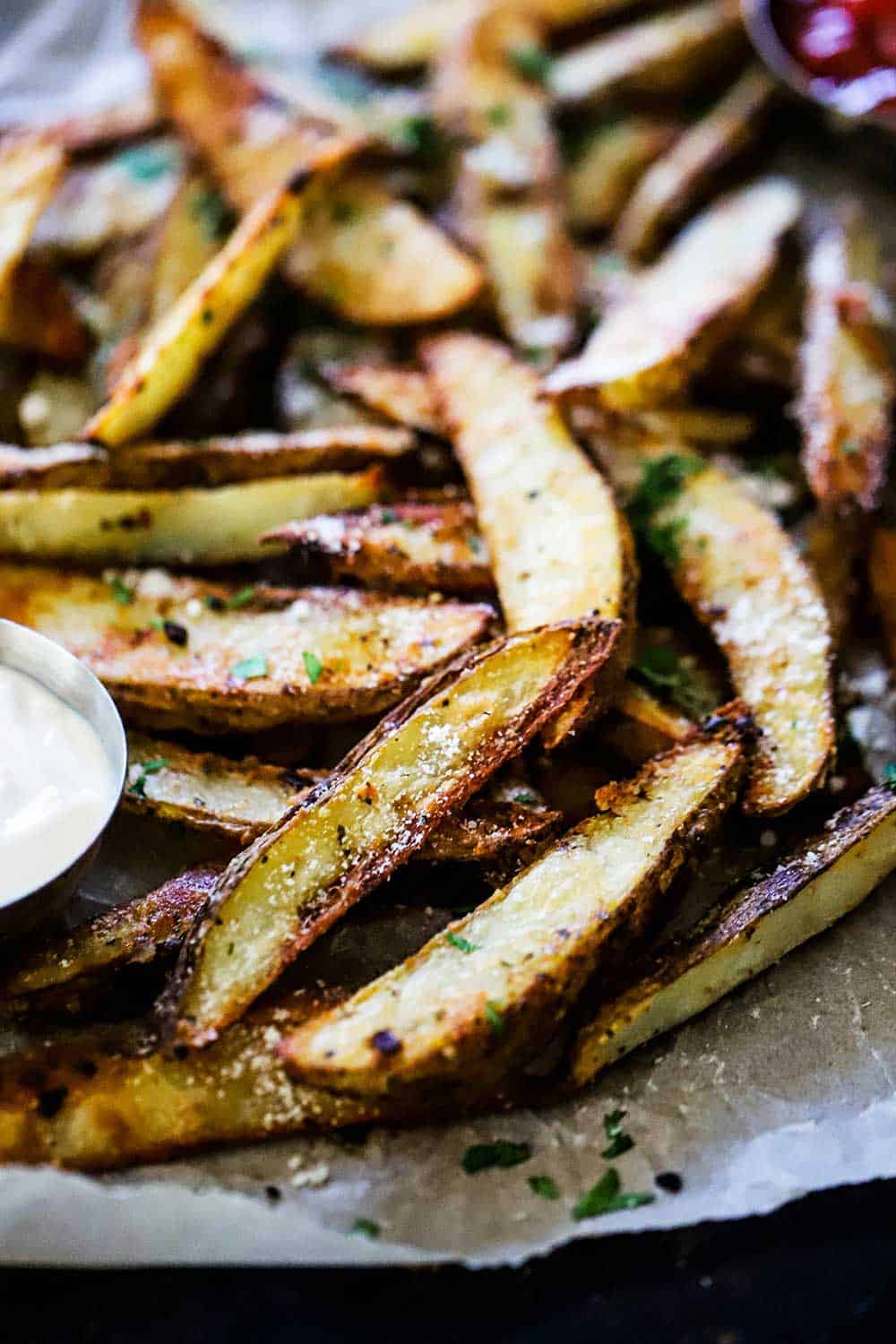 Sometimes a side dish can be a real scene-stealer from the main course.
This just might be one of those dishes that loves the spotlight! Oh, who are kidding? It definitely is!
Plunge into your favorite dipping sauce(s) and get ready for a flavor explosion!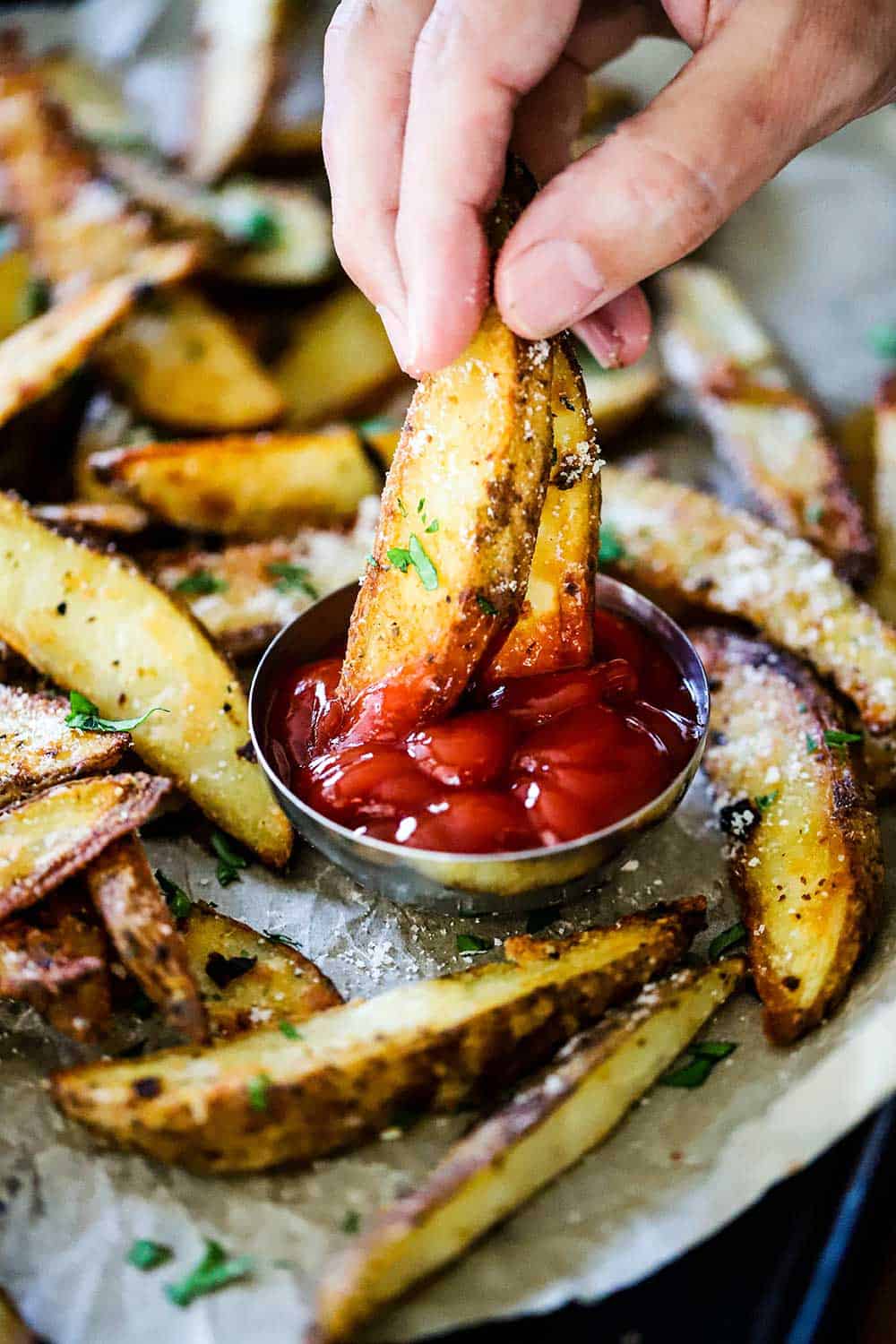 Ready to make a side dish that even the best steakhouse in town would envy? Go for it!
And when you do, be sure to take a photo, post it on Instagram, and tag @HowToFeedaLoon and hashtag #HowToFeedaLoon!
Garlic Parmesan Steak Fries
These Garlic Parmesan Steak Fries are more than just a side dish. They are a show all in and of themselves! Remember not to stir the fresh garlic in until the last 8 to 10 minutes of baking. See the recipe in the notes for a delicious aioli dipping sauce.
Print
Pin
Rate
Servings: 8 people
Calories: 209kcal
Equipment
Baking pan (18 x 24 works well).
Ingredients
4 large russet potatoes cut into 1/8" strips
2 tbsp olive oil
1 tbsp unsalted butter melted
⅓ cup Parmesan cheese
1 tbsp fresh thyme chopped
1 tsp Kosher salt
½ tsp black ground pepper
4 cloves garlic minced
2 tbsp parsley fresh, chopped
Instructions
Preheat oven to 375°F.

Toss potatoes with oil, butter, salt, pepper, thyme, Parmesan, salt, and pepper.

Place in a single layer on a baking pan. You may need to use 2 pans.

Place in the oven and bake for 12 minutes. Remove from the oven and use a spatula to carefully flip all of the wedges over. Roast for another 12 minutes. Remove from the oven and flip the wedges again. Stir in the fresh garlic. ½Roast for another 8 to 10 minutes: Keep an eye on them, you don't want to burn the garlic!

Serve at once with your favorite dipping sauces. (See aioli recipe in the Notes).
Notes
Be sure to check out the "How To Prepare King Ranch Casserole" video in the recipe card. If you like the video, please subscribe to our YouTube Channel!
If cutting the potatoes in advance, keep the wedges in a container filled with water and a tight-fitting lid. Drain and pat them completely dry before proceeding with the recipe.
Figure one medium-sized potato for every person you are serving. So, 4 medium potatoes for 4 people.
These fries are definitely best served piping hot. They will lose their crispy exterior once they have cooled off.
Simple aioli recipe:
½ cup mayonnaise
3 cloves garlic, pressed or minced
½ tsp salt
1 tbsp lemon juice
1 tsp Dijon
Use the back of a fork to mash the garlic into the salt, forming a paste. Add to the mayo and mix in the lemon juice and Dijon. Cover and chill for 15 minutes, or preferably, overnight.
Nutrition
Calories: 209kcal | Carbohydrates: 34g | Protein: 6g | Fat: 6g | Saturated Fat: 2g | Polyunsaturated Fat: 1g | Monounsaturated Fat: 3g | Trans Fat: 1g | Cholesterol: 7mg | Sodium: 368mg | Potassium: 792mg | Fiber: 3g | Sugar: 1g | Vitamin A: 205IU | Vitamin C: 14mg | Calcium: 82mg | Iron: 2mg