Creamy Pasta with Chicken and Broccoli is the perfect weeknight meal.  You can put this together in 30 minutes.   Serve with a nice crusty loaf of bread, and you'll love that it's a meal in one skillet.   We just love using our 12-inch cast iron skillet.  But any oven-ready skillet, or Dutch oven, will work.   This is creamy and tantalizing.   Baby broccoli is found in most supermarkets, but if you can't find it, then just go with regular broccoli and use the florets.  You're going to love this dish!   125% Loon Approved. 
Another easy 1-pot 30 minute meal is our Easy Tex-Mex Pasta Dinner…give it a look!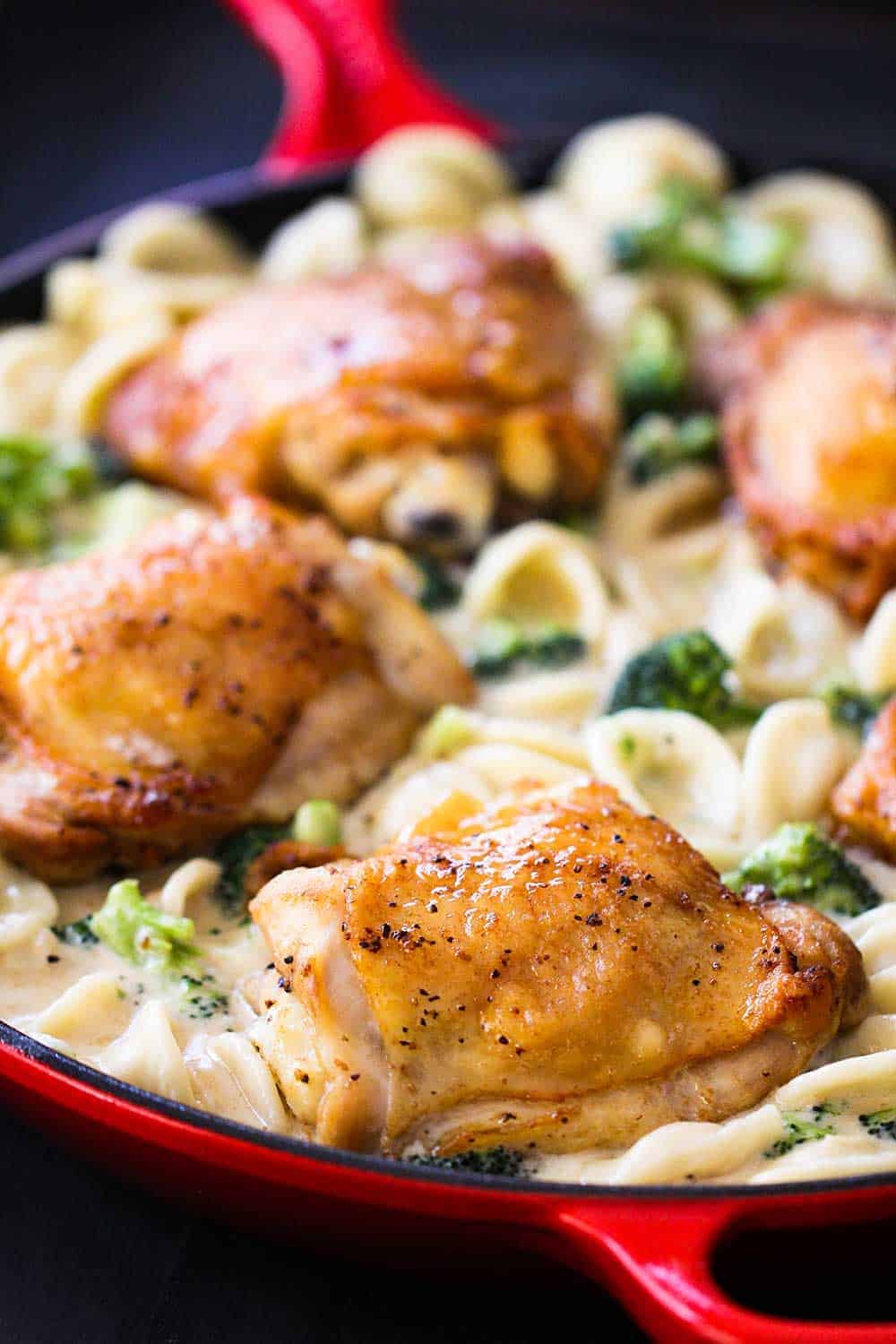 Creamy Pasta with Chicken and Broccoli
This Creamy Pasta with Chicken and Broccoli is so easy to prepare but looks amazing and tastes even better. You'll love bringing the skillet directly to the table and serve this incredible dish family style. Find the baby broccoli at most supermarkets, or just go with regular broccoli florets. So good!
Print
Pin
Rate
Prep Time: 5 minutes
Cook Time: 25 minutes
Total Time: 30 minutes
Servings: 4 people
Calories: 624kcal
Ingredients
1 tbsp canola oil
3 lbs bone-in skin-on chicken thighs
2 1/2 tsp Kosher salt divided
3/4 tsp ground black pepper divided
2-3 bunches baby broccoli trimmed and chopped
2 tbsp water
2 tbsp all-purpose flour
2 tbsp Dijon mustard
1 tbsp Worcestershire sauce
1 clove garlic smashed
1 1/4 cup heavy cream
1 1/4 cup chicken stock
1/2 cup grated Parmesan cheese
1 12 oz box orecciette pasta, cooked al dente
Instructions
Pre-heat oven to 425 F.

In a 12-inch cast iron skillet (or oven-ready skillet), heat oil over medium-high heat.

Season both sides of chicken with 2 teaspoons salt and 1/2 teaspoon pepper.

Place chicken, skin side down, in skillet.

Cook until golden brown, about 5 minutes. (Shift the chicken around in the skillet occasionally to prevent sticking).

Remove from heat and turn chicken over.

Place skillet with chicken in oven and bake until an meat thermometer reads 160 F, about 20 minutes.

Remove chicken from the skillet onto a plate and set aside.

Meanwhile, in a large microwave-safe bowl, place broccoli and 2 tablespoons water, then cover tightly with plastic wrap.

Microwave on high for 2 minutes then drain. Set aside.

Place same skillet over medium heat, whisk in flour and cook for 1 minute.

Whisk in mustard, Worcestershire sauce and garlic.

Gradually stir in cream and stock.

Cook and stir frequently until mixture has thickened, about 5 minutes.

Season with remaining 1/2 teaspoon salt and 1/4 teaspoon black pepper.

Stir in cheese until melted.

Remove from heat and stir in the cooked pasta.

Add cooked chicken and broccoli to skillet, stirring to coat. Serve at once.
Nutrition
Calories: 624kcal | Carbohydrates: 11g | Protein: 56g | Fat: 36g | Saturated Fat: 15g | Cholesterol: 399mg | Sodium: 1210mg | Potassium: 787mg | Fiber: 1g | Sugar: 2g | Vitamin A: 1427IU | Vitamin C: 1mg | Calcium: 219mg | Iron: 3mg