Chicken and Broccoli Alfredo is the perfect weeknight meal. Well, it's great on the weekend, too!
This dish is so delicious and it gets even better: You can put this together in 30 minutes. Serve with a nice crusty loaf of bread, and you'll love that it's a meal in one skillet.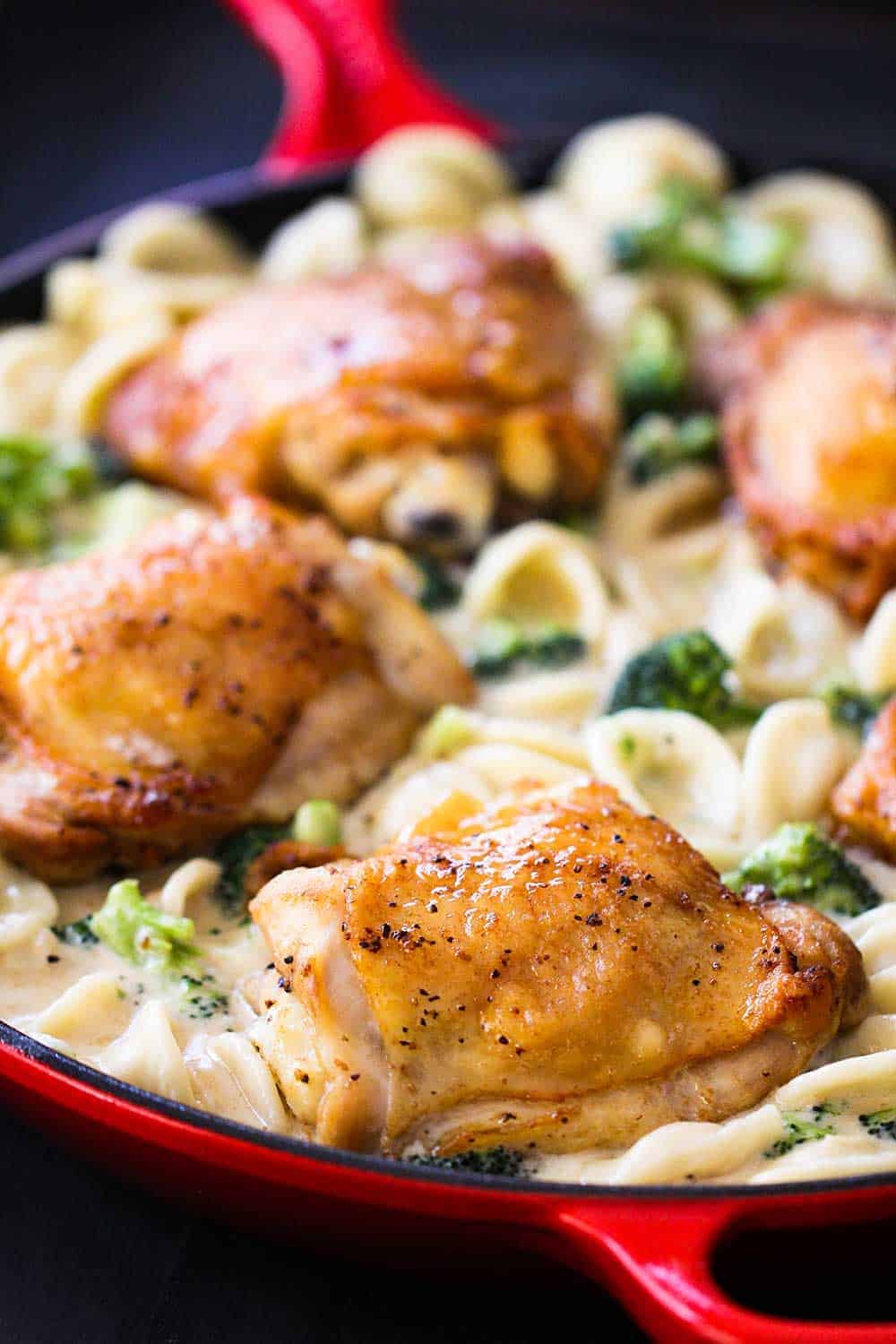 HOW TO MAKE CHICKEN AND BROCCOLI ALFREDO
We can't stress enough how quickly this dish is to prepare.
The only tool you need to make this dish is an oven-ready pan or skillet. A cast-iron works wonderfully, as does a Dutch oven.
See note in recipe card on how to make this recipe if you don't have an oven-ready pan or skillet.
CHOOSING THE RIGHT CHICKEN
One of the many awesome things about this dish is that it is so adaptable to whatever ingredients you have on hand.
We absolutely love going with bone-in, skin-on chicken thighs. They are loaded with flavor and crisping the skin before cooking them ads amazing taste and texture
EXPERT TIP: You can also use boneless chicken breasts. Simply cook them in your skillet with a little oil, or butter, until fully cooked (internal temperature of 165°F). Serve whole, or cut the chicken into bite-size chunks and stir into the finished dish. This can also be done with boneless chicken thighs. If using legs, follow the recipe as written, but reduce the cooking time to 15 minutes.
THE SAUCE COMES TOGETHER VERY QUICKLY
The sauce is so flavorful and creamy, but not heavy at all!
After the chicken is finished cooking, set it aside and discard any of the rendered grease and oil from the pan.
Create a roux with the butter and flour and then add in the milk, cream, chicken stock, Dijon, Worcestershire sauce, garlic powder, salt, and pepper. Whisk until thickened, about 5 to 8 minutes.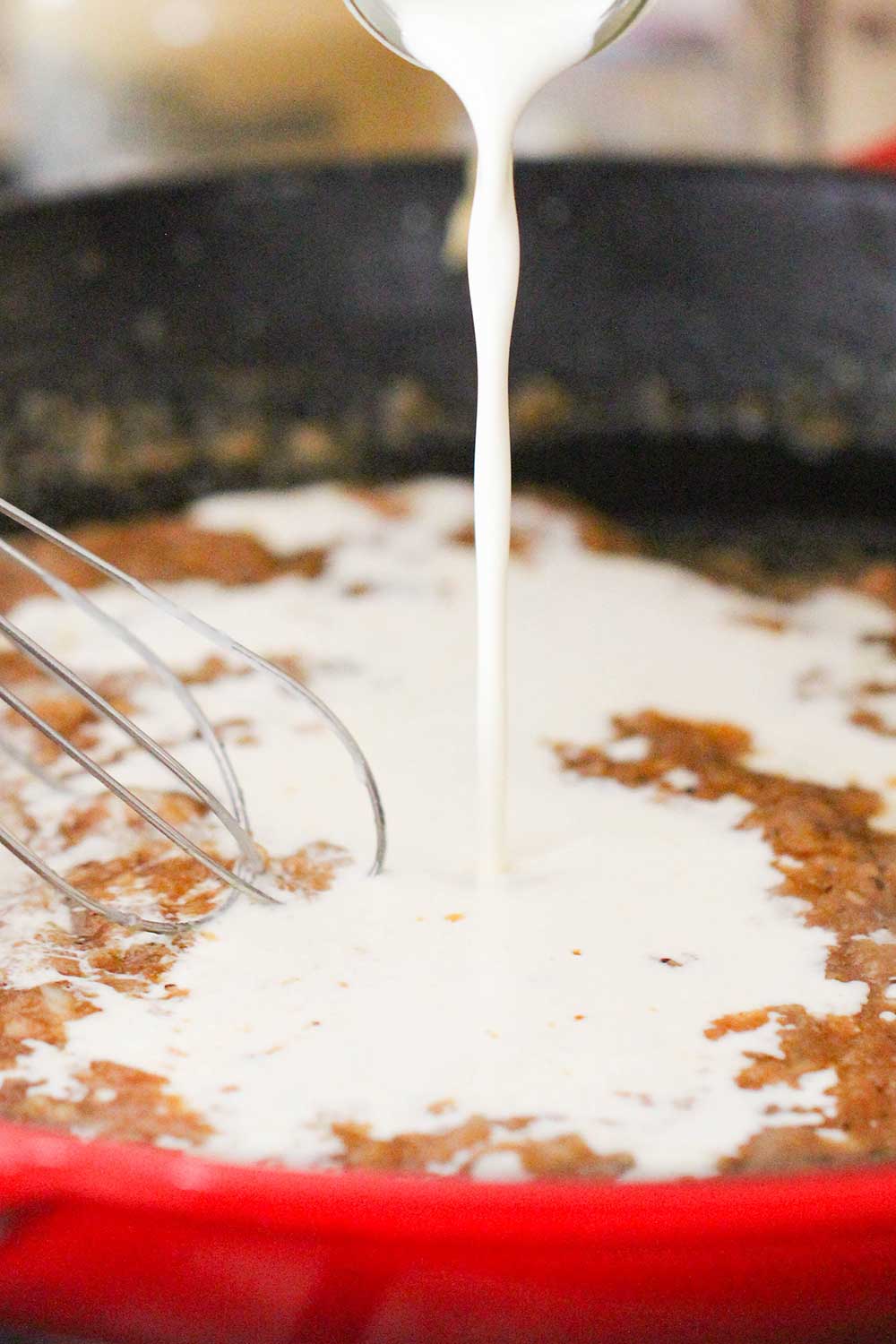 For the pasta, go with whatever you have on hand. We prefer pasta that is smaller in sizes, such as orecchiette or shells, rather than long and tubular, such as spaghetti or linguine. The shell-shape of the pasta acts as little bowls for the sauce.
But again, any pasta will work wonderfully!
EXPERT TIP: Follow the package instructions for cooking the pasta. Don't overcook the pasta, or it will become bloated and soggy in the sauce. Also, add the broccoli in the final 3 minutes of cooking. This goes for fresh or frozen. Both the pasta and broccoli can be cooked an hour or two in advance.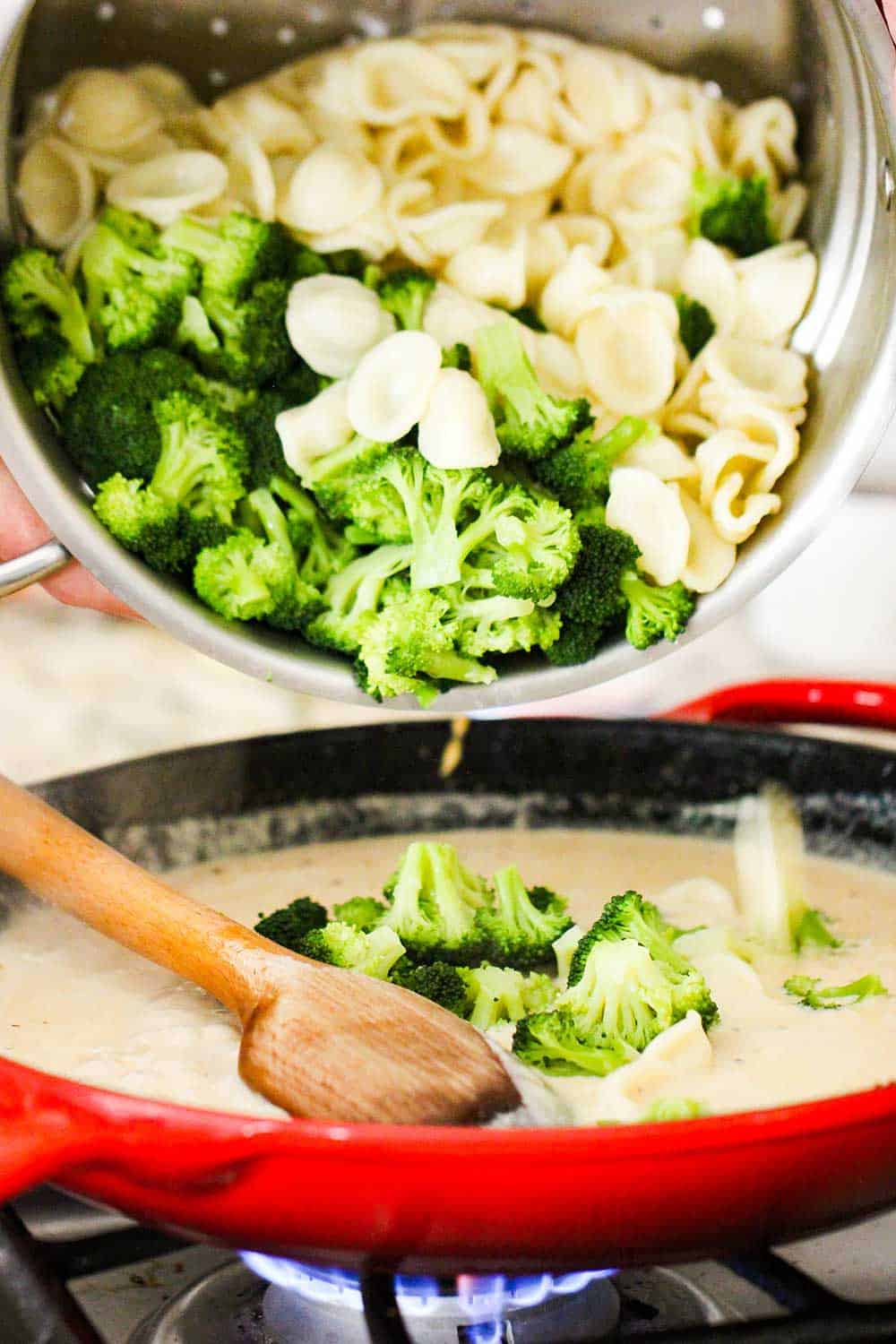 We can't say it enough about this recipe: It's so delicious and so versatile! And beautiful, too!
Other options for the broccoli could be peas, carrots, spinach, kale, corn, and more! Frozen, canned, or fresh all work perfectly!
And for the sauce, use milk, heavy cream, half-and-half, or almond milk. Or a combination of any of them!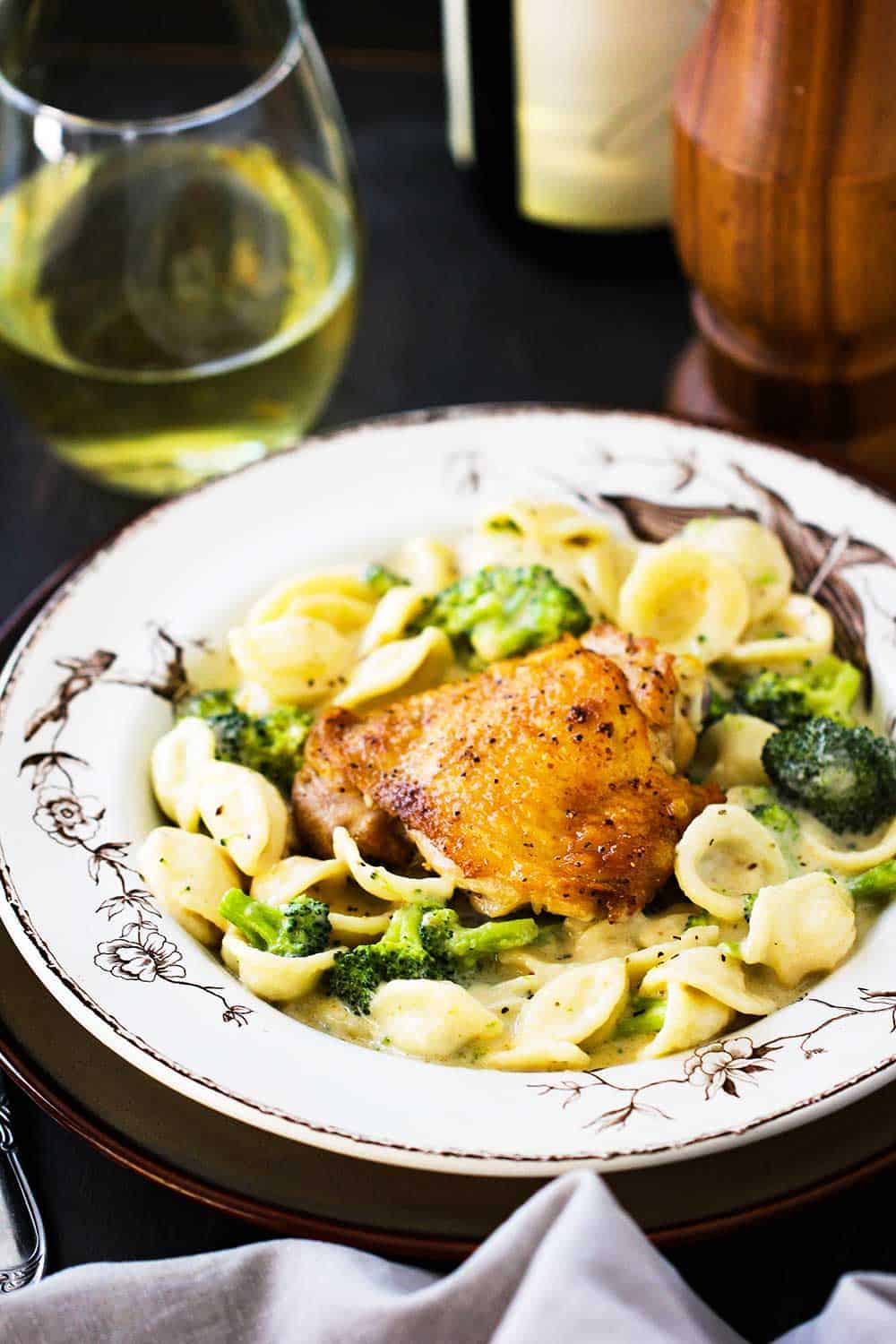 Another easy 1-pot 30-minute meal is our Mediterranean Pasta with Shrimp and Artichokes!…give it a look! Not to mention our Easy Tex-Mex Pasta!
But in the meantime, we strongly recommend you making this incredible Chicken and Broccoli Alfredo!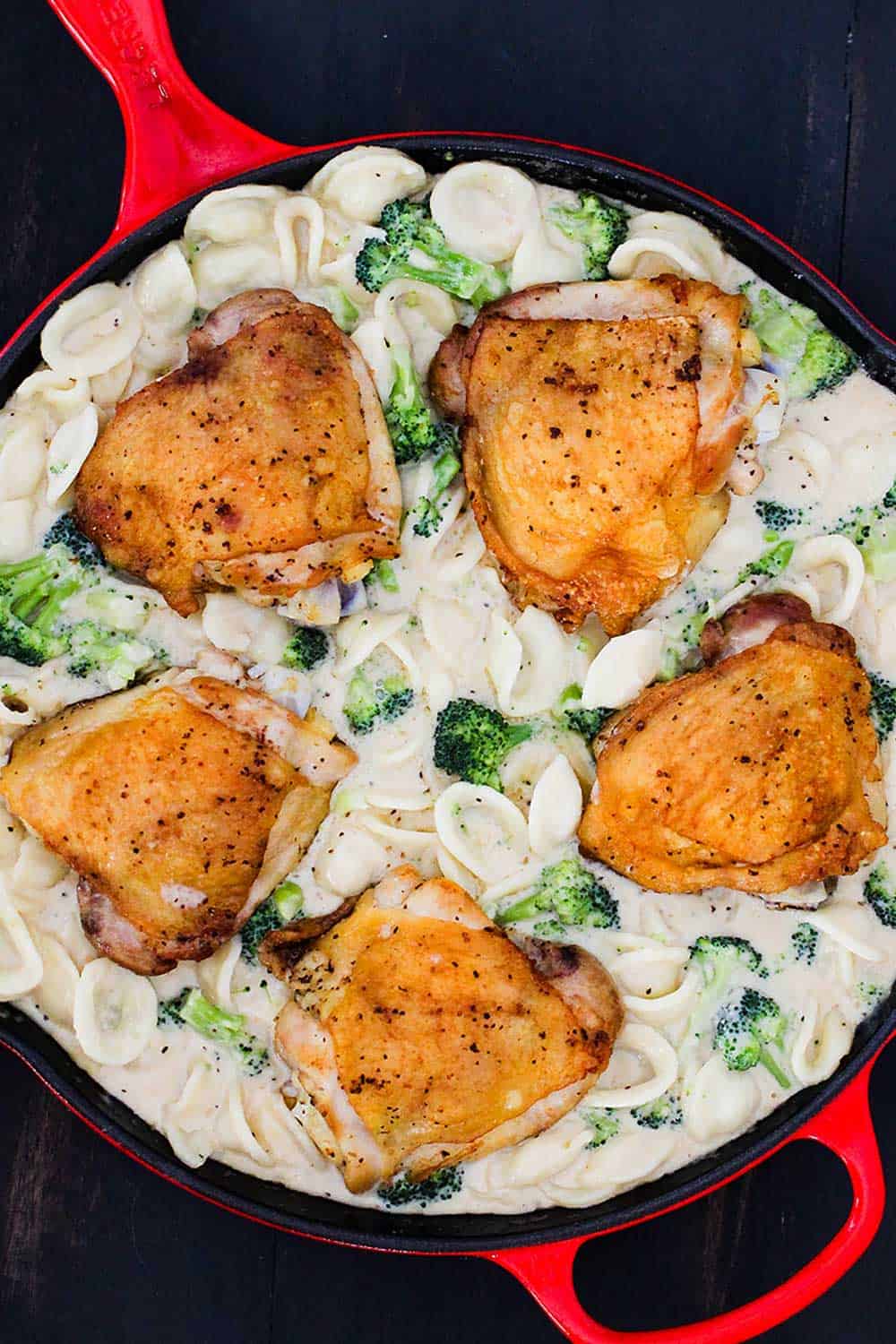 This dish is wonderful right off the stove, however, you can make the sauce and the chicken in advance. Stir in the cooked pasta and broccoli after re-heating the sauce. Warm the chicken in a low-temp oven (200°F) for about 30 minutes and then add to the re-heated sauce.
This dish is so easy to prepare and is truly one of our all-time favorite dishes to make, serve, and eat!
Mmmmmm…makes you hungry, right?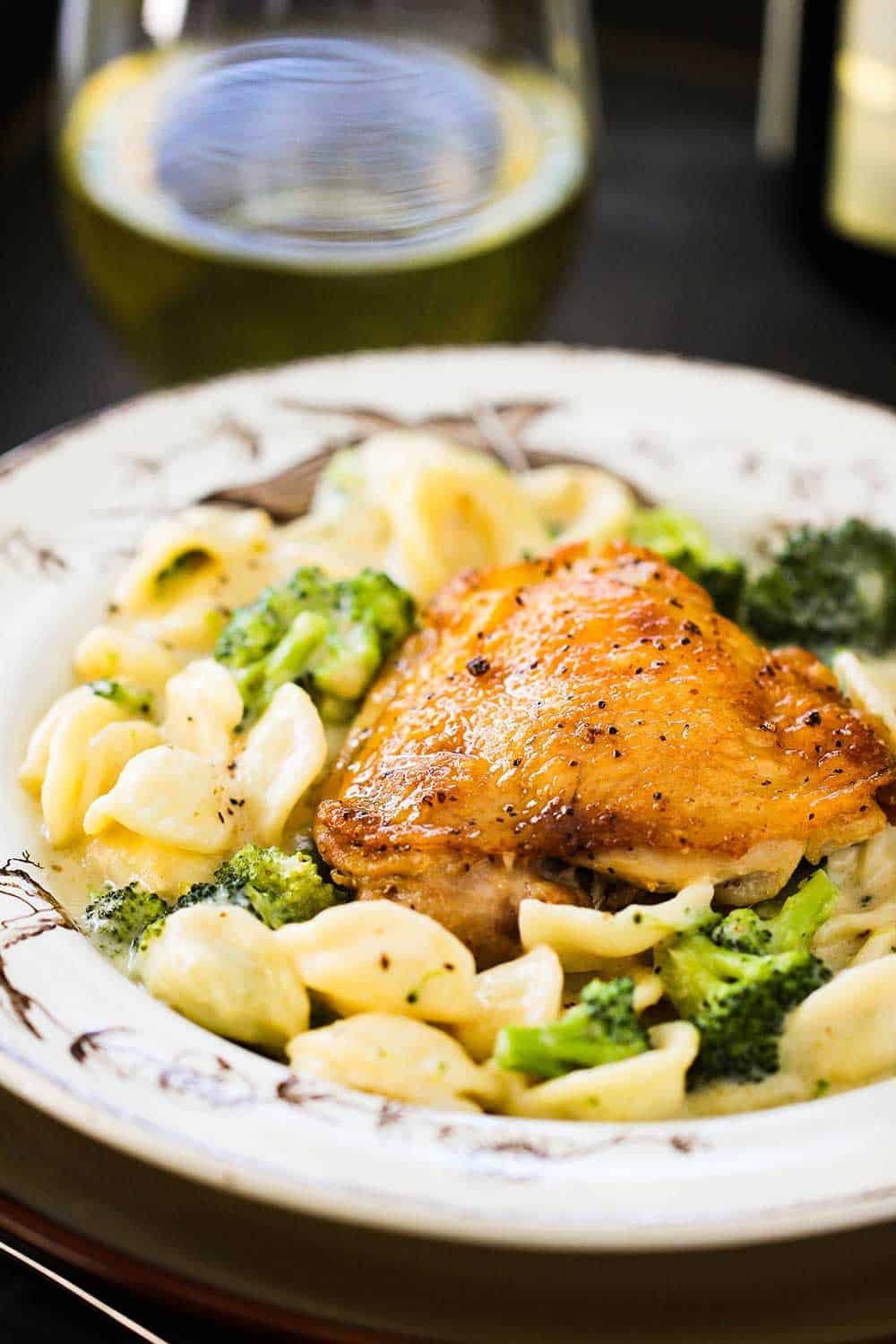 Ready to make the best alfredo 1-pot wonder dish in town? Go for it!
And when you do, be sure to take a picture, post it on Instagram, and tag @howtofeedaloon and hashtag #howtofeedaloon!
Chicken and Broccoli Alfredo
This Chicken and Broccoli Alfredo is so easy to prepare but looks amazing and tastes even better. You'll love bringing the skillet directly to the table and serve this incredible dish family-style. And the recipe can be easily adapted to fit whatever you have in your pantry and fridge!
Print
Pin
Rate
Servings: 6 people
Calories: 693kcal
Equipment
Oven-ready skillet/saucepan (see note)
Ingredients
1 tbsp olive oil
3 lbs chicken thighs 5 or 6, bone-in, skin-on
3 tsp Kosher salt divided
2 tsp black pepper ground, divided
8 oz orecchiette pasta
12 oz broccoli florets, fresh, if frozen, thawed
2 tbsp unsalted butter
2 tbsp all-purpose flour
1 cup milk
¼ cup heavy cream
1 cup chicken stock
1 tbsp Dijon mustard
1 tbsp Worcestershire sauce
1 tsp garlic powder
½ cup Parmesan cheese grated
Instructions
Preheat oven to 425°F.

Season chicken all over with salt and pepper.

In a large oven-ready skillet, heat oil over medium-high heat.

Place chicken, skin side down, in the hot skillet. Cook until golden brown, about 8 to 10 minutes. (Shift the chicken around in the skillet occasionally to prevent sticking).

Remove from heat and turn chicken over. Place skillet in the oven for 20 minutes until chicken is completely cooked (internal temperature of 165°F). Use tongs to remove chicken onto a platter or plate.

Discard the oil and any rendered grease from the skillet. Leave the brown bits that have stuck on the surface of the pan.

Meanwhile, bring a pot of salted water to a boil. Add the pasta and cook until al dente, typically about 10 to 12 minutes, check package instructions for guidance. Add the broccoli in the final 3 minutes of cooking. Drain, and set aside.

Return the skillet to the stove over medium heat and add the butter. Once melted, stir in the flour and whisk for about 2 minutes.

Stir in the milk, cream, chicken stock, Dijon, Worcestershire sauce, garlic powder, 1 tsp salt, and ¼ tsp ground black pepper. Stir constantly until thickened, about 5 minutes.

Add the cooked pasta and broccoli and gently stir until well-mixed. Stir in the cheese, and then nestle the cooked chicken thighs in the skillet. Serve at once.
Notes
If you don't have an oven-ready skillet or saucepan, sear the chicken as instructed in a regular skillet. Place the chicken in a baking dish and bake as instructed. Discard oil and rendered fat from the skillet and continue with recipe as written. Any kind of chicken will work for this recipe. If using boneless chicken breasts, cook them in the skillet until fully cooked (internal temp of 165°F) and skip baking in the oven. Cut the chicken into bite-sized pieces, or serve whole. If using frozen broccoli, thaw first in the microwave. Substitutes for broccoli are carrots, peas, spinach, kale, corn or artichokes. Fresh, frozen, or canned all work perfectly fine. Of course, fresh is best, but any variety will still deliver great taste. For the sauce, we prefer the ratio of 1 cup whole milk to 1/4 cup heavy cream and then 1 cup of chicken stock. You could use half and half or almond milk as a substitute, or a combination of any of these. Just make sure to use 1¼ cups of the dairy to the 1 cup of stock. This dish is served right off the stove, but the pasta/broccoli and sauce can be made a couple hours in advance of finishing the dish. Add a couple of dashes of olive oil on the cooked pasta and broccoli and mix to keep them from drying out.
Nutrition
Calories: 693kcal | Carbohydrates: 12g | Protein: 44g | Fat: 32g | Saturated Fat: 9g | Cholesterol: 257mg | Sodium: 845mg | Potassium: 792mg | Fiber: 2g | Sugar: 4g | Vitamin A: 925IU | Vitamin C: 51mg | Calcium: 202mg | Iron: 2mg
POST UPDATE: The recipe was originally published in April 2017, but was updated with improved tweaks to the recipe, tips, new photography, and a brand new fabulous video in March 2020!