Mediterranean cuisine draws from the sea and the surrounding cultures of France, Italy, Greece and more.
This dish is not only amazing in flavor, but it's also incredibly easy to prepare and is healthy, too! If you're feeling really ambitious, make the pasta from scratch! And the dish comes together in about 30 to 40 minutes! Perfect for a weeknight meal or a glorious dinner party on the weekend!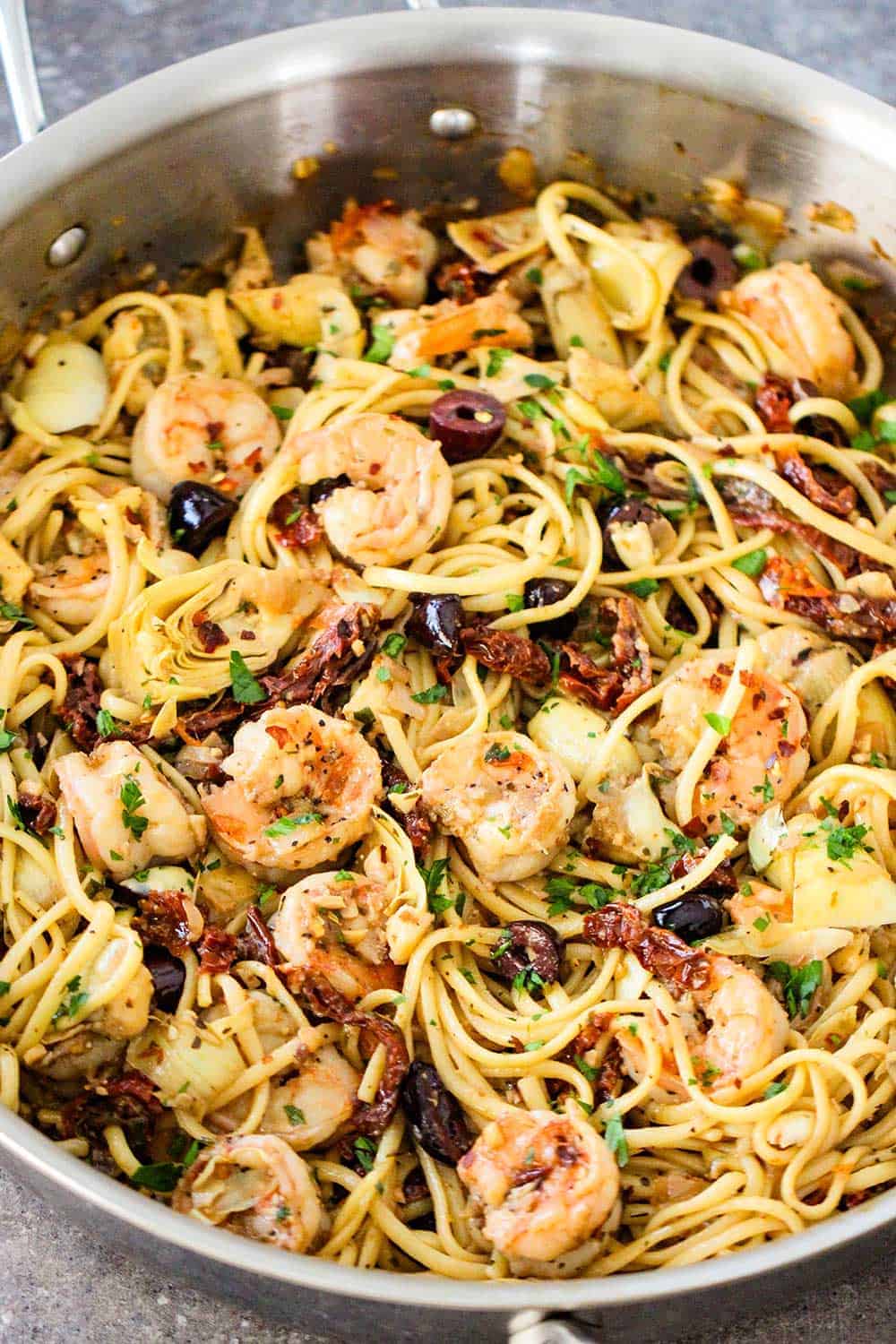 HOW TO MAKE MEDITERRANEAN PASTA AT HOME
Pick yourself up some nice large shrimp from your favorite fish market.
The other Mediterranean ingredients we love to use include:
Artichoke hearts
Sun-dried tomatoes (in oil)
Olives (we love Kalamata)
Garlic
Olive oil
Red pepper flakes
Fresh parsley
SEARING THE SHRIMP
Part of what makes this dish so quick is that none of the elements requires an extended cook time. Searing the shrimp is no exception.
We simply heat 4 tbsp of good-quality olive oil in a nice large skillet over medium-high heat and then add the seasoned shrimp. After 2 or 3 minutes, simply flip the shrimp, and cook until they've curled a bit and are beautifully pink.
EXPERT TIP: All that's needed to season the shrimp are a few pinches of salt and pepper. Once placed in the hot oil, don't move the shrimp around until they are ready to flip, about 2 to 3 minutes. Another option would be to rub a little olive oil all over the shrimp, salt and pepper them, and then grill them over hot heat for a few minutes per side. Either way of preparing them is great, but we really love searing them in the same skillet that you'll be preparing the rest of the dish in.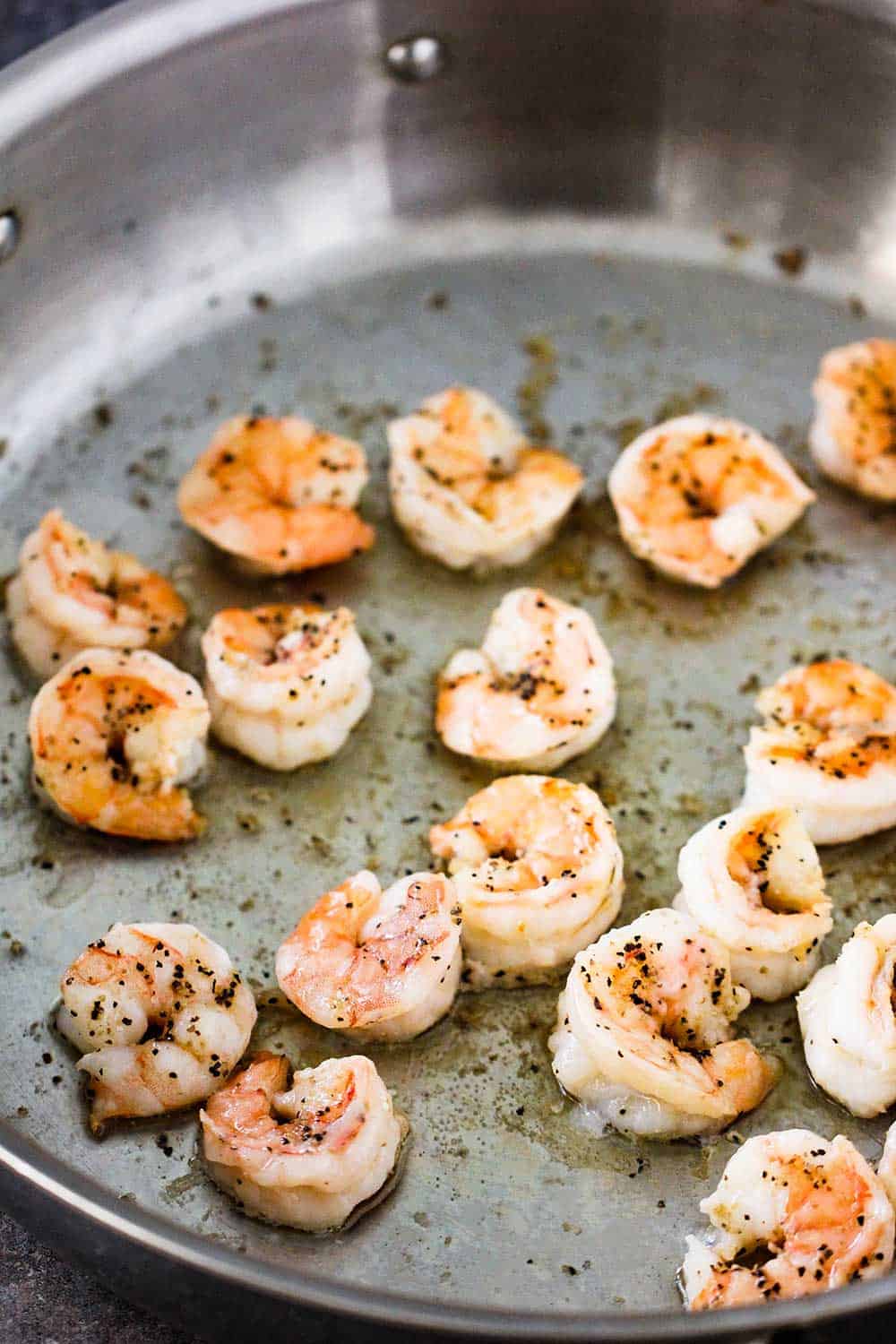 Remove the cooked shrimp to a clean plate.
Next, it's time to toss in the halved, or quartered, artichoke hearts, onion, garlic, lemon zest, and red pepper flakes.
Sauté them until softened and the artichokes are starting to brown, just a little.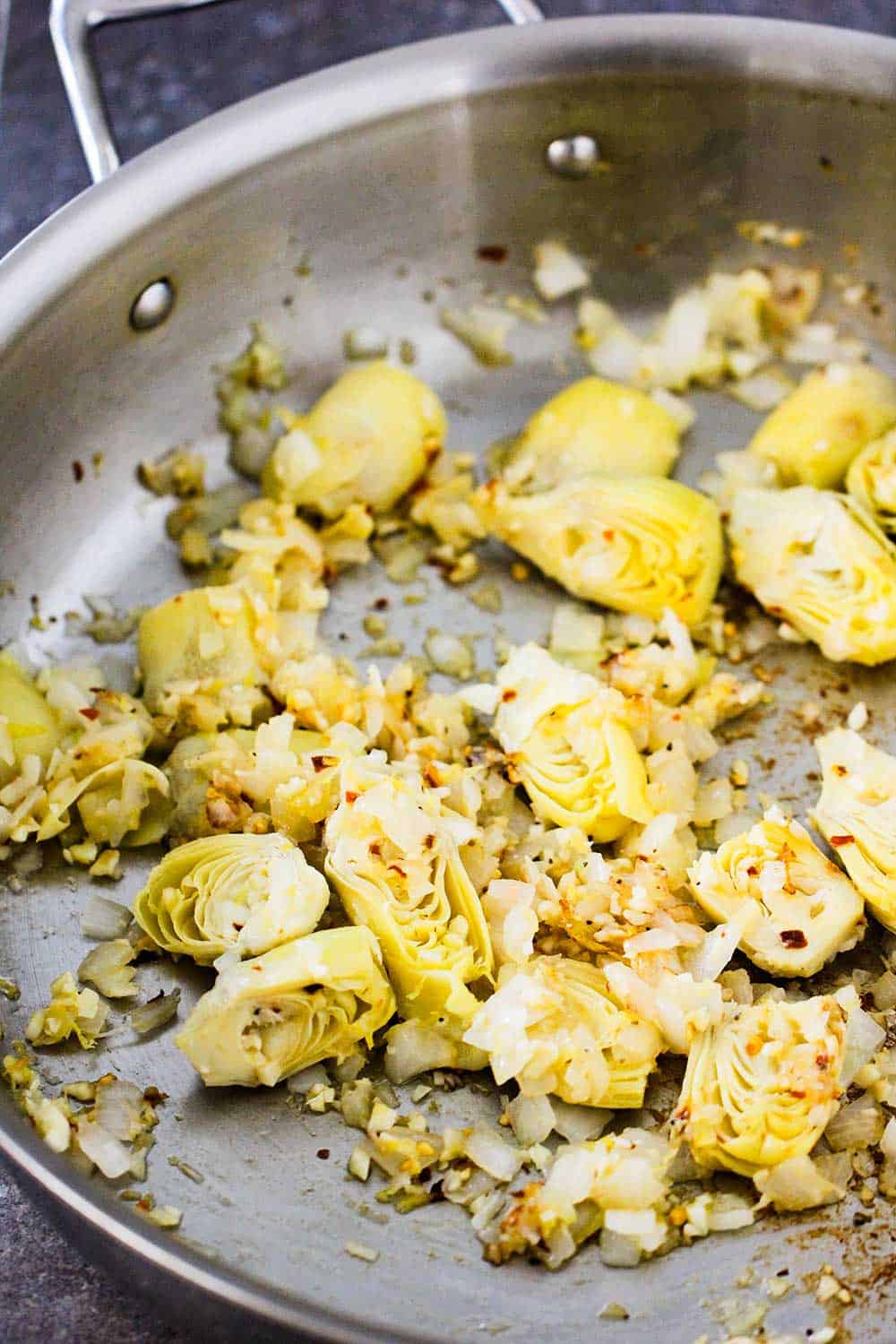 CHOOSING THE RIGHT WINE
White wine is the basis for many Mediterranean Pasta dishes.
We love a good dry wine such as Chardonnay or Sauvignon Blanc.
EXPERT TIP: Bring the sauce to a boil, and then lower the heat slightly and simmer for about 10 minutes. This will remove all but very small traces of alcohol in the dish. If you prefer to not cook with wine, then omit it completely, increase the stock to 2 cups and add 1 tbsp of your favorite vinegar; balsamic would be a good choice.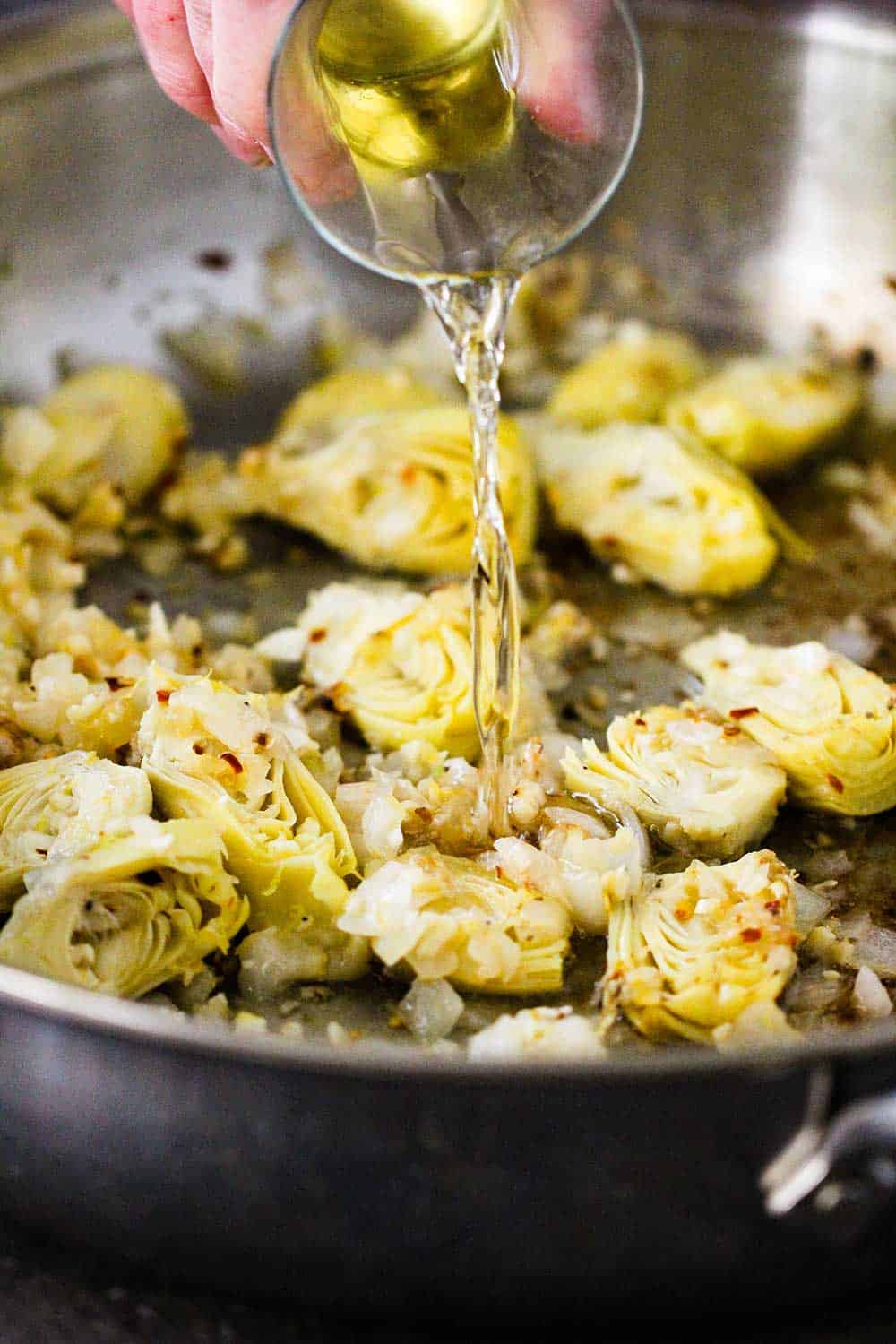 Now, it's time to bring this amazing Mediterranean Pasta home!
Add in the remaining ingredients (except for the cooked shrimp) and simmer until slightly thickened, about another 10 minutes.
We love the combination of these ingredients, but you could also include sautéd mushrooms, sausage, and/or spinach.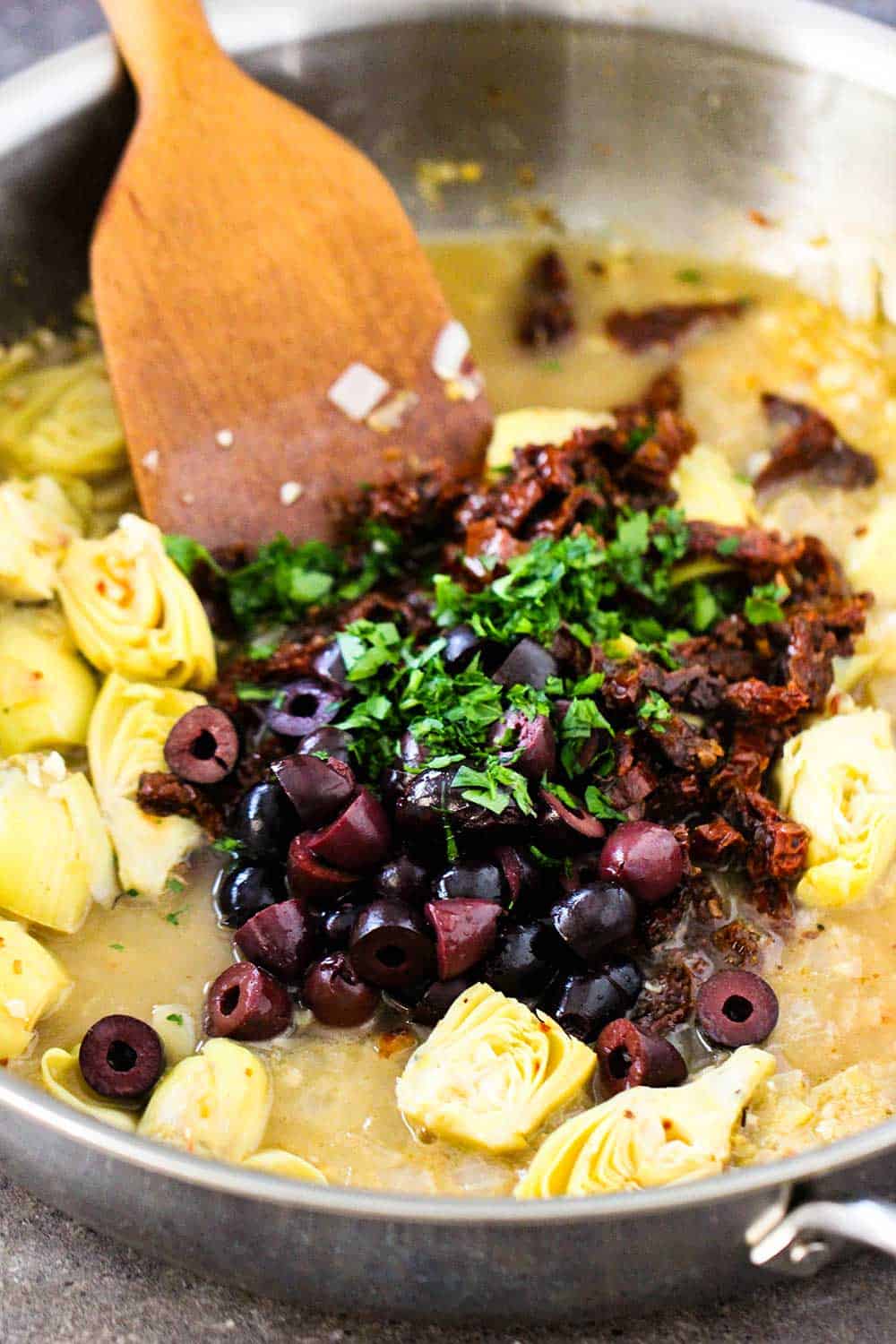 EXPERT TIP: This is a good time to bring a pot of salted water to a boil. We love using linguine, but many types of pasta would work. Long pasta, such as bucatini, spaghetti, angel hair, or fettucini would be great choices.
Once the sauce has thickened slightly, all that's needed is the shrimp.
Slowly transfer the shrimp to the pan and stir to combine.
Drain the pasta, and stir it in until fully mixed.
THE PERFECT WEEKNIGHT DINNER
This dish is incredibly delicious but is also so quick and easy to prepare, it's perfect for those busy weeknights.
But, just look at this dish, too.
It would be a gorgeous pasta dish for a glorious dinner party. Serve it with a Classic Ceasar Salad and a nice crusty loaf of Italian bread.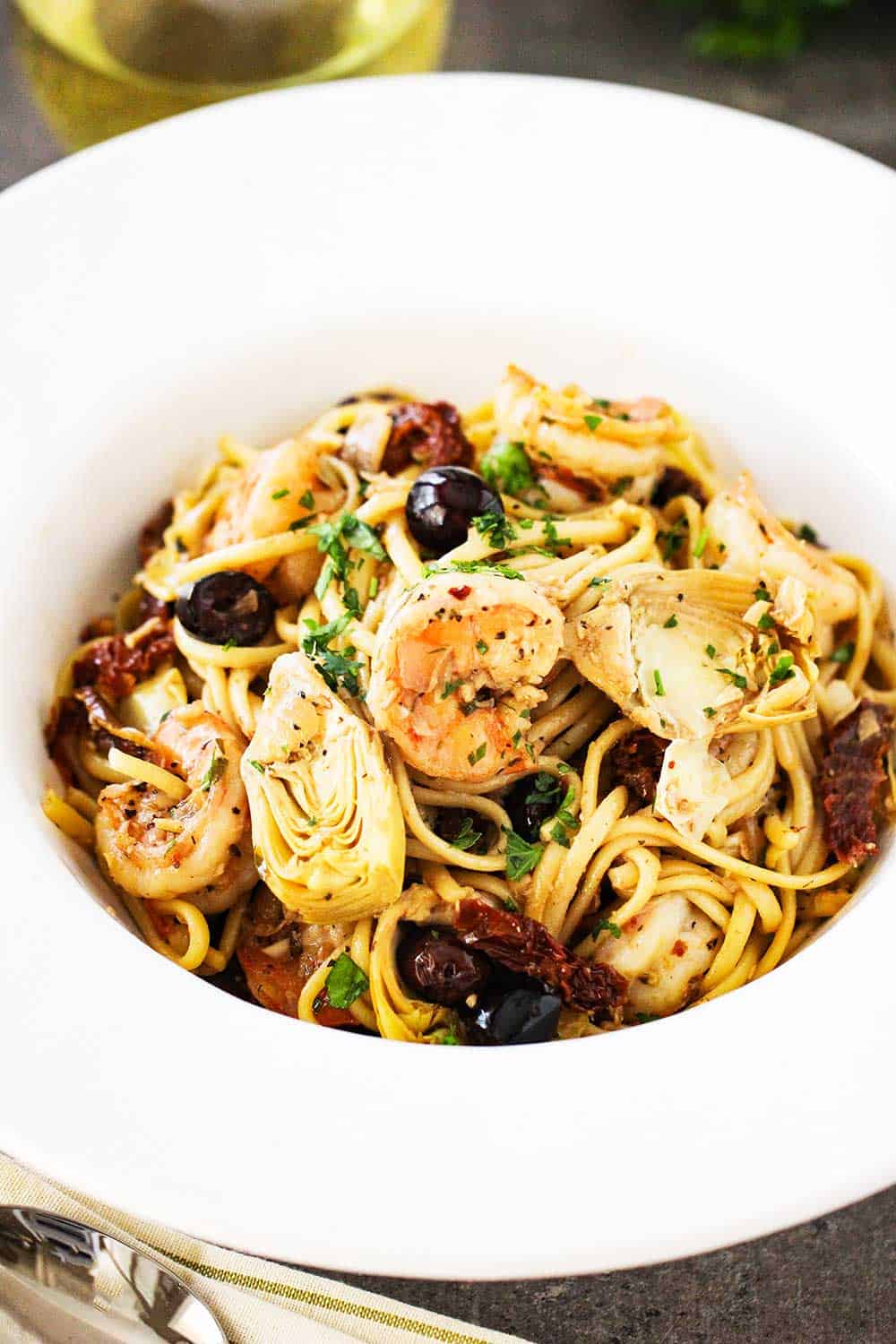 MEDITERRANEAN PASTA WITH SHRIMP FAQs
Can a different protein be used in the dish? Absolutely! This dish is extremely adaptable to what your favorite ingredients are and what you have on hand. Grilled chicken breasts would be fantastic. Just cook them, slice them, and then stir them in at the end. Italian sausage is great, as is chicken or turkey sausage. You could even leave the meat out completely, use vegetable stock, and have a delicious vegetarian dish!
Can I use dried sun-dried tomatoes (not in oil or water)? Of course! You'll just need to re-hydrate them by soaking them in warm water for about 10 minutes. You can also use bottled sun-dried tomatoes in water.
What wine pairs best with the dish? We'd go with a nice, crisp Sauvignon Blanc, Chardonnay, or Pinot Grigio. Get a couple of bottles, and be sure to use it in the dish. That makes a big difference!
How much can be made in advance? Since this dish is so quick to prepare, we recommend serving this fresh from the stove. You could cook the shrimp up a few hours early and also cook the pasta, then add a few dashes of olive oil to coat the pasta and then cover until ready to add to the sauce. Although, the sauce can be made in advance (up to 1 day), and you'll still have a wonderful dish. But, we think fresh is best!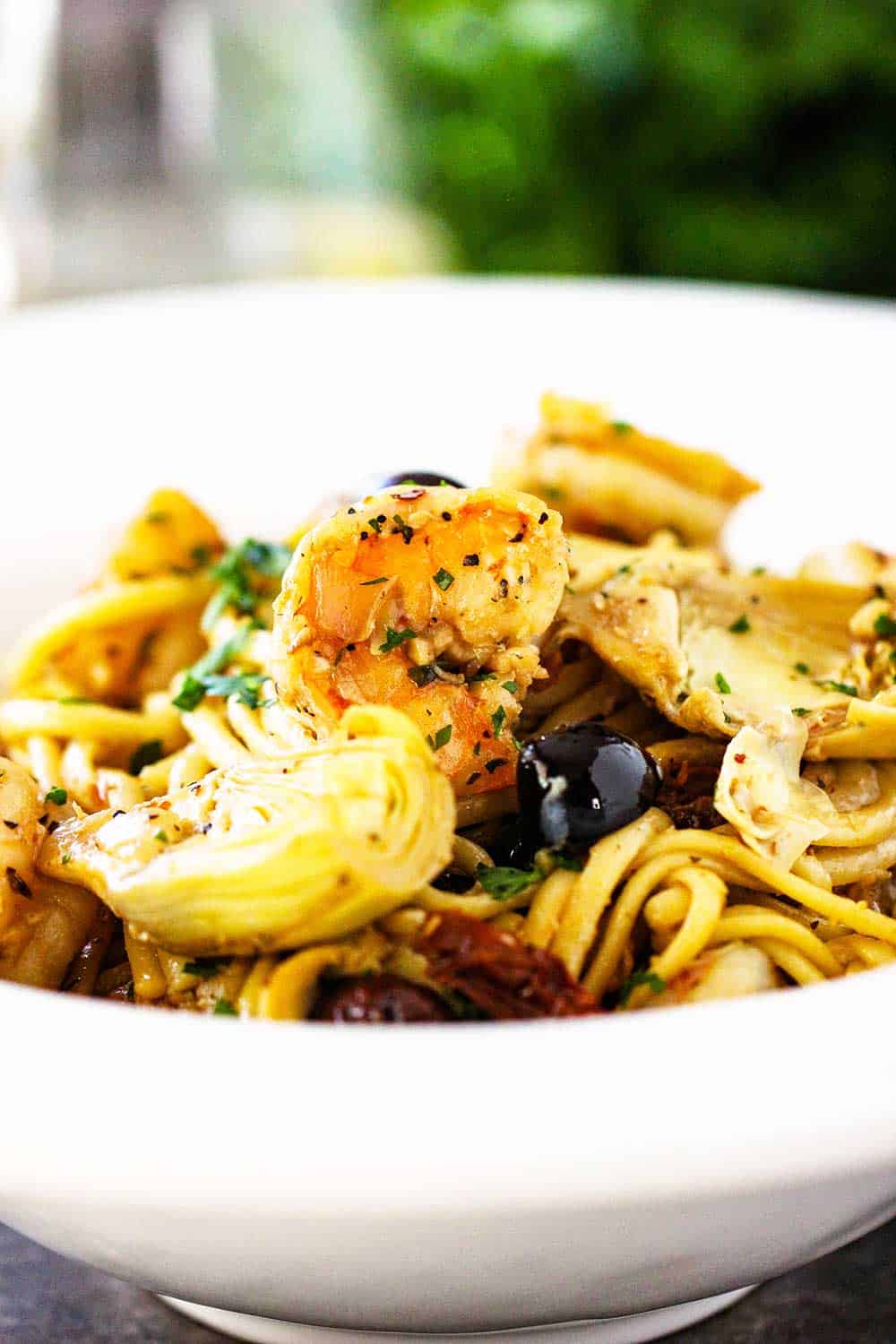 Ready to make the best pasta dish this side of the Amalfi Coast? Go for it!
And when you do, be sure to take a picture, post it on Instagram, and tag @howtofeedaloon and hashtag #howtofeedaloon!
Mediterranean Pasta with Shrimp
This pasta dish is so fresh and deep in flavor. Perfect for weeknights but also elegant enough for a lovely weekend dinner party. Serve with chilled white wine and crusty Italian bread.
Print
Pin
Rate
Servings: 4 people
Calories: 568kcal
Equipment
Large (12-inch) saucepan/skillet

Pot for boiling pasta
Ingredients
1 lb shrimp large, peeled and deveined
salt and pepper
4 tbsp olive oil
1 14 oz. can artichoke hearts drained, halved or quartered
1 medium yellow onion chopped
6 cloves garlic minced
2 tsp lemon zest
⅛ tsp red pepper flakes or more, to taste
1 cup white wine
1 cup chicken stock
2 tbsp lemon juice
1 cup sun-dried tomatoes in oil, drained and roughly chopped
1 cup kalamata olives pitted, left whole or halved
2 tbsp flat-leaf parsley fresh, chopped, divided
12 oz linguine fresh or dried
Instructions
Bring a large pot of salted water to a boil.

Meanwhile, sprinkle the shrimp with salt and pepper all over.

In a large saute pan, heat the olive oil over medium-high heat. Add the shrimp and cook, without moving them around, for 2 to 3 minutes, until nicely pink and starting to brown on the edges. Use a spatula to flip and cook the other sides for another 2 to 3 minutes, until fully cooked, slightly curled, and bright pink. Set aside on a plate or platter.

In the same pan, sauté the artichokes, onion, garlic, lemon zest, and red pepper flakes until the artichokes slices and onion start to brown, about 10 to 12 minutes.

Add the wine and stir gently to dislodge any bits from the bottom of the pan. Bring to a boil and then lower the heat slightly and simmer until reduced by about half, about 8 to 10 minutes.

Add the stock, lemon juice, sun-dried tomatoes, olives, 1 tablespoon of parsley, and ¾ tsp salt, and a healthy pinch of black pepper.

Simmer until slightly thickened, about 10 minutes.

While the sauce is simmering, cook the pasta. Drain and return to pot.

Return the shrimp to the sauce just to warm through, about 2 minutes.

Add the cooked pasta to the sauce and stir around with tongs or a large wooden spoon until all the pasta is well-coated with the sauce.

Turn the pasta into a serving dish, or individual bowls. Garnish with the remaining parsley and serve at once.
Notes
You can easily substitute chicken for the shrimp. Season it with salt and pepper and cook it in a skillet with olive oil over medium heat until cooked through. Grilling the chicken is great, too. Slice, or roughly chop, and add to the sauce during the final stage of the recipe. To make this dish vegetarian, omit the protein (fish or meat), and use vegetable stock for the chicken stock. If you prefer to not use wine during the cooking process, double the stock, and 1 tbsp of a good vinegar, such as balsamic or apple cider. You can use your favorite type of pasta, but we find the long pasta works great with the sauce. Such as bucatini, spaghetti, or fettucini. This dish is best served right off the stove, but you can cook the shrimp a couple hours in advance. The pasta can be cooked, drained, and then tossed with some olive oil and then covered, up to several hours before serving. It's still amazing the next day, gently heated in the microwave or on the stove. It will keep in the fridge for up 1 week. The sauce freezes beautifully for up to 2 months.
Nutrition
Calories: 568kcal | Carbohydrates: 87g | Protein: 40g | Fat: 9g | Saturated Fat: 2g | Cholesterol: 288mg | Sodium: 1048mg | Potassium: 1397mg | Fiber: 7g | Sugar: 16g | Vitamin A: 419IU | Vitamin C: 26mg | Calcium: 235mg | Iron: 7mg
POST UPDATE: The recipe was originally published in June 2014 but was updated with improved tweaks to the recipe, tips, new photography, and a fabulous new video in March, 2020!