The Loon and I just love pasta.   One of our favorites is linguine with shrimp and artichokes.  This is one of those dishes that you can easily make on a busy week night, or you can really get fancy, and make on a special occasion by making homemade linguine.   Either way, this amazing pasta dish is beautiful to see and delectable to eat!  Enjoy!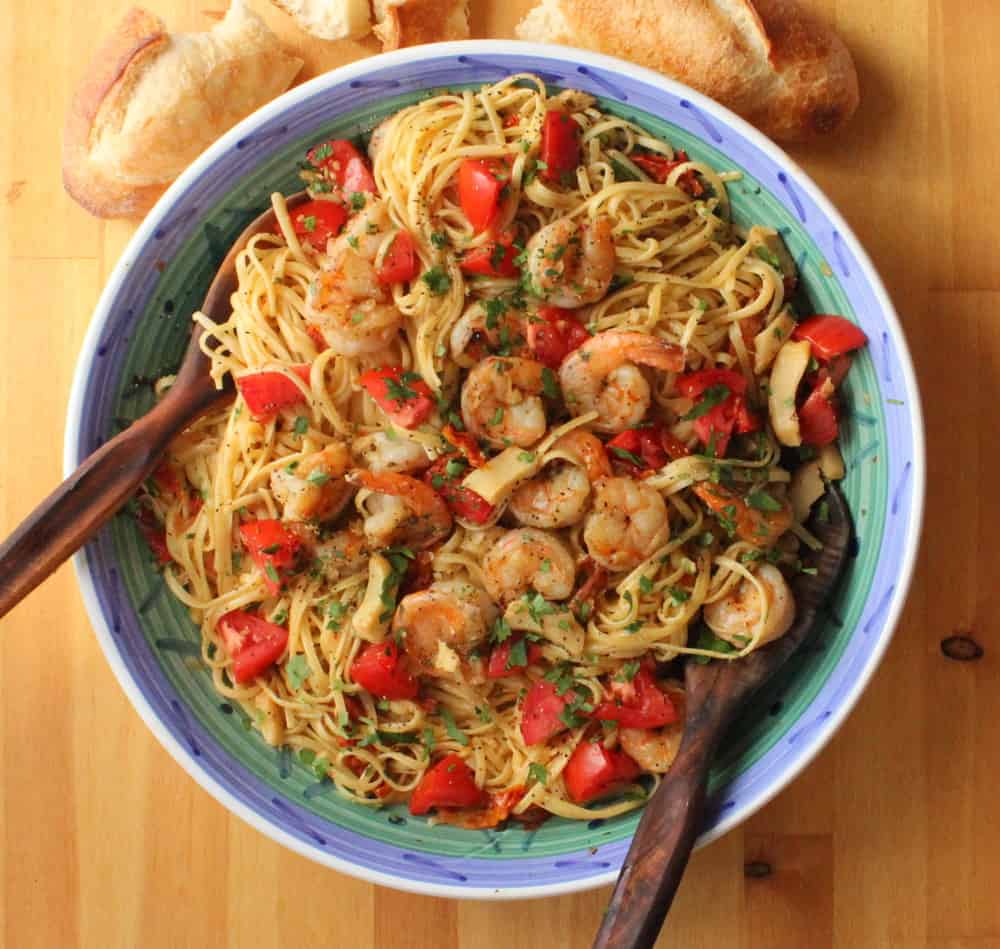 Linguine with Shrimp and Artichokes
This linguine with shrimp and artichokes is just wonderful. The hint of lemon and the little kick from the pepper flakes is fantastic. Easy and amazing.
Print
Pin
Rate
Prep Time: 15 minutes
Cook Time: 20 minutes
Total Time: 35 minutes
Servings: 6 people
Calories: 224kcal
Ingredients
1 14 oz. can artichoke bottoms rinsed, chopped into 1/4 inch slices
1 lb large shrimp peeled and deveined
1/2 tsp salt
1/2 tsp freshly ground pepper
4 tbsp quality olive oil
1 medium yellow onion chopped
6 cloves garlic minced
2 tsp lemon zest
1/8 tsp red pepper flakes or more, to taste
1 cup white wine
1 cup chicken stock
2 tbsp freshly squeezed lemon juice
1/2 cup sun dried tomatoes, in oil drained and roughly chopped
2 tbsp fresh flat-leaf parsley chopped
1 fresh diced tomato
1 lb linguine fresh or dried
Instructions
Cut the artichoke bottoms into 1/2 slices.

Pat the shrimp dry and toss with 1/4 teaspoon of salt and pepper, each.

In a large saute pan, heat the olive oil over medium-high heat until sizzling.

Add half of the shrimp and quickly brown on both side, about 90 seconds per side.

Remove the shrimp to a bowl with a slotted spoon.

Brown the remaining shrimp and remove to the bowl.

Decrease the heat to medium-low, and in the same pan, saute the artichoke slices, onion, garlic, lemon zest, and red pepper flakes until the artichokes slices and onion start to brown, about 12 minutes.

Add the wine and stir gently to dislodge any bits from the bottom of the pan.

Cook until liquid is reduce by half, about 8 minutes (just keep an eye on it).

Add the stock, lemon juice, sun dried tomatoes, 1 tablespoon of parsley, and the remaining salt and pepper (1/4 teaspoon of each).

Bring to a boil, then simmer until slightly thickened, about 10 minutes.

While the sauce is simmering, cook the pasta. Drain and return to pot.

Return the shrimp to the sauce just to warm through, about 3 minutes.

Pour the sauce over the pasta and simmer over low heat, stirring until the pasta is well coated, about 2 minutes.

Turn the pasta onto your favorite serving dish, and sprinkle with the remaining parsley and diced fresh tomato.
Nutrition
Calories: 224kcal