Looking for a deeply comforting chicken and rice dish, with a Louisiana flare?
If you love the cuisine that hails from the great state of Louisiana, then you will love this dish. Serve it with Perfect Steamed Rice for a dish that is just so deeply satisfying and gets even better when served the following day.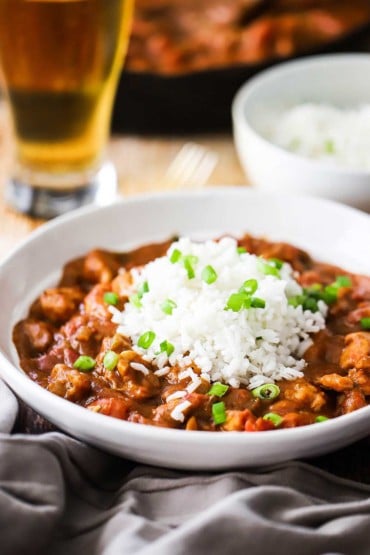 How To Make Creole Chicken and Rice
There are several components that make this dish so extremely flavorful. It starts with fresh ingredients, and then an amazing roux, nicely seasoned chicken, and perfectly prepared rice.
We'll take you through all the steps, and get ready for your house to smell amazing!
NOTE: If you liked this video, please subscribe to our YouTube channel. Remember to click the little 'bell' icon so you'll never miss a new video or recipe! Thank you!
The Ingredients You Will Need
This dish is all about layers and layers of flavor. First, we need to season the chicken. Here's what you'll need:
For the Chicken
2 to 3 lbs of chicken – You could cut up a whole chicken, but we go with a mix of thighs and breasts, skinless and boneless
Salt and pepper – Kosher and freshly ground
Cayenne pepper – 2 tsp will give a mild spiciness, 3 tsp for more spice, 1 tsp for less
Chili powder – We love ancho or chipotle, but go with whatever is your favorite
Paprika – smoked adds an amazing depth of flavor
For the Stew
Vegetable oil and flour – To make the roux
Vegetables – Chopped onions, celery, and pepper (we prefer poblano, but you could go with green bell pepper as a substitute)
Garlic – Fresh and finely minced
Whole canned tomatoes – Squeezed and broken up by hand
Fresh tomatoes – Roma tomatoes are perfect
Chicken stock – Fresh or homemade
Fresh herbs – Thyme and bay leaves
Hot sauce – Crystals, Louisiana, and Tobasco are all great choices
For Serving
Rice – You gotta make perfectly steamed rice
Chopped Scallions – For added flavor and beautiful appearance
EXPERT TIP: Before adding in the vegetables, you'll be making a roux. As is common in Louisiane cooking, you want a darker roux. Not as dark as in gumbo, but more of an amber. The color of peanut butter. Then stand back and add the vegetables.
Read more about the beauty of a roux here.
Tips for Making Perfect Chicken Creole
Lightly Fry the Chicken – Coating the chicken in seasoned flour will not only flavor the meat, but it will provide a slightly crisp exterior that adds a wonderful match to the luxurious sauce. You'll add another 1/4 cup of flour to the oil in order to make the roux.
Fresh and Canned Tomatoes – As the stew simmers, the tomatoes will break down and not be chunky at all. The combination of fresh and canned tomatoes really works well in this recipe. We go with certified San Marzano canned tomatoes for maximum flavor. Be sure to discard basil, if it's in the can.
Skim the Oil – As the stew simmers, the oil will naturally rise and pool on the surface. Grab a nice large spoon, and do your best to scoop the oil off the top.
Make the Rice – While the stew is simmering is when to make the rice. Making Perfect Steamed Rice is easy and blends beautifully with the chicken creole.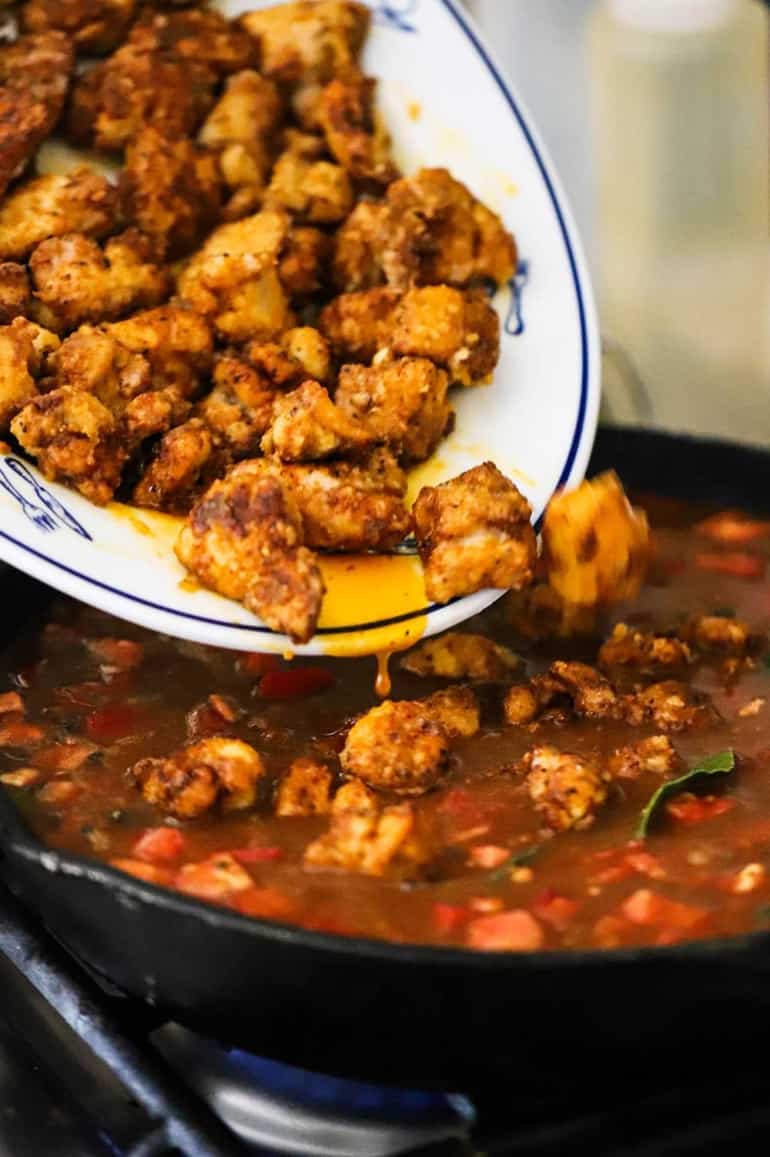 How To Serve
This dish does take some effort in prepping and then preparing. It's really a great Sunday afternoon project in the kitchen.
And it makes enough that you can enjoy leftovers throughout the week.
It is also a perfect dish to serve at a tailgating party or at-home game day feast. We often place the stew in our slow-cooker and have rice handy so folks can serve themselves.
Be sure to have plenty of hot sauce and freshly chopped scallions available.
Other Classic Louisiana Dishes
We just love food from Louisiana. It is complex in many cases, but then also simple and straightforward, too. Whether you're looking for Cajun, Creole, and New Orleans-influenced, you'll find amazing recipes. Here are some of our all-time favorites:
Jambalaya
Shrimp and Okra Gumbo
Chicken and Sausage Gumbo
Crawfish Etoufeé
Muffuletta Sandwich
Fried Catfish Po-Boy
Red Beans and Rice
Classic Dirty Rice
New Orleans Beignets
In the meantime, you need to try this incredible stew!
This dish has been one of our all-time favorite chicken dishes.
The flavor profile is classic Louisiana and the chicken is slightly crunchy but so tender and flavorful.
And, remember, leftovers are even better! Of course, that's only IF there are any leftovers to be had!
Ready to make the best chicken and rice dish this side of the Mississippi River? Go for it!
And when you do, be sure to take a photo of it, post it on Instagram, and tag @HowToFeedaLoon and hashtag #HowToFeedaLoon!
Creole Chicken and Rice
Creole Chicken and Rice dish is one of our favorites. You and your family will love the layers and layers of flavor. And it's wonderful with perfect steamed rice. You're gonna love this one!
Print
Pin
Rate
Servings: 6 people
Calories: 547kcal
Equipment
1 Large pot 5 QT is ideal
Ingredients
FOR THE SPICE RUB
2 tsp Kosher salt
1 tsp black pepper freshly ground
2 tsp cayenne pepper use 1 teaspoon for less heat
2 tsp chili powder
1 tsp smoked paprika
FOR THE STEW
3 lbs chicken thighs and breasts, skinless and boneless, cut into 1-inch cubes
¾ cup vegetable oil
1½ cups all-purpose flour
1 small onion diced
3 stalks celery diced
1 poblano chile seeded and diced
4 cloves garlic minced
4 Roma tomatoes chopped
1 28 oz can whole tomatoes crushed, or whole, crushed with your hands, juice included
4 cups chicken stock
1 tbsp thyme leaves dried
4 bay leaves fresh, or 2 dried
1 tsp hot sauce ie, Tobasco, Crystals, or our favorite: Louisiana
FOR THE STEAMED RICE
1 cup long-grain white rice
1½ cups water
2 fresh bay leaves
Pinch Kosher salt
Scallions diced
Instructions
Prepare the Chicken
In a small bowl, mix together the ingredients for the rub,

Heat the oil in a large pot, or Dutch oven, over medium-high heat until it begins to smoke a little.

Place the chicken pieces in a large bowl, and add the rub mixture. Use your hands to evenly coat. Add the flour to the chicken, and again, use your hands to mix everything together. You will have excess flour in the bowl (this is okay).

Working in two to three batches, shake off excess flour and transfer the chicken to the hot oil and fry until golden brown on all sides, about 4 to 5 minutes total. Use a slotted spoon to transfer chicken to a platter. Repeat with remaining chicken. Set aside.

From the bowl that held the chick, scoop ¼ cup of extra flour and carefully add to the oil, and cook, stirring constantly, to create a medium-brown, peanut butter-colored roux, about 5 minutes.

Add the onion, celery, poblano, and garlic, and cook for another 5 minutes.

Add the chicken, tomatoes (fresh and canned with juice), stock, thyme, bay leaves, hot sauce, and 1½ tsp salt.

Simmer over low heat for 40 minutes, stirring occasionally, until thickened to a light gravy and the chicken is very tender.

Serve over Perfectly Steamed Rice with chopped scallions as garnish (recipe below)
MAKE THE STEAMED RICE
Combine the rice, water, bay leaves, and salt in a medium saucepan and bring to a boil over medium-high heat.

Reduce the heat to very low, cover with a tight-fitting lid, and simmer for 15 - 20 minutes.

Remove from heat, and keep covered for an additional 5 minutes.

Remove the lid, cool for a few minutes, and then fluff the rice with a fork.
Notes
See the video near the top of the blog post for visual guidance. If you liked the video, please subscribe to our YouTube channel!
This recipe easily feeds 6 to 8 people. It makes quite a bit. Go with a large pot (5-QT, or larger). A 12-inch cast-iron skillet won't hold this complete recipe. It can also be served in a slow-cooker set on LOW or WARM.
For the chicken, we use 4 boneless skinless chicken thighs and 2 boneless skinless chicken breasts, cut into bite-size pieces.
The dish has a little kick to it, but we would still consider it mildly spicy. For very, very little heat, reduce the cayenne to 1 tsp and omit the hot sauce. For more spice, increase the cayenne to 3 tsp and add as much hot sauce as you like!
Leftovers are wonderful and will keep covered in the fridge for up to 5 or 6 days. The dish freezes beautifully for up to 2 months.
Nutrition
Calories: 547kcal | Carbohydrates: 61g | Protein: 31g | Fat: 14g | Saturated Fat: 4g | Polyunsaturated Fat: 3g | Monounsaturated Fat: 8g | Trans Fat: 0.1g | Cholesterol: 86mg | Sodium: 1134mg | Potassium: 700mg | Fiber: 3g | Sugar: 5g | Vitamin A: 1370IU | Vitamin C: 29mg | Calcium: 64mg | Iron: 4mg
POST UPDATE: This recipe was originally published in August 2015, but was updated with improved tweaks to the recipe with new tips and photography and a fabulous new video in August 2022!