If you're looking for an incredibly delicious and festive dish to serve to guests, friends, or just your family…this is the one for you.
Greek food is loaded with flavor and history and these babies are about as good as they come. You can easily double or triple the recipe and set up a fun gyro bar for parties and gatherings. Most of the components, including the Homemade Tzatziki Sauce, can be made up to a day in advance making preparation quick and easy!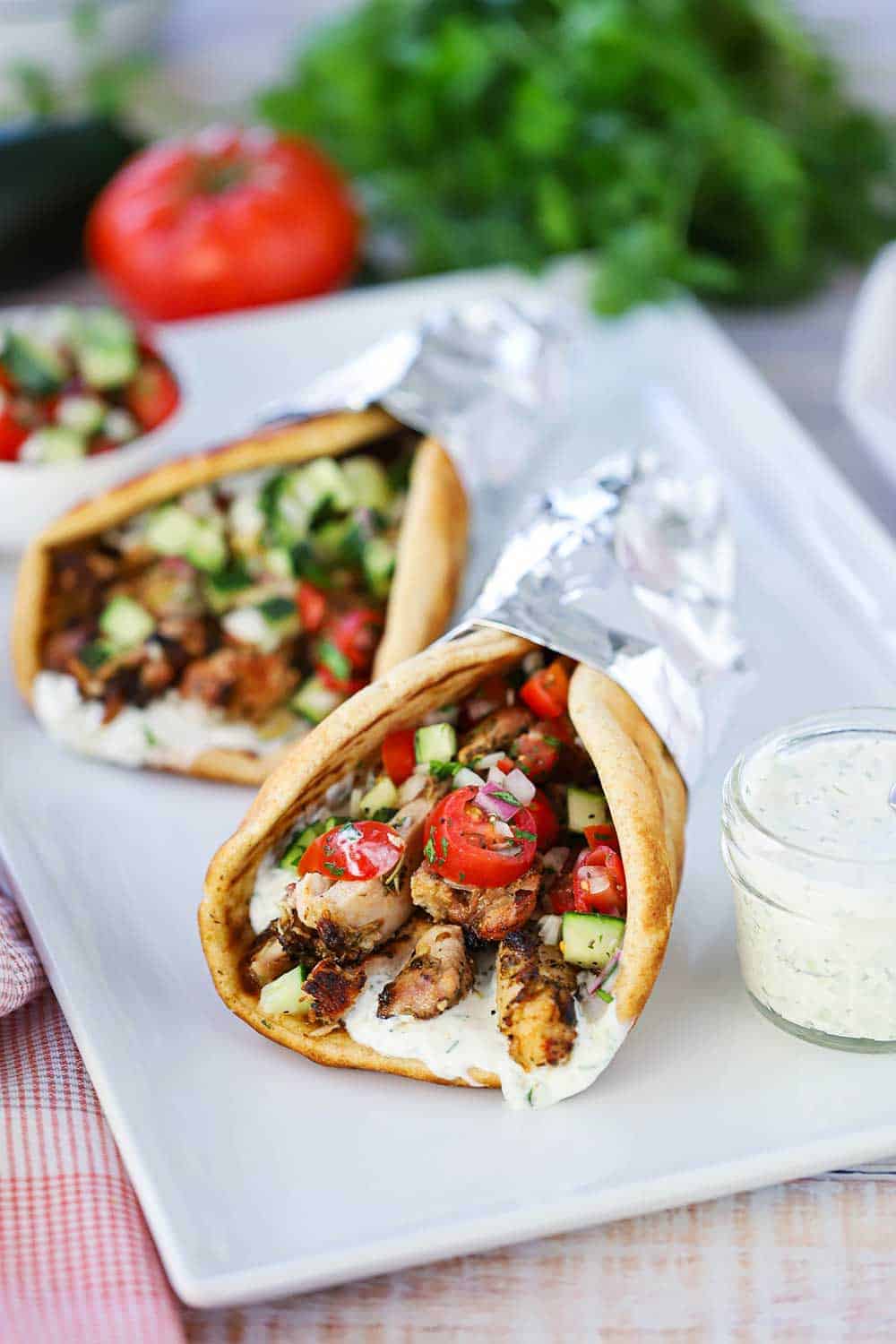 HOW TO MAKE CHICKEN GRYO WITH TZATZIKI SAUCE
Making a homemade gyro is really much easier than you might think.
No, we won't be using a huge spiral spit with chicken (or lamb) attached to like you often see in Greek restaurants around the world.
We'll be marinating amazing chicken, creating an incredible cucumber salad, and infusing amazing flavor to beautiful pita bread. And of course, making delicious tzatziki sauce from scratch.
CHOOSING THE RIGHT CHICKEN
For our chicken gyro, we love going boneless, skinless chicken thighs. The dark meat is flavorful and very tender. But, you can go with chicken breasts, too, you'll just need to increase the cooking time to reach 165°F internal temperature.
We create a marinade that is loaded Greek goodness including Greek yogurt, garlic, red wine vinegar, lemon juice, and herbs.
EXPERT TIP: After tossing the chicken with the marinade and fully coating the pieces, we like to transfer it all into a large freezer bag. Squeeze the air out and then seal the bag. Use your hands to massage the marinade all over into the meat. Place in the fridge from 1 hour to 8 hours. This gives you more room in your fridge, and it also ensures every bit of the chicken pieces is covered with the marinade.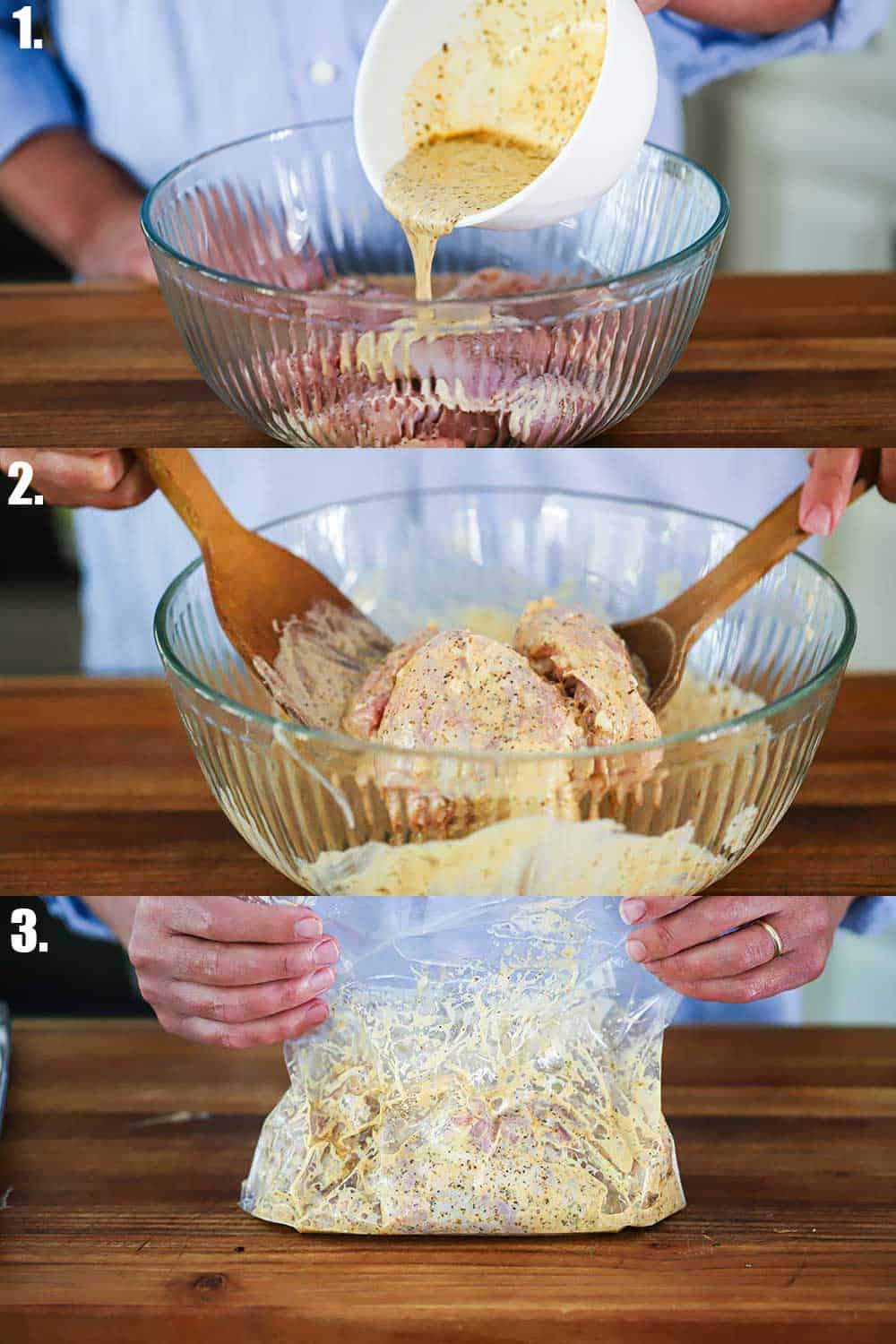 Cucumbers are very common in Greek cuisine and are and an essential ingredient for a classic gyro.
Toss the cucumbers with some chopped tomatoes, red onion, parsley, red wine vinegar, salt, and pepper. Chill in the fridge while you're preparing the remainder of the gyros.
This salad is so good, you'll be tempted to eat it all up before you prepare the chicken. But wait. You'll be glad you did.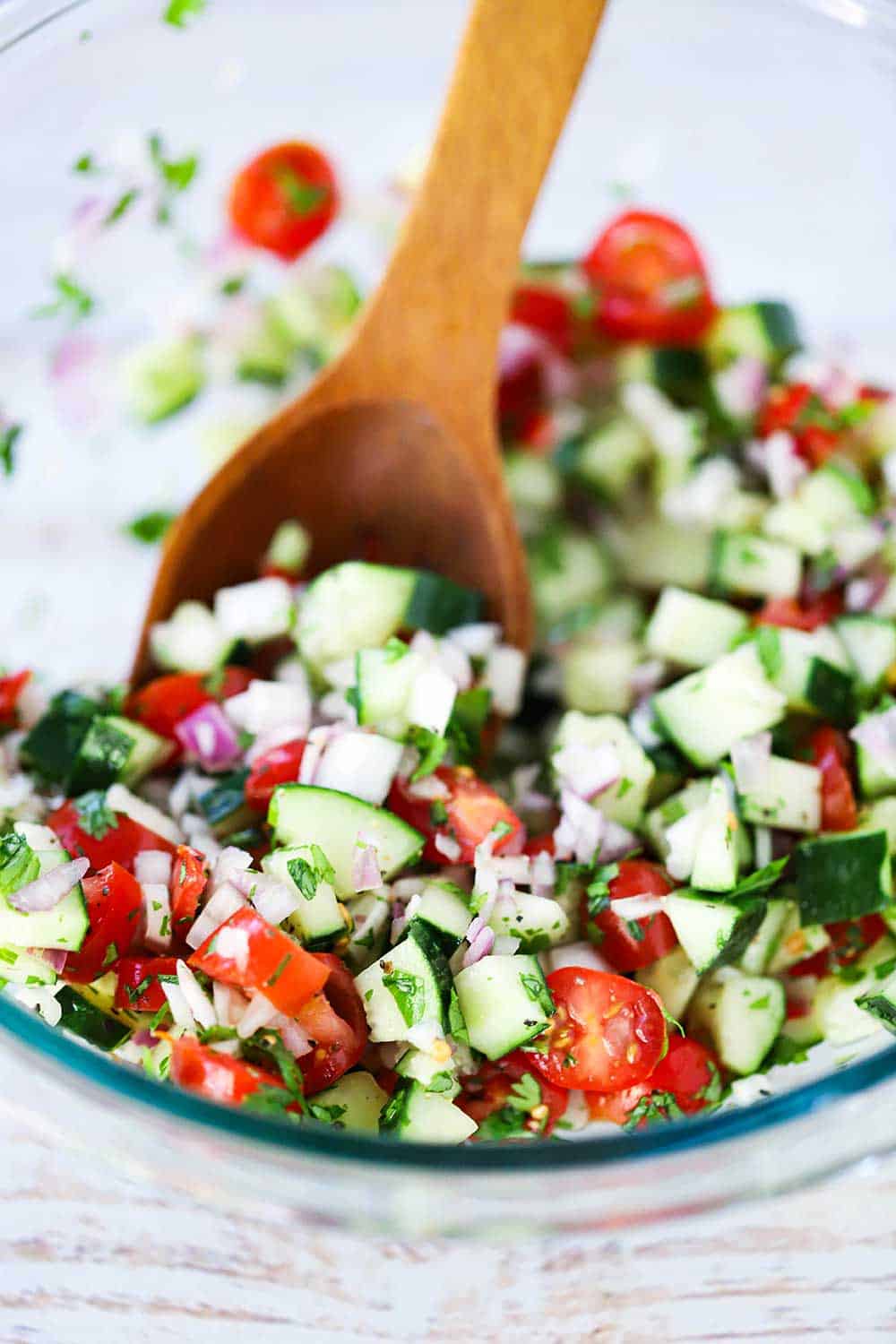 HOMEMADE TZATZIKI SAUCE IS EASY TO MAKE
If there is one component of chicken gyro that you don't want to skip, it's the homemade tzatziki sauce.
All you have to do is shred some cucumber with a box grater, toss in the remaining ingredients, chill, and you got the best tasting tzatziki sauce you've ever tried.
EXPERT TIP: It's important to remove the excess water from the cucumbers for the tzatziki sauce, otherwise the result will be too thin of a sauce. We squeeze the shredded (or finely chopped) cucumber wrapped in cheesecloth over a bowl or sink. If you don't have cheesecloth, you can also use a kitchen towel or coffee filter, or just your hands to do the job.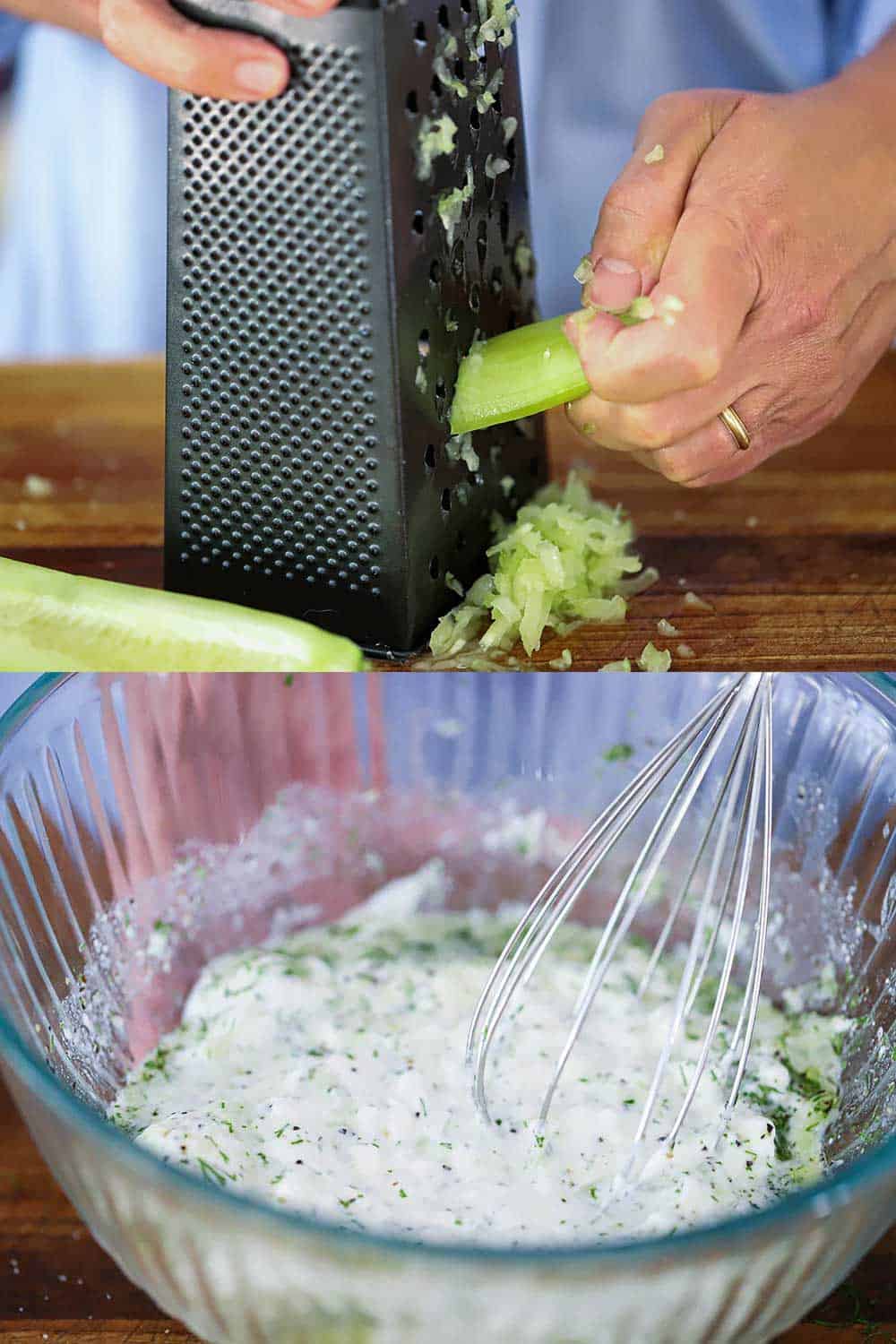 GRILLING THE CHICKEN IS IDEAL
Now, it's time to grill the marinated chicken!
We fire our grill up to medium-hot and grill over direct heat until completely cooked, about 6 to 10 minutes per side.
EXPERT TIP: You can also cook the chicken in a skillet or bake in the oven. If using a skillet, add a little olive oil to the hot skillet and then cook until nicely browned and juices run clear. If baking, add to a rack on a baking sheet and cook at 400°F for 35 to 40 minutes, or until an instant-read thermometer reaches 165°F. But, if you can…grill the chicken! It gives a beautiful smokey, charred chicken that is fantastic.
INFUSED OIL ADDS DEPTH OF FLAVOR TO CHICKEN GYRO
This next step isn't 100% necessary, but we feel it puts these homemade chicken gyros over-the-top in flavor.
Simply heat ¼ cup of olive oil in a small skillet over medium heat, toss in a couple of minced cloves of garlic, along with some dried oregano, rosemary, and a pinch of salt and pepper. Simmer for 5 minutes.
EXPERT TIP: For maximum flavor, brush the infused oil over one side of the pitas and then place them in the oven on a baking sheet in a warm oven until heated through. After you have cut the grilled chicken into strips, brush some of the infused oil all over the chicken. Again, the chicken gyros will be delicious if you skip this step, but if you don't they'll be even better!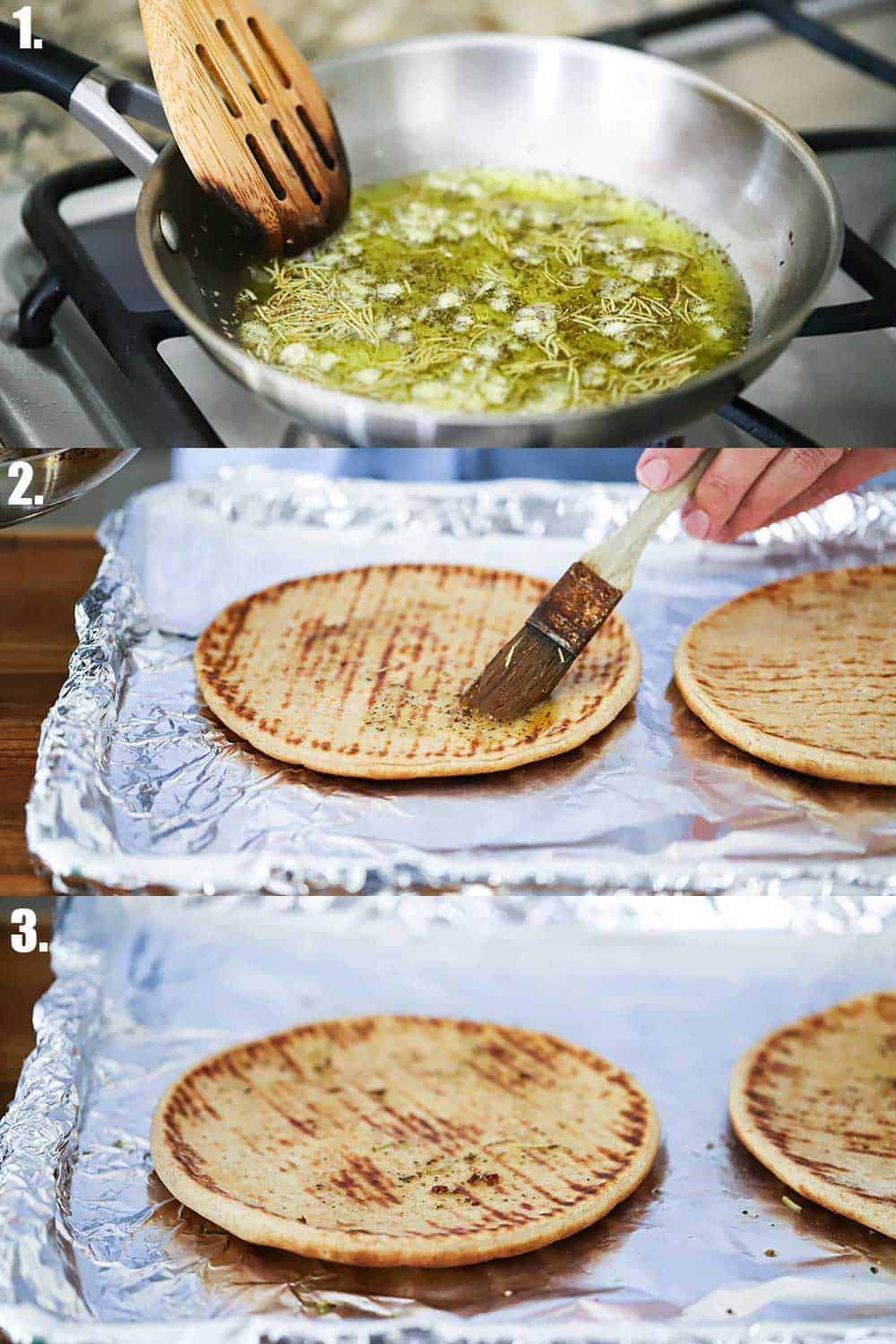 Bring on the added flavor with garlic and herb-infused oil.
This chicken is so flavorful it is insane.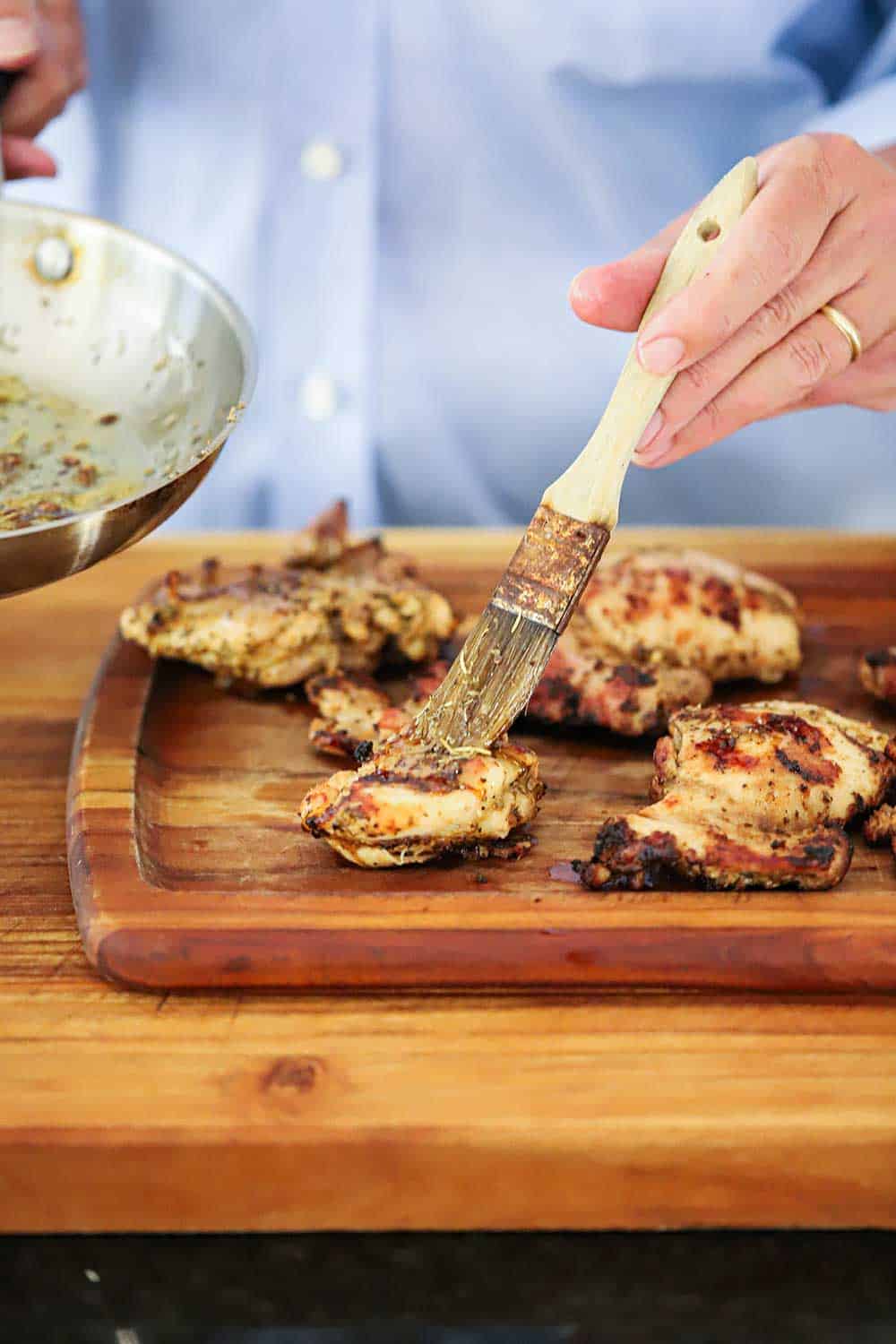 PERFECT FOR ENTERTAINING
This is the perfect recipe for serving at parties or family gatherings.
Place all the various components out and let everyone make their own chicken gyro!
EXPERT TIP: Have squares of aluminum foil on hand so folks can use them to hold their gyros together. And be sure to have plenty of napkins!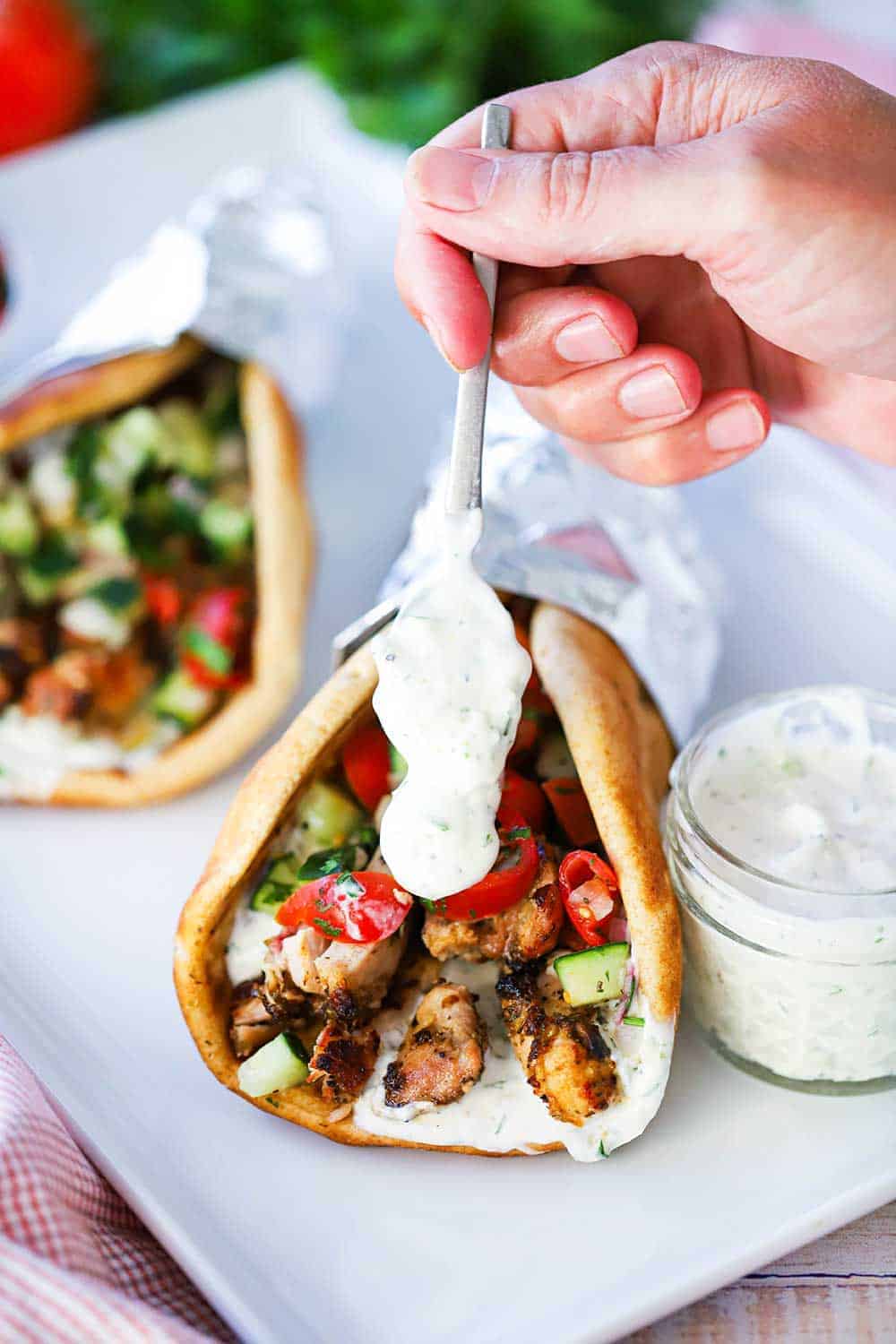 One of our most cherished culinary memories from living in New York City was getting amazing chicken (or lamb) gyros from a hole-in-the-wall Greek restaurant mid-town.
It took several years of experimenting to finally get a recipe that comes very, very close to those incredible gyros in the Big Apple.
These are so good, you'll be so excited that you can make amazing Greek gyros in your own home.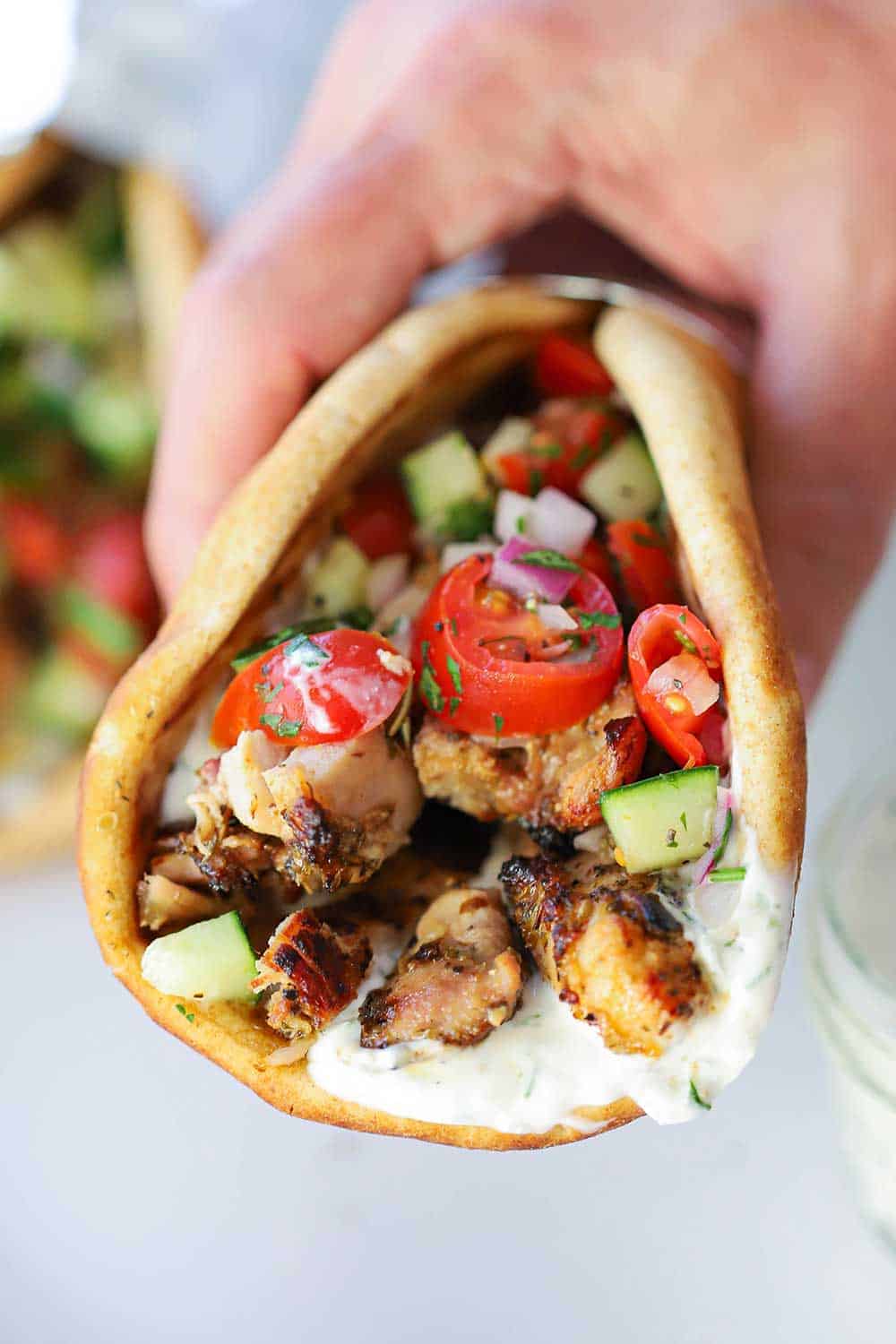 Ready to make the best chicken Gyros this side of the Greek Islands? Go for it!
And when you do, be sure to take a photo of it, post it on Instagram, and tag @howtofeedaloon and hashtag #howtofeedaloon.
Chicken Gyro with Tzatziki Sauce
This Chicken Gyro with Tzatziki Sauce packs so much flavor into your lunch, you just won't believe it. You can make the cucumber topping a day ahead and letting the chicken marinate overnight produces amazing flavor. Be sure to make the homemade Tzatziki Sauce, it's easy, and the best!
Print
Pin
Rate
Servings: 6
Calories: 359kcal
Equipment
Gas or electric grill (can also use stovetop or oven)

Aluminum foil squares, for serving
Ingredients
FOR THE MARINATED CHICKEN
1¼ lbs chicken thighs boneless, skinless
½ tsp Kosher salt plus more for seasoning chicken
¼ tsp black pepper freshly ground
¼ cup Greek yogurt plain, preferably whole milk
3 cloves garlic minced
2 tbsp lemon juice 1 lemon
2 tsp red wine vinegar
2 tbsp extra virgin olive oil
1 tsp smoked paprika
1 tsp coriander ground
1 tbsp dried oregano
FOR THE CUCUMBER SALAD
1 cucumber peeled, seeded, and cut into ¼-inch pieces
¾ cup tomatoes chopped
1 small red onion chopped
¼ cup flat-leaf parsley chopped
1 tbsp red wine vinegar
¼ tsp Kosher salt
¼ tsp black pepper freshly ground
FOR THE INFUSED OIL
¼ cup extra-virgin olive oil
2 cloves garlic minced
1 tsp oregano dried
1 tsp rosemary dried
1 pinch Kosher salt
1 pinch black pepper freshly ground
Instructions
MARINATE THE CHICKEN
Lightly season the chicken pieces all over with salt and pepper.

In a small bowl, whisk together the yogurt, garlic, vinegar, lemon juice, oil, salt, pepper, and seasonings until fully combined.

Place the chicken in a large bowl and pour the marinade all over. Use wooden spoons to stir the chicken around until fully coated with the marinade. Either cover with plastic wrap, or transfer to a large freezer bag, seal, and place in the refrigerator for 1 to 8 hours.
MAKE THE CUCUMBER SALAD
Place the cucumber, tomatoes, onion, parsley, vinegar, salt, and pepper in a medium-sized bowl. Gently mix. Set aside.
MAKE THE INFUSED OIL
Heat the olive oil in a small skillet over medium heat. Once hot, add the minced garlic, herbs, salt, and pepper. Gently simmer for 3 to 5 minutes. Remove from heat and set aside.
COOK THE CHICKEN AND ASSEMBLE THE GYROS
Heat grill to medium-high heat. Add chicken to grill and cook until fully cooked (about 15 minutes). Discard left-over marinade.

Bring the chicken inside and let sit for a couple of minutes. Meanwhile, turn your broiler on LOW. Place the pitas on a baking sheet lined with aluminum foil and brush the tops with the infused oil. Place in the oven, on the middle rack, until the pitas are warmed through, a couple of minutes. Keep an eye on them, don't let them burn!

Meanwhile, cut the chicken into strips and brush the infused oil all over the chicken.

Remove the warmed pitas from the oven. Build the gyros by adding about 1 tbsp of the tzatziki sauce first, then a layer of chicken, topped with about a ¼ cup of cucumber topping, and then a little more tzatziki on top, if desired.

Fold up like the sides like a soft taco, wrap the ends with a square of aluminum foil, and serve immediately.
Notes
Boneless, skinless chicken thighs work well for this recipe, but you could also go with thin chicken breasts. Just make sure they are cooked through until juices run clear and internal temperature reaches 165°F. We love using whole milk Greek plain yogurt, but you could certainly use low-fat, or fat-free, but the marinade won't adhere to the chicken as well. The infused oil is optional, but it's really easy to make and makes a big difference in the final taste of the gyros. The tzatziki sauce, marinade, cucumber salad, and infused oil can all be made up to 12 hours before grilling the chicken. Don't let the chicken sit in the marinade for more than 8 to 10 hours. This recipe can easily be doubled or tripled for serving a crowd. The tzatziki sauce will keep in the fridge for up to 2 weeks, the cooked chicken and cucumber salad will keep for several days.
Nutrition
Calories: 359kcal | Carbohydrates: 6g | Protein: 17g | Fat: 18g | Saturated Fat: 6g | Cholesterol: 93mg | Sodium: 379mg | Potassium: 372mg | Fiber: 1g | Sugar: 2g | Vitamin A: 640IU | Vitamin C: 12mg | Calcium: 43mg | Iron: 1mg