There are some dips and sauces that just make or break certain dishes.
This is an iconic Greek sauce that is perfect on salads, as a dip, or our favorite: chicken gyros. The flavors are bold, but not overly intense. And it all comes together in a matter of minutes! And it keeps for up to two weeks in the fridge! Simply the best!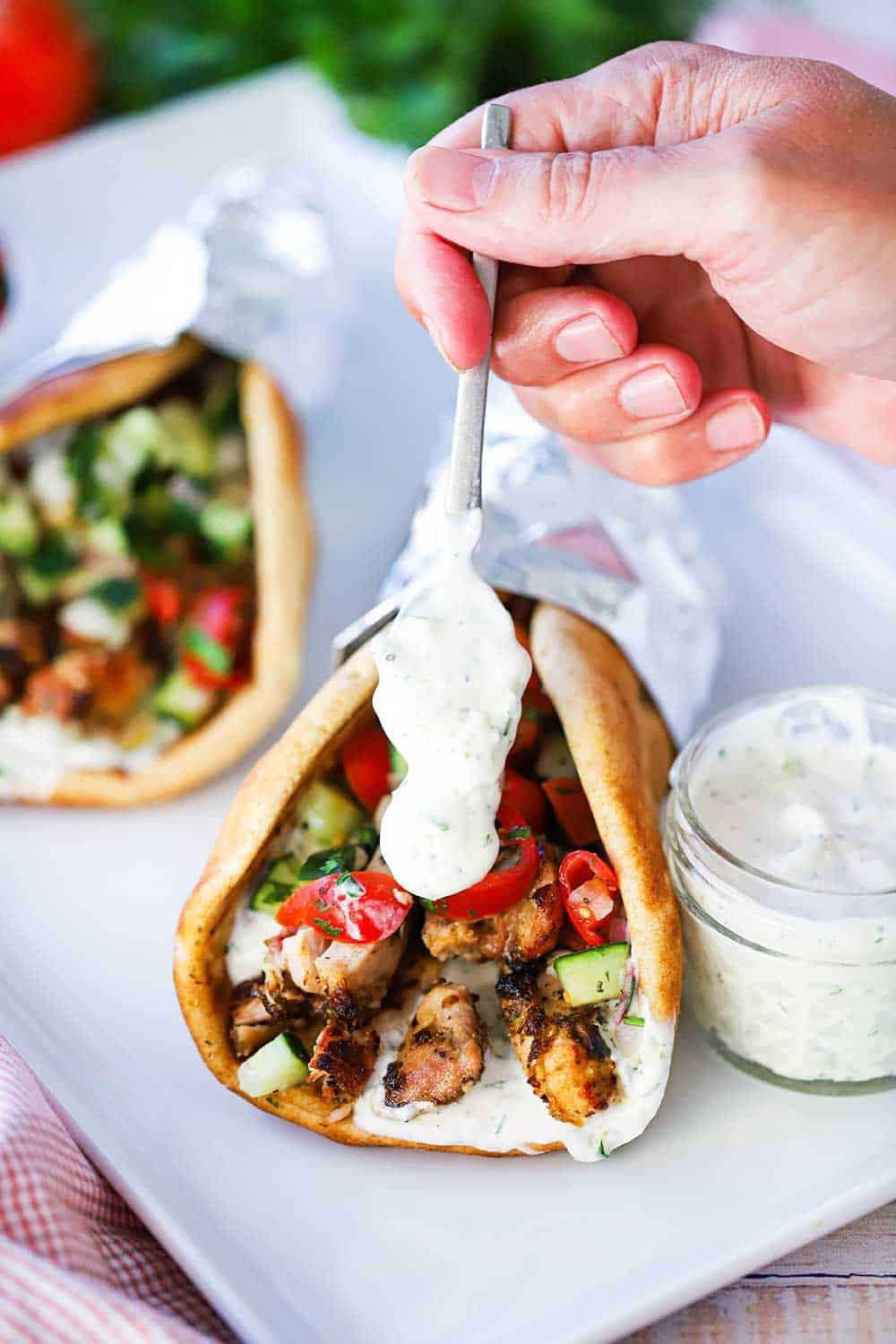 HOW TO MAKE HOMEMADE TZATZIKI SAUCE
Authentic tzatziki sauce is much easier to prepare than you might think. And you might be wondering, what's up with the interesting name? Read about the far-reaching history of this iconic sauce here.
The ingredients are simple and straightforward and come together to make a tangy, creamy sauce that is absolutely one of our all-time favorites.
THE INGREDIENTS YOU WILL NEED
The ingredients that comprise made-from-scratch tzatziki sauce are:
Shredded cucumber
Greek plain yogurt
White wine vinegar
Garlic, minced
Fresh dill, chopped
Lemon juice
Salt & pepper
Extra-virgin olive oil
EXPERT TIP: For the cucumber, we like to peel the skin, split it down the middle, lengthwise, and then use a small spoon to remove the seeds. At this point, we use the medium-sized holes on the side of a box grater to shred the cucumber. You'll need to remove the excess water. This can be done by wringing the shredded cucumber in cheesecloth, a kitchen towel, a coffee filter, or even just your hands.
Simply add the ingredients of the homemade tzatziki sauce in a medium-sized bowl and whisk until fully combined.
Refrigerate for at least an hour to let the flavors completely meld.
EXPERT TIP: Tzatziki sauce is healthier than many other types of dressing. We do love going with Greek whole milk plain yogurt for the creamiest of taste and texture, but for an even less caloric version, you could certainly opt for low-fat, or even non-fat yogurt.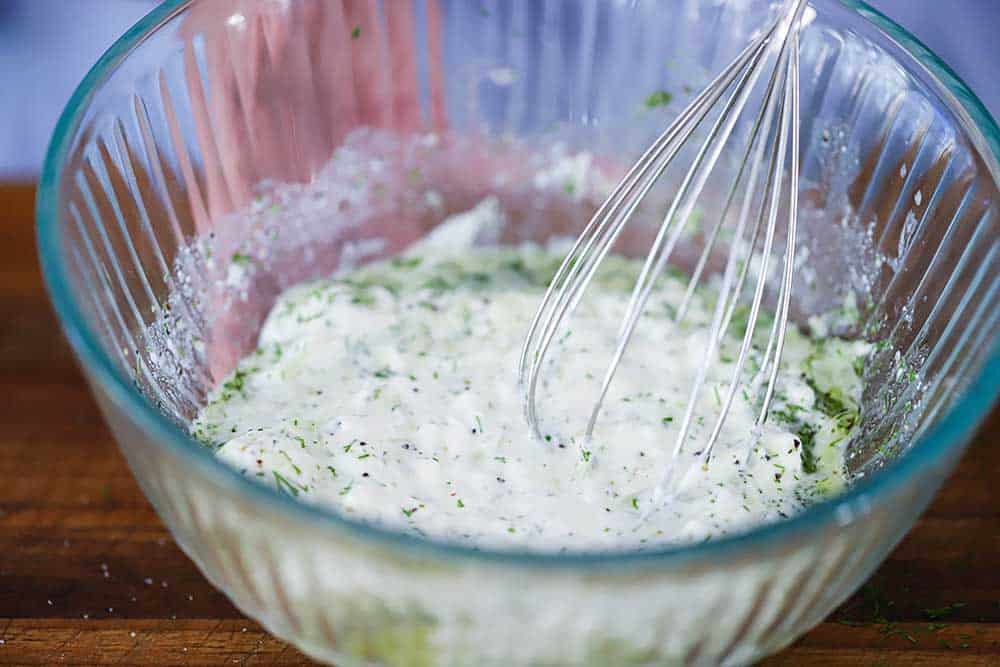 WHAT TO SERVE WITH TZATZIKI SAUCE
This sauce, or dressing, is wonderful with so many different types of dishes.
It's an amazingly vibrant and delicious dressing for a salad. It is similar to Homemade Ranch, but a bit lighter.
It's also spectacular when served with fresh vegetables and/or chips.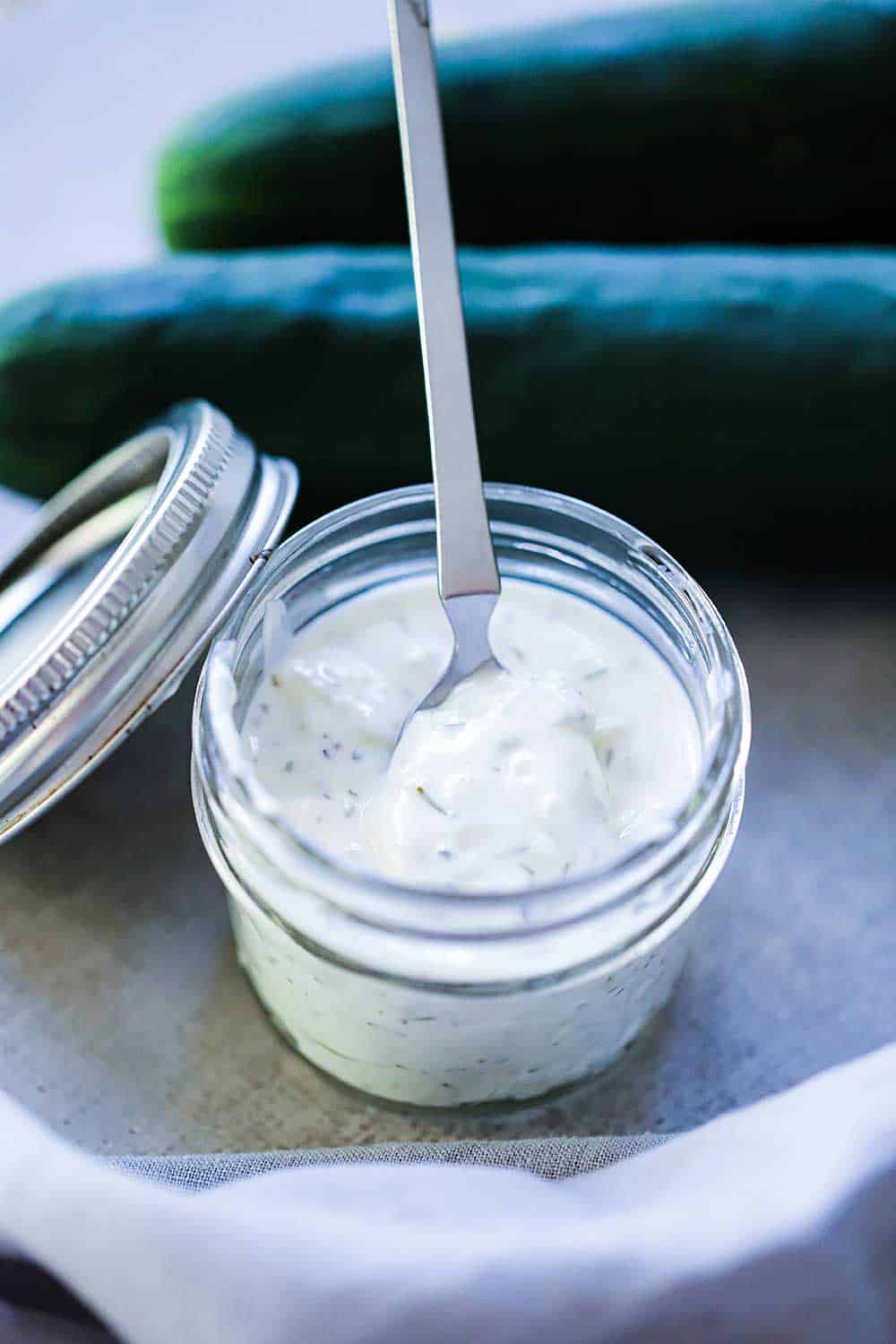 But hands down, our most favorite way to eat this dreamy sauce is on our Homemade Chicken Gyros.
The flavors work so beautifully with the gyro and truly put it over-the-top in deliciousness.
Gyros!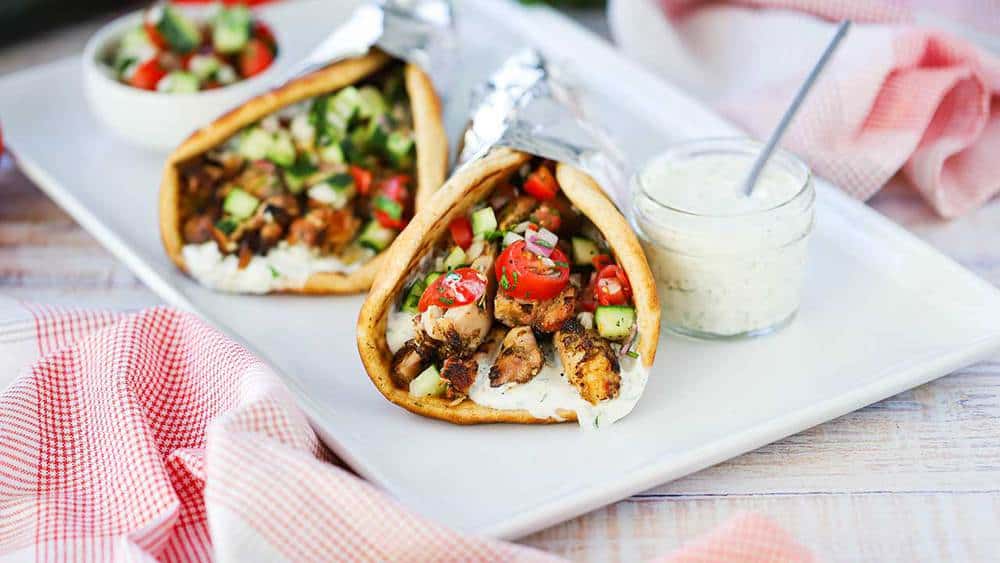 Ready to make the best dressing and dip this side of the Mediterranean? Go for it!
And when you do, be sure to take a picture, post it on Instagram, and tag @howtofeedaloon and hashtag #howtofeedaloon!
Homemade Tzatziki Sauce
This Homemade Tzatziki Sauce is so fresh and full of bold flavors. It's easy to put together and is perfect for gyros, salad, fish and as a dip.
Print
Pin
Rate
Servings: 8 people
Calories: 36kcal
Ingredients
1 cucumber peeled and seeded
1 cup Greek plain yogurt
1 tsp white wine vinegar
2 cloves garlic minced
1 tbsp dill fresh, chopped
2 tbsp lemon juice from 1 lemon
½ tsp Kosher salt
¼ tsp black pepper freshly ground
1 tbsp extra-virgin olive oil
Instructions
Shred the cucumber with a box cutter, or pulse a few times in a food processor. You need ¼ to ½ cup.

Wrap shredded cucumber in cheesecloth, or towel. Place over bowl or sink, and squeeze to remove as much water as possible. Place in a clean, medium-sized bowl.

To the shredded cucumber, add the yogurt, vinegar, garlic, dill, lemon juice, salt, pepper, and olive oil. Whisk together until fully combined.

Refrigerate for at least 1 hour.
Notes
If you don't have a box grater, you can place half of the peeled and seeded cucumber in a food processor and pulse a couple of times. Or, use a knife to finely dice the cucumber. Cheesecloth, kitchen towel, coffee filter, or your hands will all work to help remove the water from the cucumbers. We love using whole milk plain Greek yogurt, but low-fat, or even fat-free will work. But even with the whole milk, as you can see, the dressing is still very low in calories and fat. The sauce will keep in an air-tight container in the refrigerator for up to 2 weeks and can be frozen for up to 2 months.
Nutrition
Calories: 36kcal | Carbohydrates: 2g | Protein: 3g | Fat: 2g | Saturated Fat: 1g | Cholesterol: 1mg | Sodium: 155mg | Potassium: 86mg | Fiber: 1g | Sugar: 1g | Vitamin A: 27IU | Vitamin C: 3mg | Calcium: 33mg | Iron: 1mg
POST UPDATE: This recipe was originally published in June 2017, but was updated with improved tweaks to the recipe, with new tips and photography, and a fabulous new video in June 2020!