Cucumbers are known for keeping things cool. This salad is about as cool and refreshing as you'll find.
A popular creamy cucumber salad includes sour cream and is sweetened with a little sugar. That is delicious, but we can't get enough of the tang of the homemade tzatziki sauce that literally puts this salad over top. Make the sauce up to 2 days in advance, and then assemble just before serving! And get ready for raves!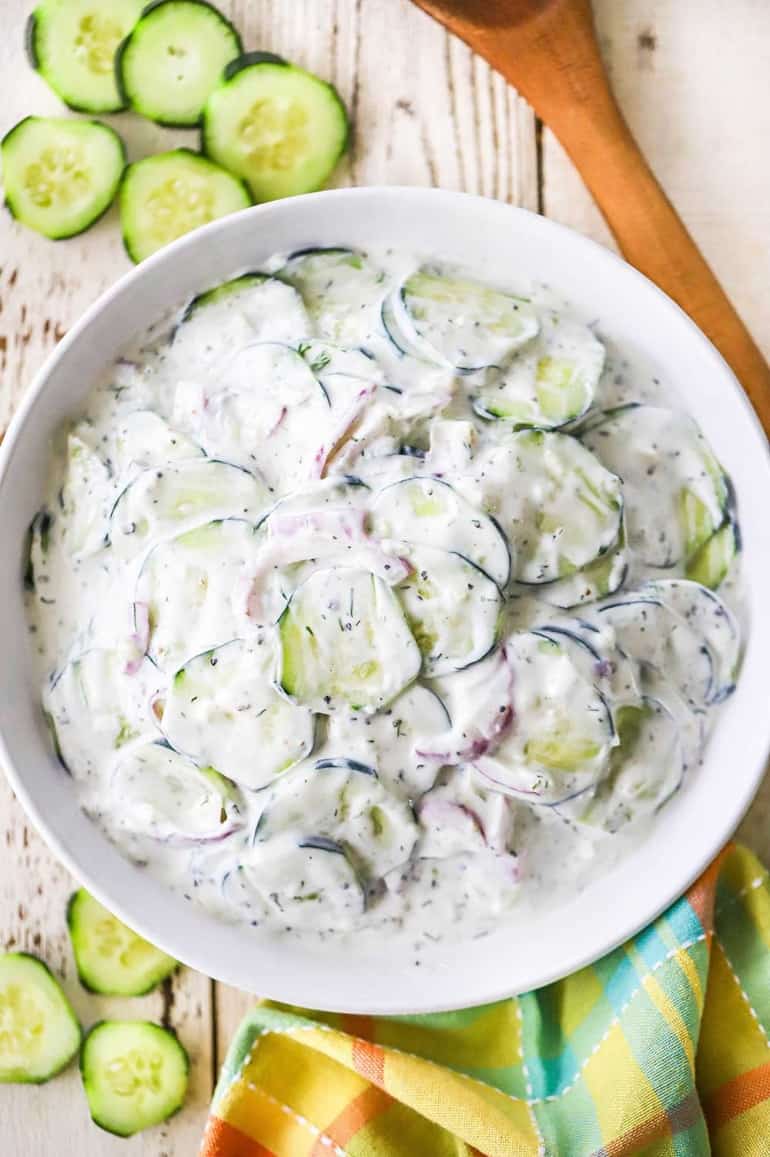 How To Make Tzatziki Cucumber Salad
Making the tzatziki sauce from scratch is so easy and can be done several days in advance.
Then, it's just a matter of slicing the cucumbers and onion and tossing it all together! Super easy!
NOTE: If you like this video, please subscribe to our YouTube Channel. Remember to click the little 'bell' icon so you'll never miss a new video. Thank you!
The Ingredients You Will Need
The beauty of this salad is its simplicity. It's just cucumbers and onions, seasoned with a little salt and pepper, and then bathed in the flavorful tzatziki sauce.
Here's What You'll Need to Have on Hand
Tzatziki Sauce – Homemade is simple and makes all the difference in the world.
Cucumbers – Peel the cukes in strips, for a decorative appearance. We use a mandolin to get even, thin slices, but a sharp knife and a steady hand work just fine, too.
Red onion – Thinly sliced. The onion flavor becomes very mild as it mingles with the tzatziki sauce.
Salt and pepper – This salad benefits from a little extra seasoning. Add a little salt, take a bite, and then add more, if desired.
EXPERT TIP: The tzatziki sauce can easily be prepared by stirring together the ingredients in a medium-sized bowl. If not using immediately, cover the bowl with plastic wrap and refrigerate until ready to use.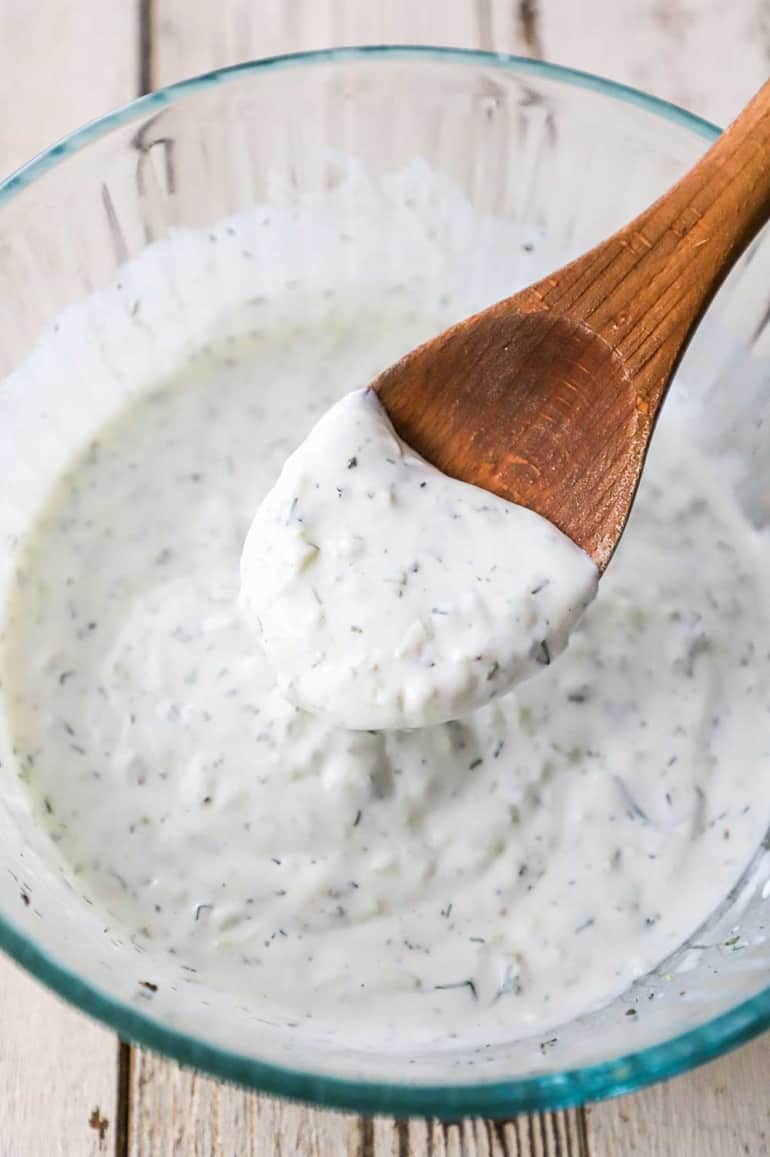 Tips For Perfect Tzatziki Cucumber Salad
This salad is a foolproof dish to prepare. But there are a few things to keep in mind before preparing it for guests.
Use Fresh Cucumbers – Look for large, dark green cucumbers. Slice them thinly for a refreshing and crunchy texture. A mandolin delivers slices that are all the same size and the ideal width (⅛th-inch thick).
Toss Just Before Serving – As the salad rests, the cucumbers will continue to release water. To keep the salad the best consistency, don't dress the cucumbers with the dressing until just before you serve guests.
Make the Tzatziki Sauce from Scratch – We can't stress this enough. Allow the sauce to chill for at least an hour before tossing with the vegetables.
EXPERT TIP: We recommend making two batches of our homemade tzatziki sauce recipe. It may seem as though you are adding too much of the sauce to the cucumbers. After you've added about 2/3 of the double batch of sauce, gently toss the cucumber with the tzatziki. We like this salad to be extra creamy. You add as much as you desire. If you don't use all of it, save the rest for another use: Chicken Gyros!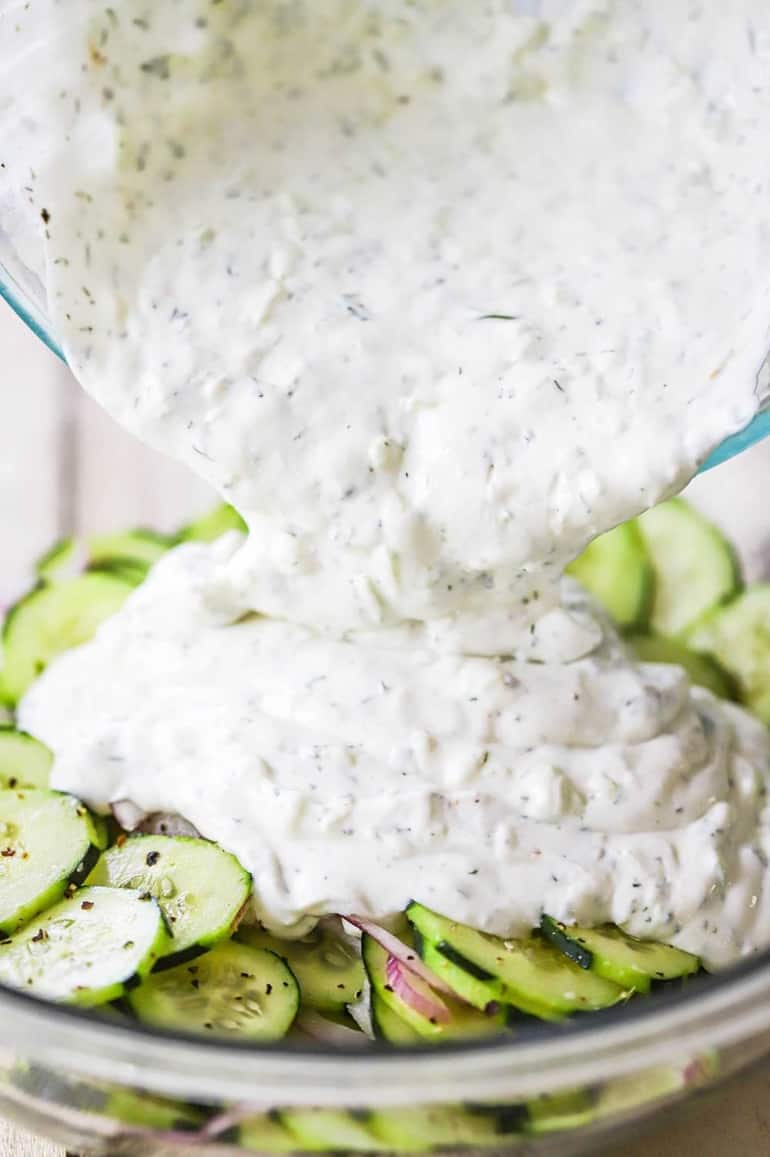 Other Veggie Side Dishes To Try
These dishes are scrumptious, healthy, and at their best when they are in peak season. But, they're also delicious year-round!
Dill and Cucumber Salad
Watermelon, Cucumber, and Feta Salad
Zucchini and Yellow Squash Salad with Tomato Relish
Zucchini Fritters
Carrot and Raisin Salad
Summer Stuffed Tomatoes
Panzanella (Tuscan Bread and Tomato Salad)
These are all incredible in their own special way, but isn't this cucumber salad calling your name?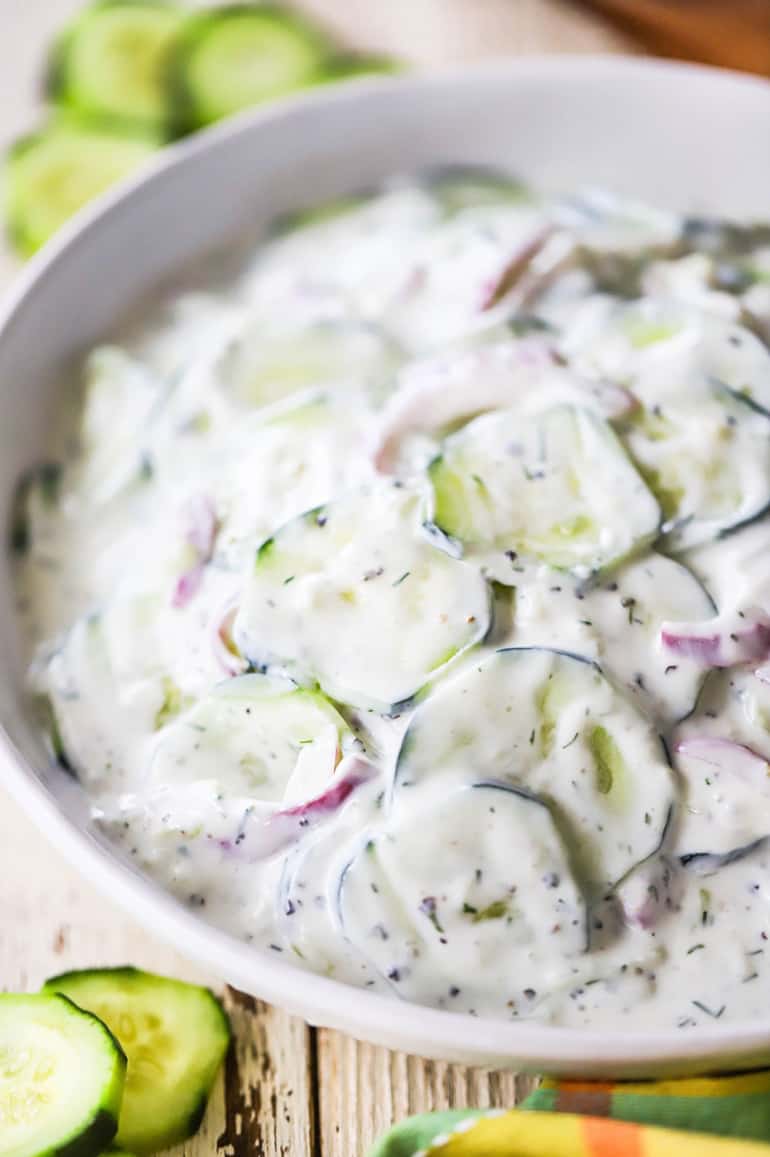 If you like cucumbers, you are going to love this salad so much!
The homemade tzatziki gives the salad a nice tangy twist that will have guests coming back for seconds and thirds!
It really is the perfect salad for serving at your next BBQ, family gathering, or just an easy weeknight dinner side.
Ready to make the best summer salad on the block? Go for it!
And when you do, be sure to take a photo of it, post it on Instagram, and tag @HowToFeedaLoon and hashtag #HowToFeedaLoon!
Tzatziki Cucumber Salad
Tzatziki Cucumber Salad is lighter than a cream-based cucumber salad thanks to the Greek yogurt. We do recommend going with whole milk yogurt for the tzatziki sauce. This salad is meant to be extra "creamy", but still, you may not use all of the double batch of homemade tzatziki.
Print
Pin
Rate
Servings: 6
Calories: 193kcal
Equipment
Mandolin (for slicing cucumbers) Or a large sharp knife with a steady hand
Ingredients
3 cups tzatziki sauce click the link for easy recipe
2 cucumbers peeled and thinly sliced
½ large red onion thinly sliced
salt and pepper
Instructions
Do Ahead
Make the tzatziki sauce. If not using immediately, store covered in the refrigerator.
Prepare the Salad
In a large bowl, toss together the cucumbers with the onions, 1 tsp salt, and ½ tsp black pepper.

Pour the tzatziki sauce over the cucumbers and use two large wooden spoons to mix until fully coated. Serve at once.
Notes
See the video near the top of the blog post for visual guidance. If you liked the video, please subscribe to our YouTube channel.
The tzatziki sauce can be made several days in advance.
After you coat the cucumbers with the sauce, you'll want to serve it immediately. The cucumbers will continue to release water and the salad will become increasingly watery. After an hour or so, you can spoon out some of the liquid, if desired. The salad is still delicious, even when it gets a little watery.
Though this salad is best served right after it's prepared, you can store leftovers in a closed container for several days in the fridge.
Nutrition
Calories: 193kcal | Carbohydrates: 11g | Protein: 5g | Fat: 8g | Saturated Fat: 2g | Polyunsaturated Fat: 0.01g | Monounsaturated Fat: 0.003g | Cholesterol: 20mg | Sodium: 592mg | Potassium: 149mg | Fiber: 1g | Sugar: 6g | Vitamin A: 466IU | Vitamin C: 4mg | Calcium: 173mg | Iron: 0.2mg