These gems are a celebration of Spring and Summer yumminess.
If you're looking for a way to use some of that extra zucchini you (or your local farmer's market) might have on hand, look no further. This recipe lets that gorgeous vegetable shine and it is the perfect dish to serve when guests arrive. And you can't believe how easy it is to make! We love serving it with our Homemade Ranch!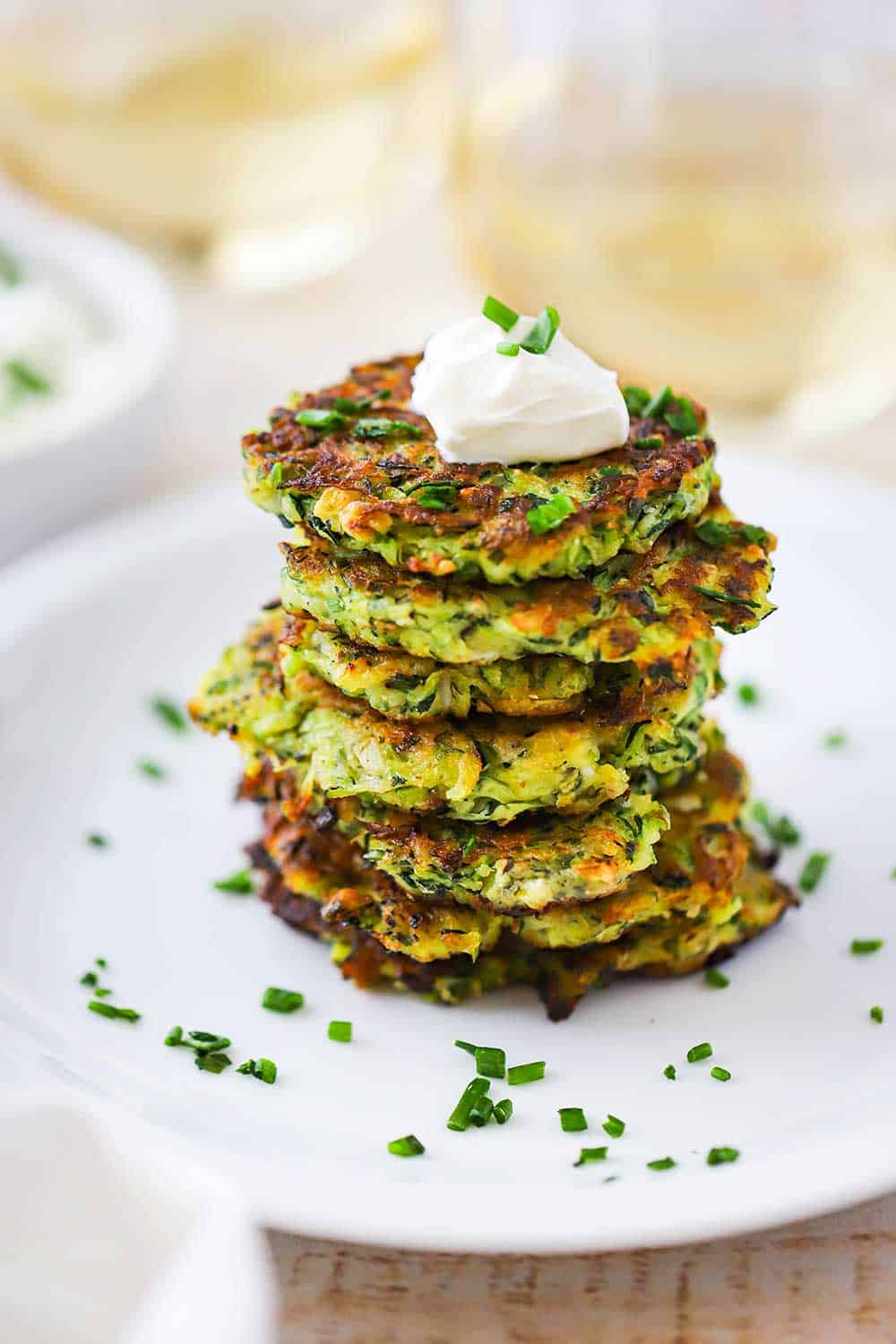 How To Make Zucchini Fritters
As mentioned, this zucchini fritter recipe could not be easier to make.
You can easily adapt the recipe to your own tastes if you prefer.
But we really think you're going to love this version!
How To Remove Water from Zucchini
Zucchini is in the summer squash family alongside melons, squash, and cucumbers and they are loaded with fantastic nutritional benefits.
Just like their counterparts, they are loaded with lots of water. This isn't so great for making crispy zucchini fritters, so we need to extract the water.
EXPERT TIP: After shredding the zucchini (skin on) with a box grater or a food processor, place them in a colander. Put the colander in a large bowl or in the sink. Sprinkle 2 tsp of salt and mix it all together with your hands. You can add a plate on top and then weigh it down with something relatively heavy. The salt will draw the water from the zucchini in about 30 minutes to an hour. A final squeeze in cheesecloth or a kitchen towel gets most of any water remaining.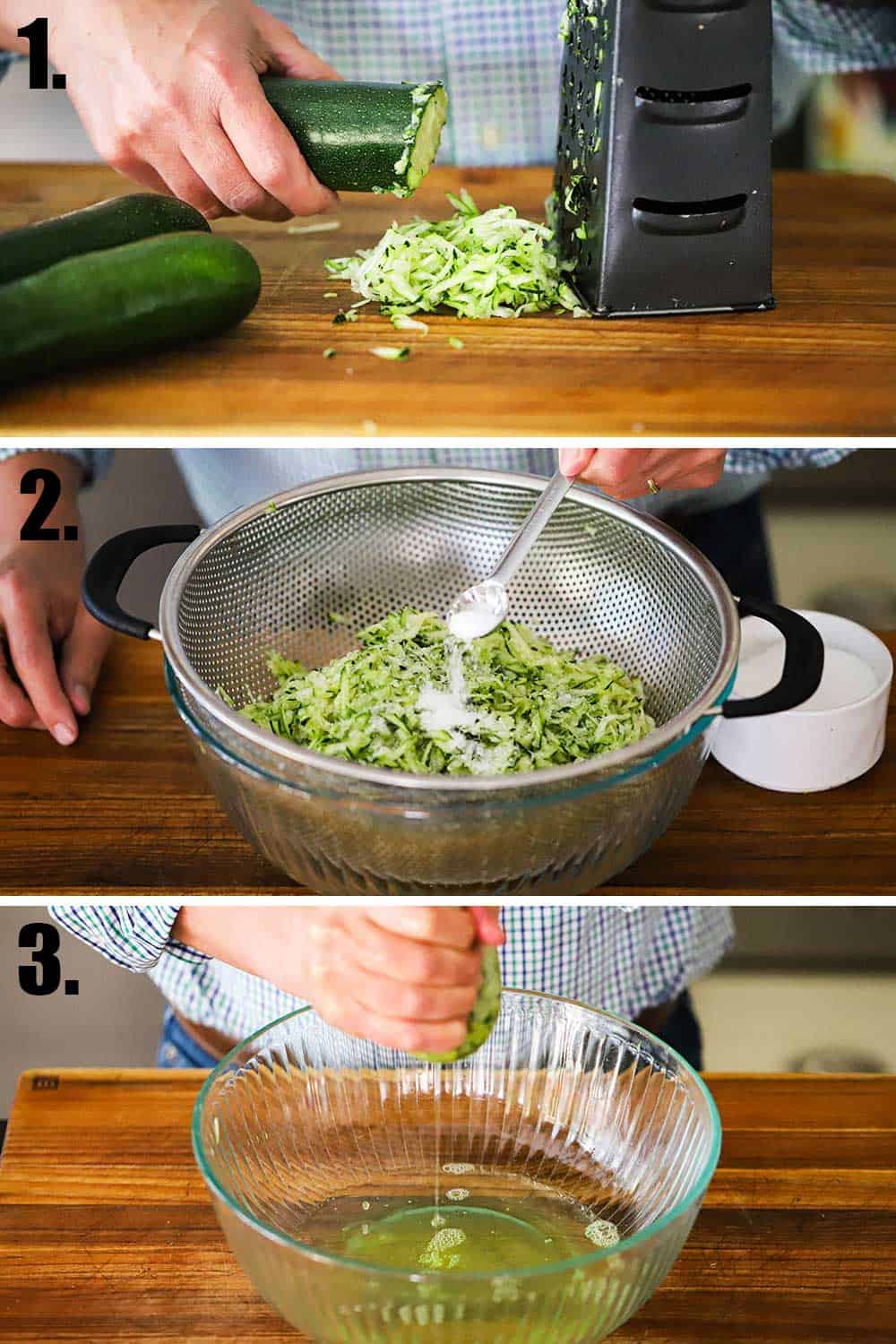 Now, it's time to add some depth of flavor to the fritters. Here's what you'll need:
All-purpose flour
Grated Parmesan cheese
Garlic
Egg
Fresh dill
Lemon zest
Snipped chives
Salt and pepper
EXPERT TIP: None of the above ingredients should overpower the taste of the zucchini. After much testing, we find the quantities listed in the recipe are just the right blend, however, if you don't prefer dill, lemon, or chives, then just omit them! Resist the urge to add more than what's called for of these aromatics, as they will definitely become too prominent in the cooked fritters.
Tips for Perfect Zucchini Fritters
Forming the Fritters – Don't worry about making perfectly round fritters. They are meant to be a little imperfect in size. After heating a little olive oil in a large skillet, use an ice cream scoop or even a large spoon to gather a ball of the uncooked fritters, place in the pan, and then use a spatula to flatten slightly.
Frying – Some folks deep fry the fritters, but we think they do better when they are lightly fried in a skillet with some olive oil. Don't overcrowd your skillet and cook them in batches and you'll get perfectly crispy-on-the-outside and soft-on-the-inside fritters.
Serving – We think the fritters are best when served warm, but, they are still delicious at room temperature.
And they smell amazing as they gently sizzle in your skillet! Yum!
What To Serve with Zucchini Fritters
These make a wonderful appetizer to serve before a meal, or as an afternoon snack.
We serve them with a bowl of chilled sour cream, but they are especially good with a side of our homemade ranch.
For a full veggie meal, consider serving alongside our Tomato and Corn Tart, Gazpacho, and Caprese Pasta Salad. And how about some amazing Zucchini Bread!
Besides being incredibly delicious, these fritters are gorgeous, too!
Other Methods for Cooking the Fritters
Baked – Form the fritters on parchment paper on a baking sheet and then place them in the fridge for about 30 minutes. Preheat oven to 400°F. Bake for 25 to 30 minutes, flipping them over halfway through.
Air-Fryer – Form the fritters on parchment paper on a baking sheet and then place them in the fridge for about 30 minutes. Turn your air-fryer to 400°F. Air-fry for 7 minutes. Open the basket, flip them over, and air-fry for another 7 minutes, or until crispy on the outside.
Deep-Fry – Form the fritters on parchment paper on a baking sheet and then place them in the fridge for about 30 minutes. Heat the oil to 350°F. Fry the fritters in batches, carefully flipping occasionally, until golden brown, about 7 to 10 minutes. Drain on paper towels.
No matter how you prepare them, these are some of the tastiest fritters you'll ever taste or serve!
Ready to make one of the most delicious veggie appetizers of all time? Go for it!
And when you do, be sure to take a photo of them, post it on Instagram, and tag @HowToFeedaLoon and hashtag #HowToFeedaLoon!
Zucchini Fritters
These gems are truly a celebration of everything delicious about Spring and Summer! So easy to prepare and they can be served warm or at room temperature.
Print
Pin
Rate
Servings: 4
Calories: 165kcal
Ingredients
1½ lbs zucchini grated, about 3 cups from 3 medium zucchinis
2½ tsp Kosher salt divided
¼ cup all-purpose flour
¼ cup Parmesan cheese grated
2 cloves garlic minced
1 large egg beaten
1 tsp lemon zest
2 tbsp chives finely chopped, plus more for garnish
1 tbsp dill fresh, finely chopped
½ tsp black pepper freshly ground
2 tbsp olive oil you may need a little more when cooking in batches
Sour cream for serving
Instructions
Place the shredded zucchini in a colander over a large bowl or in your sink. Sprinkle 2 tsp salt over the zucchini and toss with your hands. Place a weighted plate on top of the zucchini. Allow to rest for 30 minutes to 1 hour.

Transfer the zucchini to cheesecloth or a kitchen towel. Over the bowl or over your sink, squeeze the zucchini to release any remaining water. Transfer to a medium-sized bowl.

To the zucchini add the flour, Parmesan cheese, garlic, egg, lemon zest, chives, dill, pepper, and ½ tsp of salt. Stir until fully combined.

Heat the oil in a large skillet/saucepan over medium-high heat. Once the oil is shimmering, and working in batches, use an ice cream scoop or large spoon to pull a small mound of the zucchini mixture from the bowl (it should be about the size of a golf ball). Place the mound in the hot oil and use your hand, or a small spatula to gently flatten the fritter to about ¼-inch in thickness. Repeat without over-crowding the skillet.

Cook until the bottoms of the fritters are crispy and golden, about 2 minutes. Use a spatula to carefully flip the fritters and cook for another couple of minutes, or until nicely browned on both sides. Transfer the cooked fritters to a plate lined with paper towels.

Serve with cool sour cream and garnished with extra snipped chives, if desired.
Notes
No need to peel the zucchini, the skin is soft, nutritious, and delicious.
If you're not a fan of lemon, dill, or chives, you can easily omit them from the recipe and still get wonderful results. Resist adding additional quantities of these ingredients, as they may overpower the zucchini.
Most of the salt that was used for extracting the water will fall away with the liquid, which is why we add another 1/2 tsp to the mixture.
We think the fritters are best served warm, but they can be served at room temperature, too. Although they won't be quite as crisp on the outside.
The fritters can easily be reheated in a 350°F for about 10 to 15 minutes, or until heated through. This will also help them to get crispy again.
Store cooked fritters in an air-tight container in the fridge for up to 5 days.
See blog post for instruction for baking, air-frying, or deep-frying the fritters.
These are also wonderful served with our homemade ranch.
Nutrition
Calories: 165kcal | Carbohydrates: 12g | Protein: 7g | Fat: 8g | Saturated Fat: 3g | Trans Fat: 1g | Cholesterol: 51mg | Sodium: 1586mg | Potassium: 491mg | Fiber: 2g | Sugar: 4g | Vitamin A: 531IU | Vitamin C: 33mg | Calcium: 116mg | Iron: 1mg