Panzanella (Tomato and Bread Salad) is the perfect warm-weather salad, especially when tomatoes are in peak season.
Panzanella is an Italian dish originating in Tuscany. This is a good (and incredibly delicious) way to use up stale bread. Some folks toast the bread pieces, which is perfectly fine…but the classic traditional way is to not toast them. I guess we're a bit of a traditionalist when comes to these sorts of things. Once the bread soaks up the juices from the tomatoes, and the vinegar…and then blends with the herbs, onion and capers…SO GOOD!
HOW TO MAKE AUTHENTIC PANZANELLA
As you would probably expect, Panzanella starts with the bread. By the way, have you checked out our Homemade Country White Bread? It's so good!
But honestly, any loaf of bread that you have on hand will do just fine. Of course, a day old Italian loaf is the very best.
Use a serrated knife to cut the bread into 1 to 2-inch pieces.
Now, get the freshest tomatoes you can find. Heirloom tomatoes are wonderful, but really any kind will work. Even halved cherry tomatoes!
A little red onion, herbs, and vinegar are all you need to round out this amazing salad!
Give the Panzanella a good squeeze with your hands to help the bread absorb the juices from the tomatoes and vinegar.
The smell is so Italian, so summery, and so good.
Ready to make the best Tomato and Bread Salad in the world? Go for it!
And when you do, be sure to take a picture, post it on Instagram, and tag @howtofeedaloon and hashtag #howtofeedaloon!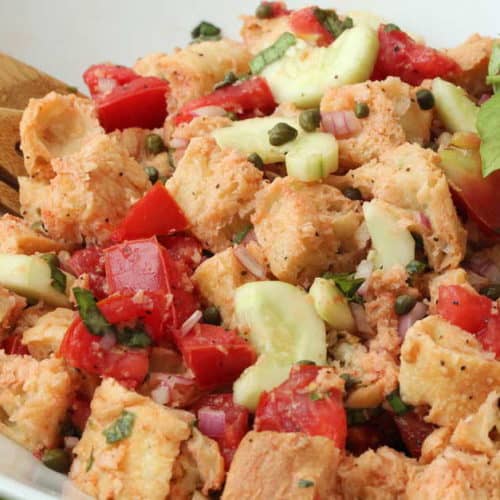 Panzanella (Tomato and Bread Salad)
Panzanella (Tomato and Bread Salad) is the perfect salad for peak-season tomatoes. Go with a day-old country bread, or, just stick it in a low-grade temperature oven for about 15 minutes to dry it out. Let all the ingredients sit together for about an hour before tossing...and the result is yummy Italian salad perfection!
Print
Pin
Rate
Servings: 6 people
Calories: 148kcal
Ingredients
2 large tomatoes cored, and cut into bite-size pieces
1 small cucumber peeled, halved lengthwise, seeded (with a spoon / optional), and sliced
1 small red onion chopped, or thinly sliced
1 cup fresh basil chopped, plus a couple leaves for garnish
1/2 cup extra-virgin olive oil more to taste
3 tbsp red wine vinegar more to taste
Coarse sea salt and freshly ground black pepper
1 bread Italian loaf, or country white
Instructions
In a large mixing bowl, combine the tomatoes, cucumber, onion, and basil.

Drizzle with the 1/2 cup olive oil and the 3 tablespoons vinegar and season with salt and pepper.

Gently toss to coat evenly.

Cut or tear the bread into bite-sized pieces and place half of the bread in a wide shallow bowl or dish.

Spoon on half of the tomato mixture and layer the remaining bread on top and then the remaining tomato mixture.

Cover and refrigerate for an hour.

Toss the salad, then taste and adjust the seasonings with salt, pepper, and vinegar.

If the bread is dry, add a little more olive oil.

Garnish with a few basil leaves before serving.
Nutrition
Calories: 148kcal | Carbohydrates: 7g | Protein: 2g | Fat: 12g | Saturated Fat: 3g | Sodium: 30mg | Potassium: 227mg | Fiber: 1g | Sugar: 3g | Vitamin A: 735IU | Vitamin C: 11mg | Calcium: 27mg | Iron: 1mg