There are some dishes that just scream summer. This, hands-down, is one of those dishes.
Fresh tomatoes from the garden or from your local farmer's market deliver amazing taste. The fresh bread crumbs and herbs are perfectly matched with the roasted tomato. Top it off with a melted Gruyere, and you've got a dish like none other. And it comes together in less than 30 minutes and can be served warm or at room temperature!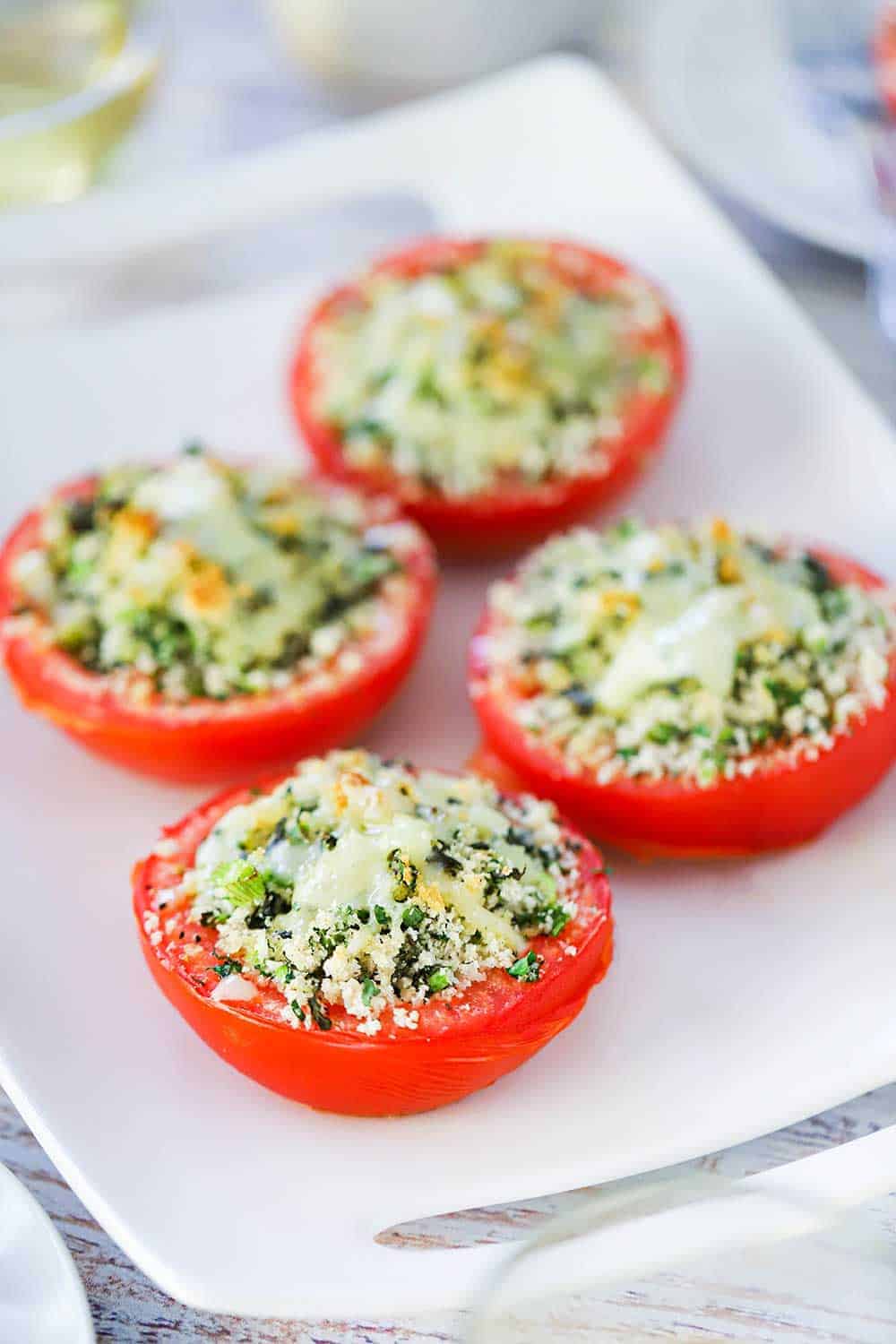 These vegetarian stuffed tomatoes are truly something to behold.
And you will not believe how easy it is to prepare them!
How to Prep the Tomatoes
There are so many types of tomatoes, and really just about any variety will work for this dish. However, we love going with large "slicer" tomatoes.
To prepare the tomatoes for stuffing, simply remove the top portion of the core with a sharp knife. Next, slice the tomato in half, horizontally. Use your fingers and the knife (carefully) to remove the seeds and some of the inside of the tomato.
EXPERT TIP: For the tomato halves that have a hole in the bottom (from where you removed the top portion of the core) take care to not completely remove the center of the slice when removing the seeds and ribs, otherwise, you will have a hole all the way through the tomato slice. It's okay if there is a little opening at the bottom of the slice. The filling won't fall through unless the hole is too large and open.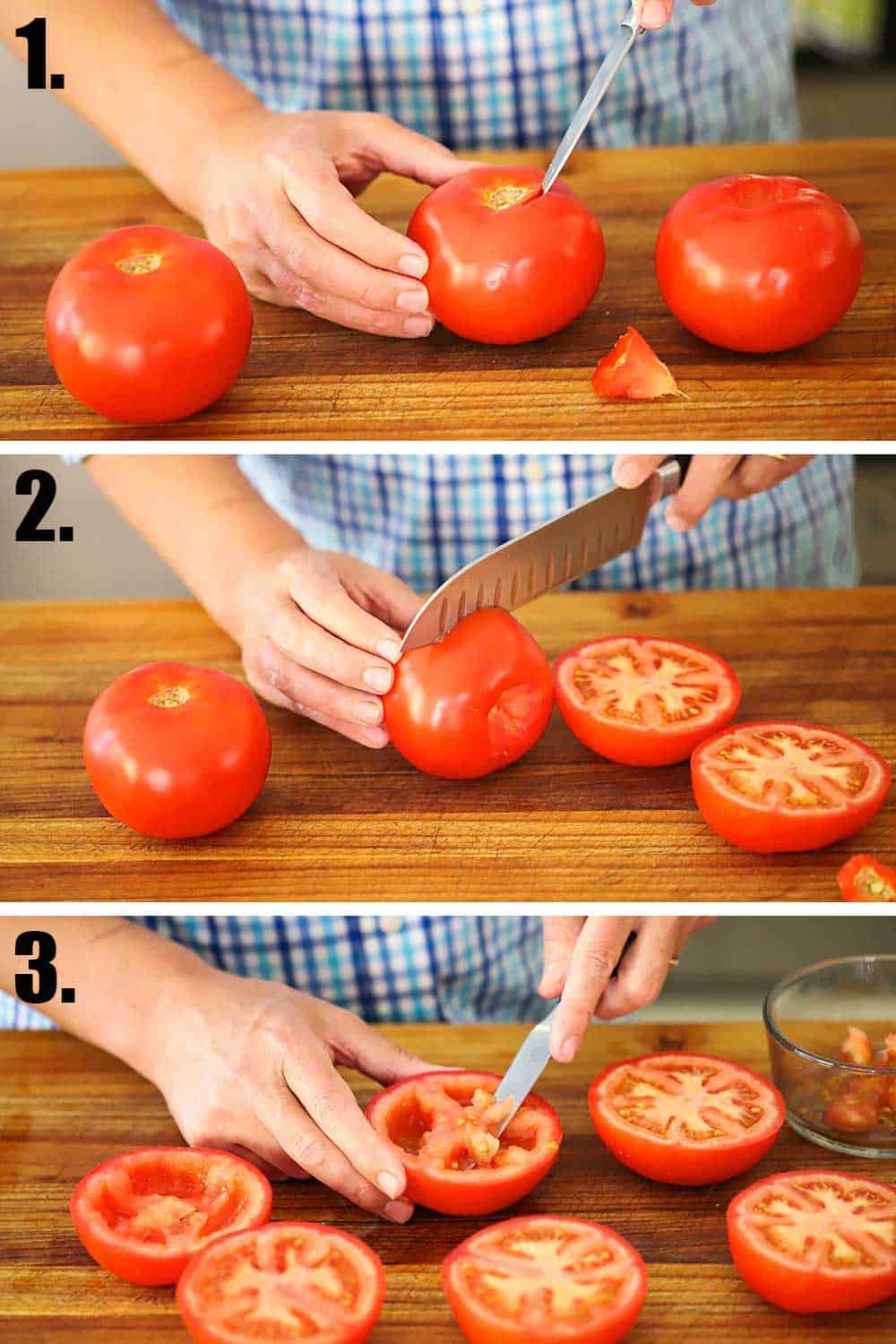 The bread crumb filling is loaded with flavor and is the perfect match for the roasted tomatoes.
We highly recommend using fresh herbs, too. The combination of basil, parsley, thyme, scallions, and garlic is heavenly.
EXPERT TIP: Fresh bread is wonderful in making the bread crumbs. We love taking a small loaf of fresh Italian or French bread, and using a serrated knife to trim off the crust. Then tear it up a bit and pulse in your food processor until you have coarse bread crumbs. You could also do this with sliced bread. Simply remove the crusts and then process. Panko bread crumbs will work, too, but we highly recommend fresh. You'll get an amazing slightly crunchy texture after the tomatoes are roasted.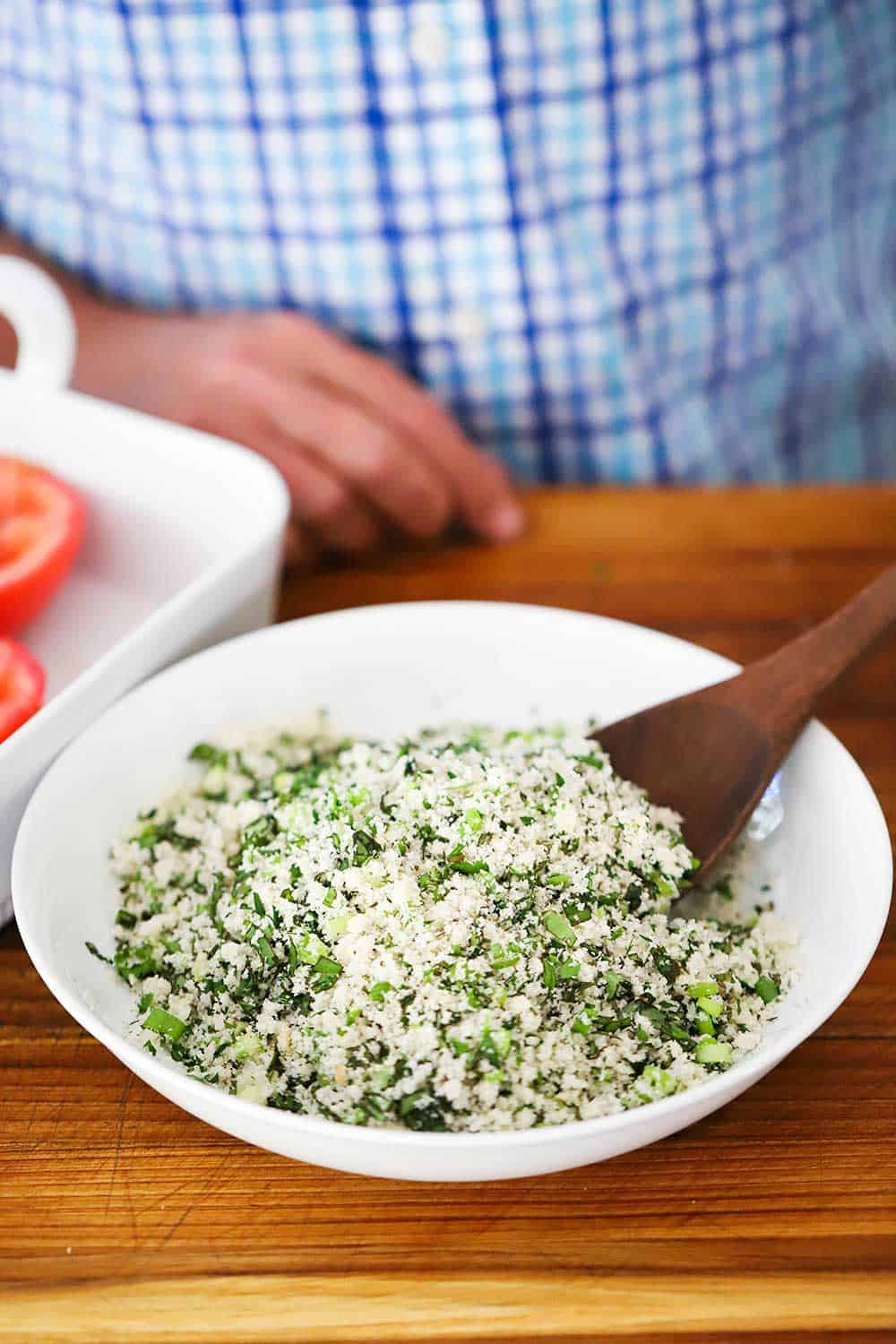 Place the prepared tomatoes on a large cutting board, cut-side up.
We use a nice large spoon to mound the filling into the cavities of the tomatoes.
This recipe makes enough of the filling to fill 6 cavities, nice and high. But, you may have a little leftover. The breadcrumb filling can be stored in the fridge for up to 2 weeks for future use.
Roasting Concentrates Flavor
Now, the stuffed tomatoes are ready to be baked! Be sure to have your oven preheated to 400°F. Roasting the tomatoes not only softens the tomatoes and makes the bread-crumb filling toasty, but it also concentrates the tomato itself which deepens the flavor profile.
We use a small spatula to transfer them to a baking dish that we have sprayed with cooking spray.
EXPERT TIP: The tomatoes can be prepared up to this point up to 24 hours in advance. Simply place in the greased dish and cover with plastic wrap. You don't even have to refrigerate them!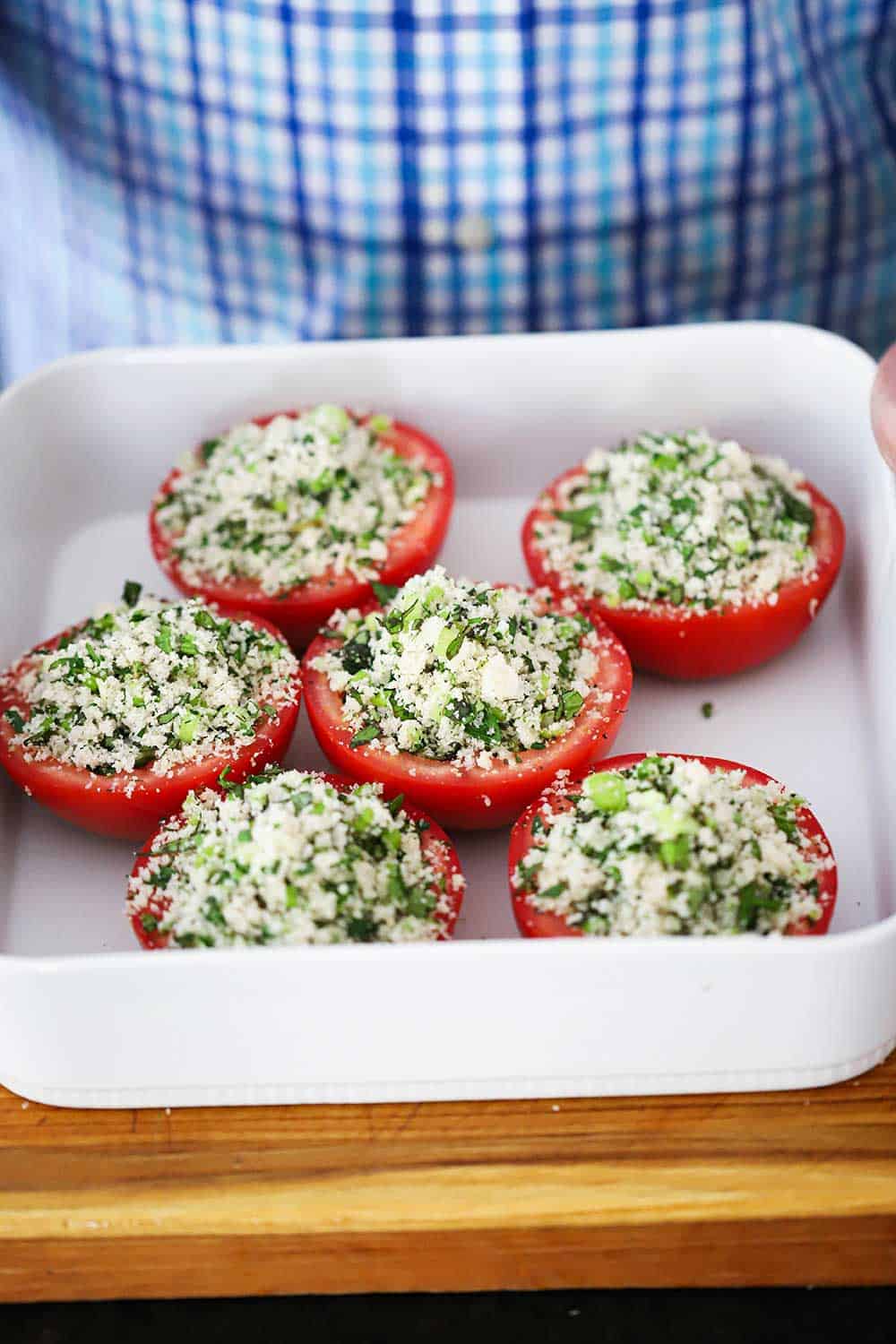 Of course, cheese makes everything better, right?
After the tomatoes have baked for 15 minutes, remove them from the oven and sprinkle on some grated cheese and a drizzle of extra-virgin olive oil.
EXPERT TIP: We think the flavorful, creamy Gruyere cheese is the perfect topping for the gems, but you could also go with shredded mozzarella, Fontina, or Swiss. Any good melting cheese will work wonderfully.
When to Serve Stuffed Tomatoes
This dish is so festive and so beautiful, it is always a big hit when served at an outdoor BBQ, but also at a baby or wedding shower, or as a side dish on a lovely summer meal.
The tomatoes are wonderful when served right out of the oven, but they are also spectacular served at room temperature.
You can serve them as an appetizer or as a side dish to a wonderful entree such as Grilled Salmon with Poblano Butter or Grilled Delmonico Pork Steak!
Some of our other favorite tomato-based dishes you might enjoy include:
Roasted Tomato Soup
Southern Tomato Pie
Caprese Pasta Salad
Grilled Oysters with Tomato Butter
But in the meantime, you've got to give these babies a try! And they come together in less than 30 minutes!
This is truly one of our all-time favorite dishes to prepare and serve during the summer months.
However, if you can get your hands on decent tomatoes, even when tomatoes aren't in season and at their peak, this dish is still fantastic year-round.
It is also as beautiful in presentation as it is in taste. Just wait until you take that first bite!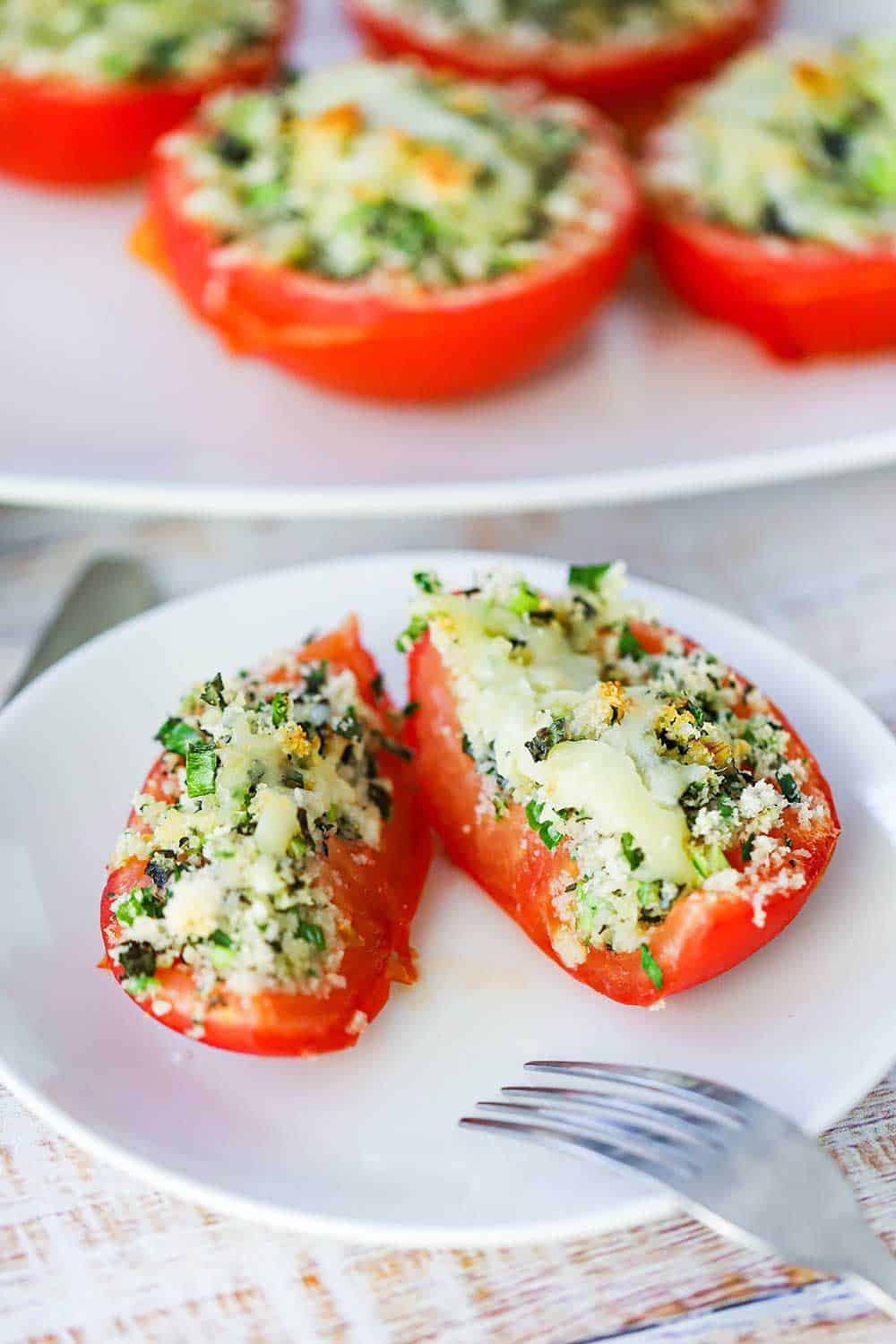 Ready to make the best tomato dish in town? Go for it!
And when you do, be sure to take a photo, post it on Instagram, and tag @HowToFeedaLoon and hashtag #HowToFeedaLoon!
Stuffed Tomatoes
Stuffed Tomatoes are the stuff summer dreams are made of. You can prepare these up to a day in advance and then bake them as directed in the recipe.
Print
Pin
Rate
Servings: 6 people
Calories: 221kcal
Ingredients
Cooking spray
4 large tomatoes
1½ cups bread crumbs fresh, pulsed in food processor
½ cup scallions finely chopped, white and green parts
¼ cup basil fresh, chopped
2 tbsp parsley fresh, chopped
2 cloves cloves minced
1 tbsp thyme fresh, chopped
1 tsp Kosher salt plus extra for seasoning tomatoes
Freshly ground black pepper
½ cup Gruyere cheese grated
2 tbsp extra-virgin olive oil
Instructions
Pre-heat oven to 400°F. Spray a baking dish (9"x9" or 9"x13") with cooking spray.

Cut the cores from the tomatoes and then slice them in half, horizontally. Remove the seeds and some of the cavity of the tomato halves with a small knife.

In a bowl, combine the bread crumbs, scallions, basil, parsley, thyme, garlic, and 1 teaspoon of Kosher salt.

Generously sprinkle the tomato halves with salt and pepper.

Mound the tomato cavities with the bread crumb mixture. Use a spatula to transfer the stuffed tomatoes to the prepared baking dish.

Bake the tomatoes for 15 minutes. Remove the tomatoes from the oven and sprinkle with the cheese, drizzle with olive oil and bake for another 2 minutes, or until cheese has just melted.

Serve warm or at room temperature.
Notes
We like using large 'slicer' tomatoes for this dish, but you could also go with Roma tomatoes, or whatever are the freshest and tastiest available to you. Depending on the size of the tomatoes, you may need to increase the quantity. For the bread crumbs, we take an Italian loaf or French loaf of bread and use a serrated knife to remove the crust. We tear the bread into pieces and add to our food processor and pulse until we've got coarse bread crumbs. No need to let the bread dry out. The roasting process will make them perfectly toasted and just right. For the herbs, you can use dried thyme (1 tsp), but we definitely recommend using fresh basil. You'll lose the wonderful garden-fresh taste with dried basil. But, in a pinch, you could use 2 tbsp of dried in place of the fresh (but go with fresh!). Shredded Fontina, Swiss, mozzarella, or Monterrey Jack are all suitable substitutes for the Gruyere. The dish can be prepared just up to baking several hours, or even a day in advance. The stuffed tomatoes are wonderful served warm right out of the oven, or at room temperature.
Nutrition
Calories: 221kcal | Carbohydrates: 25g | Protein: 8g | Fat: 11g | Saturated Fat: 2g | Cholesterol: 12mg | Sodium: 631mg | Potassium: 387mg | Fiber: 3g | Sugar: 5g | Vitamin A: 1413IU | Vitamin C: 22mg | Calcium: 189mg | Iron: 2mg
POST UPDATE: This recipe was originally published in May 2014, but was updated with improved tweaks to the recipe, new tips and photography, and a fabulous new video in July 2020! This recipe is adapted from Ina Garten's Provencal Tomatoes.