Nothing is better than fresh vegetables from the farmer's market in the summer time.   These literally explode with flavor.   The Loon and I love making these together on lazy Sunday afternoons during summer.  Doris, or little dachshund, lends a helping paw whenever she can, and is always willing to give a taste sample.   These are easy to make and absolutely wonderful.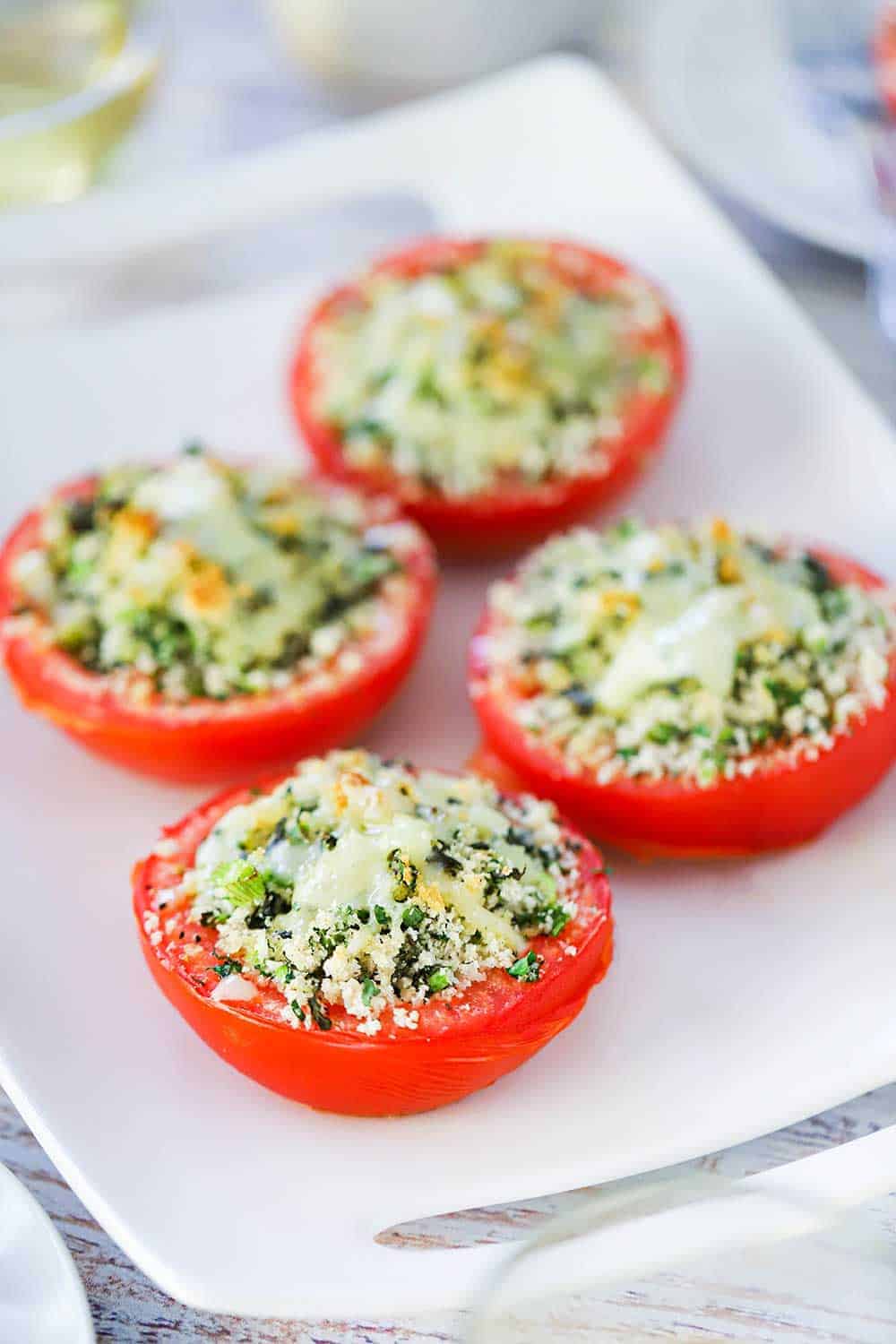 Stuffed Summer Tomatoss
These stuffed summer tomatoes pack so much flavor! Exploding with flavor. You're going to love these stuffed summer tomatoes.
Print
Pin
Rate
Servings: 12 people
Calories: 196kcal
Ingredients
6 garden fresh tomatoes
1 1/2 cups fresh white breads crumbs pulsed in food processor
1/2 cup minced scallions, white and green parts chopped
1/4 cup fresh basil chopped
2 tablespoons fresh flat-leaf parsley chopped
2 garlic cloves minced
1/2 teaspoons fresh thyme leaves chopped
Kosher salt
Freshly ground black pepper
1/2 cup Gruyere cheese grated
Good quality olive oil
Instructions
Pre-heat oven to 400 F

Cut the cores from the tomatoes.

Cut the tomatoes in half, crosswise.

Remove the seeds and the juice with your fingers.

Place the tomato halves in a baking dish.

In a bowl, combine the bread crumbs, scallions, basil, parsley, garlic, thyme, and 1 teaspoon of Kosher salt.

Generously sprinkle the tomato halves with salt and pepper.

With your hands, fill the cavities and cover the tops of the tomatoes with the bread crumb mixture.

Bake the tomatoes for 15 minutes.

Remove the tomatoes from the oven and sprinkle with the cheese, drizzle with olive oil and bake for another 2 minutes.

Serve hot or at room temp.

(You can make these 24 hours ahead of serving, refrigerate...then bake before serving)
Nutrition
Calories: 196kcal