Here is a classic bechamel sauce with two of our favorite cheeses, Gruyere and Parmesan.
Of course, you can substitute your favorite melting cheese…from Swiss to Cheddar to Bleu or Gorgonzola. This is the perfect sauce for dipping a wonderfully grilled sandwich…Classic Monte Cristo comes to mind. We've been making this luxurious sauce for many, many years, and it never fails. Give it a try, it's not hard…and you'll be making a French classic. Que oui!!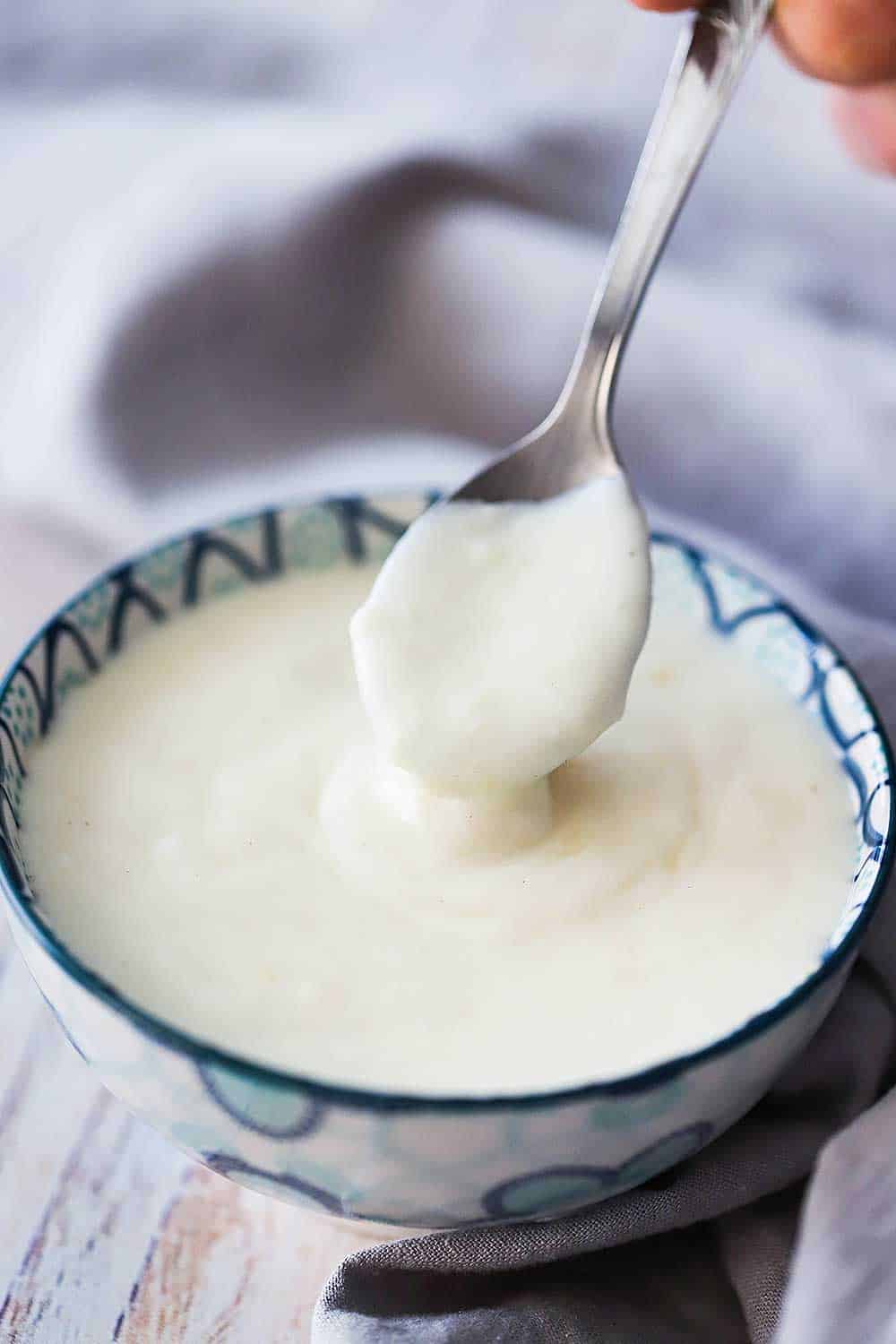 How To Make Mornay Sauce
This sauce is not difficult to make at all. You can even make the sauce in advance and then reheat it with another splash or two of cream to bring it back to life.
Although the mornay sauce is not part of the French Mothers Sauces, we love it so much and use it all the time.
We start off with half of a nice large onion and then affix a fresh bay leaf to it with two cloves. Perfect for simmering and creating a subtle, but distinct flavor.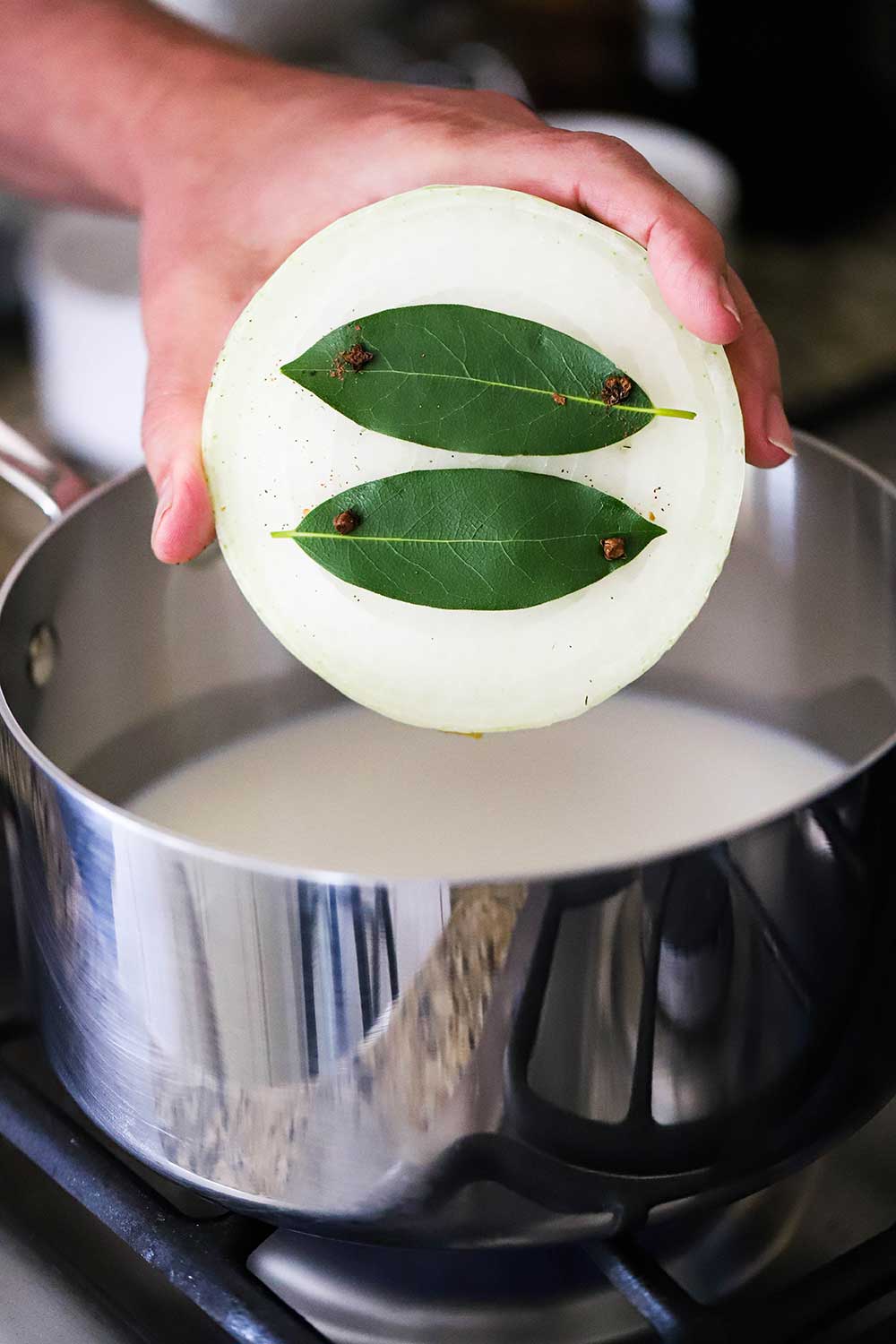 Start with a Classic White Roux
Now, it's time to thicken the sauce and we do that by creating a simple white roux.
In a separate pan, melt the butter and then add the flour. Stir until fully incorporated.
EXPERT TIP: A white roux is just what it sounds like, it hasn't begun to brown at all during the cooking process. Cook for about 3 to 4 minutes, just enough until the raw flour taste cooks out.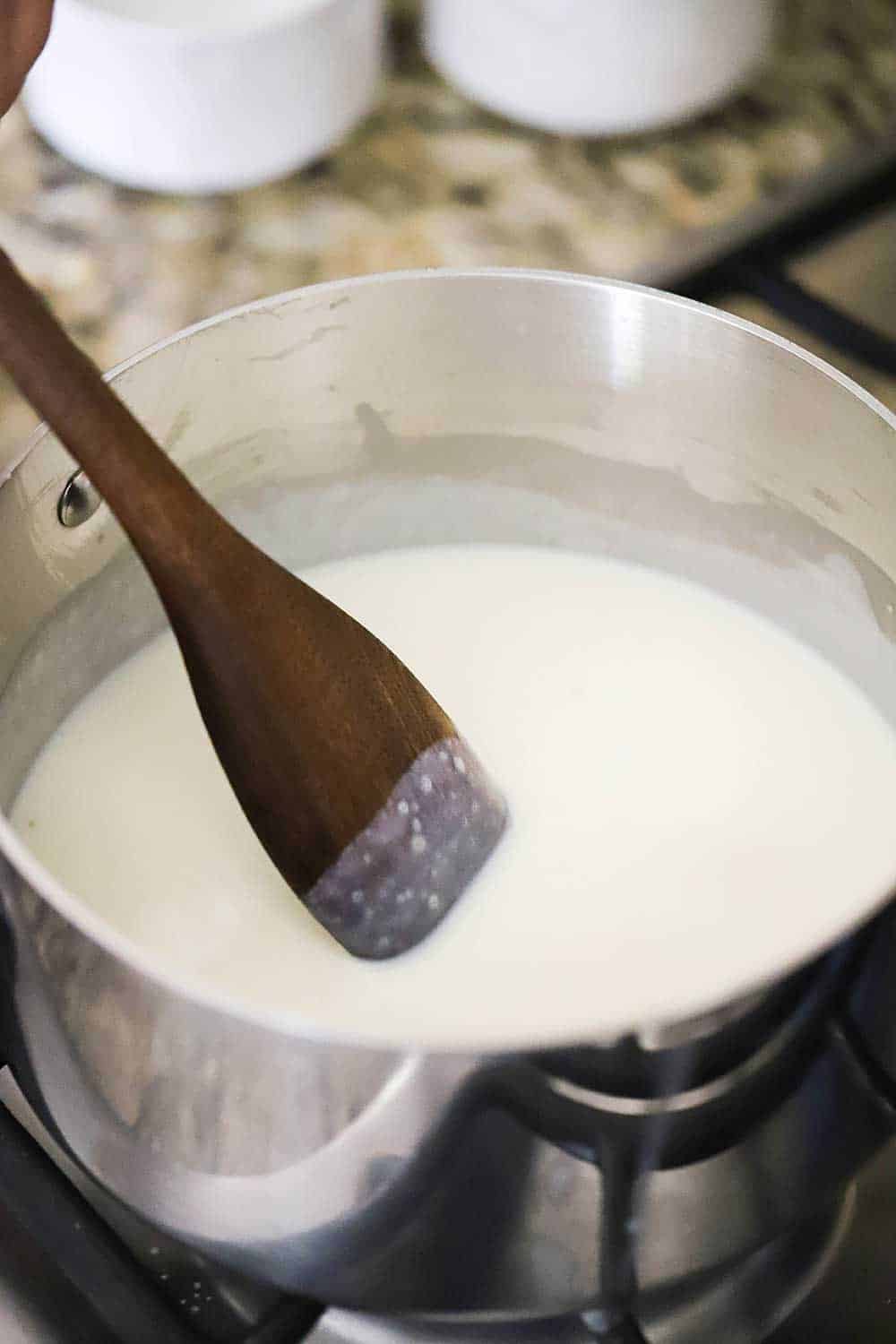 Choosing the Best Cheese
As mentioned, we think Gruyere cheese is classic and perfect for this sauce.
It adds a depth of flavor and creaminess that is just heavenly.
EXPERT TIP: Gruyere cheese is usually sold in blocks. To help the melting process, we either add the shredding attachment to our food processor or just cut the block up slightly and process until crumbled. Or, just shred on the side of a box grater. This will help the cheese melt evenly into the roux when you transfer it in.
The addition of good-quality Parmesan cheese, or even better, Reggiano-Parmigiano cheese is exquisite!
Oh so good!
Did we mention how delicious this classic Mornay sauce is with our Best-Ever Monte Cristo?
Oh…it is AMAZING!
Homemade Mornay sauce with another little side of preserves is absolute perfection!
Ready to make the best dipping sauce this side of Paris? Go for it!
And when you do, be sure to take a photo, post it on Instagram, and tag @HowToFeedaLoon and hashtag #HowToFeedaLoon!
Mornay Sauce
Mornay sauce builds on the classic French bechamel sauce and adds Gruyere and Parmesan cheeses to make the perfect dipping sauce.
Print
Pin
Rate
Servings: 4 people
Calories: 160kcal
Ingredients
1½ cup whole milk
½ large onion peeled and sliced in half
2 bay leaves
4 cloves
Pinch nutmeg ground, optional
2 tbsp unsalted butter
2 tbsp all-purpose flour
¼ cup Gruyere cheese
2 tbsp Parmesan cheese
¼ tsp salt
¼ tsp white pepper
Instructions
Use the cloves to attach the bay leaves to the cut-side of the onion halves.

Combine the milk with onion, bay leaf, and cloves in a small saucepan.

Simmer on LOW for 15 minutes, uncovered.

Discard the onion, bay leaf, and cloves.

Meanwhile, in a saucepan, over medium heat, melt the butter.

Stir in the flour to create a roux. Cook, stirring often until flour is fully incorporated into the butter. Cook for a couple of minutes.

Slowly whisk in the warm milk and bring the sauce slowly to a simmer, whisking constantly. Add ground nutmeg if desired.

Keep over low heat, stirring constantly, for about 3 to 5 minutes, until just thickened.

Add the cheeses and stir just until melted. Add salt and pepper and stir to combine. Serve at once. If serving a little later, add a few more splashes of cream and reheat over low heat, stirring often, until you reach the desired consistency.
Notes
This Mornay sauce is best right from the stove, but it can be reheated with the addition of a little more milk or cream and brought to a low simmer on low heat. We shred our Gruyere with our shredding attachment with our food processor. You can also process it into crumbles in your food processor. A box grater does the trick, too. Reheat the prepared Mornay sauce by adding a few splashes of cream and heating over low.
Nutrition
Calories: 160kcal | Carbohydrates: 9g | Protein: 6g | Fat: 11g | Saturated Fat: 7g | Cholesterol: 33mg | Sodium: 245mg | Potassium: 128mg | Fiber: 1g | Sugar: 5g | Vitamin A: 391IU | Vitamin C: 1mg | Calcium: 195mg | Iron: 1mg