Be prepared for your home to smell amazing once you get this dish underway. We love to set the slow cooker on low…about midnight…and then wake up the next morning to the most amazing delicious smells you can possibly imagine.  Spicy Slow-Roasted Brisket is a combo of crushed black pepper, garlic, soy sauce, mustard and Worestershire sauce.  Strain the sauce, then pour into a saute pan…add in a little corn starch slurry (about 2 tablespoons of corn starch with 1 tablespoon of cold water…mixed well)…heat until slightly thickened…and then you've got an amazing sauce that's somewhere between a au jus and a brown sauce… serve with yukon whipped white cheddar pototoes and maple braised carrots…and you've got a knock out dinner ready to please!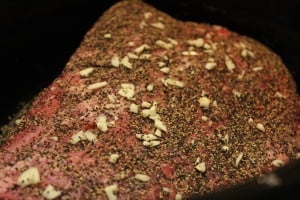 Spicy Slow-Roasted Brisket
This slow cooked brisket gets a nice kick with lots of crush black pepper and fresh garlic. The soy and Worcestershire sauce really deepen the flavors. Serve with
Yukon whipped white cheddar potoates
and maple braised carrots...and you will be crowned the town hero.
Print
Pin
Rate
Prep Time: 15 minutes
Cook Time: 10 hours
Total Time: 10 hours 15 minutes
Servings: 8 people
Calories: 318kcal
Ingredients
3 lb brisket trimmed of excess fat
2 tbsp cracked black pepper
1 tsp Kosher salt
3 cloves garlic minced
3 tbsp good balsamic vinegar
1/4 cup soy sauce
2 tbsp Worcestershire sauce
2 tsp dry mustard I like Colman's
Instructions
Rub cracked pepper, salt and garlic onto roast

Put roast in slow cooker.

Make several shallow slits on top of roast with a sharp knife

In a small bowl, combine the remaining ingreidents...and then pour over brisket.

Cover and cook on low for 8 to 10 hours.

Remove meat to platter

Strain juice from slow cooker through a fine mesh sieve.

Add juice to a medium saute pan.

Make a slurry with 2 tablespoons of corn starch and 1to 2 tablespoons of water...Mix well. Add to the heated juice until slightly thickened.

Slice meat and serve with sauce.
Nutrition
Calories: 318kcal