This roast has been a favorite dish in our house for many, many years. When you make it, you'll immediately understand why.
Cooking the brisket in your slow-cooker for 10 hours yields an incredibly tender roast. The combination of flavors is like no brisket we've ever had before and is just amazing. Serve with sides of best-ever mashed potatoes, slow-simmered green beans, and maple-glazed carrots, and you'll have a feast to remember.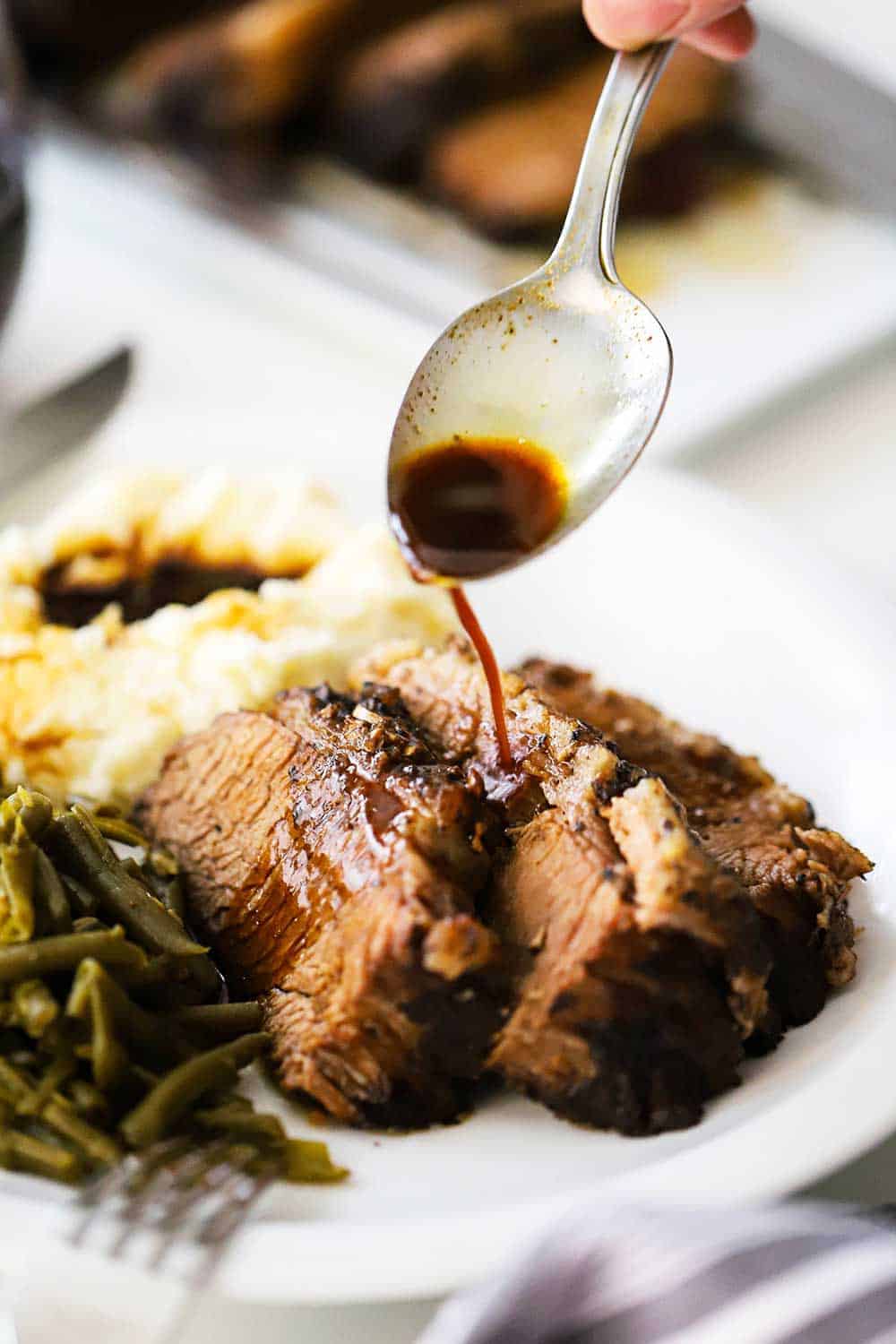 How to Make Slow-Cooker Brisket
We can't stress enough how simple it is to make this amazingly delicious brisket.
With just a handful of ingredients and your trusty slow-cooker, you have all you need to make one of the best roasts you will ever consume and serve.
Choosing the Right Brisket Cut
Brisket is normally a tough cut of meat, due to the collagen fibers that make up the significant connective tissue in the cut. But, slow-cooking allows the collagen to gelatinize, resulting in an extremely tender roast.
Brisket comes from the chest area of the cow, near the front legs. There are two cuts from the brisket, "flat" and "point."
EXPERT TIP: For this recipe, you'll want to go with the flat cut, which is what is commonly sold in the meat department of most supermarkets. We like to have our brisket cut from our local butcher. Some butchers at supermarkets will cut you a flat piece if you ask. There is always a layer of fat on the top of the cut. We recommend leaving about ⅛-inch to ¼-inch of fat and have the rest trimmed away. You may even need to trim some of the fat yourself before you place the roast in your slow-cooker.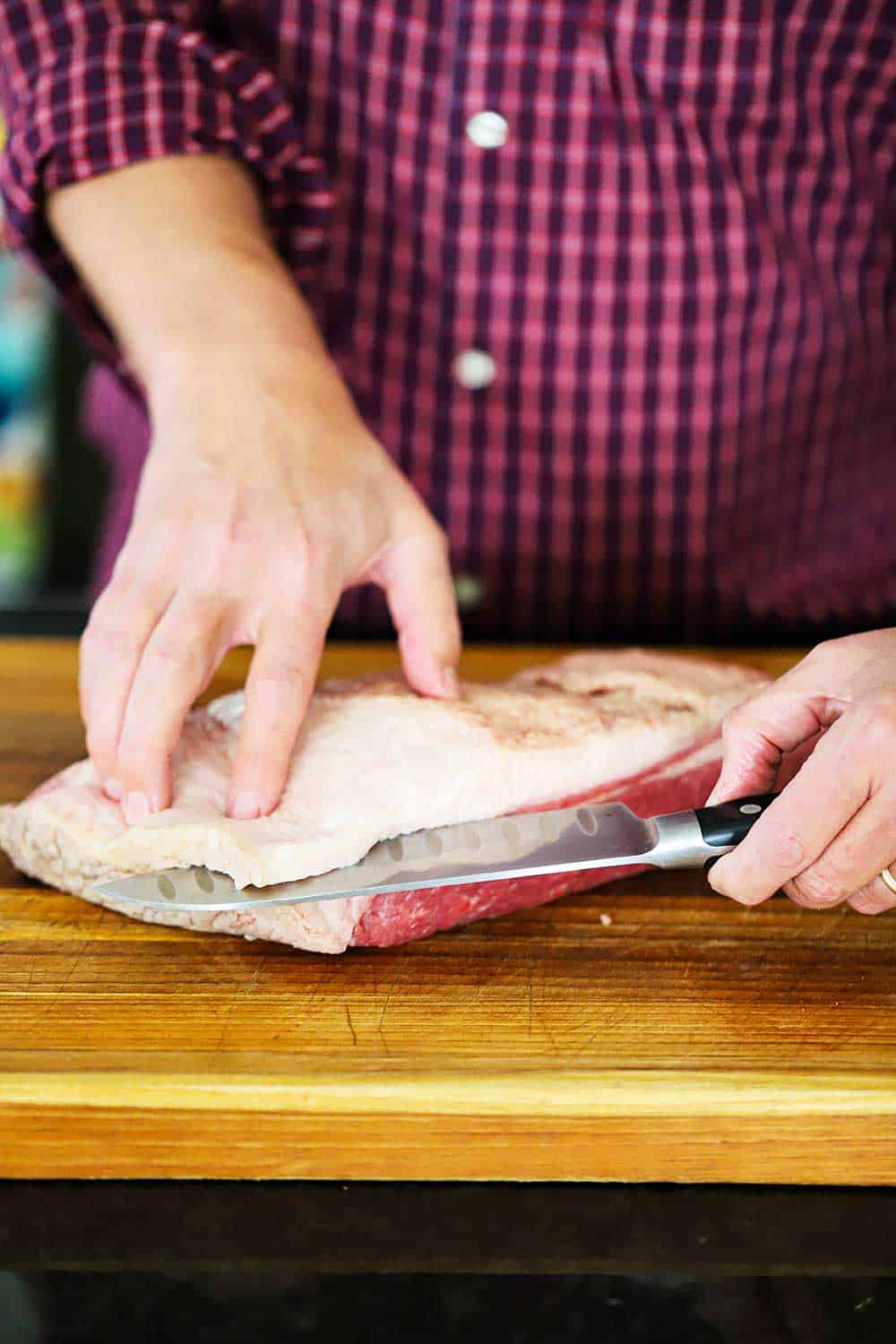 The Ingredients You Will Need
As mentioned, this brisket is incredible in taste with not a lot of ingredients.
For seasoning the meat, all you need is a good amount of freshly cracked black pepper (about 2 tbsp), Kosher salt (about 1 tbsp), and 4 cloves of garlic, minced.
EXPERT TIP: After rubbing the pepper, salt, and garlic into the brisket, we recommend using the tip of a sharp knife to cut small slits across the top of the roast, through the fat. This will allow the seasonings and garlic to seep down into the meat during the slow-cooking process.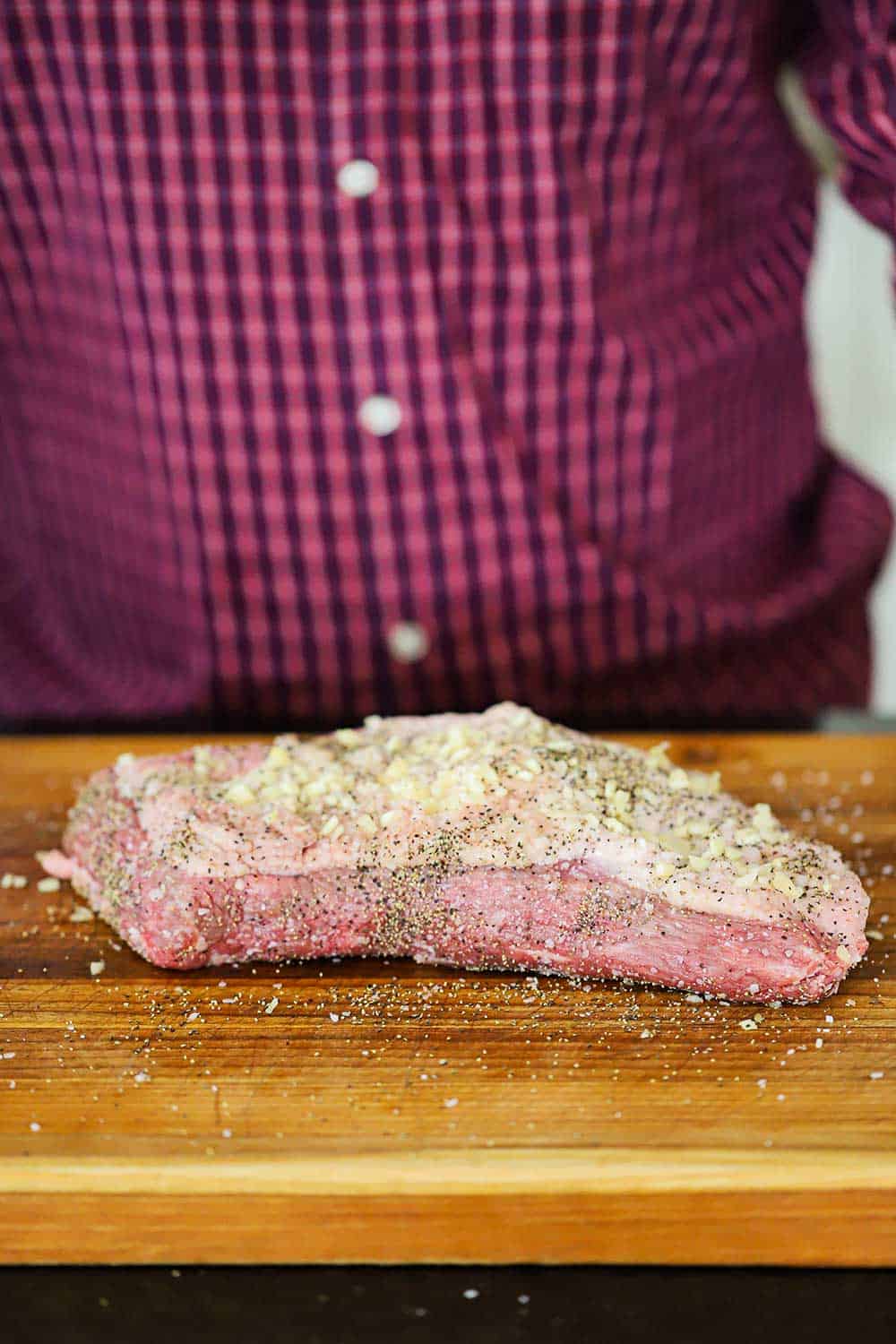 Now, for the sauce. Oh, the sauce.
A combination of soy sauce, aged balsamic vinegar, Worcestershire sauce, and dried mustard create deeply flavorful braising sauce for the roast, as well as a gravy that is off-the-charts delicious.
After placing the seasoned brisket into your slow-cooker, mix together the liquids and mustard, and then pour all over the brisket. Cook on LOW for 8 to 10 hours, and get ready for the most amazing smell in your house!
We often prepare this brisket for a spectacular Sunday lunch.
Just prep the brisket, place in the slow cooker and, then turn it low at bedtime.
The brisket can be kept on the 'warm' setting until you are ready to slice and serve.
How To Make the Au Jus Sauce
Once the brisket has cooked at least 8 hours on LOW (recommend going 10 hours for the ultimate in tenderness), carefully remove the roast from the slow cooker and place it on a cutting board.
Loosely tent with foil while you prepare the sauce.
EXPERT TIP: The sauce for this brisket is similar to an au jus. Strain the liquid from the slow-cooker into a fat separator, or through a sieve into a bowl. If you don't have a fat separator, don't worry, just use a spoon to skim the fat that will have floated to the top of the liquid. Transfer to a medium saucepan and simmer on high for about 10 minutes, or until the sauce has thickened slightly. If you prefer a thicker gravy, mix 1 tbps of corn starch with 1 to 2 tbsp of water and stir into the sauce. Stir until thickened.
Slow-Cooker Brisket FAQs
Can other cuts of beef be substituted for brisket? We think brisket is, obviously, the ideal cut of meat for this method of cooking. But, you would still get delicious results with a chuck roast, or even beef short ribs.
Does this much black pepper make the roast spicy? Not really. The end result of this brisket with the sauce is deeply flavorful, but not spicy. If you are extremely sensitive to any heat level at all, including that from black pepper, you may notice some level of spiciness. We've served this to guests many times, and no one has ever expressed that it was spicy.
How much of the prep can be done ahead of time? You can season the brisket with the salt, pepper, and garlic and then add the sauce in the slow-cooker for up to 48 hours in advance. Simply cover and place in the fridge until you're ready to start slow-cooking.
Is the brisket still tender the next day? In a word…YES. Simply wrap in foil and place in a 350°F oven for about 20 minutes. It's also amazing between a couple of slices of bread, with the warmed sauce nearby. Think French Dip extraordinaire.
What To Serve it With
As mentioned, this slow-cooker brisket just begs for a mashed potatoes companion. And the sauce on the potatoes? Amazing.
Other great side dishes include:
Green beans simmered with a ham hock
An excellent wine pairing is a robust Zinfandel, Shiraz, or Cabernet. For white, a dry Sauvignon Blanc would be our recommendation.
Finally, you don't need to serve this dish with a steak knife.
This roast is so tender, you can literally cut it with a butter knife.
Talk about a brisket to remember. This is a recipe you will keep in your rotation of favorites, we're pretty confident of that.
Ready to make the most deliciously tender roast on the block? Go for it!
And when you do, be sure to take a photo of it, post it on Instagram, and tag @HowToFeedaLoon and hashtag #HowToFeedaLoon!
Slow Cooker Brisket
This Slow Cooker Brisket yields one of the most flavorful and tender roasts we've ever had or served. The roast can be prepped up to 48 hours in advance of slow-cooking. Just cover and place in the fridge until ready to turn your slow cooker on.
Print
Pin
Rate
Servings: 6 people
Calories: 380kcal
Ingredients
3 lb brisket flat cut, fat cap trimmed to ⅛ to ¼ inch
2 tbsp black pepper cracked
1 tbsp Kosher salt
4 cloves garlic minced
¼ cup soy sauce
3 tbsp balsamic vinegar
2 tbsp Worcestershire sauce
2 tsp dry mustard
Instructions
Rub cracked pepper, salt, and garlic all over brisket. Use the tip of a sharp knife to cut ½-inch slits across the top of the roast, into the fat cap. Place the roast into the slow cooker.

In a measuring cup, or medium-sized bowl, whisk together the soy sauce, balsamic vinegar, Worcestershire sauce, and ground dried mustard, until mustard has dissolved. Pour over the roast.

Cover and cook on LOW for 8 to 10 hours.

Use tongs and/or spatula to carefully remove the cooked brisket to a cutting board. Loosely tent with foil for about 10 minutes.

Strain the sauce from the slow cooker through a sieve into a fat separator, or a medium-sized bowl. If using the fat separator, pour the liquid into a medium-sized saucepan until only fat remains. If not using a fat separator, use a spoon to skim the fat that is has risen to the top of the liquid. Discard grease. Transfer liquid to saucepan.

Bring the sauce to a boil over high heat. Reduce heat to medium and simmer until sauce has thickened slightly.

Slice the brisket into ½-inch slices and place on a platter. Drizzle some of the sauce over the meat slices. Serve at once, passing sauce at the table.
Notes
We find the best tasting brisket has about an ⅛ or ¼-inch layer of fat on the top of the brisket, known as the fat cap. We recommend cutting a few 'windows' of the fat cap completely away, so the meat is exposed. This allows the seasoning to penetrate through the meat. The fat will cook down as it slowly cooks, and flavors the roast and keeps it extremely moist. We recommend getting a 'flat' cut of brisket from your butcher. Ask him/her to trim away the excess fat (refer to the first note). If you only have access to a brisket with no fat left, don't worry, it will still be delicious, just not quite as tender. The brisket can be prepped up to 48 hours in advance of cooking. Simply cover and place in the fridge until you are ready to start slow cooking. You can cook the roast on HIGH for 4 to 6 hours. You won't get as fall-apart tender of a roast that you would from cooking on LOW, but it will still be delicious. This can also be slow-cooked in the oven. We recommend a Dutch oven with a lid. Cook at 325°F for 3 hours. Check periodically to make sure the sauce is not burning. If it is, turn the temperature down to 275°F. This usually happens when an oven cooks at a higher temperature than what you set it at.
Nutrition
Calories: 380kcal | Carbohydrates: 5g | Protein: 49g | Fat: 17g | Saturated Fat: 6g | Cholesterol: 141mg | Sodium: 1940mg | Potassium: 858mg | Fiber: 1g | Sugar: 2g | Vitamin A: 11IU | Vitamin C: 1mg | Calcium: 36mg | Iron: 5mg
POST UPDATE: This recipe was originally published in February 2014, but was updated with improved tweaks to the recipe with new tips and photography and a fabulous new video in October 2020!