Cheddar Smoked Sausage Fritters. I mean, come on…we had you at Cheddar Smoked Sausage, right?
But as a deep-fried fritter exploding with flavor, served with the classic Alabama White Sauce?
All we can say is "Wow."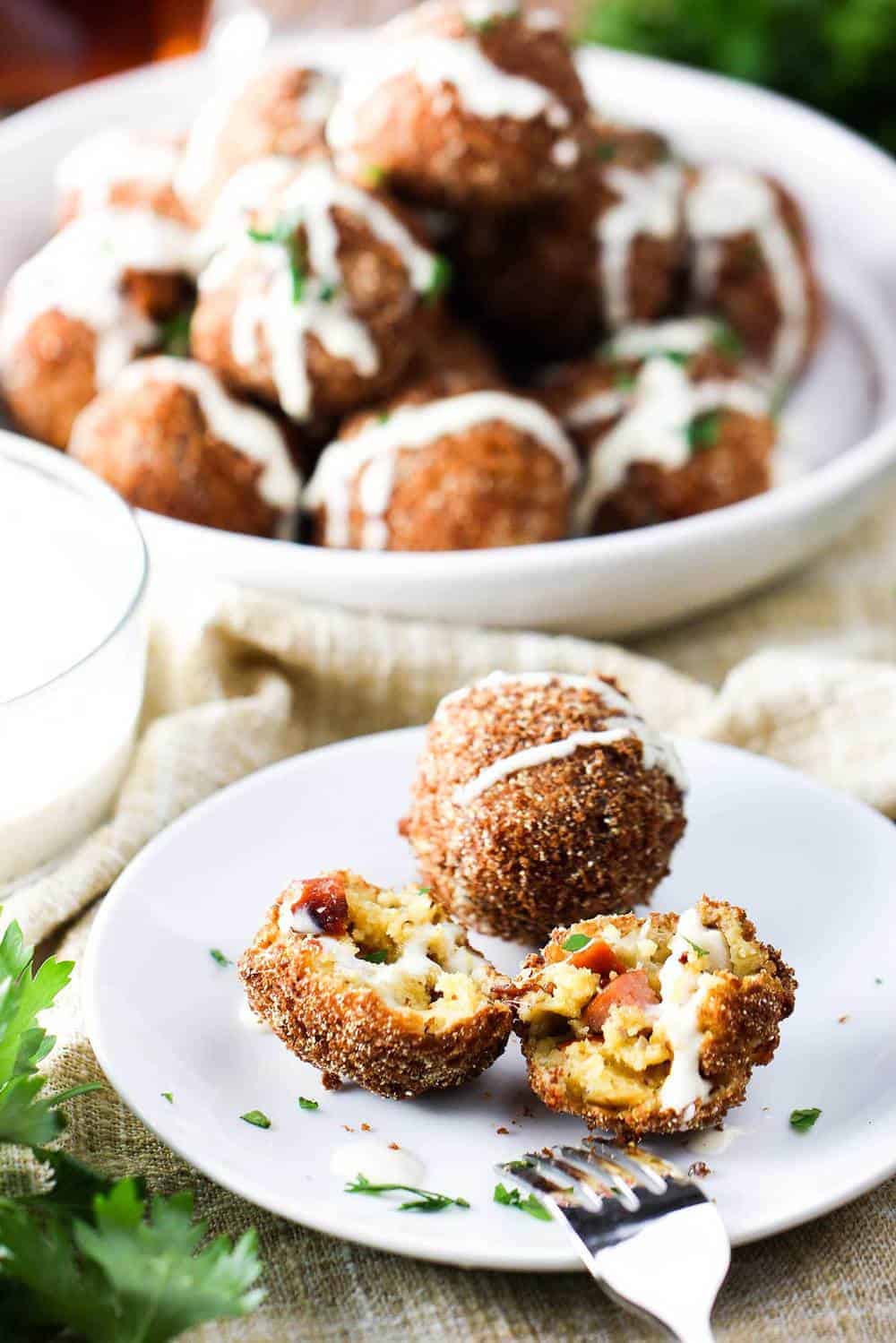 ECKRICH SMOKED SAUSAGE IS EASY AND DELICIOUS
Both Wesley and I have enjoyed feasting on Smoked Sausage since we were kids. It was, and still is, a meal we look forward usually every single week.
We love to toss them on the grill and then cook them for a mere 6 to 8 minutes.
But if grilling isn't an option, a hot skillet or oven cooks them quickly and easily, too.
THE PERFECT TAILGATING APPETIZER
Both Wesley and I love the fall for a number of reasons, but one of them is we love to have friends over, then turn on either college or pro football, and have our own "homegating" party. It is so much FUN!
Never content with the ordinary, we became determined to develop a recipe that showcased one of our favorite sausages of all time, Eckrich Cheddar Smoked Sausage. Something that would excite friends and family as we cheered on our team.
Well, another favorite fall favorite is the State Fair. That got us to thinking how we could incorporate this amazing sausage into a deep-fried fritter. We were getting excited.
It didn't take long for this over-the-top delicious Cheddar Smoked Sausage Fritters appetizer to come together.
Perfect for 'homegating' parties, or a busy weeknight at home.
We incorporated the sausage into an easy batter of bread crumbs, whole grain mustard, mayo, a little onion, and cheddar cheese (because we always could use a little more cheese!).
We then rolled them into bite-size balls, dredged them in flour, egg, and a combination of breadcrumbs and cornmeal. So simple!
We found letting the firm up in the fridge four about 20 minutes helped them fry up perfectly!
THE FIRST APPETIZER TO GO…IN MINUTES
These Cheddar Smoked Sausage Fritters are beyond delicious. We served them for the extended family this past weekend for a legendary 'homegating' party and we can honestly say, everyone was amazed at the taste, texture, and appeal of this incredible appetizer.
The Alabama White Sauce was the perfect dipping sauce to go with these gems.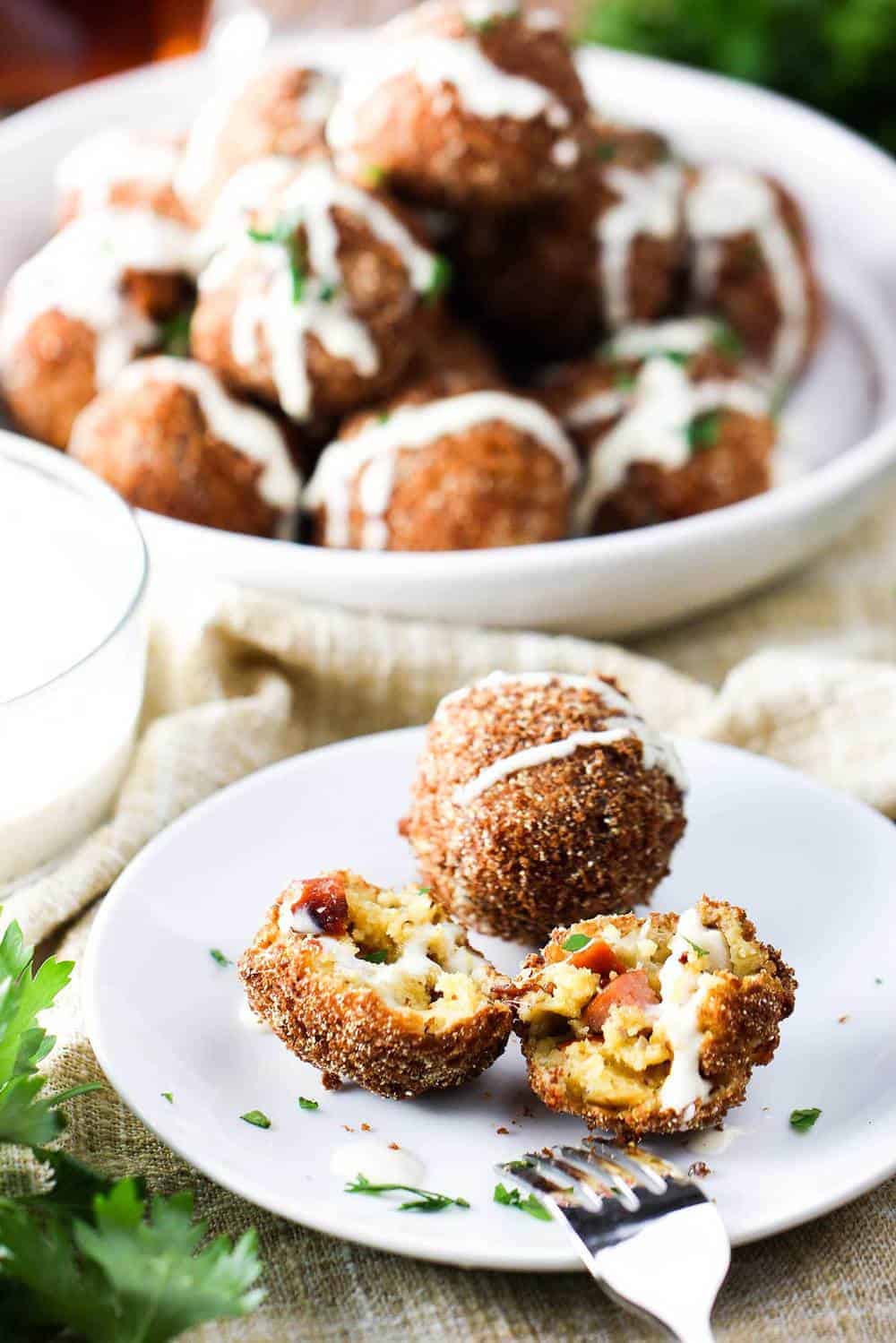 CHEDDAR SMOKED SAUSAGE FRITTERS BURST WITH FLAVOR
There is so much of a taste sensation going on with these fritters, that it's hard to believe.
Crunchy on the outside, and moist and fluffy on the inside.
Perfection. And if you like these babies, you'll LOVE our Hoppin' Jalapeño Poppers!
Smoked Sausage with Cheddar Beignets
These deep-fried smoked sausage beignets are literally exploding with flavor. Go with Eckrich Smoked Sausage with Cheddar, and you will not be disappointed. Wonderful served with Alabama White Sauce.
Print
Pin
Rate
Servings: 8 people
Calories: 415kcal
Ingredients
1 14 oz. Eckrich Cheddar Smoked Sausage
6 large eggs 4 for batter, 2 for breading
1/2 cup mayonnaise
2 tbsp whole grain mustard
1/2 cup onion finely chopped
1 cup Panko bread crumbs plus a little extra, if needed
2 cups all-purpose flour
1 cup corn meal
1 tsp Kosher salt
1/2 tsp freshly ground black pepper
Vegetable oil for frying
White Alabama Sauce for dipping
1 tbsp fresh parsley chopped, for garnish
Instructions
Heat your grill to medium heat and cook the sausages over direct heat until cooked and grill marks appear, approx. 8 minutes. Remove from grill and let cool.
Heat the oil to 350°F
Cut the cooked sausage down the middle and then again into fourths. Roughly chop.

In a large bowl, mix together the sausage with 4 eggs, the mayonnaise, mustard, onion and bread crumbs. Mixture should be stiff. If necessary, add a little more breadcrumbs until a tight batter is formed.

Use three bowls to set up a dredge station. Place flour in the first bowl. The remaining 2 eggs with 2 tbsp water (combined with a whisk, or fork) in the second bowl. And the bread crumbs, corn meal, salt and pepper mixed together in the third bowl.

Using moist hands, roll together a bite-sized ball of the batter. Roll this in the flour, shaking off excess. Then roll in the egg, letting excess drip off. Then roll in the breadcrumb/corn meal mixture to cover. Place breaded balls on a baking sheet and place in the refrigerator for at least 20 minutes, to firm up.

Remove the beignets from the refrigerator and carefully add 3 to 4 balls to the hot oil with a fork. Carefully move the beignets around in the oil until browned evenly on all sides, about 2 to 3 minutes. Remove with a metal slotted spoon and place on paper towel-lined plate. Repeat with remaining beignets.

Place cooked beignets on a platter and drizzle with Alabama White Sauce and a sprinkle of parsley. Serve at once with more white sauce on the side.
Nutrition
Calories: 415kcal