This might possibly be the most delicious brunch dish we've ever made and served. It's really that good.
We're not going to lie, these stuffed savory crêpes take a little effort, but the result is so very much worth it. You can make much of the components in advance, and then assemble and bake just before serving. For a complete French brunch, serve it with our Cheese Souflé with Asparagus and Chocolate Eclairs. Magnifique!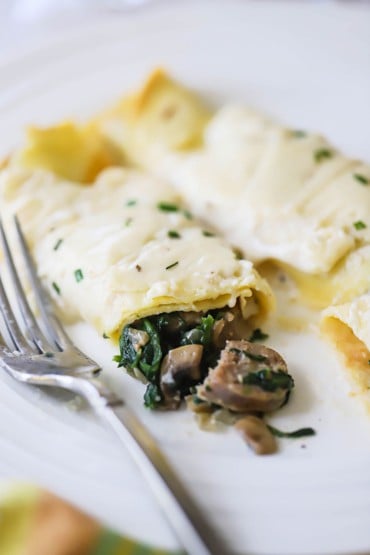 How To Make Stuffed Savory Crêpes
Making crêpes is really so much easier than you might think. And you don't need a special crêpe machine.
Just a 9-inch non-stick skillet! The batter is a snap and making them is fun and so easy. And they can be stored for up to 24 hours!
NOTE: If you liked this video, please subscribe to our YouTube channel. Remember to click the little 'bell' icon so you'll never miss a new video or recipe!
The Ingredients You Will Need
This recipe is for savory crêpes. Soon, we'll be showing you how to make sweet crêpes!
For the crêpes, here's what you'll need:
Flour
Salt and pepper
Eggs
Whole milk
Heavy cream
Unsalted butter
Canola oil
You can fill these crepes with your favorite savory filling, but we love the following:
Italian sausage
Fresh mushrooms
Fresh spinach (not baby spinach)
Butter and Shallots
For the Classic Mornay Sauce, you'll need:
Flour
Unsalted butter
Whole milk
Heavy cream
Salt, pepper, cayenne, and nutmeg
Gruyere cheese
Grated parmesan cheese
EXPERT TIP: To make flipping the crêpes easier, add a small amount of canola oil to the non-stick skillet and then smear it with a paper towel. Start over low heat, until you get comfortable with the cooking time. The crêpe should be fully set before you flip it and be lightly browned.
Tips for Making Perfect Crépes
Let the Batter Chill – After you quickly bring the batter together in a large bowl, it's important to let the batter chill and thicken somewhat. The minimum time is only 30 minutes, but you can also let the dough chill (covered) in the fridge overnight, or for up to 12 hours.
Choose the Right Skillet – If you have a crêpe maker, that's great. It will come with a little roller that will help to keep the crêpes very thin. However, you can still have great success with a non-stick skillet. We prefer smaller crêpes and use a 9-inch skillet. This requires ¼ cup of batter to make the perfectly think crêpe. If you want large crêpes, then use a 12-inch non-stick skillet and use ⅓ cup of batter.
Practice Makes Perfect – Give yourself a little time to practice. You may have success immediately, but it may take a couple of tries before you get the perfectly cooked crêpe. As you make each crêpe, stack them on a plate dividing each one with wax paper or parchment paper.
EXPERT TIP: This recipe makes enough filling to comfortably stuff eight to ten crêpes. If using large crêpes, you'll get around four to six crêpes.
How To Serve
These are definitely best-served piping hot right out of the oven. However, they also can be kept warm in a chaffing dish for serving a crowd (you'll need to double or triple the recipe).
They have a distinct brunch taste and texture to them, so they are ideal for an amazing brunch.
You can smother the crêpes with the mornay sauce, or go lighter and serve extra sauce at the table. We like it both ways, it's truly a matter of taste.
Of course, mimosas, coffee, and/or freshly squeed juice are an ideal pairing.
Other Classic Brunch Recipes
Brunch is truly one of our favorite meals to serve. It's festive, delicious, and a good reason to have a libation before noon!
Here are a collection of our favorites that you might be interested in trying:
Classic Eggs Benedict
Huevos Rancheros
Eggs Blackstone
Buttermilk Waffles with Blueberry Sauce
Broccoli and Cheddar Quiche
Monte Cristo Sandwich
Croque Madame
Homemade Cinnamon Rolls
Monkey Bread Made From Scratch
Chilaquiles
Ricotta Lemon Pancakes with Vanilla Sauce
In the meantime, these stuffed savory crêpes are truly something to write home about.
If you're looking to really impress your friend and family at your next brunch, we strongly recommend preparing this dish.
French crêpes have been around for generations, and for good reason. There is really nothing like them.
Light. Fluffy. And the perfect vessel for your savory fillings. Our sweet version is coming soon!
Ready to make the best brunch this side of Paris? Go for it!
And when you do, be sure to take a photo of them, post it on Instagram, and tag @HowToFeedaLoon and hashtag #HowToFeedaLoon!
Stuffed Savory Crêpes
Stuffed Savory Crêpes are loaded with sautéed mushrooms, spinach, and slices of Italian sausage. All topped with a luxurious cheesy mornay sauce. Brunch perfection.
Print
Pin
Rate
Servings: 4
Calories: 740kcal
Equipment
1 9-inch non-stick skillet or crêpe maker
Ingredients
For the Crêpes
1 cup all-purpose flour
¼ tsp salt
⅛ tsp black pepper
4 eggs
¾ cup whole milk
¾ cup heavy cream
3 tbsp unsalted butter
Canola oil
For the Filling
3 links Italian sausage sweet or hot
1 cup beef stock
10 oz fresh spinach washed clean
16 oz mushrooms button, chopped
2 tbsp unsalted butter divided
1 shallot finely chopped
For the Mornay Sauce
5 tbsp unsalted butter
5 tbsp flour
2 cups whole milk
1 cup heavy cream
½ tsp salt
¼ tsp black pepper
Pinch cayenne pepper
¼ tsp nutmeg
1 cup Gruyere cheese grated
½ cup Parmesan cheese grated
Instructions
Make the Crêpes
In a large bowl, whisk together the flour, salt, and pepper.

In another bowl, whisk together the eggs, milk, and cream.

Vigorously whisk in half of the wet mixture into the dry ingredients until smooth. Next, whisk in the rest of the liquid mixture until completely smooth. Place the batter into the refrigerator for at least 30 minutes, or up to 12 hours (covered).

Strain the batter through a fine mesh sieve into a bowl. Melt 2 tbsp of butter and stir into the batter.

Heat an 8 or 9-inch non-stick skillet over medium-low heat. Ladle ¼ cup of the batter into the skillet and swirl the skillet until you create a thin circle. Cook until set and slightly browned on the bottom, about 1 to 2 minutes. Flip and cook for another minute or so.

Transfer to a plate and continue making crêpes. Place wax, or parchment paper between each crêpe.
Prepare the Filling and the Sauce
In a large skillet over medium heat, add the sausage links and ½ cup of beef stock. Cook, stirring occasionally, until browned and fully cooked, adding more stock as needed, about 6 to 8 minutes. Set aside

Meanwhile, bring a large pot of water to a boil. Add the spinach and cover the pot. Cook until wilted, about 2 minutes. Drain the spinach. When cool enough to handle, squeeze the excess water from the spinach and then roughly chop it. Set aside.

Melt 2 tbsp butter in a skillet over medium heat. Add the shallot and cook until soft, about 3 to 4 minutes. Add the chopped mushrooms and cook until soft, slightly browned, and starting to release liquid. Stir in a healthy pinch of salt and pepper. Set aside.

In another skillet, heat the remaining 5 tbsp of butter over medium heat. Add the flour and stir to combine. Cook for 1 minute.

Whisk in the milk and continue whisking and stirring until smooth and slightly thickened, about 2 to 3 minutes.

Stir in the heavy cream, ⅓ tsp salt, ¼ tsp pepper, cayennes, and nutmeg. Stir until fully combined.

In a bowl, add the sausage, spinach, and mushrooms. Pour in about ½ cup of the sauce and stir. Hold onto the remaining sauce.
Assemble the Dish
Preheat your oven to 350°F.

Add the gruyere to the remaining sauce and stir until melted, over medium heat.

Ladle a thin layer of the sauce to the bottom of a buttered 9"x13" dish.

On a cutting board, lay out a crêpre. Spoon about ½ cup of the filling down the middle and then roll the crêpe up.

Place filled crêpe in the prepared baking dish and repeat with the remaining crêpes.

Spoon the mornay sauce over the tops of the crêpes. Top with the Parmesan cheese.

Bake for 20 minutes, or until the sauce is bubbly and the edges of the crêpes are slightly browned.

Remove from the oven and garnish with chives. Serve at once.
Notes
See the video near the top of the blog post for visual guidance. If you like the video, please subscribe to our YouTube channel.
The crêpe batter can be made and chilled for up to 12 hours. The prepared crêpes can be made up to 24 hours in advance.
The filling components can be made up to 12 hours in advance. Keep covered and chilled in the fridge for up to 12 hours before assembling.
Leftovers can be reheated in the microwave or oven until warmed. They are delicious the next day!
Nutrition
Calories: 740kcal | Carbohydrates: 49g | Protein: 50g | Fat: 28g | Saturated Fat: 7g | Polyunsaturated Fat: 6g | Monounsaturated Fat: 14g | Trans Fat: 1g | Cholesterol: 485mg | Sodium: 1770mg | Potassium: 1209mg | Fiber: 2g | Sugar: 15g | Vitamin A: 3327IU | Vitamin C: 5mg | Calcium: 822mg | Iron: 5mg