Is it possible to make delicious comfort food that is also healthy? This recipe answers that question without a doubt. Absolutely!
If you're looking for a recipe that the entire family will love and you can feel good about serving, this is the one for you. We amp up the flavors with ground turkey but feel free to use ground beef, chicken, pork, sausage, or even plant-based ground for other yummy options. Prepare the filling in advance for quick preparation on a busy weeknight meal!
How To Make Stuffed Bell Peppers with Turkey and Rice
There are several shortcuts you can take with this recipe to expedite preparation. We'll go over these throughout the post and in the recipe NOTES.
To make them super healthy, leave out the cheese. But, they're still good for you, even with some cheese!
NOTE: If you liked this video, please subscribe to our YouTube channel. Remember to click the little 'bell' icon so you'll never miss a new video. Thank you!
The Ingredients You Will Need
These ingredients are very pantry-friendly, and can even be modified, to bring everything together with ease.
Here is what you'll need to get started
Bell peppers – Go with a variety of colors, if desired. Cut them in half lengthwise for a beautiful presentation.
Oil – Olive oil or extra-virgin olive oil ia recommended
Mirepoix – Chopped onions, carrots, and celery. These add flavor, but if you're in a pinch for time, omit them.
Garlic – Minced
Ground turkey – 99% lean for super healthy. 93% lean for a little extra flavor.
Diced tomatoes – Canned and fired-roasted are excellent, but regular will work great, too.
Tomato sauce – The small 8 oz. can is all you need.
Oregano – Dried
Red pepper flakes – For a little spice, omit if you want no spice, add more for more heat.
Salt and pepper
Parmesan cheese – Grated
Rice – White or brown. Long grain or instant. Fully cooked.
Mozzarella cheese – Optional, but adds great taste and texture.
Parsley – Freshly chopped, for garnish
EXPERT TIP: To start the process of softening the prepared bell peppers, we suggest cutting them in half lengthwise and then removing seeds and ribs (as much as possible). Place cut-side down in a large baking dish (or roasting pan) and pour 1½ cups of water. Cover with foil and bake for 25 minutes while you prepare the filling. You can also steam them in the microwave. Cover with paper towels and cook on HIGH for about 4 to 5 minutes.
Tips for Perfect Stuffed Bell Peppers
Soften the Peppers – For the best texture, you'll want to soften the bell peppers so they are tender for serving. You can do this in the kitchen or the microwave with water in the baking dish (covered). 25 minutes in a 350°F oven or 5 minutes on HIGH in the microwave. Or, you can just bake the stuffed peppers longer, covered with foil, for about 40 minutes, and then uncovered for another 15 minutes.
Keep the Filling Juicy – You don't want the filling to have too much liquid, but you don't want it dry either. This recipe should yield a filling that is juicy and not dry. If you feel it's too dry, then more liquid a little at a time until you reach the right consistency. You can add more tomato sauce, chicken or vegetable broth/stock, or even water. Keep the heat on medium while preparing the filling.
Pile them High – If you go with 6 peppers that are halved, you'll have 3 rows of 3 peppers (leaving 1-half of a pepper leftover for another use). The recipe allows you to fill the peppers nice and high. Spoon small but equal portions into each pepper, and then eyeball filling them again, equally. It's okay if some of the filling spills over.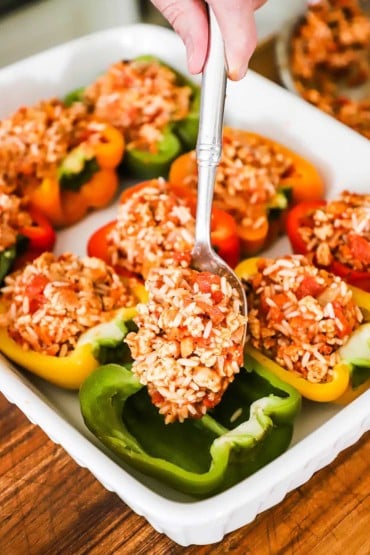 How To Serve
These stuffed bell peppers are beautiful when served family style. Simply pile them onto a large platter with a spatula and let family/guests serve themselves.
We love to garnish them with some chopped fresh parsley, but that's not absolutely necessary. They are wonderful served with a side of roasted broccoli and warm rolls.
EXPERT TIP: These stuffed peppers reheat perfectly, too. We place leftovers on a microwave-safe plate, cover them with paper towels, and cook on HIGH for 60 to 90 minutes. Of course, you can place them back in a baking dish, cover them with foil, and reheat in a 350°F for about 15 to 20 minutes, or until just starting to bubble.
Other Healthy, but Delicious, Recipes to Try
We love these stuffed peppers so much, but here are some of our other favorite recipes that happen to be healthy, but also very yummy:
Best-Ever Turkey Chili
Curry Turkey Burgers with Pineapple
Vegetarian Pasta Bake
Honey Mustard Roast Chicken Breasts
Plant-Based California Burgers
Mediterranean-Style Baked Red Snapper
Blackened Salmon
In the meantime, you've got to whip up a batch of these incredible peppers! They are nothing short of amazing!
We love this dish so much, it has made it into our ongoing rotation.
Ground turkey is a healthier choice, but using other ground proteins is fantastic, too. The recipe is very adaptable!
Trust us, after one bite, your family will fall head over heels for ground turkey stuffed peppers!
Ready to make the most delicious healthy dish in town? Go for it!
And when you do, be sure to take a photo of them, post it on Instagram, and tag @HowToFeedaLoon and hashtag #HowToFeedaLoon!
Stuffed Bell Peppers with Ground Turkey and Rice
Stuffed Bell Peppers have been around for generations, but that's for a good reason. They are easy to prepare and so delicious! Keep them extra healthy with extra-lean ground turkey, but feel free to try other proteins, such as ground beef, chicken, sausage, or even plant-based ground!
Print
Pin
Rate
Servings: 4
Calories: 356kcal
Equipment
1 10"x15" baking dish Or a lasagna pan, or roasting pan (or use a couple of smaller dishes)
Ingredients
6 bell peppers Any color, halved with seeds and ribs carefully removed
1 tbsp olive oil
½ cup onion chopped
½ cup carrots chopped
½ cup celery chopped
3 cloves garlic minced
1 lb ground turkey
1 14.5 oz can diced tomatoes fire-roasted
1 8 oz can tomato sauce
1 tbsp oregano dried
1 tsp red pepper flakes
1 tsp Kosher salt
½ tsp black pepper ground
¾ cup Parmesan cheese grated, divided
1½ cups cooked rice
1 cup Mozzarella shredded
2 tsp parsley fresh, chopped, for garnish (optional)
Instructions
Preheat oven to 350°F.

Place the peppers, cut-side down, in a large baking dish or roasting pan. Pour 1½ cups water into the dish and cover with foil. Bake in the oven for 25 minutes.

6 bell peppers

While the peppers are steaming, prepare the filling. Heat the oil over medium-high heat. Sauté the onion, carrots, and celery until softened, about 4 to 5 minutes. Add the garlic and cook for another 30 seconds, stirring often.

1 tbsp olive oil, ½ cup onion, ½ cup carrots, ½ cup celery, 3 cloves garlic

Add the turkey and use a wooden spoon or spatula to break up the meat. Cook, stirring often until fully cooked and no longer pink, about 10 to 15 minutes. Tilt the pan and spoon off excess grease, if necessary.

1 lb ground turkey

Add the diced tomatoes, sauce, oregano, pepper flakes, salt, and pepper, and simmer for about 15 minutes, stirring occasionally.

1 14.5 oz can diced tomatoes, 1 8 oz can tomato sauce, 1 tbsp oregano, 1 tsp red pepper flakes, 1 tsp Kosher salt, ½ tsp black pepper

Stir in ½ cup of the Parmesan cheese and then the cooked rice.

1½ cups cooked rice, ¾ cup Parmesan cheese

Remove the peppers from the dish and safely discard the water. Place the peppers in the dish, cut-side up. Use a large spoon to transfer the filling into each of the peppers. Cover with foil and return to the oven for 20 minutes.

Remove from oven and take off the foil cover. Top the peppers with the mozzarella cheese and then sprinkle on the remaining ¼ cup of grated Parmesan.

1 cup Mozzarella

Nake for another 10 to 15 minutes until the cheese is melty and the tops are slightly browning. Serve at once, topped with chopped parsley, if desired.

2 tsp parsley
Notes
See the video near the top of the blog post for visual guidance. If you liked the video, please subscribe to our YouTube channel.
For faster bell pepper softening, place the cut peppers in a microwave dish (you may need to do this in batches), add 1 cup of water, cover with a kitchen towel, and cook on HIGH for 4 to 5 minutes.
Other protein options: Ground beef, turkey, pork, Italian sausage, or plant-based ground.
For the rice, remember to cook it before starting to prepare the filling. You can use white or brown rice. Long-grain or instant. If using long-grain, allow time to fully cook (about 25 minutes).
Lefovers are fantastic! Simply place on a microwave-safe plate, cover with paper towels, and cook on HIGH for about 60 to 90 seconds. Or, reheat in the oven at 350°F, covered, for about 15 to 20 minutes. Leftovers will keep in the fridge for up to 5 days and can be frozen for up to 2 months. Completely thaw before reheating.
The filling can be prepared up to 24 hours in advance.
Nutrition
Calories: 356kcal | Carbohydrates: 34g | Protein: 44g | Fat: 10g | Saturated Fat: 3g | Polyunsaturated Fat: 1g | Monounsaturated Fat: 3g | Trans Fat: 0.02g | Cholesterol: 97mg | Sodium: 1155mg | Potassium: 923mg | Fiber: 6g | Sugar: 10g | Vitamin A: 8860IU | Vitamin C: 232mg | Calcium: 428mg | Iron: 3mg