Ladies and gents, hold onto your bootstraps, this chili is one for the record books.
We're thrilled to bring you our version of Texas Chili. No beans or whole tomatoes in sight, but unbelievable taste and texture, to boot. Give yourself a few hours, and you'll have the best chili this side of the Rio Grande and beyond!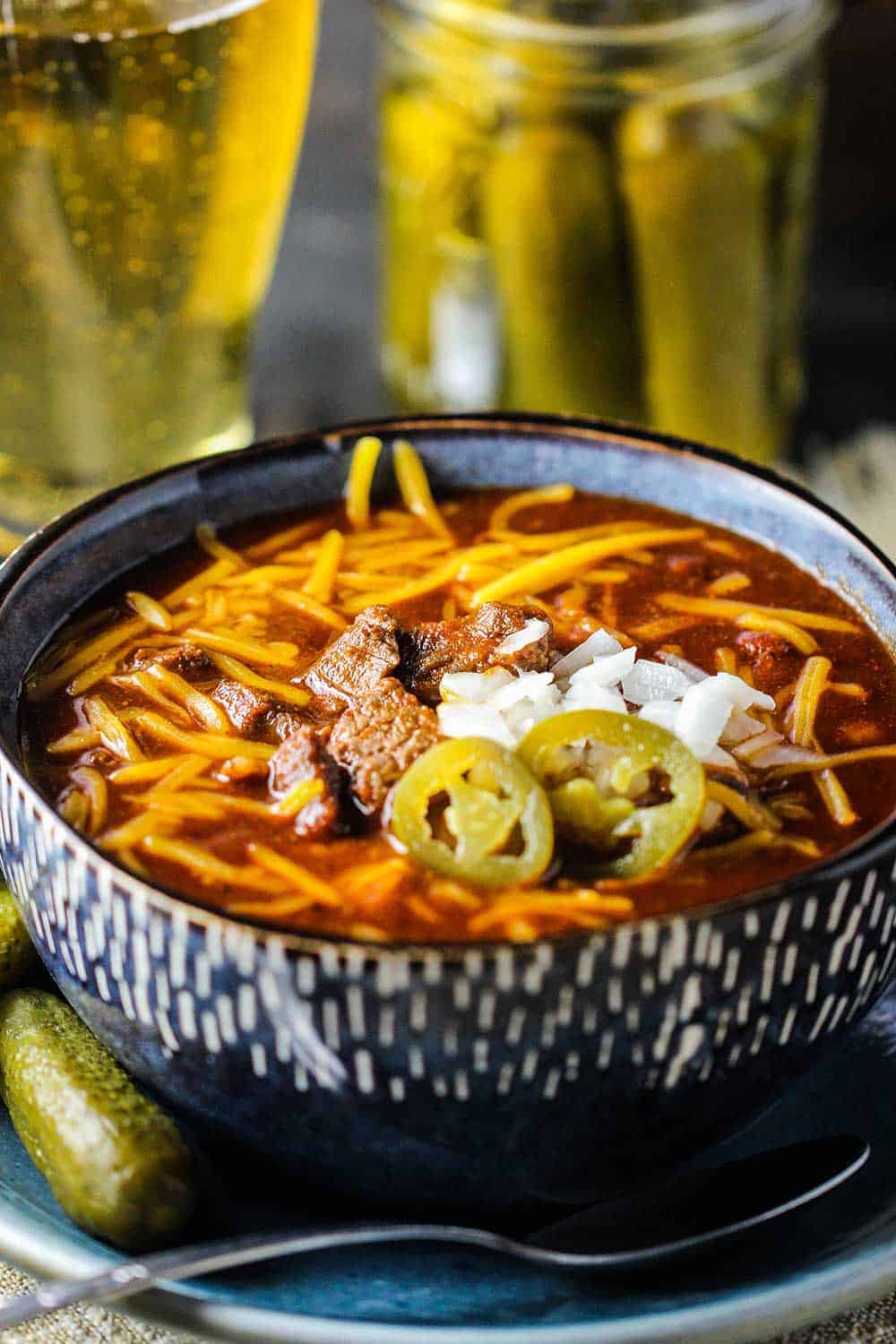 How To Make Texas Chili
If you're looking to make authentic Texas-style chili, you've come to the right place.
We love starting off with 2 to 3 lbs of cubed ribeye steak.
Building the flavor profile as you go is key to a deep, satisfying chili taste.
NOTE: If you liked this video, please subscribe to our YouTube channel. Remember to click the little 'bell' icon so you'll never miss a new video!
Choosing the Right Cut of Beef
Lots of folks use beef ground chuck, which is wonderful, of course.
But we love good bite-sized chunks of super tender meat that you get with every bite.
Our favorite is boneless ribeye, but you could also go with a sirloin, strip steak, or beef tenderloin.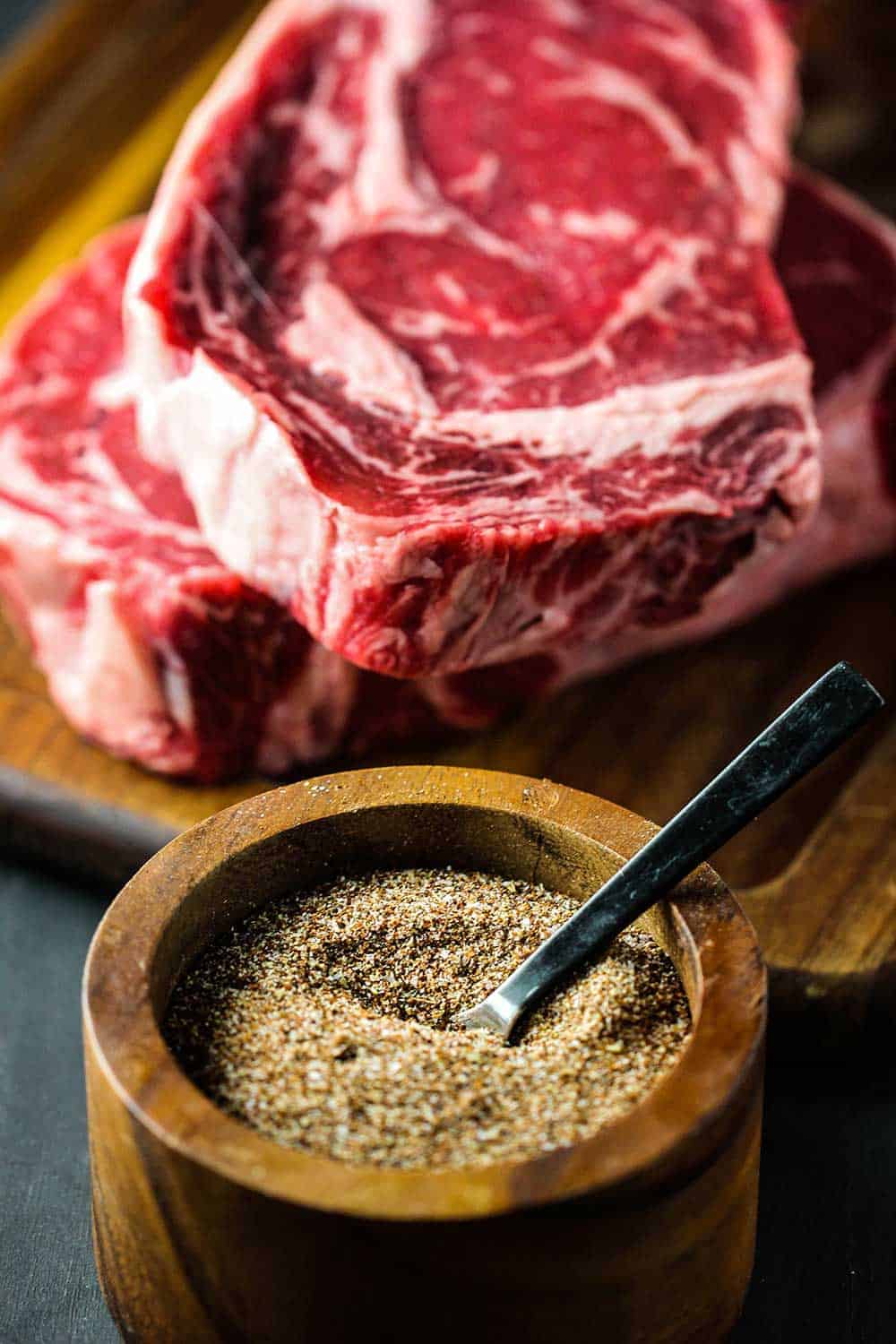 A simple seasoning of salt and pepper is all that's needed for the beef.
Browning the meat in a little olive oil locks in the flavor.
The meat will render some fat, so we drain the meat with a colander before returning it to the hot skillet.
The Best Seasonings for Texas-Style Chili
Top-notch chili powder
Garlic and onion powders
Cayenne and black peppers
Smoked paprika
Dried oregano (preferably Mexican)
Salt
After you've combined all the seasoning ingredients, we recommend dividing the mixture into thirds.
You'll add tomato sauce, chicken, and beef stocks to the pot with the cooked beef and bring it to a nice simmer.
EXPERT TIP: Adding the seasoning mixture in equal portions over the course of an hour and a half, deepens the flavor and ensures all spices dissolve perfectly, and helps to thicken the chili.
Building the Classic Flavor
After an hour and a half of simmering, all of the seasoning mixtures should have been added.
As the Texas chili simmers, it will reduce down and thicken to the perfect consistency, not thick like gravy, but definitely not runny either.
EXPERT TIP: For the final flavor boost, we add brown sugar, ground cumin, and a few dashes of our favorite hot sauce. These are best when added right at the end of cooking, otherwise, their flavor-profile can become too dominant in the chili.
Authentic and Comforting
Folks, a bowl of our classic Texas Chili is about as comforting as they come.
You might also enjoy our white bean chili, turkey chili, or vegetarian chili, too. But we must admit, this Texas chili, sometimes called Texas Red, is our all-time favorite.
This could easily be doubled (or tripled) to feed a crowd.
Quality chili powder is important. You can find the very best in Fort Worth, Texas at Penderys…or easily peruse the endless selections of spice, chili powders, and more at www.Penderys.com.
Be sure to provide all the classic garnishes when serving Texas-style chili. Chopped onion, shredded cheddar (or Monterrey jack), and sliced jalapenos are a must. Sour cream and even cooked rice are popular additions, too.
If you're looking for the perfect bowl of chili to serve, you've arrived!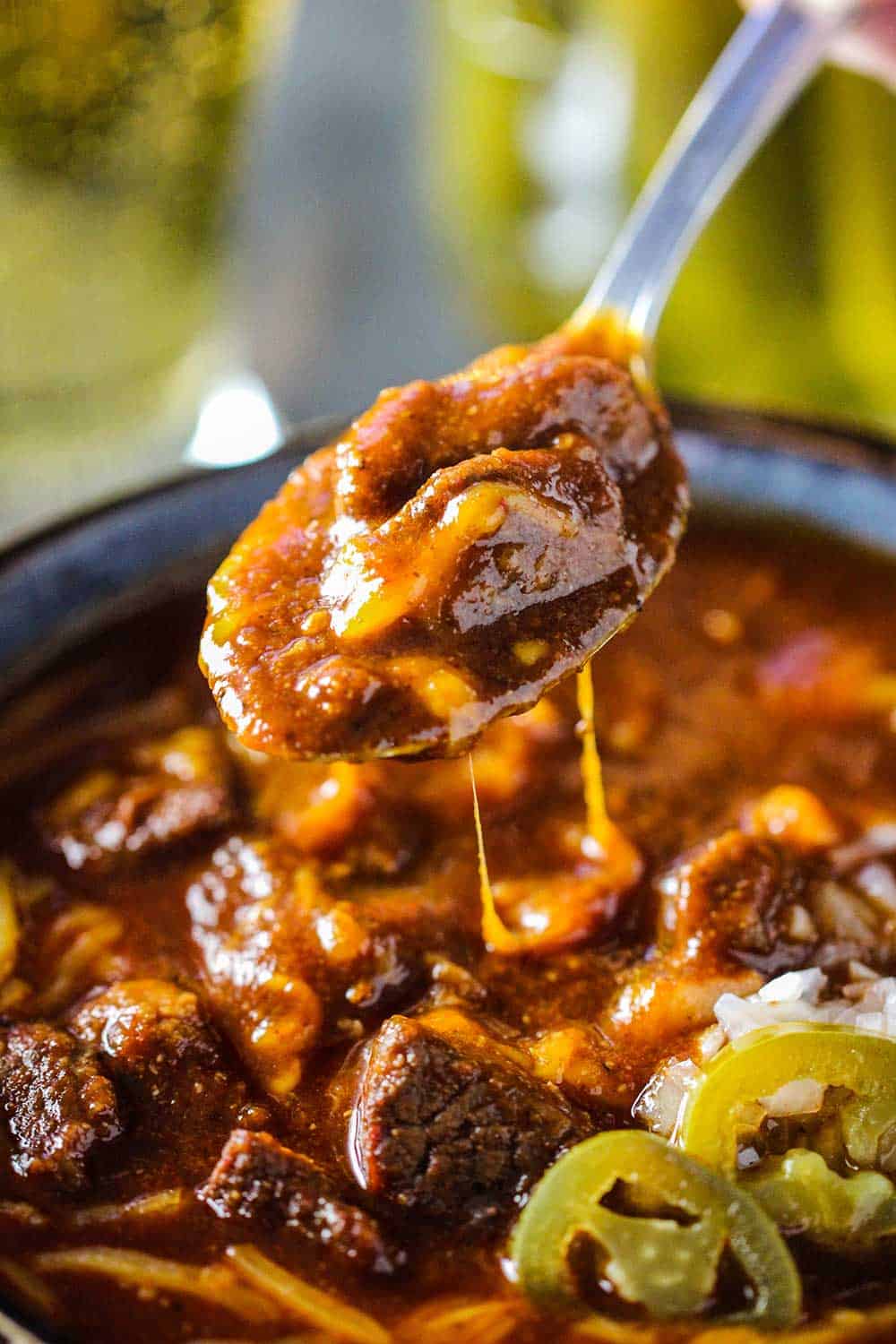 Ready to make this best chili in town, or heck, in the world? Go for it! Yee-haw!
And don't forget, when you make it, be sure to take a picture of it and post it on Instagram, and tag @HowtTofFeedaLoon and #HowToFeedaLoon!
Texas Chili
This recipe is classic Texas-style chili. Bold. No beans. Bite-size chunks of steak. And slow-cooked. Incredible.
Print
Pin
Rate
Servings: 6
Calories: 612kcal
Equipment
1 Large pot,such as a Dutch oven
Ingredients
¼ cup chili powder
2 tbsp onion powder
2 tsp garlic powder
1 tsp black pepper
1 tsp Cayenne pepper
1 tsp oregano dried
1 tbsp smoked paprika
1½ tsp salt more, to taste
1 tsp Adobo seasoning
2 tsp olive oil
3 lbs boneless beef steak such as ribeye or sirloin, cut into bite-size pieces
2 lbs ground beef 85% lean
2 15 oz cans tomato sauce
3 cups chicken stock
3 cups beef stock
2 tbsp brown sugar light or dark
2 tbsp cumin ground
½ cup tomato paste plus extra, if needed
Hot Sauce for garnish, such as Frank's or Tobasco
onion chopped, for garnish
cheddar cheese shredded, for garnish
jalapeno fresh or pickled, for garnish
Instructions
Combine the first 9 ingredients in a bowl; divide into thirds.

Heat oil in a large pot (Dutch oven works well) over medium heat.

Season meat with salt and pepper all over.

Cook meat in hot oil until browned all over. Drain. Add meat back to the pot.

Meanwhile, in a separate skillet, brown the ground beef until no longer pink. Season with salt and pepper. Drain excess grease. Add to the pot with the cooked meat.

Add tomato sauce, chicken stock, and beef stock.

Bring to a simmer and then add ⅓ of the chili powder mixture, after 30 minutes, add the next ⅓ of the chili powder mixture, and then after another 30 minutes, add the last ⅓ of the chili powder mixture and let simmer for another 30 minutes. (This will be approx. 1 ½ hours total).

Add in the brown sugar, ground cumin, and tomato paste and simmer for another 20 to 30 minutes, until desired thickness. If the chili still is thinner than you prefer, add more tomato paste.

Serve at once with garnishes on the side.
Notes
See the video near the top of the blog post for visual guidance. If you liked the video, please subscribe to our YouTube channel.
We love using nice cuts of boneless ribeye steaks. But you can also use sirloin, strip steak, or beef tenderloin. A combination of these works well, too. 1 or 2 lbs of cooked ground sirloin will stretch the chili, too, if desired (we add this in often). We sometimes don't include the cooked ground beef, and sometimes we do. It definitely stretches the chili and provides even more beef flavor. In the video, we didn't include the cooked ground beef, but we usually do.
Dividing the chili powder mixture into thirds before adding it to the chili makes this process easy. Simply combine all the seasoning ingredients (except the brown sugar and cumin) in a larger bowl. And then just eyeball dividing into third into 3 smaller bowls.
The consistency of the chili will seem thin at first. But, over the course of the couple hours of cooking the chili will thicken and reduce down.
This can also be made in a slow cooker. Brown the meat first, then add all remaining ingredients (except the brown sugar, cumin, and hot sauce) and cook on low for 8 to 10 hours (low on 4 to 5). Stir in the brown sugar, cumin, and hot sauce in the final 30 minutes.
Common garnishes are chopped onion, shredded cheddar, fresh or pickled sliced jalapenos, dill and/or sweet pickles, sour creams, crackers, cornbread, and cooked rice.
The chili will keep in the fridge (and even deepen in flavors) for up to 4 days. The chili freezes wonderfully for up to 3 months.
Nutrition
Calories: 612kcal | Carbohydrates: 20g | Protein: 53g | Fat: 26g | Saturated Fat: 9g | Polyunsaturated Fat: 3g | Monounsaturated Fat: 7g | Cholesterol: 142mg | Sodium: 828mg | Potassium: 1273mg | Fiber: 5g | Sugar: 8g | Vitamin A: 3708IU | Vitamin C: 1mg | Calcium: 104mg | Iron: 8mg