This chili proves that you can eat healthy and not sacrifice amazing taste on bit.
We love good ole beef chili, there's no doubt about it. But, there are times we want to go the healthy route, so we developed this vegetarian chili, and it is so amazingly good!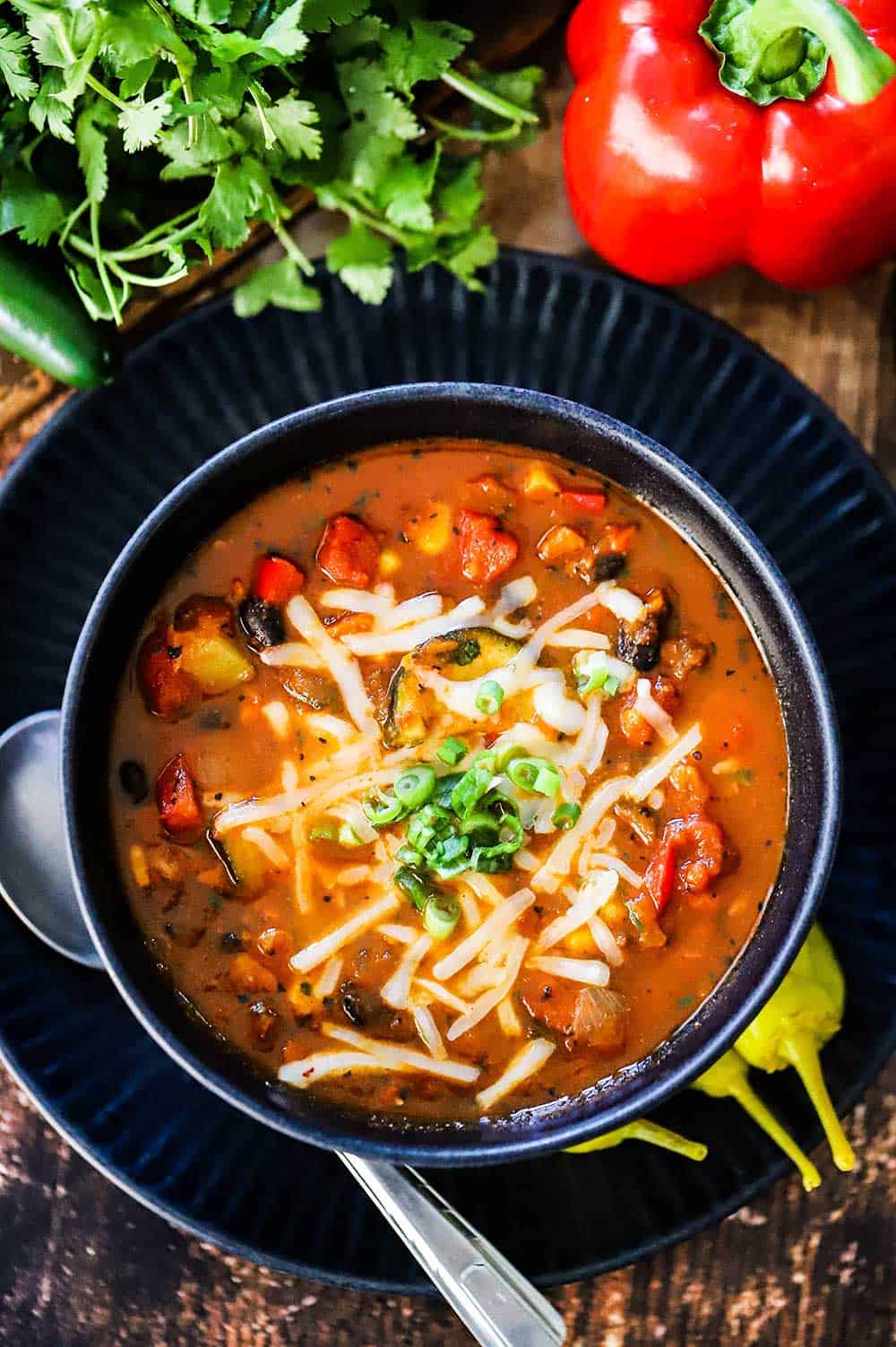 How To Make Vegetarian Chili with Black Beans
You will be surprised at how simple it is to make such a deeply flavorful chili that is 100% vegetarian!
It's all about the veggies, folks, as you would probably guess.
You can prep everything up to 24 hours in advance, and then it all comes together in about 30 minutes!
The Ingredients
This is veggie chili folks, so we recommend loading it up with nutrient-rich veggies.
Go with what's easily available for you. Here are the veggies (and beans) we love to use:
Onion
Carrots
Celery
Garlic
Zucchini
Red Bell Pepper
Jalapeno
Corn
Black Beans
Cilantro (Optional)
We get our chili powder from the world-famous Pendery's in Fort Worth, Texas.
Pull out a nice large pot or skillet and heat a couple of tablespoons of extra-virgin olive over medium heat.
Throw in the onion, carrots, celery, garlic, zucchini, red bell pepper, and jalapeno. Cook until just starting to soften about ten minutes.
EXPERT TIP: We use our trusty food processor to roughly chop our carrots, however, you could easily simply slice them thinly after you've peeled them. For the zucchini, just cut off the ends, slice in half (lengthwise), and then cut into small semi-circles, no need to peel.
Choosing the Right Bean
After you've sautéed the vegetables until they are nice and soft, it's time to add in the beans.
We love all kinds of legumes (aka beans), but our favorite to use in this chili are black beans, but you could go with pinto, red kidney, or even black-eyed peas!
For this recipe, we think it's perfectly acceptable to use canned beans. You cold absolutely soak dried beans overnight and then simmer them until soft, but there's so much flavor going on in this chili, we really don't think it's 100% necessary, but that's up to you!
How Many Calories in 1 Serving?
If you're counting calories, or not, this vegetarian chili checks all the right boxes.
Delicious
Heart-warming
Filling
Loaded with Nutritious Goodness.
In fact, one bowl only has 115 calories (this is without cheese).
How To Store Vegetarian Chili with Black Beans
This chili will feed a family of 4 a couple of meals in a week.
We love to double the recipe and freeze half of it for future use.
It will keep in the fridge for up to 1 week and freezes beautifully for up to 2 months.
It's also amazing to use in our incredible Piled High Vegetarian Chili Nachos!
We just love everything about this veggie and black bean chili.
Other favorite chili and stew recipes are our:
Texas Red Chili
Best-Ever Turkey Chili
White Bean and Roasted Chicken Chili
Brunswick Stew
Smoked Ham and White Bean Stew
But with just a spoonful of this vegetarian chili, you'll be hooked.
There is just something extra amazing about this chili.
It's so wonderful to have a big, warm bowl of it and know that you are eating healthy.
It is so delicious and makes you feel like you are cheating…but you're not!
Ready to make the best batch of chili in town? Go for it!
And when you do, be sure to take a photo of it, post it on Instagram, and tag @HowToFeedaLoon and hashtag #HowToFeedaLoon!
Vegetable Chili with Black Beans
This Vegetable Chili with Black Beans will warm you to the bones! It's so good, and super healthy, too (shhh!!). You will be amazed at how delicious this vegetarian chili is. Veggies, corn, and black beans make the perfect flavor combo!
Print
Pin
Rate
Servings: 6
Calories: 113kcal
Ingredients
2 tbsp extra-virgin olive oil
1 onion diced
1 red bell pepper seeded and diced
2 zucchini green squash, sliced into 1/2-inch pieces
2 celery ribs diced
1 carrot chopped
1 jalapeno seeded and finely chopped
2 cloves garlic minced
2 tbsp chili powder
1 tbsp ground cumin
1 tbsp dried oregano
1 tsp cayenne pepper
1 cup vegetable stock
1 28 oz can whole tomatoes I love San Marzano
1 15.5 oz black beans drained and rinsed
1 cup corn kernels
1½ tsp Kosher salt
⅓ tsp black pepper
¼ cup fresh cilantro chopped
Monterey jack cheese and scallions for garnish optional
Instructions
Heat the oil in a large sauce pan, or pot (a Dutch oven) or medium heat.

Add the onion, bell pepper, zucchini, celery, celery, carrot, jalapeno and garlic and cover.

Cook, stirring occasionally, until the veggies are softened, about 10 minutes.

Add the chili powder, cumin, oregano, cayenne and stir well.

Add the vegetable stock.

Add the tomatoes, breaking them apart with your fingers as you drop them into the pot. Add their juices and bring to a simmer. Add in the salt and pepper.

Reduce the heat to low and simmer until the sauce has thickened slightly, about 20 minutes.

Stir in the beans and corn and cook until they are heated through, about 10 more minutes.

Stir in the cilantro.

Serve with Monterey jack cheese and scallions sprinkled on top.
Notes
See the video near the top of the blog post for visual guidance. If you liked the video, please subscribe to our YouTube channel.
Increase the amount of chili powder for more heat, or decrease for very low heat.
The chili will keep in the fridge for up to 1 week. It freezes beautifully for up to 2 months.
Nutrition
Calories: 113kcal | Carbohydrates: 15g | Protein: 3g | Fat: 6g | Saturated Fat: 1g | Polyunsaturated Fat: 1g | Monounsaturated Fat: 4g | Sodium: 872mg | Potassium: 432mg | Fiber: 4g | Sugar: 5g | Vitamin A: 3962IU | Vitamin C: 43mg | Calcium: 48mg | Iron: 2mg
POST UPDATE: This recipe was originally published in October 2015, but was updated with improved tweaks to the recipe with new tips and photography and a fabulous new video in January, 2022!