If you're like us, you love just about any kind of platter of nachos that gets set in front of you. But vegetarian? Hmmm…this may take some work.
We are thrilled to say that a platter of these babies is honestly as a batch loaded with seasoned beef or chicken. We use our incredible Black Bean Vegetarian Chili to round out the taste. Homemade Guacamole hits these out of the park! Make the chili in advance and these nachos come together in a snap!
HOW TO MAKE VEGTARIAN CHILI NACHOS
These nachos are so satisfying, and as mentioned before, they really are so easy to prepare just before serving.
The vegetarian chili is deep in flavor and robust enough that it feels as though you've got a big ole meaty platter of nachos right in front of you!
Just look at this chili, doesn't it look so comforting?
LAYERING THE PERFECT NACHOS
We start off with a beautiful layer of yellow corn tortillas chips.
It's fun and easy to fry your chips up at home. Simply follow our steps here in our Classic Nachos recipe!
Next, it's time to start layering on the ingredients for the Vegetarian Chili Nachos. Start with plenty of the chili on the chips, and then add the other ingredients.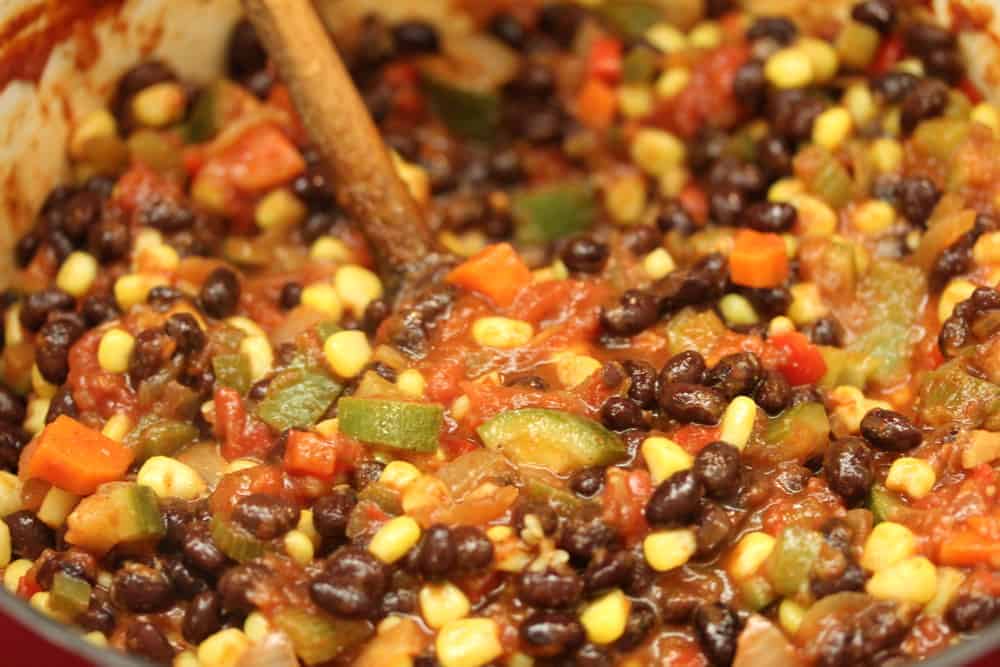 Add more chips as you go, so you are truly layering the nachos.
Save the sour cream, salsa, and guacamole for piling on after baking the nachos.
Mmmm….nachos!
Ready to make the best vegetarian nachos in town? Go for it!
And when you do, be sure to take a photo, post it on Instagram, and tag @howtofeedaloon and hashtag #howtofeedaloon!
Vegetarian Chili Nachos
These Vegetarian Chili Nachos are the bomb! Make the chili ahead of time, and then make these nachos. Unbelievable taste and flavor. We ate them in one sitting!!
Print
Pin
Rate
Servings: 6 people
Calories: 314kcal
Ingredients
1 bag corn tortilla chips
3 cups Vegetable & Black Bean Chili
3 cups cheddar cheese shredded, or Monterrey Jack, or combo
1 jalapeno seeded and sliced
½ cup cilantro fresh, chopped
½ cup sour cream
½ cup fresh guacamole
Hot sauce to taste
Instructions
Heat the chili over medium heat in a medium pan.

Preheat the broiler.

On a large baking sheet, place one layer of the tortilla chips.

Scatter about 3/4 cup of the chili over the chips.

Scatter 1 - 2 cups of the cheese over the chili.

Add another layer of chips, then chili, then cheese.

Place under the broiler and cook until the cheese is melted, keep a close eye...don't let them burn...they should cook for 3 - 7 minutes until melted and lightly browned.

Remove from the oven, let cool slightly, then top with sliced jalapenos, fresh cilantro, sour cream, guacamole, hot sauce.
Nutrition
Calories: 314kcal | Carbohydrates: 35g | Protein: 19g | Fat: 14g | Saturated Fat: 6g | Cholesterol: 69mg | Sodium: 585mg | Potassium: 201mg | Fiber: 3g | Sugar: 1g | Vitamin A: 801IU | Vitamin C: 3mg | Calcium: 519mg | Iron: 2mg