If you want to serve a truly restaurant-quality dish without a bunch of hassle, this is the recipe for you.
This dish is truly magnificent. The shrimp and the scallops are not fishy tasting at all and melt in your mouth with the light creamy sauce. Roasting the peppers adds a depth of flavor that just is nothing short of amazing. We love serving these with our classic Mexican rice and Bodacious Borracho Beans. Such an impressive feast that is honestly not that difficult to bring together.
We absolutely love poblano peppers. They have a mild heat to them and really perfect for grilling, roasting, and, of course, frying. They even had good health benefits!
How To Make Seafood Stuffed Poblano Peppers
Poblano peppers can be found in the pepper section of the produce area of most well-stocked supermarkets, at produce markets, or Latino food markets. In a pinch, you could substitute green bell peppers, and roast them in the same manner.
Making this dish is fun and the results are truly astounding!
NOTE: If you liked this video, please subscribe to our YouTube channel. Remember to click the little 'bell' icon so you'll never miss a new recipe video!
The Ingredients You Will Need
Here's what you'll need to make this incredible Mexican seafood dish:
Fresh poblano peppers – Try and select ones that are not curled, but mostly flat. This makes plating them easier.
Butter – unsalted
Salt and pepper
Shrimp – Medium to large size if fine. You'll remove the tails and devein them and then cut them into smaller pieces.
Scallops – If using bay scallops, no need to cut them up. Large sea scallops will need to be cut into quarters.
Garlic – 2 to 3 cloves, minced
Jalapeno pepper – Seeds removed and finely chopped.
All-purpose flour – For making a roux
Cayenne pepper – For a little zing. You can add more for more heat, or omit for none.
Half and Half – This will create a light cream sauce. Use heavy cream for a more luxurious sauce. Whole milk can also be used.
Mexican Cheese – Any white melting cheese will work. Favorite Mexican melting cheeses are Chihuahua, Oaxaca, and Asadero (aka: Quesadilla cheese). Monterey Jack is a great choice, too.
Cilantro – Fresh, chopped, for garnish.
How To Prepare the Poblano Peppers
There are a couple of ways of doing this. First, you need to char the skin. You can do this under your broiler, but keep a close eye on it.
You want to char the pepper, but don't let it catch on fire!
We use a pair of tongs to hold the pepper over the glass flame on our gas grill. You could also do this on your outdoor grill.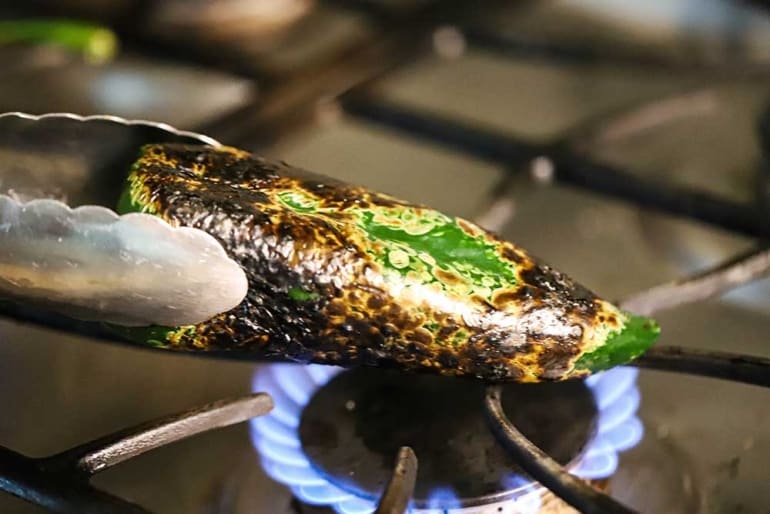 After blackened all over, place the peppers in a bowl and cover with plastic wrap, or place them in a paper bag and fold the top up tightly.
After about 5 to 10 minutes, you'll be able to remove the skin.
You may have to scrape some with your fingernails, but don't worry, it will come off. It's not 100% necessary to remove every last bit of charred skin.
Now, very carefully, use a small sharp knife to make a slit in the top of the pepper from the stem to about ½-inch from the tip.
Open it up, and use a spoon to scrape out the seeds.
EXPERT TIP: You can absolutely hold the de-seeded peppers under running tap water to help get rid of any lingering seeds or skin. Dry off with a paper towel.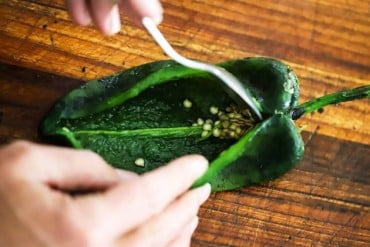 Tips for Seafood Stuffed Poblanos Peppers
Keep the roasted peppers warm – Once the seafood filling is done, it's time to stuff the peppers and serve. No baking is needed. To keep the peppers warm, carefully place them on a baking sheet and keep them in a low-temperature oven (200°F), until ready to stuff them. The peppers can also be made several hours before serving. Cover with plastic wrap and then warm in the oven before stuffing them.
Mise en Place – Since this is a seafood dish, it does not require a lot of time to bring the sauce together. It's important to have all of the ingredients out and in their place (mise en place) before you start cooking the sauce.
Keep the Sauce Light – We find that this dish is best with a light cream sauce. If the sauce gets too thick, have some extra half and half (or milk) on hand to thin the sauce. The sauce should coat the seafood, but not become too thick and gummy.
EXPERT TIP: This dish is wonderful with shrimp only. Or scallops only. Other types of shrimp that would be great additions are lobster, crab, and clams. You'll want to stir the cooked seafood into the sauce just before plating.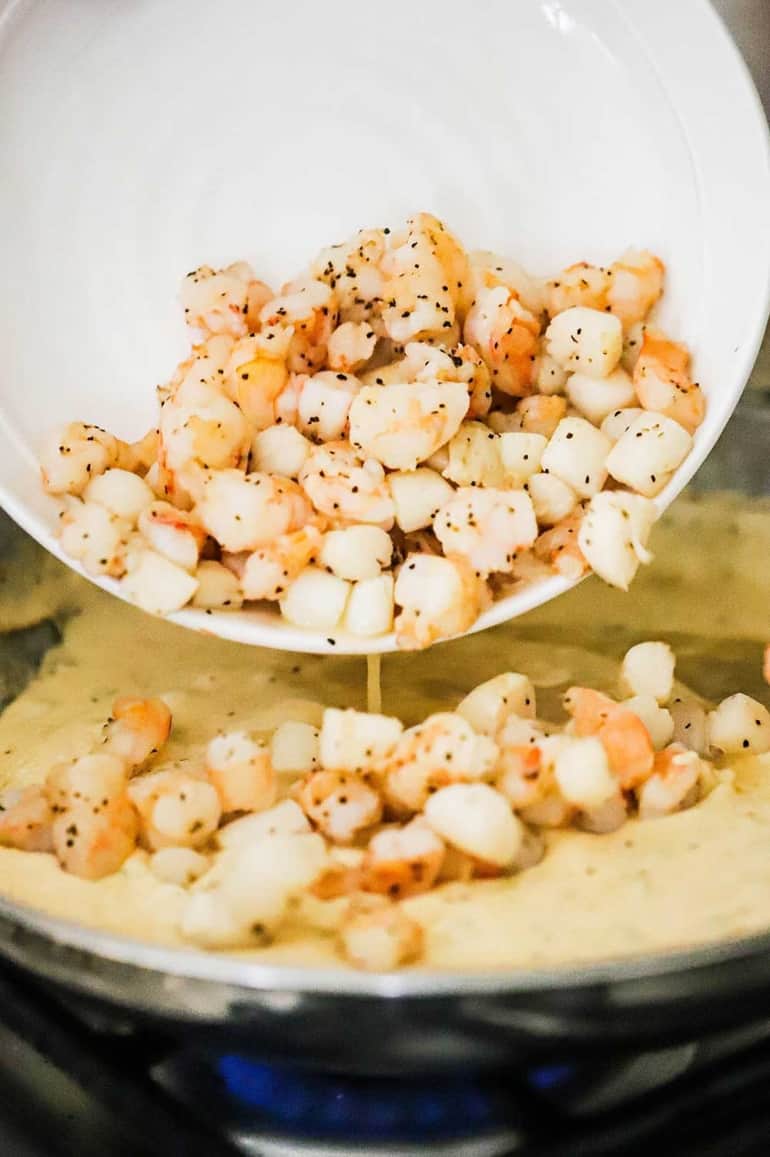 How To Serve
This dish is classic Mexican fare and pairs beautifully with rice and either borracho beans or refried beans.
This recipe will feed 4 people comfortably, with 1 stuffed pepper per person.
We recommend stuffing each pepper directly on each guest's plate that you will be serving them. You'll be able to stuff the peppers and have enough to let the filling overflow out of the poblanos.
Other Amazing Mexican Recipes to Try
Here are some of our absolute favorite recipes from one of the greatest cuisines the world has ever known!
Chili Rellenos with Mexican Queso
Chicken and Rice Stuffed Poblano with Red Sauce
Vera Cruz-Style Shrimp with Classic Pumpkin Sauce
Mexican-Style Meatballs (Albondigas)
Chipotle Roasted Chicken
Carnitas Tacos
Carne Asada
Chilaquiles
Huevos Rancheros
But in the meantime, you've just got to give this dish a try! It is truly sensational!
Ready to make the best dish this side of the Gulf of Mexico? Go for it!
And when you do, be sure to take a photo of it, post it on Instagram, and tag @HowToFeedaLoon and hashtag #HowToFeedaLoon!
Seafood Stuffed Poblano Peppers
Seafood Stuffed Poblano Peppers really is a spectacular dish. They are deeply flavorful and not fishy tasting at all. You can roast and prep the peppers hours in advance and then the sauce comes together very quickly, which makes it ideal for serving guests.
Print
Pin
Rate
Servings: 4
Calories: 246kcal
Equipment
Gas flame or oven broiler for roasting the peppers
Ingredients
4 large poblano peppers
3 tbsp unsalted butter divided
8 oz shrimp medium to large, peeled, deveined, and roughly chopped
8 oz scallops bay or sea (if sea, cut into quarters)
2 cloves garlic minced
1 jalapeno seeded and finely chopped
1 tbsp all-purpose flour
¼ tsp cayenne pepper
¾ cup half and half
¼ cup cheese shredded, Chihuahua, Oaxaca, or Monterey Jack
2 tbsp cilantro fresh, chopped, for garnish
Instructions
Prepare the Peppers
Preheat oven to 200°F.

If you have a gas stove, roast the peppers one at a time holding each with a pair of metal tongs directly over the gas flame. Roast until charred all over. Place in a bowl and cover tightly with plastic wrap for 5 to 10 minutes. If you don't have a gas stove, place the peppers on a baking sheet and broil on high for several minutes, turning the pepper occasionally, until charred all over. Place in bowl and cover for 5 to 10 minutes.

Remove the peppers from the bowl and carefully use your fingers to peel away the skin. You can scrape the skin with the tips of your fingernails, too. Try to remove almost all of the skin, but if there is still a few charred places visible, that's completely okay.

Use a small sharp knife to cut a slit into each pepper from the top of the pepper to about ½-inch from the bottom tip. Gently pry open each pepper and use a spoon to scrape out the seeds. It's okay to rinse the peppers under cool tap water to help get all of the seeds and flakey charred skin. Place on the baking sheets and put in the oven to keep warm until ready to stuff them.
Make the Seafood Filling
Spread the shrimp and scallops out on a cutting board or large platter. Sprinkle with salt and pepper all over. Set aside.

Heat 2 tbsp butter in a large skillet/saucepan over medium heat. Transfer the shrimp and scallops to the skillet and cook, stirring often, until pink and fully cooked, about 3 to 5 minutes. Use a slotted spoon to remove the shrimp and scallops to a clean platter or bowl.

Add the remaining 1 tbsp butter to the skillet. Once melted, add the chopped jalapeno and cook until soft, about 4 minutes. Stir in the garlic and cook for another 30 seconds.

Stir in the flour to create a roux. The consistency is like very wet sand. Cook, stirring often, for 1 minute. Stir in the cayenne pepper.

Whisk in the half and half and continue whisking until all lumps are gone. Stir until slightly thickened, about 2 to 3 minutes.

Stir in the cheese and cook until melted, about 1 minute.

Season with ½ tsp salt and ¼ tsp pepper. Stir in the cooked shrimp and scallops, with any accumulated juices. Stir and let simmer for about 2 minutes, until the shrimp and scallops are heated through.

Place each pepper on a dinner plate and then use a large spoon to stuff the peppers with the seafood filling. Garnish with chopped cilantro and serve at once.
Notes
See the video near the top of the blog post for visual guidance. If you like the video, please subscribe to our YouTube channel.
The peppers can be roasted and prepped several hours before serving. Wrap them in plastic wrap or foil to store them (no need to place them in the fridge). Place on a baking sheet and keep in a low-temp oven until ready to stuff.
This dish is mildly spicy. If you want more heat, increase the cayenne pepper. If you want very little to no heat, omit the cayenne completely and sauté a green bell pepper instead of a jalapeno.
Be sure to have all of your ingredients in place before you start making the filling. It comes together quickly.
Leftovers will keep in the fridge for up to 3 to 4 days. Reheat the filling over medium heat until warmed through. You can freeze the filling, but the cream may separate.
Nutrition
Calories: 246kcal | Carbohydrates: 14g | Protein: 12g | Fat: 14g | Saturated Fat: 6g | Polyunsaturated Fat: 1g | Monounsaturated Fat: 4g | Trans Fat: 0.3g | Cholesterol: 59mg | Sodium: 303mg | Potassium: 491mg | Fiber: 3g | Sugar: 6g | Vitamin A: 1206IU | Vitamin C: 137mg | Calcium: 125mg | Iron: 1mg