Some roasts were just made to impress. And, folks, this roast is no exception.
This roast is perfect for any type of special occasion meal, but it's also a wonderful family Sunday dinner. The pork is deeply flavorful and moist, the filling is fresh and fragrant, and the gravy…well, it's the gravy on top. We love serving these with our Best Mashed Potatoes!
How To Make Herb-Stuffed Pork Loin
A roast this spectacular takes a little bit of time to prepare. But, boy howdy, is it worth.
You can get a head start on many of the components, from making the filling to prepping to dry-brining the roast.
NOTE: You'll need a large skillet that is oven-safe. We recommend a cast-iron skillet (12-inch) or Dutch oven.
How To Butterfly a Pork Loin
Now, let's talk about prepping the pork. We go with a 3.5 lb center-cut, boneless pork roast for this recipe. Learn more about pork loin here.
Start with the pork loin roast on a large cutting board. You'll want to use a sharp knife to help you butterfly the roast.
Insert your knife into the loin about 2/3 up from the bottom and gently slice, moving the knife back and forth. Keep carefully slicing back and forth until you reach about half an inch from the end of the roast.
Now, start cutting downwards and then back towards the other end. By doing this, you are creating a flap.
See the photo and video for reference.
Use your hands to fully open the roast.
You'll want the roast to be about ¼ to ½-inch in thickness. If necessary, cover the loin in plastic wrap and pound it with the side of a mallet.
EXPERT TIP: To make an even juicier roast, we use a dry brine of brown sugar and salt. Sprinkle the mixture all over the loin – top and bottom. Place in a large freezer baggie, then refrigerate for 1 hour or up to 24 hours.
How To Form the Stuffed Loin
The filling is a deeply flavorful combination of sautéed garlic, fresh parsley and basil, capers, lemon zest, and anchovies.
Place the herb mixture all over the loin, leaving about a ½-inch border along the sides.
Roll it up, jellyroll style, and tie it up with twine. Next, sprinkle black pepper all over the roast.
EXPERT TIP: The anchovies add a subtle depth to the flavor profile of the filling. They aren't overpowering at all, but if you're not a fan of anchovies at all, you can easily omit them.
Searing Locks in Flavor
Now, using the same skillet that you sautéed the garlic in, crank up the heat, and sear the roast until nicely browned all over.
EXPERT TIP: Searing creates a delicious crust on the exterior of the roast. This is not only delicious, but it also helps the roast retain the juices while it cooks in the oven.
Next, you'll need to roast the stuffed pork in the oven at 275°F for 1 hour and 10 minutes, or until the internal temperature reaches 135°F.
The roast needs to rest for about 15 to 30 minutes, which gives you plenty of time to make the amazing gravy.
EXPERT TIP: An instant-read thermometer allows you to know exactly when the roast reaches 135°F. However, before taking the roast out of the oven, insert the thermometer in a couple of different places in the meat. Also, it's okay if portions of the pork are slightly pink. The danger of trichinosis is no longer a threat in pork, as it was many, many years ago. However, it's still important to have an internal temperature of 135°F or just barely under it.
The herb-stuffed pork loin looks amazing and smells even more amazing when you take it out of the oven.
The Perfect Gravy
The roast needs to rest for about 15 minutes, just enough time to make an amazing gravy!
Tent the stuffed loin with foil on a cutting board, and bring the skillet back to the stove.
EXPERT TIP: The addition of flour will create a roux which acts as a thickener for the gravy. No need to remove any of the aromatics from the skillet. They will help to deepen the flavor of the gravy. The addition of white wine, cream, and lemon juice makes about the best gravy you will ever taste.
This truly is a show-stopper of a roast, but as you can see, not terribly difficult to make!
It's ideal for the holidays, but also the perfect centerpiece for a memorable dinner party. Or, a Sunday family feast!
You can carve the roast and place the slices on a platter, or bring the roast, uncut, to the table, allowing your guests to see the beautiful filling as you slice it n front of them.
Tips for Making Herb-Stuffed Pork Loin
Finding the best cut of meat – You'll want to make sure you go with a boneless center-cut pork loin that is about 3.5 lbs. If you can't find it in the meat department of your market, ask your butcher to cut one for you. You'll only want a thin layer of fat (no more than 1/4 inch).
Plan ahead – Prepping the pork and putting together the filling can be done up to 24 hours in advance.
Proper cooking – We strongly recommend using an instant-read thermometer to ensure the internal temperature reaches 135°F. Insert the probe in several different places to make sure you're in the center of the roast, and in the pork, not the filling.
Ladies and gentlemen, this is truly a roast to remember.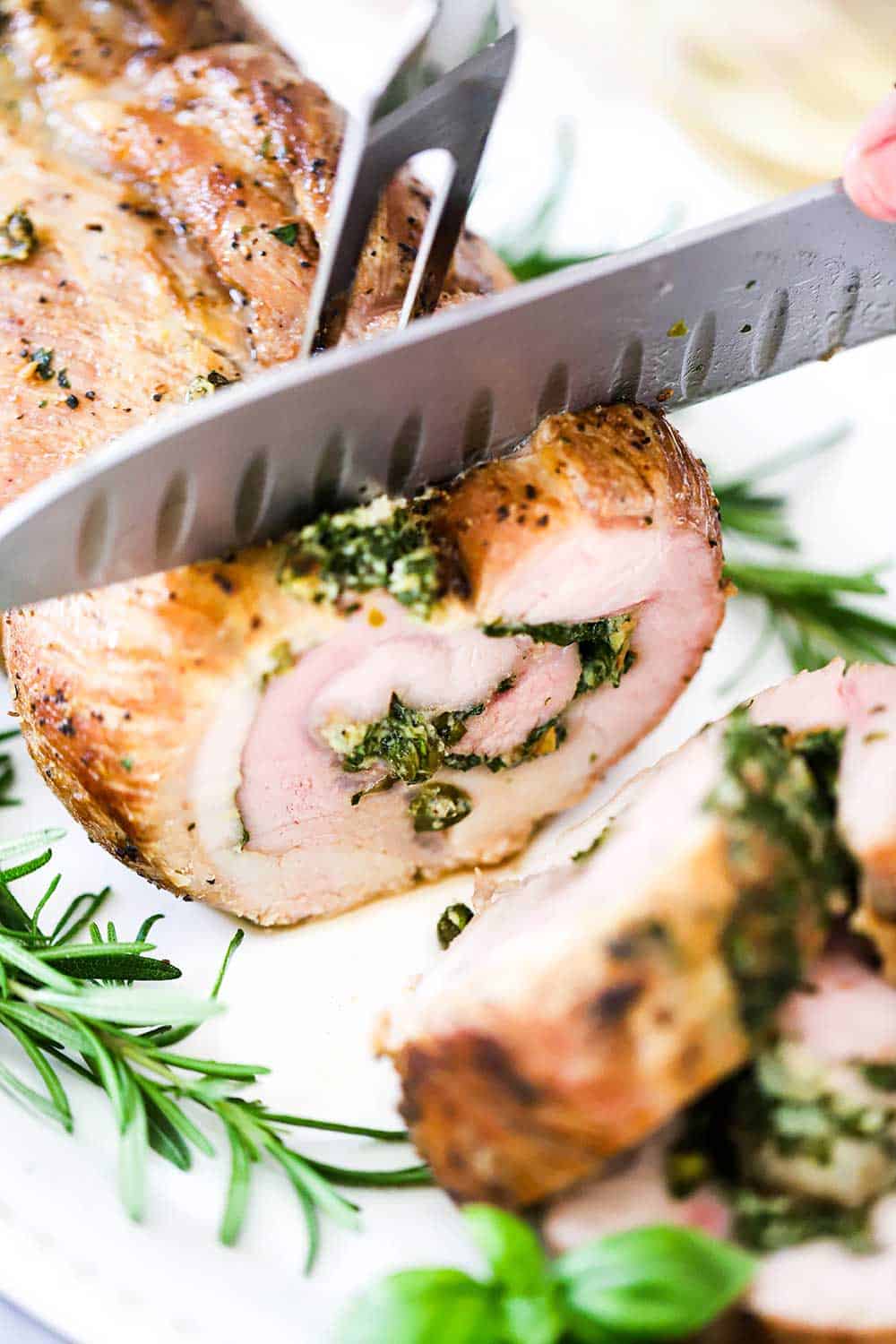 There are so many things to love about this herb-stuffed pork loin.
Juicy and deeply flavorful. Stunning presentation. Endless "ooh's" and "ah's."
A true show-stopper of a roast. The perfect side dish is our Best Mashed Potatoes, and for dessert, our Buttermilk Blueberry Pie!

Ready to make a roast that your guests will be talking about for months to come? Go for it!
And when you do, be sure to take a photo, post it to Instagram, and tag @HowToFeedaLoon and hashtag #HowToFeedaLoon!
Herb-Stuffed Pork Loin
This Herb-Stuffed Pork Loin is a crowd-pleaser for sure. The pork is so moist and flavorful, and the filling is brimming with flavor, and just so good. And the sauce puts this dish over the top. Perfect for a nice dinner party. Your guests will be so impressed!!
Print
Pin
Rate
Servings: 8 people
Calories: 489kcal
Equipment
Oven-safe skillet or saucepan, such as cast-iron or Dutch oven
Ingredients
3½ lb pork loin center-cut, boneless.
2 tbsp brown sugar
Kosher salt and freshly ground black pepper
4 tbsp olive oil divided
8 cloves garlic 3 sliced, 5 left whole
1 cup Parmesan cheese grated
½ cup parsley fresh, chopped
½ cup basil fresh, chopped
¼ cup capers
3 anchovy fillets minced
1 tsp lemon zest
2 tbsp lemon juice fresh
2 shallots peeled and halved
2 sprigs rosemary fresh
3 tbsp all-purpose flour
¼ cup dry white wine
2 cups chicken stock
¼ cup heavy cream
Instructions
Butterfly the pork loin by starting with the fat side up on a cutting board. Insert your knife ⅔ of the way up from the bottom, and carefully begin cutting horizontally.

Stop about a ½ inch from the end, and open up the flap.

Now, continue cutting down by pivoting your knife so you are cutting back in the opposite direction, about a ⅓ way down from the bottom of the roast. You are opening up the roast to make a flat piece of meat.

Fully open the flap (see pictures and/or video for reference).

Cover with plastic wrap, and pound with the side of a meat tenderizer until the roast is between ¼" to ½" thick.

Combine the brown sugar and 1 tablespoon salt in a bowl and then sprinkle all over the roast.

Transfer to a large zipper-lock bag, seal, and refrigerate for at least 1 hour, or up to 24 hours.

Preheat oven to 275 F.

Heat 2 tbsp of oil and sauté the sliced garlic cloves in an oven-safe 12-inch skillet over medium-high heat until garlic begins to brown, about 3 minutes.

Transfer garlic and oil to a separate medium-sized bowl and let cool for 5 minutes.

Stir Parmesan, parsley, basil, capers, anchovies, lemon zest, and ½ teaspoon black pepper into garlic oil.

Place roast cut side up on cutting board. Spread Parmesan mixture evenly over the surface of the roast, leaving a ½-inch border on all sides.

Starting on the short side, roll the roast tightly, and then tie with kitchen twine at 1-inch intervals. Season the roast with black pepper.

Heat the remaining 2 tablespoons of oil in the skillet over medium heat. Sear roast on all sides until browned, about 12 minutes. Flip roast, seam side down, in the skillet and add shallots, rosemary sprigs, and whole garlic cloves. Transfer to middle rack in the preheated oven.

Cook until thickest part of roast registers 135°F. (about 1 hour and 10 minutes).

Transfer roast to carving board and tent with aluminum foil...let rest for 30 minutes (Don't clean skillet, yet).

Meanwhile, use a fork to smash garlic in skillet. Place the skillet over medium-high heat and cook until shallot and garlic are sizzling.

Stir in flour and cook, stirring, for 1 minute. Add wine and cook until nearly evaporated, about 2 more minutes. Add stock and cream and bring to a boil.

Reduce heat to medium-low and simmer until the sauce has slightly thickened, about 12 minutes. Strain through a fine-mesh strainer set over small sauce pan; discard solids. Stir in the lemon juice and season with salt and pepper, to taste. Cover and keep warm.

Discard twine from roast and slice into 1/2 inch servings. Serve, and pass sauce separately.
Notes
Ask your butcher to cut a center-cut pork loin roast if you don't see it in the meat section of your supermarket. Use an instant-read thermometer to ensure the internal temperature of the roasts reaches 135 F. Also, be sure you have inserted the thermometer probe into the pork in the center of the roast. This may take a few tries to find the center. Leftover can be stored in an air-tight container and kept in the fridge for up to 5 to 6 days. The gravy will keep for 1 week. Both pork and gravy can be frozen for up to 2 months.
Nutrition
Calories: 489kcal | Carbohydrates: 10g | Protein: 52g | Fat: 18g | Saturated Fat: 6g | Cholesterol: 146mg | Sodium: 545mg | Potassium: 902mg | Fiber: 1g | Sugar: 5g | Vitamin A: 767IU | Vitamin C: 11mg | Calcium: 190mg | Iron: 2mg
POST UPDATE: This recipe was originally published in Sept 2016, but was updated with improved tweaks to the recipe with new tips and photography and a fabulous new video in May, 2021!
Recipe Note: This recipe is adapted from America's Test Kitchen, 2015.