Fried Shrimp Balls with Spicy Dipping Sauce are a truly irresistible appetizer.
These are so flavorful and can be prepared in advance, up to quickly frying them. The sauce is so good and can be made in advance, too. Perfect for entertaining!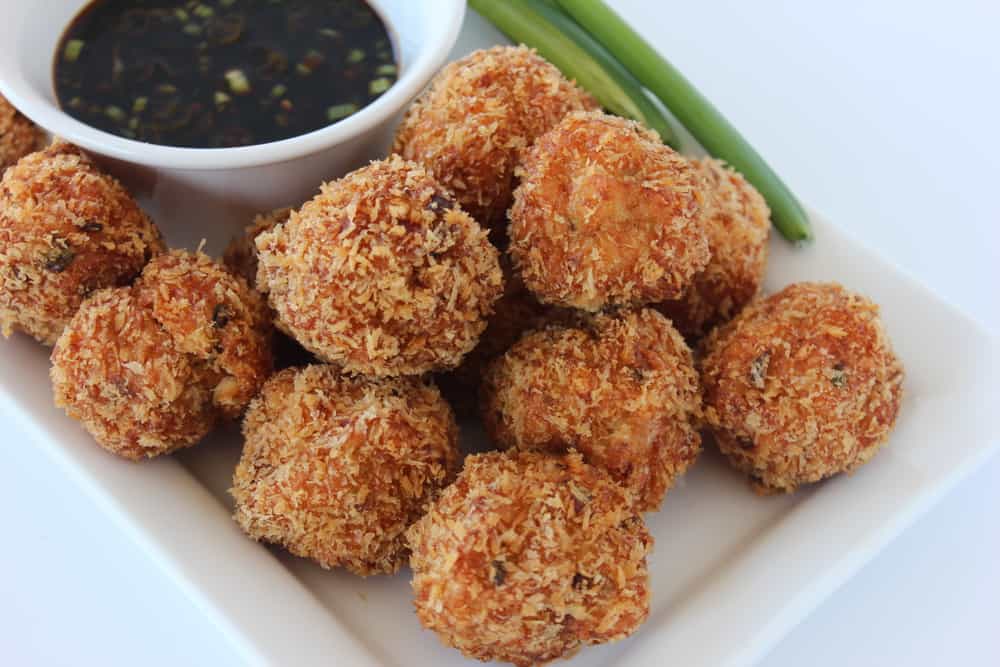 FRIED SHRIMP BALLS ARE EASY TO PREPARE
All you need is your trusty food processor, and these come together very quickly.
The combination of ingredients give them a slightly Asian taste, which is spectacular.
PANKO BREAD CRUMBS MAKE THE EXTRA CRUNCHY
After you made the batter, you'll need to set up a quick dredge station.
Simply roll them in flour, then an egg batch, and then Panko bread crumbs.
EXPERT TIP: Panko are Japanese bread crumbs that are more coarse than average bread crumbs. They are found in the breadcrumbs section of most well-stock supermarkets or in the Asian section. Regular breadcrumbs will work, too.
If you love these Fried Shrimp Balls as much as we think you will, you'd probably also love Southern Fried Shrimp. Another awesome appetizer is our Sausage-Stuffed Mushrooms!
But in the meantime, you've got to try these Amazing Fried Shrimp Balls with Spicy Dipping Sauce.
They really are AMAZING!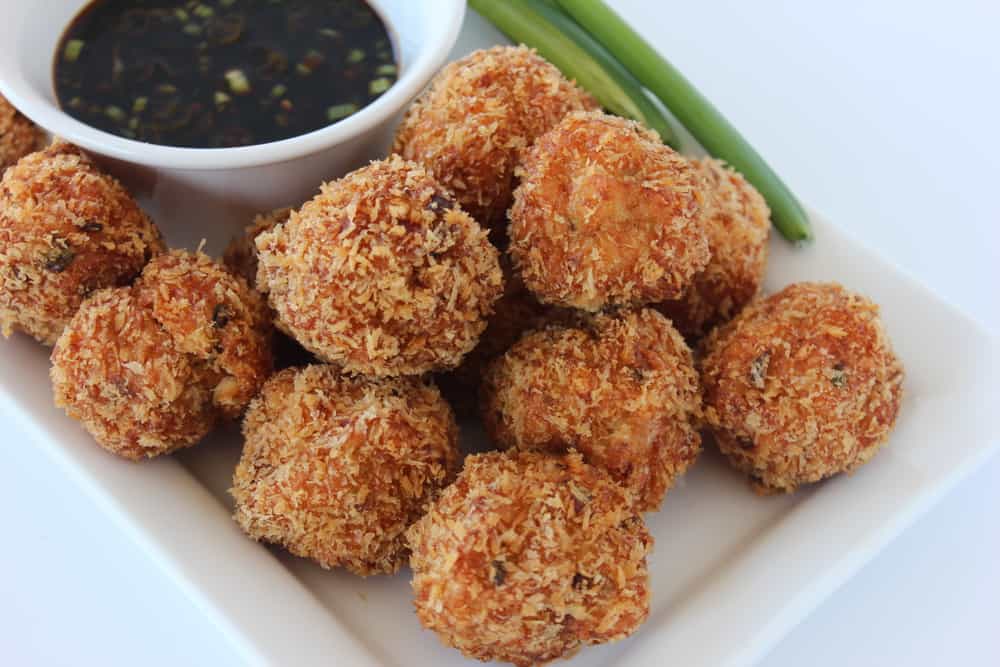 Amazing Asian Shrimp Balls with Spicy Dipping Sauce
Theses Asian shrimp balls with the spicy soy dipping sauce are just too good. Serve these at parties...and they'll be gone before you know it!
Print
Pin
Rate
Prep Time: 30 minutes
Cook Time: 10 minutes
Total Time: 40 minutes
Servings: 20
Ingredients
2 lbs shrimp peeled and deveiend
4 cloves garlic finely minced
2 tbsp fresh ginger peeled and finely minced
6 green onions aka scallions, white and green parts, thinly sliced
3 tbsp fish sauce found in the Asian section of you super market
2 tbsp cornstarch
2 egg whites
3 tbsp soy sauce
2 tbsp Asian chili paste
3 tbsp sesame oil
2 12 oz cans sliced water chestnuts, drained and coarsely chopped
3 cups Panko breadcrumbs
FOR THE DIPPING SAUCE
1 cup soy sauce
1/2 cup rice wine vinegar
3 cloves garlic sliced and pressed through a garlic press (or just minced finely)
4 green onions or scallions, thinly sliced
3 tbsp Asian chili paste such as sambael oeleck
Instructions
Pre-heat oil in your fryer or in a deep skillet (fill oil to about 1/2 below lip of the skillet). Or...pre-heat oven to 375 F.

Combine all the shrimp ball ingredients, except the Panko in a large bowl.

Stir to combine.

In batches (probably about 3 batches), add the mixture into your food processor. Pulse until forms a coarse paste.

Add back to the large bowl.

Mix in a cup of the Panko bread crumbs.

Add the remaining 2 cups of bread crumbs in a decent-sized plate.

With wet fingers, form a ball of the shrimp mixture about a 3/4 inch ball.

Roll the ball in the bread crumbs.

Place the breaded balls onto a baking sheet lined with parchment, or wax, paper

Put the balls in the fridge for about 15 minutes.

Fry (or bake) the balls, batches, for about 8 to 10 minutes, until golden on the outside. If baking...bake for 20 minutes...flipping after 10 minutes.
FOR THE DIP
Mix all ingredients and place in small bowl for dipping.