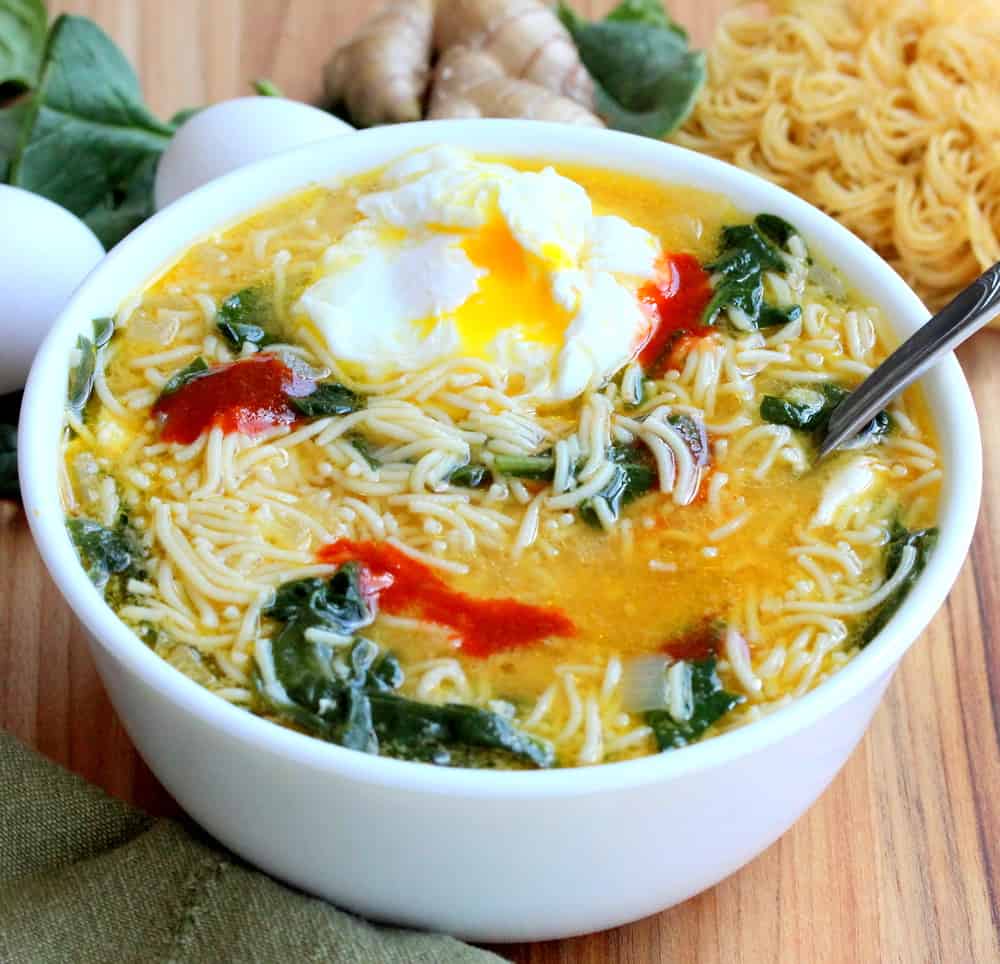 I'll never forget back in my college days when we literally lived on Ramen noodles.  They were cheap, easy to buy in bulk…and I actually thought they were quite tasty!  The seasonings were packed with sodium, I have no doubt…but still, they got me through many penny-pinching times!  This soup is incredibly flavorful  and still uses those wonderful ramen noodles…just not the packet full of sodium.  Fresh garlic, ginger  and spinach bring it to life.  Top with a lightly poached egg and drizzled with sesame oil and a few splashes of Sriracha…trust me, this will quickly become one of you favorite "go-to" soups!
Spinach-Ramen Noodle Soup with Poached Egg
This Spinach-Ramen Noodle Soup with Poached Egg is amazingly flavorful and comes together wonderfully with sauteed garlic and ginger, fresh spinach and ramen noodles...topped with a poached egg, sesame oil and a few splashes Sriracha sauce! Yum yum yum!
Author: Kris Longwell
Recipe type: Soup
Cuisine: Asian
Serves: 2
Ingredients
1 tablespoon olive oil
½ medium yellow onion, finely chopped
6 cups chicken stock
1 clove of garlic, minced
1 teaspoon fresh ginger, peeled and minced
½ teaspoon Kosher salt
6 oz. ramen noodles (toss out the seasoning packet)
1 cup fresh baby spinach
2 large eggs
Sesame oil* (for final drizzle)
Sriracha* (optional...for topping off the soup)
*Found in most supermarkets in the Asian section
Instructions
In a medium-sized skillet or pot, heat the oil over medium heat.
Add the onion and cook until translucent, about 4 minutes.
Add the garlic and ginger and cook for another 2 minutes.
Add the chicken stock and bring to a boil.
Add the ramen noodles and cook, stirring to break them apart, until they are tender, about 6 minutes (test one to make sure they are cooked to your liking).
Lower the heat to medium and add the spinach and cook until wilted, about another minute.
Crack 2 large eggs into the pot, cover, and turn off the heat.
Let sit until the whites have set, about three minutes. (Or, you can poach the eggs in boiling water for three minutes...remove, and then add to the soup).
Divide between 2 bowls and top with a drizzle of sesame oil and a few dashes of Sriracha sauce.
Serve and enjoy!