This is one of our favorite Asian-inspired soups of all time.
Back in our early days, we practically lived on ramen noodle soup. It was cheap, easy, and pretty tasty. We're going to show you how to elevate that inexpensive package of noodles to a flavor profile that is truly sensational. Make it even better by using homemade chicken broth! And what's even better, the soup is ready in 30 minutes, or less!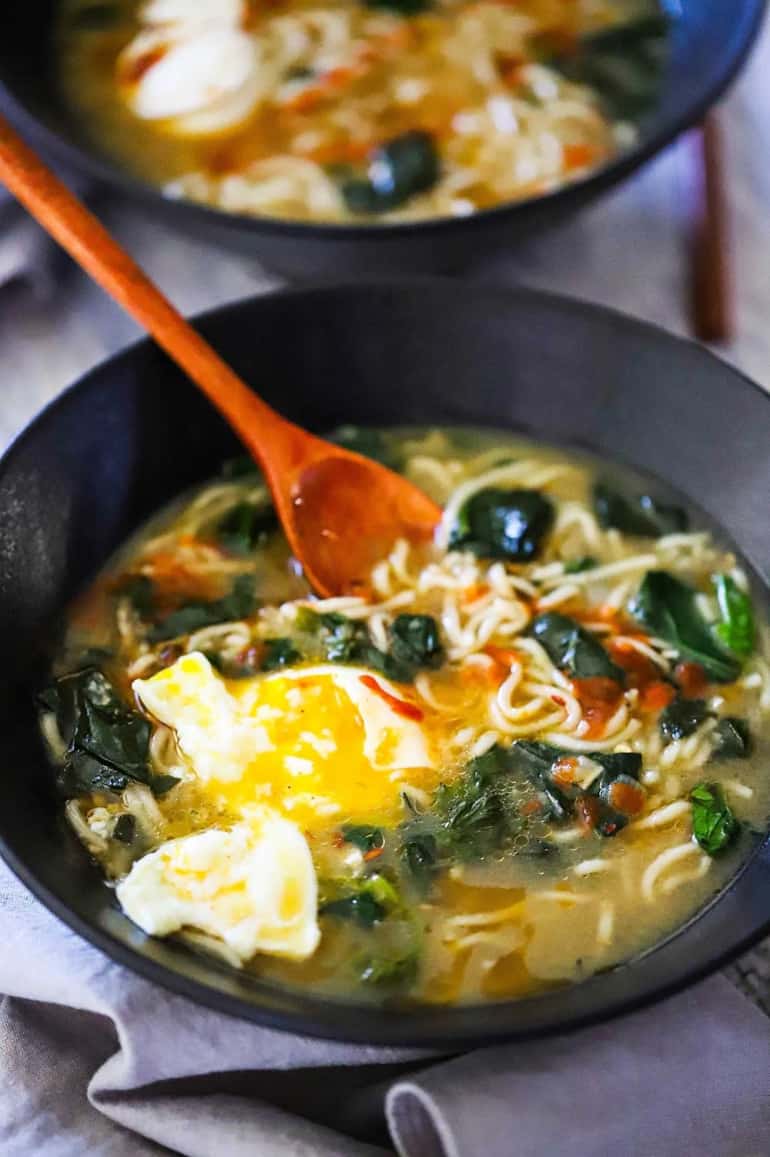 How To Make Ramen with Spinach and Poached Egg
For this recipe, there's no need to open up the included seasoning packet in the ramen noodles package. They are loaded with sodium, and not what's needed for this fantastic recipe.
Creating the perfectly poached egg is so much easier than you think!
NOTE: If you liked this video, please subscribe to our YouTube Channel. Remember to click the little 'bell' icon so you'll never miss a new video! Thank you!
The Ingredients You Will Need
All of the components of this wonderful soup are most likely already in your pantry or can be easily found at your local market.
Here's What You'll Need to Have on Hand
Oil – Olive or Extra-Virgin Olive are both great options
Onion – Chopped
Chicken broth – Homemade or store-bought, you'll need 6 cups
Garlic – Minced
Ginger – Fresh is best, finely chopped
Salt
Ramen noodles – You can toss the seasoning packet – it's loaded with sodium
Spinach – Fresh is best. Mature rather than baby, but either will work. Frozen will work in a pinch (see NOTES)
Eggs– See below for how to poach
White Vinegar – Helps with poaching
Sesame oil – Can be found in the Asian section at your supermarket
Sriracha – Can be found in the Asian section or the condiments section at your supermarket (it will add some heat to the soup, but not too much)
EXPERT TIP: As mentioned above, we recommend using mature spinach for cooking. Baby spinach is great in salads. However, we've used both, and baby will still be just fine. If using frozen (only in a pinch), be sure to completely thaw and then squeeze as much water out of it as possible. For mature spinach, wash thoroughly and then remove the stems. Fresh (and baby, too) will wilt and shrink significantly when added to the hot broth.
Tips for Perfect Ramen with Spinach and Poached Egg
Homemade Broth is Best – This soup is great with quality store-bought broth, but using homemade puts it over the top. You can even make a quick(er) batch by boiling chicken pieces in water for 1 hour, and skimming the top as needed. Remove the chicken, remove the meat, and keep it for another use (or add to the soup).
Fresh is Best – We highly recommend using fresh garlic, ginger, and spinach for the soup. Dried ginger and/or garlic won't deliver the depth of flavor you want in this soup.
Don't Forget the Garnishes – The sesame oil and the sriracha add so much flavor to the soup that we don't recommend omitting them. Srirach definitely will add some heat, so start with a little and then add more to your own tastes. Sesame oil is very flavorful, but a little goes a long way. Try a couple of small dashes, taste the soup, and then add more if desired.
EXPERT TIP: No need to break the noodles up before dropping them into the soup. They will naturally break apart as they start to soften in the simmering broth. Don't overcook the noodles as they will become very soft and a little mushy.
How To Poach Eggs with the Vortex Method
To poach the eggs for this soup, you can just drop an egg (or two) into the simmering soup, cover it for a few minutes, and you'll have a nicely poached egg.
Alternatively, we love to take a separate pot of boiling water and use the vortex method. Simply plunge the handle of a wooden, or metal, spoon into the boiling water and spin around to create a spinning vortex. Crack the eggs into a small container, then add a drop of distilled white vinegar on top, and then gently drop the egg(s) into the spinning boiling water. Immediately turn off the heat, and then wait for 3 to 4 minutes.
Use a slotted spoon to gently remove the beautifully poached egg. Then, carefully add the egg to your bowl of ramen with spinach.
Other Broth-Based Soups To Try
If you're not in the mood for a thick, creamy, heavy soup. You'll want to try out these broth-based soups:
Chicken Pho (Vietnamese Chicken Soup)
Asian-Fusion Soup with Korean Meatballs
Classic Chicken Noodle Soup
Pozolé (Pork and Hominy Soup)
Tortilla Soup with Chicken
Instant Pot Minestrone Soup
French Onion Soup
These are all classics in their own way. But aren't you excited to give this soup a try? You won't regret it!
We love this soup for so many reasons.
First and foremost is the taste. It is just so delicious.
But, it's also very fast to prepare and easy on the wallet. And every bite is a true taste sensation. And, oh, so comforting!
Ready to make one of the tastiest soups this side of Tokyo? Go for it!
And when you do, be sure to take a photo of it, post it on Instagram, and tag @HowToFeedaLoon and hashtag #HowToFeedaLoon!
Ramen with Spinach and Poached Egg
This ramen soup is amazingly flavorful and comes together wonderfully with sauteed garlic, ginger, fresh spinach, and ramen noodles...topped with a poached egg, sesame oil, and a few splashes of Sriracha sauce! Yum yum yum!
Print
Pin
Rate
Servings: 2 people
Calories: 586kcal
Ingredients
1 tbsp olive oil
1 cup onion chopped
1 clove garlic minced
1 tsp ginger fresh, peeled and minced
6 cups chicken broth or vegetable broth
¾ tsp Kosher salt
½ Black pepper
6 oz ramen noodles toss out the seasoning packet
6 oz spinach fresh, washed, dried, and stems removed
1 tsp white vinegar
2 large eggs
Sesame oil for final drizzle
Sriracha optional...for topping off the soup
Instructions
In a medium-sized skillet or pot, heat the oil over medium heat.

1 tbsp olive oil

Add the onion and cook until translucent, about 4 minutes.

1 cup onion

Add the garlic and ginger and cook for another 2 minutes.

1 clove garlic, 1 tsp ginger

Add the chicken broth and bring it to a boil. Add in the salt and pepper.

6 cups chicken broth, ¾ tsp Kosher salt, ½ Black pepper

Add the ramen noodles and cook, stirring to break them apart, until they are tender, about 6 minutes (test one to make sure they are cooked to your liking).

6 oz ramen noodles

Lower the heat to medium and add the spinach and cook until wilted, about another minute.

6 oz spinach

Meanwhile, bring a separate pot of water to a boil. Crack each egg into a small bowl. Top with a small drop or two of vinegar. Use the handle of a large wooden spoon to create a spinning vortex in the boiling water. Carefully transfer the eggs (one at a time) into the spinning boiling water. Turn off the heat and cover the pot for 3 minutes.

2 large eggs, 1 tsp white vinegar

Use a slotted spoon to transfer the poached eggs to the pot of ramen, or ladle out the soup into soup bowls and top each with one of the poached eggs.

If desired (highly recommended), drizzle a little sesame seed oil and sriracha over the tops of each bowl of ramen.

Sesame oil, Sriracha
Notes
See the video near the top of the blog post for visual guidance. If you liked the video, please subscribe to our YouTube channel.
We highly recommend using fresh spinach. Mature is best, but baby spinach will work, too. If using frozen, allow it to completely thaw and then squeeze as much water out of it as you can.
Leftovers will keep covered in the fridge for up to 5 days and can be frozen for up to 2 months, although the noodles will break down somewhat.
Nutrition
Calories: 586kcal | Carbohydrates: 66g | Protein: 21g | Fat: 18g | Saturated Fat: 8g | Polyunsaturated Fat: 3g | Monounsaturated Fat: 13g | Trans Fat: 0.02g | Cholesterol: 200mg | Sodium: 2790mg | Potassium: 562mg | Fiber: 4g | Sugar: 8g | Vitamin A: 1704IU | Vitamin C: 11mg | Calcium: 119mg | Iron: 5mg
POST UPDATE: This recipe was originally published in February 2019, but was updated with improved tweaks to the recipe with new tips and photography and a fabulous new video in March 2023!