Matzo Ball Soup has been a favorite of ours ever since we moved to New York City in the late 80s.
I played around with many different techniques for creating the perfect Matzo Ball Soup recipe, and I think this version is pretty stellar.
Through lots of research and experimenting, I've learned that different folks have different likes when it comes to the density of their matzo balls. I like them when they are firm, but still a little on the light side. And I just love the addition of dill.
And of course, schmaltz (rendered chicken fat) adds a truly authentic flavor.
I get my schmaltz from making chicken stock and then collecting the congealed fat that forms on the top after sitting in the fridge overnight.
Talk about a soup steeped in history and heritage. You can taste the love and care that goes into making this iconic soup.
It is such a wonderful celebration of Jewish culture and faith and is enjoyed by so many around the world, especially during Passover.
But, we love it all year round!!
Make the chicken broth by slowly simmering bone-in chicken parts, along with leeks, celery, ginger, and a few herbs.
The combination of texture and flavor of this soup is just so heart-warming.
Just so delicious. And if you love this wonderful soup, you'll also love our Homemade Latkes (Potato Pancakes)!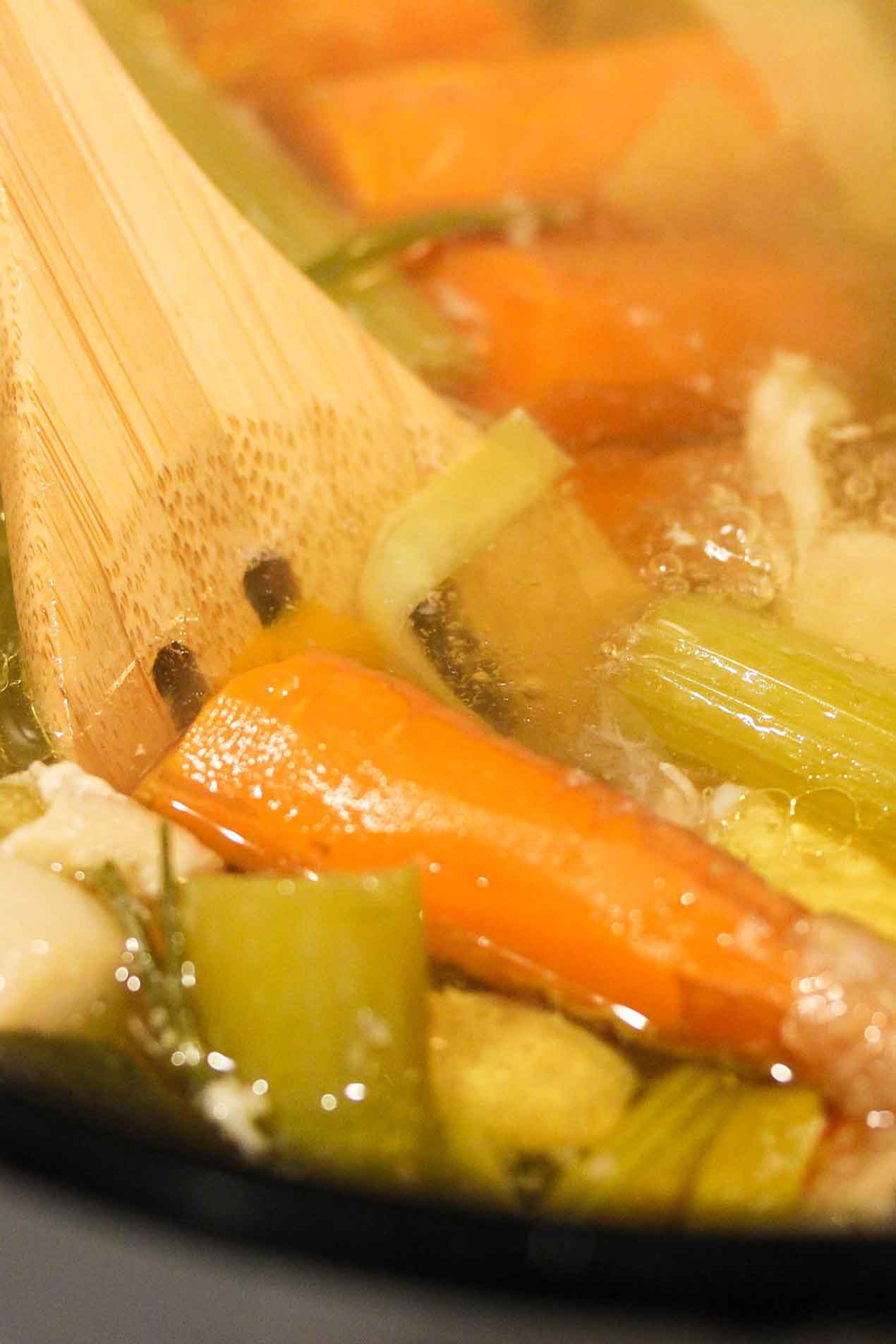 Now, make this amazingly authentic Matzo Ball Soup recipe!
And when you do, be sure to take a photo, post it on Instagram, and tag @howtofeedaloon and hashtag #howtofeedaloon!
Matzo Ball Soup
This Matzo Ball Soup is so satisfying, so heart-warming, and just one of our all-time favorites. Homemade chicken broth with the wonderful tender matzo balls are a match made in Heaven. Easily make ahead of time. Just gets better with time!
Print
Pin
Rate
Servings: 10 people
Calories: 403kcal
Ingredients
FOR THE SOUP
4 quarts water
4 lbs chicken pieces skin on, bone-in (such as chicken breasts and thighs), or one whole chicken, cut into 8 pieces.
2 leeks dark green leaves cut off and discarded, then halved and cut into thirds
3 ribs celery cut into thirds
5 carrots peeled and cut into thirds
2 oz ginger fresh, 2 inches, ends cut off (does not need to be peeled)
5 cloves garlic don't need to be peeled
1 bouquet garni herbs tied up in small cheesecloth bouquet with a pinch of parsley leaves, celery leaves and chopped dill...or, instead, use 10 parsley stems and 10 dill stems
12 black peppercorns
1 tbsp Kosher salt
4 sprigs dill for garnish
FOR THE MATZO BALLS
1¼ cups matzo meal sometimes spelled matzoh*
¼ cup parsley chopped
3 tbsp fresh dill chopped
¼ tsp Kosher salt
⅛ tsp freshly ground black pepper
3 tbsp schmaltz rendered chicken fat**
½ cup chicken broth the liquid used to cook the chicken
4 large eggs separated
Instructions
START THE SOUP
Thoroughly wash the leeks (open up the leaves and run water and shake vigorously to release dirt).

Transfer to a large stock pot.

Add all the soup ingredients (except for the matzo ball ingredients) and bring to a boil over medium-high heat.

Reduce heat and gently simmer, uncovered, skimming foam every now and then from the surface, for 3 hours.

Let cool slightly, then place in fridge for 2 hours or overnight (this makes skimming the schmaltz off the surface much easier).
MAKE THE MATZO BALLS
In a medium bowl, beat the eggs whites with a pinch of salt until soft peaks just form. Set aside.

In a separate medium bowl, stir together the matzo meal, parsley, dill, 1/2 teaspoon salt and ¼ teaspoon of pepper.

Work schmaltz/oil into matzo mixture until incorporated (you can use your fingers to do this).

Stir in the chicken broth (1/2 cup), and then the eggs yolks.

Now, stir in one-third of the egg whites into the mixture.

Gently fold in the remaining whites until fully incorporated.

Chill for 30 minutes, covered.
FINISH THE SOUP
Transfer chicken from broth to cutting board and shred into bite-size pieces. Discard excess skin and bones.

Remove carrots from broth and cut into bite-size pieces..

Line a large sieve, or fine colander with cheesecloth (or double layer of damp paper towels) and pour the broth through the sieve/colander into another pot. Press the solids to release all the liquid. Discard the solids with the cheesecloth.

Return the broth to a simmer.

With dampened fingers, gently form chilled matzo mixture into 1-inch balls (they will expand as they cook), and gently drop them 1 at a time into the simmering broth. You'll have between 16 to 20 balls.

Cover and simmer for 50 minutes.

Stir in carrots and chicken pieces to warm through.

Serve in warmed bowls and garnish with dill sprigs.
Nutrition
Calories: 403kcal | Carbohydrates: 22g | Protein: 26g | Fat: 18g | Saturated Fat: 4g | Cholesterol: 96mg | Sodium: 940mg | Potassium: 461mg | Fiber: 2g | Sugar: 3g | Vitamin A: 5760IU | Vitamin C: 10mg | Calcium: 57mg | Iron: 2mg