This sauce is had amazing depth of flavor. It is popular throughout Central Mexico and we just love it and we think you will, too.
Roasting the pumpkin seed (pepitas) brings out such a beautiful, nutty flavor. And it comes together in only about 45 minutes. So flavorful and so wonderful in dishes such as Shrimp Veracruz with Pipian Sauce.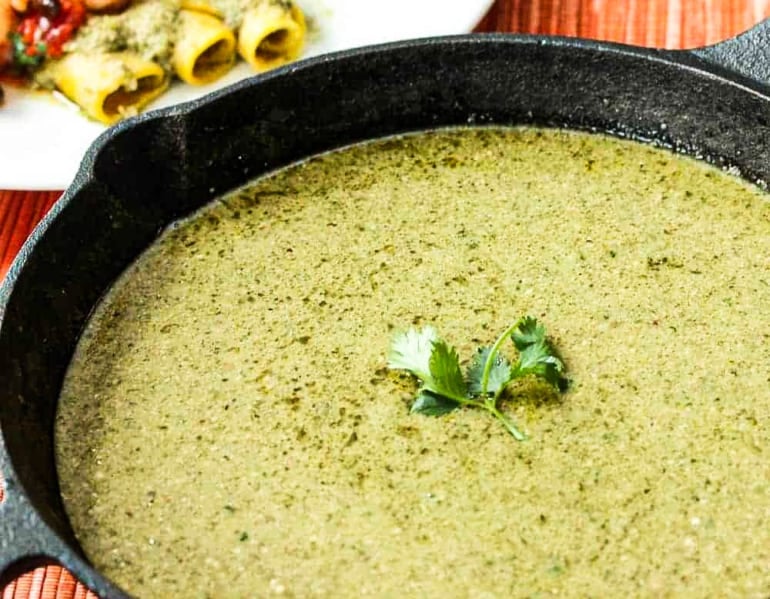 How To Make Pumpkin Seed (Pipián) Sauce
If you've ever snacked on pumpkin seeds, you know how addictively delicious they are. So, naturally, they make a delicious sauce.
Most well-stock food markets will carry them. You can easily order them online, too. They are usually labeled as "pepitas."
NOTE: If you liked this video, please subscribe to our YouTube channel. Remember to click the little 'bell' icon so you'll never miss a new video!
We already talked about the pumpkin seeds (pepitas), but let's review the other ingredients you'll need to get your hands on. One will require a quick trip to your local Hispanic food market.
Here's what you'll need
Raw green hulled pumpkin seeds – Called Pepitas
Tomatillos – Found in most well-stock supermarkets, or in Hispanic markets
Onion – Roughly chopped
Garlic – Minced
Serrano peppers – Seeds removed. Can substitute jalapeños or Anaheim.
Epazote – An herb found in Hispanic markets. If you can't find, omit it, or order it online.
Salt – We like Kosher
Cilantro – Fresh, roughly chopped
Oil – Corn is best
EXPERT TIP:If you can't find epazote, then just omit it. One interesting note, epazote has a carminative effect, meaning it can help to prevent many of the effects that beans have on the digestive system, including intestinal gas. You will not get this benefit from cilantro.
NOTE: Be sure to let the pumpkin seeds cool after toasting them.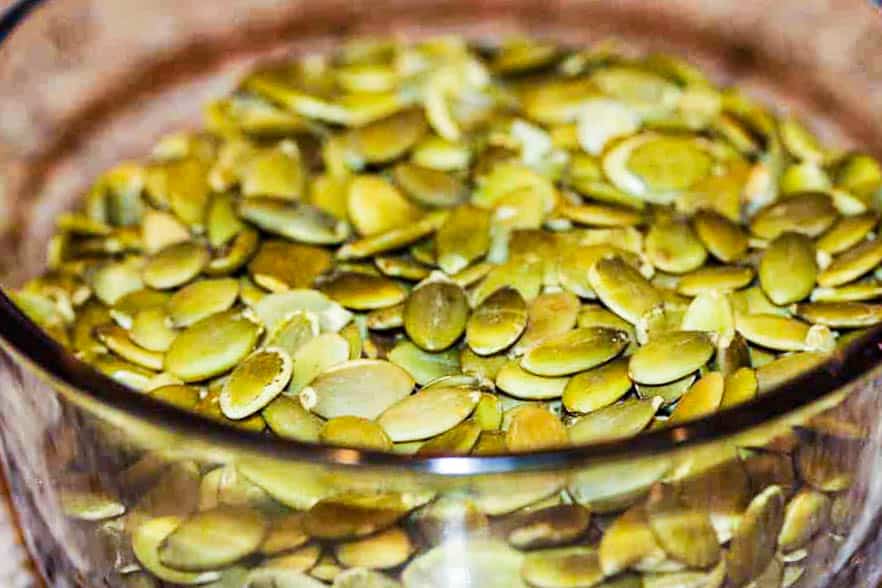 Tips for Perfect Pumpkin Seed (Pipián) Sauce
Toast the Seeds – Don't skip this step. Toasting the pumpkin seeds deepens the flavor and provides an almost smokey flavor to the overall flavor profile. You'll want to toast them for about 5 minutes, you'll hear them pop and crackle.
Purée Until Smooth – Be sure to use a blender or food processor to get a smooth consistency for the sauce. You may need to purée in a couple of batches.
Spoon Excess Oil – It is not unusual for oil to begin pooling at the top of the sauce in during the final simmer. This is normal. If there seems to be too much, simply use a spoon to skim it and discard it safely.
EXPERT TIP: Tomatillos are slightly sticky on the exterior of the skin. This is normal. Be sure to remove the outer husks. Half or quarter them. If any are brown on the inside, discard them.
How To Serve
This sauce is amazing when drizzled over fish, chicken, and even beef. Grilled, roasted, or seared are all perfect for preparing the protein.
It also makes one of the best sauces for enchiladas that we have ever tried.
Simply lightly pass a corn tortilla through hot oil in a small skillet and then plunge the softened tortilla into a shallow bowl of the pipián sauce. Fill with your favorite filling. Amazing.
Folks, this sauce is a staple in Central Mexico, and it is honestly one of the best sauces we've ever tried or made.
It will keep covered in the refrigerator for up to 5 days and can be frozen for up to 2 months.
It takes Shrimp Veracruz to culinary heights like you won't believe.
Ready to make the most delicious Mexican sauce this side of, well, Mexico? Go for it!
And when you do, be sure to take a photo of it, post it on Instagram, and tag @HowToFeedaLoon and hashtag #HowtoFeedaLoon!
Pumpkin Seed (Pipián) Sauce
This Pumpkin Seed (Pipián) Sauce is a classic Central Mexican sauce that is so versatile. We love it with chicken, pork, and of course...Veracruz Shrimp Enchiladas. Really, really amazing. Find epazote at your local Mexican/Latin food market. NOTE: This sauce can be made (without adding the pureed cilantro) 1 day ahead. Add cilantro puree just before serving.
Print
Pin
Rate
Servings: 6 people
Calories: 332kcal
Equipment
coffee grinder, or spice grinder
Ingredients
½ lb pumpkin seeds raw, hulled, not roasted or salted (pepitas)
1 lb tomatillos husks removed, halved or quartered
½ cup onion chopped
8 cloves garlic minced
2 serrano chiles seeds removed, chopped
2 tbsp epazote roughly chopped
1 tbsp Kosher salt
1 cup cilantro chopped
2½ cups water
¼ cup corn oil
Instructions
Heat a wide 4 - 5 quart heavy pot over medium heat until hot, then toast the pumpkin seeds, stirring constantly, until aromatic and starting to pop and crackle, about 4 to 5 minutes. Transfer to a plate and let cool.

½ lb pumpkin seeds

Place the tomatillos, onion, garlic, peppers, epazote, salt, ½ cup cilantro, and ½ cup water in a blender and purée until very smooth.

1 lb tomatillos, ½ cup onion, 8 cloves garlic, 2 serrano chiles, 2 tbsp epazote, 1 tbsp Kosher salt, 1 cup cilantro

Use a spice grinder (or coffee bean grinder) to grind pumpkin seeds to a fine powder in small batches. Place the pulverized seeds in a bowl and then stir together with 2 cups water. Set aside.

Heat oil in a large skillet over medium heat until hot but not smoking, then carefully pour in the pumpkin seed mixture, stirring constantly, until thickened to a slightly thick consistency, about 10 to 15 minutes.

¼ cup corn oil

Add tomatillo puree and simmer, stirring often for 2 minutes.

Stir in the 1½ cups water, and simmer, uncovered, stirring frequently, for 10 to 15 minutes, until smooth and slightly thickened.

Just before using, puree the remaining ½ cup of cilantro with ½ cup of water in your blender until smooth and add to the sauce. If necessary, thin with a little more water and return to a simmer. Use at once or store in a container with a lid in the refrigerator for up to 5 days.
Notes
See the video near the top of the blog post for visual guidance. If you liked the video, please subscribe to our YouTube channel.
If you can't locate epazote, then just omit it.
The sauce will keep covered in the fridge for up to 5 days and freezes nicely for up to 2 months.
Nutrition
Calories: 332kcal | Carbohydrates: 13g | Protein: 13g | Fat: 12g | Saturated Fat: 4g | Polyunsaturated Fat: 7g | Monounsaturated Fat: 5g | Trans Fat: 0.1g | Sodium: 1176mg | Potassium: 595mg | Fiber: 4g | Sugar: 4g | Vitamin A: 294IU | Vitamin C: 14mg | Calcium: 52mg | Iron: 4mg
POST UPDATE: This recipe was originally published in August 2016, but was updated with improved tweaks to the recipe with new tips and photography and a fabulous new video in January 2023!