Lobster Roll…is there much more of a tantalizingly delicious two words in the English language? I'd be hard-pressed to find them.
And let's face it, folks…the star of the Incredible Lobster Roll is…LOBSTER!
This is a thing of beauty and remarkable taste.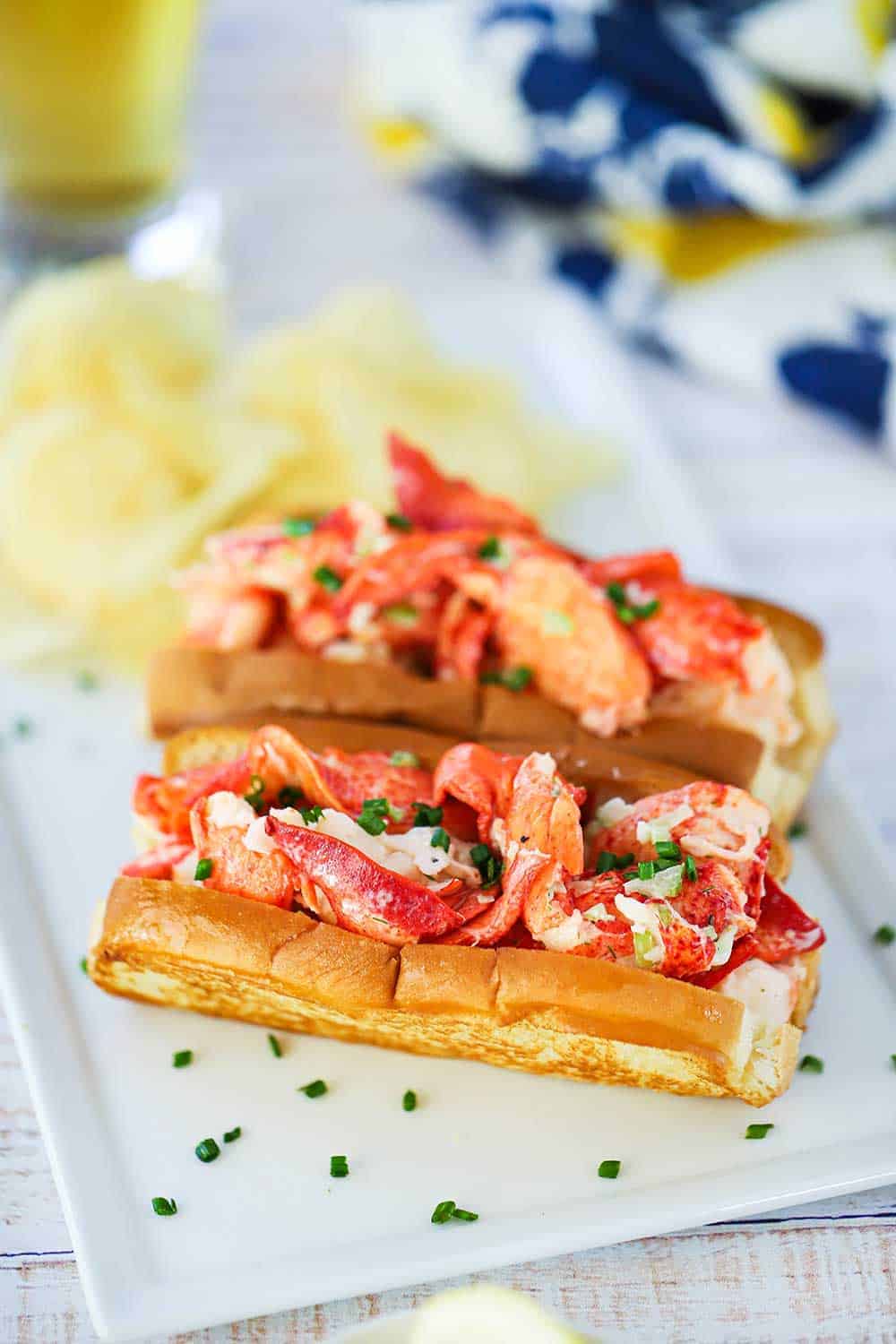 HOW TO MAKE THE PERFECT LOBSTER ROLL
As mentioned, if you don't have spectacular lobster meat, and good, meaty portions of it, you're not going to produce a stellar lobster roll.
If you're not keen on killing the lobster yourself, do what I do…find a good fish monger at your local fish market, and have them do it. They'll even remove the meat for you, too, if you ask!
Fresh lobster meat is always much, much better than frozen. Go with fresh, if at all possible.
KEEP THE FILLING SIMPLE
We love capers, celery, celery and some homemade mayo to make our lobster roll mixture.
If you don't make the mayo from scratch, that's okay, we won't judge (maybe). Just go with good quality, and don't over dress the salad with too much mayonnaise!
Did we mention, it's all about the lobster for our incredible lobster rolls?
Once the lobster has been cooked, carefully remove the meat, and then roughly chop it.
You want this salad to be good and full of chunky lobster meat.
There's nothing much more delicious than a big ole piece of lobster claw sticking out of perfectly prepared lobster the roll.
That's good stuff.
CLASSIC NEW ENGLAND FARE
Once you mix together all the ingredients, you have a glorious lobster salad ready to serve.
Although Lobster Rolls originated in New England (read more here), they can easily be made in your own kitchen.
Wow…this is about as good as it gets!
This is truly one of the most delicious sandwiches in the world and perfect for a special occassion.  You're gonna love it.
200% Loon Approved.
Incredible Lobster Roll
This Incredible Lobster Roll is probably the king of all super delicious sandwiches. Just keep it simple...let the lobster do the talking. Wow...this is good. Enjoy.
Print
Pin
Rate
Servings: 4 people
Calories: 274kcal
Ingredients
¼ cup Kosher salt
2 1.5 lbs live lobsters
¼ cup mayonnaise
¼ cup celery finely chopped
1 tbsp capers drained
1 lemon juiced, plus wedges for garnish
4 dashes hot sauce
4 hot dog buns top-split, New England Style
2 tbsp unsalted butter melted
1 tbsp chives finely chopped, optional
Instructions
In a large stock pot, fill about ¾ quarters of the pot with salted water and bring to a rolling boil.

Cook the lobsters, covered, for 8 - 10 minutes, until bright pink. Remove from pan with tongs and rinse under cool water for about 30 seconds, each. Place on a cutting board.

Remove the meat from the lobster and roughly chop. Transfer to a bowl and chill 15 minutes.

In the meantime, combine the mayonnaise, celery, capers, lemon juice and hot sauce.

Pull the lobster meat from the fridge and add the mayo mixture and gently stir.

Heat a large skillet over medium high heat.

Generously butter each side of the top-split buns and then toast on each side in the hot skillet until nicely browned...about 2 minutes per side

Fill the toasted buns with the lobster salad and top with chives (if using).
Nutrition
Calories: 274kcal | Carbohydrates: 24g | Protein: 5g | Fat: 14g | Saturated Fat: 4g | Cholesterol: 22mg | Sodium: 7445mg | Potassium: 108mg | Fiber: 2g | Sugar: 4g | Vitamin A: 238IU | Vitamin C: 15mg | Calcium: 87mg | Iron: 2mg