When it comes to sandwiches, this masterpiece of flavor just may be the champion of them all!
We've said it many times before, and it bears repeating here: A dish is almost always only as good as the ingredients that it is made from. This over-the-top yummy sandwich is no exception to that rule. It's all about the lobster and those buttery toasted buns! So easy and one of the best sandwiches we've ever prepared or served. Let's do it!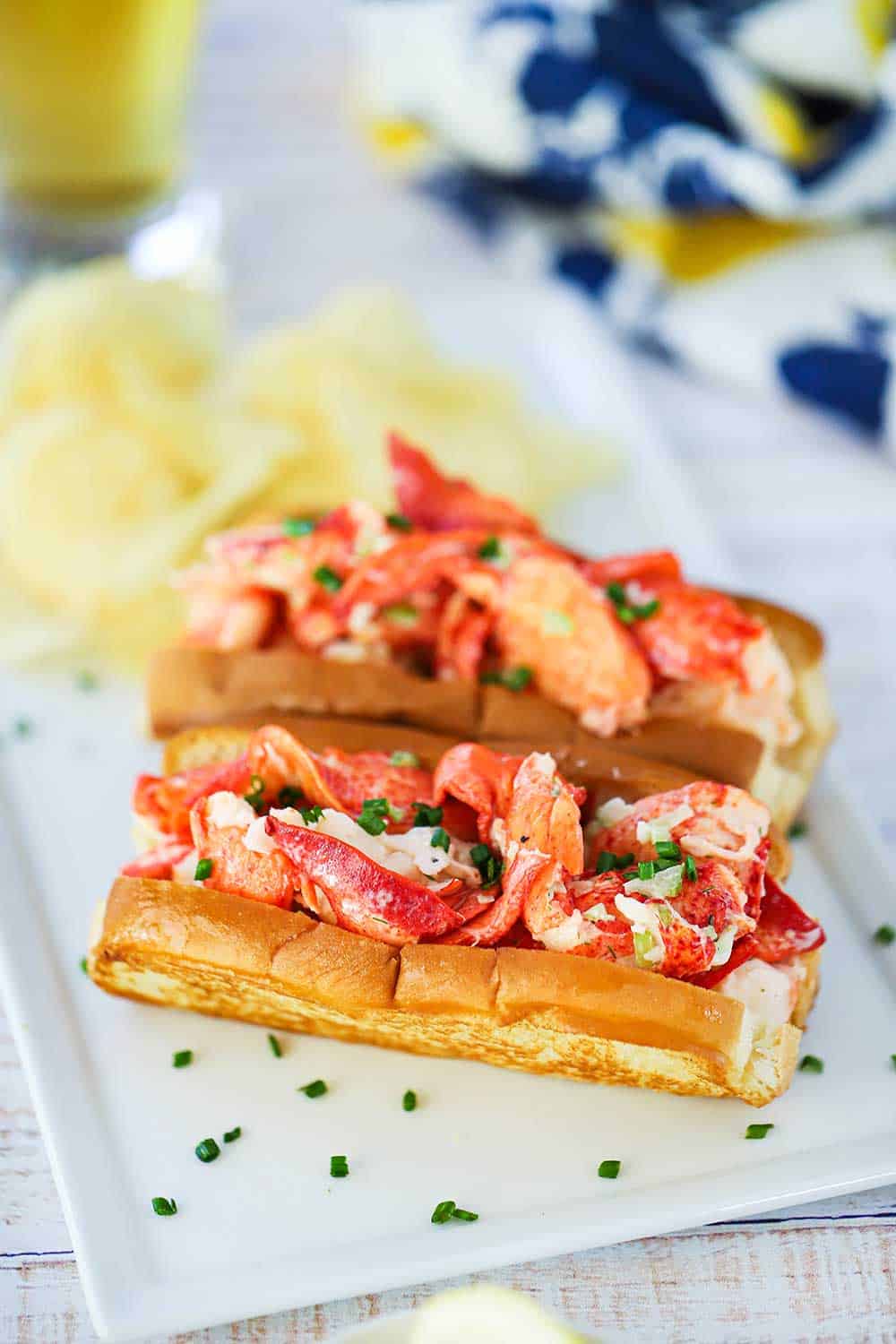 How to Make Lobster Rolls
It's really not difficult to create authentic New England-style lobster sandwiches right in your very own kitchen.
We've got a few tricks to help you make the best seafood sandwich you will ever try or serve.
The Best Lobster Meat
Any authentic lobster roll recipe will tell you it's ALL about the lobster. You need good, quality, meaty lobster meat to make the best sandwich.
If you're not keen on killing the lobster yourself, do what we do…find a good fishmonger at your local fish market, and have them do it. They'll even remove the meat for you, too, if you ask!
Another wonderful option is to order fresh (live or freshly cooked) lobster from www.LobsterAnywhere.com. This is lobster caught off the coast of the great state of Maine, and we find it absolutely wonderful. This lobster meat makes the best lobster roll in Maine, and that's good enough for us!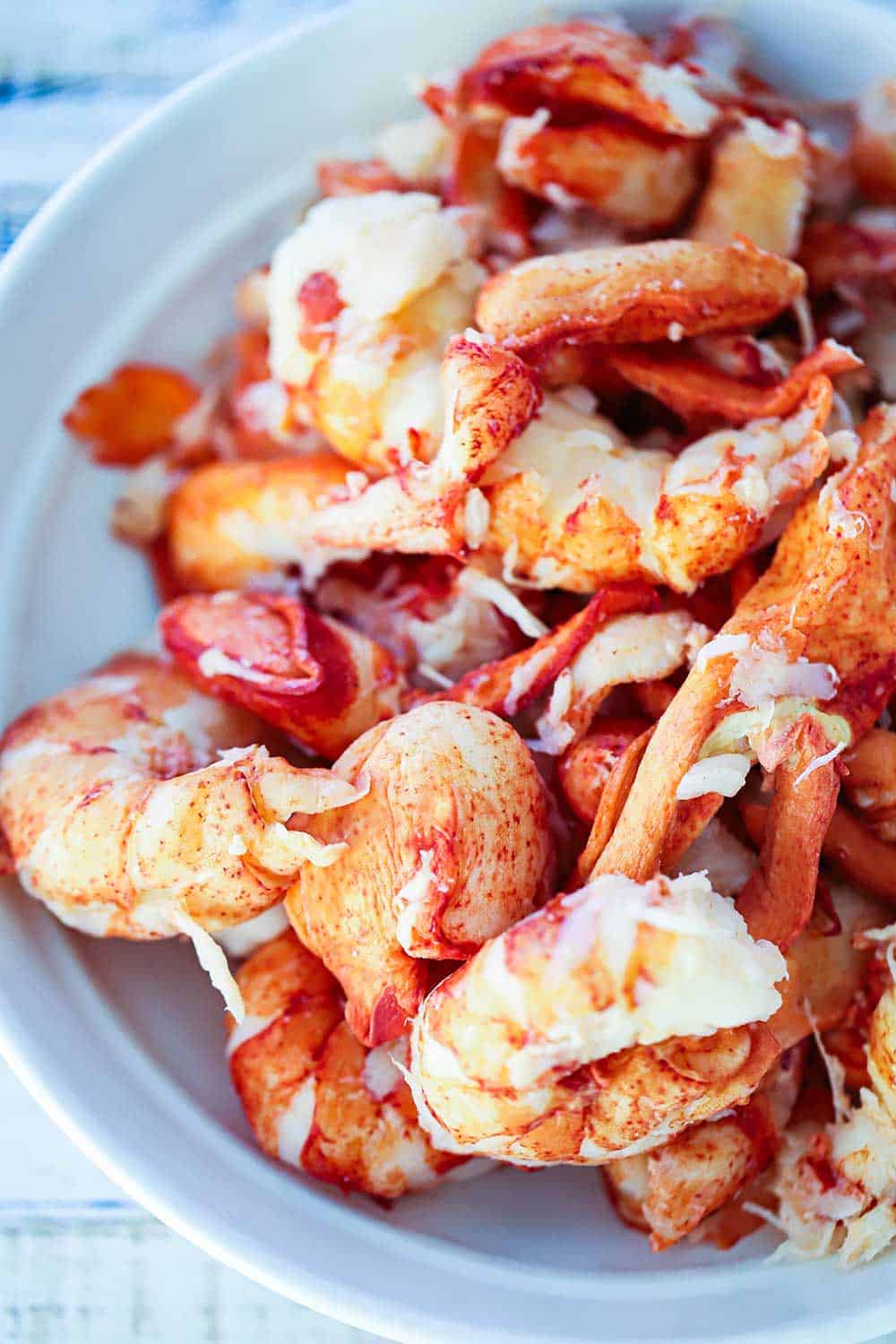 Keep it Simple
When making a lobster roll sandwich, it's critical that you keep the dressing simple. Remember…it's all about the lobster!
You can make homemade mayo, which we think is fantastic, but honestly, good-quality store-bought is just fine. To the mayonnaise, we add a little lemon juice, Champagne vinegar, fresh dill, celery, and a little salt and pepper.
EXPERT TIP: Our dressing is very flavorful, and if you like your lobster salad to be extra creamy, then add up to ½-cup to the lobster. The recipe makes at least that much. However, we recommend starting out with only a couple tablespoons of the dressing, toss it with the lobster and celery, and give it a taste. The dressing should elevate that lobster meat, but by no means upstage it!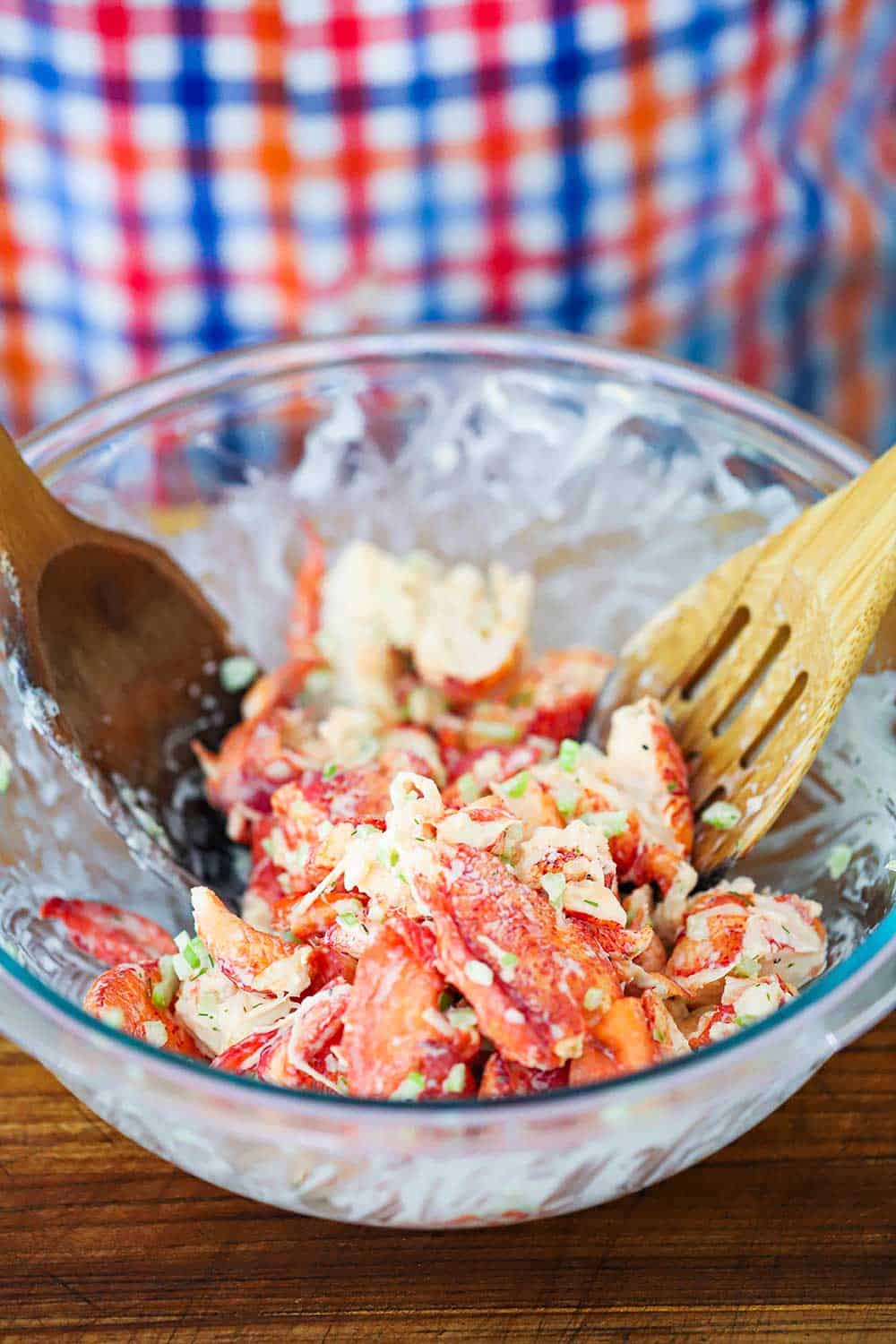 Where to Find Lobster Roll Bread
We firmly believe the other key component to the perfect roll is choosing the right bread.
We absolutely going with New-England Split-Top Buns from an amazing company called Box of Maine. Freshly baked, and buttery, and the perfect vessel for all that glorious lobster.
EXPERT TIP: If you can't find New England split-top frankfurter buns, then you can go with regular hot dog buns or even a kaiser roll. Butter the cut side of the buns, and then toast them in a skillet until browned and toasty. The buttery bun is the perfect match for the wonderful fresh lobster meat.
Toasted to buttery perfection!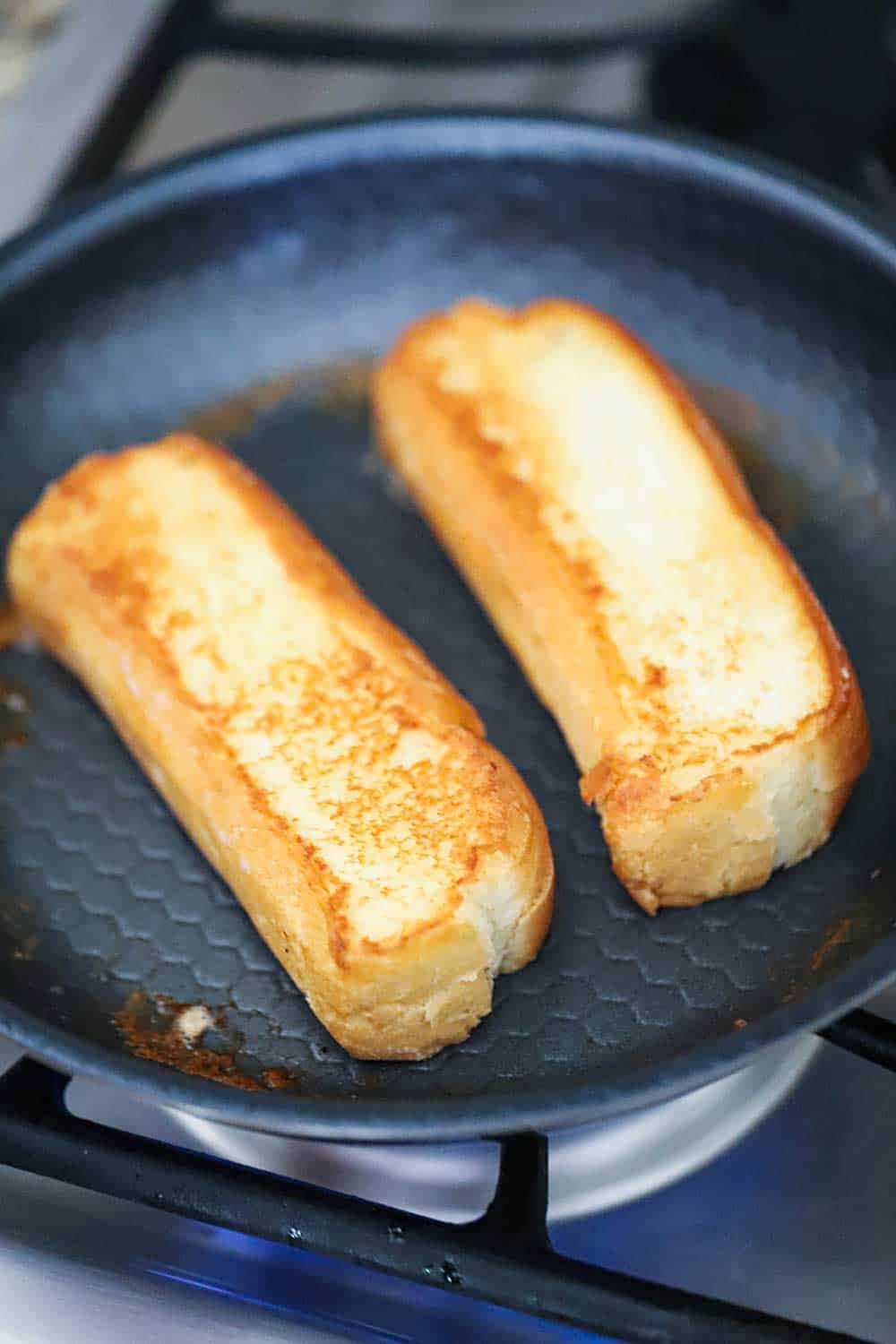 The Classic New England Sandwich
There are amazing restaurants and food trucks dotting the New England seaboard, looking out over the majestic Atlantic Ocean.
Although this incredible seafood sandwich originated in New England (read more here), they can easily be made in your own kitchen.
The salad can be made up to 1 or 2 days in advance. Be sure to get the buns nice and toasty before loading them up with a copious amount of the lobster salad.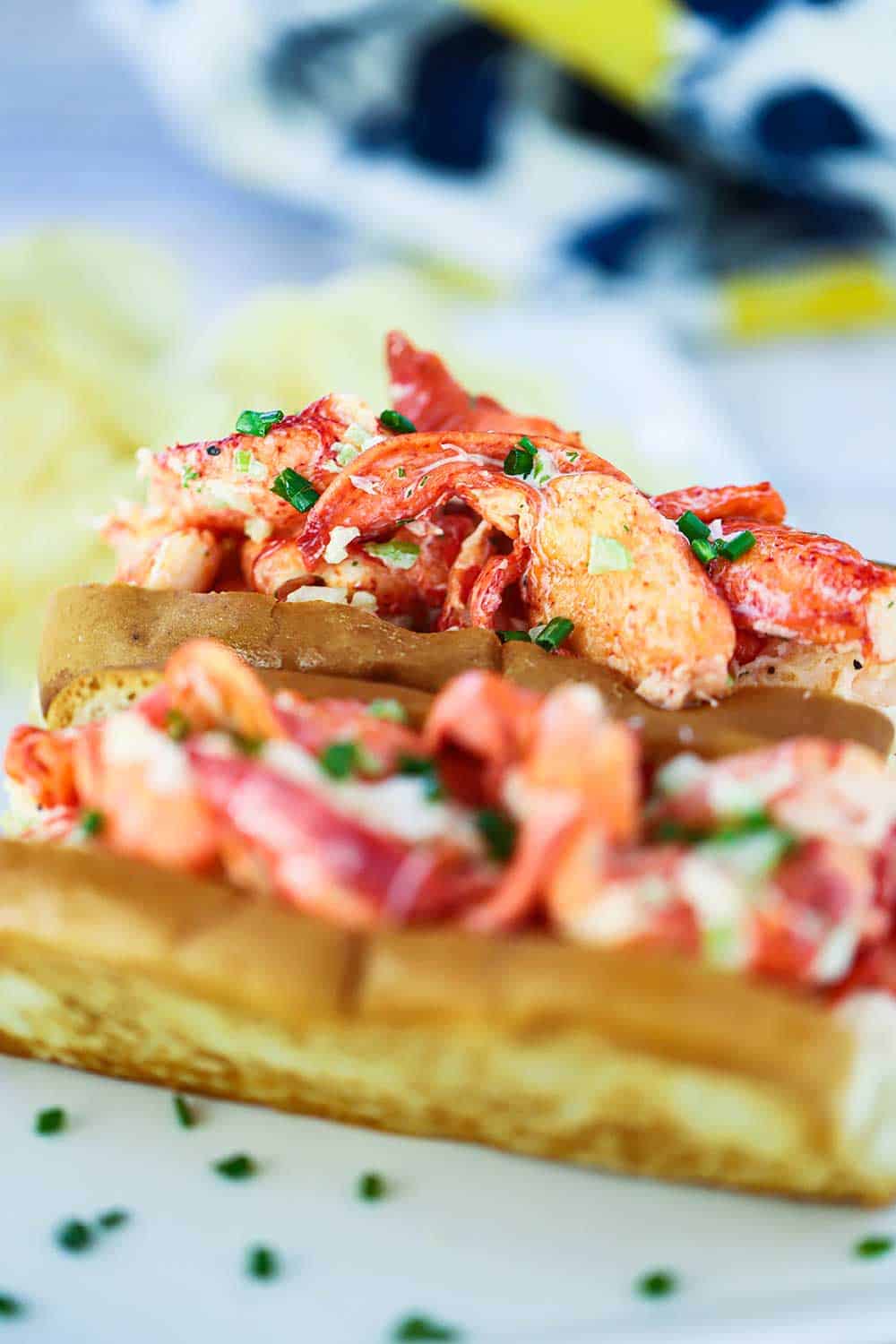 How To Serve
These sandwiches are glorious in their simplicity.
We sprinkle of a few snipped chives all over the sandwiches and then squeeze a fresh lemon to add just another layer of brightness.
Round out the dish with a bag of potato chips, a couple of ice-cold beers, and maybe a pickle. Ladies and gentlemen…this is greatness.
Another lobster dish that we love is our Best-Ever Lobster Salad. Elegant, and heavenly.
In the meantime, treat you and your loved ones by picking up (or ordering online) some fresh lobster meat and New England top-split buns.
You and your family will be in awe of the result! We guarantee you of that!
Ready to make the best sandwich this side of Maine? Go for it!
And when you do, be sure to take a photo of it, post it on Instagram, and tag @HowToFeedaLoon and hashtag #HowToFeedaLoon!
Amazing Lobster Roll
This Lobster Roll is probably the king of all super delicious sandwiches. Just keep it simple...let the lobster do the talking. Wow...this is good. Enjoy.
Print
Pin
Rate
Servings: 4 people
Calories: 386kcal
Equipment
Non-stick skillet for toasting the buns
Ingredients
1 lb lobster meat cooked, roughly chopped
⅓ cup mayonnaise
1 tbsp lemon fresh, juice from ½ a large lemon
1 tsp Champagne vinegar or white wine vinegar
1 tsp dill fresh, chopped
4 dashes hot sauce
½ tsp Kosher salt
¼ tsp black pepper freshly ground
¼ cup celery finely chopped
4 hot dog buns top-split, New England Style
2 tbsp unsalted butter melted
2 tbsp chives finely chopped, for garnish, optional
Instructions
In a small bowl, mix together the mayonnaise, lemon juice, vinegar, dill, salt, pepper, and hot sauce.

Place the lobster meat in a large bowl, and add the celery, and then gently fold in about 2 tbsp of the dressing. The lobster should have a thin coating of the dressing all over it. If you prefer a little more dressing, add more to your own liking.

Heat a non-stick saucepan over medium-high heat. Melt the butter in the pan, and then place the buns on their sides in the butter. Cook until browned and toasty, about 2 to 3 minutes. Flip and toast the other side. You may need to toast the buns in a couple of batches.

Fill the toasted buns with the lobster salad and top with chives, if using. Serve at once.
Notes
See the instructions below for steaming a live lobster.
If you can't find the New England-style, top-split buns, you can use regular hot buns or a kaiser roll. To get that buttery, toasty taste, simply open the buns up, and toast them in a couple of tablespoons of butter until they are golden and toasty.
The salad can be prepared up to 1 day in advance and kept in an air-tight container in the fridge.
If you purchase the lobster online, don't unfreeze until you are ready to prepare the dish. Once the lobster has been dressed, we don't recommend freezing it at this point. However, you can, it just won't be as fresh tasting. But, it still beats throwing out fresh lobster meat!
Instructions for steaming a live lobster:
In a large stockpot, fill about ¾ quarters of the pot with salted water and bring to a rolling boil.
Cook the lobsters, covered, for 8 - 10 minutes, until bright pink. Remove from pan with tongs and rinse under cool water for about 30 seconds, each. Place on a cutting board.
Remove the meat from the lobster and roughly chop. Transfer to a bowl and chill 15 minutes.
Nutrition
Calories: 386kcal | Carbohydrates: 22g | Protein: 23g | Fat: 18g | Saturated Fat: 4g | Cholesterol: 167mg | Sodium: 1110mg | Potassium: 297mg | Fiber: 1g | Sugar: 3g | Vitamin A: 271IU | Vitamin C: 3mg | Calcium: 171mg | Iron: 2mg
POST UPDATE: This recipe was originally published in July 2018, but was updated with improved tweaks to the recipes, new tips, photography, and a fabulous new video in August 2020!