This sandwich is in a league all of its own. And we just upped the ante!
The flavors of this nostalgic sandwich just go together in ways that are unmatched. But, what really puts this version over the top is the Best-Ever Tuna Salad. Serve this with a side of crosshatch sweet potato chips, a dill pickle spear, and a tall glass of iced tea, and you will be in lunch heaven.
How To Make the Best-Ever Tuna Melt
Making the world's best tuna melt is actually easier than you might think.
And you can make the tuna salad up to several days in advance! Heck, you'll want to have one of these incredible sandwiches every day of the week!
NOTE: If you liked this video, please subscribe to our YouTube channel. Remember to click the little bell icon so you'll never miss a new video. Thank you!
the Ingredients You Will Need
As mentioned, this sandwich is really all about the homemade tuna salad, but, choosing the best ingredients to take the sandwich to the next level is critical.
Here's What You'll Need to Have on Hand
Tuna Salad – We can't stress this enough: Make the tuna salad from scratch. You can easily adapt it to your own tastes!
Butter – Unsalted, for getting an extra crispy, extra buttery exterior toast
Bread – We usually go with thick slices of sourdough, but see if you can find croissant bread. It's even more buttery, decadent, and insanely good.
Cheese – We recommend good-quality sliced cheddar, sharp or mild. But, you could also go with Gouda, Fontina, Monterey Jack, or Colby.
Tomatoes – Red and juicy! Sliced nice and thick.
Seasoning – Salt and pepper directly onto the tomatoes.
EXPERT TIP: Adding a layer of cheese on the bottom slice of bread and then placing another slice so it touches the top slice of bread helps to hold everything in place once it gets nice and melty.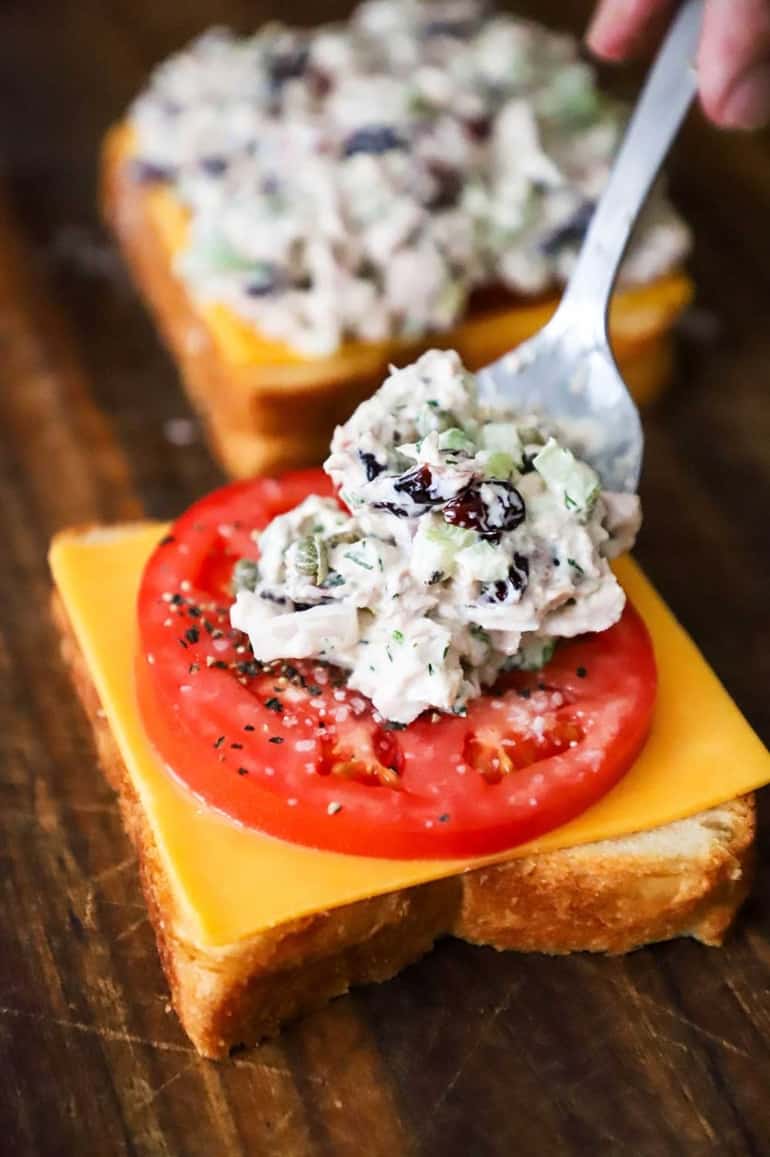 Tips For Make the Best-Ever Tuna Salad
Use Quality Canned Tuna – We've said this in our tuna salad video, but, going with a top-notch tuna really does make a difference. We love Skipjack tuna from Wile Planet.
Season the Tomatoes – Liberally adding salt and pepper brings out their natural sweetness and acidity and works beautifully with the other components of the sandwich.
Don't Skimp on the Bread and Cheese – Although the tuna salad is the star, the bread and cheese are critical in preparing the best-ever sandwich. For the bread, go with fresh, thick slices. For the cheese, melty and high-quality is best.
EXPERT TIP: Getting the perfectly grilled bread for the sandwich is critical. Toss the butter into the hot skillet and then gently place the prepared sandwich into the pan. Gently move the sandwich around so it fully absorbs the butter. When ready to flip, remove the sandwiches to a cutting board, add more butter to the pan, and flip on the board. Then, return to the skillet.
How To Serve
This sandwich is definitely served best fresh from the skillet.
Use a large sharp knife to cut the sandwich in half, if desired. For a classic look, wrap each half in sandwich waxed paper.
If serving a gathering of friends and/or family, consider grilling multiple sandwiches on a griddle and cutting the sandwiches into thirds.
We love to serve the melts with kettle chips, or homemade sweet potato fries, pickles, and iced tea.
But in the meantime, you've just got to make this Amazing Tuna Melt.
Other Classic Sandwich Recipes to Try
There is just something special about a sandwich that is made with an extra dose of TLC. Here is a collection of some of our all-time favorite that we just know you will love, too!
Best-Ever Chicken Salad Sandwich
Incredible Egg Salad Sandwich
Grilled Honey Mustard Sandwich with Bacon
Crispy Fried Chicken Sandwich
Classic Pastrami Sandwich
Monte Cristo
Grilled Marinated Steak Sandwich
Best-Ever Fried Fish Sandwich
Fried Catfish Po-Boy
Classic Muffaletta
These are all classic and beyond delicious. But, for right now, isn't this gem calling your name?
If we had to rank our all-time favorite sandwiches of all time, this classic melt would be a real contender.
We've said it before, but the buttery crunchy bread matched with the melty cheese, seasoned tomatoes, and, of course, the best-ever tuna salad just works incredibly well together.
We love to make a double (or triple) batch of the tuna salad and have these sandwiches all week long! They are so good and we never get tired of them!
Ready to take the classic tuna melt to new levels of excellence? Go for it!
And when you do, be sure to take a photo of it, post it on Instagram, and tag @HowToFeedaLoon and hashtag #HowToFeedaLoon!
Amazing Tuna Melt
It's time to take this iconic sandwich to heights you just can't imagine. It all starts with the Best-Ever Tuna Salad. Be sure to go with top-notch bread and cheese, and juicy red tomatoes. The rest comes together beautifully. Simple, straightforward, and unbelievably delicious!
Print
Pin
Rate
Servings: 4
Calories: 562kcal
Equipment
1 large skillet (12") preferably non-stick
Ingredients
4 cups tuna salad click for recipe
8 slices sourdough bread ¼" thick, or croissant bread
8 slices cheddar cheese
3 tomatoes sliced
Kosher salt and freshly ground black pepper
8 tbsp unsalted butter softened
Instructions
Do Ahead
Prepare the tuna salad (link to full recipes in Ingredients list)

4 cups tuna salad
Make the Tuna Melts
Build the sandwiches by starting with 1 bread slice. Add 1 slice of cheese, then about 1/2 cup of the tuna salad, then 1 or 2 slices of tomato, a pinch of salt and pepper, another slice of cheese, and topped with another slice of bread. Repeat to build 3 more sandwiches.

8 slices sourdough bread, 8 slices cheddar cheese, 3 tomatoes, Kosher salt and freshly ground black pepper

Heat a medium-sized skillet over medium-high heat and add 2 tbsp of the butter. Swirl until completely melted.

8 tbsp unsalted butter

Carefully add 1 or 2 sandwiches into the hot skillet. Cook until lightly browned on the bottom, about 3 to 5 minutes.

Use a spatula to lift each sandwich from the skillet and place it on a cutting board. Carefully flip each sandwich over. Add more butter to the skillet. Once melted, use the spatula to place the sandwich in the skillet. Cook until nicely browned on the bottom, another 3 to 5 minutes. Remove from the skillet and repeat with the remaining two sandwiches.

Cut in half and serve at once.
Notes
See the video near the top of the blog post for visual guidance. If you liked the video, please subscribe to our YouTube channel.
The tuna salad can be made up to 3 days in advance. The recipe can be doubled or tripled, easily. The salad can be frozen for up to 2 months.
Nutrition
Calories: 562kcal | Carbohydrates: 71g | Protein: 23g | Fat: 24g | Saturated Fat: 12g | Polyunsaturated Fat: 2g | Monounsaturated Fat: 7g | Trans Fat: 1g | Cholesterol: 94mg | Sodium: 1001mg | Potassium: 401mg | Fiber: 4g | Sugar: 8g | Vitamin A: 1809IU | Vitamin C: 13mg | Calcium: 323mg | Iron: 5mg
POST UPDATE: This recipe was originally published in May 2018, but was updated with improved tweaks to the recipe with new tips and photography and a fabulous new video in August 2023!