It's time to bring this classic sandwich back to its original glory. And make it better than ever!
We have enjoyed Sloppy Joe's for years. My mom (Kris's mom) makes a version called Juicy Burgers. Simple but so delicious. We've taken the original recipe and amped up the flavors a few notches and thrown in a few tricks to make this one of the most delicious sandwiches of all time. And is on the table in about 30 minutes!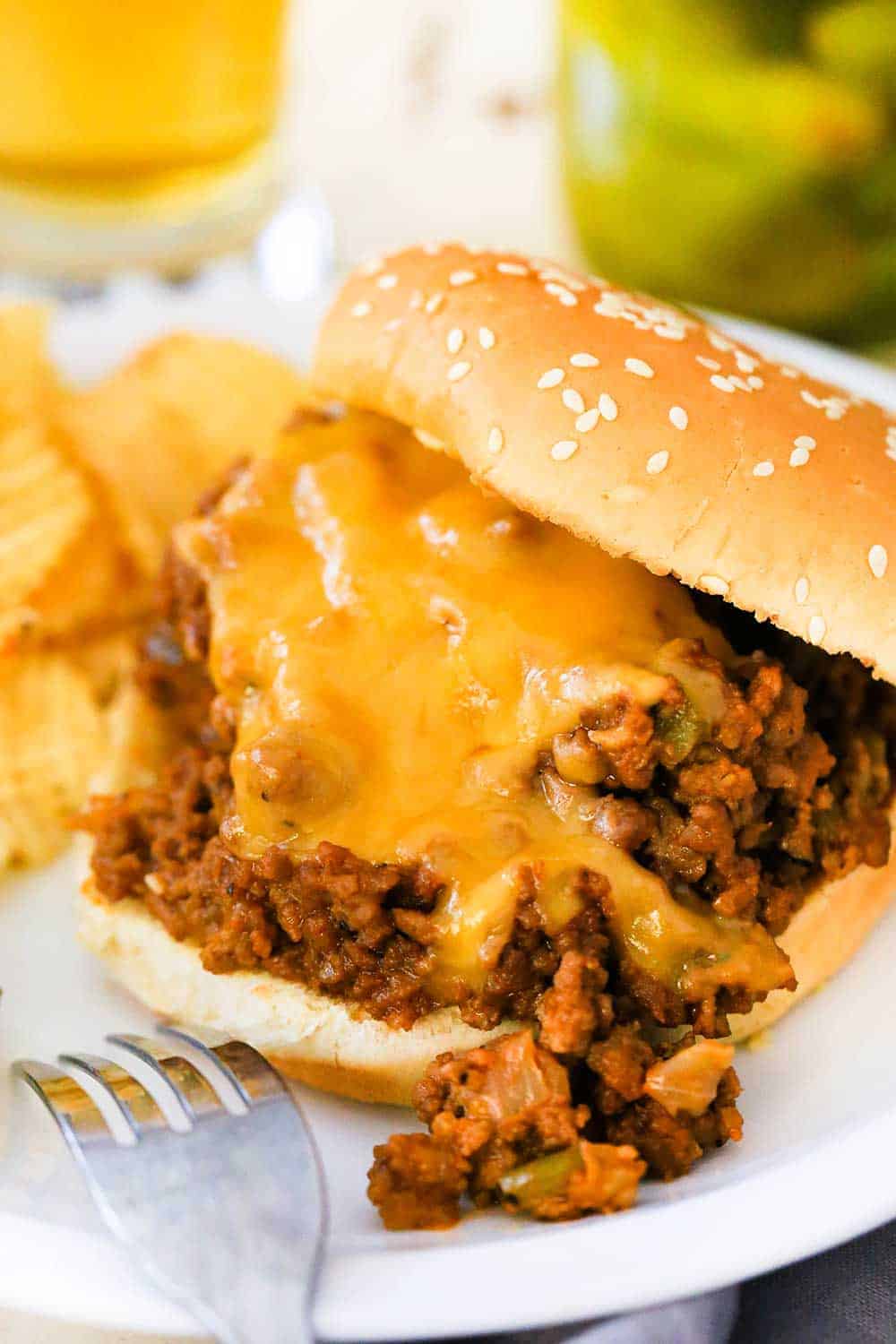 HOW TO MAKE SLAMMIN' SLOPPY JOES
These sandwiches are very adaptable to what you have on hand in your refrigerator and pantry.
We love using ground beef, but you could also use ground chicken or turkey, too. By the way, ever wonder where the name for this iconic sandwich comes from? Learn all about that here!
THE INGREDIENTS YOU WILL NEED
As mentioned, this recipe is very adaptable to the ingredients you have on hand. Here are the ingredients we love to use, but we'll include some substitutions, too:
Ground beef – Substitute: Ground chicken, turkey, or pork
Chopped onion – Substitute: Granulated onion or onion powder
Chopped green bell pepper – Substitute: Any type of bell pepper, or jalapeno. Canned green chilies are great, too.
Beef stock – Substitute: Chicken or Vegetable stock, or water
Tomato sauce – Substitute: Increase the amount of ketchup to 1½ cups and add an additional ¼ cup of water of beef broth/stock
Ketchup/Chili Sauce – Substitute: Sriracha ketchup, or just regular ketchup with a squirt of chili sauce or sriracha sauce, or chipotle adobo sauce (or just plain ketchup)
Worcestershire sauce – Substitute: 1 teaspoon soy sauce, you may need to reduce salt in the recipe
Dijon mustard – Substitute: Yellow mustard, or spicy brown mustard, or dry mustard (1 tsp)
Apple cider vinegar – Substitute: Red or white wine vinegar, or 1 teaspoon balsamic
Shredded cheddar cheese – Substitute: Whatever cheese you have on hand, shredded or sliced!
Sesame buns – Substitute: Any kind of sliced sandwich bread is awesome!
We start off by sautéing the onion and pepper in a large skillet with the oil over medium heat.
CHOOSING THE RIGHT MEAT
We love going with ground chuck beef for our Slammin' Sloppy Joes.
85% lean is perfect because it's not too fatty but still renders just enough to add a nice depth of flavor.
EXPERT TIP: After the meat has browned, tilt your skillet to the side so the grease will gather. Take a large spoon and remove most of the rendered grease into a small bowl, and then discard. Don't get rid of all it, though, leaving about 1 tbsp is great and helps to flavor the meat. Draining the cooked meat through a colander into your sink will drain all the grease away, which we don't recommend, but that's up to you.
You can find Chili Sauce in the condiment section of most well-stocked supermarkets.
The chili sauce will add just a little zip to the meat mixture, but not overly spicy.
If you prefer no heat at all, simply use regular ketchup in place of the chile sauce.
SIMMER UNTIL REDUCED
Once all the ingredients have been added to the cooked meat, you'll notice the mixture is a bit juicy.
This is completely normal.
As the Sloppy Joes simmer, the liquid will reduce down and deepen the flavor profile. This only takes about 20 minutes!
These Slammin' Sloppy Joes are so delicious and such a treat for the kids AND adults (we recommend a nice cold beer for the grown-ups!).
We love to make a double batch and eat sloppy joes all week long!
Yum.
SLAMMIN' SLOPPY JOES ARE FUN TO MAKE
We've taken the old fashioned sloppy joes recipe and elevated it up a notch or two.
And it's so easy to make, the kids have fun pitching in, too.
Another wonderful sandwich is our Grilled Honey Mustard Sandwich and our Rockin' Black and Bleu Burger! But, seriously, take a look at this amazing Sloppy Joe sandwich!
Sloppy Joe's got a bit of a bad wrap over the years.
I think school cafeterias have some apologizing to do for this.
But, we're here to save the day…one bite at a time!
Ready to make the best Sloppy Joe in town? Go for it!
And when you do, be sure to take a picture, post it on Instagram, and tag @howtofeedaloon and hashtag #howtofeedaloon!
Slammin' Sloppy Joes
These Slammin' Sloppy Joes are just that...Slammin!! This is the original recipe, kicked up a few notches. Serve with a crisp pickle, a cold beer or soda, and you'll be one happy camper.
Print
Pin
Rate
Servings: 6
Calories: 444kcal
Ingredients
1 tbsp olive oil
1 cup yellow onion chopped
½ cup green bell pepper cored, seeded, chopped
1½ lbs ground beef 85% lean, preferably
¼ cup beef stock
1 cup tomato sauce
½ cup chili sauce
1 tbsp Worcestershire sauce
1 tbsp Dijon mustard
1 tbsp apple cider vinegar
1 tbsp brown sugar dark or light
1½ Kosher salt divided
½ tsp fresh ground black pepper divided
1 cup cheddar cheese grated
6 sesame-seed sandwich buns split and lightly buttered
Instructions
In a large skillet, heat the oil over medium heat. Add the onions and bell peppers and cook, stirring occasionally, until soft, about 6 to 8 minutes.

Add the beef and break up with a wooden spoon. Cook until no longer pink, about 10 to 12 minutes. If desired, remove the excess grease by tilting the skillet to one side, and remove the grease with a large spoon into a small bowl. Leave about 1 to 2 tbsp in the skillet.

Add the beef stock, tomato sauce, chili sauce, Worcestershire sauce, mustard, vinegar, brown sugar, salt, and pepper and bring to a simmer, stirring to fully incorporate.

Reduce the heat to medium and simmer for 20 minutes until most of the liquid has reduced down, stirring occasionally.

Toast the buttered buns (a couple minutes under the broiler...but keep an eye on them!)

On a baking sheet, add a mound of meat mixture for each sandwich you are preparing. Place a handful of cheese on top of each mound of meat. Place under the broiler until cheese has melted. Keep an eye on them, don't let them burn!

Use a spatula to transfer the sloppy joe mounds topped with melted cheese onto the bun bottoms. Add the top bun and serve at once!
Notes
See body of post for ingredient substitutions. Heinz makes an excellent chili sauce that can be found in the condiments section of your supermarket, near the ketchup. We love using Sriracha ketchup for just a little more heat. Regular ketchup works great, too. The Sloppy Joe's meat mixture will keep in the refrigerator for up to 1 week and freezes beautifully for up to 2 months.
Nutrition
Calories: 444kcal | Carbohydrates: 13g | Protein: 26g | Fat: 12g | Saturated Fat: 4g | Cholesterol: 100mg | Sodium: 886mg | Potassium: 646mg | Fiber: 3g | Sugar: 8g | Vitamin A: 566IU | Vitamin C: 19mg | Calcium: 175mg | Iron: 3mg
POST UPDATE: This recipe was originally published in April 2015, but was updated with improved tweaks to the recipe, new tips, new photography, and a fabulous new video in March 2020!