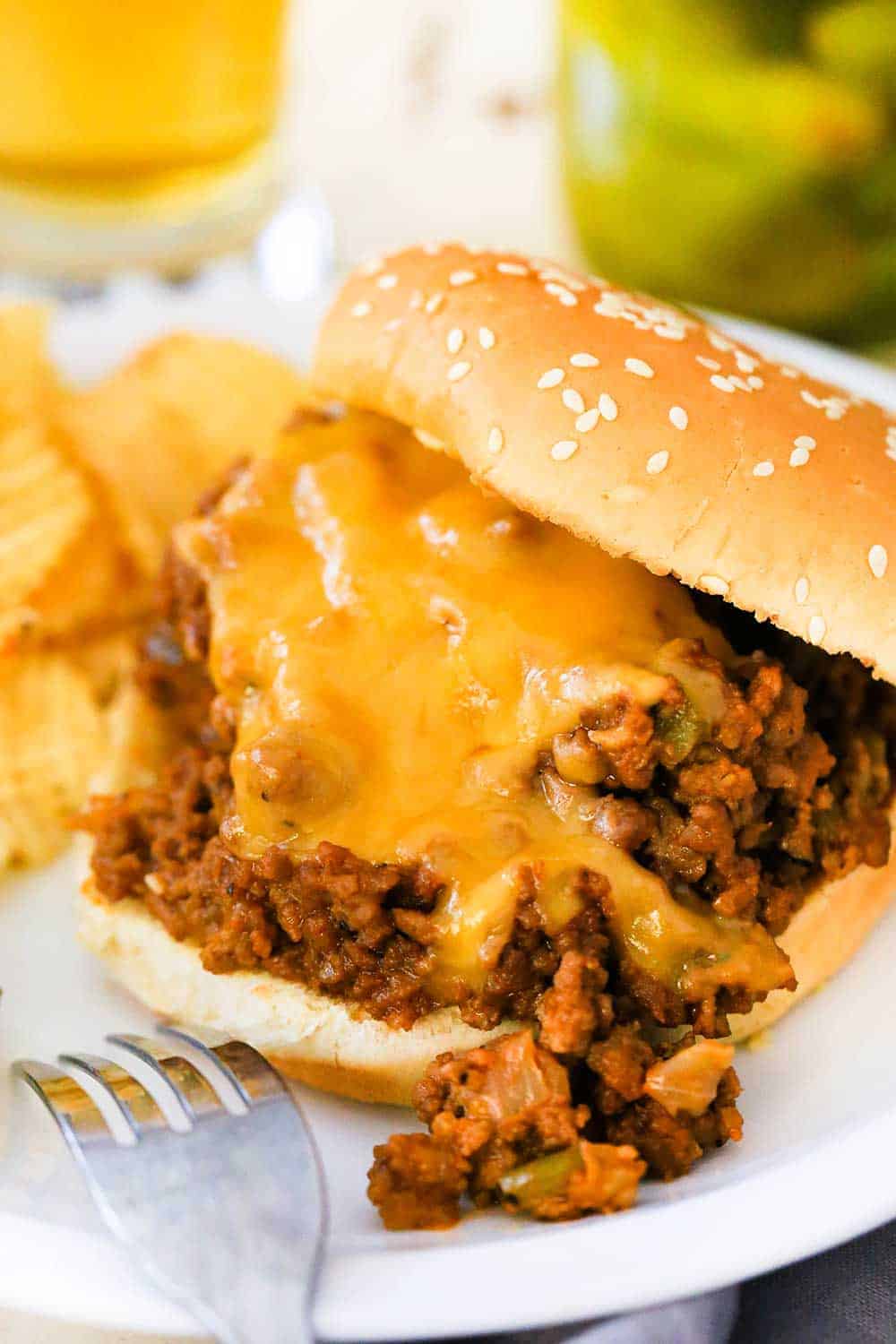 I think over the years, Sloppy Joes have lost some their original appeal.   I, personally, have been eating a form of Sloppy Joes since I was a kid.  My grandma used to make a batch called Juicy Burgers.  They were literally nothing more than ground beef seasoned with salt and pepper, cooked, and then ketchup and water added, and it was all cooked until it reduced to a Sloppy Joe consistency.   My Mom made them a lot for us growing up.   I know it sounds kind of tame, but they really were quite delicious.  And easy to make, and not hard on the wallet.
Well, you know here at the H2FaL Test Kitchen, we're always playing around with tried and true recipes.  So, we took the old-fashioned recipe, and kicked it up a few notches and created Slammin' Sloppy Joes!  If you like things on the hot side, go with some Sriracha for your ketchup-style chili sauce, if not, go for a milder version…Heinz makes a nice version.  Either way…you and your family will be Jumping for Joe with these Slammin' Sloppy Joes!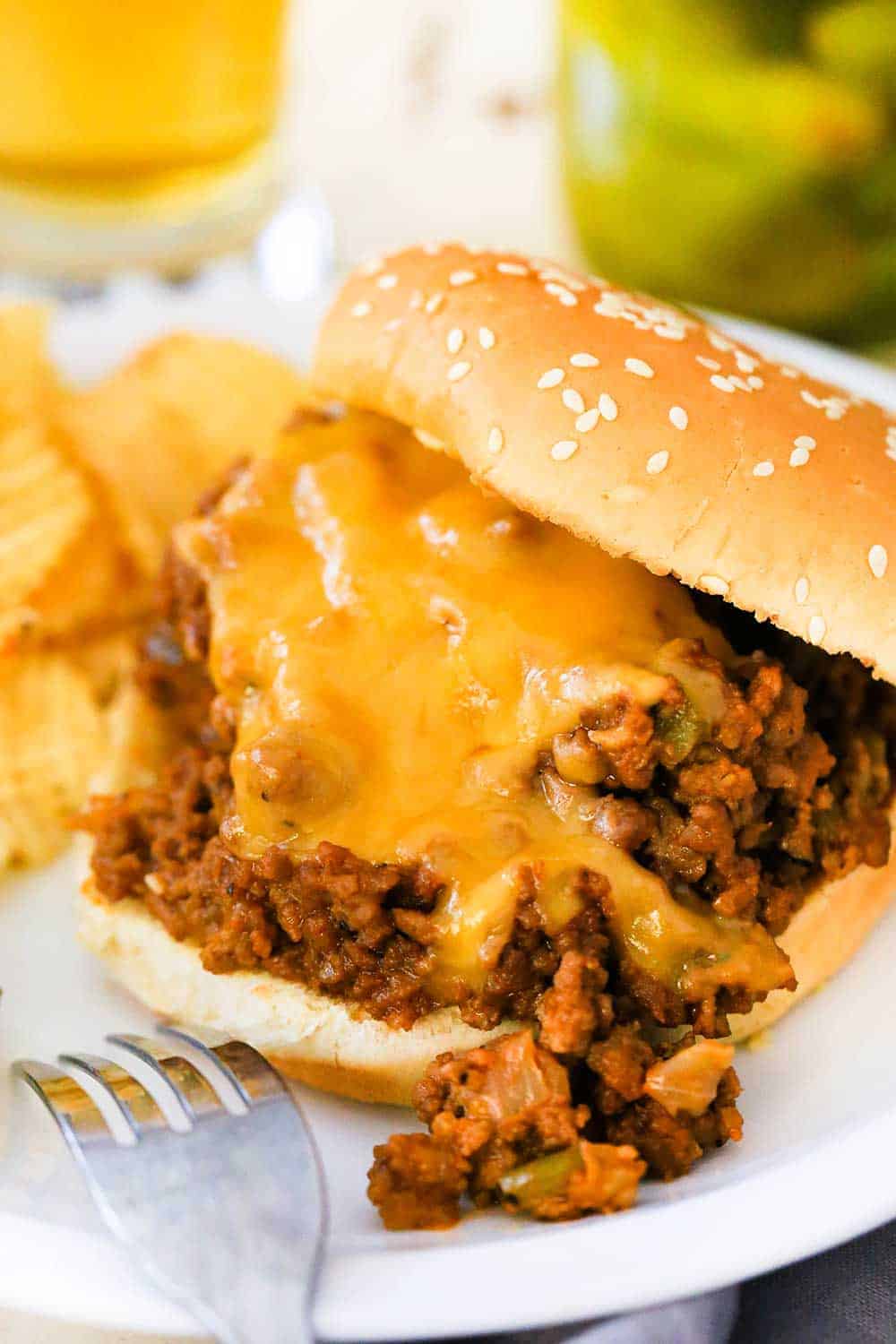 Slammin' Sloppy Joes
These Slammin' Sloppy Joes are just that...Slammin!! This is the original recipe, kicked up a few notches. Serve with a crisp pickle, a cold beer and you'll be one happy camper.
Print
Pin
Rate
Prep Time: 10 minutes
Cook Time: 20 minutes
Total Time: 30 minutes
Servings: 6
Calories: 369kcal
Ingredients
1 tbsp olive oil
1 yellow onion diced
1/2 cup green bell pepper cored, seeded, chopped
1 1/2 lbs ground beef ground sirloin is nice...not too fatty
1 cup tomato sauce
1/2 cup ketchup-style chili sauce Heinz makes a nice chile sauce, Sriracha is awesome, but adds some heat!
1 tbsp Worcestershire sauce
1 tbsp Dijon mustard
1 tbsp cider vinegar
1 tbsp light brown sugar
1 tbsp Kosher salt
1/4 tsp fresh ground black pepper
1 cup cheddar cheese grated
6 sesame-seed sandwich buns split
Instructions
In a large skillet, heat the oil over medium heat.

Add the onion, celery, and bell pepper, and cook, stirring occasionally, until soft, about 8 minutes.

Add the beef and increase the heat to medium-high.

Cook, stirring and breaking up the beef, until no longer pink, about 12 minutes. (I like to drain the grease out at this point, into a colander over a large empty can, so the meat and veggies will stay put, but the grease goes away).

Stir in 1/4 cup water, the tomato sauce, chili sauce, Worcestershire sauce, mustard, vinegar, brown sugar, salt, and pepper and bring to a simmer.

Reduce the heat to medium-low and simmer for 20 minutes, stirring frequently to blend the flavors. After 20 minutes, the excess liquid will have cooked down.

Toast the buns (a couple minutes under the broiler...but keep an eye on them!)

Place the toasted bottom halves of the buns, cut side up, on a plate and top with the beef mixture and then a handful of cheese, dividing it all equally.

Cover with the top buns.
Nutrition
Calories: 369kcal