Yellow Squash Casserole is such an amazing summertime treat. The dish is cheesy and creamy and bursting with yellow squash flavor.
And the dish is so easy to prepare and is on the table from start to finish in less than 45 minutes!
This is one dish that even finicky vegetable eaters will devour.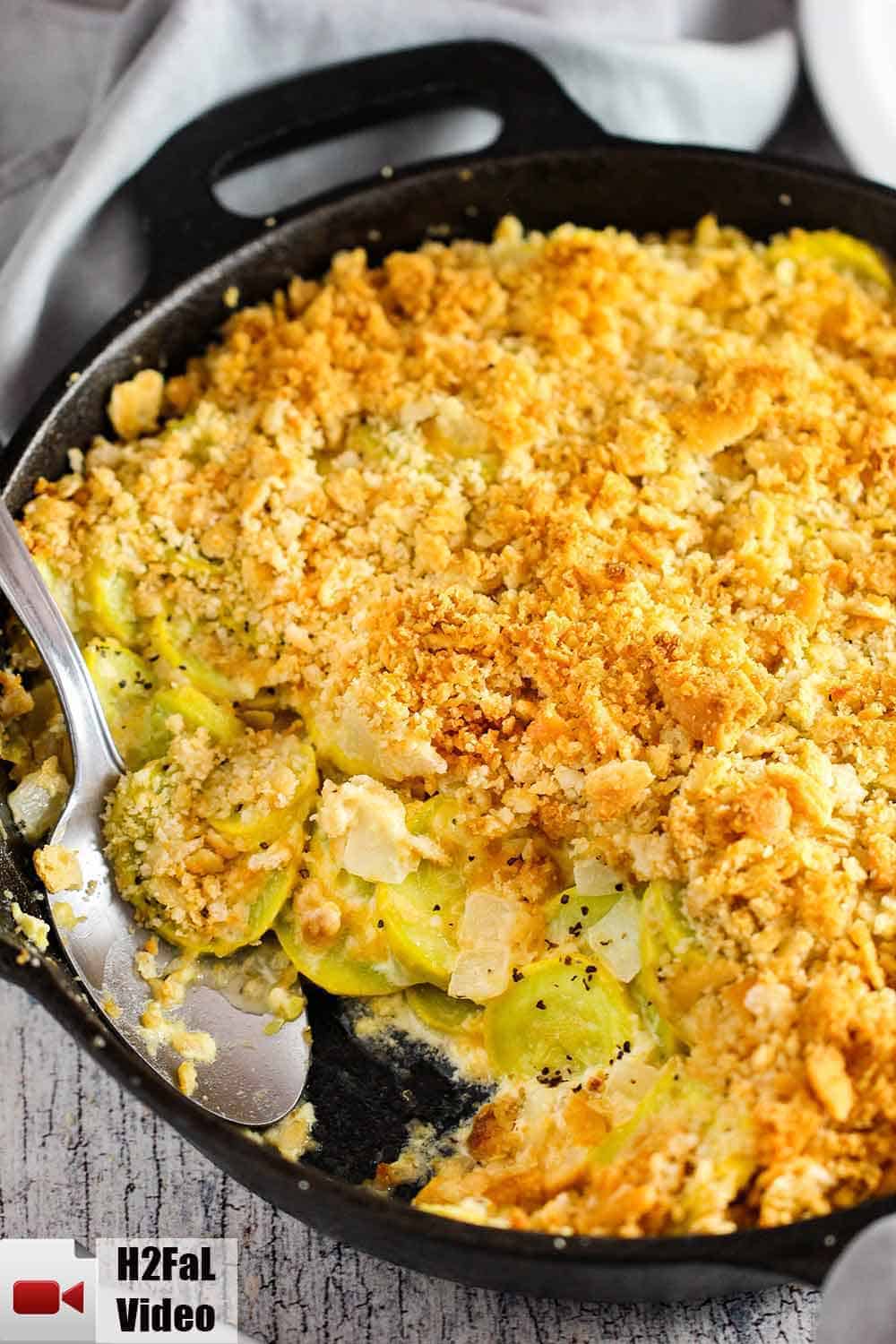 HOW TO MAKE YELLOW SQUASH CASSEROLE AT HOME
Yellow squash casserole is very versatile and can be served in a variety of serving vessels.
The dish is best when served hot, but it's so good, it's even delicious at room temperature.
Watch us show you how fast and easy it is to make this amazing casserole!
HOW TO SLICE THE SQUASH
Slicing the squash in a uniform fashion is always best. We like to slice the squash to about 1/4-inch thickness. But you could go thinner, if you desire.
Ensuring the sliced vegetables are identical in thickness will allow them to all cook evenly. You don't want some of the squash slices to be overly soft, and some to be tough.
TIP: A sharp knife and a steady hand and eye works just fine, but a mandolin is even better.
Cook the squash and onion in a large skillet with a little oil until the vegetables just begin to soften, about 10 minutes.
Be sure not to cook the squash too long or it will be come "mushy" in the final dish.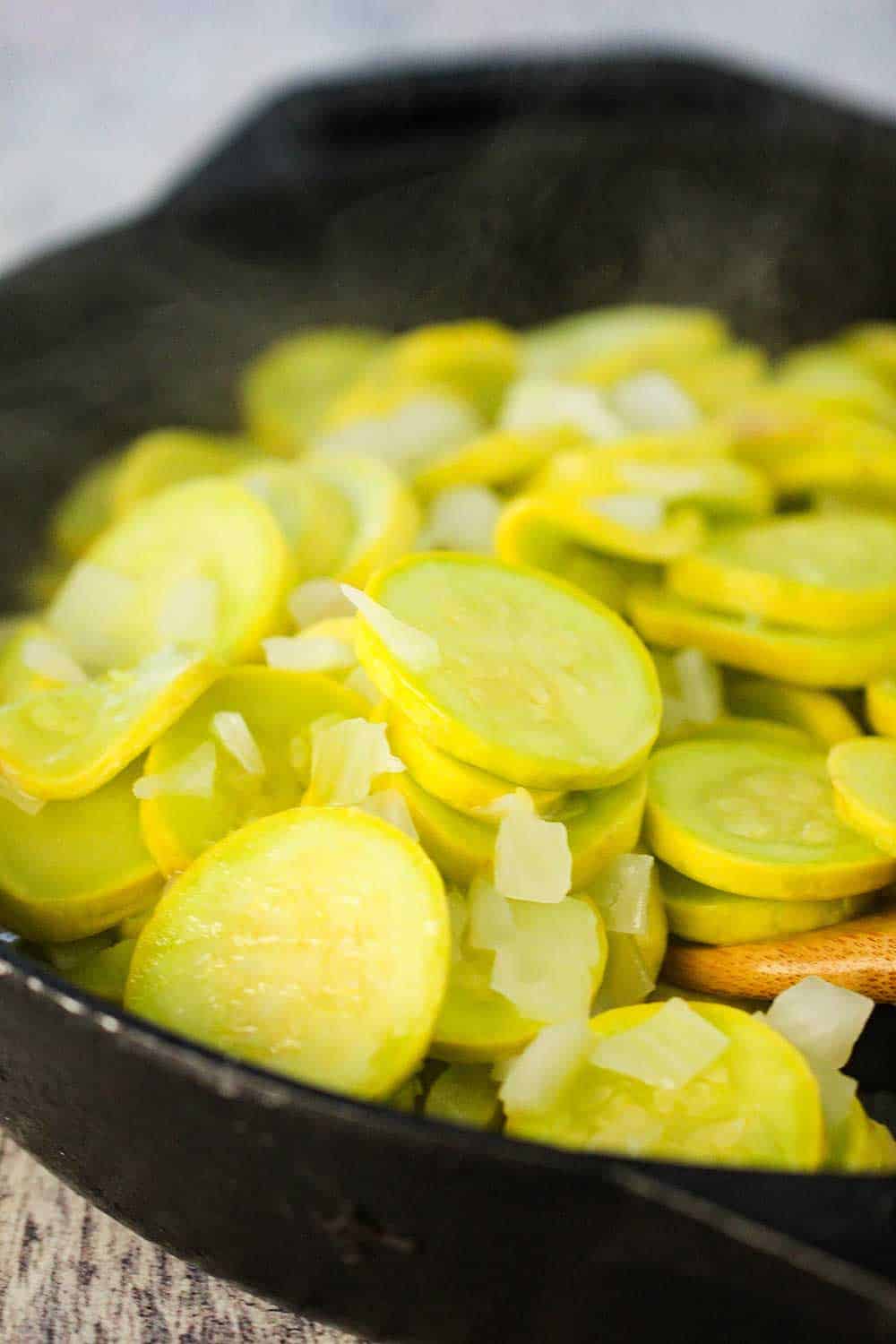 Grab a large bowl, and mix together all the remaining ingredients, except the Ritz crackers. You'll need:
8 oz. sour cream
1/4 cup mayonnaise (want to make it yourself? Click the link! It's easier than you might think)
Salt (we like to use Kosher for a little more texture)
1 & 1/2 cups good quality shredded sharp cheddar cheese
1/2 cup grated Parmesan
1 large egg
After these ingredients are mixed together, gently fold in the cooked squash and onion mixture.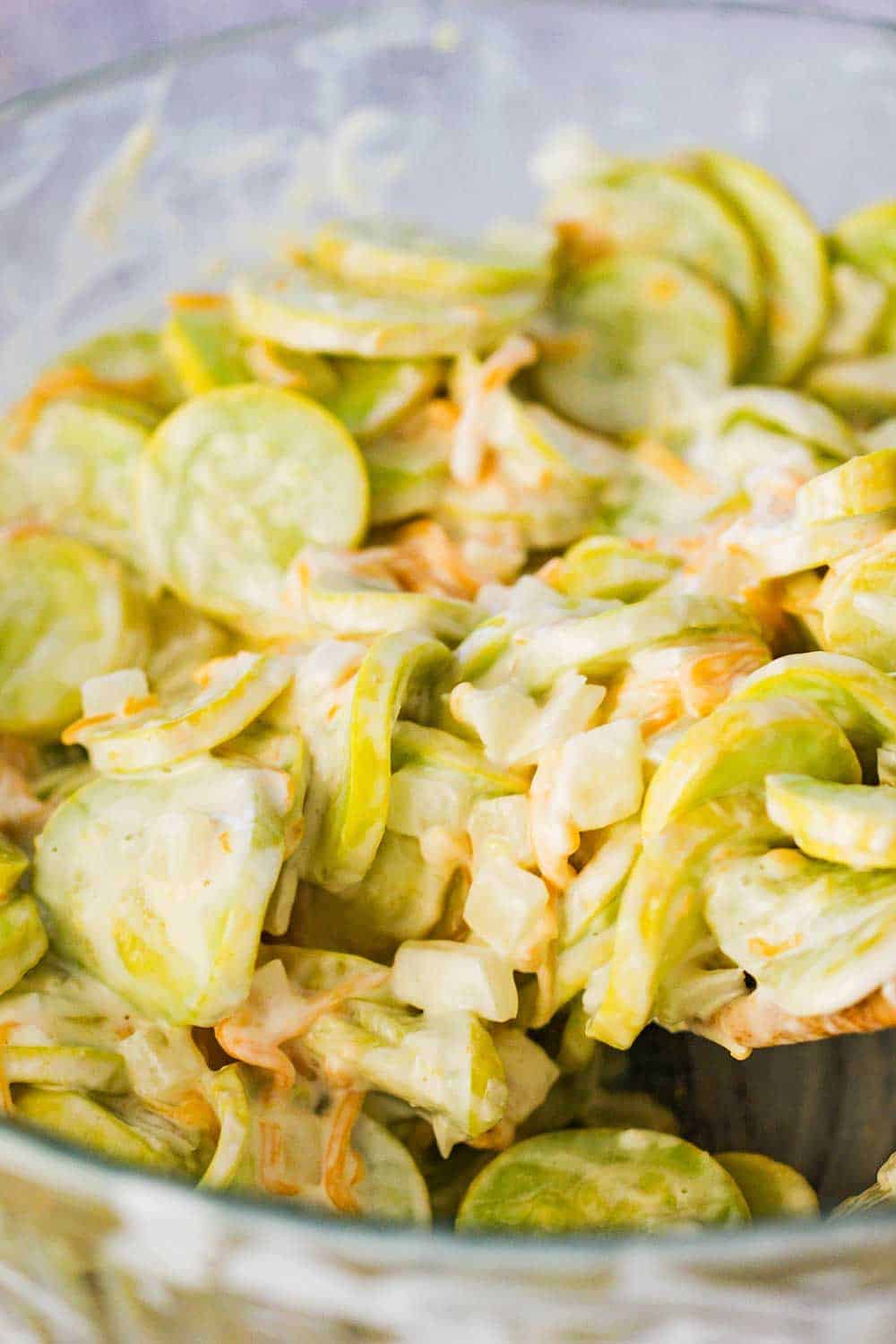 ADD A BUTTERY AND CRUNCHY TOPPING TO SUMMER SQUASH CASSEROLE
If you're going to have a luscious, cheesy and somewhat gooey filling, you are going to want to topping with a bit of a crunch (and a little extra butter).
The traditional Southern U.S. version of this recipe always uses crushed Ritz crackers as a topping. Who are we to change something that isn't broken? We do enjoy stirring in some melted unsalted butter, just to increase the flavor as well as bind the crackers together.
We prefer a topping with texture, which is why we don't completely pulverize the crackers, we like to leave some of the crackers roughly chopped.
TIP: Place the crackers in a large freezer bag and then crush them with the bottom of a measuring cup, or bottle, or even you hands. Don't over crush them!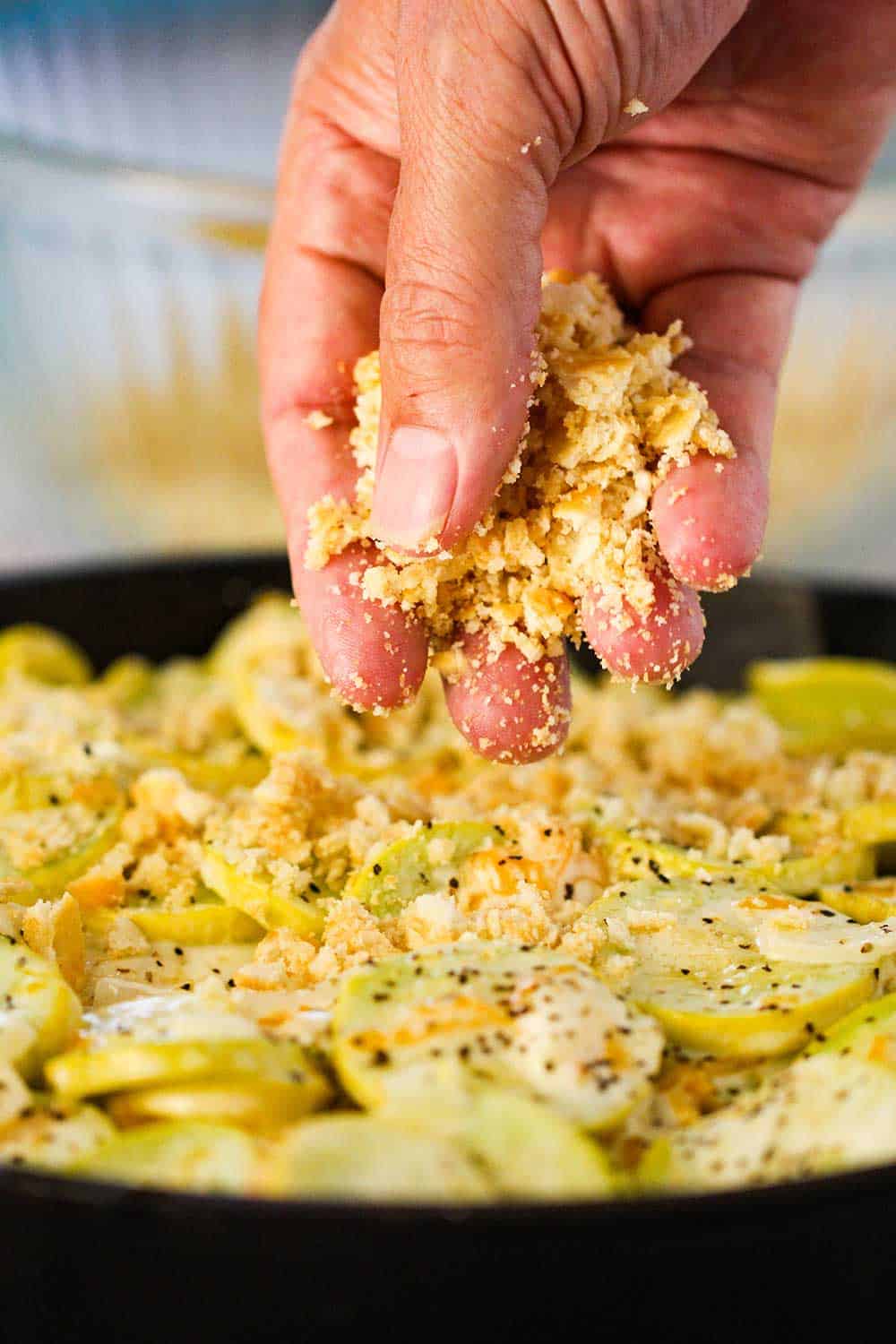 We love serving this casserole in our large 12-inch cast iron skillet, but any 2-quart casserole dish will work. A 9″ x 9″ dish is ideal.
TIP: The casserole can be assembled up to a day in advance, refrigerated, and then baked for an extra 10 minutes (35 minutes total), before serving.
OTHER SUMMERTIME FAVORITE SIDE DISHES
If you're looking for a lighter, healthier version of a baked squash casserole, be sure to try our Yellow Squash and Tomato Casserole.
This Best-Ever Yellow Squash Casserole is always a crowd-pleasing dish. We find we seldom have left-overs, and be prepared for lots of request for the recipe!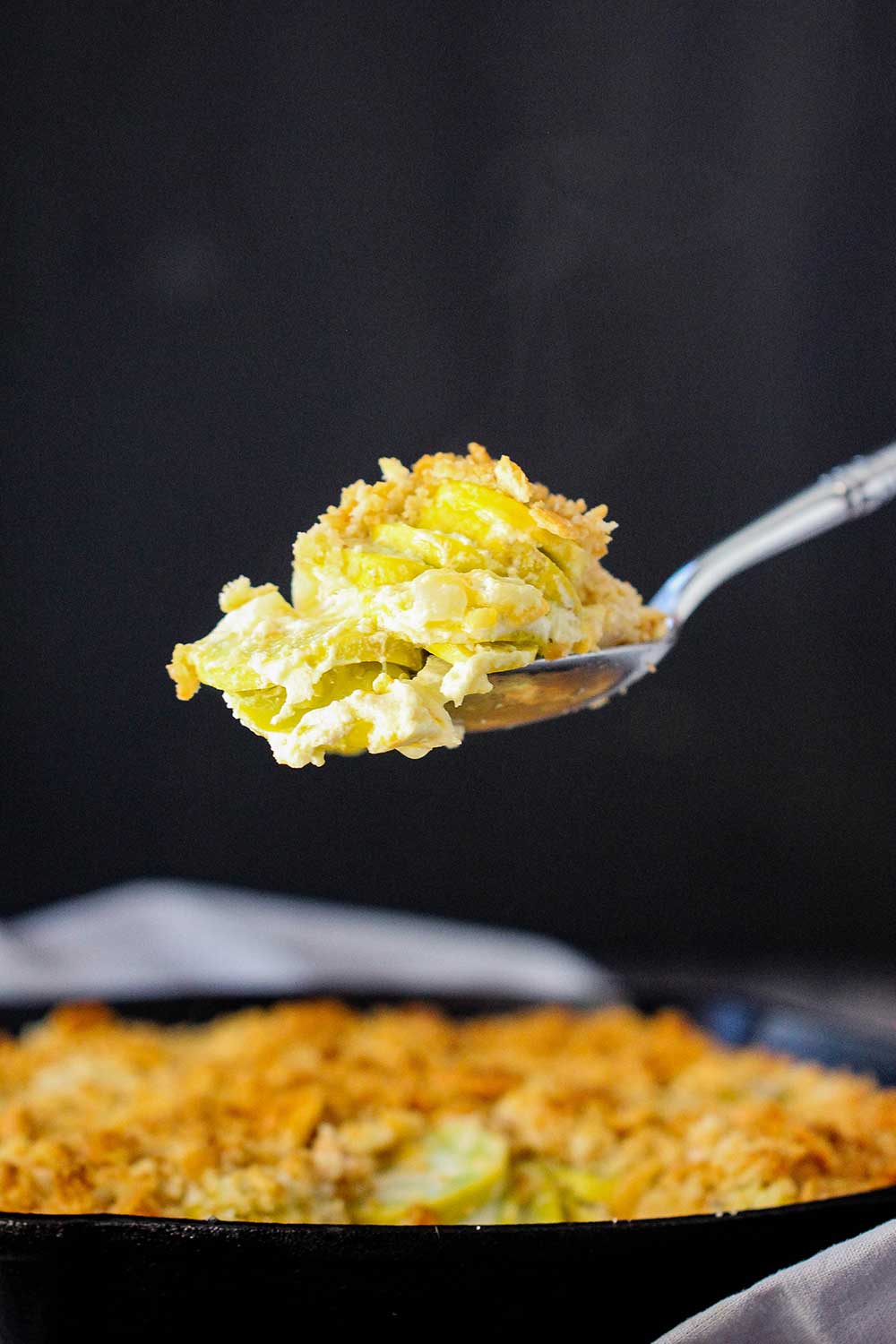 CAN ZUCCHINI BE USED IN THIS YELLOW SQUASH RECIPE?
That's easy to answer…YES! The yellow squash has a bit of sweeter taste, which balances beautifully against the sour cream and cheese, but zucchini is good, also.
You can certainly use a combination zucchini and yellow squash, too.
Either way, you will love the taste and texture of this delicious summertime casserole.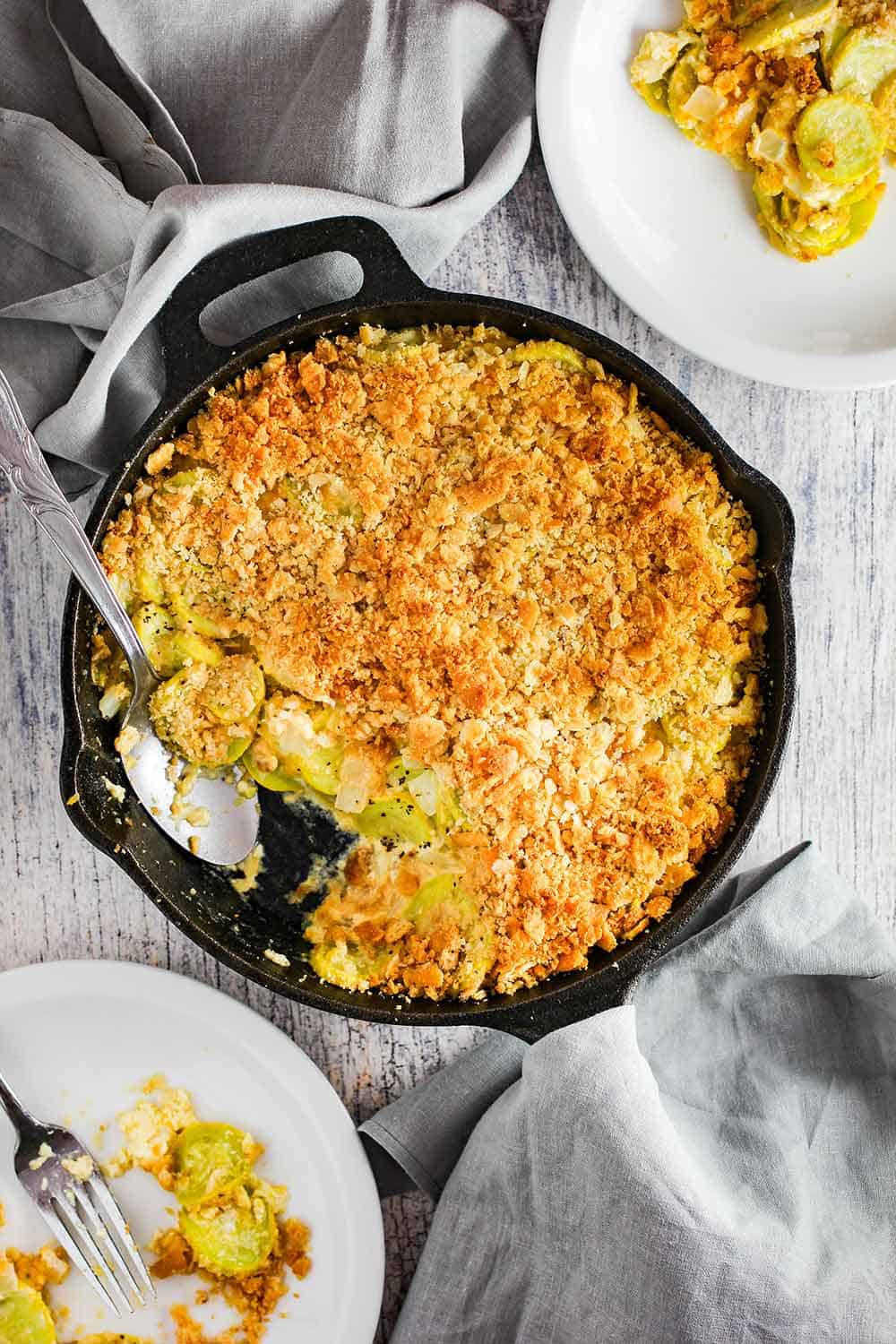 Ready to make one of the best summertime recipes of all time? AWESOME!
Be sure to take a photo of the finished dish and tag #howtofeedalon and @howtofeedaloon on Instagram!
Best-Ever Yellow Squash Casserole
Yellow Squash Casserol is a Southern U.S. staple side dish and is cheesy, creamy and loaded with summer squash taste. And what's even better, the dish is on the table from start to finish in less than 45 minutes!
Print
Pin
Rate
Servings: 12 people
Calories: 328kcal
Ingredients
1 tbsp vegetable oil
2 & 1/2 lbs yellow squashed sliced
1 cup onion chopped
8 oz. sour cream
1/4 cup mayonnaise
1 tsp Kosher salt
1/2 tsp freshly ground black pepper
1 1&2 cups cheddar cheese shredded
1/2 cup Parmesan cheese grated
1 large egg
1 sleeve Ritz crackers crushed, but not completely pulverised
2 tbsp unsalted butter melted
Instructions
Pre-heat oven to 350°F. Lightly spray a 12-inch cast iron skillet or a 9"x9" casserole dish with cooking spray.

In a large skillet, heat the oil over medium-high heat. Add the sliced squash and onion and cook, stirring occassionally, until the vegetables have softened, about 10 minutes. Remove from heat and transfer to a colandar in the sink to drain.

In a large mixing bowl, stir together the sour cream, mayonnaise, salt, pepper, cheddar cheese, Parmesan cheese, and egg. Carfeully fold in the cooked squash mixture. Transfer to the prepared baking vessel.

In a separate medium bowl, use a fork to stir together the crushed crackers with the melted butter. Sprinkle the mixture all over the top of the casserole.

Bake for 25 minutes, uncovered, until bubbly and topping is starting to brown slightly. Remove and serve at once.
Notes
Be sure to slice the squash in uniform cuts. 1/4-inch slices are a good thickness. A mandolin ensures even slicing, but a sharp knife and a steady hand will work just fine. Don't over sauté the squash and onion. Cook until just soft. The vegetables will cook more once the casserole is in the oven. The casserole can be assembled up to a day in advance and stored in the refrigerator. Allow to come to room temperature before baking (about 1 hour on the counter), or add an additional 10 minutes to the bake time if no time for bringing to room temperature (total bake time will be 35 minutes). This casserole is best served hot!
Nutrition
Calories: 328kcal | Carbohydrates: 4g | Protein: 33g | Fat: 52g | Saturated Fat: 32g | Cholesterol: 91mg | Sodium: 846mg | Potassium: 176mg | Fiber: 1g | Sugar: 2g | Vitamin A: 1462IU | Vitamin C: 1mg | Calcium: 958mg | Iron: 1mg