This is one of the most delicious stews of all time. And with the slow-cooker, one of the easiest, too.
There is just something undeniably comforting with homemade beef stew. Melt-in-your mouth chunks of beef, hearty vegetables, and a velvety sauce that all just works together beautifully. Put it all together the night before and come home the next day to a meal you and your family will treasure.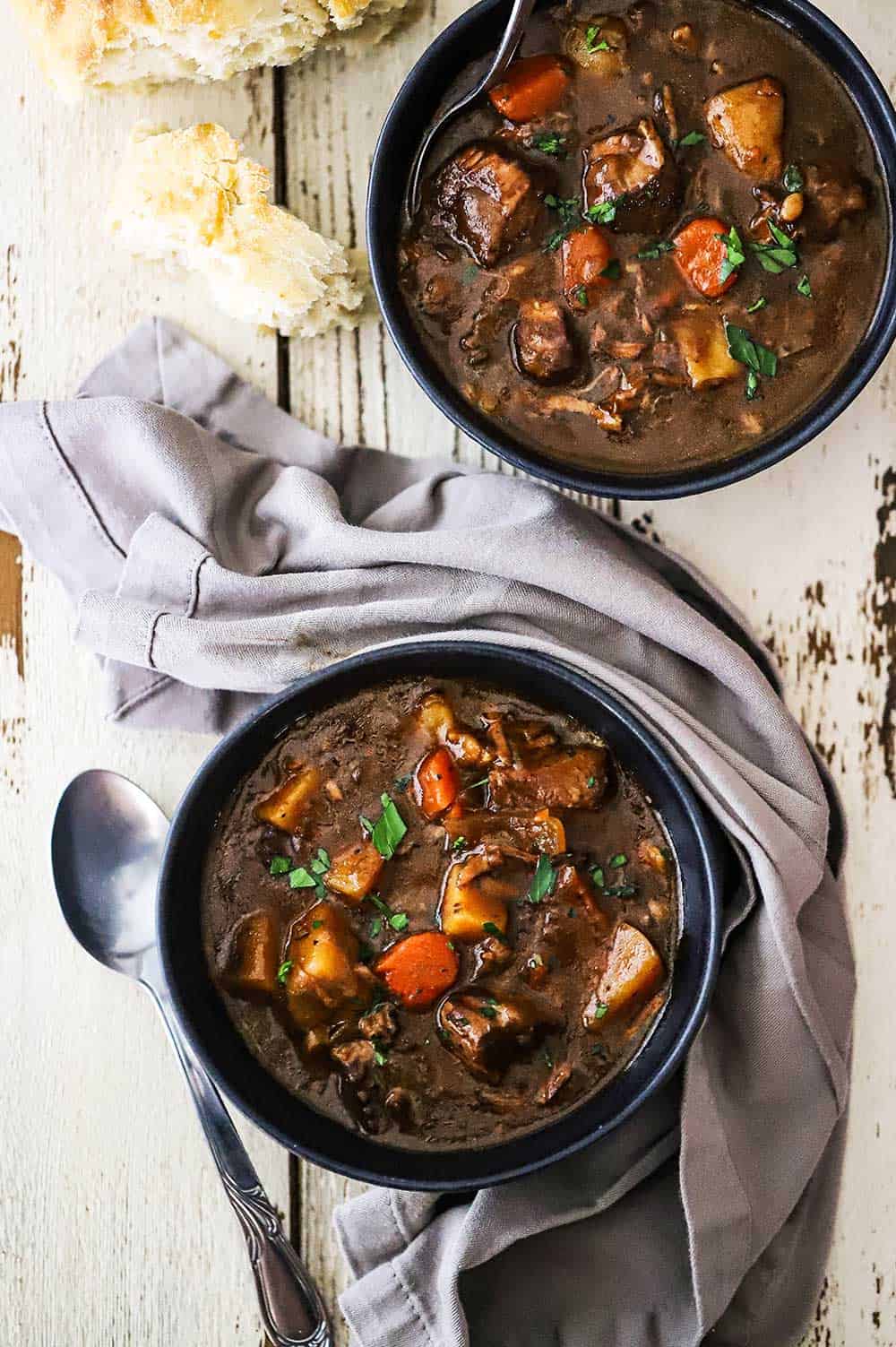 How To Make Slow-Cooker Beef Stew
This amazing stew could not be easier to make.
We put the entire dish together the night before we intend on serving it.
Keep it in the fridge, covered, and then slow cook it the following day. Easy peezy!
NOTE: If you liked this video, please subscribe to our YouTube channel. And remember to click the 'bell' icon so you'll never miss a new video!
The Ingredients You Will Need
The ingredients for standard beef stew are simple and straight forward. They include:
Olive oil
Chuck beef roast
Salt and pepper
Yellow/Gold potatoes
Carrots
Celery
Onion
Garlic
Tomato Paste
Worcestershire sauce
Red wine (optional)
Fresh rosemary
Dried thyme
Bay leaves
Smoked paprika (or regular)
Corn starch
EXPERT TIP: The red wine adds a wonderful depth of flavor to the stew, and 99% of the alcohol will cook off. However, if you prefer to not cook with wine, then simply omit it and increase the beef broth to 5 cups.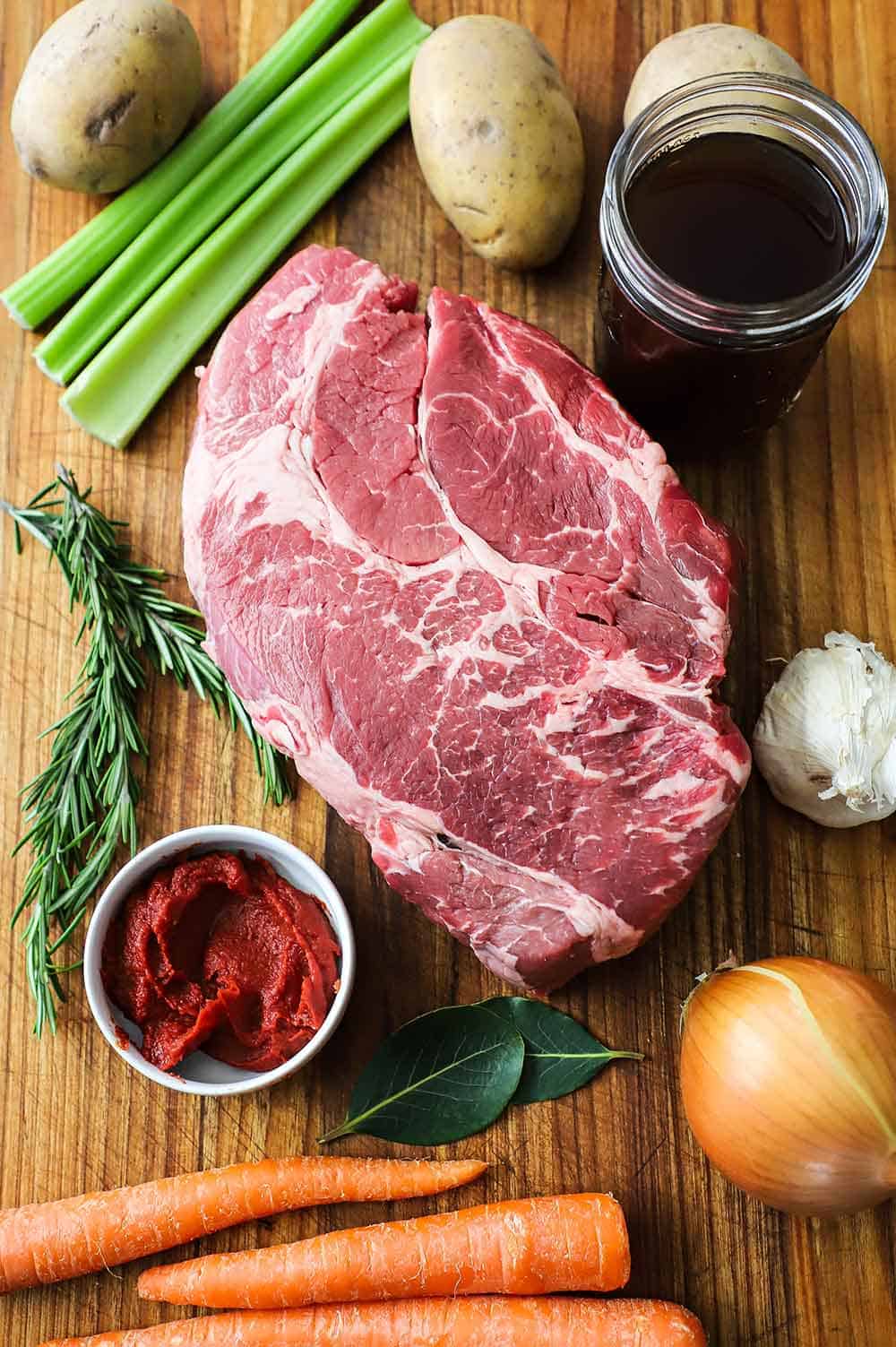 The Best Beef for Beef Stew
There are many types of beef to choose from as you peruse the meat department at you local supermarket.
For beef stew, you do not need an expensive cut of meat. The "low and slow" technique of cooking the stew will naturally tenderize the meat and create a melt-in-your mouth texture.
We recommend a chuck roast. In many well-stocked supermarkets and at your local meat market, you can find stew meat that has already been cut up for you. Easy and perfect!
EXPERT TIP: To help lock in even more flavor, we season the cut up meat with salt and pepper, and then toss it in flour. Then, we sear the meat in a hot skillet with a little oil until nicely browned all over. Usually, we need to do this in a couple of batches. If you don't have time for this step, then simply add the meat into the slow-cooker uncooked along with all of the other ingredients.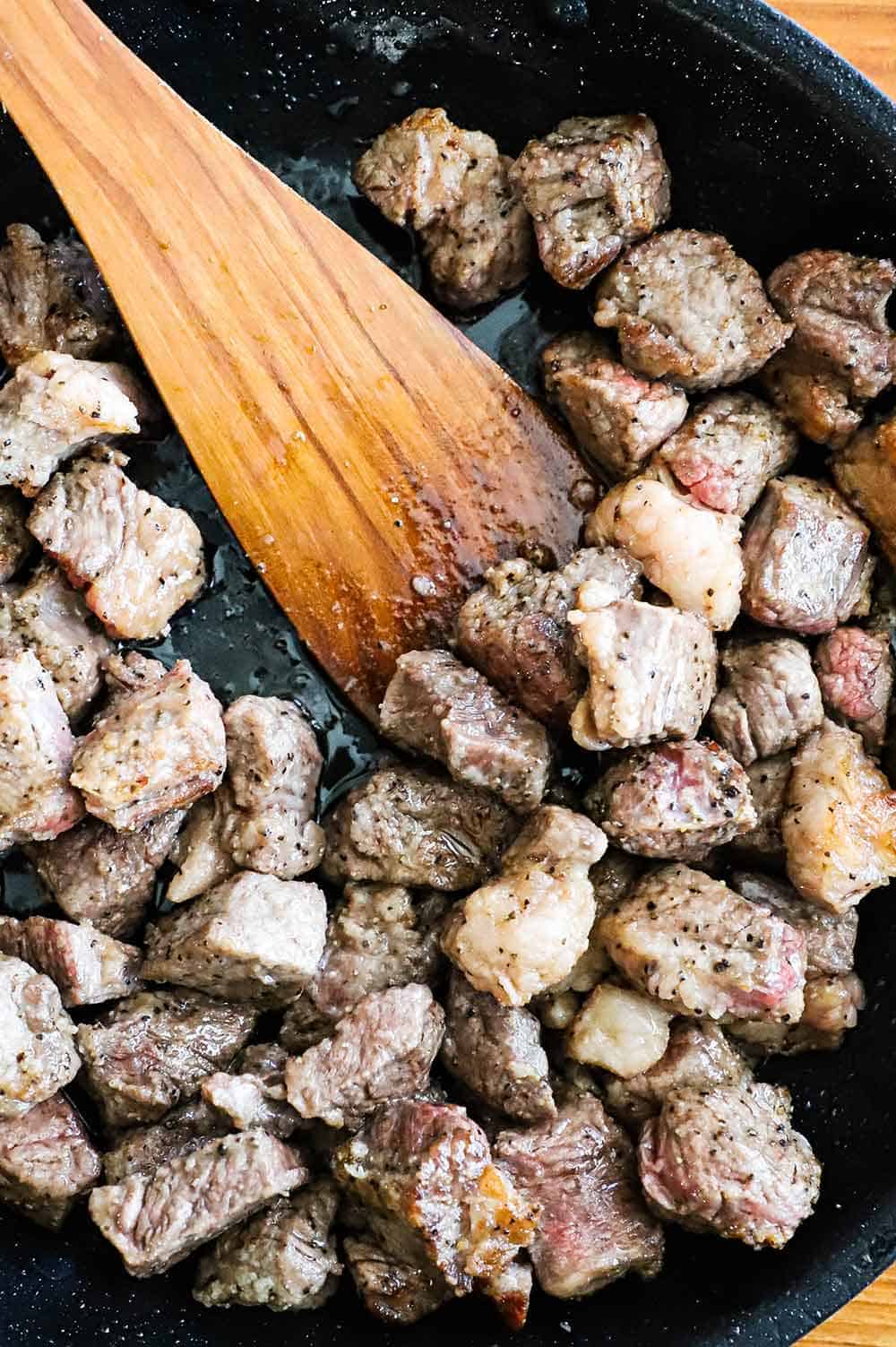 Slow-Cooker Beef Stew FAQs
Can I use any cut of beef? Absolutely! As mentioned, there's no need to purchase a more expensive cut of meat because you will get amazing results with a low-cost cut. However, if you have ribeye, sirloin, or brisket that you need to use up, then go for it. It will be amazing!
What can I substitute for the wine? You can substitute white wine or beef for the cup of red wine called for in the recipe. If you prefer to not cook with alcohol, then omit the wine completely and increase the beef broth by 1 cup (5 cups total).
Can this recipe be doubled? Absolutely! Just make sure you've got a large enough slow-cooker, or use two!
EXPERT TIP: Once the slow-cooker beef stew has cooked for 8 to 10 hours, it's time to thicken the sauce a little. We use a cornstarch slurry which is 1/4 cup of cornstarch mixed with 4 tablespoons of water. Pour it into the stew and it will thicken quickly. You can also mix 1/4 cup of all-purpose flour with 1/2 cup of the stew sauce and then stir it in and cook for another 30 minutes.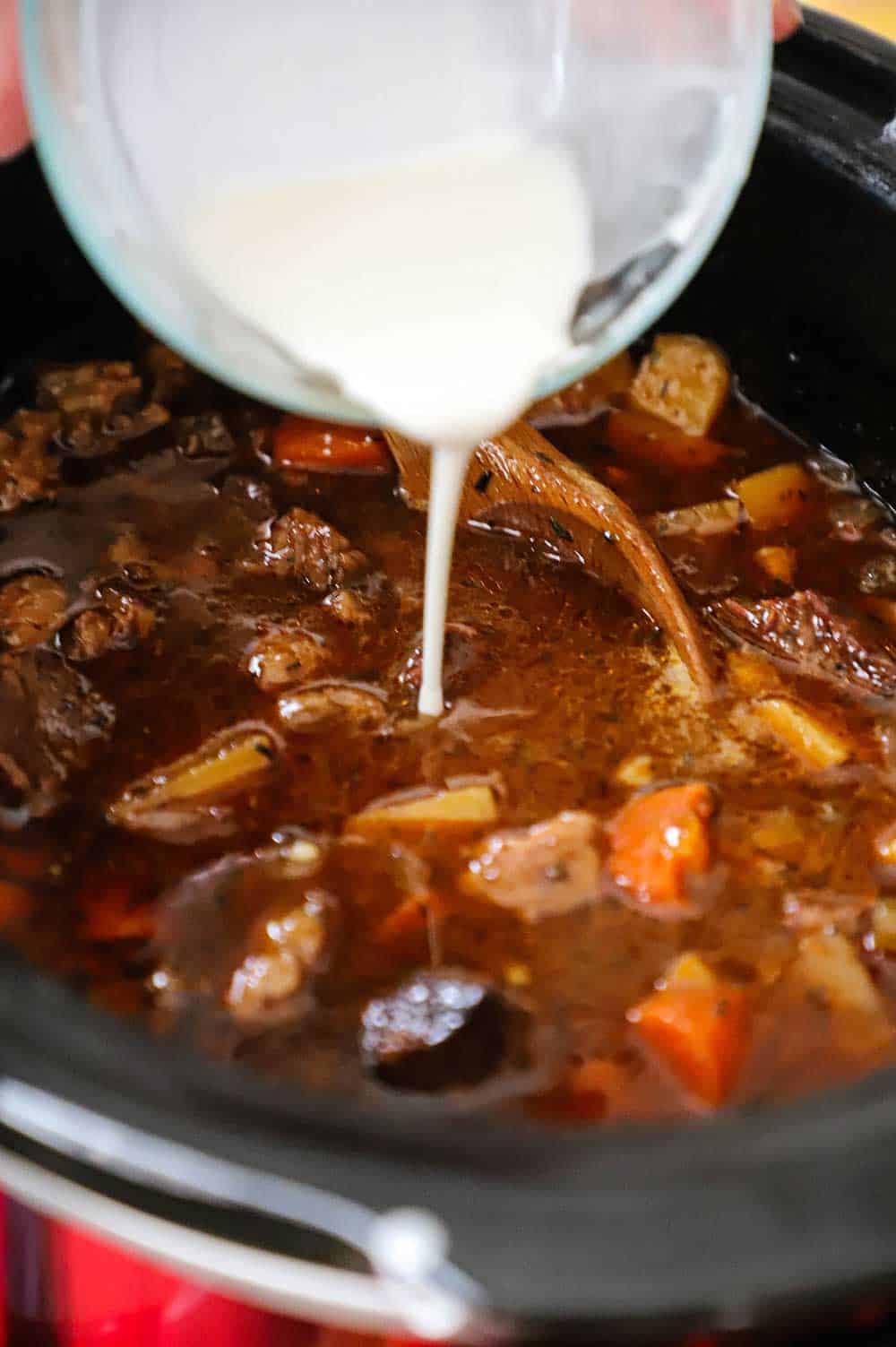 When To Serve and How To Store
This stew is really the perfect weeknight dinner because it's so easy to prepare. However, it's also a wonderful weekend feast, especially during those chilly winter months.
And it's always a huge hit when we serve it to friends and family for a game-day gathering.
EXPERT TIP: This stew freezes absolutely beautifully. It will also keep in covered in the fridge for up to 1 week. Freeze for up to 3 months.
Just amazing. And the smell of your house while the stew is stewing? So good!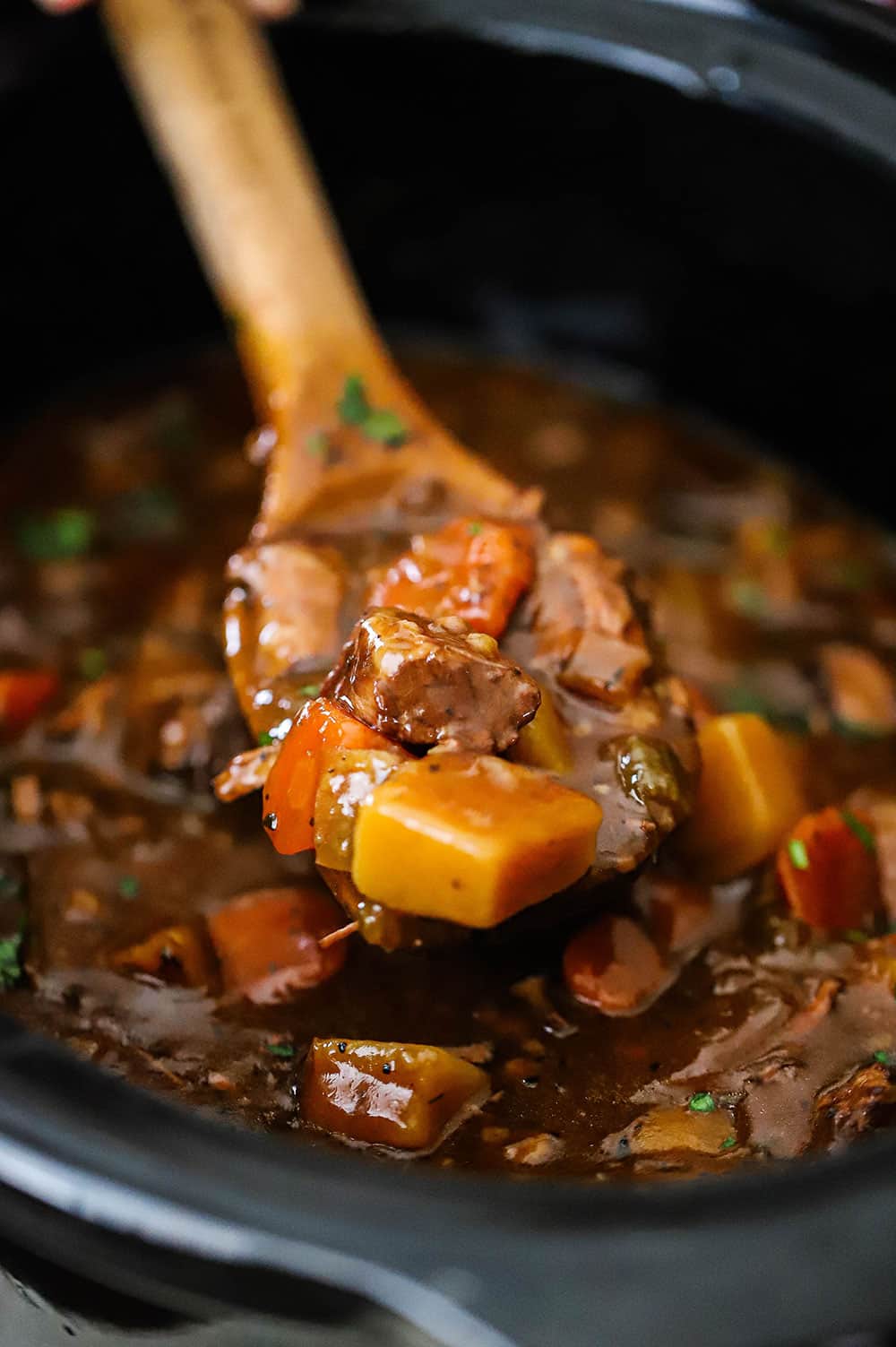 Other Slow-Cooker Favorite Recipes
We love cooking with our slow-cooker so much, and here are some other favorite recipes for you to try:
In the meantime, you've got to try this amazing beef stew!
This is one recipe that you will want to make time and time again. It's honestly that good.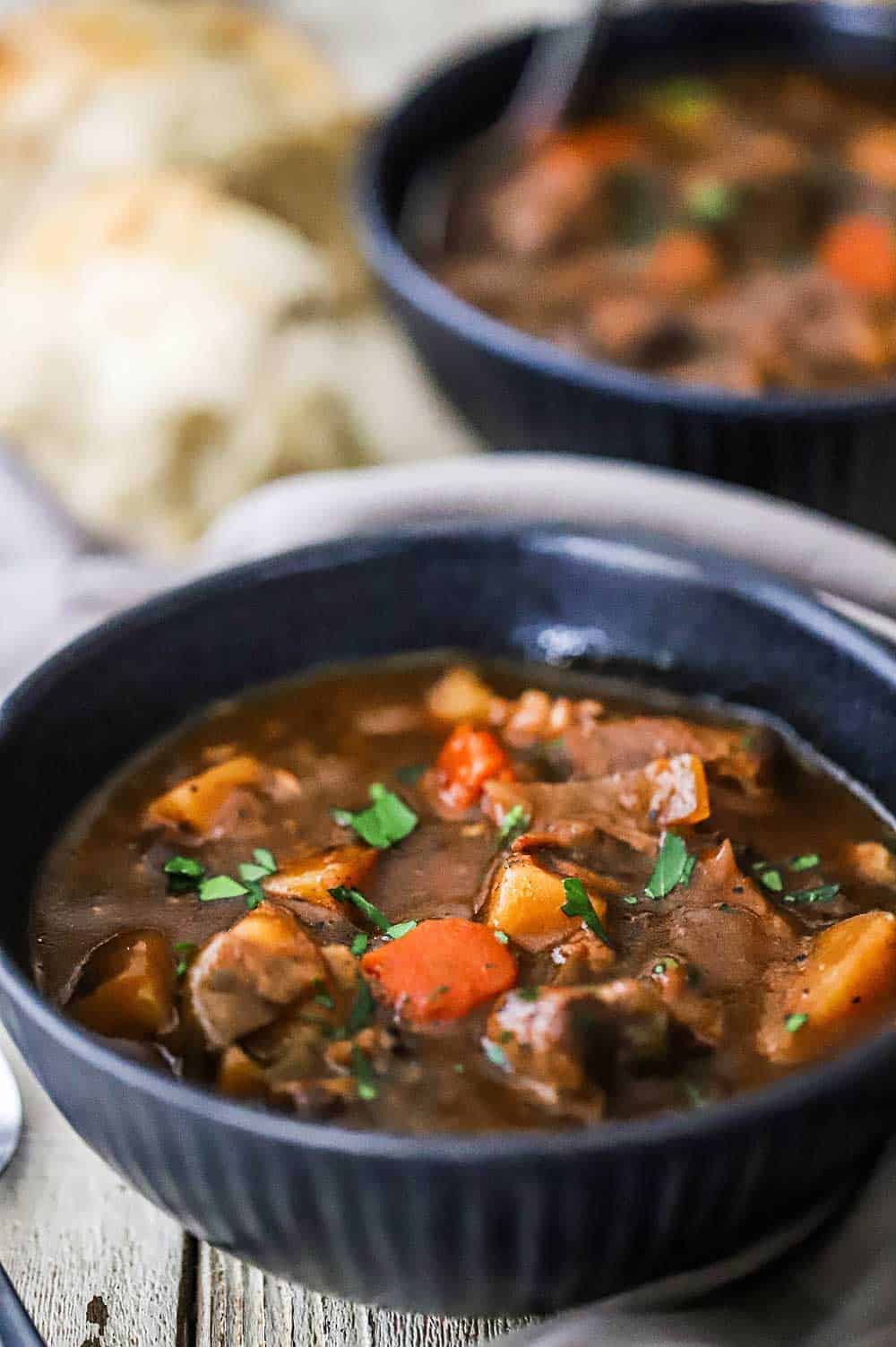 Ready to make the best stew in town? Go for it!
And when you do, be sure to take a photo of it, post it on Instagram, and tag @HowToFeedaLoon and hashtag #HowToFeedaLoon!
Slow-Cooker Beef Stew
Slow-Cooker Beef Stew is one of the most comforting dishes of all time. And making it in your slow-cooker is a snap! We get it all together the night before, and then let it slow cook the next day for the perfect (and easy) dinner!
Print
Pin
Rate
Servings: 8
Calories: 358kcal
Ingredients
2 lbs chuck roast cut into bite-sized pieces
1 cup all-purpose flour
Salt and pepper
2 tbsp olive oil or vegetable
3 cups potatoes yellow or gold, cubed
3 medium carrots peeled and sliced
4 stalks celery sliced
1 medium onion chopped
4 cloves garlic minced
2 tbsp tomato paste
4 cups beef broth
1 cup red wine
2 tbsp Worcestershire sauce
1 tbsp rosemary fresh
1 tsp thyme dried
1 tsp smoked paprika
2 bay leaves
¼ cup cornstarch
Instructions
Liberally season the meat all over with salt and pepper. Place the flour on a large platter and dredge the beef pieces in it until coated.

Heat the oil in a large skillet over medium-high heat. Working in a couple of batches, add the floured meat to the skillet and cook until browned all over, about 3 minutes. Repeat with remaining beef.

Place the seared beef into the slow-cooker. Next, add the remaining ingredients (except the cornstarch, plus 2 tsp of salt and 1 tsp of black pepper into the slow cooker and stir to fully mix.

Cook on LOW for 8 hours or on HIGH for 3 to 4 hours.

Just before serving, in a small bowl, mix the cornstarch together with 4 tbsp of cool tap water. Stir the cornstarch slurry into the stew and continue stirring until slightly thickened. This only takes a minute or two. The stew is now ready to serve.
Notes
See the video near the top of the blog post for visual guidance. If you liked the video, please subscribe to our YouTube Channel.
No need to use an expensive cut of beef for this stew. We recommend a nice chuck roast. Cut away any excess fat. Streaks of fat in the meat is good, it will add flavor and become melt-in-your-mouth delicious. You can often find pre-cut stew meat in the meat department of most well-stocked supermarkets.
We love using yellow or gold potatoes, but really any variety will work, including red, russet, or fingerling. And no need to peel the potatoes!
Leftovers will keep in the fridge for up to 1 week and the stew freezes beautifully for up to 3 months. Reheat leftovers in a pot on the stove over medium heat.
Nutrition
Calories: 358kcal | Carbohydrates: 21g | Protein: 25g | Fat: 16g | Saturated Fat: 6g | Polyunsaturated Fat: 2g | Monounsaturated Fat: 9g | Trans Fat: 1g | Cholesterol: 78mg | Sodium: 503mg | Potassium: 654mg | Fiber: 2g | Sugar: 2g | Vitamin A: 4074IU | Vitamin C: 3mg | Calcium: 57mg | Iron: 4mg