In case you were wondering what a Brandy Milk Punch is, it is an amazing cocktail that comes from the Big Easy: New Orleans!
You're just going to love this classic drink. Warm and fuzzy.
Delish. It's as full of delicious history as the city that it hails from!
Okay, we've just got to show you all about this fabulous drink.
Watch, laugh…and then go make a Brandy Milk Punch!
Oh, this Brandy Milk Punch recipe is just fantastic!
This amazing cocktail has a pretty fascinating history. Anything originating in the great city of New Orleans is just about 100% guaranteed to be full of twists and turns! Learn more about its interesting origins here.
This drink is amazing when served before a wonderful New Orleans themed dinner party with
Classic Jambalaya
Authentic Etouffeé
Red Beans and Rice
Homemade Beignets!
And as for this cocktail, you're going to love it when you give it a shot (or two!)!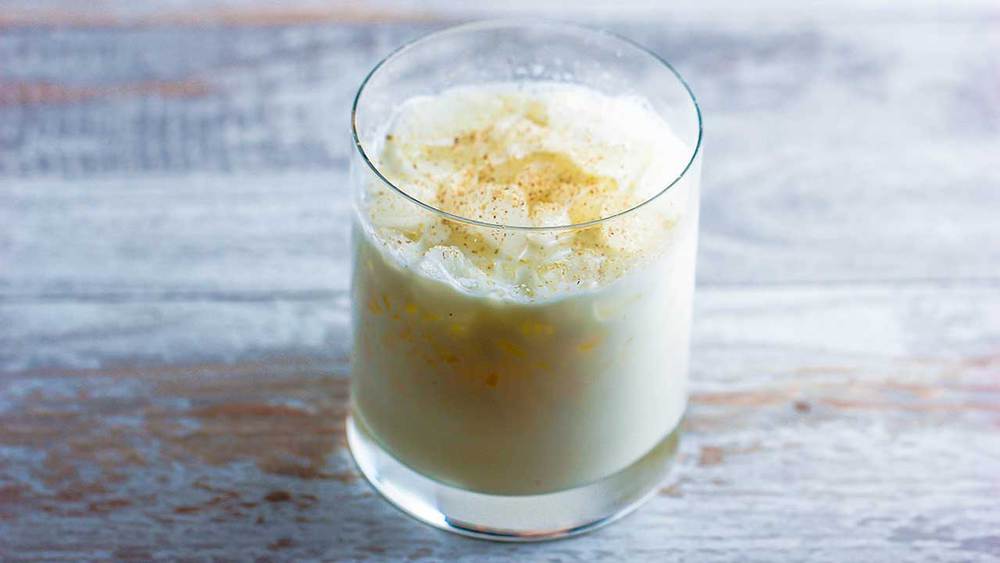 And if you like this cocktail, you'll probably love another New Orleans classic cocktail: A Sazarac Cocktail.
But in the meantime, go ahead and make this amazing libation. You'll feel all delicious and warm and tasty. We promise!
And when you do, be sure to take a photo of it, post it on Instagram, and tag @howtofeedaloon and hashtag #howtofeedaloon!
Brandy Milk Punch
This Brandy Milk Punch recipe is a classic cocktail from the Big Easy: New Orleans! Wesley has perfected it and Kris could not be happier about it. So easy and super delicious.
Print
Pin
Rate
Servings: 1
Calories: 290kcal
Ingredients
2 oz brandy about 2 shots
1 cup milk whole
1 tsp powdered sugar
Pinch of nutmeg
Instructions
Pour the brandy, milk, and powdered sugar into a cocktail shaker filled with a few cubes of ice.

Shake vigorously for a bit.

Strain into a rocks glass with shaved, crushed or cracked ice.

Top with a pinch of nutmeg.
Nutrition
Calories: 290kcal | Carbohydrates: 14g | Protein: 8g | Fat: 8g | Saturated Fat: 5g | Cholesterol: 24mg | Sodium: 106mg | Potassium: 322mg | Sugar: 15g | Vitamin A: 395IU | Calcium: 276mg
Recipe